Bosch vs. Miele Compact Laundry (Reviews / Ratings)
Both Bosch and Miele have new compact laundry with different features, new cycles, and are app driven.
Miele added new technology not seen in laundry units before like a new dispenser and a 110-volt heat pump dryer. Bosch added unique temperatures and soil selection.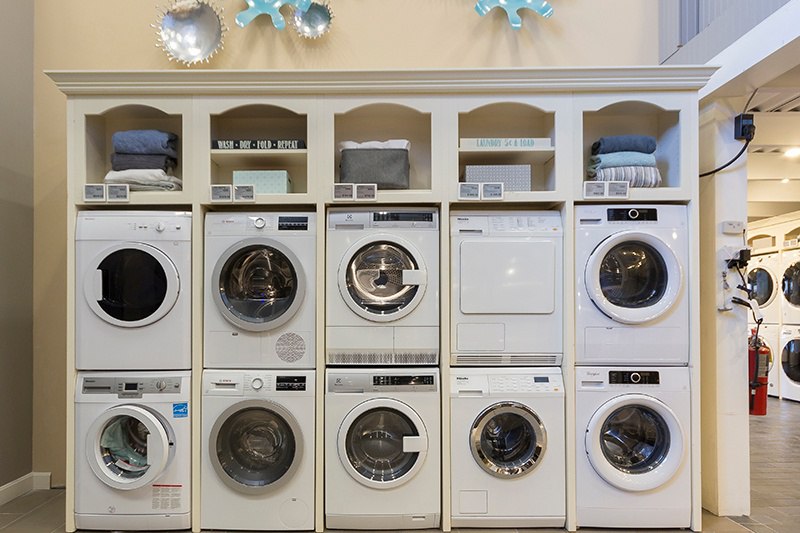 Short on time? Get our free Compact Laundry Buying Guide
In this article, you will learn a bit about each company, their new machines, features, and then we will compare them at the end. If you need a review of compact laundry, watch the quick video below.
What is Compact Laundry?
Bosch
One of the most recognizable brands in the appliance world, Bosch a German-owned company since the early 1900's, recently released their latest compact laundry - WAW285HUC (the washer), WTG865H2UC (dryer).
Bosch's latest Home Connectivity brings a new era to the future of laundry. For instance, Bosch's washer and dryers can be connected to Amazon Alexa (sold separately) by connecting to Wi-Fi. You now have more freedom to be independent of wherever or whenever you want a load of laundry to be done.
Home Connect app from Bosch or Amazon Alexa will help pick the right cycle to do the perfect laundry.
The Home connectivity will enable you to send text alerts with time remaining and whenever a load is completed. The app is self-diagnostic which sends alerts for service calls if needed.
A brief word about Wi-Fi compatibility and the connected home: App-driven appliances are the way of the future. However, at present, there are connectivity and security questions.
Features:
Home Connect
Wi-Fi capability for your washer, such as an Easy Start Option right from your smartphone.
AquaStop® Plus
Leak protection that combines the AquaStop® Base and AquaStop® Hose.
EcoSilence Motor™
Delivers quiet, efficient, and long-lasting performance.
14 Wash Cycles
Cycles to fit all your need from heavily soiled clothes to delicates and everything in between.
Certifications
ADA Compliant
ENERGY STAR® Rated
2 cu. ft. Capacity
The new WAW285HUC washer has many other great features such as a 15-minute wash/dry care for smaller loads. Bosch advertises dirty to dry in 30 minutes. It will handle the equivalent of 5 shirts.
The washer can handle any oil, grass, food, or wine stain with their Perfect Wash Cycle. You can also wash by the actual temperature at 60, 75, 90, and 110 degrees not just hot, warm, and cold.
The washer is branded as the quietest washer on the market at 50 dBA. That is as quiet as some dishwashers on the market.
Features:
Sensitive Drying System
Uses warm, mild air to gently dry.
Home Connect
Wi-Fi enabled unit.
14 Dry Cycles
Permanent Press, Cotton, Towels, AntiShrink, Sanitize, Hand Wash/Wool, Bulky Items, Quick Dry Auto, Jeans, Delicates, SuperQuick15, Quick 40, Time Dry, Air Fluff/No Heat.
Certifications
ENERGY STAR® Rated
Capacity
0 cu. ft. Capacity
The dryer still uses condensation (ventless). A Condensation dryer is simply put as turning heat and steam into water. Water drains out the back of the dryer into the waste line. This allows easy installation and operation.
The dryer has the same capability to operate with Amazon Alexa (or the Bosch Home Connect app). Ask Alexa to turn and start a dry cycle while you're in bed or driving home from work. The dryer has a 60-dB rating as well proving to be one of the best dryers in its class.
Miele
Miele is a family-owned German company who recently released their latest compact laundry unit- WWH860WCS. Miele doesn't disappoint the cleaning industry and redesigned their special HoneyComb washing tub.
The web-like shape of the honeycomb creates a small layer of water between the drum and clothing. Thus, gliding the clothing with ease. The Miele washer creates the perfect rotation to handle all sorts of garments.
Miele Compact Washer WWH860WCS - $1,999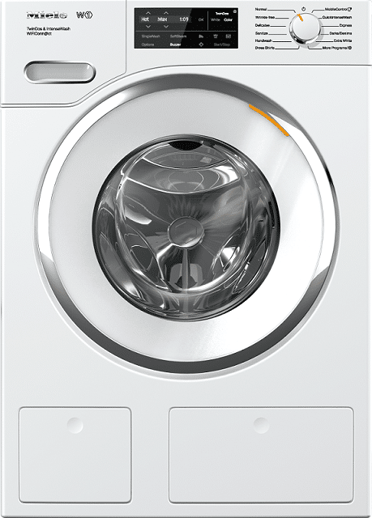 Features:
HoneyComb Drum
The web-like surface structure of the Miele honeycomb drum creates a thin film of water between the drum and the laundry. This results in laundry gliding gently and protects the fibers perfectly.
CapDosing
These small portioned capsules are simply placed into the fabric conditioner compartment. Miele washing machines dispense the capsule contents at the optimum time - completely automatically
TwinDos
2-phase automatic dispensing detergent system
TwinDos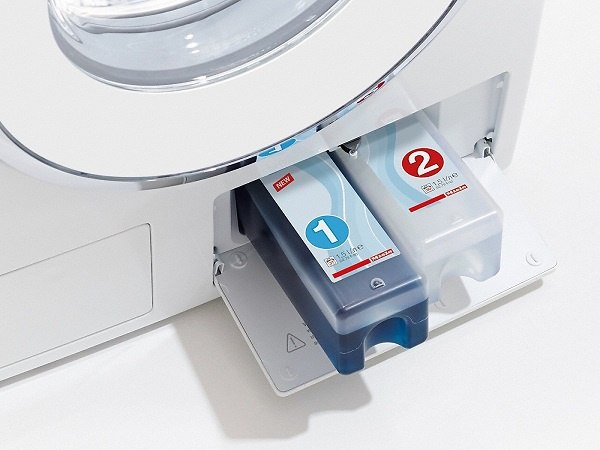 To ensure the user gets the PERFECT ratio of water and soap - Miele creates the most advanced detergent system - TwinDos (soap, soft bleach).
The system automatically dispenses with TwinDos in two phases. UltraPhase 1 is dispensed at the beginning of the wash progress.
UltraPhase 2 is dispensed about 30 minutes after. UltraPhase 1 and 2 monitors and ensures maximum washing.
TwinDos monitors and injects the detergent at the precise moment which saves the user up to 30% more when comparing to other detergent brands.
Miele Compact Dryer TWI180WP - $1,799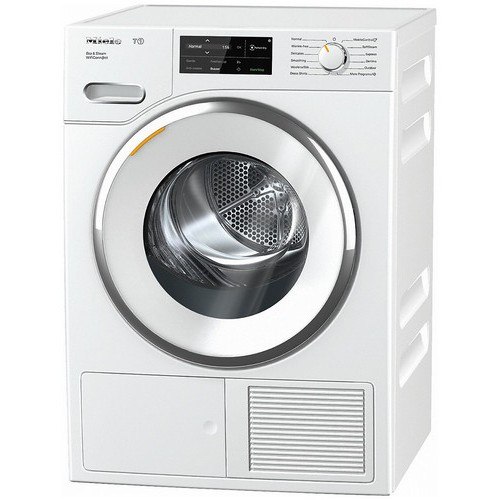 Features:
HoneyComb Drum
The sculptured honeycomb structure of the honeycomb drum creates a thin film of water between the drum wall and the laundry.
Miele's RemoteVisionT
Wi-Fi technology creates a 'virtual link' between your appliance and our monitoring center, ensuring complete peace of mind.
Additional Features
Heat-pump dryer
Honeycomb drum
12 programs with express cycle
PerfectDry
FragranceDos
Quiet operation
EnergyStar Most Efficient
Delayed start and countdown indicator
This unit is Miele's first heat pump technology. Heat pump technology is nothing new to this industry, as we have seen on the market for a few years. Miele just found a way to do it better.
The heat pump method creates heat by compressing the refrigerant. The "condenser" releases the heated air by heat exchange of the refrigerant.
A "heater" raises the heat of the air that comes from the condenser by producing less energy. Simply put - it doesn't overheat the clothing. Thus, preventing color fading and shrinkage of your clothing.
First, the dryer runs on 110 volts, so it uses less energy. The Miele heat pump produces almost no additional heat to the room comparing to standard condensation dryer. Their dry time is proven to be faster along with the 1600 spin of the washer to pre-dry clothes.
Miele creates a maintenance-free cleaning system by protecting the heat exchanger with a filtration system. This ensures the prolong life of the dryer.
Miele heat pump also includes steam drying, which takes care of any ironing, and wrinkles.
Which to buy?
It depends as both are very good.
The new Bosch allows you to wash by temperature and by soil type. The 30-minute wash and dry is a great option.
Miele, however, is the next level. It has the most precise dispensing along with the 40 load reservoir. You can wash delicates with their honeycomb drum unlike any other washer/dryer available.
The heat pump is unique at 110 volts and will save energy, be gentler on your clothes, and will not add heat into the room.
Miele is also way more expensive, so it depends on your budget, but both are good choices.
Additional Resources
Get the Yale Compact Laundry Buying Guide with features, specs, and inside tips to all the brands, to dimensions and explanations of every washer and dryer type are included. Over 310,000 people have read a Yale Guide.

Related Articles:
Danny Nguyen
Danny Nguyen is an Appliance Sales Consultant at Yale Appliance + Lighting. Danny has completed 2 half marathons and enjoys spending time travelling and snowboarding.

Schedule a showroom visit with me
A Note About Pricing
Pricing on this blog is for reference only and may include time sensitive rebates. We make every attempt to provide accurate pricing at time of publishing. Please call the stores for most accurate price.