Should You Buy A Beko Compact Washer And Dryer? (Reviews/Ratings/Prices)
You probably have noticed buying compact laundry is way different than regular full-sized washers and dryers.
The brands are different, with Miele and Bosch being the most popular brands versus GE, Whirlpool, Samsung, and LG as the most popular full-size brands.
Unlike regular laundry, you will end up buying a compact set for its drying capability and venting rather than looking at the washer first.
It's different from the way you traditionally buy a washer and dryer.
In this article, you will learn about Beko's compact washers and dryers, their features, reliability, and then we'll compare Beko's compact set against Miele, Bosch, Asko, and Samsung.
But first, let's answer who Beko is.
Who Is Beko?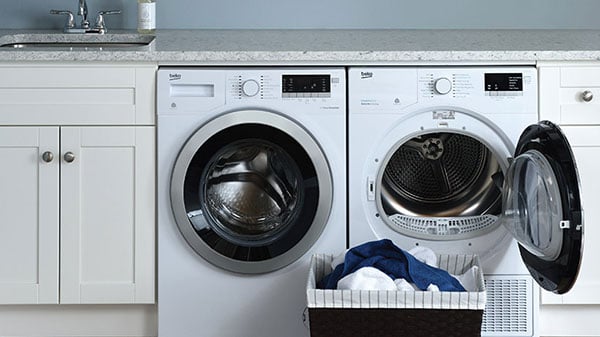 Beko Compact Laundry
Beko is manufactured in Turkey. They are hugely popular in Europe and are sold in 140 countries.
For our post today, compact laundry is used almost exclusively in Europe for its energy efficiency, its ability to be stacked, and placed in a kitchen or other small spaces.
You may have also heard of Bekos' other brand Blomberg. They also manufacture dishwashers for Viking and refrigerators for BlueStar.
Most people are hesitant about buying a new or unfamiliar brand. We are especially at Yale.
We are lucky to have a huge in house service network looking at reliability, but it doesn't help with chronic issues from unreliable new brands.
Reliability is not a problem with Beko, as you will see.
However, with any new brand, you have to be certain there is available service if needed. The same should be said for any brand, but more so with a new one.
Short on time? Get our free Compact Laundry Buying Guide
Beko Compact Dryers
Let's start with dryers. As I said in the beginning, dryers are more important than the washer for compact laundry.
Most compact laundry sets are ventless, meaning you do not need to run vent to the outside.
There are advantages because you can place a laundry set anywhere like a small closet with water and power without worrying about venting.
Builders love ventless laundry. Most of the new condos in the Seaport have ventless compact laundry.
They don't have to cut holes in their building ($1100 a hole according to a multi-unit builder).
Ventless is also better for energy efficiency and can help with LEED and Passive Home certifications.
However, if you want to replace a vented dryer or have the ability to vent, most brands like Miele, Bosch, LG, and Electrolux only offer ventless dryers.
Beko, along with Samsung and a much more expensive Asko, are your only choices.
Let's look at each dryer and then the reliability of compact laundry as a whole.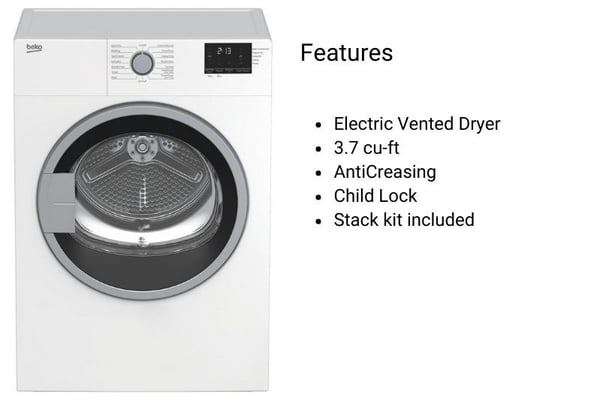 It has all the cycles you will ever need. Its shallow depth is a huge advantage for stacking and other tight installations.
Presently, Beko is your only option for a decent vented dryer at a reasonable price. Samsung has availability issues until 2021, and Asko is much more expensive at $2598 for the set.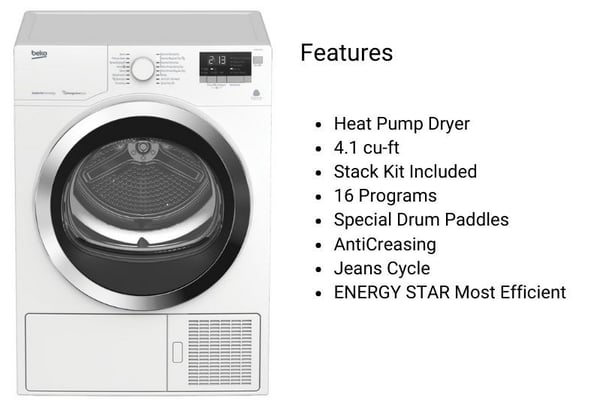 There are two types of ventless dryers.
A regular ventless dryer uses standard heating elements, whereas a heat pump uses a compressor to store and convert heat.
We have written articles on heat pump dryers. If you want to learn more, there are links at the bottom of the article.
A heat pump dryer is more efficient. It also does not emit heat into the room like a regular ventless dryer.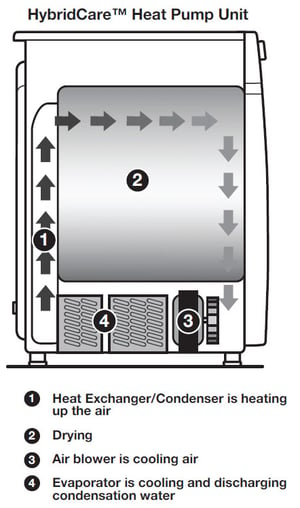 Beko was first to market in the US and would still be considered the best except for one brand.
Miele has a revolutionary 110-volt heat pump dryer so that it can be plugged in almost anywhere. It is the best on the market.
However, Beko will be less expensive by $300-500, depending on the washer.
Beside Miele, very few companies have successfully introduced heat pump dryers to the market.
Beko is better than any other ventless brand and number 2 to the dominant Miele Brand.
Beko Compact Dryer Reliability Aug. 2019-July 2020
| | | | |
| --- | --- | --- | --- |
| | Service Qty | Sold Qty | Service Ratio |
| Whirlpool | 4 | 355 | 1% |
| Beko Appliance | 2 | 110 | 2% |
| Asko | 2 | 92 | 2% |
| Bosch Appliances | 36 | 593 | 6% |
| Samsung | 38 | 488 | 8% |
| Miele | 60 | 582 | 10% |
| Fisher & Paykel | 1 | 3 | 33% |
| Blomberg | 11 | 10 | 110% |
| Total | 154 | 2233 | 6.90% |
Their reliability has been excellent this year. We have only been carrying the line for nine months, so the numbers are a bit skewed.
Beko Compact Washers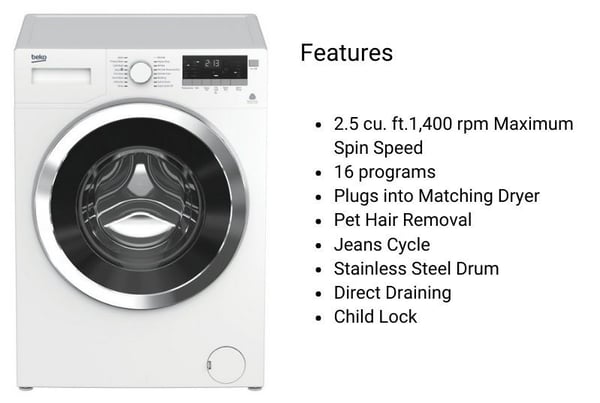 Hard to tell the difference between the two units. Other than a Jeans cycle, there are only two significant differences
Spin Speed The better model is 200 RPMs faster to predry your clothes
Depth: The WMY1014BC2 is also 1.5 inches bigger than the BWM7200
According to the specs, 1.5 inches accounts for a 0.55 cubic foot difference. In tighter areas, smaller is better, and Bekos depth is a shallow 23.128 inches on the BWM7200.
Beko Compact Washer Reliability Aug. 2019-July 2020
| | | | |
| --- | --- | --- | --- |
| | Service Qty | Sold Qty | Service Ratio |
| Beko | 2 | 115 | 1.74% |
| LG | 1 | 31 | 3.23% |
| Bosch | 25 | 700 | 3.57% |
| Samsung | 52 | 502 | 10.36% |
| Asko | 10 | 91 | 10.99% |
| Whirlpool | 32 | 209 | 15.31% |
| Miele | 27 | 166 | 16.27% |
| Fisher & Paykel | 1 | 3 | 33.33% |
| Blomberg | 8 | 13 | 61.54% |
| Total | 158 | 1830 | 8.63% |
Beko is pretty amazing so far for reliability but we will know for sure by the end of the year.
Just as an FYI, you are looking at a blend of builder and homeowner sales. Like yourself, consumers require more service because you tend to use it more and may need help.
Builder sales or the bulk of Whirlpool and Bosch are easier because our service team provides maintenance as part of the contract eliminating many initial service calls.
How Does The Beko Compact Washer and Dryer Pair Compare to Miele, Samsung, and Asko?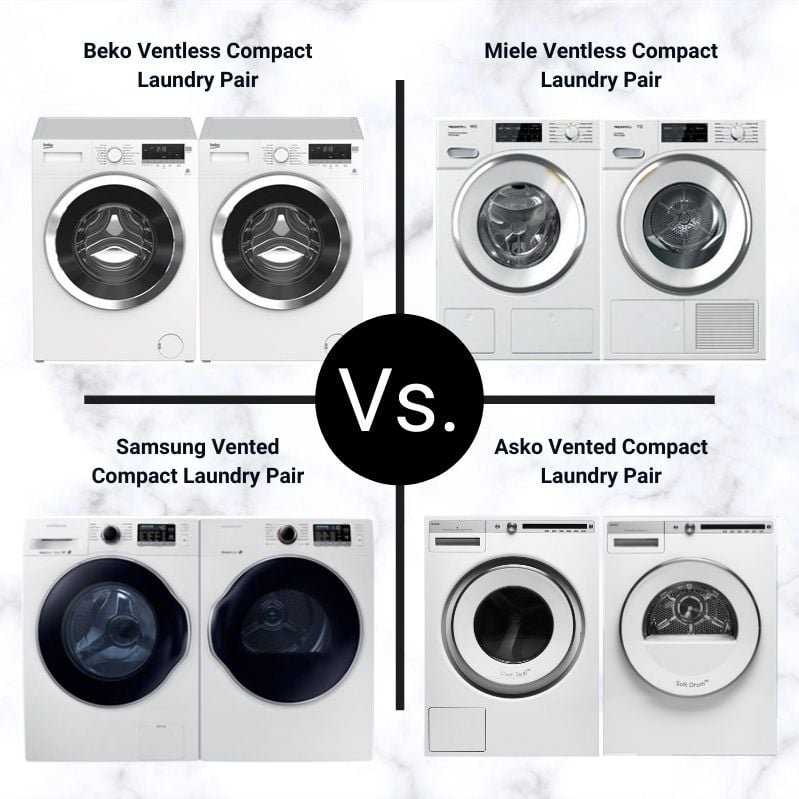 For vented dryers, Beko and Samsung are similar depending on the washer. Samsung does have a steam cycle to power out stains.
Beko will be less expensive at $1599 usually. Samsung does have regular promotions and discounts. Pro Tip: Buy appliances around holidays for the best prices.
You also don't have to wait until 2021 to buy a Beko set. With Samsung, their delivery times are that long.
Asko is the other vented dryer, but its way more expensive at $2599 for the set with not many more features.
For ventless, Miele is the best. Its washer is the only one with the ability to wash delicates with its honeycomb drum effectively.
Its 1600 RPM spin speed almost dries the clothes in the washer. It has a variety of upgrades, including an automatic dispenser or pod dispensing system, among many other features.
The dryer is the revolutionary 110-volt heat pump system, and it starts at only $2199. Beko is 220 volt but starts at $1749.
Bosch has traditionally been the most reliable compact washer and dryer sold. It was again last year.
However, Beko is more reliable in 2020 so far and has heat pump technology. Bosch is a regular ventless.
Should You Buy A Beko Compact Washer and Dryer?
For vented, you almost are forced to. It's unique as you can have one delivered before New Years 2021 (or 2022) and is reasonably priced.
For ventless, Miele is still the standard, but Beko is less expensive and seemingly more reliable.
But, you should consider Beko for your compact laundry purchase. Its reasonably priced, reliable, and, more importantly, available.
However, with any new brand, make sure there you have service to fix any issues.
Additional Resources
Download our Compact Laundry Buying Guide with all the features, terms and brands of laundry. Over 820,000 people have already found answers in a Yale guide.
Related Articles:
Why Should You Trust Us?
It seems that every appliance review has nothing but glowing comments about almost every product, yet you read customer reviews and they are almost universally bad.
We are here to fill in the disconnect. We'll give you the best features, and the drawbacks as well, including reliability based on over 37,000 calls performed by our service team just last year. Our goal is to give you ALL the information so you know what's right for you.
Please consider subscribing or adding to the conversation in the comments below. We appreciate you stopping by.
A Note About Pricing
Pricing on this blog is for reference only and may include time sensitive rebates. We make every attempt to provide accurate pricing at time of publishing. Please call the stores for most accurate price.