Blomberg vs. Miele Compact Laundry (Reviews / Ratings / Prices)
Compact laundry is the most interesting appliance in terms of features and functionality.
Despite its small size, many of the best features are available only in a compact laundry like high RPM spins, better-perforated drums for washing delicates, and a automatic detergent dispensers.
Heat pump drying is widely sold in the compact laundry as well. It's the most efficient drying available far surpassing traditional heating elements.
If this is unfamiliar to you, don't worry. It won't be by the end of this article.
You will learn quite a bit about washers and dryers as we compare the Turkish Blomberg company versus the family-owned German company, Miele.
Blomberg was the first in the US marketing heat pumps. Miele revolutionized heat pumps by offering a 110-volt version.
We will look at both companies, their similarly priced products, and then compare.
Compact Laundry Overview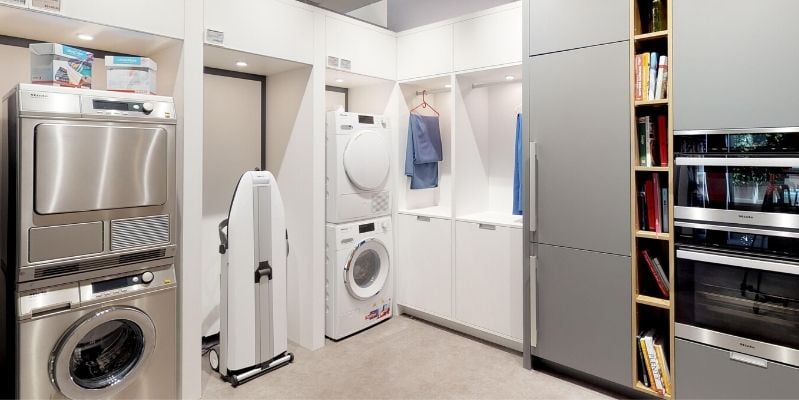 Advantages Of Compact Laundry
Compact laundry is 34 inches tall, 24 inches wide, and 24 inches deep. It's the same size as a dishwasher and can fit in a kitchen or small closet.
As you may have guessed, most compact laundry is purchased by the condo and rental apartment owners to fit in smaller spaces.
Many empty nesters are also adding laundry upstairs instead of walking to the basement. Most compact laundry is sold ventless without venting to the outside. The benefit to having a ventless dryer is it can be placed anywhere in your home with water and electricity.
Short on time? Get our free Compact Laundry Buying Guide
Disadvantages Of Compact Laundry
Size is a disadvantage. Most regular front load washers are 4.5 cubic feet. Compact washers are 2.5 cubic feet - almost half the capacity of a full-size washer.
Oddly enough, 2.5 cubic feet is the usable capacity of the top washers with agitators. My mom raised three kids with a top load washer with almost the same capacity.
It is also pricier than regular laundry. You should expect to pay $1800-2500 for a good set of compact laundry versus $1400-2200 for a larger set.
Lastly, service can be an issue. Miele, Blomberg, and even the popular Bosch and Electrolux sets are highly technical.
Finding a good tech can be a problem. Inquire about service before you buy, not after you have a problem.
Download our Compact Laundry Buying Guide to learn the best features.
Blomberg Compact Laundry
Blomberg, owned by the Turkish Arcelik company, is a popular European brand and is the home of many appliance brands.
They are also the producer of Beko and are the prime manufacturer behind many other appliances like Viking dishwashers, for example.
Blomberg Compact Washer WM98400SX2 - $1,099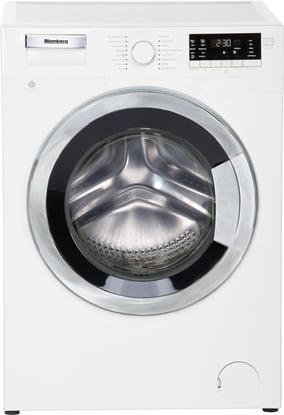 Features:
24 Inch 2.5 cu. Ft.
Front Load Washer
Chrome Door
16 Wash Cycles
1,400 RPM
Electronic LCD Control Console
Stainless Steel Wash Tub
Blomberg Compact Dryer DHP24412W - $1,399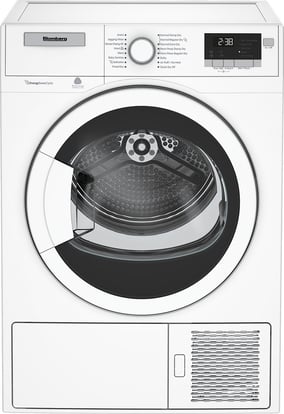 Features:
24 Inch 4.1 cu. Ft.
Ventless Heat Pump Electric Dryer
16 Dry Cycles
OptiSense Automatic Sensor Drying
Auto Anti-Creasing Cycle
Aquawave Stainless Steel Drum
220 Volt
Miele Compact Laundry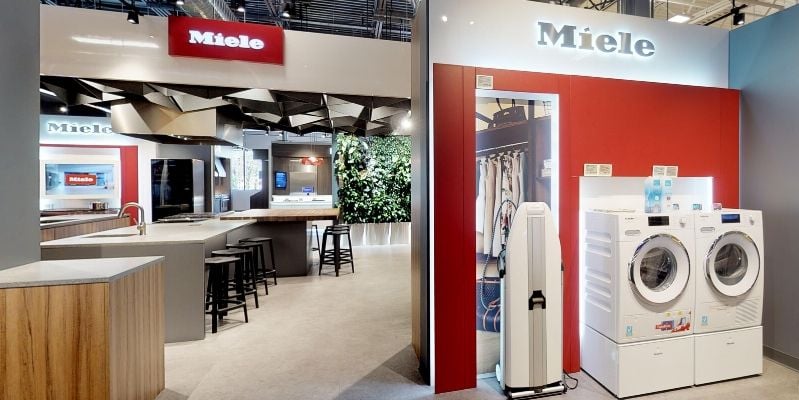 Miele is the largest family-owned appliance company in the world, headquartered in Germany.
They manufacture almost every component for their appliances, including their controls.
In a world of outsourcing, Miele is almost completely integrated and produces all its equipment in one factory.
An average appliance lasts 6-10 years, but Miele designs its machines to operate for 20 years.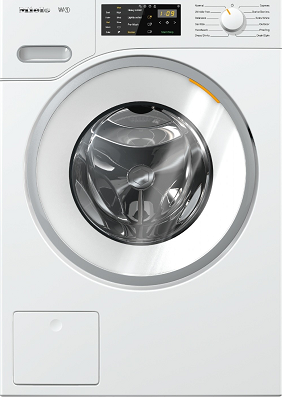 Features:
24 Inch 2.26 cu. Ft. Front Load Washer
12 Wash Cycles
1,400 RPM
Automatic Load Control
Sanitize Cycle
Outerwear Wash Cycle
CapDosing
Water protection system
Stainless Steel Honeycomb Wash Drum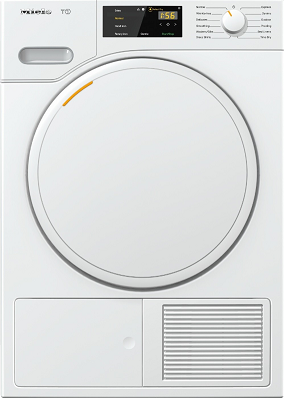 Features:
24 inch 4.03 Cu.Ft.
110-Volt Heat pump Electric Dryer
FragranceDo's: New feature/a pod that attaches to the dryer vent and releases a lot or a little (controlled by you) of different fragrances to freshen up your laundry.
12 Dry cycles
Direct sensor - clothes will not get over dried
Miele Classic Compact Laundry Series [VIDEO]
Miele Vs. Blomberg Compact Washers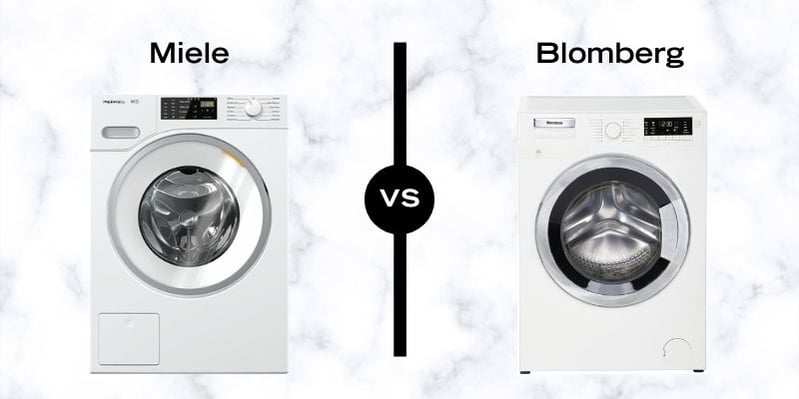 Blomberg will technically have more cycles. Their electronic touch controls are a bit more streamlined than the Miele.
Miele has better features. You can wash silks and other fine fabrics because of their honeycomb or perforated drum.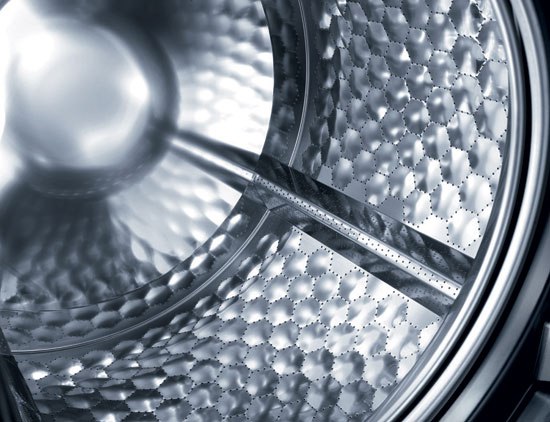 Miele's Compact Washer Honeycomb Drum
Your clothes wash on a sheet of water rather than on the tub for a more gentle wash.
You also have an automatic detergent dispenser feature called CapDosing in a Miele.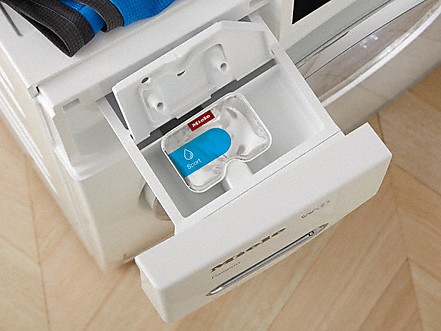 Miele's Compact Washer CapDosing Feature
You can use Tide or any other caplets to wash your clothes. Only Electrolux has this feature in a full-size machine.
Miele also has its special application caplets for outerwear, silks, wools, ultra-dark fabrics, and others.
Their proofing cycle, speaking of outerwear, is designed to keep the repellent qualities of your rain jackets through the precise wash cycle.
Miele Vs. Blomberg Compact Dryers With Heat Pumps
This comparison requires a bit more explanation.
First, let's describe what a heat pump is. Then we will tell you the differences between the two brands.
What is a Heat Pump Dryer?
A heat pump uses a compressor instead of elements to dry your clothes. The air is recycled and stored in the machine.
Heat pumps are better than regular drying elements because they use less than half the electricity.
They also store heat and do not project heat into the room like another ventless laundry.
Miele's 110 Volt Vs. Blomberg's 220 Volt Compact Dryers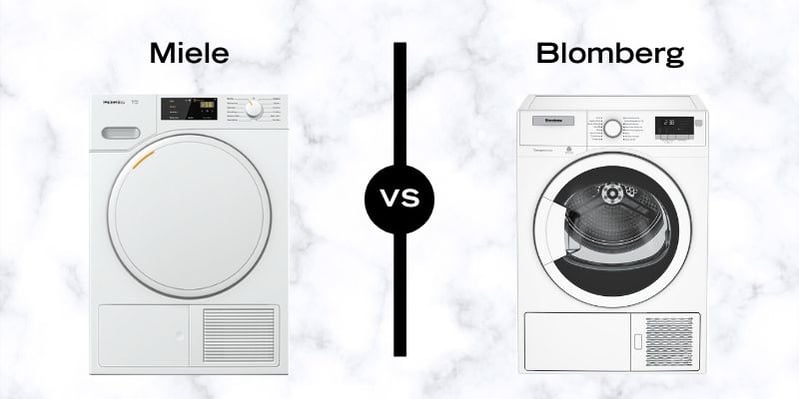 This dryer comparison becomes more complicated because Blomberg is a 220 Volt machine and Miele is 110 Volt.
The difference between the voltage is power. Traditionally 220 volts would require fewer amps. This voltage would require half the amps to dry the same.
However, in appliances, a 220-volt dryer has twice the amps at 30 versus 110 volts at 15.
The Blomberg will dry quicker. Of course, both washers spin at a high 1400 RPM removing most moisture from your clothes for faster drying.
Reliability
Miele, along with Bosch, is the most reliable pair in terms of percentages.
Most Reliable Compact Washers For 2019
| | | | |
| --- | --- | --- | --- |
| | Service Qty | Shipped Qty | Service Ratio |
| LG Electronics | 0 | 1 | 0.00 % |
| Bosch Appliances | 47 | 710 | 6.62 % |
| Whirlpool | 2 | 29 | 6.90 % |
| Samsung | 18 | 201 | 8.96 % |
| Miele | 19 | 180 | 10.56 % |
| Fisher & Paykel | 1 | 6 | 16.67 % |
| Blomberg | 36 | 196 | 18.37 % |
| Asko | 13 | 29 | 44.83 % |
| Maytag | 2 | 1 | 200.00 % |
| Grand Total | 141 | 1378 | 10.23 % |
Most Reliable Compact Dryers For 2019
| | | | |
| --- | --- | --- | --- |
| | Service Qty | Shipped Qty | Service Ratio |
| Amana | 0 | 1 | 0.00 % |
| LG Electronics | 0 | 4 | 0.00 % |
| Fisher & Paykel | 0 | 5 | 0.00 % |
| Miele | 7 | 207 | 3.40 % |
| Samsung | 9 | 219 | 4.11 % |
| Electrolux | 9 | 136 | 6.62 % |
| Bosch Appliances | 77 | 1023 | 7.50 % |
| Maytag | 2 | 26 | 7.70 % |
| Whirlpool | 6 | 51 | 11.80 % |
| Blomberg | 90 | 515 | 17.50 % |
| Asko | 20 | 82 | 24.40 % |
| Grand Total | 220 | 2269 | 12.44 % |
Should You Buy Miele or Blomberg Compact Laundry?
Blomberg will dry faster. It is a decent set. That's why we compared the two.
However, Miele is a better machine for washing fine fabrics. It has the new CapDosing feature and is more reliable for less money.
This pair may be the best value in all of the compact laundry for any brand.
Additional Resources
Get our Compact Laundry Buying Guide for more in-depth information about every major compact laundry manufacturer like Bosch, Asko, Blomberg, and more. Over 620,000 people have already found answers in a Yale guide.
Related Articles:
Why Should You Trust Us?
It seems that every appliance review has nothing but glowing comments about almost every product, yet you read customer reviews and they are almost universally bad.
We are here to fill in the disconnect. We'll give you the best features, and the drawbacks as well, including reliability based on over 37,000 calls performed by our service team just last year. Our goal is to give you ALL the information so you know what's right for you.
Please consider subscribing or adding to the conversation in the comments below. We appreciate you stopping by.
A Note About Pricing
Pricing on this blog is for reference only and may include time sensitive rebates. We make every attempt to provide accurate pricing at time of publishing. Please call the stores for most accurate price.