January 19th, 2022 | 5 min. read
How We Calculate Appliance Reliability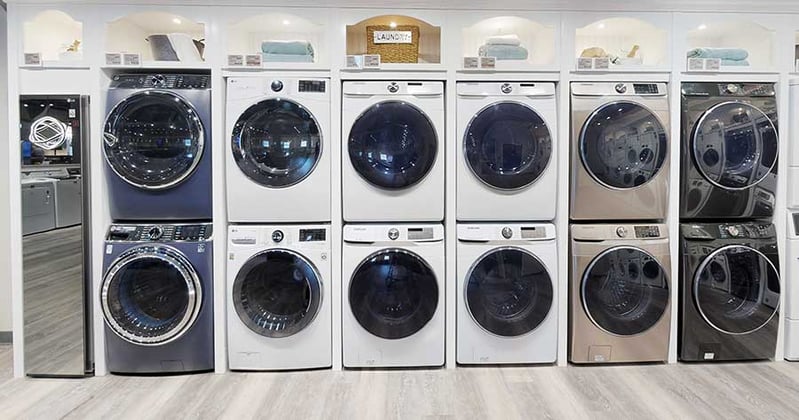 Front Load Washers and Dryers at Yale Appliance in Hanover
Our appliance reliability formula is simple. We calculate appliance reliability by dividing the products we serviced by the products we sold.
For this article, we looked at the number of appliances sold and serviced from December 1, 2020, to October 31, 2021.
We try to correct customer education calls with technicians over the phone. However, if we must dispatch a truck to your home, it counts as a service call.
We track the first year only because we provide free warranty service. After that, it's hard to know if people use us (or know to call us).
Read More: Most Reliable, Least Serviced Appliance Brands
Most Reliable Full-Size Clothes Dryers for 2022
| | |
| --- | --- |
| | Service Rates |
| Whirlpool | 0.4% |
| LG | 2.0% |
| GE Appliances | 5.2% |
| Maytag | 6.0% |
| Grand Total | 3.5% |
These numbers are excellent by any measure.
The average appliance needs repair 9.5% of the time within the first year, yet dryers need repair almost a third less at 3.5%.
Two brands, Whirlpool at 0.4% and LG at 2.0% have stellar repair rates.
But there are problems in the industry. One manufacturer had a defect with their lint screens. It was a 100% fail. We are no longer representing that brand. Wonder if they fixed the problem? Somehow, I doubt it.
Overall, all the dryers are good. Let's match them with washers for a reliable pair. This is especially important if you are planning to stack your washer and dryer.
What Are the Most Dependable Laundry Pairs?
Based on over 3000 service calls for front load washers alone, the Most Reliable Front Load Washer Brands for 2022 are:
LG- 3.3%

Samsung - 4.9%

GE Appliances - 8.0%

Whirlpool - 9.5%

Maytag - 15.0%
Once again, these numbers are stellar, so buying a reliable pair should be easy. A reliable, available laundry set will be much harder as many brands have issues.
Let's look at some options.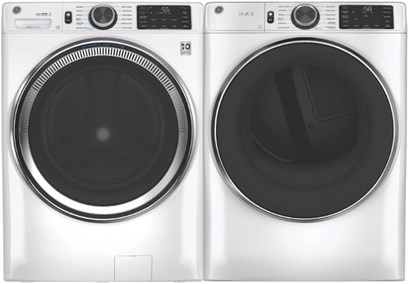 GE Appliances GFW650SSNWW - GE Appliances Front Load Washer
GE Appliances GFD65ESSNWW - GE Appliances 28" Front Load Dryer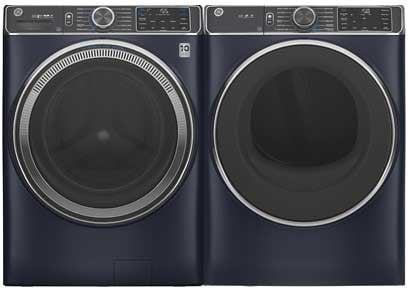 GE Appliances GFW850SPNRS - 28" Front Load Washer
GE Appliances GFD85ESPNRS - Front Load Dryer
GE is newer to the market and has some unique features including the best mold prevention package with Microban antimicrobial surfaces and a fan inside the washer to dry residual moisture.
Both machines have larger capacities at 4.8 and 5.0 cubic feet, steam, Wi-Fi, and several cycles.
The difference between the two machines is 0.2 cubic feet plus the GFW850 has an overnight cycle. You can leave a small load and it will be washed and dried in the morning.
LG Electronics DLE3400W - 7.4 cu. ft. Ultra Large Capacity Electric Dryer
LG Electronics WM3400CW - 4.5 cu. ft. Ultra Large Front Load Washer
LG Electronics WM3400CW - 4.5 cu. ft. Ultra Large Front Load Washer
LG Electronics DLG3401W - 7.4 cu. ft. Ultra Large Capacity Gas Dryer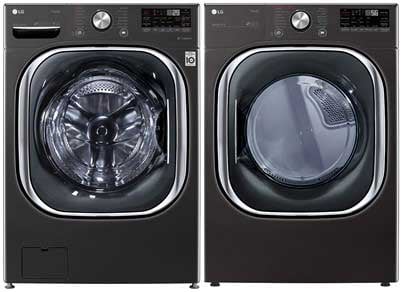 LG Electronics DLEX4500B - 7.4 cu. ft. Ultra Large Capacity Smart wi-fi Enabled Front Load Electric Dryer
LG Electronics WM4500HBA - 5.0 cu. ft. Mega Capacity Smart wi-fi Enabled Front Load Washer
LG Electronics DLGX4501B - 7.4 cu. ft. Ultra Large Capacity Smart wi-fi Enabled Front Load Gas Dryer
LG Electronics WM4500HBA - 5.0 cu. ft. Mega Capacity Smart wi-fi Enabled Front Load Washer
LG is incredibly popular due to its shallow washer at 30.25 inches. It fits in tighter closets for stacking.
The basic washer still has eight cycles and eight options. For perspective, your parents had about 3-4 cycles.
The upgrade has Turbo360 or five high-pressure hoses to shorten any cycle to 30 minutes. You also have Wi-Fi and a few more cycles as well.
What about Maytag and Samsung?
Both will be tough to find at least at Yale. Maybe the box stores will have an errant piece. With Samsung, be careful about finding services or support of any kind.
Maytag has an automatic detergent dispenser on the top, which is susceptible to mold and future service calls. You should not have a problem if you maintain it.
GE and Whirlpool have theirs in the front where it has not been an issue.
For a top-load washer, Whirlpool or Maytag is fine. Even a Frigidaire top load set is OK (we do not sell Frigidaire appliances).
Should You Buy an Extended Warranty?
Maybe.
First, don't bother to buy an extended warranty from any store without a service department. Most of these contracts are third-party companies without technicians.
You will spend money just to become aggravated.
Let's assume you are buying your washer and dryer from a store with service, so you actually will have a repairman show up when needed. Washers and dryers are reliable, so there is less of a need to buy a warranty extension.
However, washers are some of the most technical and expensive to fix.
It is less expensive for us at Yale to give you a new washer rather than spend the time, parts, and manpower fixing a front-load motor.
Also, with COVID-19 affecting the supply chain, many parts, including dryer repair kits, are unavailable.
An extended warranty will protect you from that in the short term. There is an argument either way. Treat it like any insurance and do what is right for you.
Read more: Are Appliance Extended Warranties Worth It?
What to Know Before Buying a Dryer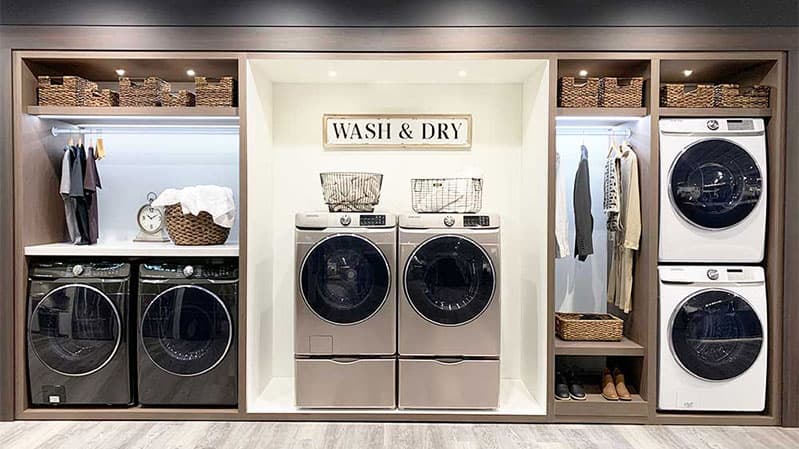 Front Load Laundry at Yale Appliance in Hanover
Be sure you know who can fix your appliance before you buy it.
We service what we sell and logged more than 40,000 service calls last year with 35 technicians. All these products are lower than the average rate of repair for an appliance at 9.5%.
If there isn't adequate service or products available on a brand, then opt for another manufacturer. The reliability numbers and features are close enough where better product service should be the deciding factor.
Additional Resources
Have more questions about laundry? Get the Yale Dryer Buying Guide with features, specs, and capacities of all the major brands. Well over 1 million people have read a Yale Guide.
Related Articles:
Most Reliable Appliances Series:
Why Should You Trust Us?
It seems that every appliance review has nothing but glowing comments about almost every product, yet you read customer reviews and they are almost universally bad.
We are here to fill in the disconnect. We'll give you the best features, and the drawbacks as well, including reliability based on over 37,000 calls performed by our service team just last year. Our goal is to give you ALL the information so you know what's right for you.
Please consider subscribing or adding to the conversation in the comments below. We appreciate you stopping by.
A Note About Pricing
Pricing on this blog is for reference only and may include time sensitive rebates. We make every attempt to provide accurate pricing at time of publishing. Please call the stores for most accurate price.