KitchenAid Vs. Bosch Vs. Miele Dishwashers: Which Is Better? (Reviews / Ratings / Prices)
October 27th, 2020 | 6 min. read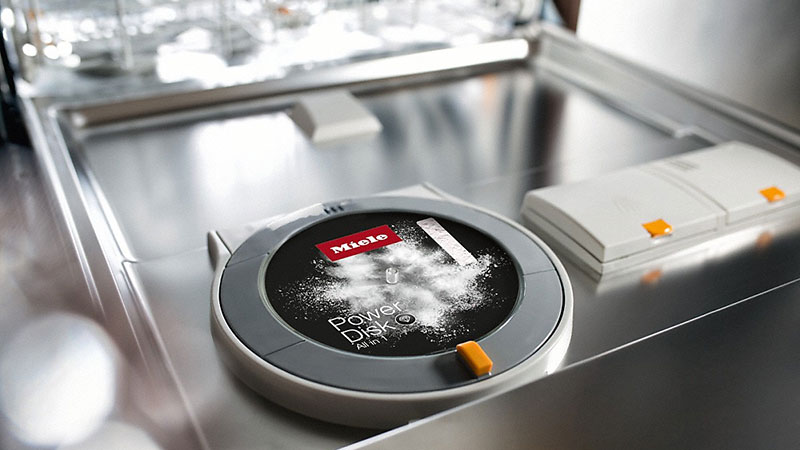 If you're shopping for a dishwasher over $900, Bosch, KitchenAid, and Miele become your best choices.
Which dishwasher is better?
Another good question is which dishwasher is available to buy?
We have chosen the best dishwasher models from KitchenAid, Bosch, and Miele based on availability.
KitchenAid, Miele, and Bosch all have new dishwashers and features from the world's first auto dispenser to a drying system powered by volcanic elements (seriously).
In this article, you will learn your best dishwasher choices between Miele, KitchenAid, and Bosch for different price levels, features, and reliability based on actual service calls.
First, let's look at some of the recent innovations of all three.
Bosch, Miele, And KitchenAid Dishwasher Innovations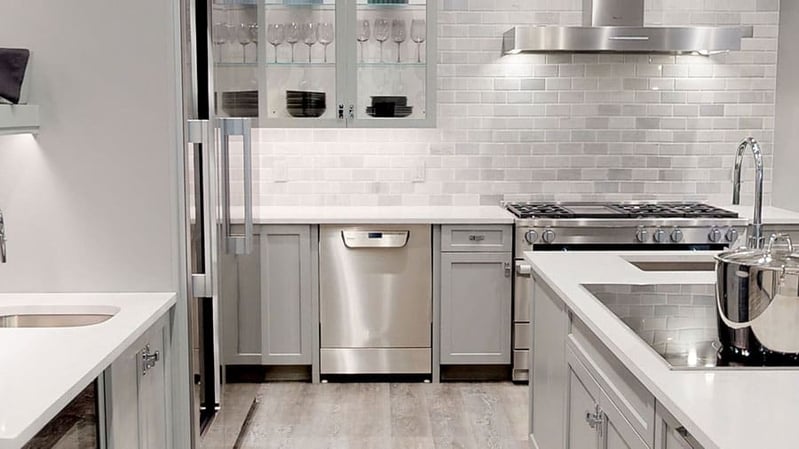 Miele Stainless Steel Dishwasher at Yale Appliance in Hanover
Drying
Bosch, for a long time, used an industry-friendly term called condensation drying.
That's industry jargon for the heat from the washing cycle, mixed with JetDry and time. It works fine except for less dense items like plastic.
Now, Bosch added AutoAir, a new drying system that pops open the dishwasher door at the end of the cycle, releasing steam and moisture.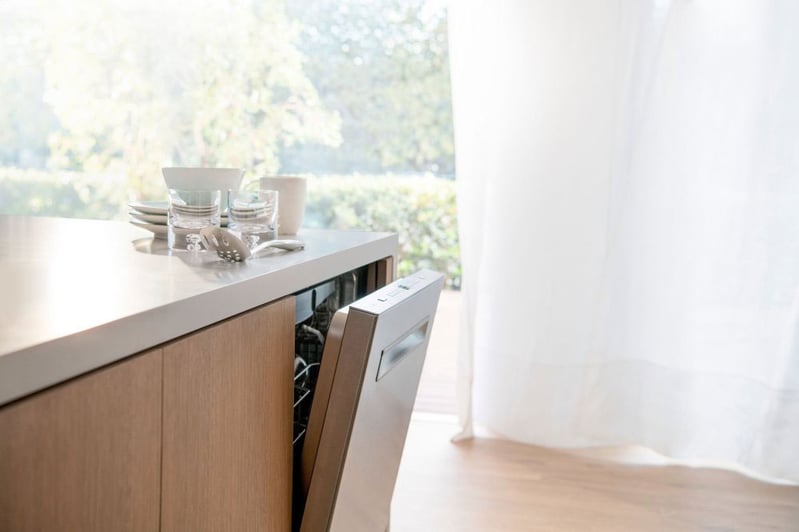 Bosch Dishwasher With AutoAir
Their better models added a volcanic element called zeolite. In a dishwasher, zeolite adds heat and reduces moisture.
It works well.
Read More: 5 Best Bosch Dishwashers
Miele has an intake on the bottom, so air is directed to the side of the dishwasher.
The hotter air is attracted to the cooler side and dissipated as water. Their better models pop open at the end of the cycle, while their best models have two intakes for faster drying.
KitchenAid uses heated drying in their less expensive models. They added their more expensive models and pulled the air into the dishwasher, similar to Miele, along with a heated dry option.
Read More: Best KitchenAid Dishwashers
Washing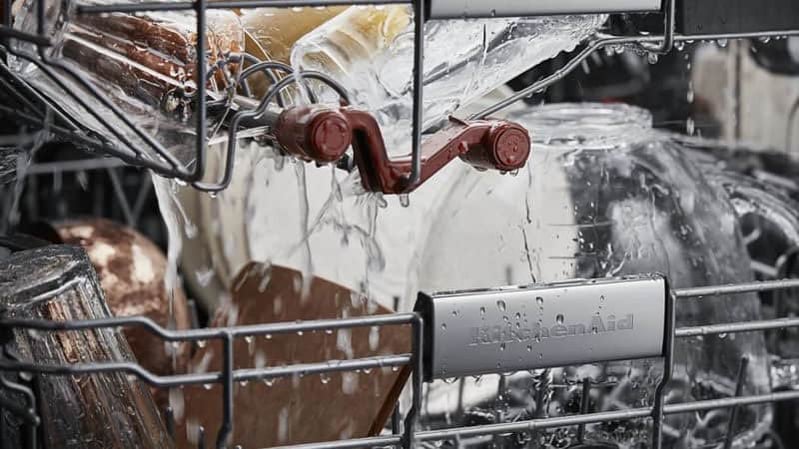 KitchenAid Dishwasher High Pressure Wash Arm Under The Top Rack
KitchenAid's new M Series dishwashers now have four levels of washing action.
There are two under each basket, one more on the top, and high pressure wash from the top rack itself.
Miele still has an excellent wash system with three full spray arms.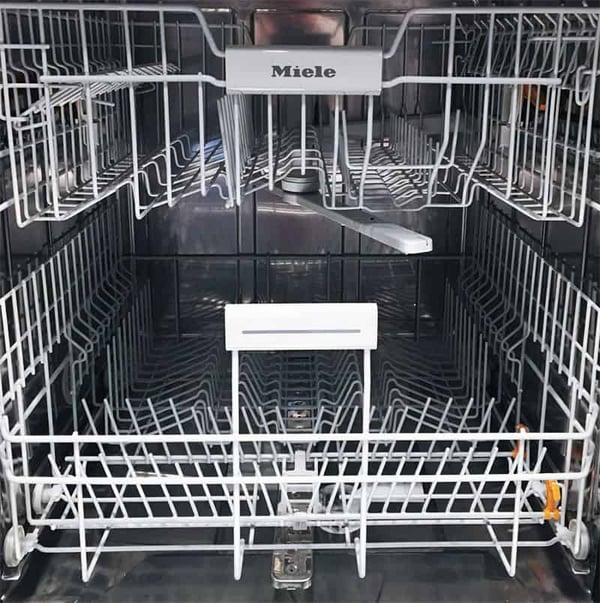 Miele Dishwasher Wash Arms
Bosch has two and a sprinkler on the top.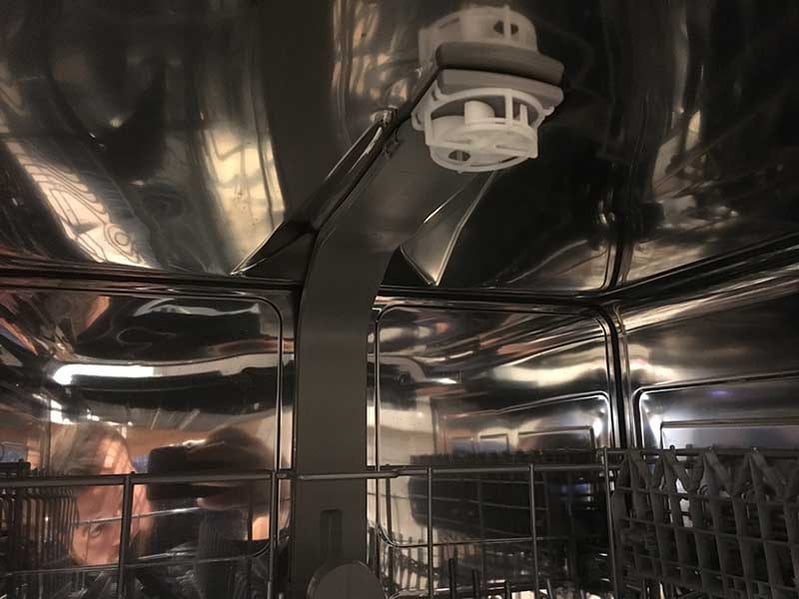 Bosch Dishwasher Sprinkler System
Quietness
KitchenAid's less expensive line is now the quietest at 39 dB. Their more expensive line is 44 dB because of a new double filtering system for cleaner water.
Miele's new G 7000 series will be even quieter at 38 dB depending on your cycle selection. However, to reach a sound level of 38 dB, Miele slows the dishwasher's mechanics to a 4-hour cycle. It's still quiet at 40-43 dBs without that cycle.
Bosch has always been quiet at 44 dB or less. 44 dB is the threshold for quietness in a dishwasher.
Here is what a dishwasher sounds like:
Dishwasher Sound Level Comparison [VIDEO]
Racks
KitchenAid now has the largest top rack to accommodate more. Miele has the 3D cutlery. It can fold up so you can fit more on the top rack/
Miele has the most flexible racks. Everything in orange can be flipped up or adjusted.
Automatic Dishwasher Detergent Dispenser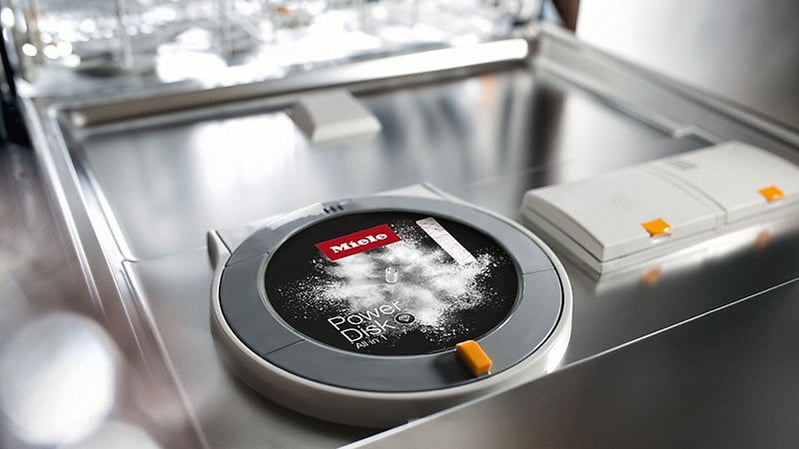 Miele's AutoDos Automatic Dishwasher Detergent Dispenser
Mieles' new dispenser can now hold up to 20 loads of detergent in its new dispenser. The detergent is released precisely at the right time for the best cleaning.
Like Bosch's zeolite drying, I was incredibly skeptical. There's a lot of technology just to dispense soap.
However, it works.
Clients claim their dishes and glasses have never been cleaner. Detergent does work better at the right time and temperature.
Read More: Are The New Miele G 7000 Dishwashers Any Good?
Wi-Fi
Bosch and Miele both have Wi-Fi. Unlike many manufacturers, their Wi-Fi works. Miele's dishwasher also reports detergent usage on their AutoDos.
KitchenAid Vs. Bosch Vs. Miele Dishwashers
Where They Compete
Bosch and KitchenAid used to compete at every price level from $599. Now with COVID, many of the lesser expensive dishwashers are not available.
Miele is your best choice for over $2,200. Then again, it's your only choice.
Let's look at a few basic comparisons:
In a Pre-COVID world, this is an excellent comparison.
KitchenAid 200 Series And 600 Series VS. Miele Futura Classic VS. Bosch 500 Series Dishwashers
KitchenAid KDTE204KPS - $949 | Miele G4228SCUSS - $999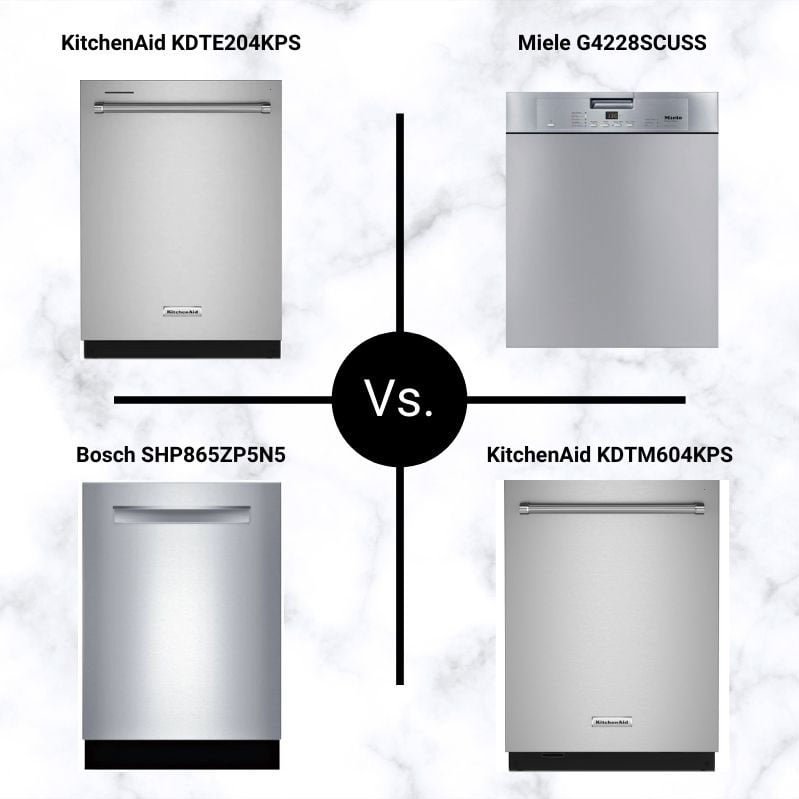 Bosch 500 Series SHP865ZP5N - $1,119 | KitchenAid 600 Series KDTM604KPS - $1,199
Prices Range: $899-$1,199
KitchenAid
This comparison is odd. The quietest dishwasher is the least expensive KitchenAid KDTE204KPS.
KitchenAid Dishwasher KDTE204KPS Review [Video]
The best racks are the more expensive KitchenAid 600 Series.
KitchenAid 600 Series Dishwasher With The Best Wash Action [Video]
Bosch
However, Bosch has ball bearing racks to glide out smoothly even when filled with dishes.
Miele
The best washing system may still be the Miele with three full spray arms. KitchenAid does have their improved washing with four levels and filtering in their better machines.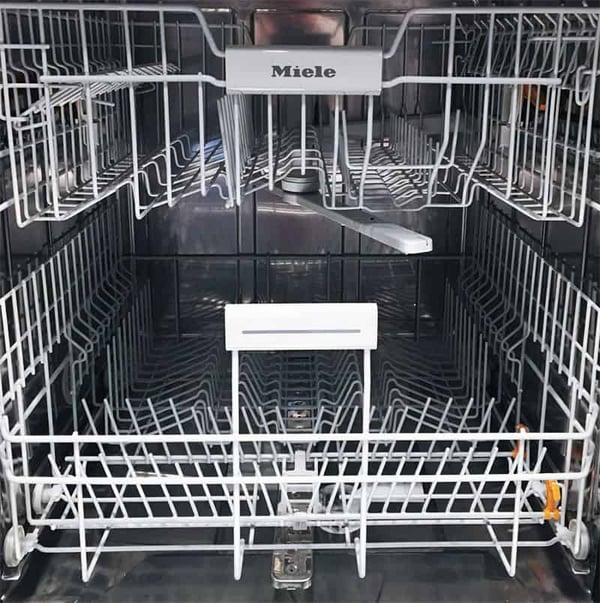 Miele Dishwasher Wash Arms
Your Best Choices: Miele And KitchenAid
For drying, Miele and KitchenAid have an intake to pull the air to the side of the dishwasher. The hot air is attracted to the cooler side and dissipated as water. Bosch uses its condensation dry. Once again, its JetDry and residual heat from the wash plus time.
KitchenAid 700 Series Vs. Miele G 7100 Series Vs. Bosch 800 Series Dishwashers
KitchenAid KDPM704KPS - $1,399 | Miele | Bosch SHP878ZP5N - $1,329 | Miele G7156SCVISF - $1,599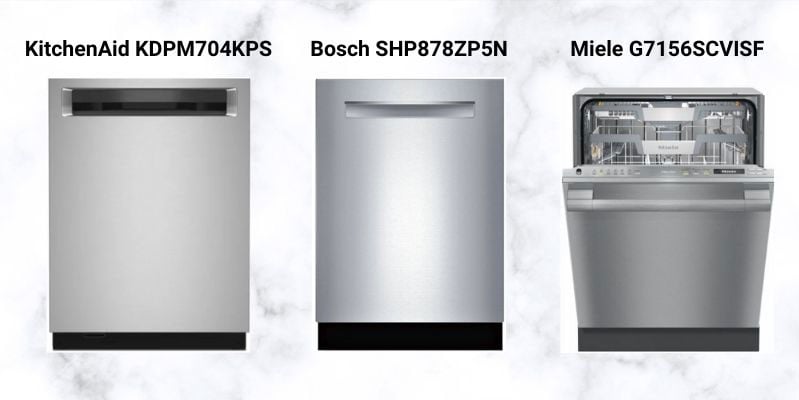 KitchenAid
The new KitchenAid design is excellent. However, the KDTM604 is $1,199. When you step up to the next better model, the upgrades are only six glass holders and a LED light.
New KitchenAid 700 Series Dishwasher Review [Video]
Bosch
Bosch has its CrystalDry drying system with the zeolite and its auto-opening door.
At this level, Miele is better for washing and Bosch a bit better for drying while you don't have to spend $200 to upgrade the KitchenAid.
Bosch 800 Series Dishwashers With CrystalDry [Video]
Miele
Miele has a whole new series, the G 7100 starting at $1499, with new cycles like QuickIntenseWash cleaning your soiled dishes in 58 minutes.
Many other brands have a shorter cycle, but just for lightly soiled dishes.
Miele G 7000 Series Dishwashers With AutoDos And PowerDisk [Video]
Your Best Choice: Miele
The G 7100 series has better racks, as well as their auto-opening door. Out of all the dishwashers, their cycles and options are the best.
KitchenAid 800 Series Vs. Bosch Benchmark Vs. Miele G 7300 Series
KitchenAid KDTM804KPS - $1,799 | Bosch Benchmark SHX89PW75N - $2,099| Miele G7366SCVISF - $1,999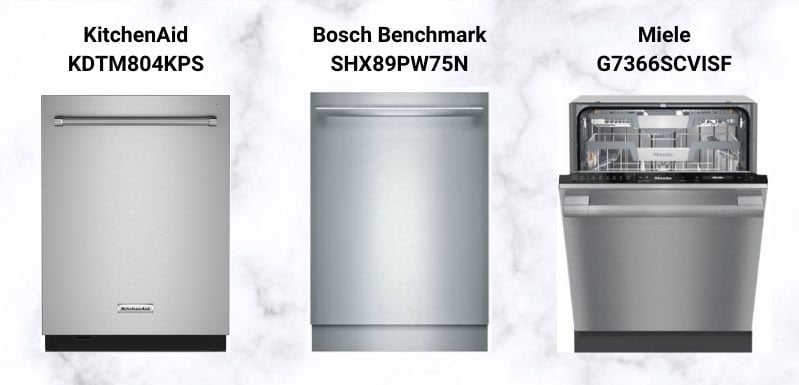 KitchenAid
KitchenAid just adds a knife caddy and silver on the racking for $400. Not much more happening there.
Bosch
Benchmark is Boschs' best series. It adds more cycles and a cool TFT touch screen. However, the basics of washing and drying don't change.
Miele
Miele's best models, however, are from $1,999-$2,999. Their G 7300 series has the 20-load dispenser releasing the right amount of detergent at the right time in the wash.
Quietness ranges from 44-39 depending on cycle length as well. You have a few more cycles as well.
Clean Machine is a program to clean the inside of the dishwasher. Filters and grates is a 3-hour plus cycle to clean stove grates and hood filters.
Should You Buy the Miele G7000 Series G 7366? [Video]
Your Best Choices: Bosch And Miele
The Bosch Benchmark is quieter at 38 dB compared to 40 dB of KitchenAid's 800 series. Miele has two more models with more cycles, a Knock2Open feature, sensor, advanced eco cycles, and improved controls.
Which Is More Reliable?
Dishwasher Reliability From January 2020 to September 2020
| | | | |
| --- | --- | --- | --- |
| | Service Qty | Shipped Qty | Service Ratio |
| Signature Kitchen Suite | 1 | 2 | 50.00 % |
| JennAir | 117 | 269 | 43.49 % |
| Fisher & Paykel | 48 | 142 | 33.80 % |
| GE Appliances | 9 | 46 | 19.57 % |
| Thermador | 102 | 592 | 17.23 % |
| Cove | 9 | 57 | 15.79 % |
| Miele | 93 | 593 | 15.68 % |
| Café Appliances | 9 | 63 | 14.28% |
| Bosch - Benchmark | 10 | 82 | 12.20 % |
| Bosch Appliances | 314 | 2670 | 11.76 % |
| GE Profile | 7 | 63 | 11.11 % |
| Samsung | 94 | 904 | 10.40 % |
| KitchenAid | 79 | 851 | 9.28 % |
| LG Electronics | 1 | 16 | 6.25 % |
| Beko Appliance | 13 | 372 | 3.49 % |
| Whirlpool | 14 | 533 | 2.63 % |
| Blomberg | 0 | 224 | 0.00 % |
| Grand Total | 920 | 7479 | 12.30 % |
KitchenAid and Bosch are reliable, especially for premium. Last year Miele had a minor noisy solenoid problem.
I think they will be more reliable with the new series. In 2017, a Miele dishwasher was the most reliable appliance sold at Yale.
Read More: Most Reliable Dishwashers
Which Dishwasher Should You Buy?
The best dishwasher may be the one most available now.
COVID has hit manufacturers and their supply chains incredibly hard.
All three dishwashers have their merits, but specific patterns emerge when you look at the features and costs.
KitchenAid excels between $900-$1,200 so much so that their better models are almost irrelevant. The 700 series can't improve much on an excellent 600 series.
Bosch's best dishwasher is at $1,279. Presently, their other dishwashers are decent from $849-$1,099. However, their availability has been poor.
They are a great company, and I am sure their availability will improve.
The smallest company, Miele, with the shortest supply chain, is competitive at every level. They are the best dishwasher to buy at $1999 and above.
At least presently.
When manufacturers recover and promote with 10-35% off, this comparison may look way different.
Additional Resources
Get our free Dishwasher Buying Guide with tips, trends, and reviews of all the major brands. Over 800,000 people have already found answers in a Yale guide.
Related Articles:
Why Should You Trust Us?
It seems that every appliance review has nothing but glowing comments about almost every product, yet you read customer reviews and they are almost universally bad.
We are here to fill in the disconnect. We'll give you the best features, and the drawbacks as well, including reliability based on over 37,000 calls performed by our service team just last year. Our goal is to give you ALL the information so you know what's right for you.
Please consider subscribing or adding to the conversation in the comments below. We appreciate you stopping by.
Steve Sheinkopf is the third-generation CEO of Yale Appliance and a lifelong Bostonian. He has over 38 years of experience in the appliance industry, and he is a trusted source of information for consumers on how to buy and repair appliances.

Steve has also been featured in numerous publications, including the New York Times, Consumer Reports, The Boston Globe, Bloomberg Radio, the New York Post, The Wall Street Journal, and Entrepreneur, for his knowledge of how to buy appliances and appliance repair.

Steve is passionate about helping consumers find the best appliances for their needs, and he is always happy to answer questions and provide advice. He is a valuable resource for consumers who are looking for information on appliance buying, repair, and maintenance.

Despite being the worst goalie in history, Steve is a fan of the Bruins and college hockey, loves to read, and is a Peloton biker. The love of his life is his daughter, Sophie.
A Note About Pricing
Pricing on this blog is for reference only and may include time sensitive rebates. We make every attempt to provide accurate pricing at time of publishing. Please call the stores for most accurate price.