KitchenAid Vs. Bosch Dishwashers (Reviews / Ratings / Prices)
Bosch and KitchenAid dishwashers are the two most compared dishwashers, maybe even in all of the appliance industry.
If you are looking for a dishwasher between $700-$1,500, then these two brands will be a consideration.
Why?
Both brands have excellent dishwashers. Bosch and KitchenAid started as dishwasher companies, whereas most companies like Whirlpool, GE, Samsung, and LG started in laundry or refrigeration.
Both brands have also evolved. KitchenAid's latest model, KDTE334GPS, has become quieter addressing their previously known weakness of being too loud.
While the Bosch SHXM88Z75N has a new drying system called CrystalDry and can dry even plastics better than the best dishwashers. Like KitchenAid, they have addressed a weakness and turn it into a feature.
This is a tough comparison because Bosch and KitchenAid excel in different aspects of washing dishes.
Their main differences are:
How they wash
How they dry
Style
Reliability
Price
In this article, you will learn about both companies, their dishwashers, features, their reliability, and how they compare so you can decide which dishwasher is right for your home.
We will also cover style and when the right time to buy either of these dishwashers so you can save the most money.
In this comparison price and when you buy a dishwasher matters.
Short on time? Get our free Dishwasher Buying Guide
KitchenAid
KitchenAid is known as an affordable luxury appliance brand owned by the Whirlpool Corporation.
KitchenAid's early dishwasher changed the dishwashing business because of its solid commercial design.
KitchenAid's weakness was noise, especially when Bosch and Asko started importing quiet dishwashers into the US.
While it cleaned well, most people had to leave the house or put the washing cycle on delay to wash in the middle of the night.
The latest model finally addressed that issue by dropping to a noiseless 39 decibels by
changing their dishwasher to a more European design by removing the disposer and adding a filter.
Schedule a visit to our Boston and Framingham showrooms to shop at your convenience.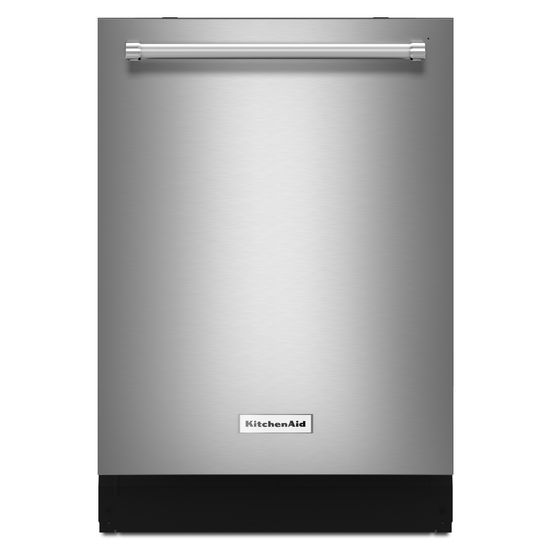 KDTE334GPS Features:
39 Decibels
Fan assist drying
Leak protection
Bottle Wash Option
Quick Wash
Delay Start
Sanitize cycle
Dryness: Delivers the best drying performance without a rinse aid by using a recessed heating element and a fan to draw moisture out of the wash tub when using either the ProDry™ or Extended ProDry™ Options.
Arm Spray: Provides spray nozzles in the upper rack that can be placed deep inside tall or odd-shaped items like bottles, glasses, and vases to clean them thoroughly. Each nozzle is adjustable so it can be positioned to accommodate any size glass or bottle.
Smudge-Proof Stainless Steel Finish: Resists smudges and fingerprints. The specialized coating for stainless steel is easy to clean with just water and a soft cloth.
Auto Clean: Determines the ideal cycle for washing dishes based on soil level and then makes real-time adjustments to achieve the best cleaning performance.
Durable Stainless Interior: Offers the beauty and benefits of stainless steel for the dishwasher interior. It resists streaks, stains, and odors while retaining heat to help improve drying performance.
Slide Rails: Creates a smooth, premium feeling when pulling out the upper rack, particularly with heavy loads.
Quietness: This KitchenAid is one of the quietest dishwashers you can buy at 39 DB.
KitchenAid KTDE334GPS Dishwasher [VIDEO] - Ratings / Reviews / Prices
Visit our Resource Center for videos, buying guides, checklists & more.
Bosch
Bosch dishwashers are made in North Carolina, even though they're based in Germany. Bosch is part of the BSH group (Bosch and Siemens Home Appliance Group), the 3rd largest home appliance company in the world.
Bosch was the first to have stainless steel tubs in their dishwashers. There was also the original quiet dishwasher with their first products imported back in the early 1990s.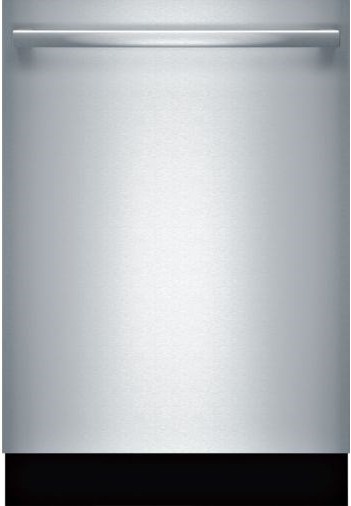 SHXM88Z75N Features:
CrystalDry
MyWay Rack
AquaStop leak protection
Easy Glide upper rack
Zeolite drying
40 decibels
Quick wash
Sanitize cycle
CrystalDry: We will describe the drying in detail later in this article, but Bosch uses a new system to dry better than any other dishwasher.
Quietness: Silence Rating of 40 dBA. 44 dBA is the threshold for what is considered quiet. Anything under 44 dBA, is extremely quiet.
AquaStop® Leak Protection: The AquaStop® system contains leaks through a precisely engineered tub and sensor system that works with the solid molded base.
If a leak has occurred, it shuts down operation and automatically pumps out water to avoid contact with the floor.
Ball Bearing Racks: Most solid in the industry.
Bosch 800 Series Dishwasher Featuring Crystal Dry [VIDEO] - Reviews / Ratings / Prices
Short on time? Get our free Dishwasher Buying Guide.
Bosch Vs. KitchenAid Dishwashers
Before we discuss the many differences, let's look at their similarities and why they are both good dishwashers.
What Do Bosch And KitchenAid Dishwashers Have In Common?
They share many of the attributes of great dishwashers. They both have:
Stainless steel tubs
Third silverware racks
Adjustable upper racks
Similar Cycles
Excellent Silence Ratings
Stainless Tub
Both stainless and plastic tubs can hold water, but stainless is nonporous. It doesn't retain odors like plastic.
Third Silverware Rack
KitchenAid Dishwasher Third Rack
You will like this feature. It is a convenient place for silverware, and it also adds more space on the bottom rack for more plates.
Adjustable Upper Rack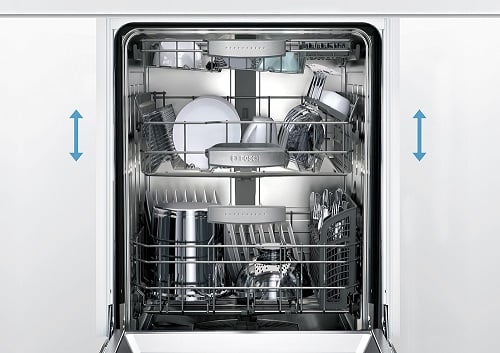 Bosch Dishwasher Racks
Both brands can adjust on the top rack to accommodate different combinations of plates and glasses.
Cycles
Both brands have tons of cycles.
KitchenAid Dishwasher Cycles And Options
KitchenAid 334 cycles: Prowash (auto), Tough, Normal, Express Wash, Rinse only
KitchenAid options: Extended pro dry, Bottle wash, Hi-temp, Sani rinse, delay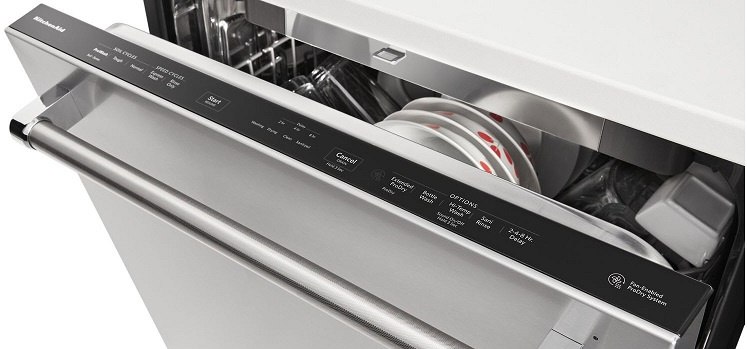 Bosch Dishwasher Cycles And Options
Bosch 800 shxm88z75n cycles: Heavy, Auto, Eco, Normal, Speed60, Rinse only
Bosch options: Half Load, Delicate, Sanitize, Eco, CrystalDry, Delay

Quietness
Both dishwashers are unbelievably quiet. Forty-four decibels is considered quiet, so you won't hear it in an open kitchen watching TV in your living room.
Both of these dishwashers are quieter than that. KitchenAid is 39, with Bosch being 40 decibels, meaning you can tell when they will be on.
According to acoustical engineers, 40 DB has the same quietness as a library.
You can watch the video below to hear a 44 vs. 55-decibel dishwasher.
What Are The Differences Between KitchenAid and Bosch Dishwashers?
The major differences between the Bosch and KitchenAid dishwasher are:
How they wash
How they dry
Style
Reliability
Price
How They Wash
Their wash systems are similar to two sprays on the bottom and one on the tip. KitchenAid has a small wash arm on the top, with Bosch being more of a spout. Both wash the dishes generally. However, there are some differences.
KitchenAid Vs. Bosch Wash Systems
For anyone who has a baby or likes powdered drinks, you know the residue at the bottom is miserable to clean.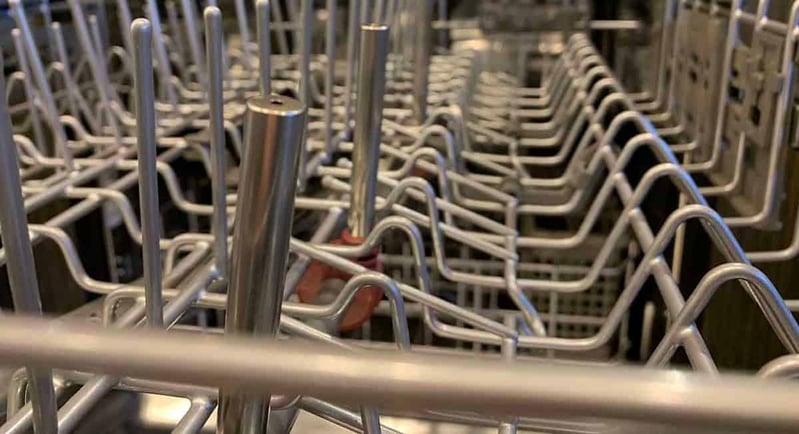 KitchenAid Dishwasher Feature - Bottle Spray Jets And Wash Arms At Yale Appliance
KitchenAid has sprays just for bottles on the top rack with its bottle wash system. Have a look at the pic. It's smart. Right now, only Samsung, KitchenAid and GE have concentrated washes.
Cleaning Baked-On Dishes
KitchenAid has the ProScrub or concentrated sprays for your baked on trays, bowls, and platters.
It's small, more focused sprays (think placing your thumb over your garden hose).
Bosch can wash lasagna pans, especially in a longer high heat cycle. For something truly baked-on, KitchenAid should be better at scouring that dish.
How They Dry
This is the biggest difference from the last time we published this comparison. Before we delve into this in detail. I need to answer this question.
What is Zeolite?
Zeolite is a volcanic element with an endless amount of uses. It's in supplements and has been used in toxic cleanups.
In a dishwasher, it absorbs moisture and emits heat. Bosch has it packed in the dishwasher, and it never has to be replaced.
How It Works
We tested zeolite drying with a Thermador dishwasher (Bosch and Thermador are the same), and it washed and dried in 20 minutes, even plastic dishware.
This Bosch doesn't have a 20-minute cycle, but the drying is the same. Check out the video below.
KitchenAid Vs. Bosch Drying Methods
KitchenAid has decent drying. There is a drying element for extra heat and a fan to pull out the moisture.
Bosch now has CrystalDry, the best drying system using zeolite. The dishwasher, like Miele and Samsung, will pop open at the end of the cycle to release steam and moisture as well.
Style
Panels
If you are placing a cabinet front on your dishwasher, then a European style like Bosch or Miele is far better.
It doesn't protrude like an American and will blend in with the rest of your cabinets. That is the reason to panel any appliance.
Black Stainless Steel Finish
I am not a fan of Black Stainless Steel because it scratches, leaving the shiny stainless underneath. The scratches are impossible to repair.
However, many people like the color. In a dishwasher, it's below your sightline so that the scratches won't be as noticeable as a refrigerator.
Bosch has the best Black Stainless. It is the most scratch-resistant because they bake the black into the process. KitchenAid uses an oxidized coating like other manufacturers.
Below are a couple of scratch test videos where we scratched over $14,000 of black stainless steel refrigerators, including Bosch and KitchenAid, using a fork. You should review the results before buying any appliance in back stainless steel.
Reliability
Both are good brands to consider. The average service rate on a dishwasher in the first year was 13.09% based on our own database of sales versus service. We logged over 36,000 service calls last year.
Below is last year's service calls divided by the amount shipped for each brand in 2018. Last year, we logged 34,687 service calls - 8,852 were just dishwasher service calls.
Most Reliable Dishwashers For 2019
| | | | |
| --- | --- | --- | --- |
| | Service Qty | Shipped Qty | Service Ratio |
| Signature Kitchen Suite | 0 | 17 | 0.00 % |
| Whirlpool | 44 | 1030 | 4.27 % |
| Gaggenau | 2 | 42 | 4.76 % |
| LG Electronics | 4 | 78 | 5.13 % |
| Samsung | 85 | 915 | 9.29 % |
| Maytag | 3 | 29 | 10.34 % |
| Bosch Appliances | 303 | 2735 | 11.08 % |
| Miele | 155 | 1078 | 14.38 % |
| KitchenAid | 115 | 705 | 16.31 % |
| Thermador | 123 | 711 | 17.30 % |
| Jenn-Air | 170 | 908 | 18.72 % |
| Blomberg | 6 | 28 | 21.43 % |
| Fisher & Paykel | 42 | 175 | 24.00 % |
| Bosch - Benchmark | 38 | 158 | 24.05 % |
| Asko | 47 | 195 | 24.10 % |
| Amana | 3 | 11 | 27.27 % |
| Frigidaire | 10 | 22 | 45.45 % |
| Frigidaire Gallery | 5 | 8 | 62.50 % |
| Electrolux | 2 | 2 | 100.00 % |
| Frigidaire Professional | 2 | 2 | 100.00 % |
| Grand Total | 1159 | 8852 | 13.09 % |
Bosch came in better than average at 11.08%, and KitchenAid is slightly below average at 16.31%.
Many of the more reliable dishwashers like Whirlpool are simple and sold to primary builders, so the numbers are a bit skewed lower.
However, Bosch is 5.23% more reliable than KitchenAid in the first year.
Unfortunately, in the appliance industry, the decent repair is tough to find. So be mindful before you buy. Don't wait to find out when you have that issue.
Price
KitchenAid is priced anywhere from $699 to $1199, depending on their promotions. Bosch will have a $200 install rebate at different times and rebates as well, including a 10% off for packages with other Bosch appliances.
When Is The Best Time To Buy A KitchenAid Or Bosch Dishwasher?
This is more important than it should be. However, our recommendation for buying appliances is waiting for a sale. You should know when the sales are. If you don't, here is a list:
Black Friday - now all of November
Labor Day - which can be a great time with Tax-Free weekends in different states
Presidents Day - February, it's not a weekend anymore. It's almost 17 days
Memorial Day
July 4th - although waiting until August is smarter with tax-free and Labor Day
Both Bosch and KitchenAid promote during these times.
Should You Buy A KitchenAid Or Bosch Dishwasher?
Both these dishwashers are great. However, their differences in features and price are significant factors in your decision. They are both quiet, have good racking, and stainless tubs.
KitchenAid has a better wash system, especially for bottles and baked on dishes.
Bosch has the best dry system. The zeolite minerals will dry your dishes better than any brand and can dry plastics.
In terms of reliability, both are good for featured, premium dishwashers. Bosch is better at over 5%.
Service is a problem no matter where you shop. You should be aware of this before you buy any appliance.
That should be the end of this comparison: KitchenAid for washing, Bosch for drying, and reliability.
However, I can be convinced to dry my own plastics if KitchenAid is $699 this Black Friday, and Bosch is $1259.
I can clean the gunk out of my toddler's bottles if Bosch has a 10% package rebate and an additional $100 rebate for Black Friday plus a $200 install credit.
So price as well as features should determine your final purchase.
Additional Resources
For more information about dishwashers, read the Yale Dishwasher Buying Guide with features, specs, and insider buying tips. Well over 535,000 people have read a Yale Guide.
Related Articles
WHY SHOULD YOU TRUST US?
A few review sites have placed this at the bottom of their articles. So here is our take: Our mission is to find reliable products for you to buy. Other review sites may say this as well.
However, we don't love every product. Quite frankly, it costs us way too much money in repair costs to support less reliable brands.
In fact, we sell fewer brands than most appliance stores. Here is why:
We feel it is our responsibility to repair your appliances after you buy them.
We now have 30 service technicians, each averaging 8-10 calls a day Monday through Friday, plus another 110 on Saturday. That's over 30,000 service calls logged in one year.
The labor rates of fixing an appliance do not come close to the true cost in any product's warranty period.
That is why no major retailer has a service department. It costs too much labor, money and time.
Our Blog is a bit different than most others you will read. We cannot write glowing reviews of unreliable products.
Hopefully, the bloggers and organizations who write such glowing product reviews for every brand consider servicing these products first. Only then they will understand the consequences of their marketing.
Craig Marcotte
Craig Marcotte is an Appliance Sales Consultant at Yale Appliance. He has been with Yale for a year now. Before working at Yale, Craig was a corporate trainer and later spent several years managing restaurants in Boston. A New Hampshire boy at heart, you can often find Craig on a mountain or running a Spartan race when he isn't helping customers upgrade their homes.
A Note About Pricing
Pricing on this blog is for reference only and may include time sensitive rebates. We make every attempt to provide accurate pricing at time of publishing. Please call the stores for most accurate price.