KitchenAid vs. Bosch Dishwashers (Reviews / Ratings / Prices)
If you are in the market for a dishwasher, KitchenAid and Bosch will definitely be one of your considerations. Along with Miele, these two brands are synonymous with premium products.
I wrote the original KitchenAid vs. Bosch comparison last year, but so much has changed. KitchenAid has become quieter like Bosch. Bosch has added capacity to be more like KitchenAid. So it's time to revisit the toughest comparison in the industry.
Short on time? Get our free Dishwasher Buying Guide
Let's look at European and American dishwashers, then we will compare.
European vs. American Dishwashers
Bosch makes a "European" dishwasher and KitchenAid makes an "American" dishwasher. What is the difference?
European Style Dishwashers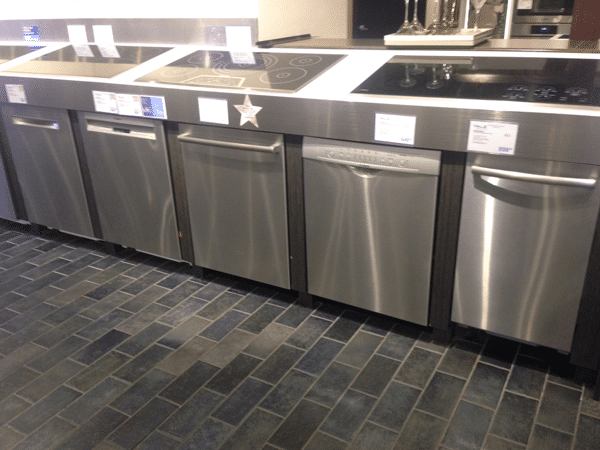 European dishwashers will sit flush in a 24'' deep cabinet. This is an attractive feature because the door will not protrude from the cabinets. If you are placing a panel on the front of your dishwasher in a 24'' deep cabinet I would strongly advise that you choose a European model such as Bosch, Miele, Asko, Thermador, or Gaggenau so that the cabinet door will line up with your remaining cabinetry
European dishwashers are known for being very quiet. They are quiet because they have a filter at the bottom of the dishwasher designed to catch food particles instead of a hard food disposer at the bottom of many American models
European dishwashers use less energy and water than American dishwashers. On average the European dishwasher will use 3.5 gallons of water per cycle. European dishwashers use condensation to dry the dishes, the hot water from the cycle will stick to the stainless steel sides of the dishwasher, the dishwasher does not use any energy to heat the air in the dishwasher to dry dishes
American Style Dishwashers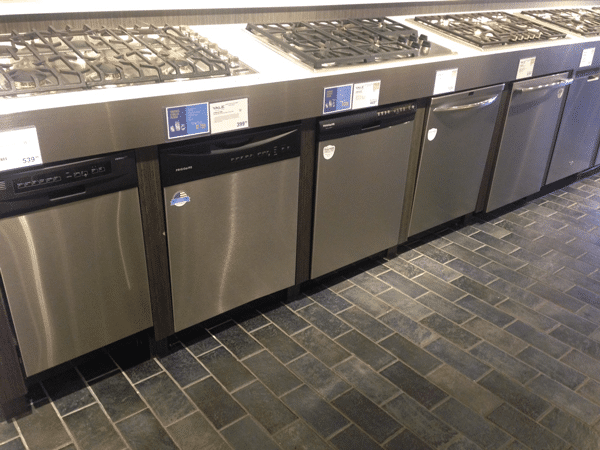 American dishwashers have a large capacity. The door will protrude 2-3 inches from a 24'' deep cabinet to accommodate a greater capacity than many European-style models. If you want to put a panel on your dishwasher, an American-style model will look best installed in an island or a deeper than 24'' cabinet
Many American dishwashers have a hard food disposer. This disposer is designed to get rid of large food particles on your dishes for easy maintenance. However, KitchenAid added the filter system to compete with the quiet ratings of the European models
American dishwashers use a heated dry cycle. The heated dry cycle is a coil at the bottom of the dishwasher designed to heat the air inside the dishwasher to dry the dishes
Bosch
Bosch is one of our favorite affordable luxury brands and has a great service history with our 20 service techs. Over the years Bosch earned a reputation for producing a quiet, reliable, and attractive dishwasher. Although Bosch is a German company, most Bosch dishwashers are manufactured in New Bern, North Carolina.
Bosch is a brand owned by the BSH Corporation along with luxury brands Thermador and Gaggenau. Although many Bosch dishwashers are American-made they have features common of many other European dishwasher brands such as quiet operation, condensation drying, water savings, and energy efficiency.
(Our free Dishwasher Buying Guide highlights all of the available Bosch dishwashers)
Bosch makes 5 series of dishwashers: Ascenta, 300-Series, 500-Series, 800-Series, and Benchmark Series with the Ascenta being the entry level model and Benchmark being their premium line. You can purchase a dishwasher for $600 to $2,000 depending on the model.
Bosch Dishwashers
Thanks for reporting a problem. We'll attach technical data about this session to help us figure out the issue. Which of these best describes the problem?
Any other details or context?
message
One of the biggest reasons people choose an American style dishwasher over a European style is for the greater capacity. Last year, Bosch released a new line of dishwashers that accommodate a greater capacity than other European dishwasher brands. The new Bosch dishwashers can sit flush in a 24'' deep cabinet but have 3'' deeper racking from front to back. Many of the Bosch dishwashers have foldable tines, adjustable racking, split cutlery basket, and a top cutlery rack to accommodate greater capacity.
KitchenAid
KitchenAid is another favorite affordable luxury brand and for years has been a well-known brand in the consumer market. KitchenAid makes a solid, reliable, American-style dishwasher with a variety of features at a range of prices.
American-style dishwashers are known for accommodating the needs of the American family featuring a large capacity, heated air dry cycle, and adjustable tines to accommodate a wide array of bowl and plate sizes.
KitchenAid Dishwashers
Thanks for reporting a problem. We'll attach technical data about this session to help us figure out the issue. Which of these best describes the problem?
Any other details or context?
message
(Get our free Dishwasher Buying Guide for more on KitchenAid and all the best dishwasher manufacturers)
One of the reasons people choose a European-style dishwasher over the American-style dishwasher is that previously European dishwashers were quieter than American models with a hard food disposer in the bottom. To solve this problem KitchenAid released a new line of dishwashers that have filters in the bottom to compete with the quiet dBA ratings of their competition. KitchenAid also included their high-end glide racks at a more affordable pricepoint, and a dishwasher with a third cutlery rack.
KitchenAid vs. Bosch Dishwashers
Let's take a look at our most popular selling models from each brand.
Bosch SHE53TL5UC - $724 (after any rebates)
Features:
46 dBA
Detergent Tray Optimizes Detergent Dissolving
RackMatic(R) on Upper Rack - 3 Height Adjustments and Up to 9 Possible Rack Positions
AquaStop(R) Leak Protection Works 24/7 – sealed tub underneath will lock in water and turn off machine in the event of a malfunction
Self-Latching Door
Full Size Stainless Steel Tall Tub Installs Perfectly Flush
15 Place Setting Capacity
LED Remaining Time Display
4 Programs and 5 options
Load Size Sensor Automates Wash Temperature
Sanitize Option Eliminates Bacteria and Enhances Drying Results
ExtraShine Option Enhances Shine and Drying Results of your Dishes
259 kwh/yr - Energy Star(R)
24 h Delay Start Timer
SpeedPerfect Option Reduces Cycle Time while Maintaining Cleaning Performance
KitchenAid KDFE104DSS- $629 (after any rebates)
Features:
46 dBA
ProWash(TM) Cycle – determines appropriate cycle for washing dishes and uses a turbidity sensor to determine when the cycle is finished
Durable Stainless Steel Construction – stainless steel interior resists stains, odors, and retains heat improving drying performance
Heat Dry Option – activates a recessed heating element at the end of the cycle
Fold-Down Tines in the Lower Rack
SatinGlide(R) Max Upper Rack – smooth feeling when pulling out upper rack especially with heavy loads
Fold-Down Shelf with Stemware Holders
4-Hour Delay Option
Filter-Based Wash System – maintains cleaning performance while lowering noise level
Sani Rinse(R) Option – heats rinse water to 155 degrees F eliminating food soil bacteria
Conclusion
In the appliance industry today I am thinking that American vs. European dishwashers is soon to be a concept of the past. It is clear that each manufacturer is striving to produce an "ideal" dishwasher. For example, Bosch recently adjusted their product to accommodate greater capacity and KitchenAid adopted the filter system in their new models to ensure quiet operation in open spaces. Both the European and American dishwasher manufactures are finding ways to take the best features from the two models and manufacture the best dishwasher possible.
Bosch and the KitchenAid each manufacture a competitive dishwasher. Six months ago I would have told you I would absolutely purchase a Bosch however with KitchenAid's new line I am not so sure.
I like that Bosch manufactures a quiet, energy efficient dishwasher with foldable tines, third cutlery rack capacity, a half-load option for small loads, and a speed perfect option to speed up cycle time.
I like that KitchenAid has started incorporating the features from some of their most luxurious models into their affordable luxury models such as the satin glide rack, foldable tines, adjustable upper rack and fold down shelf.
Reliability
Bosch is #2 at 12% service within the first year or 8% better than KitchenAid based on our service department stats from 2014 (roughly 20,000 total service calls).
My decision between these two models would likely depend on manufacturer rebates and other appliances in a package. Bosch may have an edge, because its service history is excellent at 12% within the first year.
Additional Resources
Read our Dishwasher Buyers Guide for features, specs and inside tips on all brands of dishwashers. Over 100,000 people have already read a Yale buyers guide.
Related Articles
Jessica Petrino
Jessica Petrino is an Appliance Sales Consultant at Yale Appliance + Lighting. Jessica is a graduate of Brandeis University where she studied Economics and Philosophy. In her spare time she enjoys skiing, golfing, and traveling.

Read more about Jessica here.
A Note About Pricing
Pricing on this blog is for reference only and may include time sensitive rebates. We make every attempt to provide accurate pricing at time of publishing. Please call the stores for most accurate price.