KitchenAid Vs. Bosch Dishwashers 2020 (Reviews / Ratings / Prices)
Probably the single biggest product comparison for dishwashers is Bosch versus KitchenAid.
If you are looking for a dishwasher between $749-$1,399, then these two brands will be considerations.
Why?
Both brands have excellent dishwashers.
Bosch and KitchenAid started as dishwasher companies, whereas most brands like Whirlpool, GE, Samsung, and LG started in laundry or refrigeration.
Both products have changed quite a bit since just last year (last month actually).
KitchenAid just changed their dishwasher with a new third rack and other features.
Bosch changed their dishwasher last year with a new drying system.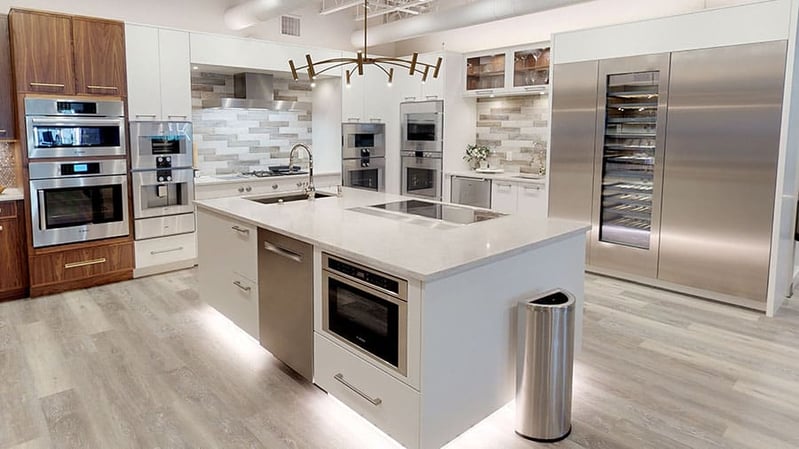 Bosch Kitchen Featuring An Installed Dishwasher at Yale Appliance in Hanover
So which brand is better?
Well, that all depends as this year's recommendation is vastly different from last year.
It also varies by price.
KitchenAid generally has better dishwashers under $1000 but offers little tangible upgrades over $1000.
Paying $300-400 for a window in your dishwasher is not all that popular.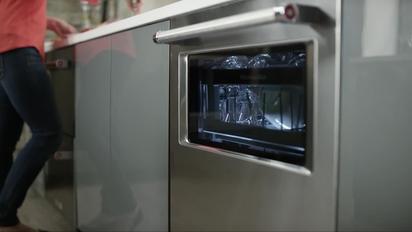 KitchenAid Dishwasher Window
Bosch, on the other hand, has some great features over $1000. Their racks are better, and their drying system is the best. However, you have to pay $1200+ for it.
So you will have different answers depending on the price.
In this article, you will learn about both companies, their dishwashers, features, their reliability, and how they compare so you can decide which dishwasher is right for your home.
The answers do vary, as I said previously.
So you will read three comparisons plus a general observation for paneling a dishwasher.
We will also cover style and when the right time to buy either of these dishwashers so you can save the most money.
Let's get started.
Short on time? Get our free Dishwasher Buying Guide
KitchenAid Dishwashers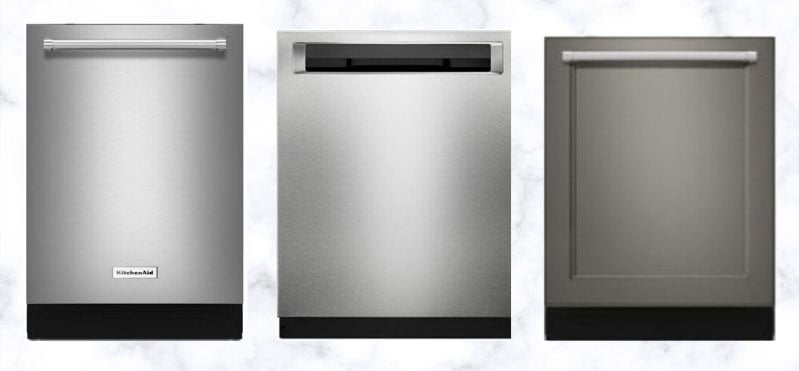 New KitchenAid Dishwashers and Styles
KitchenAid is known as an affordable luxury appliance brand owned by the Whirlpool Corporation.
KitchenAid's early dishwasher changed the dishwashing business because of its solid commercial design.
The commercial Hobart corporation owned KitchenAid before Whirlpool purchased the brand in the late 1980s.
KitchenAid's weakness was noise, especially when Bosch and Asko started importing quiet dishwashers into the US.
While it cleaned well, it was noisy.
Last year's model finally addressed that issue dropping to a noiseless 39 decibels and changing their dishwasher to a more European design by removing the disposer and adding a filter.
This year, they changed the wash system, the drying system, and the third rack.
Their top models are/will be the KDTE204, KDTM604, KDTM704 with three style options.
Here is a look at their best models for 2020.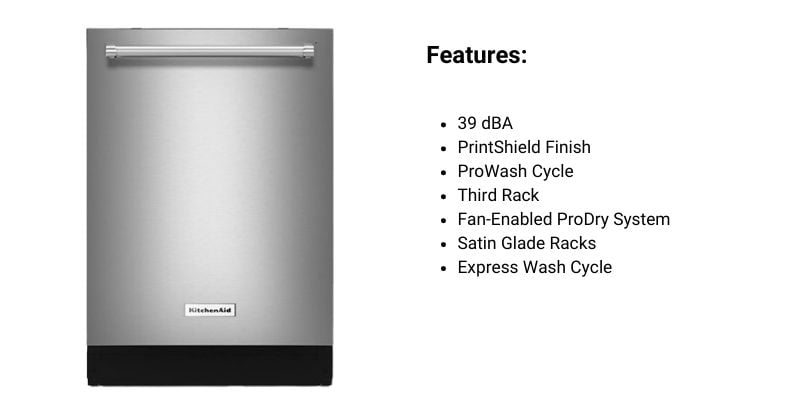 KitchenAid 200 Series Dishwasher Review [VIDEO]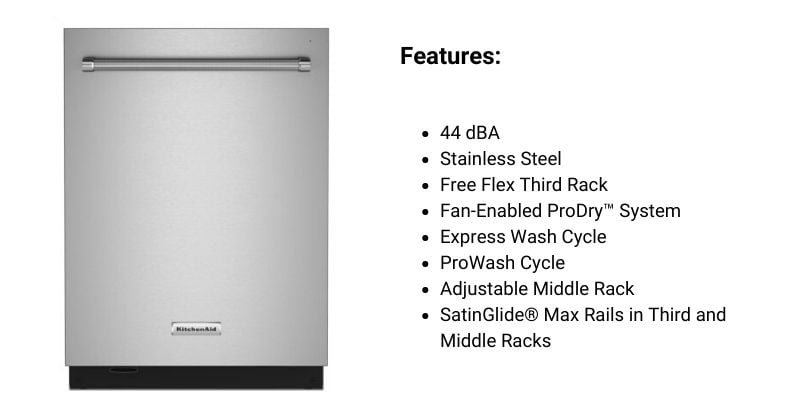 KitchenAid 600 Series Dishwasher Review [VIDEO]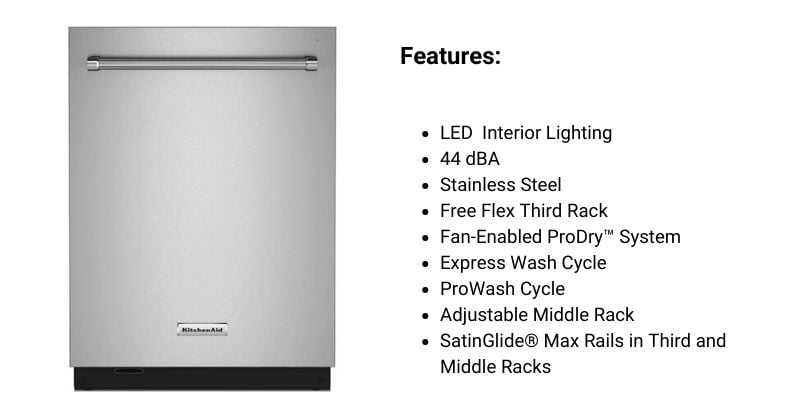 Bosch Dishwashers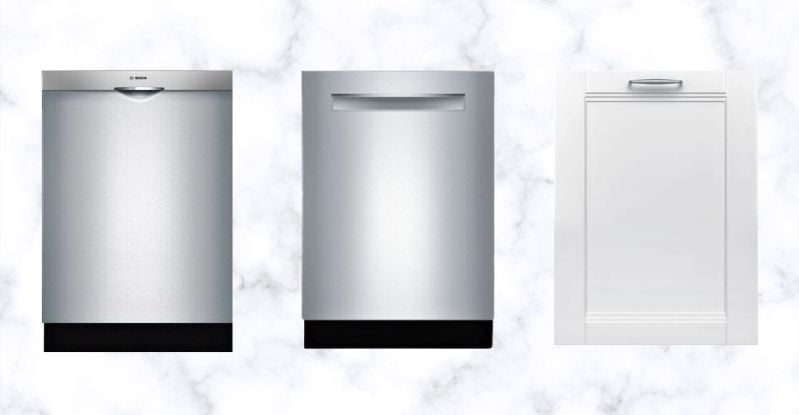 Bosch dishwashers are made in North Carolina, even though they're based in Germany.
Their weakness was always drying. Most European stainless tank dishwashers use the condensation from the heat of the wash and JetDry to dry dishes.
Last year, Bosch improved their drying on some models featuring AutoAir popping open the dishwasher after the cycle is complete. This will release the moisture and speed drying.
Bosch's better models have their CrystalDry using volcanic elements to increase heat and absorb moisture.
Bosch's three most comparable dishwashers to KitchenAid in price are SHS863, SHX65, SHP878.
Here is a look at their best models for 2020.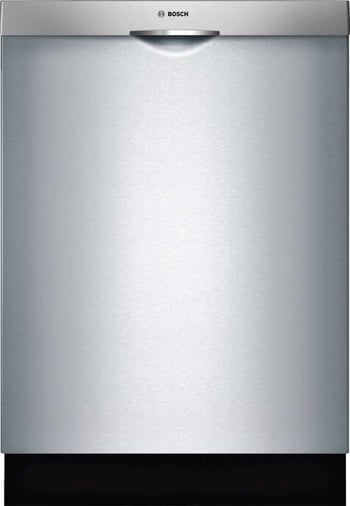 Features:
44 dBA
AquaStop Leak Protection Works 24/7
LED Remaining Time Display
5 Wash Cycles and 5 Options
Extra Dry Option
24 h Delay Start Timer
Bosch 300 Series SHS863VL5UC Dishwasher [VIDEO]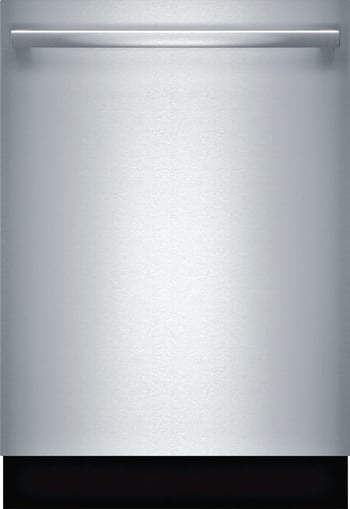 Features:
44 dBA
Third Rack
EasyGlide Rack System
FlexSpace Tines
AquaStop Leak Protection
Bosch 500 Series Dishwasher Review [VIDEO]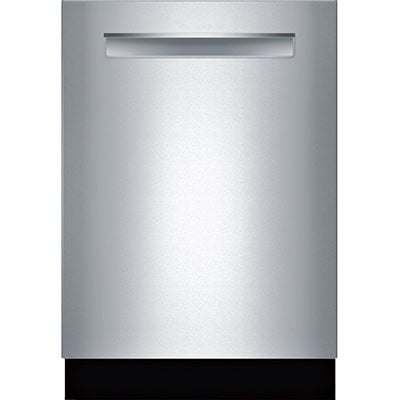 Features:
42 dBA
Crystal Dry
InfoLight
FlexSpace
PrecisionWash
Load Size Sensor
3rd Rack
16 Place Settings
Bosch 800 Series Dishwasher Review [VIDEO]
Before we compare both, let's look at reliability based on real service data.
Bosch Vs. KitchenAid Dishwasher Reliability
Below is last year's service calls divided by the amount shipped for each brand in 2019. Last year, we logged 35,256 service calls - 8,852 were just dishwasher service calls.
Most Reliable Dishwashers
| | | | |
| --- | --- | --- | --- |
| | Service QTY | Shipped QTY | Service Ratio |
| Asko | 103 | 190 | 54.21% |
| Jenn-Air | 188 | 493 | 38.13% |
| Bosch Benchmark | 25 | 70 | 35.71% |
| Fisher & Paykel | 56 | 193 | 29.02% |
| Miele | 185 | 903 | 20.49% |
| Maytag | 2 | 10 | 20.00% |
| Gaggenau | 16 | 104 | 15.38% |
| Thermador | 126 | 872 | 14.45% |
| KitchenAid | 90 | 688 | 13.08% |
| Café Appliances | 3 | 25 | 12.00% |
| Bosch | 398 | 3573 | 11.14% |
| Samsung | 134 | 1297 | 10.33% |
| LG | 5 | 81 | 6.17% |
| Cove | 2 | 44 | 4.55% |
| Ge Appliances | 1 | 37 | 2.70% |
| Whirlpool | 38 | 1471 | 2.58% |
| Grand Total | 1377 | 10166 | 13.55% |
Both are good brands to consider. The average service rate on a dishwasher in the first year was 13.09% based on our sales versus service database.
Many of the more reliable dishwashers like Whirlpool are simple and sold to primary builders, so the numbers are a bit skewed lower than more premium brands.
Still, 11 and 13% repair in the first year is better than average. It does mean your odds of needing repair on a full kitchen are high even in the first year.
Unfortunately, in the appliance industry, the decent repair is tough to find. So be mindful before you buy.
Don't wait to find out when you have that issue.
When Is The Best Time To Buy A KitchenAid Or Bosch Dishwasher?
Best Dishwashers at Yale Appliance in Framingham
Prices will change during the year. There could be installation rebates, item rebates, and package rebates if you are looking for a whole kitchen.
Our recommendation for buying appliances is waiting for a sale or promotional holiday.
The Best Times To Buy A Dishwasher Are:
Black Friday - now all of November
Labor Day - which can be a great time with Tax-Free weekends in different states
Presidents' Day - February, it's not a weekend anymore. It's almost 17 days
Memorial Day
July 4th - although waiting until August is smarter with tax-free and Labor Day
Both Bosch and KitchenAid promote during these times. COVID-19 may change this in 2020-2021 due to factory shutdowns. Bosch is running at 60-70% capacity as I write this.
KitchenAid Vs. Bosch Dishwashers
What They Have In Common:
Stainless Steel Tub: Most upscale dishwashers now have stainless on the inside. It is more hygienic than plastic because there are no seams for germs and odors to populate.Commercial kitchens are all stainless for the same reason.
Cycles: You will see all of them in the three comparisons, but there will be plenty of cycles for both. Many perform the same function.

Bosch Dishwasher Cycles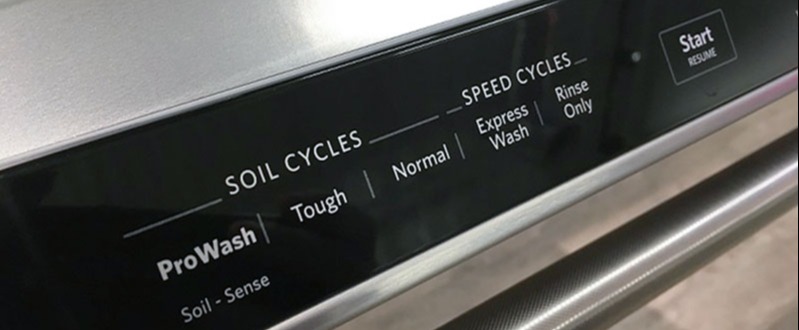 KitchenAid Dishwasher Cycles
Third Rack: They both have third racks. However, this year KitchenAid is upgraded and different on certain models.
Quietness: Both are at or below 44 decibels (DB). That number isn't an accident, BTW. It is the unofficial standard for quiet, meaning you won't hear a 44 DB dishwasher in the next room.
Here is a sound bit:
Dishwasher Sound Level Comparison [VIDEO]

No Wi-Fi: Neither company offers Wi-Fi on these dishwashers. I think Wi-Fi is interesting in cooking because you can sync with recipes to cook automatically.
The main benefit of a dishwasher is not opening prematurely while it's running. Lack of Wi-Fi as an option should not dissuade you from buying any dishwashers at this time.
You can buy Wi-Fi enabled dishwashers from GE, Samsung, LG, Miele, Thermador, and other higher Bosch dishwashers.
Adjustable Top Rack: Both have adjustable top racks
KitchenAid Vs. Bosch Dishwashers Under $1000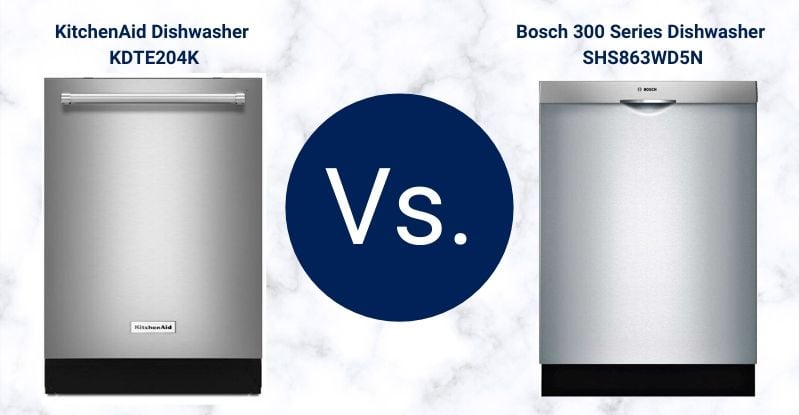 How They Wash: KitchenAid has the better spray on the top, versus more of a sprinkler head for the Bosch. That said, they both wash well.
How They Dry: Like most stainless steel interior dishwashers, they both use condensation dry, so it is the heat from the wash combined with JetDry.
Which Dishwasher Should You Buy?
This is one of KitchenAid's least expensive dishwashers and its quietest. It is noiseless. You won't even hear a hum. The wash system is also slightly better.
However, cycles and drying are about the same. This comparison is about price, mostly with KitchenAid being slightly better and quieter.
This next comparison is far more interesting. You have new features in both.
KitchenAid Vs. Bosch Dishwashers Under $1300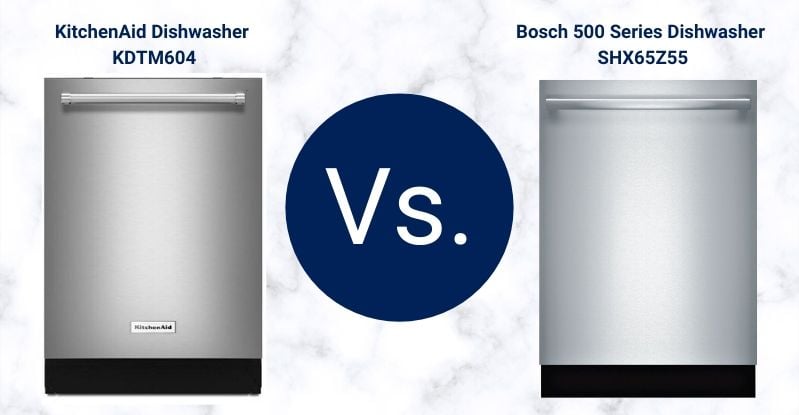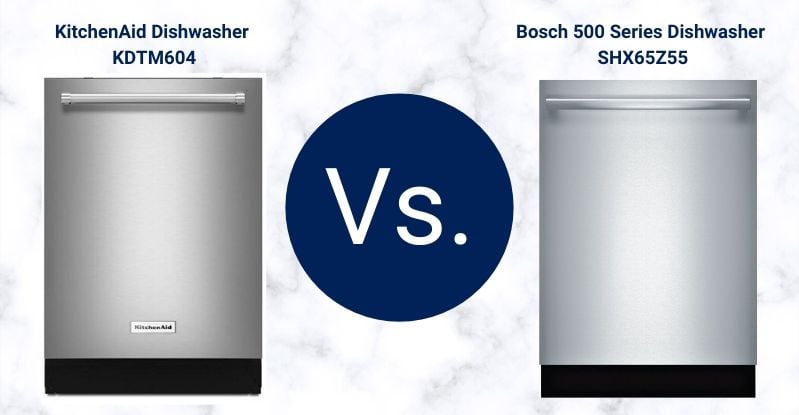 Third Rack: There was time neither had the third rack. Of course, you can now buy a third rack on a $450 Samsung.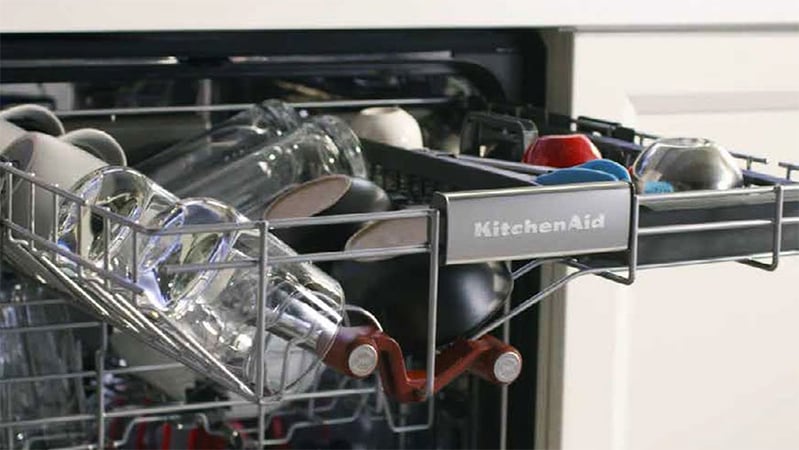 KitchenAid Dishwasher Third Rack
KitchenAid's is the best accommodating more than any brand. It also has separate sprays in the rods of the rack.
How They Wash: In addition to the spray in the rods, KitchenAid has a spray arm on top, middle, and bottom. Bosch has a sprinkler on the top, and then the two under the main racks.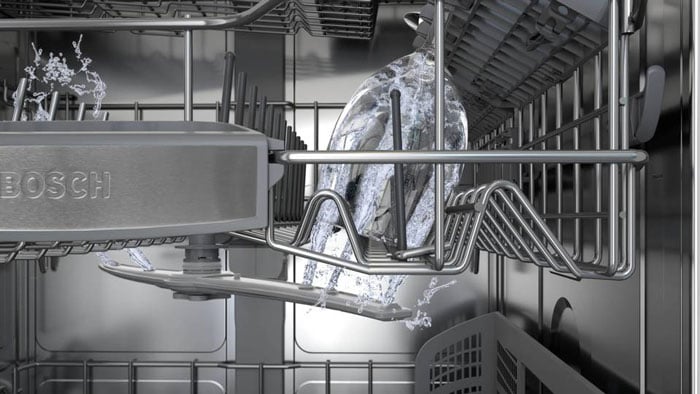 Bosch Dishwasher Sprinkler
KitchenAid has also changed the filtering system to two filters, so the water will be cleaner. The second filter increases the noise from a noiseless 39 DB to a still quiet enough 44 DB.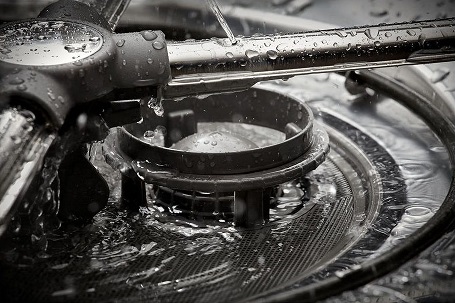 KitchenAid Dishwasher Filtration System & Wash Arm On The Bottom Of The Dishwasher
How They Dry: Both companies have made improvements.
That said, Bosch now has the AutoAir cycle, so the door pops open at the end of the cycle. Miele has had this feature for years.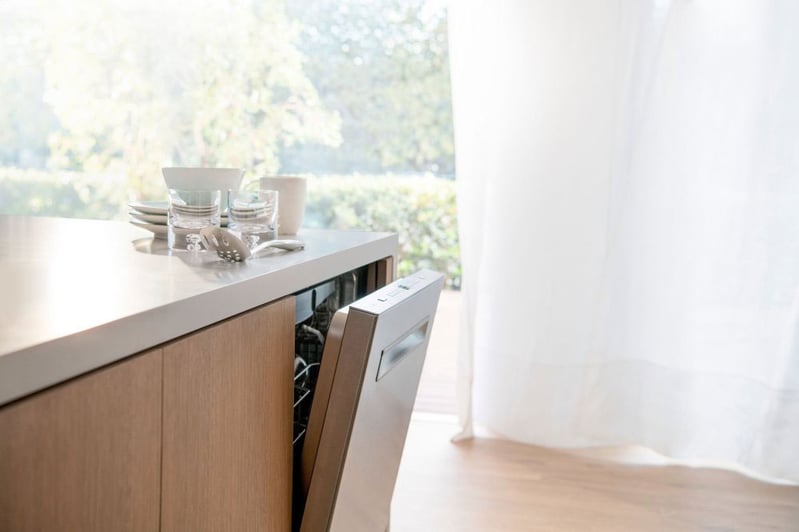 Bosch Dishwasher With AutoAir Drying
It works, releasing steam (steam rises) to cool the interior of the dishwasher.
KitchenAid uses another Miele drying tactic, letting air from the outside to cool the interior of the dishwasher.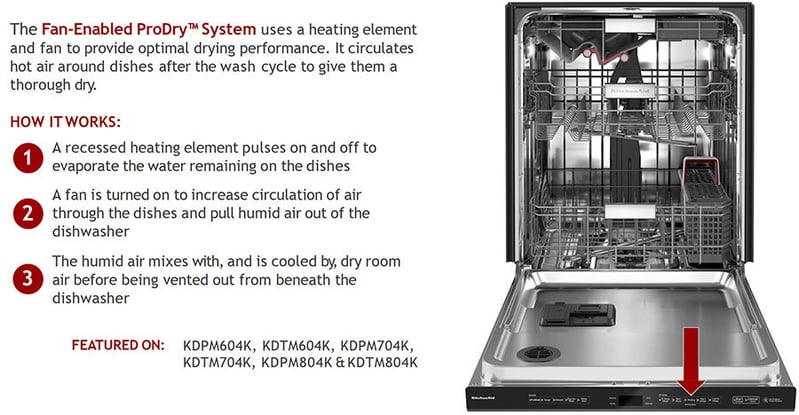 KitchenAid Fan-Enabled ProDry System Feature
The steam and moisture is attracted to the drier cooler air and dissipated as water. (That's what happens when you run outside in the winter. The cooler, winter environment attracts heat from your body and steam rises from your head).
KitchenAid has a heating element as well to absorb moisture.
Which Dishwasher Should You Buy?
This KitchenAid and the one previous will be their best models. You now have a better wash system coupled with better drying. The third rack will fit more as well.
At $999, KitchenAid seems like a better buy on features.
KitchenAid Vs. Bosch Dishwashers Under $1,500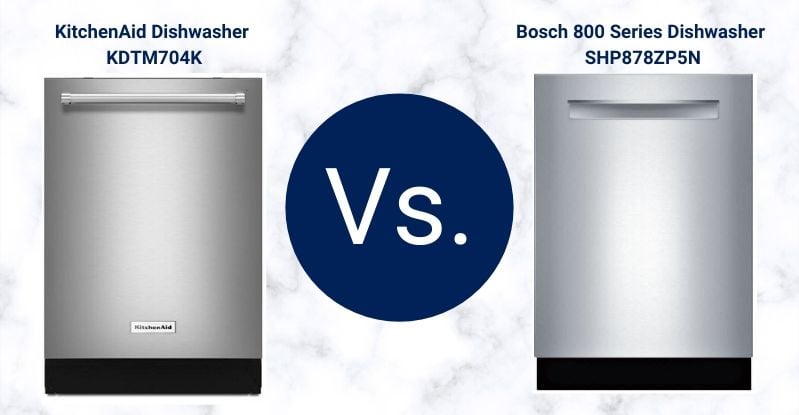 You would think $1399 dishwashers would have completely different feature sets.
KitchenAid adds ball-bearing racks to this dishwasher. Ball-bearing racks are better because they glide out no matter how much you pile on.
Bosch has ball bearing racks starting at $1049. It's a good feature, but its $500 more for that and a cutlery caddie for silverware.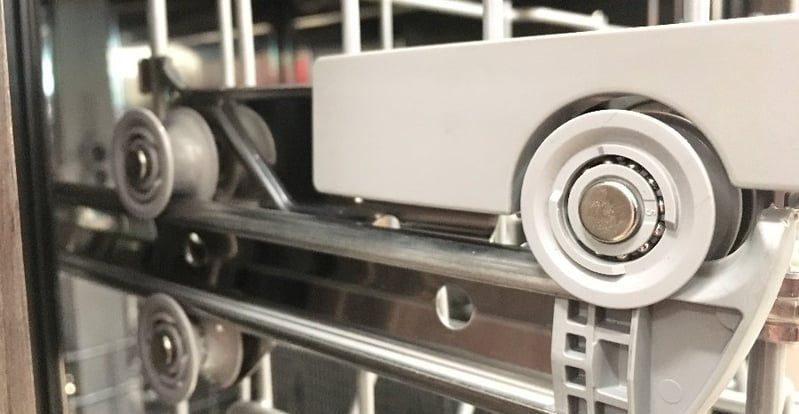 Bosch Dishwasher Ball-Bearing Racks
How They Wash: It is similar to the previous comparison.
How They Dry: KitchenAid has the same Pro Dry as the previous model. Bosch also has the AutoAir feature of the door popping open.
However, they add CrystalDry for the best drying in any dishwasher. It seems simple and even gimmicky, but CrystalDry uses volcanic elements called Zeolite packed in the bottom of the dishwasher.
Zeolite absorbs moisture and emits heat. And It works. We tested it even on a 20 wash dry cycle in Thermador (Thermador is the same dishwasher as the Bosch).
CrystalDry will dry even plastics or other less dense utensils or plates.
Bosch 800 Series Dishwasher With CrystalDry [VIDEO]
Bosch will also be quieter at 40 DB versus 44 for the KitchenAid.
Which Dishwasher Should You Buy?
Bosch is the better choice depending on promotions and prices. Bosch's dishwasher drying system is the best, and it will cost less to buy.
Bosch Vs. KitchenAid Panel-Ready Dishwashers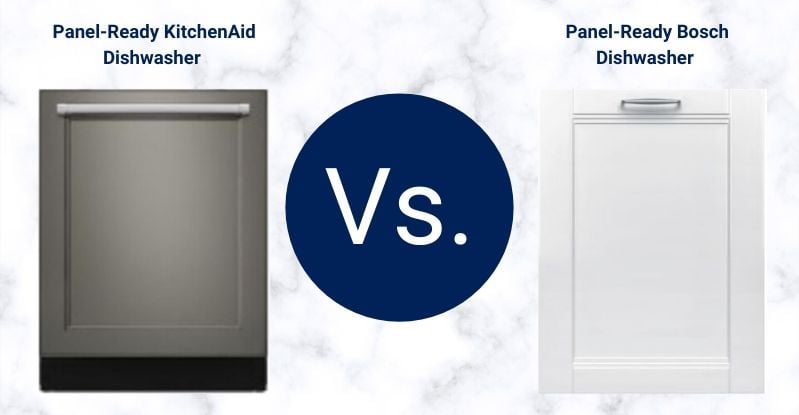 Both Bosch and KitchenAid can come panel-ready. However, there is a huge difference in installation.
Bosch is better because it fits within a 24-inch cabinet. It will blend seamlessly with your cabinets once installed. KitchenAid will protrude past your cabinets.
This comparison is no contest. Bosch is better for this style.
KitchenAid changed their whole line but missed this opportunity.
Should You Buy A KitchenAid Or Bosch Dishwasher?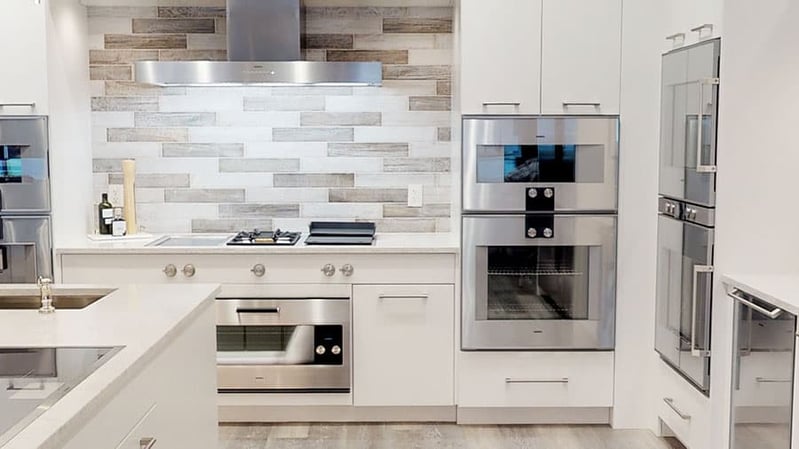 Paneled Bosch Dishwasher at Yale Appliance in Hanover
Bosch is still a bit more reliable, but KitchenAid vastly improved their dishwasher versus last year. They can fit more with a technically better wash system.
Bosch markets 53 dishwashers down from 112 in 2019 to KitchenAids 6, so you may have different desirable feature combinations with the Bosch brand.
However, looking at these dishwashers and their prices at this writing, KitchenAid may be the better buy, especially the KDTM604 at $999.
It has all the main features of their better models, the KDTM704 and KDTM804, at a lower price. Bosch is better over $1000, especially with the CrystalDry option.
For panels, Bosch is designed for the application, KitchenAid is not.
Then there is service.
Service is a problem no matter where you shop. You should be aware of this before you buy any appliance.
In a comparison this close, the brand offering better product service in your area will be your best option.
Key Takeaways
First, these are two good brands and two very good dishwashers. Bosch, Miele, and KitchenAid will still dominate the market over $750.
You should wait for the sale dates if you can, especially with kitchen packages. I would almost say look at refrigerators and stoves in a package first because these dishwashers are so competitive.
There are more differences in cooking and refrigeration than dishwashers.
Additional Resources
For more information about dishwashers, read the Yale Dishwasher Buying Guide with features, specs, and insider buying tips. Well over 820,000 people have read a Yale Guide.
Related Articles
Why Should You Trust Us?
It seems that every appliance review has nothing but glowing comments about almost every product, yet you read customer reviews and they are almost universally bad.
We are here to fill in the disconnect. We'll give you the best features, and the drawbacks as well, including reliability based on over 37,000 calls performed by our service team just last year. Our goal is to give you ALL the information so you know what's right for you.
Please consider subscribing or adding to the conversation in the comments below. We appreciate you stopping by.
Steve Sheinkopf
My goal has always been simple: I want Yale to be the best retail experience anywhere. I have tried to create a compelling environment for customers and employees alike.
A Note About Pricing
Pricing on this blog is for reference only and may include time sensitive rebates. We make every attempt to provide accurate pricing at time of publishing. Please call the stores for most accurate price.