Is The New KitchenAid 200 Series KDTE204KPS Dishwasher Worth Buying? (Reviews/Ratings/Prices)
The KitchenAid 200 series dishwasher is one of the most popular on the market.
At least it was last year. KitchenAid had the most popular dishwasher, even more so than their archrivals, Bosch and Miele.
Then they changed it this year along with the rest of the line.
It's a little odd when you read one of KitchenAid's main competitors is, in fact, KitchenAid.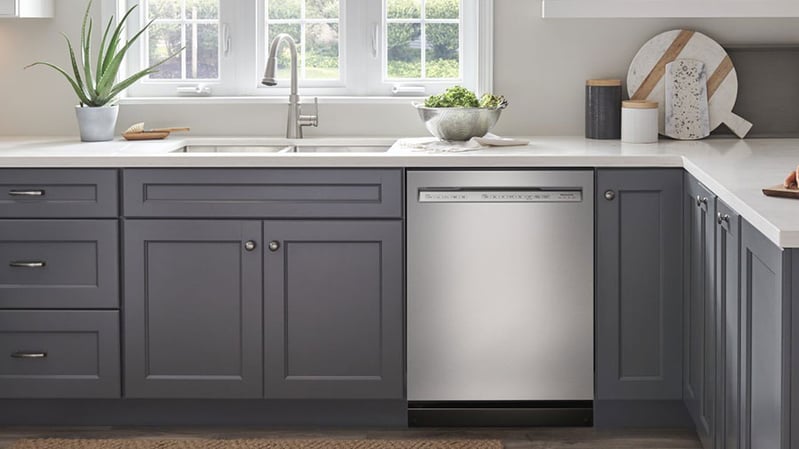 KitchenAid Front control Dishwasher Installed
In this article, you will learn the key features for cycles, the washing and drying systems, and, lastly, the reliability stats based on real service calls.
You will also see a comparison between the KitchenAid 200 series dishwashers against Bosch, Miele, Beko, and KitchenAid's better 400 series dishwashers.
There is a lot to cover, so let's begin.
Short on time? Get our free Dishwasher Buying Guide
New KitchenAid 200 Series Dishwasher Review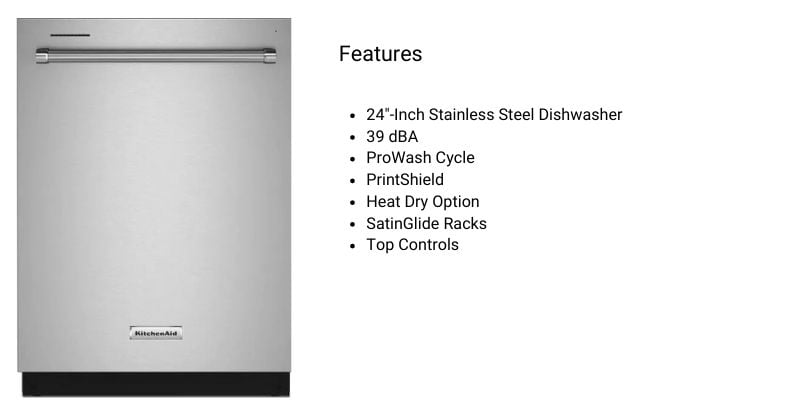 Three Styles Of The Kitchenaid 200 Series Dishwasher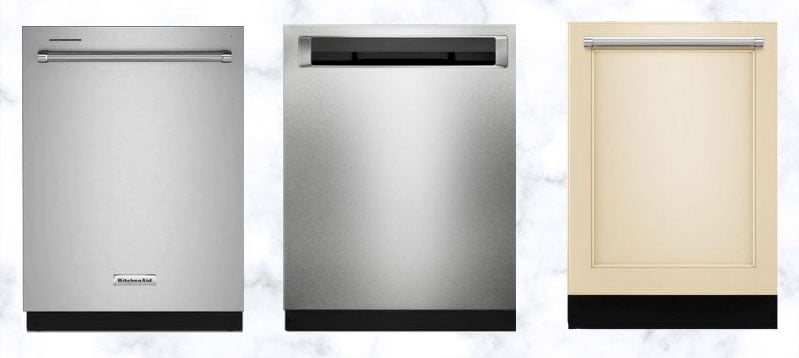 There are three styles with a towel bar handle (KDTE204KPS), controls on the face (the KDFE204), and panel-ready for a custom cabinet front.
Unfortunately, the paneled version due out in 2021 protrudes past the cabinet, so it does not have that seamless look of a paneled Bosch, Miele, or Beko Dishwasher.
KitchenAid 200 Series Prices
Price is hard to figure out.
KitchenAid like most manufacturers promotes around holidays like Black Friday, Labor Day, Presidents Day, Memorial Day, and July 4th
Last year, it was $749-899, but most of the time was the prices of $749-799.
With limited availability due to Covid and supply chain issues, the price has been non promotional at the higher price like most other brands.
KitchenAid 200 Series Quietness
At 39 dB, quietness is the standout feature for this dishwasher. Most competitive brands are 44 dB, except Beko, also at 39 dB.
Thirty-nine dB is noiseless, but the threshold for quietness in a dishwasher is 44 dB. So while 39 is great, you shouldn't buy this or any dishwasher on quietness alone.
As long as a dishwasher is 44 dB or less, it is quiet enough.
Read More: Quietest Dishwashers By Decibel Rating
KitchenAids better M series dishwashers are 44 dB.
Wash System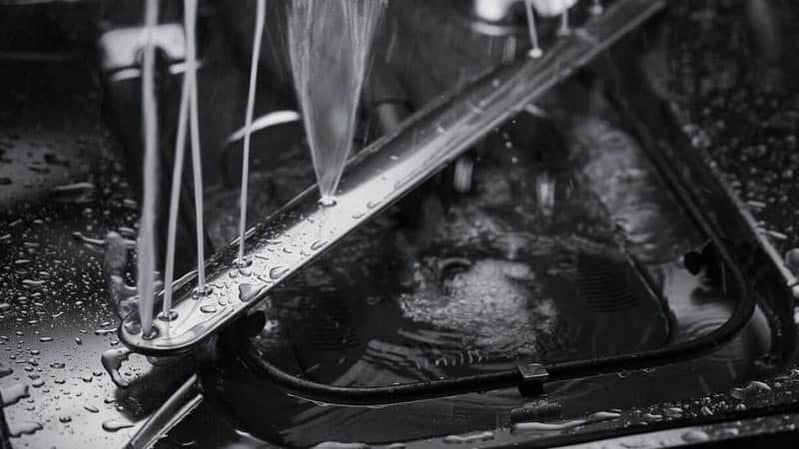 KitchenAid Dishwasher Wash Arm
KitchenAid has three main levels of wash one on the top and under each of the baskets. It's a good system.
It's better than the comparable Bosch with its two-plus a sprinkler head on the top and slightly worse than the Miele with three full wash arms.
KitchenAid's 400 series has four with one being focused sprays from the third rack but is $200 more.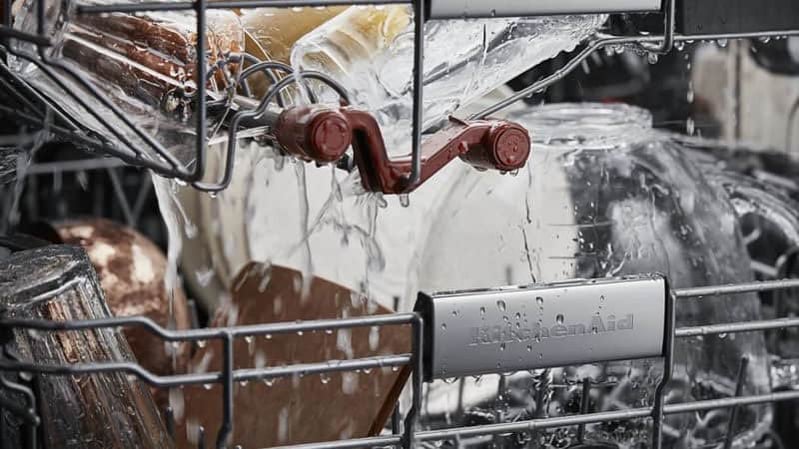 KitchenAid 600 and 700 Series Dishwasher Third Rack With Wash Arm
The better KitchenAid dishwashers also have an additional filter, so you wash with cleaner water.
Racks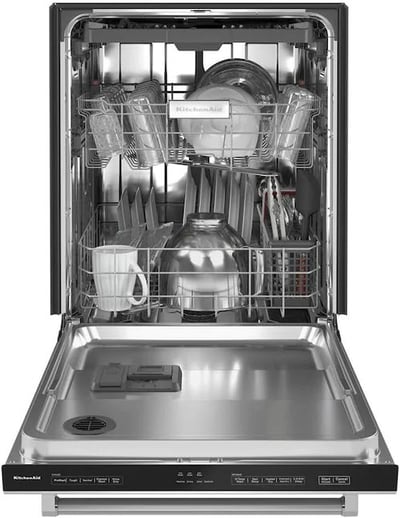 Racks are decent and standard. It has the 3rd rack for silverware. You may like this as it allows more room on the bottom rack without a silverware bin. Bosch, Miele, and Beko are pretty comparable.
Better racks in the KitchenAid or Miele 3D sliding cutlery racks will cost $200-500 more.
Drying
This KitchenAid employs a heating element and condensation dry to dry your dishwasher.
Condensation is a fancy term for using residual heat from the wash along with JetDry or other finishing rinses to dry your dishes.
Most dishwasher brands like Bosch operate purely through condensation with the heating element.
Miele has a better system of allowing air from your kitchen to the side of your dishwasher. The moist heat is attracted to the cooler side and dissipated as water.
KitchenAids 400 series uses a similar method and adds a fan to pull the air inside the dishwasher.
Cycles

KitchenAid 200 Series Dishwasher Top Controls
The best cycle to this dishwasher is the Pro Wash cycle with a soil sensor to adjust based on time and temperature base.
It has longer cycles and plenty of options to add heat and delay the wash as well.
While it's surprising that it doesn't have a delicate wash.
Miele and Bosch, at the same price, don't either. Only Beko does, but they are a feature-oriented machine.
Reliability
Dishwasher Reliability for 2020
| | | | |
| --- | --- | --- | --- |
| | Service QTY | Shipped QTY | Service Ratio |
| Asko | 103 | 190 | 54.21% |
| Jenn-Air | 188 | 493 | 38.13% |
| Bosch Benchmark | 25 | 70 | 35.71% |
| Fisher & Paykel | 56 | 193 | 29.02% |
| Miele | 185 | 903 | 20.49% |
| Maytag | 2 | 10 | 20.00% |
| Gaggenau | 16 | 104 | 15.38% |
| Thermador | 126 | 872 | 14.45% |
| KitchenAid | 90 | 688 | 13.08% |
| Café Appliances | 3 | 25 | 12.00% |
| Bosch | 398 | 3573 | 11.14% |
| Samsung | 134 | 1297 | 10.33% |
| LG | 5 | 81 | 6.17% |
| Cove | 2 | 44 | 4.55% |
| Ge Appliances | 1 | 37 | 2.70% |
| Whirlpool | 38 | 1471 | 2.58% |
| Grand Total | 1377 | 10166 | 13.55% |
At one time, KitchenAid was less reliable than Bosch, and now they are statistically similar at 13.08% for KitchenAid and 11.14% for Bosch.
Read More: Most Reliable Dishwashers
What KitchenAid Could Have Improved In The New KitchenAid 200 Series Dishwasher
First, KitchenAid should have kept the Bottle Wash. It was a separate set of sprays on the top rack designed for bottles.
It worked.
They could also design a panel-ready dishwasher to fit in with your cabinets. It protrudes to look like a dishwasher with a panel instead of a cabinet front.
It looks bad when compared to the seamless Bosch, Beko, and Miele dishwashers.
How Does KitchenAid Compare To Its Competitors?
KitchenAid 200 Series KDTE204KPS Vs. Bosch 300 Series SHS863WD5N Dishwashers ($749-849)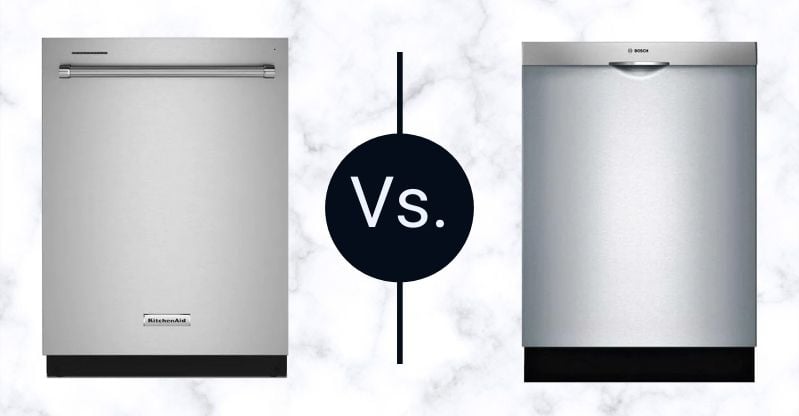 The SHS863 is one of Bosch best selling dishwashers. For cycles, it has the Speed60 cycle for a wash and dries in 60 minutes. Bosch is a bit more reliable. You can add a custom cabinet front to a Bosch dishwasher.
KitchenAid has a better wash system, a bit better on the dry with a heating element, and is quieter.
It should be noted that Bosch will be in short supply for the next 6 months. Covid has hit their supply chain particularly hard.
Read More: KitchenAid Vs. Bosch Dishwashers
KitchenAid KDTE204KPS Vs. Miele G4228SCUSS ($899-$999)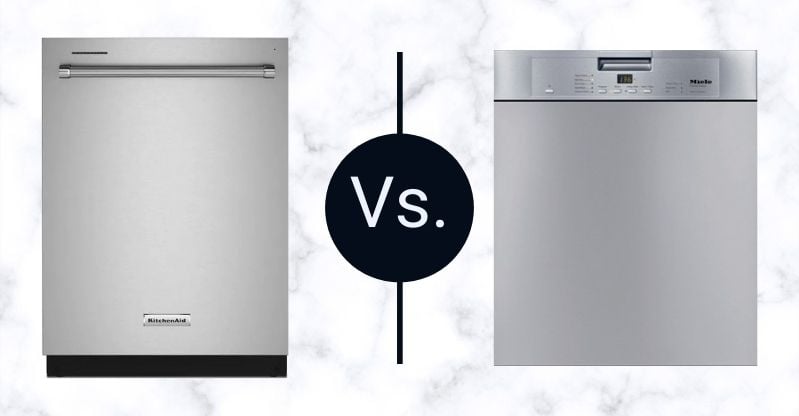 Miele has a better wash and the best drying in its price range. (Bosch has better starting at $1200). You can also panel the Miele.
KitchenAid is measurably and noticeably quieter at 39 Vs. 46 dB and more reliable due to some recent minor problems with Miele.
Read More: KitchenAid Vs. Miele Dishwashers
KitchenAid KDTE204 Vs. Beko DDT39432XIH Dishwasher ($849-$999)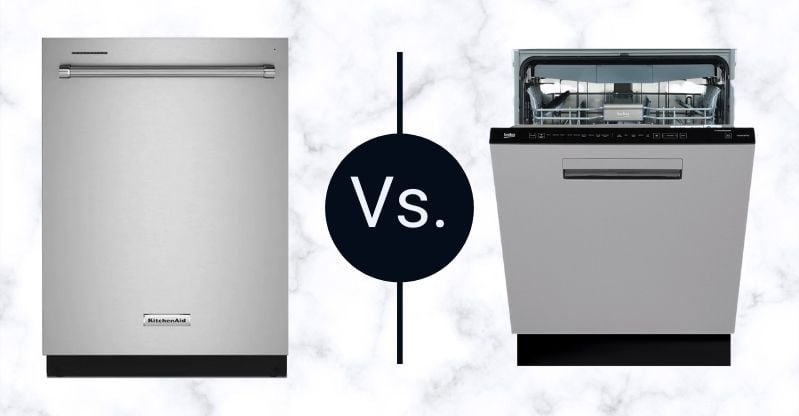 Who is Beko? They are a huge Turkish company trying to gain a foothold in the US by basically selling a premium product at a discount.
Beko is 39 dB with special cycles and a separate intense spray for pots and pans. It has the most cycles, including Wi-Fi. It can even be paneled.
Read More: Beko Vs. KitchenAid Dishwashers
KitchenAid 200 Series KDTE204 Vs. The KitchenAid 600 Series KDTM604 Dishwashers ($999-$1199)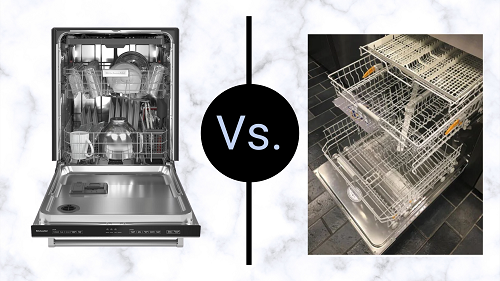 The 600 series has four dishwashers currently. I am sure they will add more.
The 600 series has a bigger third rack. It also has better drying, and better wash capability with the second rack's intense spray.
It has a better filtering system, so you wash with cleaner water.
Yet the less expensive series is quieter at 39 dB compared to 44 dB.
Is The New KitchenAid 200 Series KDTE204KPS Dishwasher Worth Buying?
It depends. The dishwasher price swings from $749-949.
At $749, the feature set is unmatched.
On its own, the washing system is decent; the drying and cycles are adequate.
However, at higher prices, there may be better options around the same price or higher in Bosch, but especially the better KitchenAid M series with a better wash, dry, and especially rack system.
Ultimately, the 200 series should be considered especially under $850.
Additional Resources
Get our free Dishwasher Buying Guide with tips, trends, and reviews of all the major brands. Over 840,000 people have already found answers in a Yale guide.
Related Articles:
Why Should You Trust Us?
It seems that every appliance review has nothing but glowing comments about almost every product, yet you read customer reviews and they are almost universally bad.
We are here to fill in the disconnect. We'll give you the best features, and the drawbacks as well, including reliability based on over 37,000 calls performed by our service team just last year. Our goal is to give you ALL the information so you know what's right for you.
Please consider subscribing or adding to the conversation in the comments below. We appreciate you stopping by.
A Note About Pricing
Pricing on this blog is for reference only and may include time sensitive rebates. We make every attempt to provide accurate pricing at time of publishing. Please call the stores for most accurate price.