6 Best Steam Ovens for 2021 (Reviews / Ratings / Prices)
The 6 Best Steam Ovens for 2021 are:
Combination steam ovens are one of the most efficient and healthy ways to prepare food.
You are injecting moisture (steam) and not baking out nutrients like regular radiant cooking.
Plus, steam offers several other useful features for easier cooking and clean-up.
Most combination steam ovens can also cook Sous Vide style, as long as the temperatures can adjust in 1-degree increments.
That said, steam is a very different type of cooking. You have to adjust your cooking style with steam slightly.
Stop here: Steam has to be learned. If you do not want to learn, then don't waste your money and buy one.
We have a resident chef at Yale who can help answer your specific steam cooking questions regarding combination steam ovens.
We will also be offering virtual steam cooking classes if you are interested.
If you are reading this outside the Boston area, experiment with steam and be patient. The results from a steam oven are worth it.
In this article, you will learn about the different options to consider and what will be the best for you and your family.
First, let's review some basics like brands, prices, benefits, plumbing, and electrical.
Short on time? Get our free Speed + Steam Oven Buying Guide
Steam Oven Brands and Prices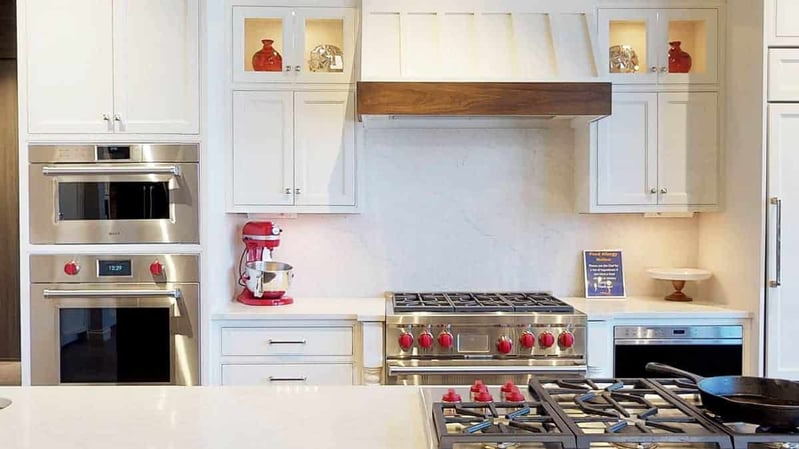 Wolf Steam Oven (Left) in live Wolf kitchen at Yale Appliance in Hanover
JennAir, Bosch, Thermador, Wolf, Miele, and Gaggenau offer true combination steam ovens.
Prices can range from $3,000 up to about $8,200.
They differ in features, guided cooking programs, voltage, as well as plumbed and non-plumbed units.
Benefits of Steam Cooking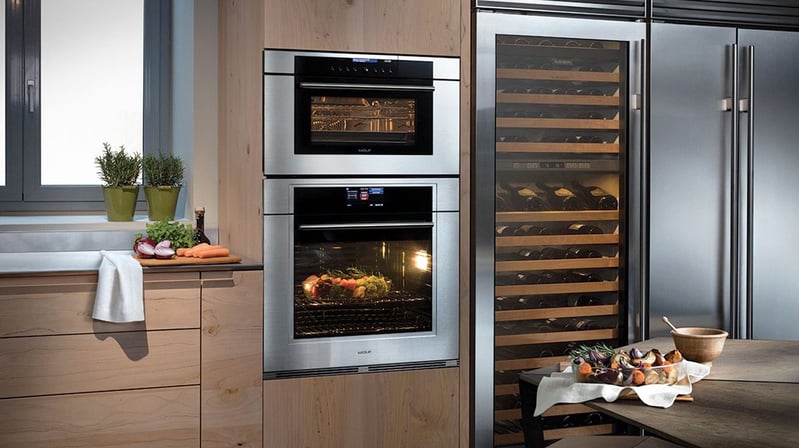 Wolf Steam Ovens
As you have read, food tastes better when cooked in a steam oven, but there are more benefits as well:
Vitamins and minerals are preserved.
Foods maintain their nutritional value.
Very little or no oil is needed.
No crossover of flavors when steaming different foods at the same time
Foods retain moisture
Reheated foods will not lose flavors and will maintain their original textures.
Read More: The Benefits of Cooking With Steam
Plumbed vs. Non-Plumbed Steam Ovens
If your steam oven is not plumbed, you will need to add water to your steam oven reservoir manually.
In a plumbed steam oven, the water is supplied directly from your plumbing system. The plumbed units are more convenient and won't need to be refilled, especially in longer recipes.
110 Volt vs. 220-Volt Steam Oven
You should consider 220 volts for new construction because it can reach higher temperatures for more extended periods.
If you are replacing an old microwave or have limited amps or voltage in your house, then 110-volt speed ovens are a direct replacement without rewiring.
6 Best Steam Ovens for 2021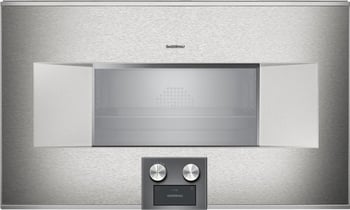 It can be customized with up to 50 recipes with a recording function or with the use of preset recipes.
Gaggenau is probably the least known appliance manufacturer, but their products are the best for form and function.
The company's roots can be traced back to Germany in 1683.
Their units are available in 24 and 30-inch widths and can be plumbed or non-plumbed. The oven doors are hinged on the side as opposed to a drop-down door like the others.
Gaggenau does not offer guided cooking, but the percentage of steam can be controlled, unlike the others for many more recipe options.
You can cook in every way possible, including Sous Vide.
However, this oven would be for an advanced culinary enthusiast, a chef, or an expert in steam cooking due to its precision and more complicated controls.
Features:
Full Surface Grill/Broiler behind ceramic glass
Invisible LED lights
Multicore temperature probe with three temperature sensors
Fixed water connection (plumbed only)
Self Clean
Automatic Programs allows you to modify or record your dish
33 % increased oven capacity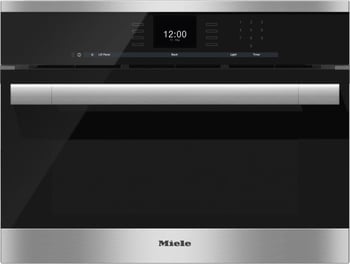 Miele will have the most products in the steam oven category and is known for its reliability.
They are still one of the only companies manufacturing controls and components, so their reliability is considered the best.
Miele has both plumbed and non-plumbed models for ease of use or ease of installation.
You will like Miele as a beginner because the MasterChef guided cooking controls are intuitive and straightforward.
Miele steam ovens offer the most extensive features and unique modes, and the smartphone interface is easy to navigate.
Unlike other steam ovens, the steam level is completely customizable/adjustable.
Features:
Menu Planning for multiple-step cooking
MasterChef pre-programmed options (some models)
Convection
Temperature probe (wired and wireless depending on model)
"Perfect Clean" Easy clean interior
Broil element (up to 450 F)
Wi-Fi Connectivity (some models)
XL (1.84 Cu Ft) Slightly larger cavity/available in XXL model (2.51 Cu. Ft same width, but taller)
Drain
Broiler
Sous Vide
Bake element (heat from the bottom)
Read More: Should You Buy a Miele Steam Oven?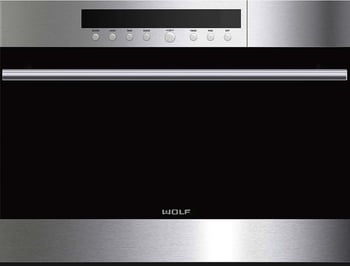 Wolf imports their steam ovens from Switzerland. Their guided cooking would be second best after Miele.
They do have some specialty modes as well, like Auto Steam and Convection Humid.
The simpler interface and straightforward modes appeal to the savvy home cook.
This oven is only available in a non-plumbed version and does not come with a drain or broiler, and only in one (interior cavity) size,
Wolf's steam oven is categorized as a specialty oven, usually supplementing a larger 30" wall oven or range.
Features:
Gourmet Mode (pre-programmed options)
Simple interface for ease of use
Temperature probe
Convection Humid mode
Auto Steam Bake Mode
Interior cavity 1.8 Cu ft
Sous Vide
Temperature Probe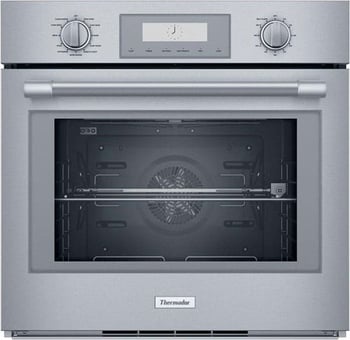 Thermador offers the largest capacity steam oven (2.8 Cu. Ft.) on the market today.
It's suitable for replacing a traditional 30" wall oven and is available in a double oven configuration with a regular wall oven on the bottom.
This combination steam oven is available in 2 styles, the Professional and Masterpiece.
Both can be installed flush or standard and have the same functions but differ slightly in aesthetics with knobs or digital controls.
The water reservoir is inside, so it's important to have it filled in before the cooking begins.
Because of the larger cavity, once the door opens, it takes much longer to regenerate steam.
Also, there isn't a drain, so the bottom of the oven collects water during steam cooking. You need to wipe up the water manually or burn it off with dry heat (Convection Mode).
Features:
Offers 41 Easy Cooking Programs/17 Cooking modes
2 hours of self-clean mode
The rotisserie can hold up to 12lbs
Temperature probe
Broiler
Fast Preheat (7 Minutes)
Home Connect
Read More: Should You Buy a Thermador Steam Oven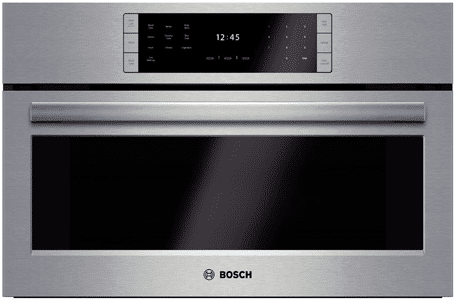 Bosch is an introductory combination or "combi" steam oven.
It's the least expensive but excels in fish, grains, and vegetables.
The boilerplate at the bottom provides a wetter atmosphere saturating the food a bit more.
Because it is a wetter environment, you have to clean the mineral deposits left behind more frequently.
Features:
30-Inch Steam Convection Oven with 1.4 cu. Ft.
Steam Assist Clean
Non-Plumbed
Genuine European Convection for even baking results on multiple racks
Advanced Circulation System (ACS) allows food to be cooked more evenly in up to 30% less time by optimizing heat circulation.
The powerful third heating element that surrounds the convection fan, circulating preheated air throughout the oven
The oven automatically sets temperature and humidity.
Perfect Reheating
Features a boilerplate instead of injected steam.
Read More: Bosch Steam Oven Review
6. JennAir JBS7524BS Steam Oven - $3,099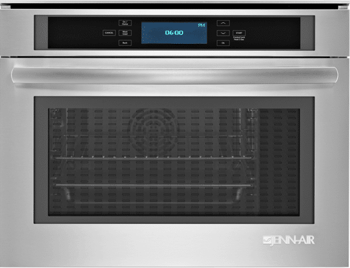 JennAir is 120-volts and can replace the space of a basic microwave, unlike most of the others.
Less dense foods like custards, fish, and grains cook well in this oven.
However, it takes a bit longer to achieve a higher temperature due to its lower voltage.
Casseroles and baked goods go well in this oven, where meats and more dense foods are not recommended in the JennAir.
Like the Bosch/Thermador, you have to refill the tank on the inside so that you can lose steam and heat.
Features:
Standard 120-Volt AC
Steam Plus Convection Mode
9 Cooking Modes
4.8-Inch Glass-Touch Controls with LCD
Convection Bake Mode
Steam Mode
Stainless Steel Interior
Steam Reheat Mode
How to Use Your Steam Oven 101 [Video Seminar]
Best Steam Ovens: Key Takeaways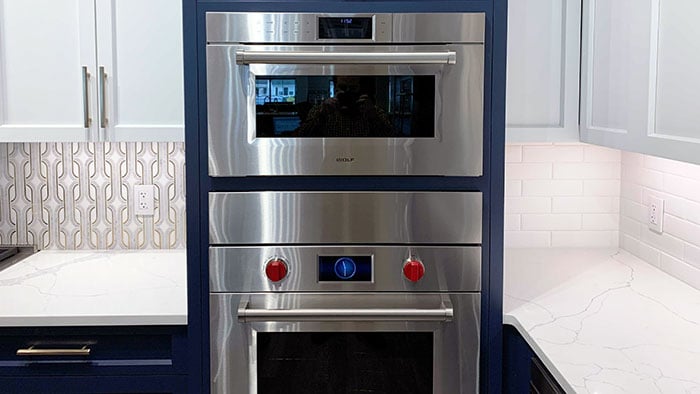 Wolf Steam Oven at Yale Appliance in Hanover
There is a radical swing in price and features between a more basic JennAir and the feature-laden Gaggenau.
For basic steam functions, JennAir, Bosch, and Thermador are all decent.
Gaggenau is the best with the most robust functions, but I only recommend it if you are familiar with steam cooking.
Your next best options are Wolf and Miele. Wolf has some cool programs, while Miele has a more sophisticated interface.
You have to learn how to use a steam oven to make it worthwhile. Cooking variables like timing are very different from those of a regular convection oven.
Additional Resources
Get the Yale Speed and Steam Oven Guide with features, specs and inside tips to all the steam and speed ovens like Wolf, JennAir, Thermador, Gaggenau, and more. Well over 820,000 people have read a Yale Guide.
Related Articles
Why Should You Trust Us?
It seems that every appliance review has nothing but glowing comments about almost every product, yet you read customer reviews and they are almost universally bad.
We are here to fill in the disconnect. We'll give you the best features, and the drawbacks as well, including reliability based on over 37,000 calls performed by our service team just last year. Our goal is to give you ALL the information so you know what's right for you.
Please consider subscribing or adding to the conversation in the comments below. We appreciate you stopping by.
Saba Wahid
Saba is the resident Chef at Yale. She will teach you how to use your new oven, cooktop, or range. She is skilled in every new feature, including steam, induction, convection of all types, air frying, and sous vide. Saba is also the reigning Chopped Grand Champion crowned by Martha Stewart herself. Saba is incredibly versatile with all different types of cuisine. After just one session with her, you will be a better chef.

Saba has also been featured in numerous publications such as Mashed, Eater Boston, the Boston Herald, and the Framingham SOURCE.
A Note About Pricing
Pricing on this blog is for reference only and may include time sensitive rebates. We make every attempt to provide accurate pricing at time of publishing. Please call the stores for most accurate price.