The Six Best Steam Ovens for 2018 (Reviews / Ratings / Prices)
Steam ovens are the best way to prepare food. You are injecting moisture and not baking out nutrients like regular radiant cooking.
That said, steam is a very different type of cooking. You have to almost relearn how to cook with steam. We teach steam at Yale both before and after you buy so you are comfortable using your oven. If you are reading this outside the Boston area, just experiment, and be patient. The results are worth it.
Many companies offer ovens with a "steam cook" or "steam assist" type of feature. These will offer limited steam cooking capabilities in comparison to a true steam oven.
Jenn-Air, Bosch, Thermador, Wolf, Miele, and Gaggenau offer true steam ovens. Prices can range from approximately $2,600 (Jenn-Air) all the way up to about $8,200 (Gaggenau).
They differ in features, guided cooking programs, voltage, and whether or not they are plumbed or non-plumbed units.
In this article, you will learn about the different options and prices to consider as well as what will be the best for you and your family.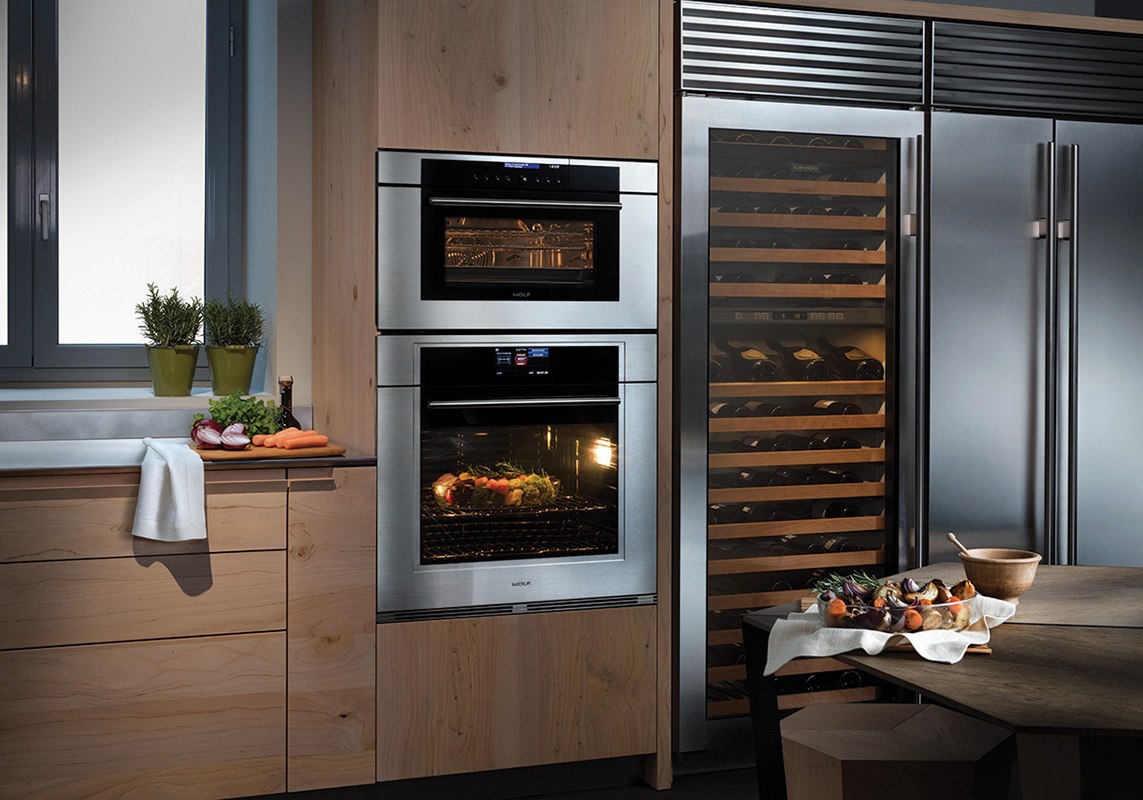 The Best Steam Ovens for 2018
Miele DGC67051XL (combi-steam) - $4,499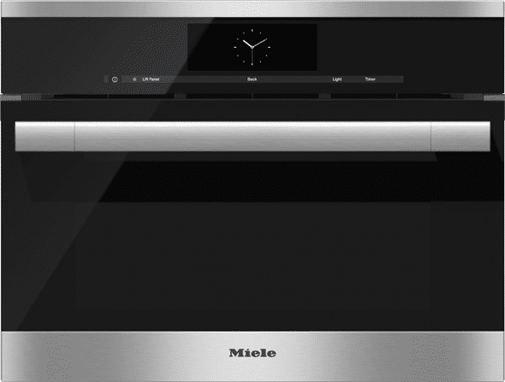 Features:
Menu Planning for multiple step cooking

MasterChef pre-programmed options (some models)

Temperature probe (wired and wireless depending on model)

"Perfect Clean"

Easy clean interior

Broil element (

up to 450 F

)

Wi-Fi Connectivity (some models)

Slightly larger cavity/available in XXL model (same width, but taller)
Miele will have the most products in the steam oven category and are known for their reliability. They are still one of the only companies manufacturing controls and components so their build quality is considered the best.
Miele has both plumbed and non-plumbed models for ease of use or ease of installation.
They are great units to consider especially if you are a beginner to steam cooking because the MasterChef guided cooking controls are intuitive and simple to use.
Wolf CSO24TE/S/TH - $4,290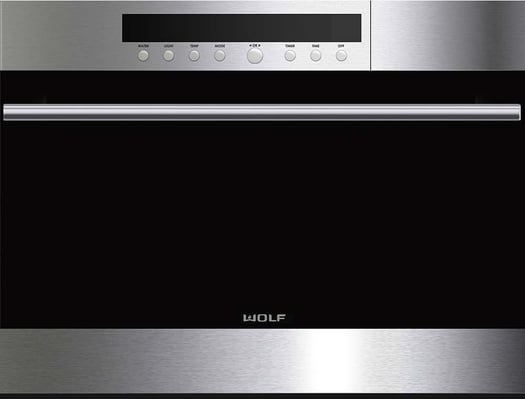 Features:
Gourmet Mode (pre-programmed options)
Simple interface for ease of use
Temperature probe
Convection Humid mode
Auto Steam Bake Mode
Wolf imports their steam ovens from Switzerland. Their guided cooking would be second best after Miele. They do have some specialty modes as well like Auto Steam and Convection Humid.
Features:
30" Steam Oven with 1.4 cu. ft.
Steam Assist Clean
Non-Plumbed
Genuine European Convection for even baking results on multiple racks
Advanced Circulation System (ACS) allows food to be cooked more evenly in up to 30% less time by optimizing heat circulation
Powerful third heating element that surrounds the convection fan, circulating preheated air throughout the oven
Oven automatically sets temperature and humidity
Perfect Reheating
Bosch is an introductory combination or "combi" steam oven. This means it combines convection and steam cooking. It is the least expensive, but excels in fish, grains, and vegetables. The boilerplate at the bottom provides a wetter atmosphere saturating the food a bit more.
You have to open the door to fill the tank inside. Because it is a wetter environment, you have to clean the mineral deposits left behind more frequently.
Features:
Side swing doors for easier access
Touch to open
Self-cleaning a unique feature to Gaggenau
variable humidity levels 0%, 30%, 60%, 80%, or 100%
Broil element (with steam)
Sous Vide
Self-Cleaning
Cooldown feature to reduce steam when oven door opens
Gaggenau is probably the least known appliance manufacturer, but their products are considered to be the best for form and function. The company's roots can be traced back to Germany in 1683.
Their units are available in 24 and 30-inch widths and can be plumbed or non-plumbed. Oven doors are hinged on the side as opposed to a drop-down door like the others.
Gaggenau does not offer guided cooking, but the percentage of steam can be controlled unlike the others for many more recipe options.
You can cook in every way possible including Sous Vide. However, this oven would be for a chef or expert in steam cooking due to its more complicated controls.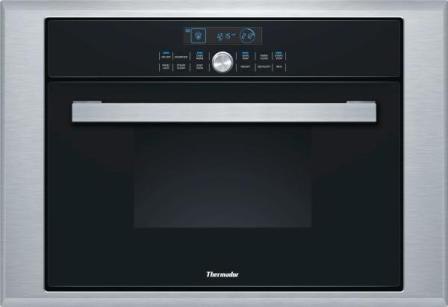 Features:
24" Single Combination Steam/Convection Wall Oven with 1.4 cu. ft. Capacity,
40 EasyCook Programs
Steam Clean
True Convection, and Steam and Convection
Pre-programmed modes automatically set the oven temperature and humidity to ensure perfect cooking results
Stainless steel cavity is illuminated with powerful halogen lighting
Thermador is an upgrade from Bosch (same company). It has a small analog display and a basic guided cooking system with slow cook and easy cook as two additional modes.
It allows you to cook based on the algorithm of the food weight.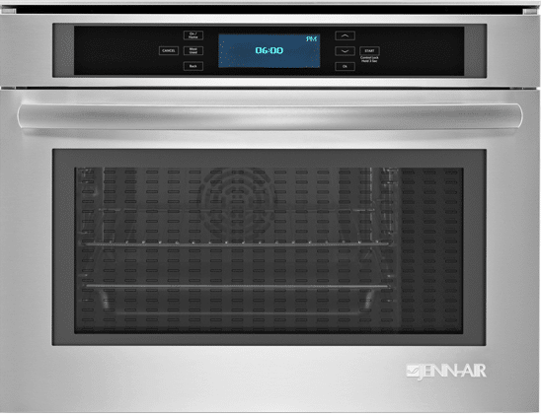 Jenn-Air is 120-volts and can replace a basic microwave unlike most of the others.
Less dense foods like custards, fish, and grains cook well in this oven. However, it cannot achieve a higher temperature due to its lower voltage. Meats and more dense foods are not recommended in the Jenn-Air.
Like the Bosch/Thermador, you have to refill the tank on the inside, so you can lose steam and heat in the process.
Features:
Standard 120-Volt AC
Steam Plus Convection Mode
9 Cooking Modes
4.8-Inch Glass-Touch Controls with LCD
Convection Bake Mode
Steam Mode
Stainless Steel Interior
Steam Reheat Mode
Benefits of Steam Cooking
Here are a few of the benefits.
As you read, food tastes better when cooked in a steam oven, but there are more benefits to steam ovens:
Vitamins and minerals are preserved
Foods maintain their nutritional value
Very little or no oil is needed
No crossover of flavors when steaming different foods at the same time
Foods retain moisture
Reheated foods will not lose flavors and will maintain their original textures
Read all about the benefits of steam cooking here.
Plumbed vs. Non-Plumbed Steam Ovens
You will be adding water in a non-plumbed unit whereas the water is directly fed in a plumbed unit. The plumbed units are more convenient and won't need to be refilled especially in longer recipes.
110 Volt vs. 220-Volt Steam Ovens
You should consider 220 volts for new construction because it can reach higher temperatures for longer periods of time. If you are replacing an old microwave or have limited amps or voltage in your house, then 110-volt speed ovens would be a direct replacement without rewiring.
Which is Best?
There is a radical swing in price and features between a more basic Jenn-Air and the feature-laden Gaggenau.
For basic steam functions, Jenn-Air, Bosch, and Thermador are all decent. Wolf has some cool programs, but Miele is the easiest to use and learn.
Gaggenau would be the best, but I only recommend it if you are familiar with steam cooking.
You will have to learn how to use a steam oven. We have two chefs on staff to teach you and there are steam classes offered regularly.
You should understand how they work and be comfortable in using them before you buy.
Additional Resources
Get the Yale Speed and Steam Oven Guide with features, specs and inside tips to all the steam and speed ovens like Wolf, Jenn-Air, Thermador, Gaggenau, and more. Well over 350,000 people have read a Yale Guide.
Related Articles
Steve Sheinkopf
My goal has always been simple: I want Yale to be the best retail experience anywhere. I have tried to create a compelling environment for customers and employees alike.
A Note About Pricing
Pricing on this blog is for reference only and may include time sensitive rebates. We make every attempt to provide accurate pricing at time of publishing. Please call the stores for most accurate price.