Maytag vs. LG Front Load Washers (Reviews / Ratings / Prices)
Maytag and LG are just two of the many brands to choose from when replacing or adding a new laundry set to your home. One can drive themselves crazy listening to and reading all the mixed reviews online. This article will take not only those reviews into consideration but my own experiences dealing with the two brands over the years.
The two brands have debuted new machines offering some new and exciting features. We will look at both machines and compare the differences. But first, let's take a quick look at the two brand's backgrounds.

Short on time? Get our free Washing Machine Buying Guide
Maytag
Maytag, one of the few brands still manufactured in the U.S., came out with their first laundry set back in 1907. For many years they were the most reliable laundry brand with an average life span of 20 years.
Unfortunately, they marketed the first front load, the ill-fated Neptune. Its design flaw caused mold, odor and eventually ruined the company.
Now Maytag is the upscale subsidiary of Whirlpool.
LG
LG is an electronics company founded in 1958 in South Korea. They are known for their phones, TVs, and as of not long ago, appliances. They are leaders of innovative cutting-edge features, which comes with no surprise considering their history with electronics.
They have a wide distribution in big box stores and have become very popular in the last 5 years. LG products are mostly manufactured in Korea. They are focused on technology, capacity, and features.
Now, let's take a look at both brand's products and compare.
Front Load Laundry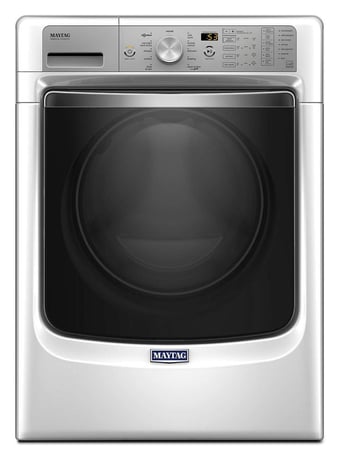 Features:
4.6 cu. ft. Capacity
11 wash cycles
1,200 RPM
Steam
Power Wash system
Fresh hold
Optimal Dose dispenser
Overnight wash & dry cycle
Energy Star rated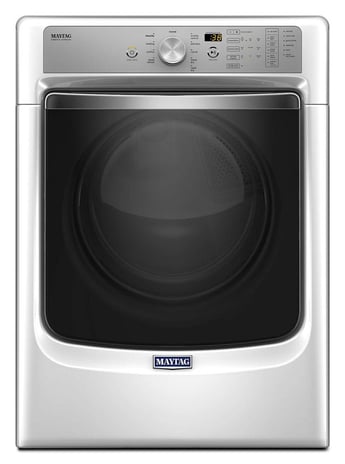 Features:
7.4 cu. Ft. Capacity
10 Dry cycles
5 Temperature selections
Steam-enhanced dryer
Wrinkle prevent
Sanitize cycle
Rapid dry cycle
Energy Star rated
Highlights
Along with Maytag's reliability, this laundry pair has a lot of cycle options. The washer features PowerWash, combining extra cleaning action and heated water to fight stains. Beyond the 1-year parts and labor warranty, the MHW8200FW comes with a complimentary 10-year limited warranty on the washer motor and basket.
This washer also has a 12-hour Fresh hold feature, where by the assistance of an internal fan circulates the air to help keep odors and wrinkles from setting in for up to 12 hours after the wash cycle ends. This feature can also be selected manually at any time to dry out the interior. This is one of the best solutions out there for those who have concerns about mold and mildew buildup inside the gasket.
One of my favorite cycles is the Overnight Wash and Dry cycle. This feature will allow you to put a small load of laundry in the washer before you go to bed and when you wake up the next morning it will be dry and ready to wear.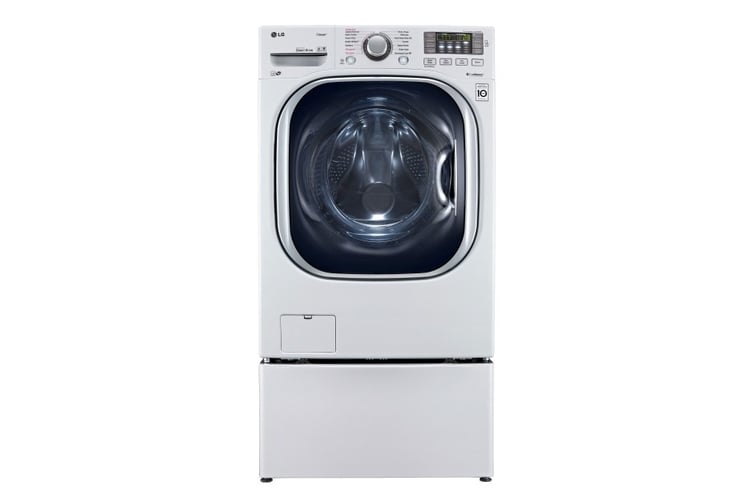 Features:
4.5 cu. Ft. Capacity
14 wash programs
Steam
Turbo wash
Speed wash
Allergan cycle
Sanitary Cycle
4-Tray dispenser
Quiet operation
Energy Star Certification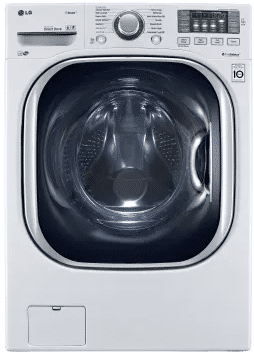 Features:
7.4 cu. Ft. Capacity
14 drying programs
Smart Diagnosis
Smart thin technology
Speed dry
Sensor dry
Turbo steam
Quiet operation
Energy Star certification
Highlights
Considering LG's background with electronics and technology, it's no surprise they have some of the more advanced and innovative features.
If you are having an issue with this pair you can easily diagnose the problem with the Smart Diagnosis. In other words, this washer has the capability of transmitting data by phone to the Customer Information Center. The call center agent records the data transmitted from your machine and uses it to analyze the issue, providing a fast and effective diagnosis.
The app that allows you to do the Diagnostics also allows you download new cycles. Periodically LG will add new cycles to this app that you can download and apply for immediate use with your washer.
Conclusion
Let's start off by saying both laundry pairs that are being compared here are excellent options. They both have a similar large capacity, steam in both machines, and many cycles and settings that can accommodate just about any fabrics.
LG offers an innovative APP that allows for easy diagnosis and also allows you to upload new cycles. I must touch upon the fact that, yes, you might be able to easily diagnose the issue with your LG machine but when it comes to servicing it, that can be another story.
Maytag has the fresh hold and the Overnight 12-hour Wash and Dry Cycle for convenience. With the super easy to use optimal dose dispenser you can load up to 12 loads of detergent and the machine will add detergent to each load as needed.
That being said, you should always choose your appliances based on your lifestyle and, of course, the product's reliability factor.
In terms of reliability, Maytag and LG are among the top most reliable front load washers statistically, according to our 30,000+ service calls completed in 2017.
However, LG's explosive growth is a problem when you have issues. We service both, and Maytag is far better when you do need service.
Additional Resources
Want to learn more about front load laundry? Download our free Washer Buying Guide for everything you need to know about the latest brands and features. Well over 250,000 people have read a Yale Guide.

Related Articles:
Kenny Keefe
Kenny Keefe is an appliance sales consultant at Yale Appliance + Lighting. Prior to working at Yale, he spent 10 years as a Golf Professional. Since becoming a team member here in 2014, his passion, drive, and pursuit to exceed customers' expectations has made him a valuable asset to Yale. During his free time, he enjoys traveling, golfing, cooking, and keeping active.

Schedule a showroom visit with me
A Note About Pricing
Pricing on this blog is for reference only and may include time sensitive rebates. We make every attempt to provide accurate pricing at time of publishing. Please call the stores for most accurate price.