Maytag vs. LG Front Load Washers (Reviews / Ratings / Prices)
If you are looking for a decent front load washer, then LG and Maytag are two popular choices. The best are LG, Samsung (with a new line of machines), and Whirlpool/Maytag. Maytag, owned by Whirlpool, is considered Whirlpool's high-end laundry line.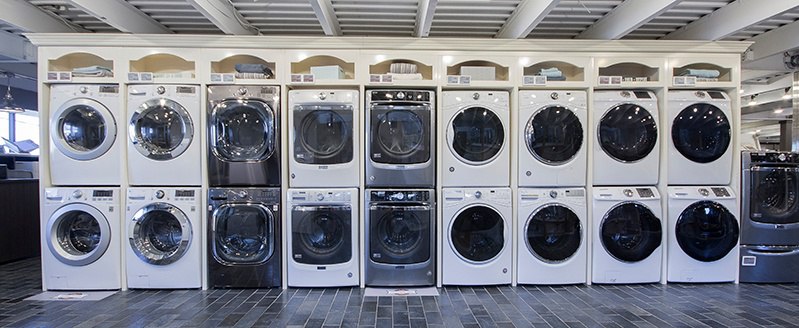 In this article, we'll compare the LG WM4370HWA and newest Maytag washer MHW8630HW. Most importantly, we'll look at LG's, and Maytag's reliability ratings for both machines based on 34,687 service calls logged last year by our service department.
Let's compare two similar machines: the Maytag MHW8630HW against the LG WM4370WA.
Maytag
Maytag started making washers in 1907 using a wooden tub with a hand crank and a wash board. Over the years they used an electric motor and then added an agitator for a gentle wash.
At one time, it was the most dependable appliance sold as depicted by the Ol' Lonely Maytag Repairman.
In early 1997, Maytag developed "The Neptune." The company had chronic problems with mold due to a manufacturing flaw around the gasket of the drum.
The company could never recover from the blow to their reputation or the fallout from the subsequent lawsuits.
After 112 years in business, Maytag sold to the Whirlpool Corporation and marketed Maytag as their best laundry line.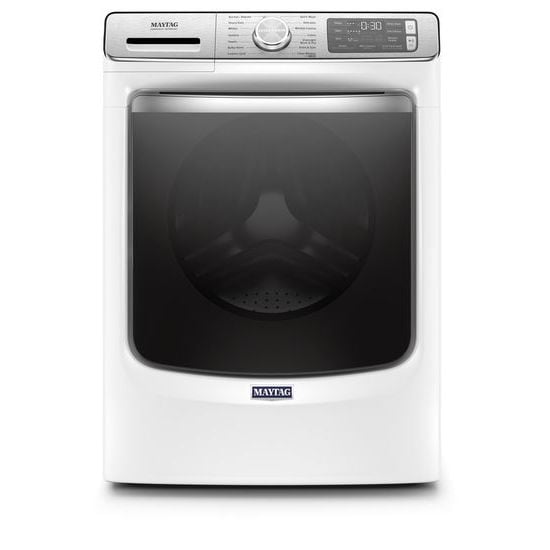 Features:
5.0 cubic ft capacity
14 wash cycles
Optional Optimal Dose Dispenser - The machine calculates the proper amount of detergent for each load. You can fill enough detergent for up to 8 loads.
Dimensions - 27" wide-38 ⅝ tall- and 32 15/15 deep
This washer comes in a metallic slate finish for an additional charge.
Wi-Fi Connected
Maytag Cycles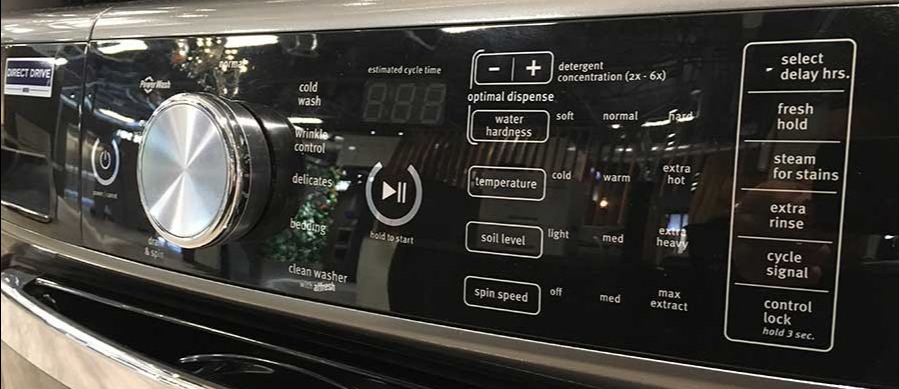 Overnight Wash and Dry Cycle
The machine will wash for 26 minutes and then will air dry the clothes overnight for smaller loads.
Steam
Steam helps eliminate stains and smells out of your clothes.
Soak
You can add more soak time and adjust the water temperature for the stain options.
Power Wash Cycle
This cycle has additional cleaning action. It adjusts the water temperature through the internal water heater in the washer.
Fresh Hold
You can leave your clothes in the washer for up to 24 hours in a tumble cycle to keep your clothes fresh.
Clean Washer Cycle
Special cycle designed to keep the drum clean.
Short on time? Get our free Washing Machine Buying Guide
LG
LG is a multinational electronics company from South Korea manufacturing products from air conditioners and TVs to washing machines and refrigerators.
LG had a breakthrough when they introduced a 6-motion direct drive for better washing action in 2011.
LG, along with Samsung, is the fastest-growing appliance companies in the US.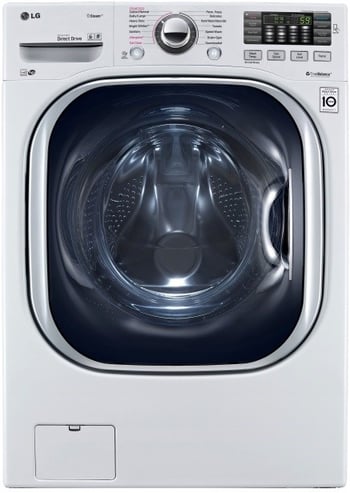 Features:
4.5 cu. Ft. Capacity
14 wash cycles
Also comes in Black stainless for an additional charge
Dimension - 27 wide -30 ¼ deep and 38 11/16 tall
LG Cycles

TurboWash
On large loads, it can reduce the time of your wash cycle up to 20 minutes.
Steam
Steam gets the wrinkles, smells, and stains out of your clothes.
Allergiene Cycle
The Allergiene cycle uses high steam to remove 95% of your common house allergens, like dust mites and pet dander.
Speed Wash
You can wash a small laundry load in 15 minutes.
Smart ThinQ app
You can add additional cycle with an app on your phone or find what is wrong with the washer through the app and call in the service center at LG.
6 Motion Technology
This cycle uses six different wash motions for a better washing experience by rolling to stepping to scrub to tumble to filtration and finally to swing.
Tub-Clean Cycle
The Tub-Clean Cycle uses all the water jets to increase the temperature to bring the heat up to 149 degrees to help sterilize In conjunction with Affresh tablets.
Maytag vs. LG Front Load Washers
First, they have a similar capacity (Maytag is 0.5 Cubic Feet bigger), steam functionality, and both offer Wi-Fi so you can turn the machine on and off remotely while also checking the time remaining. The cycles are similar as well.
LG Washer Advantages
Considering LG's background with electronics and technology, it's no surprise they have some of the more advanced and innovative features.
If you are having an issue with this pair, you can quickly diagnose the problem with the Smart Diagnosis. In other words, this washer has the capability of transmitting data by phone to the Customer Information Center.
The call center agent records the data transmitted from your machine and uses it to analyze the issue, providing a quick and effective diagnosis, at least in theory. You should still know who could repair your machine.
The app also allows you to download new cycles. Periodically LG will add new cycles to this app that you can download and apply for immediate use with your washer.
LG is shallower than the Maytag by almost two inches (they say it's 29.75, but it's 30.25 inches when we measured it).
Maytag Washer Advantages
The overnight Wash and Dry cycle is a decent feature. You can wash a small load overnight for work clothes or the gym.
Optimal dose dispenser holds up to 8 loads of detergent to dispense the right amount at the right time. One of the most significant repair problems in front loads is the detergent dosage.
The extra lather can ruin the bearings of the machine. That is a $500-700 repair.
Which Front Load Washer is the Most Reliable?
Let's look at the last two years - 2017 and 2018.
Most Reliable Front Load Washers 2018
| | | | |
| --- | --- | --- | --- |
| | Units Sold | Units Serviced | Service Rate |
| Samsung | 178 | 8 | 4.49 % |
| LG Electronics | 1246 | 72 | 5.78 % |
| Whirlpool | 293 | 30 | 10.24 % |
| Maytag | 1470 | 204 | 13.88 % |
| Electrolux | 281 | 112 | 39.86 % |
| Frigidaire | 9 | 4 | 44.44 % |
| Speed Queen | 14 | 19 | 135.71 % |
| Grand Total | 3494 | 455 | 13.02 % |
Many people asked for previous year's reliability numbers. Below you will find 2017's repair report statistics for comparison.
Most Reliable Front Load Washers from 2017
| | | | |
| --- | --- | --- | --- |
| | Units Sold | Units Serviced | Service Rate |
| Whirlpool | 524 | 20 | 3.82% |
| LG Electronics | 320 | 17 | 5.31% |
| Maytag | 1,124 | 74 | 6.58% |
| Samsung | 154 | 12 | 7.79% |
| Electrolux | 1,549 | 295 | 19.04% |
| Speed Queen Commercial | 13 | 3 | 23.08% |
| Frigidaire | 86 | 21 | 24.42% |
| Speed Queen | 44 | 16 | 36.36% |
Maytag was more reliable in 2017, and LG was more reliable in 2018. Both are well below the average appliance service rate of 13.4%.
However, Whirlpool offers factory service, whereas LG does not. In your area that could be helpful provided that local Whirlpool branch is right (Pro tip: Always check your local reviews online). LG service could be an issue in your area.
Regardless, you want to inquire about who can service your washer before you one. Seriously, not having a washer due to repair for a prolonged period will cause headaches, especially with kids.
We service what we sell. Both are similar in terms of parts availability, so the brands are about equal to us in terms of repair and parts availability.
Which Front Load Washer Should You Buy?
Let's start by saying that both washers are excellent options. You have similar features, capacities, and cycles.
Thus, your ultimate deciding factors for LG and Maytag should be based on:
Size
Reliability
Cycles
Dispensing Detergent
Price
Best Washer for Size
Depth is often an issue, especially when replacing a top load machine. Measure all your doorways as well as space.
If depth is an issue for you, LG is the right choice.
Best Washer for Reliability
Reliability is better for LG for now, but both are good options.
Best Washer for Cycles
Maytag has more intriguing cycles like Fresh Hold and the Overnight cycle.
Best Washer for Dispensing Detergent
The dispenser is great because people tend to overdue their detergents eventually breaking their machines.
Best for Price
With two machines this close in features, price is a deciding factor. If they go on a crazy special, then it will be worth it to consider either.
When is the Best Time to Buy Maytag or LG?
If your machine broke, you probably don't have much of a choice of when you buy another. However, buying around holidays like Black Friday, Presidents' Day, Memorial Day, Labor Day, and July 4th, you could save 10-35%.
Of course, with tariffs, it will probably be less discounting than years past.
Additional Resources
Want to learn more about front load laundry? Download our free Washer Buying Guide for everything you need to know about the latest brands and features. Well over 560,000 people have read a Yale Guide.
Related Articles:
Why Should You Trust Us?
It seems that every appliance review has nothing but glowing comments about almost every product, yet you read customer reviews and they are almost universally bad.
We are here to fill in the disconnect. We'll give you the best features, and the drawbacks as well, including reliability based on over 37,000 calls performed by our service team just last year. Our goal is to give you ALL the information so you know what's right for you.
Please consider subscribing or adding to the conversation in the comments below. We appreciate you stopping by.
Neil Katz
Neil Katz has been in appliance sales at Yale Appliance for over 25 years. Neil spends time following the Sox and Patriots and watching the stock market.

Schedule a showroom visit with me
A Note About Pricing
Pricing on this blog is for reference only and may include time sensitive rebates. We make every attempt to provide accurate pricing at time of publishing. Please call the stores for most accurate price.