GE vs. Maytag Front Load Laundry (Reviews / Prices / Ratings)
GE vs. Maytag is a popular comparison for front load washers.
It wasn't always this way. Our parents bought Maytag if they could and GE only if they had to.
In 30 short years, the industry has drastically changed. Maytag is not Maytag anymore. Then again, neither is GE, as you will see.
In this article, you will learn the differences between GE and Maytag, including their unique cycles and features.
I will also show you reliability based on over 40,000 real service calls completed by our service department just last year.
You will be able to determine what brand and features may be right for you.
Let's get started.
GE Appliances
You will look at a completely different GE washer than the one marketed five years ago.
GE's new owner, Haier, revitalized their whole line starting with laundry readdressing many objections to the front load design.
Their washers are made in China, but the dryers and most of their products are made in the US.
Maytag
Maytag is a wholly owned subsidiary of the Whirlpool Corporation.
When I started at Yale in 1986, Maytag was an independent company based out of Iowa, building the best washers you could buy.
The first front load washer, the Neptune, was a runaway hit for the company. Unfortunately, Neptune had a design flaw in the front of the machine, so the water was left between the outer and inner tubes.
That gap created mold and mildew and plenty of unhappy customers. It destroyed the company and changed the way you shop for laundry.
Many people returned to top load washers. It's understandable but front-loads are still a better long-term purchase with better water and energy savings.
GE vs. Maytag Front Load Washers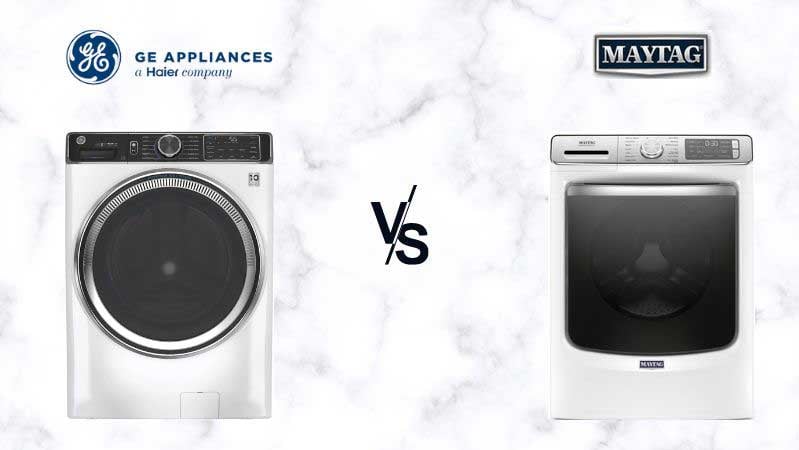 | | | |
| --- | --- | --- |
| | GE GFW850SSNWW | Maytag MHW8630HW |
| Dimensions (Width x Height x Depth) | 28" W x 39.75" H x 34" D | 27" W x 38.625" H x 32.9375" D |
| Capacity | 5 Cu. Ft. | 5 Cu. Ft. |
| Reversible Door | Yes | No |
| ADA Compliant | Yes | Yes |
| Spin Speed | 1300 RPM | 1160 RPM |
| Smart Connectivity | Yes | Yes |
| Remote Diagnostics | No | Yes |
| Automatic Detergent Dispenser | Yes | Yes |
| Number of Cycles | 12 | 14 |
| Mold Protection | Yes | No |
| Price | $949 | $1,254 |
What They have in Common
You are looking at GE and Maytag's washers.
Size
Both are five cubic feet. Most front load washers are 4.5-5.0 cubic feet. You can spend an additional $700 for the largest 5.8 cubic foot washer. Staying in the 4.5-5.0 cubic foot size is smarter.
Cycles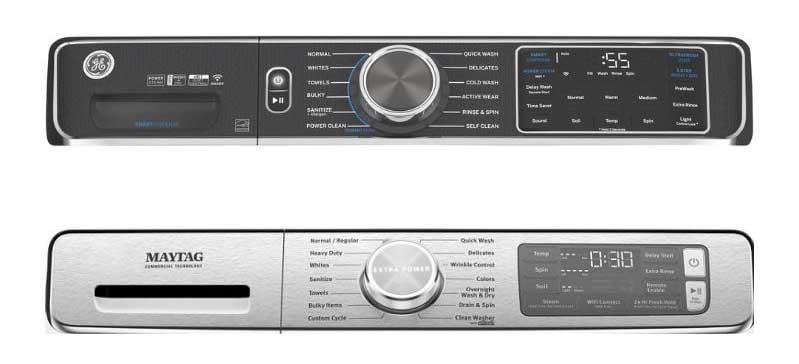 Maytag lists 14 cycles. In comparison, GE claims 12 cycles and ten options. My parents had a three-cycle Maytag growing up. It seemed to work for us.
Temperatures
They both have five for any type of fabric.
Steam
Steam loosens dirt in tough stains like grass, wine, and blood.
Service
Give both companies kudos for operating their own service departments. Most brands and retailers offer no service, which is a huge future problem.
You will need service on any washing machine before your next purchase. Check reviews to see which company is better in your area.
How GE and Maytag Washers Differ
Extra Power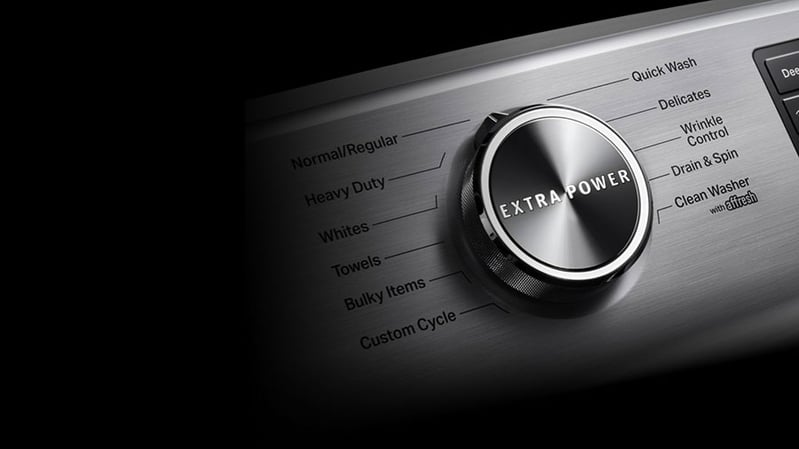 Maytag Extra Power Button
Extra Power is Maytag's unique cycle to wash colors and whites in the same load. You don't have to worry about your favorite T-shirt turning pink or your clothes cleaning properly in a cold wash.
The cycle starts in the cold and gradually warms for more cleaning power. Extra Power has some appeal as a guy (me) who washes everything in the cold to save time.
Mold Prevention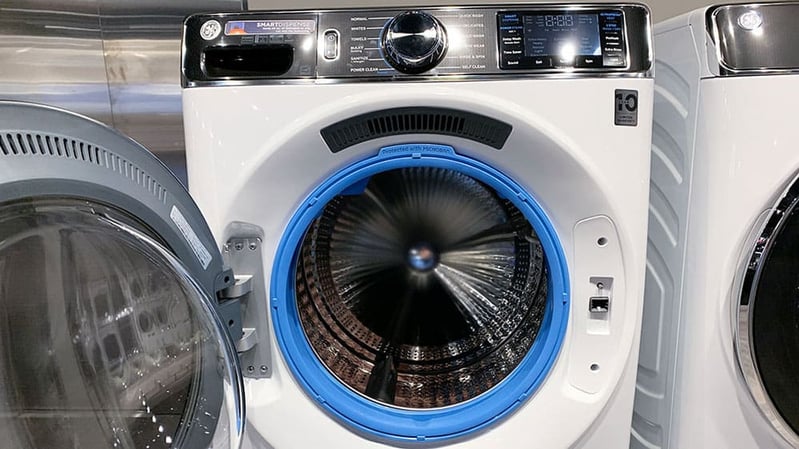 GE Front Load Washer with Microban Coating (In Blue)
Mold is a product of standing water. It can happen in the dispenser, back of the washer, but especially in the gasket.
GE has the most extensive mold prevention package. First, they covered the gasket, hoses, and dispenser with Microban antimicrobial surfaces.
Then they added the "OdorBlock" fan to dry any residual moisture after your wash cycle. To activate it, you must select a button on the top right of the control panel.
If you do not press it, the machine will chime to let you know you need to push the vent button once you close the door.
Maytag has no mold prevention in their washers. I find it odd since mold killed the company in the first place. You would think it would have hospital-grade UV in the machine to kill mold on contact.
Pro Tip: If you want to prevent mold in a front load washer (or anything), eliminate standing water by keeping the door open and wiping down the gasket and dispenser. Run the clean cycle once a month as well.
Auto Dispensers
GE Front Load Washer with Smart Automatic Dispenser
Both have an automatic dispenser. GE has the second largest at 32 loads, while Maytag has an eight-load dispenser.
Maytag should probably opt for Whirlpool's 40 load dispenser for a few reasons. One is size. The other is reliability.
Auto dispensers dispense the right amount of detergent at the right time. They also keep you from overfilling and causing a service call later.
You only need a capful. Most people load the dispenser like a top load. You can't help it. I write these articles and have a tough time myself.
Smart Functionality
We have a webinar on YouTube all about smart functionality for appliances. In the online seminar, you will learn smart functionality is not yet a must-have feature. However, laundry may be the exception.
Like all other appliances, you can turn the machine on or off from an app on your phone. You will also see the time remaining and receive a push notification when the cycle is done.
These features are desirable in the laundry because now you won't have to check your washer every three minutes to see if it's done.
You can also check how much detergent is left in the dispenser, and the washer can set the proper drying cycle automatically in this model.
Both Maytag and GE have smart functionality, but GE has a better platform with SmartHQ.
Soon SmartHQ will be able to diagnose any problem with the washer, order the part and schedule the service call. You and I will be ecstatic when this is finally launched. It will change service in this industry.
RPM (Revolutions Per Minute) Spin
GE is faster at 1300 RPM versus 1160 for Maytag. Higher spin speeds reduce time in the dryer for less shrinkage and damage due to heat.
Overnight Cycle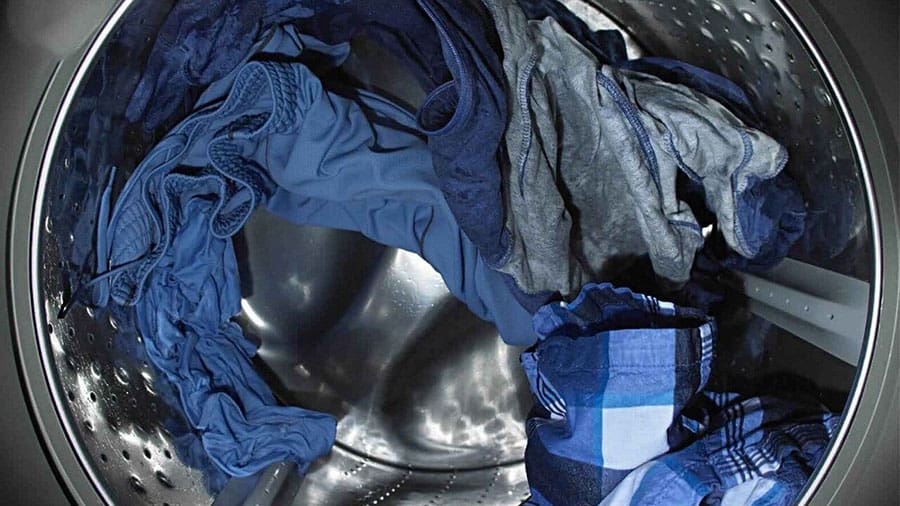 Maytag Fresh Hold 24-Hour Cycle
You can wash and dry an outfit in the GE partly due to the higher spin speed. Maytag has a 24-hour cycle to keep the clothes fresh but not completely dry.
Reversible Door
GE has a reversible door for easier access to the dryer in stacking and other applications. You don't have to remove the clothes and evade the washer and dryer door. Instead, you can transfer the load easily.
Which Front Load Washer Is the Most Reliable?
The following service rates are based on a minimum of 300 front load washers sold per brand and a total sample of over 3000 from December 2020 to October 2021.
Most Reliable Front Load Washers from December 2020 to October 2021
| | |
| --- | --- |
| | Service Ratio |
| LG | 3.3% |
| Samsung | 4.9% |
| GE Appliances | 8.0% |
| Whirlpool | 9.5% |
| Maytag | 15.0% |
| Grand Total | 6.3% |
Both are similar, but GE is better than Maytag at 8.0% compared to Maytag's 15% service rate within the first year.
For Maytag, the news is mixed. Many of the problems are related to the dispenser. While it is an issue, you can still use the machine.
Maytag could scrap the design and use Whirlpool's larger 40-load dispenser. It's fed from the bottom and is more reliable.
Read More: Most Reliable Front Load Washers
Front Load Washer Availability
Given the supply chain issues with relatively similar machines, you should buy the available washer in your area.
I will say that about all the top 5 brands in front load washers. Both brands have navigated well, but that will vary by area.
GE vs. Maytag Front Load Washers: Key Takeaways
I like the Maytag Extra Power button. Now I don't have to feel bad about not separating my clothes. With Extra Power, it doesn't matter. You can wash both and save time.
However, GE has more functional advantages. You have mold protection, so now you don't have to feel bad about forgetting to wipe the gasket (I always do).
GE also has a better dispenser and a few other smaller benefits like a better spin and reversible door.
The machine is more reliable as well. Reliability is becoming even more important since the supply chain for parts is worse than the appliance.
So, your choice comes down between having Maytag's Extra Power feature or GE's mold protection, dispenser, and reliability.
What's better for you?
Additional Resources
Download our Yale Washer Buying Guide with all the features, terms, and brands of laundry. Over 1 million people have already found answers in a Yale guide.
Related Articles:
Why Should You Trust Us?
It seems that every appliance review has nothing but glowing comments about almost every product, yet you read customer reviews and they are almost universally bad.
We are here to fill in the disconnect. We'll give you the best features, and the drawbacks as well, including reliability based on over 37,000 calls performed by our service team just last year. Our goal is to give you ALL the information so you know what's right for you.
Please consider subscribing or adding to the conversation in the comments below. We appreciate you stopping by.
A Note About Pricing
Pricing on this blog is for reference only and may include time sensitive rebates. We make every attempt to provide accurate pricing at time of publishing. Please call the stores for most accurate price.