How To Prevent Mold In Your Front Load Washer (Pro Appliance Tips)
You are probably worried about buying a front load washer due to the possibility of a musty odor or mold buildup.
I can't blame you, but there are some common ways of preventing mold and mildew.
In this article, we'll cover how to clean your washer, how to prevent mold and mildew, as well as tips from us, and what each manufacturer recommends.
First, let's talk about what causes mold and mildew in your front load washer.
The Culprit Of Mold And Mildew In Your Front Load Washer
Front-loaders earned the reputation of mold and mildew buildup from the old Maytag Neptune front load washer.
At the time, the Neptune destroyed Maytag's reputation and earned the name "Stink-O-Matic."
The culprit that destroyed Maytag's reputation was trapped moisture.
The Neptune had a gap, so water would pool between the outer and inner tubes.
You couldn't clean it because the water was pooled at the bottom of the machine out of arm's reach, and the opening was too narrow for most cleaning tools - but this was over 20 years ago.
Since then, every laundry company has installed a rubberized gasket between the inner and outer tub, created special cleaning cycles, and promotes easy maintenance tips to prevent mold buildup.
A Quick Recap About Front Load Washers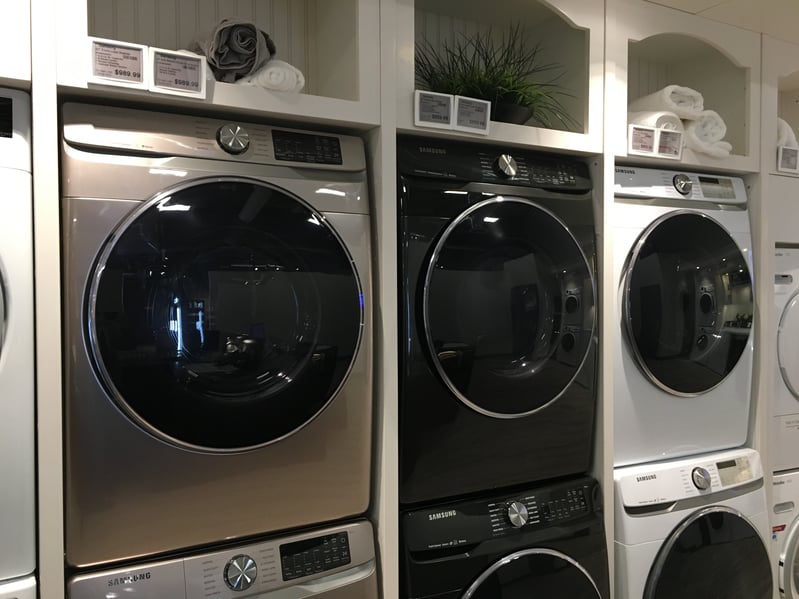 Front loads are far better than top loads. The reliability is roughly the same, but you have almost double the capacity of a top-load in a front load washer.
Top Load Washer Reliability 2019
| | | | |
| --- | --- | --- | --- |
| | Service Qty | Shipped Qty | Service Ratio |
| Samsung | 0 | 7 | 0.00 % |
| Amana | 0 | 6 | 0.00 % |
| Whirlpool | 15 | 409 | 3.67 % |
| Maytag | 36 | 231 | 15.58 % |
| Speed Queen | 65 | 243 | 26.75 % |
| LG Electronics | 2 | 4 | 50.00 % |
| Frigidaire | 1 | 1 | 100.00 % |
| Fisher & Paykel | 2 | 1 | 200.00 % |
| Grand Total | 121 | 902 | 13.41 % |
Front Load Washer Reliability 2019
| | | | |
| --- | --- | --- | --- |
| | Service Qty | Shipped Qty | Service Ratio |
| Samsung | 8 | 178 | 4.49 % |
| LG Electronics | 72 | 1246 | 5.78 % |
| Whirlpool | 30 | 293 | 10.24 % |
| Maytag | 204 | 1470 | 13.88 % |
| Electrolux | 112 | 281 | 39.86 % |
| Frigidaire | 4 | 9 | 44.44 % |
| Speed Queen | 19 | 14 | 135.71 % |
| Grand Total | 455 | 3494 | 13.02 % |
The overall reliability is nearly the same, but you have almost double the capacity of a top-load in a front load washer. Even at this greater capacity, you use far less water and energy.
You should seriously consider a front load versus a top load. Above all, don't be dissuaded about stories of odors.
To learn more about the differences between front load and top load washers, check out our free Washer Buying Guide by clicking here.
Let's look at eliminating those fears now.
How To Prevent Mold And Mildew In Your New Front Load Washer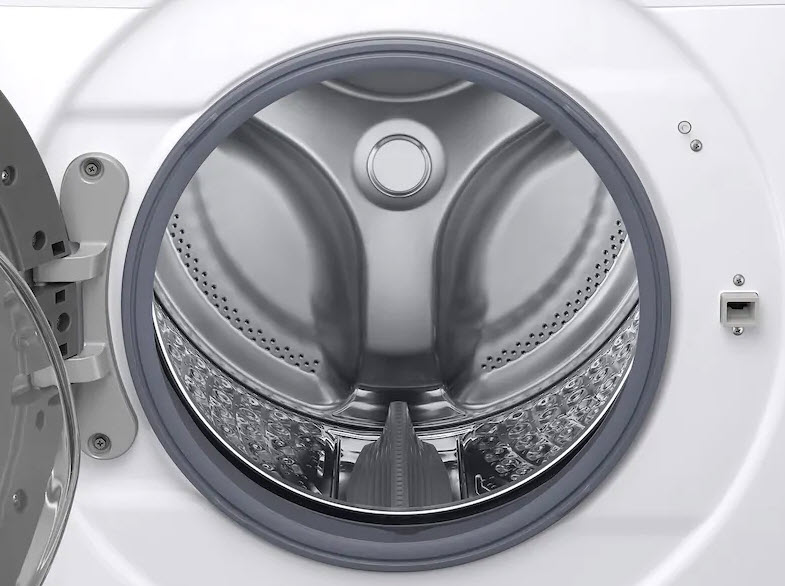 Remember, mold and mildew are a function of standing water and residual gunk like detergents and softeners.
Leave the Door Ajar: This is my personal favorite because it's easy to do. It just involves remembering, but air will dry moisture and keep the problem from starting.
Keep Your washer dry: When you do a load of laundry, just remember to dry the gaskets and back of the machine. Like keeping the door ajar, it's simple to do.
Be careful with detergents: Front loads require HE or high-efficiency detergents. They are less sudsing than regular detergents. You also only need a capful, NOT A CUPFUL.
High Temperature Wash After 40 Washes: Run the washer at a high-temperature cycle every 40 washes.
Use Bleach or Affresh Tablets: If the machine does start smelling, use bleach. Do not combine bleach with any other chemicals. Some manufacturers will recommend Affresh tablets as well.
Clean your dispensers: Dispensers can be prime holders of odiferous funk, especially the new 40 load dispensers
Do Not Leave Wet Clothes in the Washer: Seems basic, Many washers have extra cycles for extra spinning after the wash is complete. Use them, rather than leaving laundry wet for an extended time.
Water Softeners: Water softeners leave a residue. Be careful. I would look to use sparingly or eliminate completely.
Us Washing Cycles: In 2019-2020, many manufacturers have cycles designed to sterilize your washer. You can see them below.
Some front load washing machines come equipped with a specific cleaning cycle to keep the inside of the washer fresh. We listed them below.
Short on time? Get our free Washing Machine Buying Guide
Recommended Washer Maintenance By Brand
Here are some of the most popular front load washer brands and what they recommend doing to keep the inside of your washer fresh, and fight mold:
Whirlpool (including Maytag) Corporation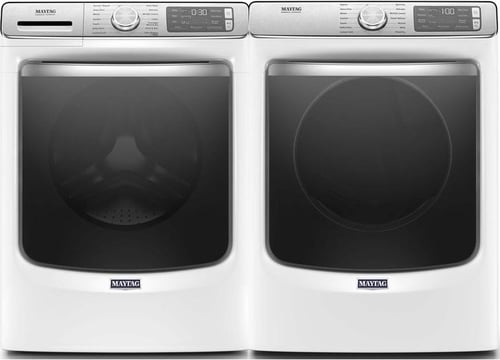 Special Cycles to Prevent Mold:
Fresh Hold: Keeps clothes tumbling up to 12 hours
Sanitize: Increases temperature
Maintenance Tips:
Always use High Efficiency (HE) detergents. Never use more than the recommended dosage because it will have a buildup of residue detergent, which can create the problem.
Whirlpool recommends using warm and hot water because it controls the soil and detergent in the washer better than cold water.
After every wash or laundry load, leave the door open, so the rubber gasket can dry out. That is an effective way to reduce odor.
Whirlpool also recommends Affresh tablets to clean the inside the washer once a month to keep the front loading washer clean from mold and mildew.
Electrolux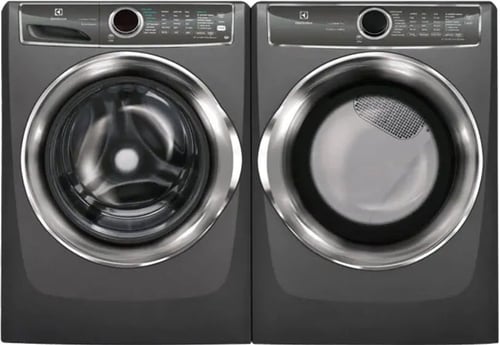 Special Cycles to Prevent Mold:
Extended Refresh: Keeps clothes spinning after the cycle is complete
Sanitize: Adds heat
The newest washer Front Load Perfect Steam™ Washer with LuxCare™ has a feature that will automatically pop open your door when the cycle is over.
It prevents odors or humidity accumulation leave the door open with the ventilation feature for a few hours after use or whenever the washer is not in use.
Like other manufacturers, they recommend preventative maintenance each month. The Electrolux washer has a "Clean Washer" cycle.
Another inside routine cleaning is clean the dispensers for the detergent and fabric softener so that they will not build up over. You should clean your dispensers twice monthly.
For daily maintenance, always remove the clothes from your washer as soon it completes the cycle.
Samsung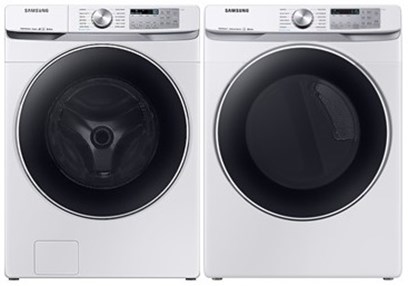 Special Cycle And Reminders to Prevent Mold:
Self-Clean+ Cycle: The water temperature for Self-Clean+ is set to EXTRA HOT, which cannot be changed. During this cycle, you do not add any additional cleaning products like detergent or bleach. If added, it will affect the quality of the cleaning.
There will be a reminder on the control panel after every 40 washes to clean the washer.
LG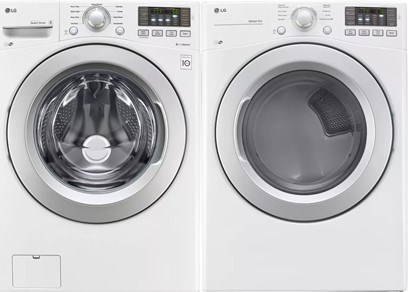 Special Cycle to Prevent Mold:
"TubClean" uses water jets and 149-degree heat to sterilize the drum.
For all of our most popular front load washers, their cycles, and features, click here.
How To Clean Your Front Load Washer And Remove Built-Up Residue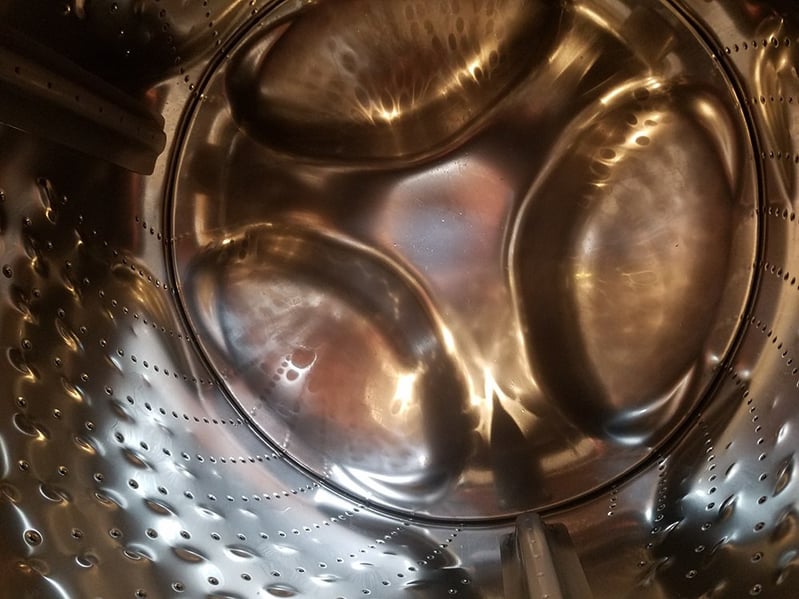 The gasket is the most notorious part of a front load washing machine for developing bacteria and mold. The folds of the gasket collect water during the wash that does not drain out afterward and sits stagnant, allowing bacteria to grow.
To clean the gasket, you will need a spray bottle filled with white vinegar, a cloth, and a toothbrush or other small brush.
Spray the gasket liberally with the vinegar, pulling back the folds to get into the crevasses.
Wipe the gasket down with the cloth, a little bit of elbow grease may be needed to remove caked-on mold or gunk. The toothbrush can be used to get at tight spots.
After cleaning the gasket, move on to the detergent dispenser. Like the gasket, the detergent dispenser has nooks and cavities that collect water and soap residue. The soap residue can build up in the dispenser to the point of hindering its ability to dispense the detergent.
The accessible parts of the dispenser can be sprayed down with vinegar and scrubbed with a toothbrush.
After scrubbing the detergent dispenser, run a cleaning cycle just as you would do with normal preventative cleaning. The vinegar poured in the detergent dispenser will get to the parts of the dispenser the toothbrush could not reach.
You may have to run a few cleaning cycles depending on how dirty the washing machine had gotten.
What If My Washing Machine Doesn't Have A Cleaning Cycle?
If your washing machine does not have a cleaning cycle, you can create your own cleaning cycle by setting the temperature for the highest possible and with the longest run time selected.
Toss an Affresh washing machine cleaning tablet* into the drum or pour 2 cups of white vinegar into the detergent dispenser and let it run.
If you use vinegar, you will then want to run another cycle with the same settings, this time pouring ½ cup of baking soda into the drum. Once the cycle with the baking soda finishes, use a cloth to wipe down any residue.
Cleaning the washing machine regularly, about once per month, should prevent any bad odors or mold from developing.
Our Final Advice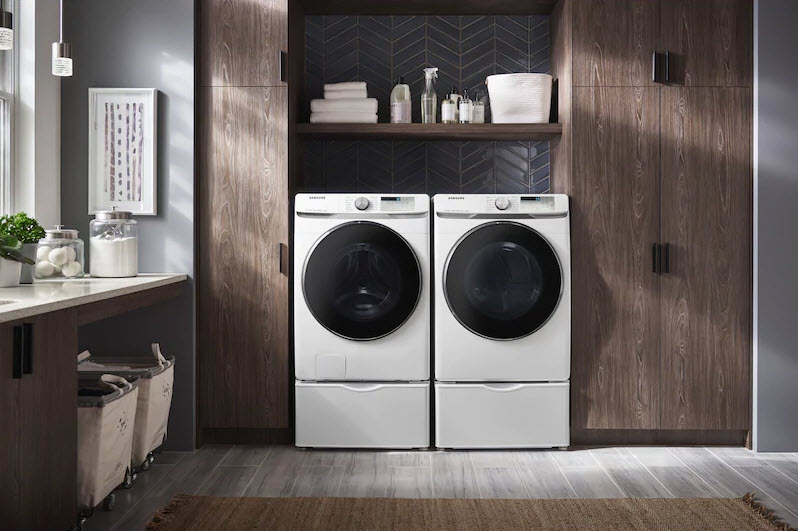 You want to eliminate any standing moisture. The easiest and most effective action you can take to avoid the growth of bacteria and mold in your front load washing machine is to leave the door of the washing machine cracked open when not in use.
Then once a month set the machine on a clean cycle. You can add bleach: Do not wash the gasket directly with bleach.
It's that simple.
Just remember that is a fraction of time you will save by not washing extra loads in a much smaller top load.
If you have any remedies for cleaning your washer at home, feel free to share your thoughts in the comments below. I will check it with our service manager and use it in my machine. If it works, I will update this blog.
Additional Resources
Read about Washer features, specs and service ratings in our Washing Machine Buying Guide Buying Guide. Over 620,000 people have read our appliance and lighting guides so far.
Related Articles
Why Should You Trust Us?
It seems that every appliance review has nothing but glowing comments about almost every product, yet you read customer reviews and they are almost universally bad.
We are here to fill in the disconnect. We'll give you the best features, and the drawbacks as well, including reliability based on over 37,000 calls performed by our service team just last year. Our goal is to give you ALL the information so you know what's right for you.
Please consider subscribing or adding to the conversation in the comments below. We appreciate you stopping by.
Benjamin Adams
Benjamin Adams is a customer service representative at Yale Appliance. Ben has years of experience in the appliance and HVAC fields. When he is not providing support to our customers and technicians, he can be found chasing snowstorms and skiing the mountains of Vermont and New Hampshire. Ben has studied journalism at UMass Amherst and combines his writing skills with appliance knowledge to author helpful blogs for the Yale website.
A Note About Pricing
Pricing on this blog is for reference only and may include time sensitive rebates. We make every attempt to provide accurate pricing at time of publishing. Please call the stores for most accurate price.