How to Remove the Musty Smell from Your Front Load Washer
You are probably worried about buying a front load washer because of the infamous musty odor or mold buildup. Front loaders earned that reputation from the old Maytag Neptune.
It had a gap in the liner so water could pool between the outer and inner tubs. Stagnant water develops mold and odors over time.
But the Neptune was almost 20 years ago. Every company learned the lesson by simply installing a gasket between the inner and outer tub. However, you can still have the mold issue.
So I will tell you how to prevent it. I will show you how each manufacturer recommends solutions. Then I will give you my common sense solution.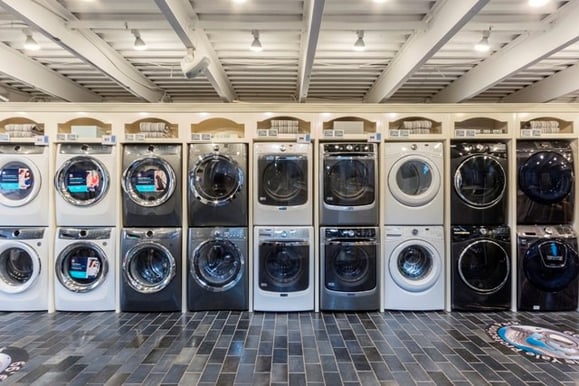 About Front Load Washers
Front load washers are quite simply better than top load machines. They are almost twice as big and still save three times the water and energy. Plus they spin much faster, so there is less time in the dryer.
You should seriously consider a front load versus a top load. Above all, don't be dissuaded about stories of odors.
Let's look at eliminating those now.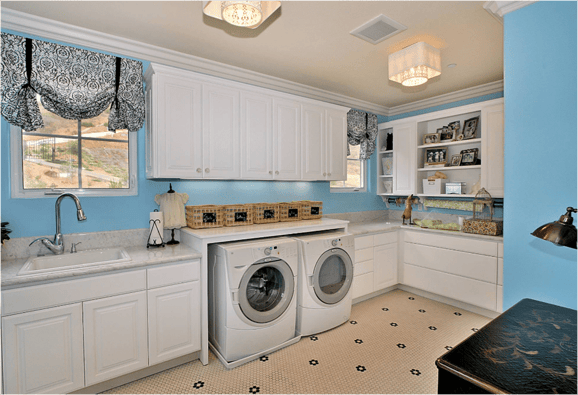 Whirlpool Corporation
Always use High Efficiency (HE) detergents. Always go by the manufactures recommendation on the amount of detergent to use. Never use more the then recommended because it could have buildup of residue detergent which can create the problem.
Whirlpool also recommends using warm and hot water because it controls the soil and detergent in the washer.
After every wash if possible leave the door open, so the rubber gasket can dry out. That is an effective way to reduce the smells.
Whirlpool also recommends Affresh tablets that cleans inside the washer once a month to keep the front loading washer clean from and mold and mildew.
Electrolux
The newest washer Front Load Perfect Steam™ Washer with LuxCare™ has a feature where the door will automatically pop open once a cycle is done. To help prevent odors or humidity accumulation leave the door open with the ventilation feature for a few hours after use or whenever the washer is not in use.
Like other manufacturers they recommend preventative maintenance each month. The Electrolux washer has a clean washer cycle. To begin the cycle, select the clean washer cycle. If installed, remove the "LIQUID ONLY" cup from the dispenser.
Remove all wash items from the drum before filling the detergent chamber with one (1) cup of liquid chlorine bleach OR one (1) pouch of Tide® Washing Machine Cleaner. DO NOT use both. Press start to begin. After that clean wash cycle.
Immediately follow up with a rinse & spin cycle. Select max spin with no detergent or bleach to help clear any residual bleach left after the clean washer cycle.
Also, clean the dispensers for the detergent and fabric softener so that they will not build up residue. You should clean them twice a month.
Always remove the clothes from washer as soon as completes the cycle to avoild buildup.
Dry around the washer door opening, flexible gasket, and door glass. These areas should always be clean to ensure a watertight seal.
When extremely soiled items have been washed, a dirty residue may remain on the drum. Remove this by wiping the drum with a non-abrasive household cleaner. Rinse thoroughly with water.
Periodically, wipe dry the folds in the bottom of the flexible gasket to remove lint and other debris.
Samsung
Self-Clean+ cycle - The water temperature for Self-Clean+ is set to EXTRA HOT, which cannot be changed. During this cycle you do not add any additional cleaning products like detergent or bleach. If added it will effect the quality of the cleaning.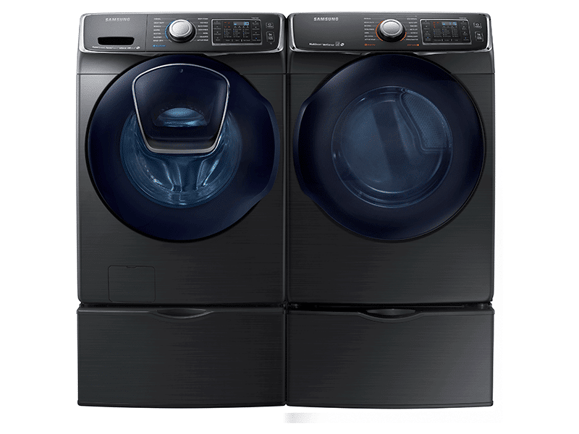 You should do this after every 40 loads of wash. There will be a reminder on the control panel.
How to Get Rid of the Front Load Washer Smell
The best way to keep the smells of mildew and mold out of front loading washer is preventive maintenance.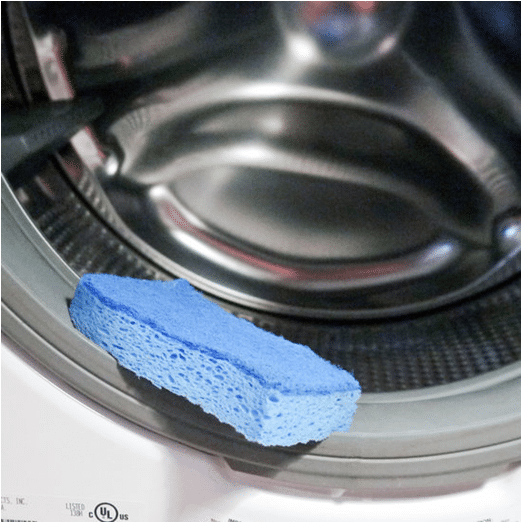 Leave the door open. From personal experience this works the best. I would also recommend wiping around the gasket on a regular basis with soapy water or mildew spray cleaner.
Use only the amount of soap the manufacturer recommends. From personal use, I always use less than the manufacture recommends. I have used as little as a spoonful.
Liquid fabric softener leaves a residue that could contribute to mold in front loading washers.
My personal suggestion is to wash in hot water without detergent without any clothes. If there's any extra soap or fabric softener it will wash it away.
Finally, the best solution is to simply keep the gasket dry. Use whatever you are washing to dry the water from the previous load or simply towel it off afterwards.
Additional Resources
Read about Washer features, specs and service ratings in our Washing Machine Buying Guide Buying Guide. Over 180,000 people have read our appliance and lighting guides so far.
Related Articles
Neil Katz
Neil Katz has been in appliance sales at Yale for over 25 years. Neil spends time following the Sox and Patriots and watching the stock market.

Read more about Neil here
A Note About Pricing
Pricing on this blog is for reference only and may include time sensitive rebates. We make every attempt to provide accurate pricing at time of publishing. Please call the stores for most accurate price.