GE vs. Electrolux Front Load Washers (Reviews / Ratings Prices)
Two of the newer and more interesting washer brands are Electrolux and GE.
Electrolux has only been manufacturing front-load washers in the last 15 years.
Haier dramatically changed GE's laundry three years ago.
Both have unique features under cool euphemisms like "SmartBoost" and "OdorBlock."
In this article, you will read the pros and cons of both.
I have chosen the best model from each manufacturer, the GE GFW850SSNWW and the Electrolux ELFW7537AW front load washers.
GE
GE is not GE anymore. It's a division of Haier, a Chinese manufacturer.
Although I am partial to American-owned companies, GE has flourished under Haier, especially with their cooking, Café line, and laundry.
GE was never this good under the GE conglomerate or as a large corporation. It's a much more focused company now.
Most of their manufacturing is still US-based. Their washers are manufactured in China, while their dryers, along with most of their cooking and refrigeration, are made in the US.
Most Popular GE Front Load Washer: GE GFW850SSNWW - $1,199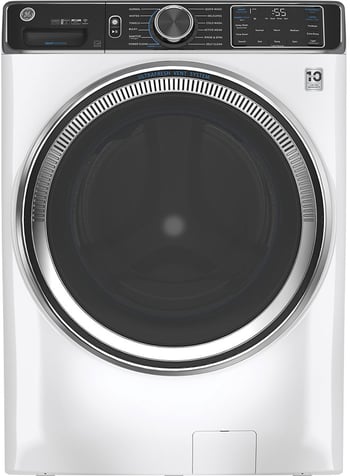 Features:
5.0 cu. ft.
12 Wash Cycles
Steam Cycle
Sanitize Cycle
Allergy Cycle
Wi-Fi
Electrolux
Electrolux scored one of the biggest appliance successes in the early 1990s. They started manufacturing stainless steel appliances under their Frigidaire label.
Electrolux is based in Sweden and is an appliance-only brand like GE with significant US manufacturing.
Their larger front-load laundry sets are new to the market and are made in Mexico, with their smaller compact laundry produced in Poland and Italy.
We don't sell Electrolux, but I like their washers. I had their first set years ago.
Here's a fun fact about GE and Electrolux: Electrolux had the inside track to buy GE, and Haier outbid them by almost 2 billion dollars.
Most Popular Electrolux Front Load Washer: Electrolux ELFW7537AW - $1,249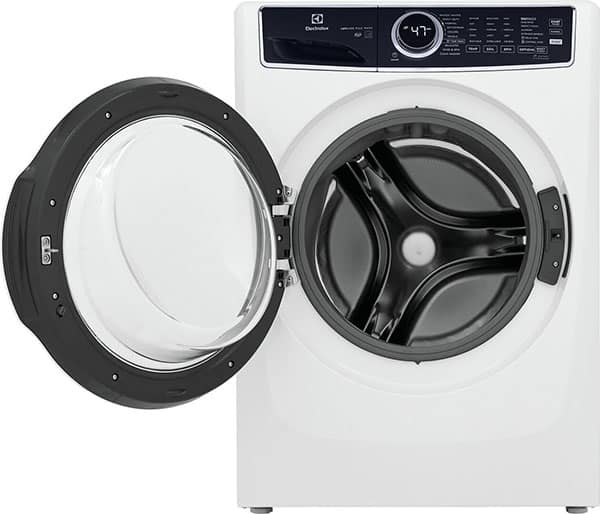 Features:
LuxCare® Plus Wash System
Pure RinseTM option rinses cleaner
15-Minute Fast Wash
POD Dispenser
Perfect Steam
Allergen Option
Sanitize Option
Let's look at both machines and compare them.
Short on time? Get our free Washing Machine Buying Guide
GE vs. Electrolux Front Load Washers
What They Have in Common
Cycles
Both have more than enough cycles. GE has 12 and Electrolux has 10.

GE Front Load Washer Controls

Electrolux Front Load Washer Controls
1300 RPM Spin Speed
Having a 1300 RPM is fast by industry standards. Clothes are almost dry out of the washer for less time in the dryer. As a comparison, Whirlpool has 1000 RPMs in their front load washers.
Top load washers spin much slower at 750 RPM. Miele is the fastest at 1600 for a compact washer.
Reversible Door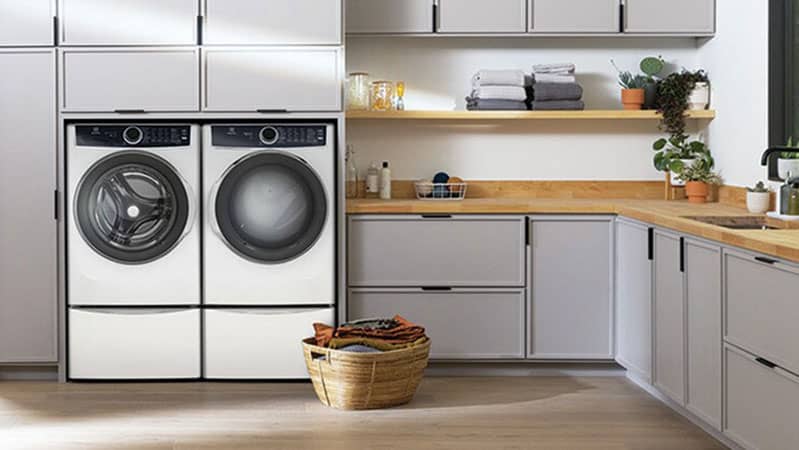 Hard to believe, Electrolux (shown above) and GE are the only washers and dryers with reversible doors, so the doors line up in every installation.
Installation
Both have four-way venting for the dryer. That's huge. You can install the washer and dryers in every configuration.
Steam
Both have steam, so tougher stains like grass, blood, and wine are easily removed from your clothing.
How They Differ
Size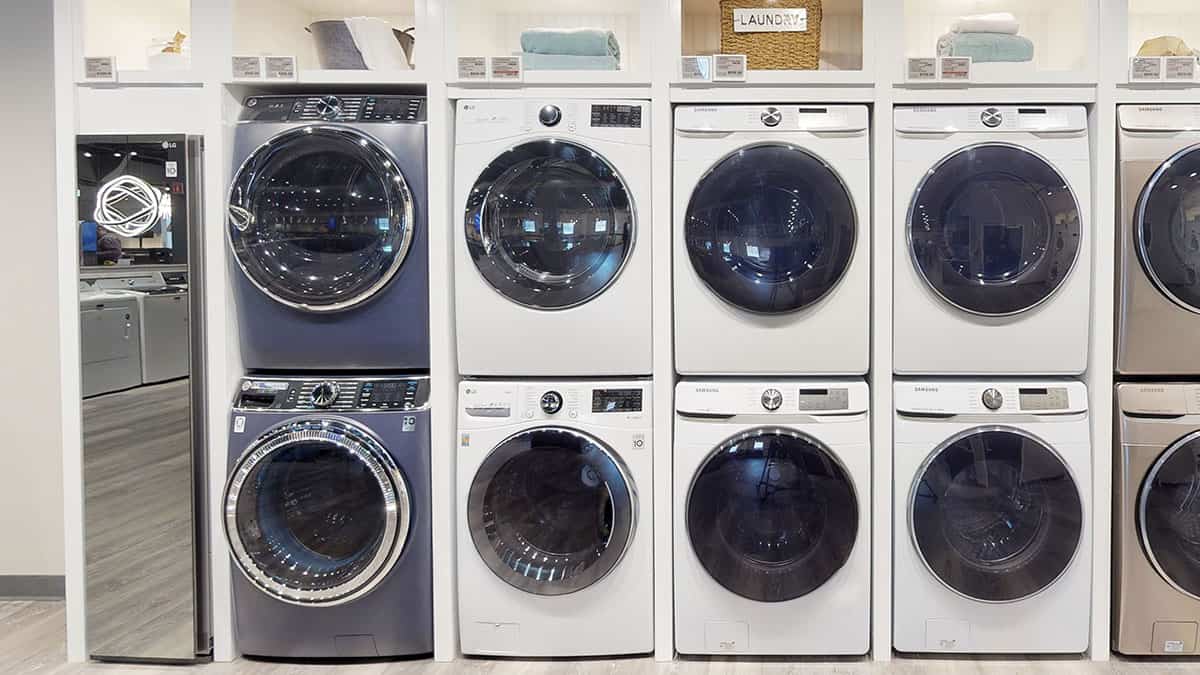 GE Front Load Washer Sets (Left) at Yale Appliance in Hanover
GE is larger at five cubic feet compared to 4.5 cubic feet for Electrolux. However, GE's washer is deeper, so that may or may not be an issue depending on the installation.
Fast Wash Cycles
Electrolux has a 15-minute wash and dry cycle for lightly soiled fabrics versus 30 minutes each for GE.
Most of the fast wash cycles have a limit on how much you can put in the washer. A 15-minute wash can only wash a small load.
Only LG adds high-pressure water in their Turbo360 short washes to lower the times.
Mold Control
I was watching a video on Electrolux. They mentioned antimicrobial surfaces on the gasket.
Yet, I didn't see it on their website as a feature.
Additionally, the door on the Electrolux can be placed slightly open automatically rather than you remembering to do it.
Pro Tip: You should leave the door open on a front load washer after every wash. Mold is a by-product of moisture. Allowing air into the washer will help reduce the problem.
You should also run a hot water cycle with Affresh to remove any residual odors.
GE, however, has Microban antimicrobial surfaces on the gasket, hoses, and dispenser (shown below).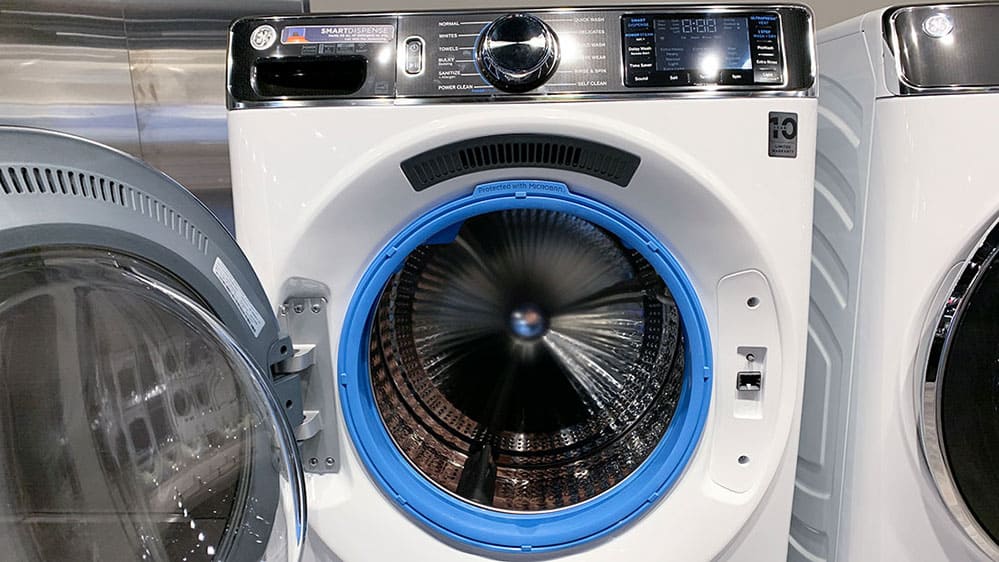 Their "OdorBlock" system is a fan to dry the inside of the washer.
For mold prevention, GE is clearly the best, mostly because they directly address the problem.
Overnight Wash and Dry Cycle
You can place an outfit in the GE and have it washed and dried for the morning.
Wi-Fi
Electrolux is the only company not to have Wi-Fi or home connectivity.
For washers and dryers, having smart technology is convenient.
You can see how much time is remaining, so you don't have to trudge to your basement to watch the last 4 minutes and 30 seconds of a cycle.
The washer will even text you when the cycle is done. This GE washer will even set the drying cycle.
You can also monitor the amount of soap left in the dispenser.
Pod Dispenser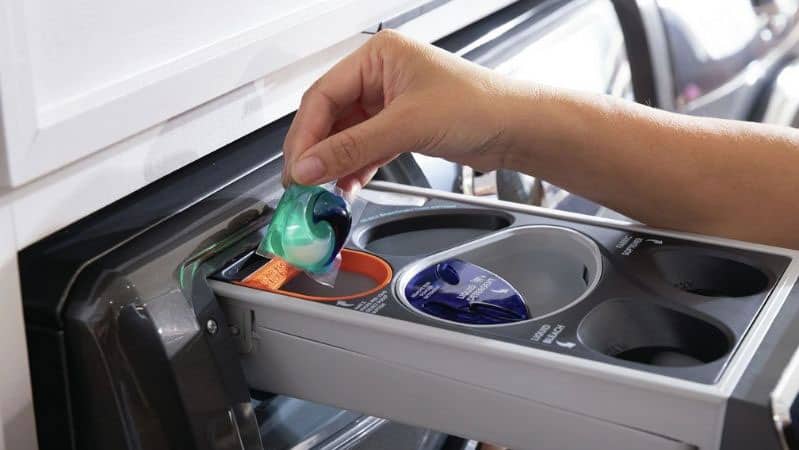 Instead of just tossing them in with your fabrics, Electrolux dispenses theirs in the top (shown above).
GE Automatic Detergent Dispenser vs. Electrolux SmartBoost
When we sold Electrolux, their SmartBoost feature was their best attribute.
With SmartBoost, the unit holds the detergent at the bottom and mixes it with water to achieve optimum results.
You have a watery soapy mix instead of soap on your clothes and then water mixing it later in the wash.
However, automatic dispensers do the same by releasing the right amount of detergent at the right time in the wash.
You also can load up to 32 loads of detergent with GE's automatic dispenser instead of reloading them every time.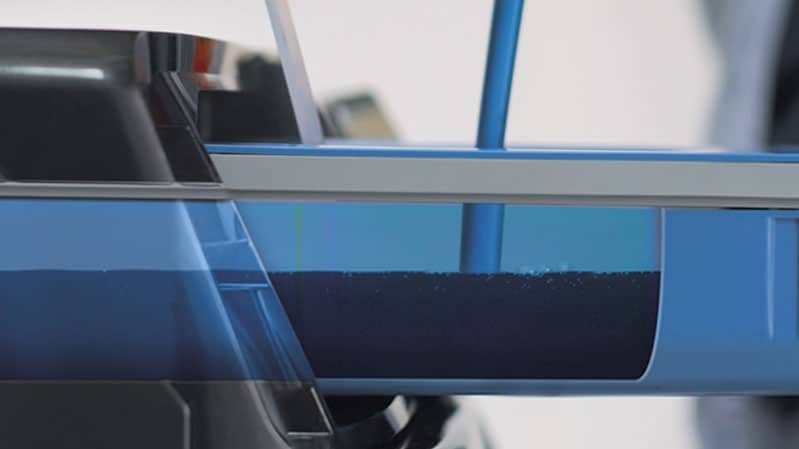 Most importantly, you can not overfill with an automatic dispenser.
Overfilling detergent is a big problem because that soap stays in the machine and will cause a service problem later.
You only need a capful of detergent for a front load washer. You also don't need to load the whole dispenser like a top load washer.
Then again, with an automatic dispenser, you never have to figure out how much to use.
Speaking of service problems, let's look at GE's and Electrolux's front load washer reliability.
Which Is More Reliable, GE or Electrolux for Front Load Washers?
Front-load washer reliability based on a minimum of 300 washers sold from December 2019 to November 2020:
| | |
| --- | --- |
| | Service Rate |
| Whirlpool | 1.85% |
| Samsung | 2.90% |
| LG Electronics | 4.14% |
| GE Appliances | 8.61% |
| Maytag | 17.61% |
| Total | 6.18% |
GE is decent at 8.16%, whereas the average appliance needs repair 9.97% of the time.
Electrolux washers are decent, as I remembered five years ago. Their problems were in the dryer with a lint screen issue.
When we stopped selling Electrolux, we serviced their dryers a disproportionate amount of time.
You may want to check for appliance service in your area and talk to your local dealer about how Electrolux has improved the reliability of their dryers.
Also, GE has one of the best service networks if you do run into a problem with your washer and dryer.
It's a huge advantage if your store does not offer service.
Read More: Most Reliable Front Load Washers
Electrolux vs. Whirlpool Front Load Washers: Key Takeaways
What's better depends on how you use your washer.
If you like shorter cycles and use detergent pods, Electrolux is a better choice.
Flexibility in dryer venting is a plus for Electrolux as well.
However, GE is a more convenient, more updated washer. You have better mold technology, Wi-Fi, and an automatic detergent dispenser.
Both are good. Look at service in your area as a deciding factor.
Availability
You have probably heard about supply chain issues in appliances. It's a big problem.
Before you become stressed out about not being able to buy your favorite washer, just know, GE, Electrolux, Samsung, LG, Whirlpool, and Maytag, are all good choices.
Better features depend on the brand, but any of these major brands will be fine in the absence of your first choice.
Read More: How to Buy Appliances During a Supply Crisis
Additional Resources
Download our Yale Washer Buying Guide with all the features, terms, and brands of laundry. Over 1 million people have already found answers in a Yale guide.
Related Articles
Why Should You Trust Us?
It seems that every appliance review has nothing but glowing comments about almost every product, yet you read customer reviews and they are almost universally bad.
We are here to fill in the disconnect. We'll give you the best features, and the drawbacks as well, including reliability based on over 37,000 calls performed by our service team just last year. Our goal is to give you ALL the information so you know what's right for you.
Please consider subscribing or adding to the conversation in the comments below. We appreciate you stopping by.
A Note About Pricing
Pricing on this blog is for reference only and may include time sensitive rebates. We make every attempt to provide accurate pricing at time of publishing. Please call the stores for most accurate price.