LG vs. Whirlpool Front Load Washers: Which Is Better?
The LG WM4000HWA and Whirlpool WFW5620HW are two of the most popular front-load washers.
But like most front load washers, they look the same and have seemingly similar features. So how do you know which one is best for you?
In this article, we'll explain the key differences between these two similarly priced washers so you can pick the right machine.
I will reference other models for both brands if you look at particular features.
At the end of this article, we'll show which brand is more reliable based on over 40,000 service calls logged by our service department just last year.
The results may surprise you.
Let's get started.
LG vs. Whirlpool Front Load Washers: Which Is Better?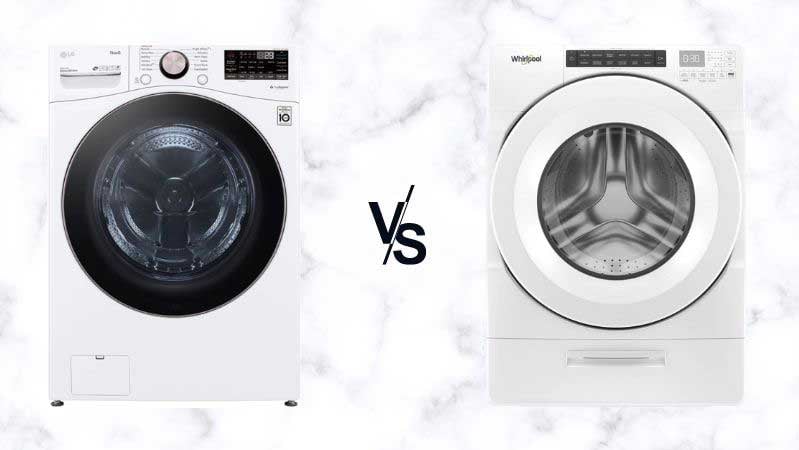 | | | |
| --- | --- | --- |
| | LG WM4000HWA | Whirlpool WFW5620HW |
| Dimensions (Width x Height x Depth) | 27" W x 30 1/4" D x 39" H | 27" W x 31 9/16" D x 38 5/8" H |
| Capacity | 4.5 Cu. Ft. | 4.5 Cu. Ft. |
| Reversible Door | No | No |
| ADA Compliant | No | No |
| Spin Speed | 1300 RPM | 1160 RPM |
| Wi-Fi Connectivity | Yes | No |
| Remote Diagnostics | Yes | No |
| Automatic Detergent Dispenser | No | Yes |
| Number of Cycles | 12 Cycles, 13 Options | 37 Cycles |
| Mold Protection | No | No |
| Price | $1,140 | $1,040 |
There are seven features to consider before you decide which washer to buy. They are:
Capacity

Spin speed

Cycles

Automatic Detergent Dispensers

Smart Functionality

Price

Reliability & Service
LG vs. Whirlpool Front Load Washers: Where They Are Similar
Both LG and Whirlpool front load washers have several similar features. Let's take a look.
Price
The price is $1,149 for the LG and $1,040 for the Whirlpool. In the past, the prices fluctuated lower during holidays like Presidents' Day and Black Friday. But that was before the pandemic and supply issues.
You may find prices loosening up later this year into 2023.
Capacity
Both also have the same cubic footage at 4.5 cubic feet.
Pro Tip: You should buy any front load washer between 4.5-5 cubic feet because it becomes much more expensive for the "Mega" or larger washers which are only .5-1 cubic foot larger.
Steam Cycle
Both offer steam in their washers. Steam is an interesting feature because it helps to remove odors and lift tough stains like grass, blood, or wine out of clothing. It can also help to refresh or de-wrinkle clothes quickly.
Water Efficiency
Both washers utilize sensors to detect how much laundry is in the drum so that the correct amount of water is
LG vs. Whirlpool Front Load Washers: Missing Features
Although both brands have almost every feature, they lack anti-microbial and overnight cycles.
Mold Prevention
Mold develops from standing water, notably on the gasket and dispenser.
GE has the Microban anti-microbial coating in the gasket, the dispenser, and the hoses. You can even turn on their "OdorBlock" fan to dry any residual moisture.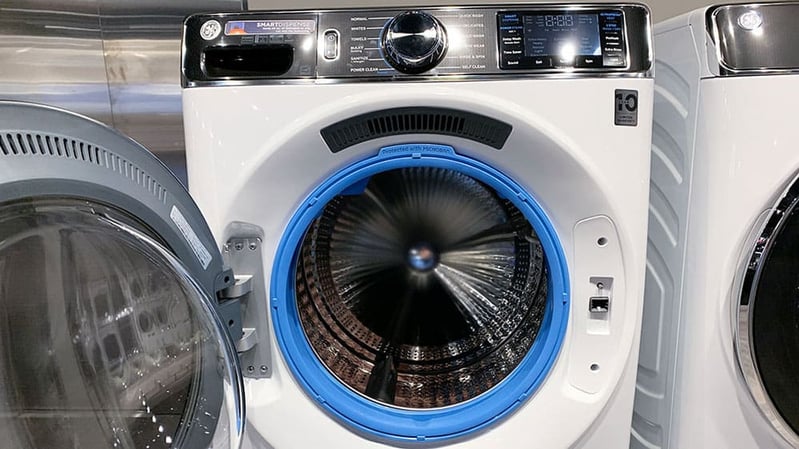 GE Smart Front Load Washer with Microban Surface (in Blue)
Neither LG nor Whirlpool have that type of surfacing. They do have high-temperature cycles to eliminate mold.
You can wipe down the gasket and dispenser and leave them open after each use.
Overnight Cycle
With the overnight cycle, you can wash and dry an outfit or small load overnight.

always used.

Short on time? Get our free Washing Machine Buying Guide
LG vs. Whirlpool Front Load Washers: Differences
There are several feature differences between LG and Whirlpool front load washers. Let's take a look.
Spin Speed
LG spins at 1300 RPM (Revolutions Per Minute) while Whirlpool spins at 1160 RPM. Faster spin speeds mean more water is wrung out of the clothes for less drying time.
Depth
LG is also less deep at 30.25 inches versus 31.57 inches for the Whirlpool, which may or may not be an issue if you are stacking your washer and dryer in a tight closet.
Auto Dispenser
Automatic dispensers are great because they release the right amount of detergent at the right time, preventing the overuse of detergent.
Using too much detergent in a front load washer can cause over-sudsing. With over-sudsing, detergent can seep into the machine leading to an expensive service call down the road.
You only need a capful of detergent in a front load washer, not the ½ cup needed like a top load washer.
Whirlpool offers a 20-load automatic detergent dispenser. LG doesn't offer a dispenser in this model.
You would have to step up to their next model, the WM4500, which is bigger at five cubic feet and more expensive at $1499- $1649.
Smart Technology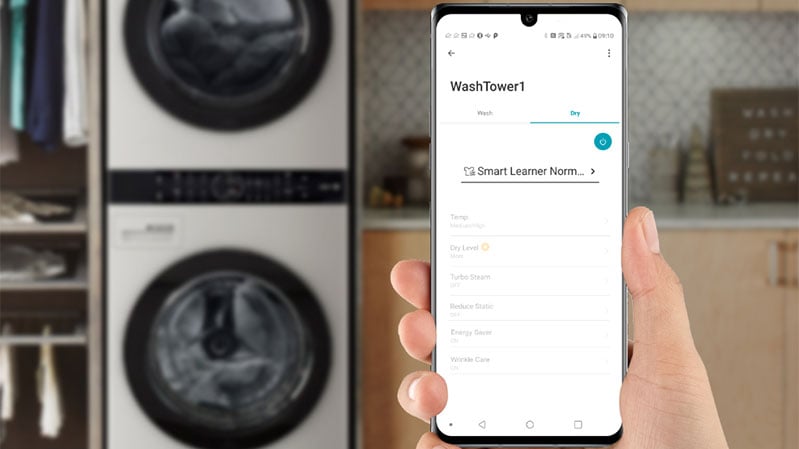 LG Front Load Washers with Wi-Fi Connectivity
LG offers wi-fi connectivity and can automatically set your dryer to the right cycle based on how you wash your clothes.
You can also download new cycles to your machine through their ThinQ app.
Smart technology is still in its infancy for most appliances, but it does make sense for laundry. You can see the time remaining on a cycle from your phone.
The washer will also send you a push notification when the cycle is done, so you don't have to walk to your basement to stand there for the remaining three minutes.
Whirlpool doesn't offer any smart functionality in this model. You could step up to their best model, the bigger WFW9620, to have smart functionality at $1,400.
Cycles
LG offers a few special cycles not available in the similarly priced Whirlpool washer.
Their allergen cycle helps remove 95% of allergens and irritants from your clothes.
Their TurboWash cycle employs five powerful jets to spray clothes from multiple angles for your clothes to be completely clean in under 30 minutes.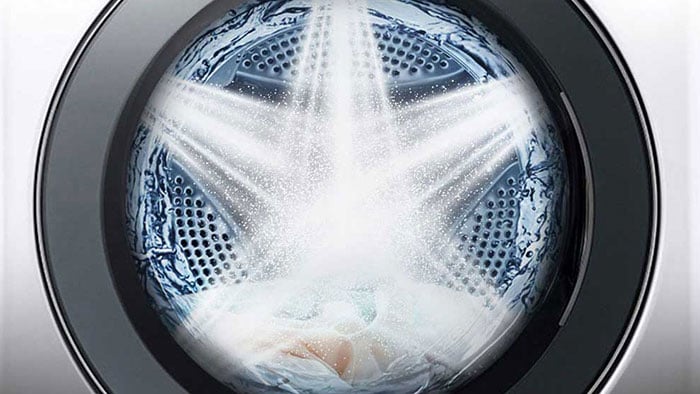 LG TurboWash Jets
LG offers 12 cycles and 13 options with AI (Artificial Intelligence) built-in to select the optimal cycle for washing and drying. Whirlpool has push buttons and 37 cycles.
So, it's pretty even. You have the auto dispenser of the Whirlpool versus more cycles and the smart technology of the LG.
Let's look at front load washer reliability.
Reliability
The following service rates are based on a minimum of 300 front load washers sold per brand and a total sample of over 3000 from December 2020 to October 2021.
Most Reliable Front Load Washers from December 2020 to October 2021
| | |
| --- | --- |
| | Service Ratio |
| LG | 3.3% |
| Samsung | 4.9% |
| GE Appliances | 8.0% |
| Whirlpool | 9.5% |
| Maytag | 15.0% |
| Grand Total | 6.3% |
Based on over 40,000 service calls completed by our service department last year, LG is the most reliable appliance brand sold at Yale with a 4.4% service rate overall.
Specifically, only 3.3% of LG front load washers needed service in the first year versus 9.9% for Whirlpool with a 6.3% service rate average for front load washers.
LG is now number one for reliability in washers, refrigerators, and dishwashers. It's interesting because they were the subject of a class action lawsuit in 2019.
Over the last few years, they have been the standard. LG manufactures more appliances with less outsourcing than any similar brand. Even their appliance motors are not outsourced.
Service
Service is rarely discussed in our industry for good reasons. Most retailers and brands do not offer service other than a call center.
It's a huge problem.
Whirlpool has a service department through a joint partnership with Sears called A&E. LG has been quietly building up its service over the last ten years.
In a comparison this close, you should consider service in your area as a tiebreaker.
Many bloggers and websites will say LG is harder to order parts for service issues. We service all brands, and that is not the case.
Key Takeaways
They are both good machines with pros and cons, depending on what you're looking for. They have the same capacity, and both offer steam.
So, would you rather have the LG WM4000HWA with more cycles, a faster spin speed, and smart functionality, or the Whirlpool WFW5620HW with an auto dispenser for $100 less?
Let us know in the comments below.
Additional Resources
Download our Yale Washer Buying Guide with all the features, terms, and brands of laundry. Over 1 million people have already found answers in a Yale guide.
Related Articles:
Why Should You Trust Us?
It seems that every appliance review has nothing but glowing comments about almost every product, yet you read customer reviews and they are almost universally bad.
We are here to fill in the disconnect. We'll give you the best features, and the drawbacks as well, including reliability based on over 37,000 calls performed by our service team just last year. Our goal is to give you ALL the information so you know what's right for you.
Please consider subscribing or adding to the conversation in the comments below. We appreciate you stopping by.
A Note About Pricing
Pricing on this blog is for reference only and may include time sensitive rebates. We make every attempt to provide accurate pricing at time of publishing. Please call the stores for most accurate price.