GE Vs LG Smart Front Load Washers (Reviews / Ratings / Prices)
Three years ago, you may have walked into an appliance store, and your choices for laundry were LG, Samsung, and Whirlpool if you walked into a Home Depot, Lowe's, and Best Buy.
For independents and local stores, your choices were Maytag, Whirlpool (oddly enough, they are the same machine), and Electrolux.
We are a little different because we service what we sell. At Yale, its LG, Samsung, Whirlpool, and some Maytag because they are the most reliable.
Up until six months ago, you didn't see GE presented at any store, even ours. Yet now, it is the fastest-selling laundry in the country.
So we will review their front load washers and compare it to LG's most popular piece. You will be able to review features, differences, similarities, and real service data.
In the end, you will be able to know what might be best for your family.
Front Load Washer Availability And Reliability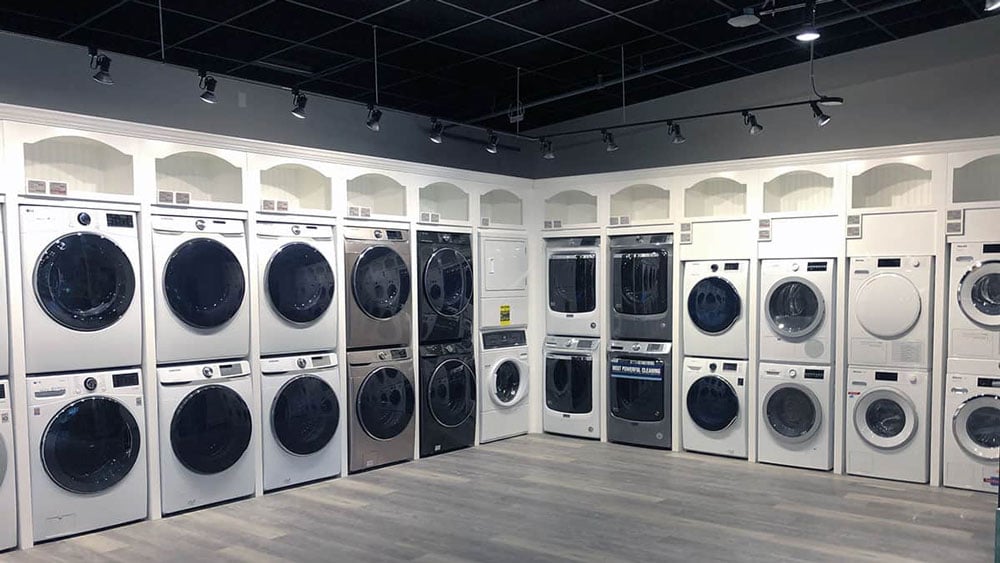 Front Load Washers at Yale Appliance in Hanover
Availability
Before I start, this article will be divided into two parts due to the extraordinary circumstances.
If you are considering a washer in the future over six months from now, you can skip this part and go right to the model comparisons.
The Coronavirus (COVID-19) pandemic presents a challenge, unlike any other recession. It affects supply and demand versus just demand in 2008, 2001, and 1991.
Already, you see shortages in the supply chain. Many companies had to shut down factories and warehouses due to the outbreak.
Samsung will be without laundry until June. Miele is without adapters for their laundry. Many other companies will be without products in the near future.
In the short term, you should look at features and consider all the washer brands LG, GE, Whirlpool, Maytag, and Samsung, depending on availability.
Reliability
Most Reliable Front Load Washer Brands 2020 To Date
| | | | |
| --- | --- | --- | --- |
| | Serviced Qty | Shipped Qty | Service Ratio |
| Maytag | 154 | 493 | 31.24% |
| LG | 146 | 1610 | 9.07% |
| Miele | 26 | 363 | 7.16% |
| Samsung | 33 | 515 | 6.43% |
| Whirlpool | 13 | 275 | 4.73% |
| GE | 5 | 170 | 2.49% |
| Grand Total | 377 | 3426 | 11.0% |
As you can see in the graph, front load washers are reliable. The statistical difference is not great enough to decide on its own.
We fix every brand. They are similar to repair. Remember that next time a repair agent says one is "junk" or is "too tough to repair."
However, service is an issue throughout the country. You should buy a washer where you have the best repair experience. Check reviews. Ask a ton of questions before you buy.
Availability and service repair are two of the biggest problems currently in choosing appliances.
Work through those first, and then look at features.
BTW, GE looks good, but thats for 1/2 the year versus a full year for the other brands.
Now, let's dive into two of the best smart front load washer brands to consider.
Best Smart Front Load Washer Brands: GE And LG
GE
I have been at Yale for 34 years. For most of that time, GE's appliance division has been rumored to be for sale.
In 2017 Haier, a Chinese appliance company bought GE for over 5 billion dollars.
Unlike Samsung, LG, and even the old GE, appliances are Haier's only business, not just a minor part of an overall huge conglomerate.
So they innovate faster than any other brand.
Laundry was never GE's strong suit until Haier redesigned it in 2019.
The great part about redesigning a product or service is incorporating the best features of current products.
Then adding a few new features the others do not have (until they incorporate them later).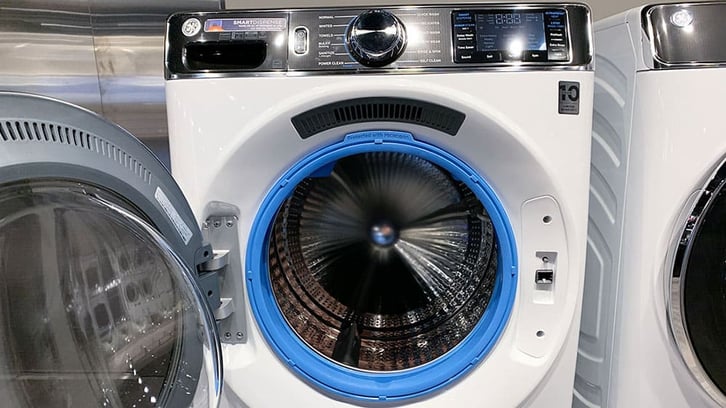 GE Smart Front Load Laundry with Microban Technology at Yale Appliance in Hanover
The downside, as you know, from buying anything new is reliability. Whether it's a software "bug" or flaw or a recall, new products carry that risk.
This article will help you assess any possible reliability risk.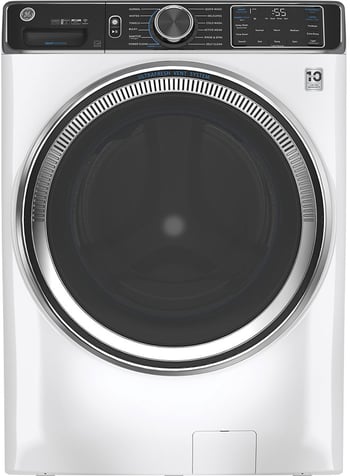 5.0 cu. ft.
12 Wash Cycles
Steam Cycle
Sanitize Cycle
Allergy Cycle
Wi-Fi
GE Smart Front Load Laundry Review [VIDEO]
LG
The modern front full size load washer was first designed by LG.
The swing shuttle knob design, layout of the buttons and overall aesthetic was all LG. (Maytag was first with front load in full size with their ill-fated Neptune, but it had a backguard and couldn't be stacked).
Many of the industry firsts are also LG. They were first with Wi-Fi, for example.
However, they are popular because it's a reliable washer and has always been number 1 or 2 for our most reliable washers.
The WM3900HWA is their most popular washer.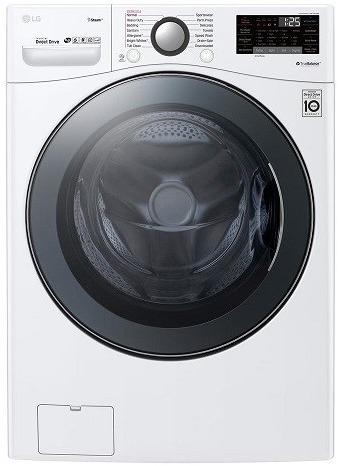 Features:
4.5 cu. Ft. Ultra Large Capacity with NeveRust Stainless Steel Drum
Direct Drive Motor with 10-Year Limited Warranty
Control Panel with Dual LED Display and Dial-A-Cycle
TurboWash(R) Technology - 30-minute wash cycle
LG SideKick Compatible
GE Vs LG Smart Front Load Washers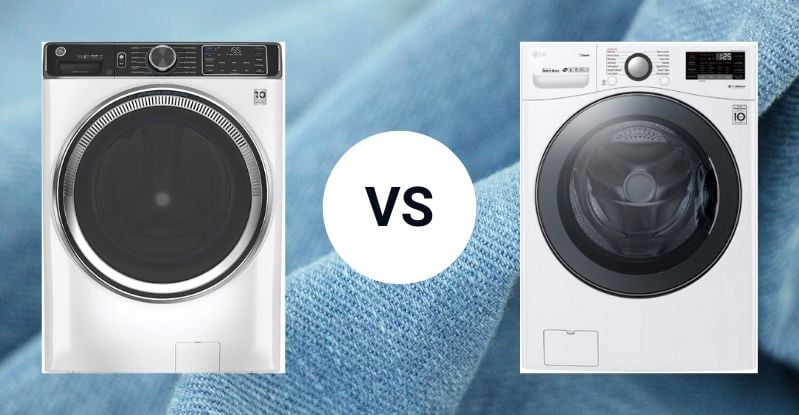 Common Features
Both GE and LG have five speeds, five wash/rinse combinations, and 12 cycles.
Spin Speed: 1300. The average front load is 1000-1200. Higher spins wring out excess water for less drying time.
Steam: Steam is used to power out tough stains.
Wi-Fi: They both will show you the time remaining. I like that feature because my laundry is on the third floor. I wouldn't have to walk up three floors, because the washer will alert me at the end of the cycle (if I had Wi-Fi, which I don't)
Both have good Wi-Fi programs and are compatible with most voice assistants
GE is a bit better. The washer "talks" to the dryer, setting the right cycle based on the wash program.
Major Cycle Differences
Speed Cycles: LG has a 30-minute TurboWash using dedicated higher pressure sprays. GE is 35 minutes. They also have a 20-minute cycle.
One Step Wash + Dry: GE copied this from Whirlpool. You can wash and dry an outfit in this cycle without transferring it to the dryer. It washes, spins at high speed, and then vents.
Major Feature Differences
Reversible Door: This should be a standard feature for every washer, so it's easier to transfer clothes from washer to dryer. Yet, at this writing, GE and Electrolux are the only brands with a reversible door.
Sidekick: LG has the extra washer available on the pedestal. If you have larger loads, it can handle the overflow or just wash smaller loads.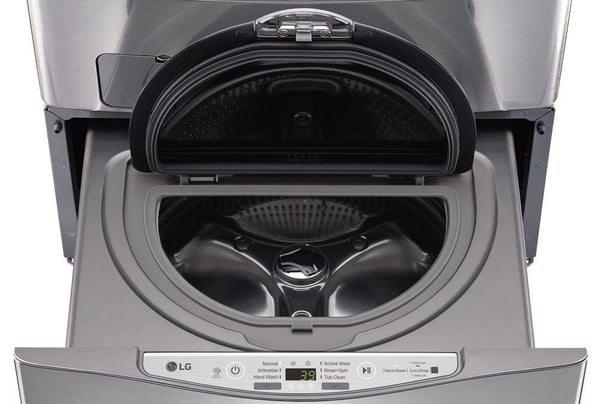 LG Sidekick Pedestal Washer


Size: GE is larger in this model at 5 Cu. Ft. versus 4.5 Cu. Ft. for the LG. GE depth is 34 inches versus 30 for the LG. The smaller depth may be a better feature in certain applications like closets ar stacking in other smaller spaces.
GE does have a shallower model at 32 inches but always check your measurements for your space along with hallways, and doorways before you buy any new laundry.
Dispenser: GE's dispenser can hold 50 ounces, enough for 32 loads. The advantage of a dispenser is not overfilling. It releases the right amount of detergent based on the cycle and loads size.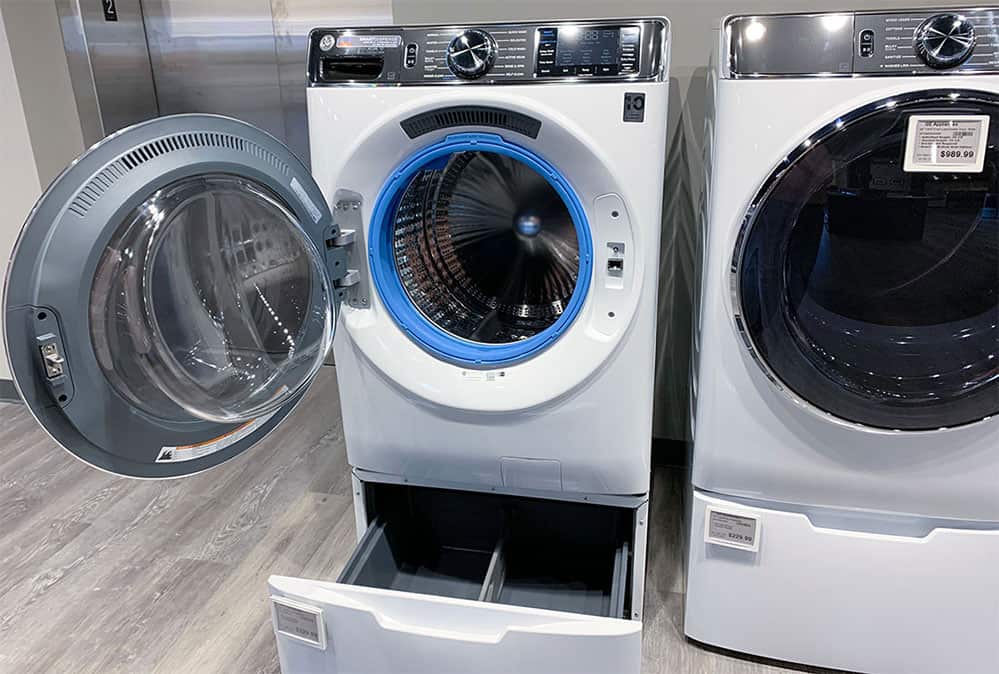 GE Smart Front Load Washer With 50-Load Detergent Dispenser (Bottom) at Yale Appliance in Hanover
Oversudsing is a huge problem because that excess, built-up detergent will eventually cause mechanical problems in the machine.
5. Microban Technology and OdorBlock: GE addressed the possible mold and mildew problem in two ways.
First, they applied Microban antimicrobial technology in places touching the water like the gasket, pump, and even the hoses.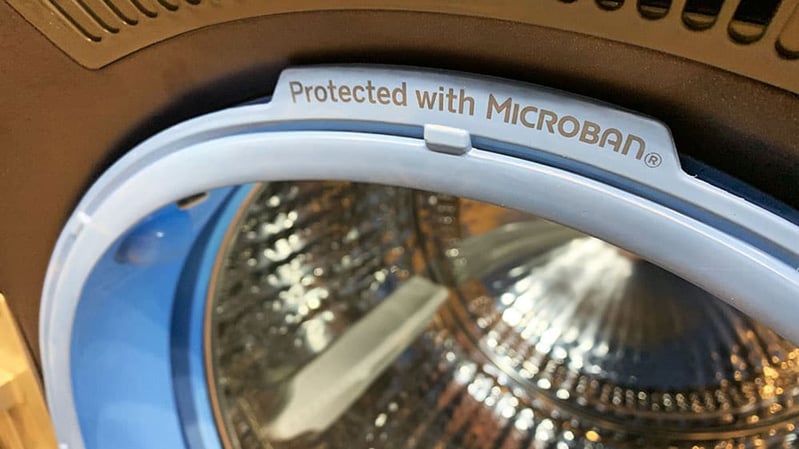 GE Smart Front Load Washer with Microban Technology for Mold Prevention shown at Yale appliance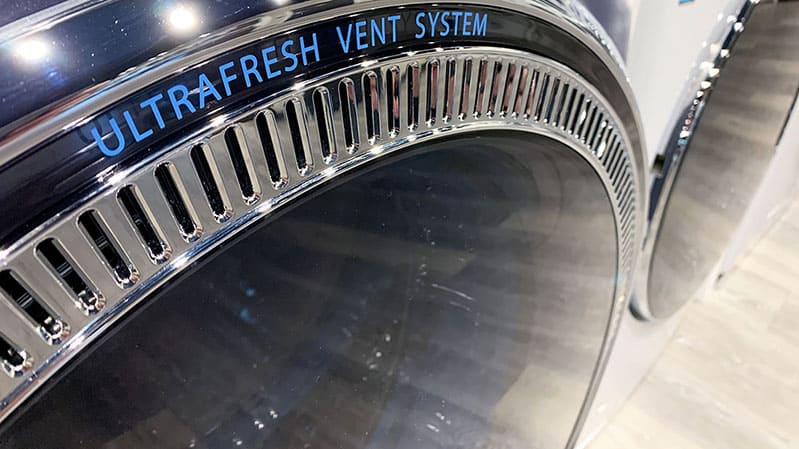 GE Front Load Washer with UltraFresh Vent System And OdorBlock at Yale Appliance
OdorBlock is a fancy term for a fan. Mold grows in standing water. A fan dries excess water, so mold doesn't grow.
GE is the only company addressing mold and mildew in front load laundry.
Which Font Load Washer Should You Buy?
First, as you are reading this during a pandemic, consider all your options. GE and LG are good, but so is Samsung, Whirlpool, and Maytag.
Consider available appliance service first. With features and service percentages being so similar, what can be fixed in your area should be considered as well.
Some repair companies don't like fixing certain brands as crazy as that may seem.
LG deserves recognition for being reliable over the long term. It is an excellent washer.
GE is the most innovative.
GE incorporated some great features like a dispenser from Whirlpool, the reversible door from Electrolux, and Wi-Fi from LG into one machine.
Their antimicrobial features are unique in laundry.
Their reliability has been great in the short term.
If it remains that way, then GE should be considered along with the best and most innovative laundry brands like LG.
Additional Resources
Download our Yale Washer Buying Guide with all the features, terms and brands of laundry. Over 800,000 people have already found answers in a Yale guide.
Related Articles
Why Should You Trust Us?
It seems that every appliance review has nothing but glowing comments about almost every product, yet you read customer reviews and they are almost universally bad.
We are here to fill in the disconnect. We'll give you the best features, and the drawbacks as well, including reliability based on over 37,000 calls performed by our service team just last year. Our goal is to give you ALL the information so you know what's right for you.
Please consider subscribing or adding to the conversation in the comments below. We appreciate you stopping by.
Steve Sheinkopf
My goal has always been simple: I want Yale to be the best retail experience anywhere. I have tried to create a compelling environment for customers and employees alike.
A Note About Pricing
Pricing on this blog is for reference only and may include time sensitive rebates. We make every attempt to provide accurate pricing at time of publishing. Please call the stores for most accurate price.