GE vs. LG Front Load Washers (Reviews/Ratings/Prices)
Both LG and GE have competitive front load laundry. Both are very different companies with very different washers.
In this article, you will learn the best models, their features, and then we will compare at the end. First, let's look at the companies.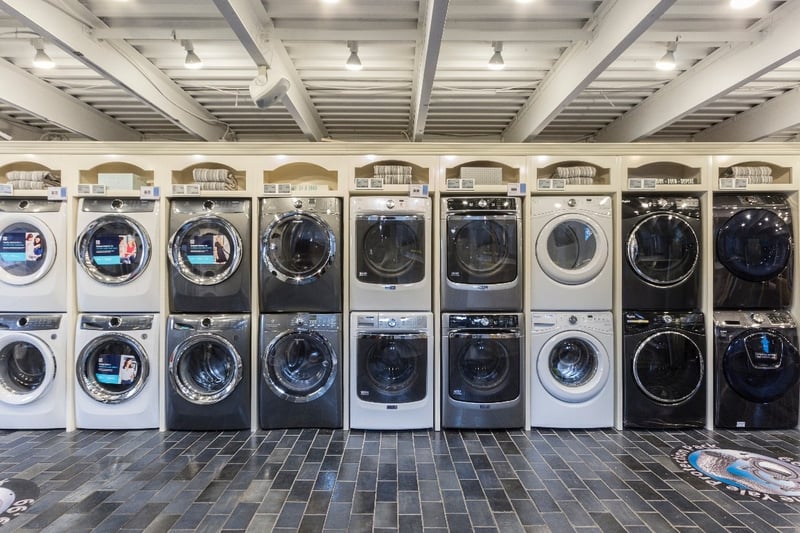 GE (Haier)
We all know General Electric (GE), right? They have been in the appliance industry forever. Well, times have changed a little. The GE you may have had in the past isn't the same.
For the past 10 years or so, GE has been trying to sell off their appliance brand. It looked as though Electrolux was all set to buy it but at the 13th hour, the United States Department of Justice stopped the sale.
This was bad news for Electrolux but good news for the Chinese based company, Haier. They picked up the GE brand for a mere $5.4 Billion.
Short on time? Get our free Washing Machine Buying Guide
This is the third largest acquisition of a U.S. company by Chinese investors in U.S. history. At one time Haier was part of Liebherr (Qingdao-Liebherr). Haier is derived from the last two syllables of the Chinese transliteration of Liebherr.
GE hasn't changed much since the Haier takeover. They are still sold mostly to builders. You can buy the products under the "Friends and Family" program at a discount.
LG
You may have heard the slogan "Life's Good" and logically think that's LG. However, LG actually stands for Lucky Goldstar. LG was started back in 1947 under the name of Lak-Hui (lucky) Chemical Industrial Corp and made mainly plastics. When the company expanded into electronics they created the Goldstar company.
Many people in a certain age group may remember the Goldstar products (In the U.S. we saw mainly small radios from Goldstar). In 1958 the companies merged to create Lucky-Goldstar and later shortened the name to LG.
They have become a juggernaut in appliances and electronics. Along with their rival, Samsung, LG has added style and technology as a feature to appliances.
LG is particularly strong in laundry.
| | |
| --- | --- |
| LG - WM3270CW | LG - WM3670HWA |
LG WM3270CW
LG WM3670WA
Comparison
| | | | | |
| --- | --- | --- | --- | --- |
| Washers | | GE GFW490RPKDG | | GE GFW450SSKWW |
| Capacity | 4.5 | 4.9 | 4.5 | 4.5 |
| Drum (Stainless or not) | Stainless | Stainless | Stainless | Stainless |
| Dimensions | 27"X38 11/16" X29 ¾" | 28 in x 47 in x 34 2/5 | 27"X 38 11/16" 29 ¾" | 27"X 39 ¾"X 33 ½" |
| # of Cycles | 12 | 13 | 9 | 10 |
| Spin Speed (RPMs) | 1300 | 1250 | 1300 | 1300 |
| Special Features/ Additions | 10 | 8 | 9 | 8 |
| Warranty | 1 Year Full | 1 Year Full | 1 Year Full | 1 Year Full |
Dryers

GE

FD49ERSWW

GE

GFD45ESSKWW

Capacity

7.4

8.3

7.4

7.5

Drum (Stainless or not)

Stainless

Stainless

Aluminum alloy steel

Stainless

Dimensions

27"X 38 11/16"X 30"

28"X 47" X 34 3/8"

27" X 38 11/16" X 29 ¾"

29" X 39 3/8"X 33"

# of Cycles

14

13

8

13

Spin Speed (RPMs)

NA

NA

NA

NA

Special Features/ Additions

10

5

9

5

Warranty

1 Year Full

1 Year Full

1 Year Full

1 Year Full
GE Key Features
Both look pretty close right? Well, there are some unique and some subtle differences between the brands. GE has some features you may like and are in some of my favorite models. Their smart dispense reminds me of Maytag's Load and Go (although the Maytag is a smarter design).
It dispenses detergent multiple times during the wash. There is not a full reservoir inside like the Maytag so I am not convinced it works as well but the concept is good.
You do not have to load detergent every time you wash
Another key feature is the overnight dry. This is also similar to Maytag (again I think Maytag has a better system).
With a small load of clothes, say 2-3 dress shirts, you can wash and dry the clothes in the same machine. You can wash and dry an outfit at night and have it ready to wear in the morning.
How does this work?
After the wash cycle is done the drum will continue to spin and a constant flow of air is blown through the machine. You want to think of this as a line drying.
There is no heat in this drying system so you are relying on the billowing effect (air movement).
LG Key Features
Bought the model without a wool cycle?
With the LG NFC Tag on the system simply download it through your phone and upload it to the washer. You can download and update your washer like you do on most apps on your phone.
Want steam in the dryer but the washer isn't near the dryer?
LG has models that have a reservoir you manually fill for steam when you want to use it.
Pedestal Washer
LG also has the capability of adding a second washer into the pedestal.
Let's say you are doing a full load of laundry but have a small load of whites, why wait? Through the whites in the pedestal washer and boom, you just saved time.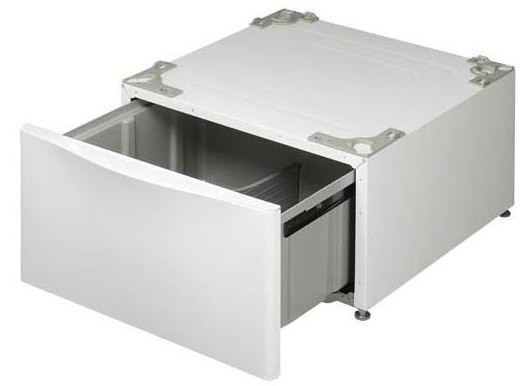 LG Pedestal Washer
Ok, so why would you buy a higher priced LG if you can upgrade the wash systems on your phone?
The lower priced units don't have a steam cycle so that could be something worth the extra cost. The biggest reason to upgrade would be to get the Turbo wash.
Today, we use enzyme-based detergents and not phosphate. This is better for the environment, but it has a drawback in washing.
The enzymes have a short lifespan when they mix with water so, saturating the clothes faster will make more effective use of the enzymes in the detergent. This will give you cleaner clothes.
Reliability
We have not sold GE since 2013. Back then, it had average reliability. In laundry, LG is number 2 at just over 6% service within the first year according to our 30,761 service calls. It is 5% better than the average.
(Click here to read about our Most Reliable Laundry)
How to Buy
GE has Friends and Family for an automatic discount. LG will be 20-30% cheaper around the major holidays like Black Friday, Memorial Day, Labor Day, and President's Day.
Stacking
Like most front load laundry, both LG and GE can be stacked. However, LG will be better in tighter closets due to its shallower depth.
Which Should You Buy?
It depends on when as prices can fluctuate. GE has a few decent features, but LG should be more reliable and easier to stack.
Additional Resources
Download our Yale Laundry Buying Guide with all the features, terms, and brands of laundry. Over 310,000 people have already found answers in a Yale guide.

Related Articles
Chris Wurlitzer
Chris Wurlitzer works as an Appliance Sales Associate with Yale Appliance + Lighting. He has 24 years of sales experience. Chris enjoys helping people and is a father of four. He is also an avid Spartan racer.

Schedule a showroom visit with me
A Note About Pricing
Pricing on this blog is for reference only and may include time sensitive rebates. We make every attempt to provide accurate pricing at time of publishing. Please call the stores for most accurate price.