GE vs. LG Smart Front Load Washers (Reviews / Ratings / Prices)
If you are looking for a front-load washer, you will probably be considering GE or LG.
Both are great machines. Even better, both are available, which seems to be the deciding feature for many shopping decisions these days.
However, they are both different. One is not better than the other. LG and GE have different features, sizes, and reliability.
In this article, you will discover all the best features of both of their most popular washers. Then we will compare them.
By the end, you will be able to determine which machine is right for you.
GE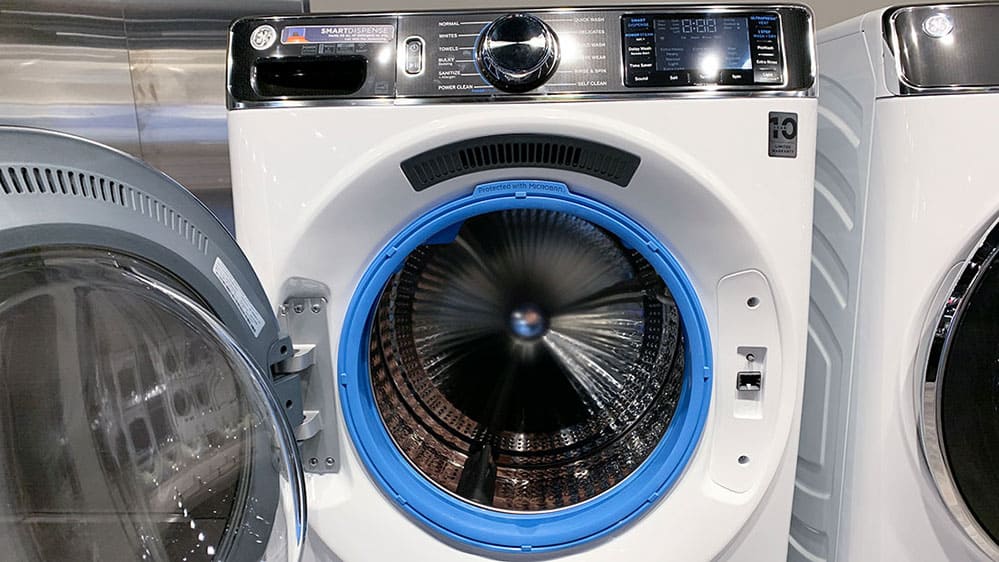 GE Front Load Washer with antimicrobial Microban Protection
Haier now owns GE after years of being GE. Haier is based in China and is appliances only.
That's a big benefit to a brand rather than being stuck in a multinational of dissimilar products and services.
Haier has probably invested more in GE in the last four years than GE did in my previous 30 years plus.
Perhaps their biggest improvement was in the laundry. The new GE smart front load washers have tons of unique features within the industry.
GE was the first with mold protection built into the machine and with Smart functionality.
I am not an early adopter of Smart technology. Laundry is an exception.
GE is manufacturing their washers in China, with the dryers being produced in the US.
The GFW850SSNWW is their best machine.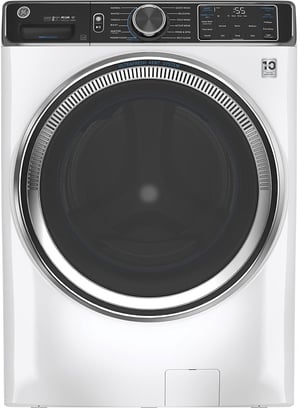 Dimensions: 28 W, 39.75 H, 34 D | Capacity: 5 Cubic Feet | Number of Cycles: 12 Cycles, 10 Options | Spin Speed: 1300 RPM | Reversible Door: Yes | Automatic Dispenser: Yes | Reliability: 8.6%
GE has addressed the most common front load washer problems: mold, mildew, odor issues, and stagnant water in the gasket.
GE did this by integrating Microban antimicrobial surfaces to their gaskets, detergent dispensers, steam ports, and hoses in the back.
GE increased the number of draining ports from three to five in the current models.
The "OdorBlock" fan kicks on after the wash has been swapped over the dryer, so you can shut the door and allow it to dry itself out.
The 850 models from GE have an overnight wash & dry cycle (utilizing the no-heat fan) that is meant for a couple of pieces of clothing.
You can load up to 50 oz or 32 loads of detergent in the automatic dispenser. Auto dispensers release the right amount of detergent at the right time for better cleaning.
You also don't overfill. It's crucial because the suds stay in the machine and slowly become a huge service issue.
Drawbacks
GE front load washers are slightly larger at 28" wide than the industry standard 27" width.
GE's control panel is angled up a bit more than the LG. When stacked, it could be difficult for people to reach the controls.
Depth is deeper than the LG, which could be a problem if you are stacking in a closet.
GE doesn't have a short cycle like LG's most popular front load washer.
Read More: Should You Buy GE Smart Front Load Laundry?
LG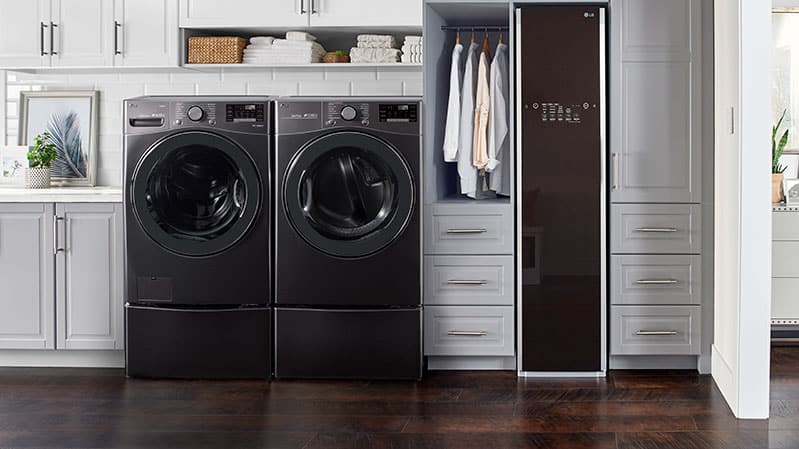 LG Front Load Washers with Laundry Pedestals for more storage and height
LG was the creator of the front load washer design. Before LG, you had the Maytag Neptune with the backguard.
They are a laundry first company. That was their original focus.
LG had consistently manufactured the most innovative washers like the WashTower last year.
The WashTower revolutionized stackable laundry by placing the controls in the middle rather than the top in a beautiful machine.
LG washers are mostly made in Tennessee, while the dryers are made in Korea.
Their most popular washer is the WM4000.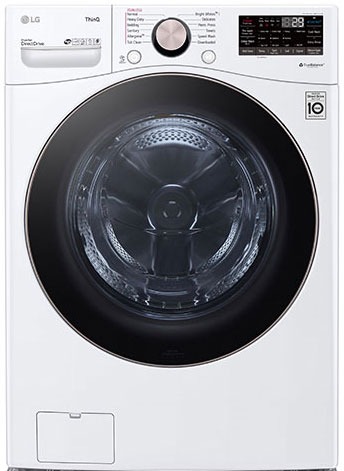 Dimensions: 27 W, 39 H, 30.25 D | Capacity: 4.5 Cubic Feet | Number of Cycles: 12 Cycles, 13 Options | Spin Speed: 1300 RPM | Reversible Door: No | Automatic Dispenser: No| Reliability: 4.1%
LG's front-load washer depth is 30.25 inches. In a tight closet, size matters. LG is almost 1.5 inches less than a Samsung front load washer without the addition of a pedestal.
LG features their Turbowash or five high-pressure hoses in the front to shorten any cycle to 30 minutes.
Its reliability is stellar at only 4.1% vs. 9.9% for the average appliances in the first year.
ThinQ is designed to monitor your washer and be proactive about repairs.
While the introduction has been slow, there will be a time in the future when a repairman will show up to fix your machine before it breaks.
Drawbacks
LG has no mold control. However, I don't see mold as a problem in my machine. The best thing you can do to prevent mold is to dry the gasket and leave the door open.
Yet with LG, you do have the high temperature tub clean cycle.
It doesn't have a reversible door, so the doors will not line up when stacked or in certain applications side by side.
GE has the overnight cycle, so you can wash and dry a small load at night.
GE vs. LG Smart Front Load Washers
| | | |
| --- | --- | --- |
| | GE GFW850SSNWW | LG WM4000HWA |
| Price | $1,149 | $1,049 |
| Capacity | 5 Cu. Ft. | 4.5 Cu. Ft. |
| Reversible Door | Yes | No |
| Wi-Fi | Yes | Yes |
| Smart Technology | Yes, load sensing and anti-vibration system | Yes, load sensing and anti-vibration system |
| Number of Cycles | 12 | 12 |
| Steam | Yes | Yes |
| Automatic Detergent Dispenser | Yes, holds up to 50 oz | No |
| Mold and Mildew Prevention | Yes, Microban and no heat fan to dry out drum after wash switches over | No |
| Reliability | 8.6 | 4.1 |
What the LG WM4000HWA and the GE GFW850SSNWW Have in Common
As I said, both are great machines with good feature sets. Let's look at what they have in common.
1300 RPM Spin Speed:

The average speed is 1000-1200. Both GE and LG will be able to extract more water due to the faster spin.

Steam:

Steam loosens tough stains like grass, wine, or blood, cleaned with one wash.

Wi-Fi:

Wi-Fi and smart functionality make sense for laundry. You can turn the machine on or off remotely. You can also see how much time is remaining on your phone. Both machines will even text you when the cycle is completed. You won't trudge to the basement to discover you have 4 minutes and 22 seconds left on the cycle.

12 Cycles, 5 Temperatures, 5 Speeds:

It's hard to believe our parents only used three cycles, two speeds, and three temperatures, but you have plenty on either machine along with ten options for GE and 13 options for LG.
Which Is More Reliable, GE or LG?
Both are below the 9.97% for appliances within the first year. GE is good. LG is outstanding.
Front-load washer reliability based on a minimum of 300 washers sold from December 2019 to November 2020:
| | |
| --- | --- |
| | Service Rate |
| Whirlpool | 1.85% |
| Samsung | 2.90% |
| LG Electronics | 4.14% |
| GE Appliances | 8.61% |
| Maytag | 17.61% |
| Total | 6.18% |
As a note, Whirlpool is technically higher, but LG is all homes, while Whirlpool is builder type requiring less service.
Read More: Most Reliable Front Load Washers
GE vs. LG Smart Front Load Washers: Which Is Better?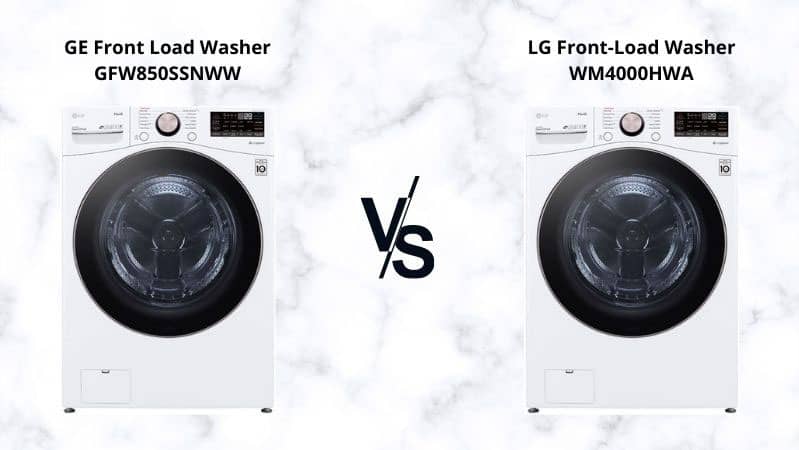 As I said, both are great machines. I don't think size is an issue, with GE being five cubic and LG being 4.5 cubic feet.
Depth:

Again, it depends on your closet, but LG is 30.25 inches versus GE at 34 inches

TurboWash:

I don't know why more companies don't copy this design. The high pressure enables a shorter wash time.

Auto Dispenser:

GE has a large dispenser. It's in the right place at the bottom, where it doesn't collect mold. GE, Whirlpool, and Miele have the dispenser on the top.
Maytag has theirs on the top. LG has a smaller auto dispenser on the top as well. In their premium models starting at the WM4500.

Mold Control:

GE eliminated any guesswork with their Microban surfaces and OdorBlock fan. With LG, you have to dry the surfaces, leave the door open, and use the TybClean cycle.

Reversible Door:

Again, it depends on where you are placing your machines.

Reliability:

LG is incredible, but GE has better support when there are issues. LG has been improving since the early days. They now operate their service.
Key Takeaways
Both are good. In times of scarce availability, your number two choice is still a great pick.
That said, which is better for you depends on your laundry room and how you wash your clothes.
Additional Resources
Download our Yale Washer Buying Guide with all the features, terms, and brands of laundry. Over 900,000 people have already found answers in a Yale guide.
Related Articles
Why Should You Trust Us?
It seems that every appliance review has nothing but glowing comments about almost every product, yet you read customer reviews and they are almost universally bad.
We are here to fill in the disconnect. We'll give you the best features, and the drawbacks as well, including reliability based on over 37,000 calls performed by our service team just last year. Our goal is to give you ALL the information so you know what's right for you.
Please consider subscribing or adding to the conversation in the comments below. We appreciate you stopping by.
Taylor Ferry
Taylor Ferry is an Appliance Sales Consultant at Yale Appliance. She has been working at Yale Appliance for a year now and loves being part of the Yale team. Prior to Yale, Taylor worked as a registered dental hygienist in the South Shore as well as a bartender in Boston. After work, you can catch her at Harvard Stadium running stairs. On her days off, you can find her visiting her parents, traveling up north, and walking the Charles. She also loves discovering new restaurants to explore in Boston and sharing her experience.
A Note About Pricing
Pricing on this blog is for reference only and may include time sensitive rebates. We make every attempt to provide accurate pricing at time of publishing. Please call the stores for most accurate price.