May 31st, 2023 | 10 min. read
One of the most notable improvements under Haier's ownership has been GE's laundry appliances. In fact, their combination washer-dryer stands out as the most innovative appliance I have encountered during my 37-years at Yale.
Among GE's offerings, the GFW650SSNWW and GFW850SSNWW models shine as their best machines, even though they share similarities.
Top Features of GE Front-Load Washers
GE's best features tackle common issues with front-load washers: mold, mildew, odors, and stagnant water in the gasket.
Microban Surfaces: GE incorporates Microban antimicrobial surfaces into gaskets, detergent dispensers, steam ports, and hoses in their current models. They've also increased the number of draining ports from three to five.
UltraFresh Vent System with OdorBlock: The "OdorBlock" fan activates after the wash, drying the gasket while you close the door.
Overnight Cycle: The 850 models offer an overnight wash & dry cycle (using a no-heat fan) for quick outfit cleaning. The new combo surpasses that capability.
Automatic Detergent Dispenser: The automatic dispenser holds up to 50 ounces or 32 loads of detergent, releasing the right amount at the right time to enhance cleaning and prevent overfilling.
Wi-Fi Connectivity: Wi-Fi integration allows you to monitor remaining cycle time and receive push notifications when the cycle finishes, freeing you from waiting by the washer.
Differences Between GE Washers
The 650 and 850 models differ in the presence of the overnight cycle and a slightly larger capacity (5 cu. ft. vs. 4.8 cu. ft.). The 850 washer also optimizes the drying cycle.
Drawbacks of GE Front-Load Washers
GE front-load washers have a slightly larger width of 28" compared to the industry standard of 27".
Furthermore, GE's control panel has a steeper upward angle than LG's, which may pose accessibility challenges when stacked.
In terms of depth, GE washers are deeper than LG's, which might be an issue when stacking them in a closet.
Lastly, it's worth noting that unlike LG's popular front-load washer, GE lacks a short cycle option.
Read More: Should You Buy GE Smart Front Load Laundry?
LG Front-Load Washers
LG is credited as the creator of the front-load washer design. Before LG, the Maytag Neptune held prominence. LG has always been an appliance-centric company, with washers and dryers as their original focus.
LG has been at the forefront of manufacturing innovative washers. One significant example is the WashTower, introduced last year.
The WashTower revolutionized stackable laundry machines by placing the controls in the middle, resulting in an aesthetically pleasing design.
While LG washers are manufactured in Tennessee, their dryers are produced in Korea.
The WM3400, WM4000, and WM6700 are among their most popular washer models.
Top Features of LG Front-Load Washers
LG's front-load washers excel in size, cycles, reliability, and smart connectivity.
Size:

With a depth of 30.25 inches, LG's front-load washers offer a space-saving advantage. They are approximately 1.5 inches slimmer than Samsung models without the need for a pedestal, making them ideal for tight closets.

TurboWash360:

LG incorporates their TurboWash360 technology, utilizing five high-pressure hoses in the front to reduce cycle times to just 30 minutes. Most other brands only offer a short cycle for small loads.

Reliability:

LG stands out with stellar reliability, boasting a mere 2.1% repair rate in the first year compared to the industry average of 9.7% for appliances.

Wi-Fi Connectivity:

Similar to GE, LG provides remote control functionality and text alerts through the LG ThinQ app. They are also introducing a beta testing service soon.
Differences Between LG Front-Load Washers
The WM3400 serves as their basic model, encompassing all the essential cycles you require. Stepping up to the WM4000 grants you additional cycles, including TurboWash360 and Wi-Fi connectivity.
For those seeking a larger capacity, the WM4500 offers five cubic feet and features an automatic dispenser.
Both the WM4000 and WM4500 include LG's AI (Artificial Intelligence) DD (Direct Drive) technology, which determines the weight and softness of the clothes to set the appropriate cycle.
LG Front-Load Washer Drawbacks
While LG doesn't offer specific mold control features, I personally haven't encountered any mold issues with my machine. Effective prevention involves drying the gasket and leaving the door open. Additionally, LG does provide a high-temperature tub clean cycle for added cleanliness.
However, LG washers lack a reversible door option. Depending on the setup, this can result in misalignment when stacked or placed side-by-side.
On the other hand, GE offers an overnight cycle, allowing you to wash and dry small loads during the night conveniently.
Read More: Best LG Front-Load Washers
GE vs. LG Front-Load Washers
| | | | | | |
| --- | --- | --- | --- | --- | --- |
| | GE GFW650SSNWW | GE GFW850SSNWW | LG WM3400CW | LG WM4000HWA | LG WM6700HBA |
| Dimensions (Width x Height x Depth) | 28" W, 39.75" H, 32" D | 28" W, 39 3/4" H, 34" D | 27" W, 39" H, 30.25" D | 27 W, 39 H, 30.25 D | 27 W, 39 H, 33.25 D |
| Capacity | 4.8 Cu. Ft. | 5.0 Cu. Ft. | 4.5 Cu. Ft. | 4.5 Cu. Ft. | 5.0 Cu. Ft. |
| Reversible Door | Yes | Yes | No | No | No |
| ADA Compliant | Yes | Yes | No | No | No |
| Spin Speed | 1300 RPM | 1300 RPM | 1300 RPM | 1300 RPM | 1300 RPM |
| Smart Connectivity | Yes | Yes | No | Yes | Yes |
| Automatic Detergent Dispenser | Yes | Yes | No | No | Yes |
| Number of Cycles | 12 Cycles, 9 Options | 12 Cycles, 10 Options | 8 Cycles, 6 Options | 12 Cycles, 13 Options | 25 Cycles, 19 Options |
| Steam Cycle | Yes | Yes | No | Yes | Yes |
| Sanitize Cycle | Yes | Yes | No | Yes | Yes |
| Allergy Cycle | Yes | Yes | No | Yes | Yes |
What LG and GE Washers Have in Common:
As I said, both are great machines with good feature sets. Let's look at what they have in common.
1300 RPM (Revolutions Per Minute) Spin Speed
Unlike the average speed of 1000-1200 RPM, both GE and LG extract more water due to their faster spin, resulting in improved drying efficiency.
Steam
Both brands incorporate steam functionality, effectively tackling stubborn stains like grass or wine, ensuring your clothes come out spotless in a single wash.
Cycles
Gone are the days of limited options. Both GE and LG offer a wide range of cycles, speeds, and temperatures, far surpassing the simplicity of our parents' laundry routines.
Wi-Fi
Embracing the power of connectivity, both brands offer Wi-Fi and smart functionality, except for the LG WM3400 model. With Smart HQ and LG's ThinQ app, GE and LG are at the forefront of smart laundry appliances.
How GE and LG Washers Differ:
To delve deeper, let's explore their differences:
Size
GE boasts a 5.0 cubic feet capacity, while LG offers 4.5 cubic feet. Additionally, GE tends to have a larger depth, measuring around 32-34 inches, compared to LG's 30.25 inches. Consider your laundry room or closet dimensions when making a choice.
TurboWash360
It's puzzling why more companies haven't adopted this design. The high-pressure feature in TurboWash360 allows for shorter wash times, even with full loads.
Mold Control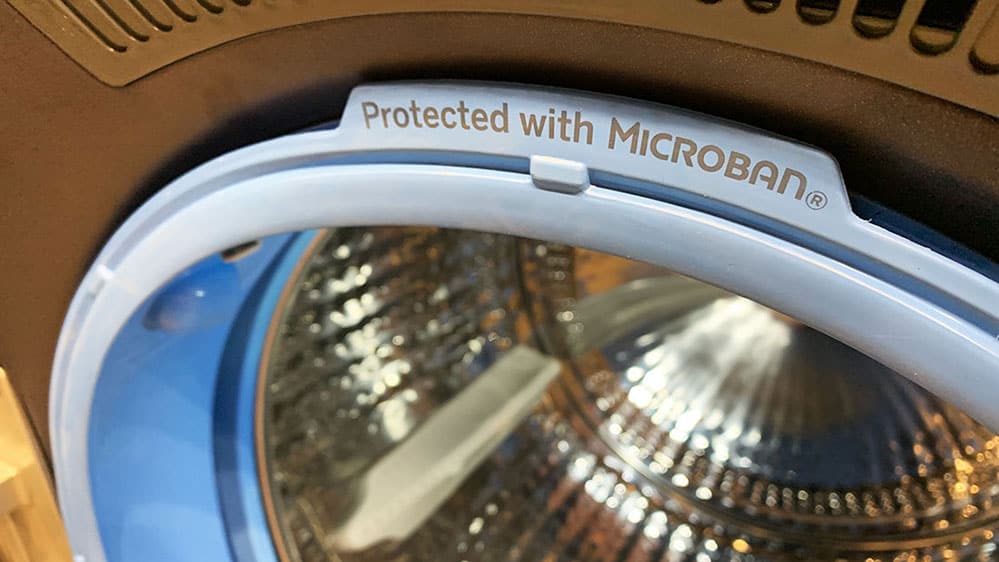 GE takes the guesswork out of mold prevention with their antimicrobial Microban surfaces and the OdorBlock fan. With LG, you'll need to ensure proper drying of surfaces, leave the door open, and utilize the TubClean cycle.
Reversible Door
Consider the placement of your machines. A reversible door offers the advantage of easily transferring clothes from the washer to the dryer, enhancing convenience.
Reliability
The service rates provided below are derived from a comprehensive analysis of over 3,000 front-load washers sold, with a minimum of 100 units considered, spanning a 12-month period.
| | |
| --- | --- |
| | Service Rates |
| LG Electronics | 2.1% |
| GE Appliances | 3.7% |
| Grand Total | 3.7% |
LG has made remarkable strides in improving their products since their inception. They now handle their own service operations. However, GE offers stronger support when addressing issues.
As a note, people tend to invest in higher-priced machines from GE, while opting for less-featured models from LG. This distinction in consumer choices contributes to the reliability numbers. Additionally, machines with more features often require more service and may require additional customer education.
Read More: Most Reliable Front-Load Washers
When to Buy a GE or LG Laundry Set
Between 2020 and 2022, due to supply chain challenges, I recommended purchasing whichever model was available, as both GE and LG offer reliable options from excellent brands.
However, in 2023, the power is in your hands.
To secure the best deals, consider waiting for holidays such as Black Friday, Tax Weekend, Memorial Day, July 4th, or Presidents' Day. During these occasions, you can potentially save anywhere from 10% to 35% on your purchase.
Read More: When Is the Best Time to Buy Appliances?
LG WashTower vs. GE Profile UltraFast Combo Washer & Dryer
During the 2020 lockdown, I used to work out outside with friends when the subject changed from sports to the LG WashTower.
I was shocked, but the design was so shockingly cool (for an appliance) even my friends asked my opinion.
In light of this, we have recently published an article focusing on the WashTower, including its latest model with a heat pump dryer.
LG WashTower Models
These three WashTower models offer similar features. The base model, WKE100HWA, starts at $1,799 and includes six cycles and nine options.
The WKE100HWA features smart functionality, five wash temperatures, and steam functionality in the washer.
LG's middle model, WKEX2000HWA, adds steam functionality in the dryer for clothes refreshing and dewrinkling. Additionally, their TurboWash360360 cycle utilizes five high-pressure jets to complete any wash cycle in just 30 minutes.
The top-tier model, LG Studio WSEX200HNA, boasts a larger washer capacity of five cubic feet and includes additional wash cycles. However, it has a depth of 33 inches, so make sure to measure your space accordingly.
The latest addition to LG's laundry appliance lineup is the WKHC202HBA, priced at $3,099 (or cheaper during holiday sales). It stands out with its innovative ventless heat pump dryer technology, eliminating the need for an external vent.
This allows you to conveniently place the LG WashTower anywhere with access to power and water, without the hassle of complex installations.
Watch the accompanying video to learn more about why you should consider purchasing the WashTower with Heat Pump:
LG WashTower Features
The LG WashTower combines the latest LG technology, including Turbo360, Wi-Fi, and other features from their other machines.
AI DD
The AI DD (Artificial Intelligence Direct Drive) determines the weight and softness of your clothes to deliver optimized washing cycles. With 11,000 data points, it calculates the ideal cycle, time, and motion for the washer.
The dryer senses moisture and softness, reducing drying time by up to 22%.
The best part is that you can simply press a button without having to choose specific cycles and options. The newer AI DD front load washers introduced in late 2022 also come with an automatic detergent dispenser.
Smart Learner
The "Smart Learner" feature remembers your frequently used cycles. For example, if you often wash brightly colored clothes in hot water with a cold rinse, the machine will remember that cycle—although it's not recommended to rely solely on the machine learning that cycle.
Smart Pairing
Smart Pairing intuitively sets the dryer settings based on the washer selection. This feature is now available on many LG, GE, and Samsung front-load laundry units.
Read More: The LG WashTower WKHC202HBA with a Ventless Heat Pump Dryer
GE Profile UltraFast Combo Washer & Dryer PFQ97HSPVDS
The new GE Profile UltraFast Combo Washer & Dryer is perhaps the most innovative appliance since I started at Yale in 1986, 37 years ago.
Although I no longer exercise with those same guys, the interest in the GE Profile UltraFast surpasses that of the WashTower three years ago, and it's for a good reason.
The GE Profile UltraFast is a washer-dryer combination with an integrated heat pump, eliminating the need to transfer clothes from the washer to the dryer.
Features
Similar to the WashTower, the GE Profile shares similarities with the 650 series. It offers a capacity of 4.8 cubic feet, along with the convenience of an auto dispenser and the antimicrobial properties of Microban.
Read More: GE Profile UltraFast Combo Washer & Dryer: Test and Performance Review
LG WashTower vs. the GE Profile UltraFast Combo Washer & Dryer: A Comparison
Heat Pump Problems (for Both)
Heat pumps have been widely used in HVAC systems since the 1990s and are popular in compact dryers across Europe and Asia.
However, both the Profile and LG models are larger than the standard heat pump dryers, making their reliability in the market uncertain.
Cycles
The AI DD technology featured in both models is known for its precision and intuitive operation. It can even remember your favorite cycle selections.
Automatic Dispenser
While the Profile includes an auto dispenser, the WashTower does not. Auto dispensers can help prevent future service calls, provided the right amount of detergent is used.
Mold Protection
Preventing mold in the LG model involves drying the gasket, leaving the door open, and running the Tub Clean cycle.
On the other hand, the GE Profile incorporates a Microban coating and its drying cycle effectively dries the interior, making it less prone to mold. However, the GE Profile can become hot during the drying cycle.
110 Volt vs. 220 Volt Drying
Although 220-volt drying may seem faster, our tests have shown that the Profile models with 110 volts perform well. As a sidebar, it's worth mentioning that the Miele 110-volt heat pump drying time is comparable to that of similarly sized compact Bosch models.
Using a Combo vs. a Separate Washer & Dryer
The convenience of never having to transfer clothes between the washer and dryer is a significant advantage offered by the Profile model.
Now the bad stuff: Combo washers and dryers often face challenges in effectively removing lint. While the Profile performed well in our tests, we cannot provide information on its long-term reliability.
Considering this aspect, the LG model emerges as a safer choice, even though larger heat pump models are relatively untested in the market.
Read More: Are Combo Washers & Dryers Worth It?
Key Takeaways
GE and LG front-load washers offer excellent cycles and features that make them worthy options for your home.
When it comes to features like an automatic dispenser and anti-mold capabilities, GE outshines LG with superior performance.
In terms of repair services and support, GE stands out as the industry leader. This becomes particularly crucial when purchasing from a dealer without dedicated service.
For reliability, LG takes the lead as the most dependable front-load washer brand of 2022.
LG's TurboWash360 feature enables quick washing, and their machines are known for their compact size, making them the shallowest options in the market.
Both the WashTower and Profile UltraFast represent the pinnacle of innovation in the appliance industry.
While some questions remain unanswered, there is a possibility that these models represent the future of laundry appliances and how you approach their purchase in the long run.
Additional Resources
Download our Yale Washer Buying Guide with all the features, terms, and brands of laundry. Over 1.2 million people have already found answers in a Yale guide.
Related Articles
Why Should You Trust Us?
It seems that every appliance review has nothing but glowing comments about almost every product, yet you read customer reviews and they are almost universally bad.
We are here to fill in the disconnect. We'll give you the best features, and the drawbacks as well, including reliability based on over 37,000 calls performed by our service team just last year. Our goal is to give you ALL the information so you know what's right for you.
Please consider subscribing or adding to the conversation in the comments below. We appreciate you stopping by.
A Note About Pricing
Pricing on this blog is for reference only and may include time sensitive rebates. We make every attempt to provide accurate pricing at time of publishing. Please call the stores for most accurate price.