The Largest Front Load Washers (2023 Update)
July 11th, 2023 | 11 min. read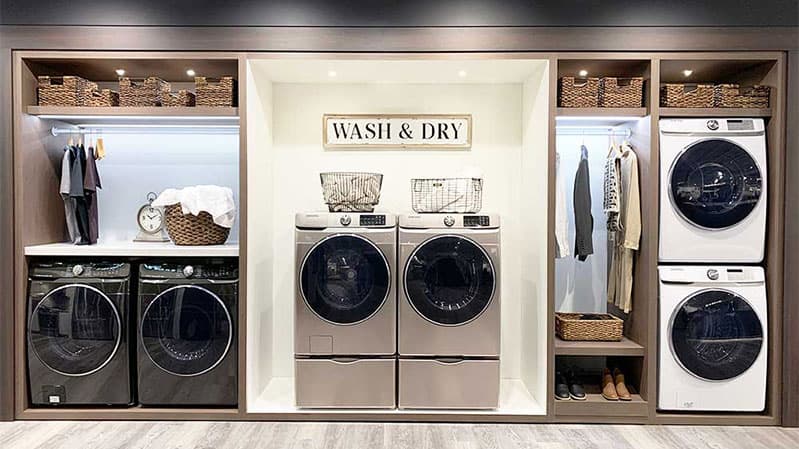 Buying the largest washer available may initially seem like a great idea.
Why wash two loads when you can wash one and a half?
If you have a large family and are always washing clothes, buying a large washer is pretty compelling.
In this article, you will learn about the largest front-load washers. In addition, you'll discover the compelling factors that may dissuade you from purchasing the biggest machine available.
If you live in Boston, you can't fit many of these in your laundry room.
You will read about the largest washers, their problems, and the best features to consider when buying a washer.
Let's get started.
2023 Update
We have updated this article for the last three years because of general interest.
I have to admit, I am not for most of these machines.
You may get a larger size machine, but many are missing newer features found in the average capacities of 4.5-5 cubic feet.
For perspective, our parents washed in top-load washers with an average capacity of about 2.5 cubic feet.
Then, over the last few years, especially during the pandemic, the price difference was $1,000 for the largest capacity.
At least it was. Recessions have a way of making things more affordable.
Therefore, I added sale prices to this list and how to buy any of these on sale. It's so easy to buy these on sale and save a ton of dough. Now you have options at larger sizes for more reasonable prices.
Just measure your laundry room and hallways first. Laundry is the second most returned item after refrigerators for not fitting.
The Largest Front-Load Washers for 2023
Samsung WV60M990AV - $1,799 (On sale: $1,299)
6.0 cu ft. Smart Washer with Flexwash in Black Stainless Steel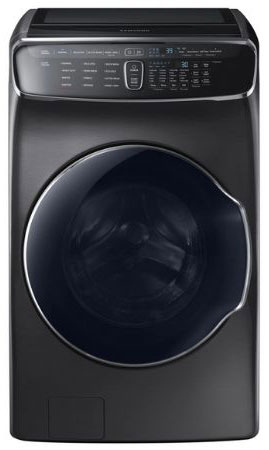 Dimensions: 27 W X 34 D X 46 9/10 H| Capacity: 6 Cubic Feet | Number of Cycles: 17 Cycles, 18 Options | Spin Speed: 1300 RPM | Reversible Door: Yes | Automatic Dispenser: No

This Samsung front-load washer is an interesting unit with two separate washers - one on the top and the other in the front.

It has the most usable capacity and allows you to wash two separate loads simultaneously.

You can wash a delicate load in the top and your regular fabrics in the front. The FlexWash series has two models, the WV60M990AV at 6 cubic feet and the smaller yet still large WV55M9600 at 5.5 cubic feet.

Pros: Samsung is promotionally oriented. You can buy this machine as low as $1,399. The top washer is convenient. The depth is not that bad either at 34 inches.

Cons: Who fixes this machine? Samsung is the most popular brand yet has little service available. It has no advanced features like an automatic dispenser or mold prevention.

Alternate Model to Consider: Samsung Bespoke WF53BB8900AT

At 5.3 cubic, the Bespoke is large and available in navy, green, and white. However, this front-load washer has Samsung's 32-load automatic dispenser and mold control.

At 5.3 cubic, the Bespoke is large and available in navy, green, and white. However, this front-load washer has Samsung's 32-load automatic dispenser and mold control.
LG Signature 5.8 Cu. Ft. Black Stainless Steel Front Load Washer

Dimensions: 29 5/8 W, 41 3/16 H, 33 1/16 D | Capacity: 5.8 Cubic Feet | Number of Cycles: 14 Cycles, 12 Options | Spin Speed: 1300 RPM | Reversible Door: No| Automatic Dispenser: No | Reliability: 2.1%
LG's Signature washer has a 5.8 cubic foot capacity and unique features such as an automatic dispenser for 18 washes.
Their TurboWash turns any cycle into a 30-minute wash by employing five high-pressure water jets at the front of the machine.
The LG Front-Load Washer WM9500HKA can be purchased as a 5.8 or 5.2 cubic foot capacity under the WM8100 series for $1,499 on sale.
Pros: LG has the industry's best reliability rate at 2.1% within the first year. TurboWash is a great cycle, especially if you are in a hurry. LG's TurboWash cycle utilizes five wash jets in the front to complete the wash cycle in 30 minutes. It also has the largest overall capacity in one washer drum.
Cons: This washer does not feature an automatic dispenser, so you have to measure and pour your detergent. It also doesn't have mold protection other than a TubClean cycle. Lastly, finding service can be an issue.
GE Profile™ 5.3 Cu. Ft. Carbon Graphite Front Load Washer

Dimensions: 28 W, 39 3/4 H, 34 D | Capacity: 5.3 Cubic Feet | Number of Cycles: 12 Cycles, 11 Options | Spin Speed: 1300 RPM | Reversible Door: Yes | Automatic Dispenser: Yes | Reliability: 6.4%
GE redesigned all of their front-load washers with comprehensive mold protection featuring Microban antimicrobial surfaces and the UltraFresh Vent System with OdorBlock.
The UltraFresh Vent System features a fan in the front to dry the gasket.
This machine can wash and dry a small load overnight due to its high 1300 RPM spin speed.
GE also has the second-largest automatic dispenser at 32 loads.
You will learn about the advantages of automatic dispensers in the features section, but it's the best new feature for laundry in the last ten years.
Pros: This washer features the best anti-mold package, has a good auto dispenser, and has plenty of options.
Cons: GE's service rate at 8.0% is decent but not as good as LG's service rate.
Alternate Model to Consider: GE GFW850SSNWW
The GFW850SSNWW is $899 on sale and has similar features as the washer above with a five cubic foot capacity for $200 less.
LG 5.0 Cu. Ft. Black Steel Front Load Washer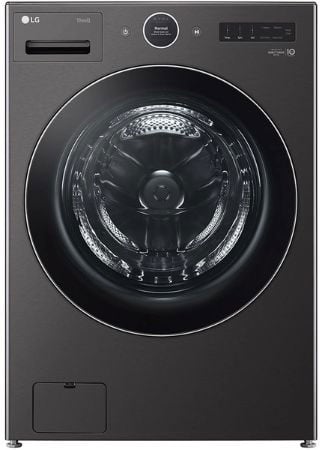 Dimensions: 27 W X 33 1/4 D X 39 H| Capacity: 5 Cubic Feet | Number of Cycles: 25 Cycles, 19 Options | Spin Speed: 1300 RPM | Reversible Door: No| Automatic Dispenser: Yes | Reliability: 2.1%
With similar features to LG's model above, LG has a good combination of features like the TurboWash cycle and excellent reliability. The WM4500HWA has their 15-load dispenser as well.
Pros: This washer has a great mix of features and excellent reliability.
Cons: This model doesn't have any mold protection other than the TubClean cycle. Then again, you can always dry the gasket after each wash and leave the door open when it's not in use.
Whirlpool WFW8620HW - $1,214 (On sale: $999)
5.0 cu. ft. Front Load Washer with Load & Go™ XL Dispenser

Dimensions: 27 W, 33 ¼ D, 38 5/8 H| Capacity: 5 Cubic Feet | Number of Cycles: 12 Cycles, 35 Options | Spin Speed: 1100 RPM | Reversible Door: No| Automatic Dispenser: Yes
Whirlpool has the easiest controls with push buttons and the largest dispenser holding up to 40 loads of detergent.
My parents have this and have never once called me to ask any questions. As their computer support person, that is one heck of an endorsement.
Pros: Whirlpool's push buttons make it easy to operate. It also features the industry's largest detergent dispenser, holding 40 loads of detergent.
Cons: Whirlpool has a slow spin speed of 1100 RPM so clothes may come out of the wash wetter. This can lead to longer drying times.
Largest All-In-One Combo Washer and Dryer: GE Profile PFQ97HSPVDS - $2,899 (On sale $1,999)
GE Profile 4.8 Cu. Ft. Carbon Graphite Front Load Washer Dryer Combo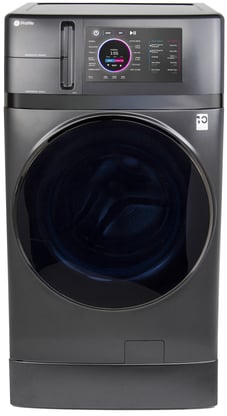 Dimensions: 28 W, 46 7/10 H, 32 D | Capacity: 4.8 Cubic Feet | Number of Cycles: 12 Wash Cycles, 14 Dryer Cycles | Spin Speed: 1300 RPM | Reversible Door: Yes | Automatic Dispenser: Yes
All-in-one washers have a huge value: You put your clothes in dirty, and they come out clean and dry.
However, combo washers and dryers have problems with being unable to remove lint. Eventually, the lint will build up and seize the machine for an expensive service call.
GE Profile solves this problem with a thick double-sided filter before the air exchanger in the front.
The GE Profile PFQ97HSPVDS combo washer and dryer also employs a unique heat pump drying system using a compressor and heat exchanger to recycle the heat for more efficient drying.
However, heat pumps are features in smaller dryers like Miele and Bosch compact dryers, but nothing this size.
So, we will have to wait and see if it is reliable. Then again, it should be. Heat pump technology was invented in the 1990s.
This GE Profile combo washer and dryer doesn't skimp on features with GE's anti-mold package and 32-load dispenser.
Pros: Put a load in before bed; it will be clean and dry in the morning. Good overall features as well.
Cons: It's new and unproven. Also, at an average of two hours a load, you can wash more with a separate washer and dryer.
Why You Should Not Buy the Largest Front-Load Washer
Price
Last year, it cost $700-1000 more to purchase a Samsung 6 cubic feet. The price difference is only $200 this year, but it's still only a 0.7 cubic foot difference.
LG's Signature washer is 5.8 cubic feet at $1,799, down from $1,999 last year.
However, you can buy a decent 4.5 cubic foot for $899 on sale or that WM6700 for $1,099. That's $700 for 0.8 of a cubic foot difference.
Remember, the average cubic foot washer is about 4.5-5 cubic feet. You can buy a 4.5 cubic foot at $699 - $899.
You also lose some features with the larger machines. The auto dispenser is not included in the top two as well as advanced cycles and mold protection.
Size and Depth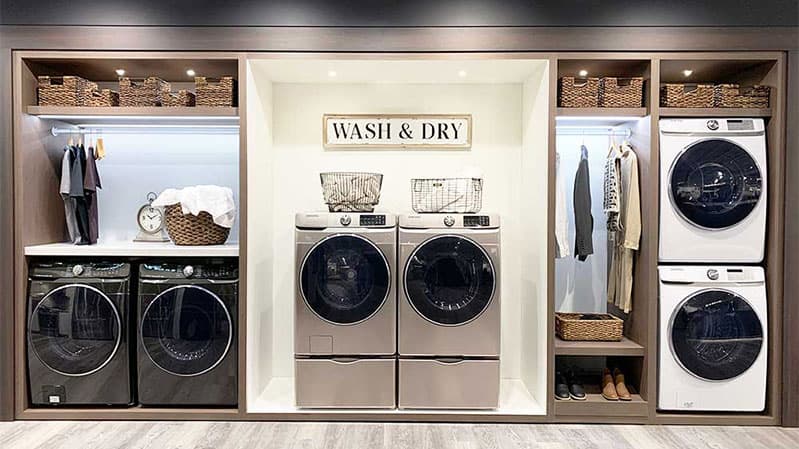 Stackable Front-Load Laundry at Yale Appliance in Hanover
Attention Bostonians and other city dwellers: Pay very close attention to dimensions when purchasing any laundry set.
Front-load washers are wide and deep, almost like refrigerators. Except we can remove the doors of refrigerators while we can't remove doors on washers. so it is deeper than many staircases and hallways.
At 33 - 34 inches deep, it will not fit many existing laundry rooms. It won't fit due to the depth if you have a top-load washer now.
Your closets would have to be extremely deep as well. The shallowest 4.5 cubic is 30.25 inches wide and does fit in many areas (although not all).
Laundry is the second most returned appliance, behind refrigerators.
Stacking
The two largest do not stack and need to be placed side-by-side
Perspective
My mom washed laundry with an old Maytag top-load washer for a family of 5. The same design (without the quality) is still popular today. The volume of that machine without the agitator is about 2.3 - 2.5 cubic feet.
The 5 cubic foot machines are now double what your parents used 25 to 30 years ago. Five cubic feet should be enough at a certain level without spending another $700 for more.
Read More: Best Front-Load Washer
What to Know When Buying a Front-Load Washer
Reliability
Reliability is important because front-loads are tougher to fix with their direct drive motors. Plus, you probably don't have much service in your area.
LG has been the most reliable over the last five years since we started publishing reliability.
Front-Load Washer Reliability
The following service rates are based on a minimum of 100 front-load washers sold and a total sample of over 3,000 over a 12-month period.
| | |
| --- | --- |
| | Service Rates |
| LG | 2.1% |
| GE Appliances | 3.7% |
| Grand Total | 3.7% |
Samsung was also sold less frequently by a 15-1 margin compared to LG. You also want to look at service when there is a problem. GE will be the best with its service department. Whirlpool will be the second best.
Read More: Most Reliable Front-Load Washers
Automatic Dispensers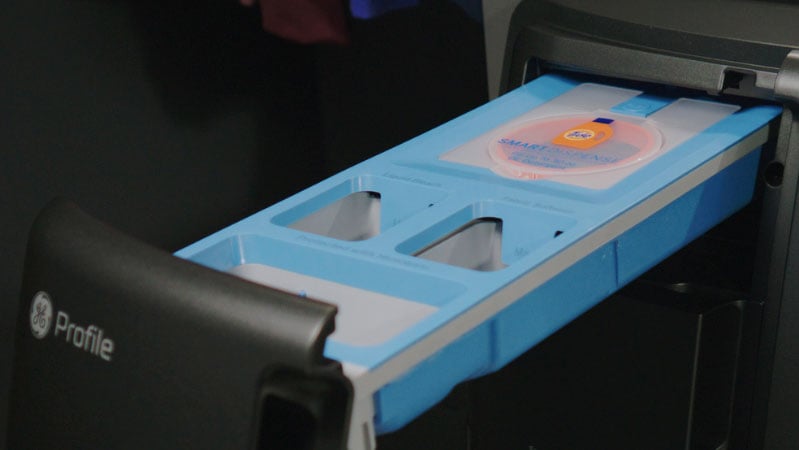 I have mentioned automatic detergent dispensers throughout the article. It's an important feature and should be on your list of features to consider.
An automatic dispenser releases the right amount of detergent at the right time.
Most people will add too much detergent. You only need a capful. Automatic dispensers will prevent you from using too much detergent, and you won't have to add detergent every wash.
The largest automatic dispensers are GE's front-load washer with a 32-load dispenser and Whirlpool at 40 loads.
Steam
Most of the better washers will offer steam. It loosens up tougher stains like wine or grass.
Spin Speed
Higher spins in the washers equate to less time in the dryer. GE, Samsung and LG have the highest spin speeds in a front-load washer of 1300 RPM.
Wi-Fi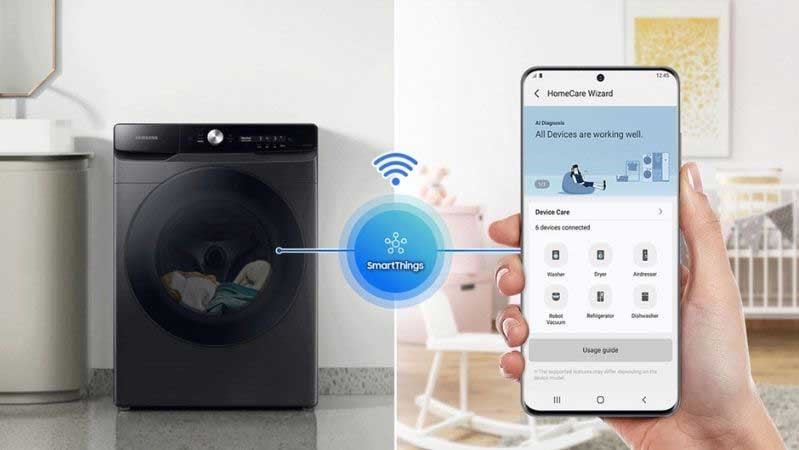 All of these models offer Wi-Fi. While Wi-Fi has been slow to adapt in appliances, you will like smart technology in your laundry for one reason.
You will see the remaining time and get a text when the cycle is done. How many times have you walked down to the basement with 5 minutes left in the cycle?
It will also allow you to turn the machine on and off or set a cycle remotely. So, your washer can be turned on from your office and be ready when you arrive home.
Of course, if you buy the GE Profile combo washer and dryer, you don't have to worry about transferring the clothes from washer to dryer.
Mold and Mildew Prevention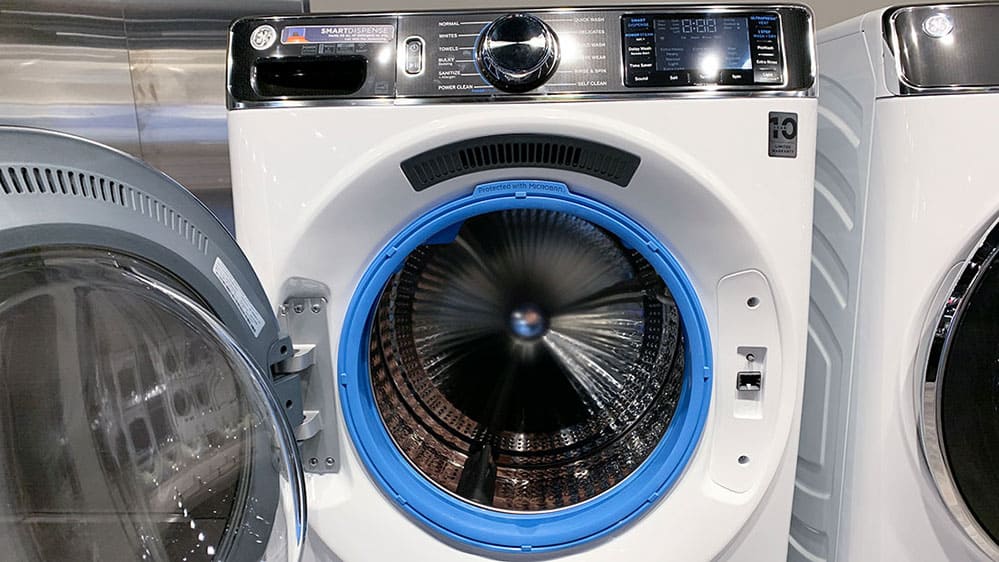 GE Smart Front-Load Laundry With Microban Technology
While some other brands offer a washer cleaning cycle, only GE models offer the Microban technology and an internal fan dubbed "OdorBlock" to dry residual moisture.
Pro Tip: Mold is a byproduct of standing water, so dry the gasket and leave the door open. Then run a clean tub cycle every month.
Reversible Door
GE and Electrolux are the only brands with reversible washer doors. It's a convenience when stacked, so the doors line up.
Read More: How to Buy a Front-Load Washer
When to Buy a Washer and Dryer
To save anywhere from 10-35% on appliances, it's best to wait for a holiday. Luckily, there are plenty of holidays throughout the year that offer great deals.
For instance, Presidents' Day - which falls in February - offers discounts for two weeks. Memorial Day and July 4th are also great times to buy.
In August, residents of Massachusetts can take advantage of Tax-Free Weekend, and then there's Labor Day.
Finally, Black Friday - which spans from late October to Christmas Eve - is the longest holiday shopping event of the year.
Read More: When Is the Best Time to Buy Appliances?
Key Takeaways
Don't feel pressured to buy a larger washing machine, especially the largest. You will pay far less for a 4.5 - 5.0 and only receive 1.0 - 1.5 cubic more at most.
Instead, invest in better features like an auto detergent dispenser, a higher RPM spin speed, and steam.
Features will make more of a difference than the extra cubic foot.
As always, find the best service providers in your local area before buying any appliances.
Washers
FAQs
Answers to the most commonly asked questions about front-load washers.
What is the capacity of the largest front-load washer?
Can a large front-load washer accommodate bulky items like comforters and blankets?
How energy-efficient are these large front-load washers?
Are large front-load washers noisy during operation?
Do large front-load washers have special features for stain removal?
How long do the washing cycles typically take in large front-load washers?
Can large front-load washers be stacked with a dryer?
Are large front-load washers compatible with smart home technology?
Do large front-load washers require any special maintenance?
What is the average price range for large front-load washers?
Additional Resources
Want some more info on washing machines? Get the Yale Washer Buying Guide with features, specs, and detailed profiles of all the brands. Well over 1 million people have read a Yale Guide.
Related Articles
Why Should You Trust Us?
It seems that every appliance review has nothing but glowing comments about almost every product, yet you read customer reviews and they are almost universally bad.
We are here to fill in the disconnect. We'll give you the best features, and the drawbacks as well, including reliability based on over 37,000 calls performed by our service team just last year. Our goal is to give you ALL the information so you know what's right for you.
Please consider subscribing or adding to the conversation in the comments below. We appreciate you stopping by.
Steve Sheinkopf is the third-generation CEO of Yale Appliance and a lifelong Bostonian. He has over 38 years of experience in the appliance industry, and he is a trusted source of information for consumers on how to buy and repair appliances.

Steve has also been featured in numerous publications, including the New York Times, Consumer Reports, The Boston Globe, Bloomberg Radio, the New York Post, The Wall Street Journal, and Entrepreneur, for his knowledge of how to buy appliances and appliance repair.

Steve is passionate about helping consumers find the best appliances for their needs, and he is always happy to answer questions and provide advice. He is a valuable resource for consumers who are looking for information on appliance buying, repair, and maintenance.

Despite being the worst goalie in history, Steve is a fan of the Bruins and college hockey, loves to read, and is a Peloton biker. The love of his life is his daughter, Sophie.
A Note About Pricing
Pricing on this blog is for reference only and may include time sensitive rebates. We make every attempt to provide accurate pricing at time of publishing. Please call the stores for most accurate price.