The Largest Front Load Washers for 2020 (Reviews / Ratings / Prices)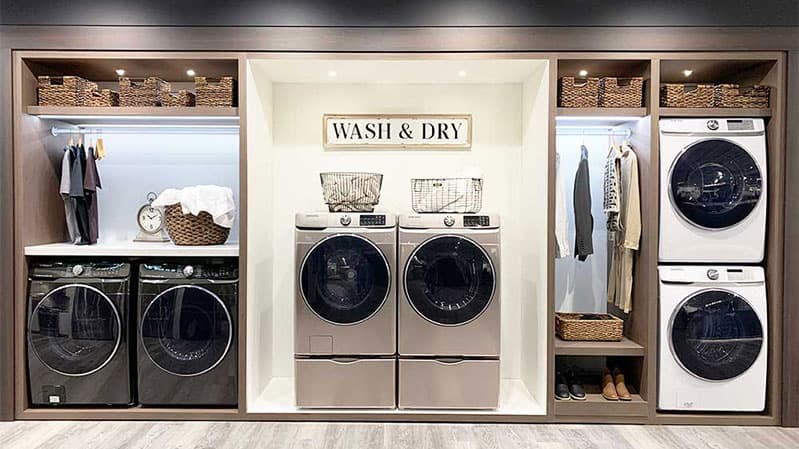 Samsung Front Load Washers at Yale Appliance in Hanover
So you're always staring at a ton of laundry. It's like a never-ending pile. There always seems to be one more load.
Maybe you work out and have kids of various ages at various activities. But all that points to this never-ending task.
So you have an idea of shopping for an extra-large machine to get ahead of this chore finally. It's a good idea on paper - more capacity equates to less laundry.
In this article, you will learn the largest front load washers, their features, and reliability.
Samsung, LG, Maytag, Whirlpool, Electrolux, and GE are the biggest manufacturers in producing laundry. Whirlpool owns Maytag, so they have similar dimensions.
The six largest front load washers for 2020:
Samsung Front Load Washer WV60M9900AV - 6 Cu. Ft. Capacity
LG Signature Front Load Washer WM9500HKA - 5.8 Cu. Ft. Capacity
GE Front Load Washer GFW850SSNWW - 5.0 Cu. Ft Capacity
Whirlpool Front Load Washer WFW8620HW - 5 Cu. Ft Capacity
Maytag Front Load Washer MHW8630HW - 4.6 Cu. Ft. Capacity
Electrolux Front Load Washer EFLS627UIW - 4.3 Cu. Ft. capacity
However, do you NEED the largest front load washer?
Here is a spoiler: You probably don't. I would almost recommend not buying a washer based on capacity alone.
Our parents performed this same thankless task in a top-load washer at about 2.5 usable cubic feet. The average front load is 4.3 - 4.5 cubic feet or almost twice as big as a top load washer.
The following are the two best reasons to consider a normal-sized front load washer:
Cost: The two largest, Samsung and LG, are 2-3 times more expensive than an average front load for only a 1-1.5 cubic increase in capacity. You can buy two regular front load washers for the same or less.
Space Issues: Before you buy these washers, check your space to see whether they even fit. Before you say yes, also check the hallways and all points along with the delivery. In many cases, the area or even hallway cannot support the depth of a larger machine (we do free site checks because it isn't always clear).
To learn more about the differences and benefits of washing machines, click here to check out our free Washer Buying Guide.
Newer Features
Before we get to the biggest washing machines, let's break down some features that you may not be familiar with.
Steam – helps to loosen the fibers of the fabric for better stain removal in the washer
Spin Speed – Faster spin speeds extract more moisture - meaning less time in the dryer.
Cycle Time - You can buy washers with faster cycles for smaller loads down to 15 minutes
Sanitize – This hot wash cycle kills bacteria.
Smart Dispensing - Maytag, Whirlpool, and GE offer a multi-load dispenser. Just fill it, and the machine dispenses automatically. Maytag will hold 8, GE 40, and Whirlpool will hold 40 loads.
App Connectivity - Some brands, such as Samsung and LG, allow you to link your washing machine to an Android or iOS app so you can download extra cycles and operate your washer remotely.
Largest Capacity Front Load Washers for 2020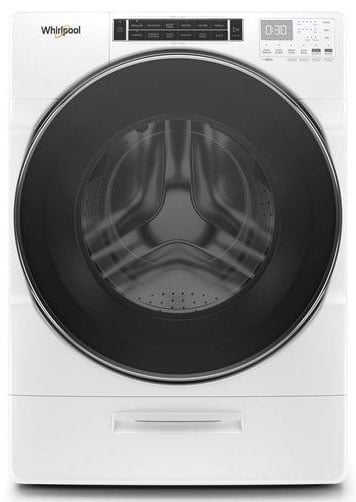 Features:
5.0 Cu. Ft. Capacity
1200 RPM spin speed
Steam
Fresh Hold option
Load and Go detergent dispensing
Self-clean cycle to reduce bacteria
Available in white and metallic finishes
Whirlpool is the largest American manufacturer of appliances. They own Maytag, Amana, KitchenAid, and Jenn-Air.
They have similar features to their sister brand Maytag with a better dispenser and better controls.
This model is their best offering steam, Load and Go dispensing, and Fresh Hold.
Short on time? Get our free Washing Machine Buying Guide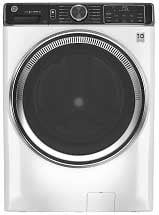 Features:
5.0 Cu. Ft. Capacity
This model is 28" wide
1300 RPM spin speed
Both Washer AND Dryer to can reverse
Microban Technology
Ultra-Fresh Vent System
Built-in Wi-Fi
Add Garment feature and delayed wash
Quick wash option
Automatic detergent dispensing
Available in White, Sapphire Blue and Gray finishes
GE sold its appliance division to Haier, a large Chinese company, in 2018 and has been on an innovative binge. Their laundry is brand new.
This washer incorporates the features of the best washers like the multi-use dispenser, overnight cycle, Wi-Fi, and sanitize. You can even reverse the doors, so loading your clothes into the dryer is easier.
However, they also add Microban antimicrobial technology to reduce mold, mildew, and odors. GE is the only company to do so
Be careful especially with stacking a GE washer and dryer, GE is one of the largest outside dimensions at 28 wide, 34 deep and almost 40' tall.
To learn more about GE's Smart Front Load Washers, click here to check our our full review.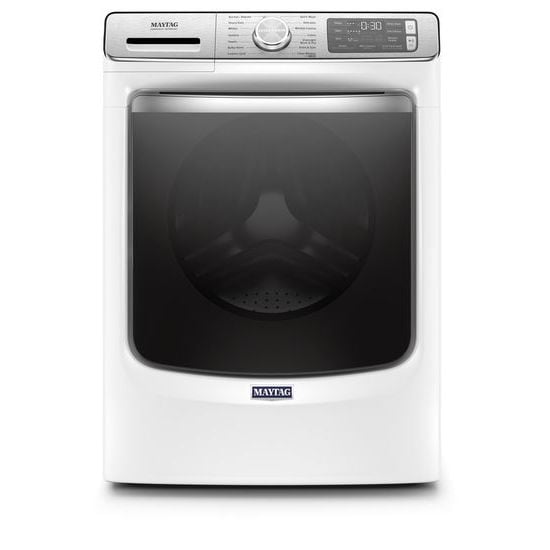 Features:
4.6 Cu. Ft. Capacity
1200 RPM spin speed
Sanitize and Allergen cycle
Steam cycle
Overnight wash/dry allows you to wash and dry a small load in the washer fully overnight
Fast wash cycle of 25 minutes
Fresh hold option allows you to leave clothes in the washer after the cycle is complete and keeps them fresh with an internal fan.
Load and Go dispenser: This detergent dispenser allows you to preload your detergent, and the machine will dispense it as needed depending on the cycle selected.
Available in white or metallic finishes.
Maytag has been very popular nationally. Maytag was purchased by Whirlpool Corporation and revamped. It's built with commercially inspired components.
Maytag has a multi-load dispenser. You have to keep it clean, or mold and mildew can occur.
Tip: The overnight wash and dry cycle work best for smaller loads. Grab your dirty pants, shirt, socks, and underwear, and it will be cleaned and dried in the morning.
Maytag Washers [VIDEO]
Electrolux Front Load Washer EFLS627UIW - $1,399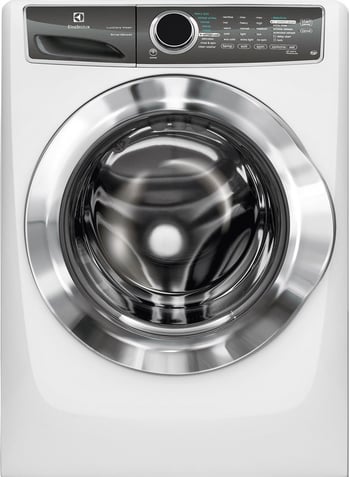 Features:
27" wide
Door Reversal
1300 RPM speed
Steam
15 Minute quick wash
Balance system
4.3 Cubic feet
Electrolux is a Swedish company founded in 1901. They originally manufactured Kerosene lamps, but are now the second-largest appliance manufacturer after Whirlpool. You may know Electrolux through their Frigidaire division.
Electrolux has the second rinse and the SmartBoost features producing cleaner clothing.
It is the only full-size washer to dispense pod detergents and has a 15-minute wash cycle.
To be transparent, we stopped selling Electrolux in 2017.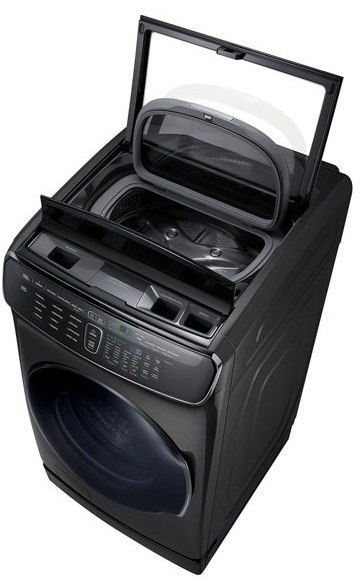 Features:
5.0 Cu. Ft, in the main wash and 1.0 Cu. Ft. In the top wash for a total of 6 Cu. Ft. Capacity
Flex Wash" two washers in one let you wash separate loads at the same time
SuperSpeed Wash: Lower washer can wash a full load in less than 30 minutes
Available in a white or black stainless-steel finish
Alexa and Google Home voice control
1300 RPM Maximum spin speed on main wash and 800 RPM on top wash
Wi-Fi Connectivity – allows you to monitor your laundry remotely
This unit is 61" tall and 34" deep. Width is standard 27."
Samsung is the number one sold brand in the US and has made a large impact on affordable luxury appliances in the USA.
Samsung is known for its large capacity washers. This model is their largest with two washers in one and a whopping 34 inches in depth.
The two washers in one machine add only one cubic foot of capacity. For one foot of capacity, you are paying $300-600.
The machines also can't stack. It also loads a bit different, so you should look at it before you buy.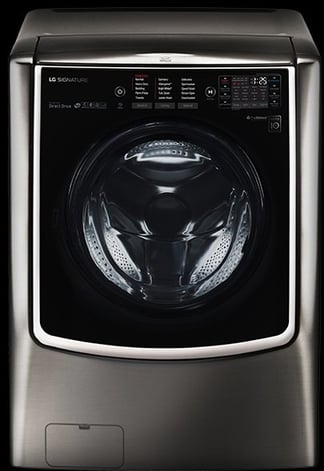 Features:
5.8 Cu. Ft. Capacity
This model is 30" wide and 34" deep
Only available in a black stainless-steel finish
1300 RPM spin speed
You can add a pedestal that can also be a washer underneath it
Steam feature
TurboWash can wash a full load in 30 minutes
Smart ThinQ – allows you to monitor your laundry remotely
LG is also a South Korean electronics company that has been having a huge impact on affordable luxury appliances. LG is the best known for reliable laundry.
LG is ahead of other brands for technology. In terms of size, this is 5.8 cubic feet or the equivalent of 2.25 top load washers.
Like Samsung, for .8 cubic feet, you are adding over $1000.
They also have their Sidekick pedestal washer. You can add another .7 cubic feet to most LG washers.
Schedule a visit to our Boston and Framingham showrooms to shop at your convenience
Most Reliable Front Load Washers
Most Reliable Front Load Washers for 2020
| | | | |
| --- | --- | --- | --- |
| | Service Qty | Shipped Qty | Service Ratio |
| Whirlpool | 20 | 350 | 5.71% |
| GE Appliances | 1 | 15 | 6.67% |
| LG Electronics | 161 | 2270 | 7.09% |
| Samsung | 27 | 349 | 7.74% |
| Maytag | 251 | 659 | 38.09% |
| Electrolux | 13 | 13 | 100.00% |
| Grand Total | 473 | 3656 | 12.94% |
Front-load washers tend to be one of the most reliable appliances on the market. The average appliance needs repair 13.1% of the time. A good front load washer is about half that.
Maytag had an issue in their dispenser with mold. You have to clean it periodically.
Click here to learn about How To Remove The Musty Smell From Your Front Load Washer (Pro Appliance Tips).
Which Front Load Washer Is The Best?
I would not buy most of them on sheer size alone unless you are washing for a very large family. You will be fine with any normal capacity front load washer.
You should also measure your laundry room as well as every door and hallway of your delivery because many would not fit.
Best Choice for Budget: GE Front Load Washer GFW850SSNWW - $849
GE has the newest technology, a large capacity for one of the lowest price points.
Best Choice for Features: Samsung Front Load Washer WV60M9900AV
Biggest Overall Front Load Washer: Samsung Front Load Washer WV60M9900AV
The best choice for features depends on what's important to you, however, the Samsung with Flex Wash, super speed, and the Alexa option, as well as the most capacity, seems like useful features for some.
Best Overall: GE Front Load Washer GFW850SSNWW
This GE washer has Microban technology, smart dispense, Ultra fresh vent system, built-in Wi-Fi, and all for a much lower price.
That said, of all these machines may be a good consideration with good capacity and unique features.
Microban technology is useful to prevent mold and mildew.
Is Buying Smart Laundry...Smart?
The smart laundry offers the feature of turning the machine on/off remotely and adding detergent depending on the model.
What you may like about Smart Laundry is seeing the time remaining on your phone rather than checking your washer every 10 minutes.
It's annoying checking on a washer that has 4 minutes and 17 seconds left.
Schedule a visit to our Boston and Framingham showrooms to shop at your convenience
Additional Resources
Want some more info on washing machines? Get the Yale Washer Buying Guide with features, specs, and detailed profiles of all the brands. Well over 680,000 people have read a Yale Guide.
Related Articles
Why Should You Trust Us?
It seems that every appliance review has nothing but glowing comments about almost every product, yet you read customer reviews and they are almost universally bad.
We are here to fill in the disconnect. We'll give you the best features, and the drawbacks as well, including reliability based on over 37,000 calls performed by our service team just last year. Our goal is to give you ALL the information so you know what's right for you.
Please consider subscribing or adding to the conversation in the comments below. We appreciate you stopping by.
Amy Ross
Amy has worked in sales, design, and home staging for 15 years. She enjoys seeing her projects from beginning to end and is extraordinarily detail-oriented. Amy has assisted in the designs of all three Yale showrooms. In her spare time, she loves spending time outdoors with her husband and two children, kayaking, paddle boarding, hiking, and skiing.

Schedule a showroom visit with me
A Note About Pricing
Pricing on this blog is for reference only and may include time sensitive rebates. We make every attempt to provide accurate pricing at time of publishing. Please call the stores for most accurate price.