GE Profile UltraFast Combo vs. Regular GE Washer & Dryer Comparison
August 17th, 2023 | 7 min. read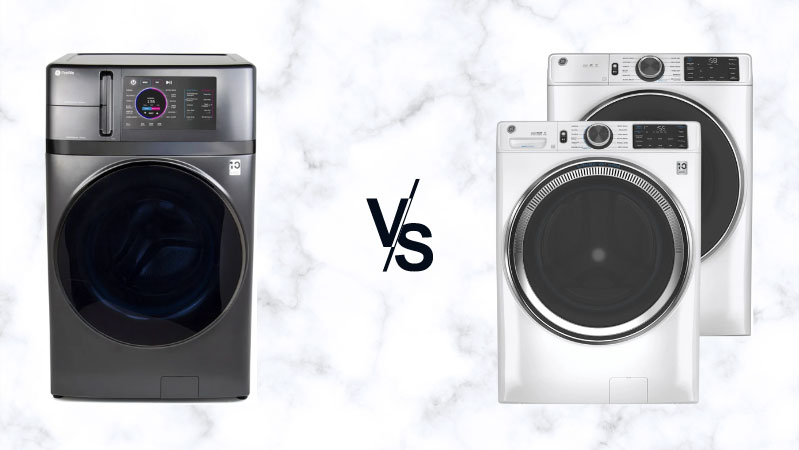 Which option is better? The GE Profile PFQ97HSPVDS UltraFast combo, an all-in-one washer and heat pump with a "one and done" feature, or the similarly featured standalone conventional GE 650 series GFW650SSNWW washer and GFD65SSNWW dryer?
In other words, should you buy this new GE Profile combo or a conventional set of front-load laundry?
In this article, you will learn all about the differences in price, features, and how long each machine took to wash and dry several loads of laundry during our tests.
Here's a pro tip: Just because something is new doesn't necessarily mean it's better for you.
By the end of this article, I will provide you with two reasons not to buy the GE Profile UltraFast combo washer and dryer.
First, let's take a brief moment to review both machines.
Overview of the GE Profile UltraFast Combo Washer & Dryer
This combo unit will clean and dry your clothes quickly and efficiently.
With its ventless design and low power usage, it can be installed anywhere with a water supply and drain.
Its automatic dispenser and Microban surfaces reduce mold and mildew, always ensuring clean and fresh clothes.
Overview of the GE 650 Series Front-Load Washer & Dryer
The GE 650 Series Smart Front Load Washer and Dryer has Microban technology to prevent mold. It has 12 wash cycles with 10 options, including an Allergen cycle that eliminates bacteria.
The automatic detergent dispenser prevents oversudsing, and the machine can be controlled remotely through Google Assistant, Amazon Alexa, or IFTTT.
The washer door can be reversed for convenience. Only GE and Electrolux have this feature for full-size laundry.
GE Profile UltraFast Combo vs. GE 650 Series Washer & Dryer: A Comparison
Similarities
Allow me to take 10 seconds to explain the similarities between these two washing and drying machines.
Capacity
Both washers have the same size of 4.8 cubic feet.
Spin Speed
The RPM spin is a high 1300, so the washer will pre-dry the clothes.
Automatic Dispenser
Both models feature a 32-load auto dispenser, releasing the right amount of detergent at the right time.
Pro Tip: You should opt for a washer with an auto dispenser as it will prevent future service calls due to oversudsing.
Microban Surfaces and Mold Protection
Both the GE and Profile washers' gasket, dispenser, and hoses are coated with Microban antimicrobial surfaces to resist mold.
Microban is the same surface found on baby changing tables in public restrooms, something I became all too familiar with during my daughter's earlier years.
Mold and mildew are caused by moisture.
The GE GFW650SSNWW boasts an "Odor Block" feature with a fan to dry the gasket.
In contrast, the Profile PFQ97HSPVDS has a better solution with a prolonged drying cycle at the end of the wash.
Smart Functionality
Both models offer good smart functionality through GE's SmartHQ smartphone app.
If you appreciate smart features in a washer, you can keep track of the remaining time and receive push notifications when the cycle is complete.
No more waiting in front of the washer with just 3 minutes and 22 seconds left on the cycle!
Differences
So, as you can see, the washers are virtually identical. Now, let's dive into the differences, starting with the dryer.
Dryer Technology
Vented Drying: The GFD65SSNWW is a regular 220-volt dryer. It takes in air, heats it with drying elements, and vents it outside through the back, just like the dryer you have at home.
While the technology is reliable, it's worth noting that drying elements and dryers were first invented in 1937.
Profile PFQ97HSPVDS Heat Pump Drying:
The UltraFresh combo operates on a 110-volt heat pump.
This means you can place it anywhere with access to water, a regular outlet, and a drain.
Heat pump dryers recycle air using a compressor and heat exchanger, usually drying at lower temperatures and taking longer to dry.
However, they are far more energy-efficient than regular dryers.
Heat pumps were first used in HVAC in the 1990s and were introduced to dryers by European companies in 1997.
While heat pumps were integrated into smaller dryers, they've only recently made their way into larger models.
Additionally, since it's ventless, you'll never have to worry about cleaning lint from your duct again.
Combination Washer and Dryer Problems
However, combo washers and dryers are among the least reliable appliances, particularly when it comes to lint removal.
We'll explore this issue further and see how the UltraFast PFQ97HSPVDS sets itself apart from the others.
Read More: Are Combo Washer & Dryers Worth It?
Vented vs. Ventless Heat Pump Drying Systems
The UltraFast can be placed anywhere with water, standard 110 power, and a drain, whereas the 650 requires venting through the laundry room with 220-volt power.
The popularity of the GE Profile UltraFast stems from its ability to eliminate the need to transfer your load from the washer to the dryer, unlike the conventional set.
This is especially convenient for forgetful individuals like me who occasionally have to rewash forgotten laundry.
Furthermore, you can start a wash and dry cycle before heading to the office or bed, ensuring your clothes are ready when you return home or wake up.
The marketing slogan "one and done" aptly describes this feature.
The convenience of putting in dirty clothes and having them emerge clean and dry is undoubtedly appealing.
However, as we'll explore later in this article, it's not always an advantage.
In summary, while the washer remains similar, the dryer is drastically different, which extends to the prices.
Read More: What Are the Benefits of Ventless and Heat Pump Dryers?
Price
The UltraFast typically sells for $2,609.
An introductory price of $1,999 was offered last July 4th, conveniently aligning with optimal appliance purchase times.
Major holidays like Black Friday, July 4th, Memorial Day, Presidents' Day, and Labor Day ARE the best buying opportunities.
On the other hand, the GFW650SSNWW and GFD65SSNWW set ranges from $1,798 to $2,199 for the washer and the electric dryer.
The set is $400 to $800 cheaper than the UltraFast, unless it goes on sale again.
Read More: When Is the Best Time to Buy Appliances?
Wash and Dry Times
Let's delve into the wash and dry times.
GE Profile UltraFast Combo Washer and Dryer Test Results
| | |
| --- | --- |
| | Total Wash and Dry Time |
| Mixed Colors | 2 hours & 51 minutes |
| Whites | 2 hours & 48 minutes |
| Sheets/Blankets | 2 hours & 8 minutes |
| Comforter | 2 hours & 1 minute |
GE 650 Series Washer and Dryer Test Results
| | | | |
| --- | --- | --- | --- |
| | Wash Time | Dry Time | Total Time |
| Mixed Colors | 59 minutes | 28 minutes | 1 hour & 27 minutes |
| Whites | 1 hour & 9 minutes | 40 minutes | 1 hour & 49 minutes |
| Sheets/Blankets | 1 hour & 8 minutes | 42 minutes | 1 hours & 50 minutes |
| Comforter | 1 hour & 2 minutes | 1 hour & 16 minutes | 2 hours & 18 minutes |
Colors: The UltraFast takes less time than indicated, with an actual time of 2:51 compared to the indicated 3:25. The GE 650 set requires 1:27 in total.
Whites: The UltraFast finishes its cycle in about the indicated 2:50. The GE set takes 1:49.
Sheets/Blankets: The UltraFast, indicated for 2:02, took 2:08. The GE set required less time overall at 1:50.
Comforter: The UltraFast is slightly quicker than indicated at 2:12, while the GE 650 takes 2:18 to wash and dry.
The drying system initially projected a drying time of 48 minutes, but it took an additional 28 minutes to fully dry the clothes.
Analysis
The UltraFast is convenient and generally performs well in washing and drying, except for the somewhat damp comforter.
It offers the convenience of setting it and forgetting it. However, the regular laundry set is notably faster, even in the bedding cycle.
With separate units, you can transfer clothes from the washer to the dryer and immediately begin another load,
With the combo, you must wait for the entire cycle to finish.
For colors and whites, you can complete more than twice the amount of laundry within the same timeframe.
Power and Convenience
If you cannot vent or lack a 220-volt line or adequate power, the UltraWash stands out as the superior full-size ventless option.
Additionally, it consumes less power than a conventional dryer and offers greater convenience.
However, when comparing the UltraFast to a comparable washer and dryer, the choice depends on your laundry volume and schedule.
Reliability
Heat pumps, which originated in the 1990s for HVAC purposes, have been incorporated into smaller dryers like Miele, Bosch, and Samsung.
Their integration into larger models is relatively new, making their reliability uncertain.
It's worth noting that combo washer-dryer units are generally less reliable appliances.
They struggle with lint removal, leading to potential future service calls.
The GE Profile model addresses this issue by incorporating a substantial two-sided filter near the heat exchanger.
Compare these potential concerns with the track record of reliable conventional washer and dryer units.
Despite advancements, long-term reliability remains a question compared to the consistently reliable standalone washer and dryer pairs.
Read More: The Most Reliable Front Load Washers
Conclusion
What's your take? Would you choose the new Profile PFQ97HSPVDS UltraFast Combo or the conventional GE GFW650SSNWW and GFD65SSNWW?
Share your thoughts in the comments below.
BTW, here are the top nine problems associated with traditional combo washers and dryers:
Longer Drying Time: Due to space constraints, drying in these units can be slower compared to standalone dryers.
Limited Capacity: Combo units often have smaller capacities, which might be insufficient for larger families or extensive laundry needs.
Efficiency Issues: Combo units might be less energy-efficient, particularly when it comes to drying.
Uneven Drying: Users sometimes report uneven drying, with certain items remaining damp while others are fully dry.
Wear and Tear: Continuous use of both washing and drying functions can lead to faster wear and tear, shortening the unit's lifespan.
Maintenance and Repairs: If one function breaks down, both washing and drying capabilities are lost until the unit is repaired. Separate units offer more flexibility in this regard.
Ventless Drying: Many combo units use ventless drying systems, which can be less effective at removing moisture compared to vented systems.
Cost: Combination units can be pricier than basic standalone washer and dryer sets.
Noise: The unit's longer operational periods (due to consecutive cycles) can result in prolonged noise, which might become bothersome.
Maintaining your laundry appliances is essential for their longevity and performance. Consider these factors carefully before making your decision.
Additional Resources
Download our Yale Washer Buying Guide with all the features, terms, and brands of laundry. Over 1.2 million people have already found answers in a Yale guide.
Related Articles
Why Should You Trust Us?
It seems that every appliance review has nothing but glowing comments about almost every product, yet you read customer reviews and they are almost universally bad.
We are here to fill in the disconnect. We'll give you the best features, and the drawbacks as well, including reliability based on over 37,000 calls performed by our service team just last year. Our goal is to give you ALL the information so you know what's right for you.
Please consider subscribing or adding to the conversation in the comments below. We appreciate you stopping by.
Steve Sheinkopf is the third-generation CEO of Yale Appliance and a lifelong Bostonian. He has over 38 years of experience in the appliance industry, and he is a trusted source of information for consumers on how to buy and repair appliances.

Steve has also been featured in numerous publications, including the New York Times, Consumer Reports, The Boston Globe, Bloomberg Radio, the New York Post, The Wall Street Journal, and Entrepreneur, for his knowledge of how to buy appliances and appliance repair.

Steve is passionate about helping consumers find the best appliances for their needs, and he is always happy to answer questions and provide advice. He is a valuable resource for consumers who are looking for information on appliance buying, repair, and maintenance.

Despite being the worst goalie in history, Steve is a fan of the Bruins and college hockey, loves to read, and is a Peloton biker. The love of his life is his daughter, Sophie.
A Note About Pricing
Pricing on this blog is for reference only and may include time sensitive rebates. We make every attempt to provide accurate pricing at time of publishing. Please call the stores for most accurate price.