The LG WashTower WKHC202HBA with a Ventless Heat Pump Dryer (2023 Review)
You may have read our new LG WashTower review based on the four WashTower models a few weeks ago.
At that time, the WKHC202HBA was just made available. It differs from other LG WashTower models and ventless heat pump dryers within the industry.
In this article, you will learn all about the best features of this model, with a particular focus on the drying capability.
In addition, we will also compare LG to the popular Miele and Bosch heat pump models.
Ultimately, there are two takeaways from this article:
You can now place a full-size washer and dryer anywhere in your home.

Heat pump drying is what everyone will buy within ten years.
However, a newer machine with even better technology could obsolete the LG WashTower within one year.
Let's look at the LG Washtower WKHC202HBA specifications starting with the dryer.
The LG WashTower WKHC202HBA (2023 Review)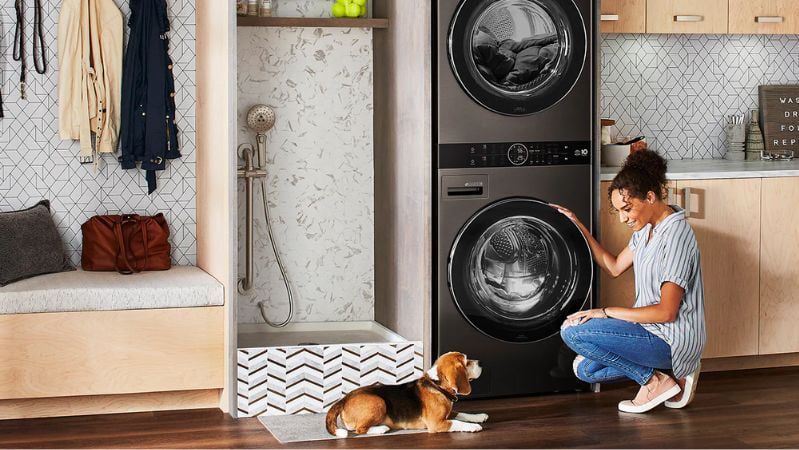 The new LG WashTower WKHC202HBA has a ventless heat pump dryer. Heat pumps are the newest, most efficient way to dry your clothes.
Let me briefly explain.
Any heat pump uses an air exchanger. The cold air enters one side releasing moisture from your clothes.
The compressor pumps the air through the hotter side and is released back into the drum.
Heat pumps continuously recycle air.
Quick Tip: The water stays in the machine and empties in the front of the machine.
However, you can automatically run a line to the washer and eliminate water. Our delivery fleet does that automatically during delivery.
LG WashTower WKHC202HBA Heat Pump Dryer Benefits
Energy Savings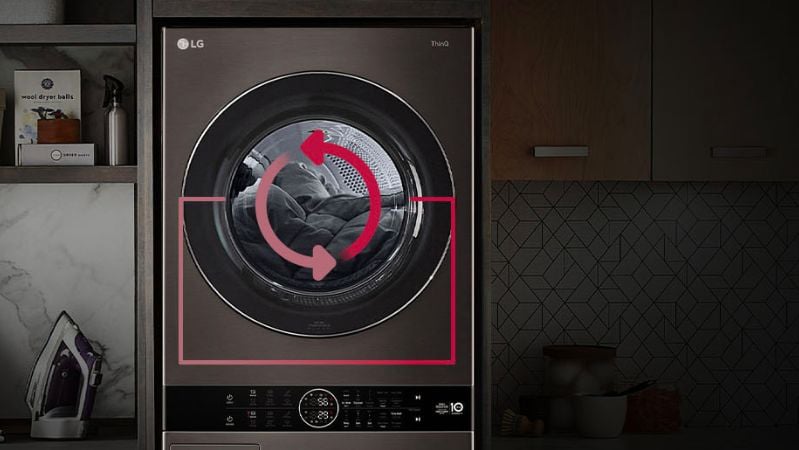 With the LG WKHC202HBA, energy savings is the main benefit.
You may not know this, but your electric dryer is one of your house's most costly appliances.
Then again, a traditional electric dryer is a giant hair dryer in a dryer drum. Regulated dryers are designed for effectiveness, certainly not efficiency.
With the cost of electricity these days, a heat pump will save you money considerably.
This heat pump only uses five amps of electricity compared 30 amps for a regular heat pump dryer.
Gentler on Your Clothes
Heat pump dryers operate at lower temperatures, so they are gentler on your clothes than a traditional electric dryer.
Non-Ducted
You can now place this LG WashTower anywhere you have water and power. Did your children leave for college or move out? Their closet can now be your new upstairs laundry room.
Don't Have to Clean Your Duct
Did you know you have to call someone to clean your duct? Lint can be flammable. Now house fires are that common. Put it on the list of things to do today.
Come to think of it, I have to clean mine.
Disadvantages of the LG WashTower Heat Pump Dryer
Large Size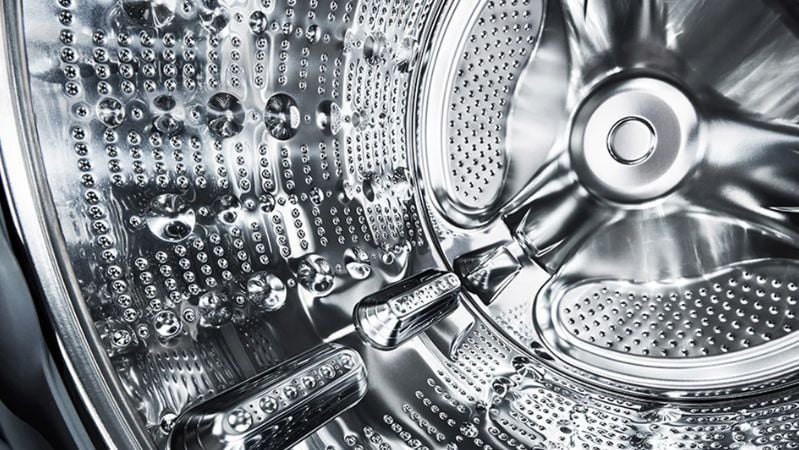 Heat pumps are the standard in Europe, but Europeans use smaller compact laundry. The larger sizes are less proven.
If you are reading this, know you will indeed be one of the first with a larger heat pump dryer.
More Drying Time
Heat pumps work at lower temperatures. It is gentle on your clothes, but you will spend more time drying them.
We will test this in the next few weeks. The time varies between 30-60 extra minutes.
Do not confuse this with the current combo washer and dryer all in one.
A combo's washing and drying cycle can be up to 6.5 hours.
However, combos are also changing soon, as you will discover later in the article.
More Parts
Dryers are generally reliable because that extra-large toaster, blower-like element works.
You only have a few parts in the dryer. However, heat pumps add an exchanger and a compressor as well.
Electric Only
If replacing gas, you must still run a 240-volt line and outlet. For that, you have to find the ever-elusive electrician.
Additional Cleaning
You have to clean your lint filter. However, you must also keep the air exchanger clean in a heat pump.
You see the little door at the bottom. It's not a big deal. Just open it and clean any lint or pet dander.
LG WashTower Design
All the LG WashTower models solve some fundamental problems.
Its one-piece design is more streamlined at 74 ⅜ inches versus stacking two pieces at around 80 inches.
The controls are also in the middle, which is incredibly helpful versus reaching for the numbers at 6 feet and 3 inches.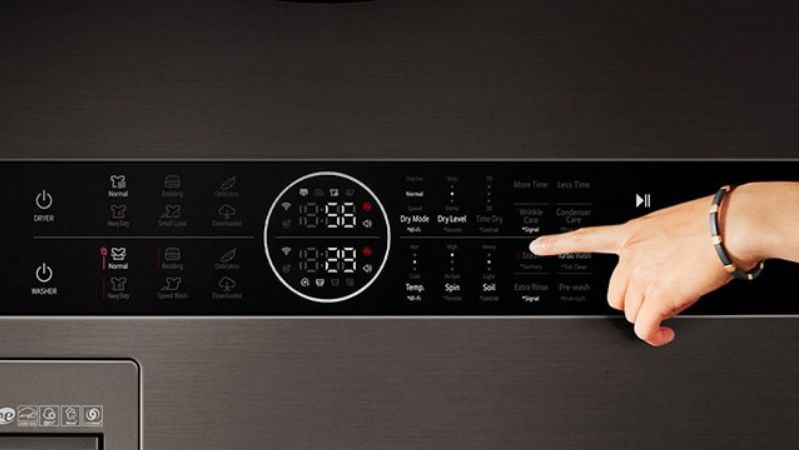 Samsung has that height, and the controls are angled, making reaching for anyone under 5'5" challenging.
The LG WashTower's design also makes sense. You also do not sacrifice capacity or many features, as you will see later in this article.
The LG WashTower Depth
LG has the shallowest washer and dryer at only 30 1/16 inches deep.
The depth is over an inch and a half shallower than the next shallowest brand, so you can place it in tighter spaces.
In this WashTower, the installation is easy. You don't have to vent, and the unit is shallow.
LG WashTower Reliability
Reliability is not a feature per se, but it is the most critical consideration in buying laundry.
You want a reliable machine because the average repair wait of 4-8 weeks translates into piles of unwashed clothes.
LG is again the most reliable laundry brand sold at Yale.
Their washers require just 2.1% service in the first year based on just under 40,000 service calls completed by our service team just last year.
Compare that to the average rate of 3.7% for washers overall and 9.7% for appliances in total.
From reliability and size, the WashTower is a reasonable consideration.
The LG WashTower WKHC202HBA Features
I covered the cycles in the last article, but as a refresher here are the LG WashTower cycles:
AI DD
The AI (Artificial Intelligence) DD (Direct Drive) washes your clothes by determining weight and softness. It uses 11,000 data points to assess the washer's cycle, time, and motion.
The dryer will save up to 22% drying time by sensing moisture and softness in the dryer.
The best part is you just hit a button without choosing any cycles and options.
The newer AI DD front load washers introduced in late 2022 incorporate an auto dispenser.
You will learn more about auto dispensers later in the problems part of the article.
Smart Learner
The "Smart Learner" remembers your favstacfkorite cycles you use often.
If you want to wash colors hot with a cold rinse, the machine will remember that cycle.
Not that you should ever have the machine learn that cycle.
Smart Pairing
Smart Pairing intuitively sets the dryer setting based on the washer. Once again, LG, GE, and Samsung now have this feature.
Wi-Fi Enabled
The WashTower is Wi-Fi driven and can be operated from your phone and even text you at the end of the cycle.
You can also download customizable cycles not available on any of the machines.
GE, Whirlpool, and Samsung have similar functions.
GE has its washer communicating with its dryer through smart functions. However, LG's AI functions are the most user-friendly and extensive.
TurboWash 360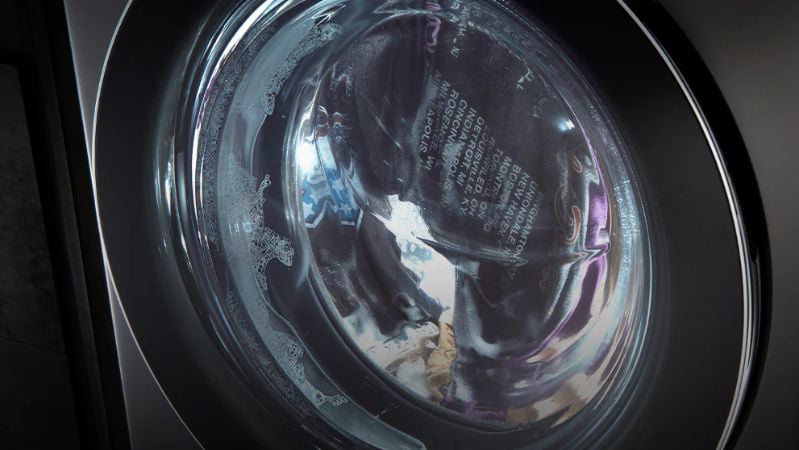 Other cycles include TurboWash 360. LG adds five high-pressure sprays to shorten any cycle to 30 minutes.
Most brands have a short cycle for small loads under 10 lbs. LG with TurboWash 360 can shorten light to medium loads.
Steam
Both the washer and dryer have steam in the top two models.
In the washer, steam powers out tough stains. In the dryer, steam refreshes and de-wrinkles your clothes.
Have a favorite shirt? Place it in a steam cycle for about 10 minutes to wear it out that night.
WashTower Price
At $2,799-$3,099, the WashTower is on the expensive side of a washer and dryer.
However, it is a reasonable price for a ventless heat pump dryer set.
The smaller Bosch compact laundry set with a heat pump dryer is about the same price, while the Miele is $2,299-$4,899.
Buy the LG Washtower before a major holiday for a lower price.
Missing Features
Automatic Detergent Dispenser
The main missing feature is an automatic detergent dispenser.
GE and Whirlpool now have 32 and 40-load dispensers. You just load it up, and the machine dispenses the right amount of detergent at the right time.
Most of LG's most popular washing machines have a 15-load dispenser.
You should consider an auto dispenser because it prevents using too much detergent.
You only need a capful at most. Too much detergent causes over-sudsing.
The excess suds will create service problems later inside the machine.
Also, loading multiple loads is convenient.
However, the only washer with an automatic dispenser and heat pump dryer is Miele.
Mold Protection
Mold can build up in front loads due to standing water.
LG has a clean tub feature to reduce mold and mildew. As I said in the previous article, LG lacks the antimicrobial surfaces of GE.
Overnight Cycle
LG also does not have Whirlpool and GE's overnight cycle. With an overnight cycle, you can wash and dry an outfit overnight and have it ready in the morning.
Replacing a One Piece
You may think, as a one-piece, that if the washer or dryer dies, you must replace the whole machine.
Many other articles have commented on this whole replacement idea.
Even with a two-piece stackable washer and dryer, you must change both most of the time because stacking kits and dimensions change so frequently.
Reversible Door
Still, only GE and Electrolux offer reversible doors. The LG Washer opens right to left, which could be an issue against a wall or in a tight space.
LG WashTower Delivery Issues
The LG WashTower is shallow. However, every one-piece unit could have delivery issues, especially if you live in Boston.
You can't turn a one-piece effectively on narrower landings, like in a Brownstone. For two pieces, delivery team members can lift an appliance over railings.
We perform free site checks if you have a tight space and live in Massachusetts.
How Does the LG WashTower WKHC202HBA Compare to Other Laundry Sets?
Let's compare the WashTower to all your ventless options.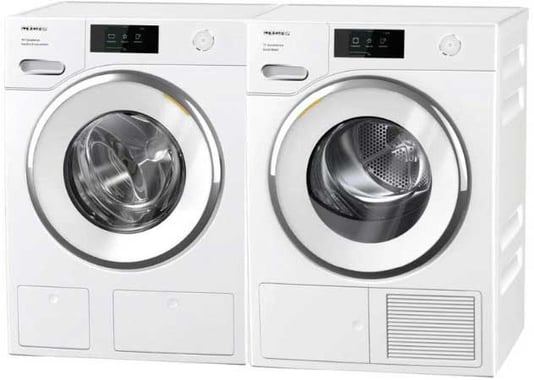 Miele is a different type of machine. It features a honeycomb drum, so fabrics glide on a sheet of water for a more gentle wash.
You can also use caplets in a Miele, while you can't in LG or Bosch.
Miele's washer RPM (Revolutions Per Minute) spin speed is 1600 RPM, the fastest for any laundry, versus the still fast 1300 for the LG and 1400 RPM for the Bosch.
Miele's TwinDos automatic dispenser dispenses the right amount of detergent at the exact time.
Bosch Compact Washer WAW285H1UC and Heat Pump Dryer WTW87NH1UC
Bosch is similar to Miele in size. It doesn't have the Honeycomb drum or caplet dispenser.
However, the dryer is 220 volts and an upgrade from Miele's 110-volt dryers.
Bosch is also the most proven of the three, with outstanding reliability.
LG WashTower WKHC202HBA with a Ventless Heat Pump Dryer

The WashTower is much larger at 4.5 cubic feet versus 2.25- 2.5 for the Miele and Bosch.
For a family of four or more, the WashTower is the same size as other regular front load laundry sets.
Of course, size is a disadvantage if you can't place the WashTower in a 24-inch closet or standard 24-inch kitchen cabinet.
Miele is decent, but LG is the most reliable washer you can buy.
Of the three, LG and Bosch are two of the most reliable appliances you can buy in any category.
220-Volt vs. 110-Volt Dryers
Miele has a 1600 RPM spin speed for less drying time. However, their heat pump is 110 volts and will take longer than the LG and Bosch.
Key Takeaways
The WashTower with a heat pump dryer is the new standard for laundry. It is missing the auto dispenser but is the largest for a ventless application.
I hope it works in a much larger size.
If it does, this LG WashTower will have added flexibility to place anywhere in your home without compromising size and features.
Heat pump dryers will also save you a fortune in drying costs, but they take longer to dry.
So yes, besides the dispenser, the LG WashTower with a heat pump dryer is the new standard.
But only for the next 6-8 months. Here's why:
GE Profile UltraFast Combo with Ventless Heat Pump Technology

The WashTower with the heat pump dryer is now the most sophisticated appliance you can buy.
LG has the largest heat pump dryer with the best features for washing and drying.
However, new all-in-one washers and dryers have the features to obsolete the WashTower and perhaps two-piece washers and dryers.
You don't have to transfer your clothes from the washer to the dryer.
The GE Profile UltraFast Combo with a Ventless Heat Pump Dryer combines its best features and adds the heat pump dryer for more efficient albeit slower drying.
You have a good capacity of 4.8 cubic feet and their 32-load auto dispenser. The GE Profile includes their anti-microbial Microban coatings as well.
Problems
I always talk about problems just when people get excited about new products.
Combo washer and dryers traditionally have issues removing lint.
Eventually, it will seize the machine.
They also are incredibly slow, with up to 6.5 hours to wash and dry one load of laundry.
This machine is different, with a heavy two-sided filter and a heat pump for more efficient drying.
Whether it works in your home remains to be seen.
But if it does, this technology could obsolete the WashTower and every other two-piece washer and dryer set.
A Footnote on Radical Appliance Innovation
Most of what is popular is larger and more featured than when I started in 1986.
You have new steam and speed oven options, but the basic gas and electric ranges are the same, only with more output.
Induction is the new popular appliance, but the technology was available in the 1980s.
The industry needs a better track record with real innovation.
GE's revolutionary refrigerator compressor died quickly after its introduction in the 1980s.
Of course, GE was part of a conglomerate, not the appliance focus of its new ownership.
Whirlpool's Polera refrigerator range never became popular, either. I liked the theory of freezer-to-table, but nobody else did.
Lastly, with its revolutionary front-loading design, the Maytag Neptune killed the company.
I like the new LG WashTower and especially the new GE Profile combo washer and dryer. Let's say I don't want to be the first to buy one.
I also wouldn't plan my laundry room around either just yet.
Additional Resources
Download our Yale Washer Buying Guide with all the features, terms, and brands of laundry. Over 820,000 people have already found answers in a Yale guide.
Related Articles:
Why Should You Trust Us?
It seems that every appliance review has nothing but glowing comments about almost every product, yet you read customer reviews and they are almost universally bad.
We are here to fill in the disconnect. We'll give you the best features, and the drawbacks as well, including reliability based on over 37,000 calls performed by our service team just last year. Our goal is to give you ALL the information so you know what's right for you.
Please consider subscribing or adding to the conversation in the comments below. We appreciate you stopping by.
A Note About Pricing
Pricing on this blog is for reference only and may include time sensitive rebates. We make every attempt to provide accurate pricing at time of publishing. Please call the stores for most accurate price.