Electrolux vs. LG Front Load Washers (Reviews / Ratings / Prices)
Electrolux and LG are two worthwhile front load washers to consider.
But which is better?
It depends on what features are important to you. Your personal preference should guide you into any purchase, not influencers or even me.
In this article, you will read the pros and cons of both to decide for yourself.
I have chosen comparably priced models from each manufacturer, the LG WM4500HBA and the ELFW7637AW, for the Electrolux, but I will also be referencing other models and manufacturers.
Let's dive in.
LG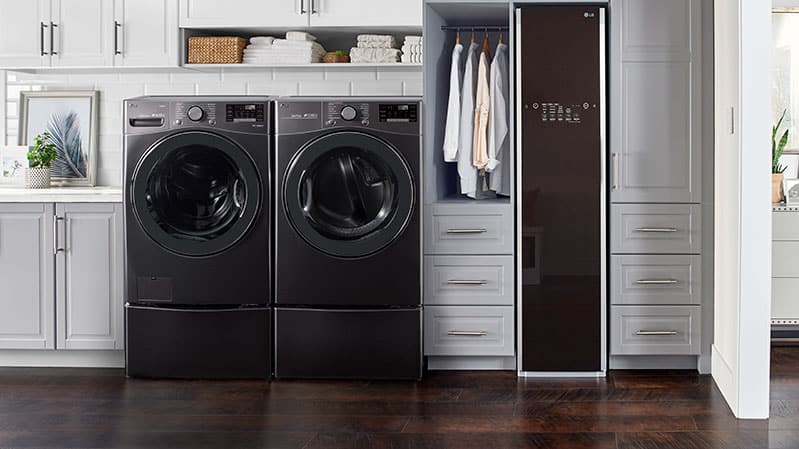 Maytag had the first front-load washing machine with its ill-fated Neptune in the 1990s. However, the current design was first designed by LG.
Every manufacturer emulates the style LG developed 20 years ago.
LG is a Korean manufacturer but produces 60% of the washers in the US.
They are a laundry company and has produced many innovations like the LG WashTower and other technology to make your life easier in the laundry room.
Most Popular LG Front Load Washer: LG WM4500HBA - $1,349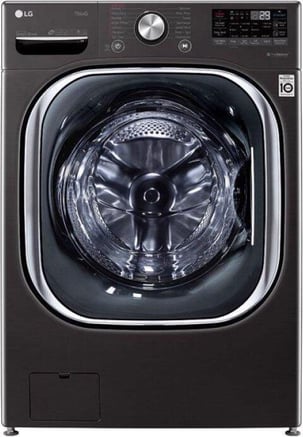 Dimensions: 27 W, 39 H, 33.25 D | Capacity: 5 Cubic Feet | Number of Cycles: 15 Cycles, 5 Options | Spin Speed: 1300 RPM | Reversible Door: No | Automatic Dispenser: Yes
Electrolux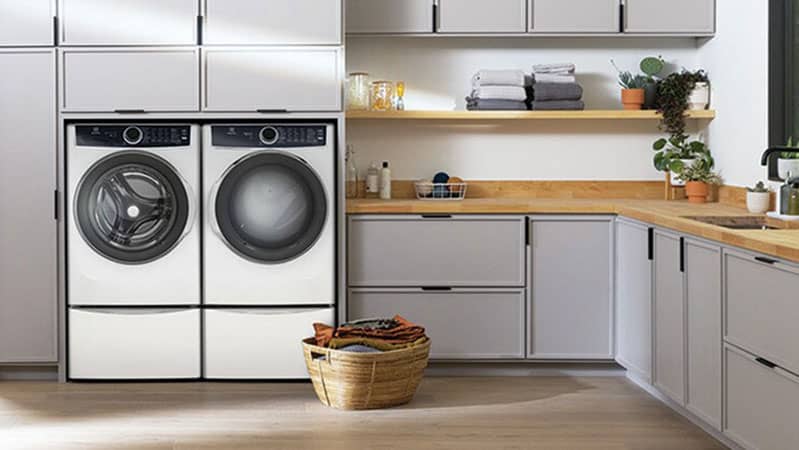 Electrolux is based in Sweden and is an appliance-only company, unlike LG.
Their larger front-loads are new to the market and are made in Mexico, with their smaller compact washers and dryers produced in Poland and Italy.
We don't sell Electrolux and haven't in five years, but I like their washers. In fact, I had their first set years ago.
Just because we don't sell Electrolux doesn't mean it's bad. We put appliance service first and can only sell a limited amount of brands.
It's impossible to sell everything and repair everything.
Most Popular Electrolux Front Load Washer: Electrolux ELFW7637AW - $1,599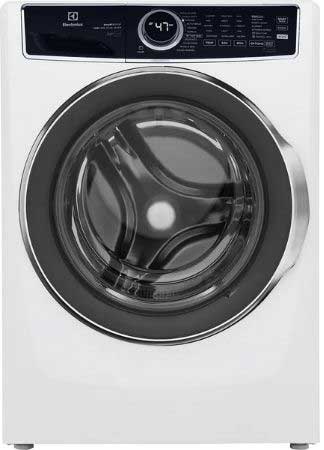 Dimensions: 27 W, 38 H, 32 D | Capacity: 4.5 Cubic Feet | Number of Cycles: 11 Cycles, 5 Options | Spin Speed: 1300 RPM | Reversible Door: Yes | Automatic Dispenser: No
Short on time? Get our free Washing Machine Buying Guide
Electrolux vs. LG Front Load Washers
What They Have in Common
Cycles: Both have more than enough cycles. LG has 14 and Electrolux has 11.
1300 RPM Spin: A 1300 RPM spin speed is fast by industry standards, so clothes are almost dry out of the washer for less time in the dryer. The average is around 1000 RPM. Whirlpool and Maytag have 1100 RPMs in their front load washers, for example.
Top load spin speeds are much slower at 750 RPM. Miele is the fastest at 1600 for compact laundry.
Steam: Both have steam, so tougher stains like grass, blood, and wine come out easily.
Allergen Cycle: Both have cycles to remove allergens from your clothes.
How They Differ
Size: LG is larger at 5 Cu. Ft. compared to 4.5 Cu. Ft. for Electrolux. However, it is deeper, so that may or may not be an issue depending on the installation.
If you are looking for shallow depth for stacking, LG and Electrolux are two of the best. The LG is the shallowest machine on the market at 4.5 cubic feet at 30.5 inches.
Speed Washing: Electrolux has a 15-minute wash cycle for lightly soiled fabrics versus 30 minutes for LG.
Most of the short washes involve less time, so you wash fewer clothes. A 15-minute wash cycle can only wash a few items.
However, LG has the Turbo360 with five high-pressure sprays in the front of the washer turning any cycle into 30 minutes.
Reversible Door: Hard to believe, Electrolux and GE are the only washers and dryers with reversible doors, so the doors line up in every installation. The LG washer's door does not reverse.
Mold Control: Both have TubCleaning cycles to wash in high heat to eliminate mold and mildew.
The door on the Electrolux automatically opens at the end of a cycle to help air out the drum rather than you having to remember to do it.
You should leave the door open on a front load. Mold is a by-product of moisture. Allowing air into the washer will help eliminate the problem.
You should also run a hot water cycle with Affresh to remove any residual odors.
For the best mold control, GE front load washers have antimicrobial Microban surfaces in the gasket and dispenser. GE also uses a fan to dry any remaining water.
Pod Dispenser: Instead of just tossing them in with your fabrics, Electrolux dispenses theirs in the top in a dedicated dispenser.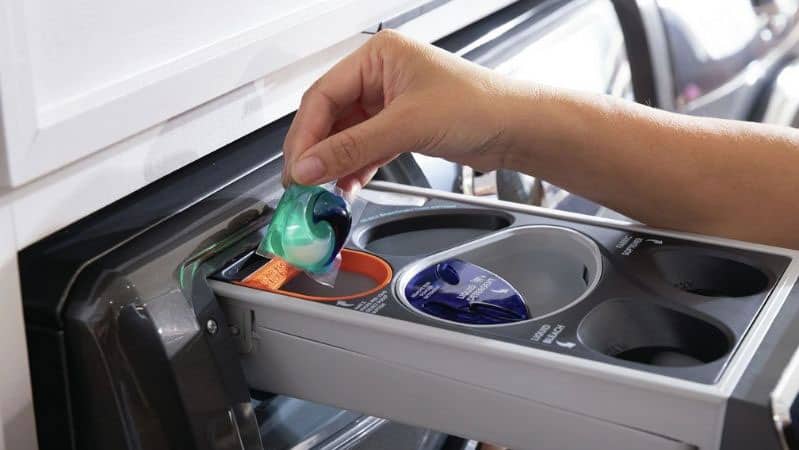 Electrolux Adaptive Detergent Dispenser
Smart Functionality: I was always ambivalent about the early Smart appliances. However, you are starting to see an evolution in smart technology where it is worthwhile.
LG is leading it with their ThinQ App.
Presently, you can turn the washer on and off automatically from an app on your phone.
You can see how much time is remaining, so you don't have to trudge to your basement to watch the last two minutes 42 seconds of a cycle while waiting.
The washer will even text you when the cycle is done. This LG washer will even set the drying cycle.
You can also monitor the amount of soap left in the dispenser.
The next evolution for LG will be smart monitoring to sense any problems and automatically send the parts and technician to fix the problem before it happens.
WashTower: LG's WashTower is the most advanced washer and dryer on the market.
The LG WashTower employs AI DD or sensors for the best cycles by fabric type throughout the machine.
The washer also sets the dryer cycle, and it will remember your favorite cycles.
Electrolux SmartBoost vs. the LG Automatic Dispenser
When we sold Electrolux, the SmartBoost was their best feature. LG has an automatic dispenser.
SmartBoost: In SmartBoost, the unit holds the detergent at the bottom and mixes it with water to achieve optimum results.
You have a watery soapy mix instead of soap on your clothes.
Automatic Dispenser: However, automatic dispensers do the same by releasing the right amount of detergent at the right time in the wash.
You also can load up to 18 loads of detergent instead of reloading every time.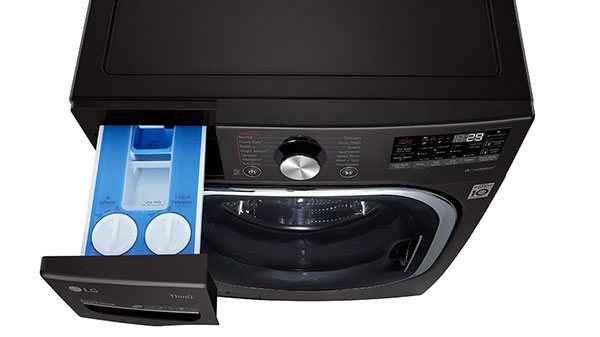 LG ezDispense™ Automatic Dispenser
Most importantly, you can not overfill with an automatic dispenser.
Overfilling detergent is a big problem because that soap stays in the machine and will cause a service problem later.
You only need a capful of detergent for a front load. You don't need to load the whole dispenser like a top load.
Then again, with an automatic dispenser, you never have to figure it out.
Which Is More Reliable, Electrolux or LG?
The following service rates are based on a minimum of 300 front load washers sold per brand and a total sample of over 3000 from December 2020 to October 2021.
Most Reliable Front Load Washers from December 2020 to October 2021
| | |
| --- | --- |
| | Service Ratio |
| LG | 3.3% |
| Samsung | 4.9% |
| GE Appliances | 8.0% |
| Whirlpool | 9.5% |
| Maytag | 15.0% |
| Grand Total | 6.3% |
LG is one of the most reliable washers you can buy at 3.3% versus 9.5% for appliances in general.
Electrolux was pretty good on the washer side. They had a dryer problem with their lint screens five years ago.
Perhaps it's improved.
Maybe one of the Electrolux representatives or dealers reading this can detail the improvements in the comments below.
Either way, you want to understand who will be servicing either company before you make any purchase.
The instances of service are low without question.
However, front-loads washers use direct-drive motors, so the severity and expense of the repair are high.
Finding the right service is critical.
Pro Tip: Do not buy a service contract unless the dealer has a service department. We have written articles about the pain you will inevitably have. But for brevity's sake, buying a service contract without knowing who can service your appliances is a big mistake.
Read More: Most Reliable Front Load Washers
Electrolux vs. LG Front Load Washers: Key Takeaways
Both are good machines.
Electrolux has good speed cycles, a reversible door, and the SmartBoost still works. They still have the only pod dispenser in front loads (Miele has it in compact).
However, LG has the Turbo360 washing system, an automatic dispenser, and a convenient Wi-Fi experience.
Both are good. Look at service in your area as a deciding factor.
Availability
You have probably heard about supply chain issues in appliances. It's a big problem.
Before you become stressed out about not being able to buy your favorite washer, just know, all the brands, GE, Electrolux, Samsung, LG, Whirlpool, and Maytag, are all good.
Better features depend on the brand, but any of these major brands will be fine if your first choice is not available.
Read More: How to Buy Appliances During a Supply Crisis
Additional Resources
Download our Yale Washer Buying Guide with all the features, terms, and brands of laundry. Over 1 Million people have already found answers in a Yale guide.
Related Articles:
Why Should You Trust Us?
It seems that every appliance review has nothing but glowing comments about almost every product, yet you read customer reviews and they are almost universally bad.
We are here to fill in the disconnect. We'll give you the best features, and the drawbacks as well, including reliability based on over 37,000 calls performed by our service team just last year. Our goal is to give you ALL the information so you know what's right for you.
Please consider subscribing or adding to the conversation in the comments below. We appreciate you stopping by.
A Note About Pricing
Pricing on this blog is for reference only and may include time sensitive rebates. We make every attempt to provide accurate pricing at time of publishing. Please call the stores for most accurate price.