GE vs. Samsung Smart Front Load Washers (Reviews / Ratings / Prices)
How do you buy a front load washer from Samsung, GE, or any other manufacturer these days?
They look the same and have similar features and capabilities.
In this article, you'll learn the best front load washers to consider from both brands, their differences, and models you may want to avoid.
First, you will see reliability based on 37,061 service calls logged by our service department last year, including what happens when you need service.
Then we'll cover which models are the most available before moving on to the comparison.
Let's get started.
Which Is More Reliable, GE or Samsung Front Load Washers?
Samsung and GE are both excellent for reliability. The average major appliance needs service about 9.97% of the time.
Front-load washer reliability based on a minimum of 300 washers sold from December 2019 to November 2020:
| | |
| --- | --- |
| | Service Rate |
| Whirlpool | 1.85% |
| Samsung | 2.90% |
| LG Electronics | 4.14% |
| GE Appliances | 8.61% |
| Maytag | 17.61% |
| Total | 6.18% |
Samsung has been out of stock for a while. Most problems happen in the first 60 days, so that number is lower than normal.
They also differ in how they handle problems.
Samsung has no service of its own, and that can be a problem in certain areas.
The company has been a lightning rod for criticism on this blog and on the internet for its lack of
The problem is their popularity. They are the number one selling brand in the U.S., so the infrastructure can't keep pace.
GE, on the other hand, has its own technicians to fix issues. In my experience, factory service is a mixed bag depending on the territory and the technician.
In fairness to GE, Haier has improved every aspect of GE. I would think their service would be better as well. Then again, I wouldn't know. We service what we sell.
Post Covid-19 Availability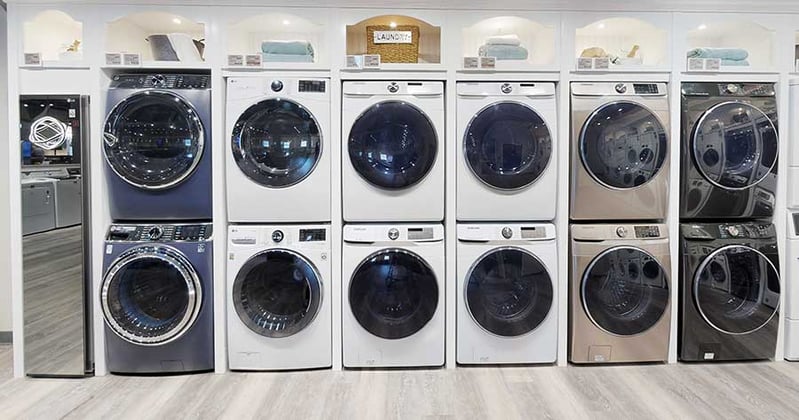 Before you look at features, you should know both are good machines. Both will wash your clothes with multiple cycles, speeds, and features.
So will Maytag, Whirlpool, LG, and Speed Queen.
However, availability has been poor for appliances and probably will be for the foreseeable future. So, get a sense of the features you need, and buy those features because brands will not have the available inventory.
Short on time? Get our free Washing Machine Buying Guide
GE
Haier purchased GE in 2017. They revamped the GE appliance product line. Their whole washer and dryer lineup are completely new. GE has unique features based on antimicrobial, anti-mold technology.
They coated the gasket, hoses, and other parts of the washer with Microban to resist mold, bacteria, and mildew.
Microban is so effective it is used on diaper changing tables in public places like museums and libraries.
I know this personally as a father of a toddler who loves the Boston public library and children's museum - I know it all too well.
They also added a vent to dry the gasket called Odorblock.
Best GE Front Load Washers
GE only has four full-size models in its lineup. GE's best models are also their most expensive.
As you will see, Samsung is the total opposite because their less expensive models are the most popular.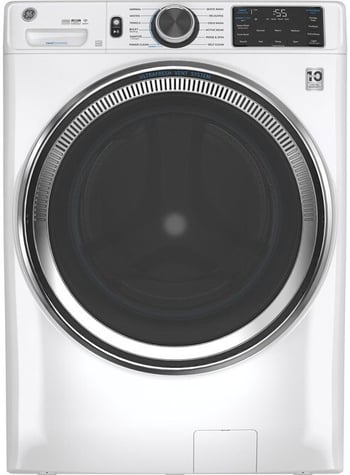 Dimensions: 28 W 39.75 H 32 D | Capacity: 4.8 Cubic Feet | Number of Cycles: 12 Cycles, 9 Options | Spin Speed: 1300 RPM | Reversible Door: Yes | Automatic Dispenser: Yes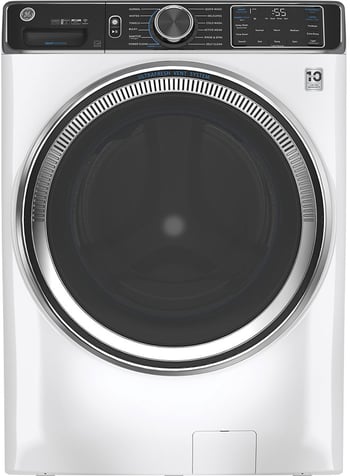 Dimensions: 28 W 39.75 H 34 D | Capacity: 5 Cubic Feet | Number of Cycles: 12 Cycles, 10 Options | Spin Speed: 1300 RPM | Reversible Door: Yes | Automatic Dispenser: Yes
Both of GE's best front load washers have an automatic detergent dispenser, Microban technology, and steam, but the 850 is larger at five cu. ft. and offers the wash and dry cycle for smaller loads.
GE Front Load Washer to Avoid
This model is okay for the price, but the two best have more features and are not that much more expensive.
The GFW550SSNWW is the same size as the top two models at 4.8 cu. ft. with Microban and Odorblock but lacks the 32-load dispenser, steam, and two cycles for only $50 less.
Samsung
Samsung is the number one most sold brand in the U.S. They were the first to introduce technology and better design in the once stodgy appliance industry.
Technology has served them well with such innovations as the FlexDuo oven, four-door refrigerators, and FamilyHub internet-ready refrigeration. In the laundry, it may be a bit of an overreach.
Best Samsung Front Load Washer
Samsung Front Load Washer WF45R6300AW - $729-$999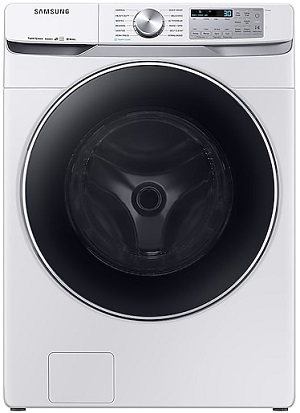 Dimensions: 27" x 78 3/4" x 31 3/8" | Capacity: Washer 4.5 Cu. Ft., Dryer 7.4 Cu. Ft. | Number of Cycles: 12 Washer Cycles & 9 Wash Options | Washer Spin Speed: 1200 RPM | Reversible Door: No | Automatic Dispenser: No
This Samsung washer is reputed to be extremely quiet. Samsung claims it's 40% quieter due to VRT noise reduction in the chassis. Samsung and LG use a quieter inverter motor.
Samsung is belt-driven, so all you have to do is replace the belt. It's a cheaper yet more frequent repair.
With its SuperSpeed feature, you can wash a full load in 30 minutes. You also have Wi-Fi in this machine with the ability to stop or start the machine and see the time remaining.
Samsung Front Load Washers to Avoid
Most of these are highly innovative. I love the concepts, but they just are not popular due to the much higher price.
Samsung Front Load Washer WV60M9900AW - $1,709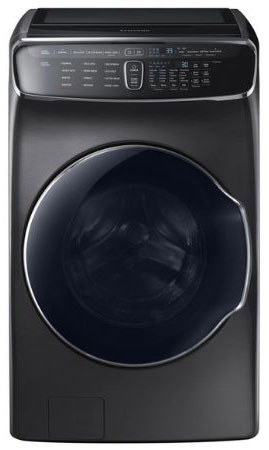 These machines are a great idea. You have two distinct washers in one. You can wash a small load up top and a large load in the front.
There are two problems with this washer. First, you pay a ton of money for only 0.5 to 1.0 cu. ft. of $200-$350.
Secondly, you cannot stack the Flex because of the second washer.
Samsung Smart Front Load Washer WF50A8800AV/US - $1,049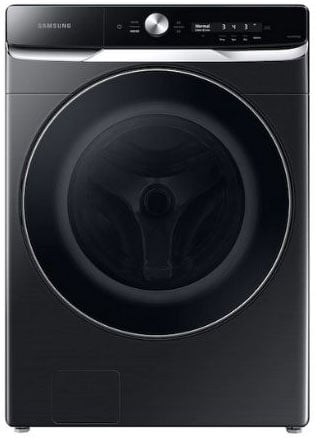 For anyone who has ever started a washer only to find you had other items to add, the AddWasher is another great idea. The second smaller door allows you to add that sock without stopping and then restarting the washer.
However, most people are comfortable with stopping and starting the machines and paying $150 less.
The AddWash may have had its day and is only available in black stainless. Typically if a brand stops producing white in the laundry, it's only a matter of time.
GE vs. Samsung Front Load Washers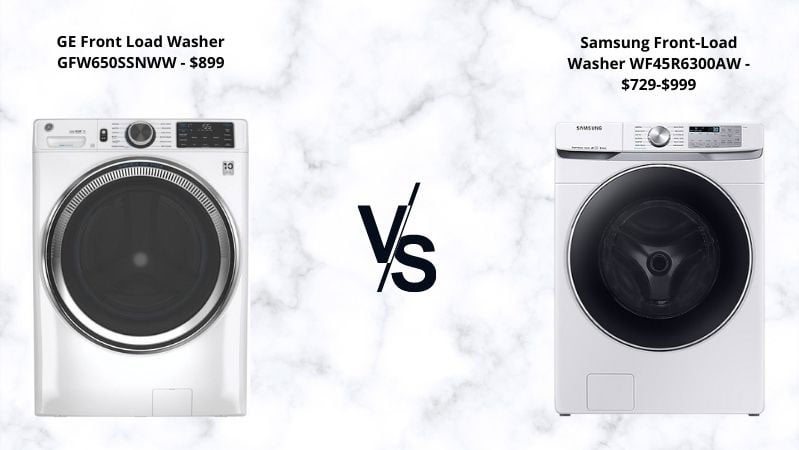 This is an unusual comparison because we are comparing GE's best machine to Samsung's equivalent. Yet the Samsung is not currently available.
What GE and Samsung Washers Have in Common
Both are loaded with cycles and options.
Wash Cycles
Both machines have five speeds and multiple water levels as well.
Wi-Fi Control
You can see the time remaining on your washer via an app on your phone. That means no more trudging to your basement to find two minutes left for the wash. I live in a walk-up and wish I had it.
Capacity
The average capacity of a front-load is 4.3 - 4.6 cu. Ft., GE is 4.8 while Samsung is 4.5 cu. ft.
Sound Packages
Both have advanced sound packages to reduce noise as well.
Steam Cycles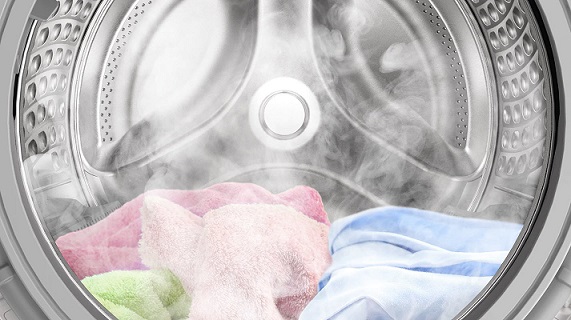 Samsung (shown above) and GE incorporate steam in their washers to gently power out stains.
Speed Cycles
Both have fast wash cycles in as little as 30 minutes for full loads.
Differences Between Samsung and GE Washers
For the same price, GE offers more usable features.
Smart Dispense
You can preload up to 50 ounces or 32 loads of detergent into the dispenser. It automatically dispenses the right amount of detergent. Many times service problems start by adding too much detergent.
The oversudsing eventually eats away at the beating of the motor for an expensive service call. You only need a capful of detergent in a front load washer.
One-Touch Wash and Dry
You can wash and dry a small load in the GE washer. Have a favorite outfit? It will wash, rinse, and spin all night to be dry and ready to wear in the morning.
Mold Control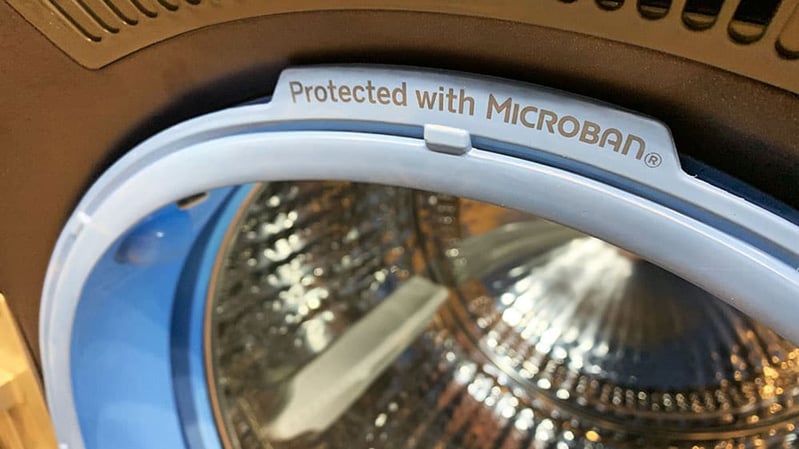 GE is the only company to address mold and mildew with Microban and Odorblock effectively.
Reversible Door
Every machine should be reversible, especially in tight laundry rooms or for stacking. Yet, only Electrolux and GE offer this feature.
Key Takeaways
Both are great machines with good reliability. As usual, you should check service availability in your area and the availability of either near you.
In comparison, this close, the available product wins. Hopefully, they will have support for it.
Samsung is technically more reliable and more promotional as well. You will find this washer as low as $799 during some holidays (if it's in stock).
At the same price of $949, GE is more compelling, offering a better dispenser, mildew, and mold control, plus a reversible door.
Additional Resources
Download our Yale Washer Buying Guide with all the features, terms, and brands of laundry. Over 900,000 people have already found answers in a Yale guide.
Related Articles:
Why Should You Trust Us?
It seems that every appliance review has nothing but glowing comments about almost every product, yet you read customer reviews and they are almost universally bad.
We are here to fill in the disconnect. We'll give you the best features, and the drawbacks as well, including reliability based on over 37,000 calls performed by our service team just last year. Our goal is to give you ALL the information so you know what's right for you.
Please consider subscribing or adding to the conversation in the comments below. We appreciate you stopping by.
Steve Sheinkopf
Steve is the third-generation CEO of Yale and a lifelong Bostonian. He currently resides in Boston, one mile from where he was born. Despite being one of the worst goalies of all time, he is a huge hockey fan of college hockey and the Boston Bruins. The love of his life is his daughter Sophie.

Steve has also been featured in numerous publications such as the New York Times, Consumer Reports, The Boston Globe, Bloomberg Radio, and Entrepreneur, for his knowledge of how to buy appliances and appliance repair.
A Note About Pricing
Pricing on this blog is for reference only and may include time sensitive rebates. We make every attempt to provide accurate pricing at time of publishing. Please call the stores for most accurate price.