Best LG Front Load Washers (Reviews / Ratings / Prices)
LG is releasing new front-load washers with better features such as a Speed Wash Cycle, TurboWash 360, and larger sizes in November.
In this article, you'll learn the best features and reliability ratings of LG washers as well as their top three new models to consider.
In the end, you will know whether you should buy an LG washer or if you should consider another brand.
What To Know For Buying A Washer During COVID-19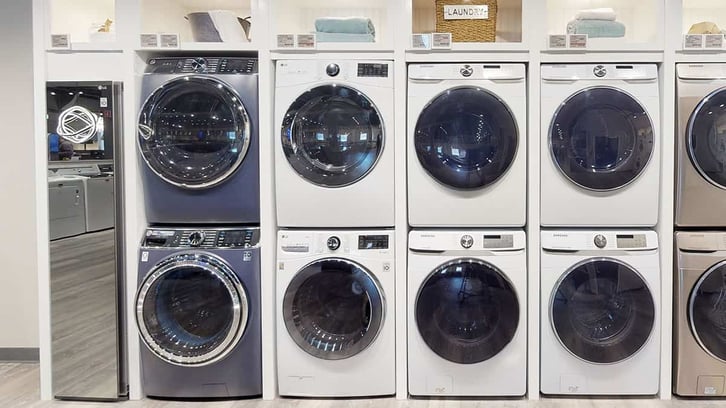 Best-Selling Front Load Washers at Yale Appliance in Hanover
Before you learn about the LG washers, let's talk about circumventing the current product shortages.
If you look at the chart, what separates the washers are cycles, size, and custom features like Wi-Fi or auto dispensers.
As a store, we will certainly pivot from our chosen three to other models based on availability.
Our recommendation to you is the same.
Find the model right for you. Then pivot to an available similar model or different brand.
LG is a great brand, but washers are mostly all good. You will see that in reliability stats.
So if not LG, then look at a Whirlpool, GE, or Samsung.
Read More: How To Buy Appliances During A Supply Crisis
Best LG Front Load Washer Features
LG Front Load Washer Models And Features

Model Number
LG WM9000
LG WM8100
LG WM4500
LG WM4200
LG WM4000
LG WM3600
LG WM3400
Washer Capacity
5.2
5.2
5.0
5.0
4.5
4.5
4.5
AAFA Certified
Yes
Yes
Yes
Yes
Yes
Yes
No
Steam
Yes
Yes
Yes
Yes
Yes
Yes
No
Number of Cycles
14
14
14
14
12
10
8
Wi-Fi Enabled
Yes
No
With AI
With AI
With AI
With AI
No
TurboWash
Yes
Yes
TurboWash 360
TurboWash 360
TurboWash 360
No
No
eZDispense- Automatic Detergent Dispenser
No
No
Yes
No
No
No
No
I am not going to talk about steam and the usual cycles standard in many machines. This section is about the advantages of LG exclusively or with a few brands.
Depth
The depth of an LG washer is shallower than every other competitive brand by at least 1.5 inches on their most popular selling 4.5 cubic laundries.
It might not sound like much. However, for stacking in tighter closets, 1.5-3 inches can make a huge difference.
TurboWash 360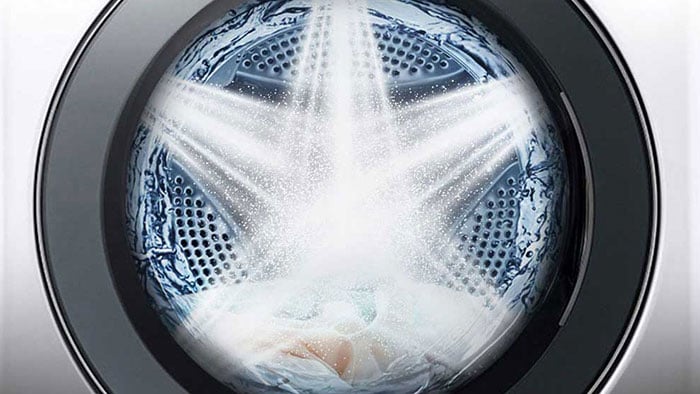 LG Front Load Washer With TurboWash 360
You can shorten any cycle to 30 minutes. LG employs six high pressure sprays in the front of the machine to speed the cycle.
Speed Wash Cycle
LG now has a 15-minute wash cycle for smaller loads. Many brands offer a short wash, but LG and Electrolux are the shortest.
Wi-Fi
Almost every major brand now has Wi-Fi. However, only LG and GE have an auto preset where the washer sets the drying cycle.
Size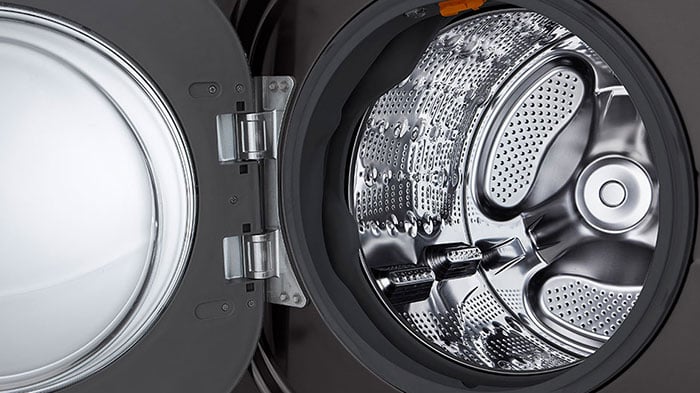 LG Front Load Washer With 5.0 Capacity
The most popular washers are purchased between 4.5-5 cubic feet.
LG has added more selection to match GE at five cubic feet. They also have the largest washer at 5.8 cubic feet.
At $1,799, it's twice the price for only 0.8-1.3 cubic feet more. Perhaps, you should opt for the Turbo Wash and do more loads to save the $900+ dollars.
Reliability
Front Load Washer Reliability January To September 2020
| | | | |
| --- | --- | --- | --- |
| | Service Qty | Shipped Qty | Service Ratio |
| Speed Queen | 6 | 7 | 85.71 % |
| Maytag | 104 | 232 | 44.83 % |
| LG Electronics | 107 | 1192 | 8.98 % |
| GE Appliances | 54 | 973 | 5.55 % |
| Samsung | 28 | 515 | 5.44 % |
| Whirlpool | 15 | 289 | 5.19 % |
| Grand Total | 314 | 3208 | 9.78 % |
Reliability is a strong suit of LG at only 8.98% repair in the first year, well below the industry average of appliances at 13.4%.
LG and GE have had decent reliability throughout the year whereas the others have not. Whirlpool and Samsung have shipped more recently so their numbers will be higher by year end.
Read More: Most Reliable Front Load Washers
Short on time? Get our free Washing Machine Buying Guide
What Features The LG Washers Are Still Missing
Reversible Door
Reversible doors in certain applications make it easier to load from washer to dryer. Only GE and Electrolux feature a reversible door.
Mold Prevention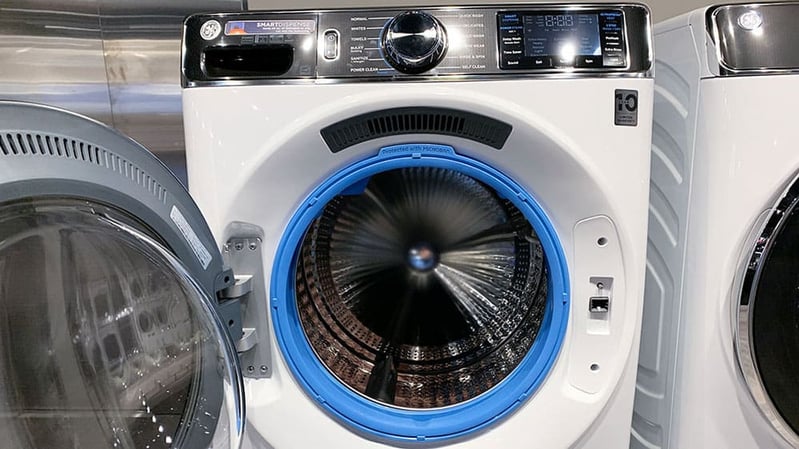 GE Front Load Washer With Microban Coated Gasket
LG has the high-temperature Fresh Care or tub cleaning cycle to remove mold and mildew. GE has mold protection built-in with Microban antimicrobial surfaces and a fan built into the washer to dry residual moisture.
Read More: LG Vs. GE Front Load Washers
Overnight Wash and Dry Cycle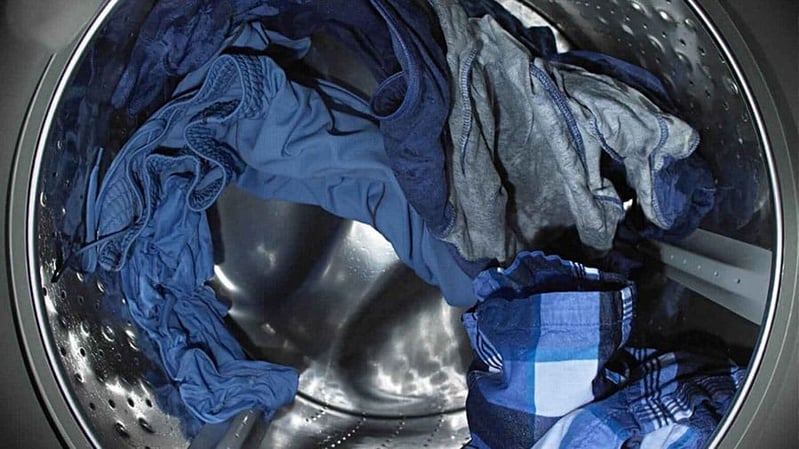 Maytag Front Load Washer With Fresh Hold Cycle
Overnight wash and dry allows you to wash and dry a small load like an outfit and have it ready for the next day.
You don't have to wake up in the middle of the night to transfer your clothes. Maytag, GE, and Whirlpool have this feature.
Cold Power Wash
Maytag has a cold wash with the ability to clean whites and colors. It starts cold and gradually warms the load.
Automatic Detergent Dispenser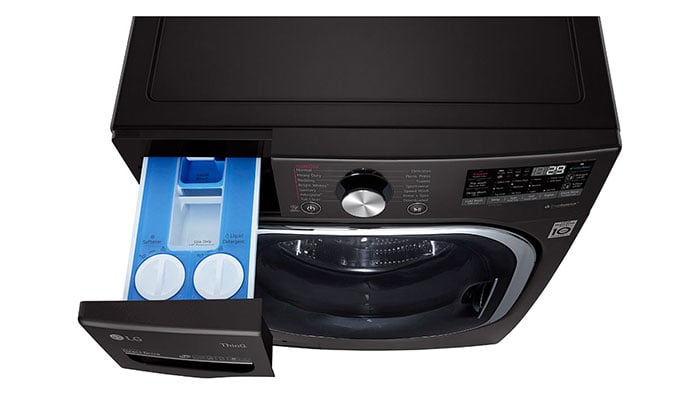 LG Front Load Washer Dispenser
LG now has a dispenser in its better machines. However, it is only 18 loads versus 32 for GE and 40 for Whirlpool.
The dispenser also may be in the wrong place at the top. Maytag has a similar dispenser and problems with mold. GE and Whirlpool also have smart dispensing technology. Whirlpool's is located on the bottom of their washers.
GE Front Load Washer With SmartDispense
Many service calls start due to overusing detergent. The excess foam slowly eats away at the motor and bearings of your washer.
An auto dispenser prevents overusing detergent and optimizes cleaning.
Pro Tip: Consider a washer with an automatic dispenser because it adds the precise detergent amount for each load size. You only need a capful of detergent, not a long pour.
Best LG Front Load Washers To Consider
LG Front Load Washer WM3600HWA - $899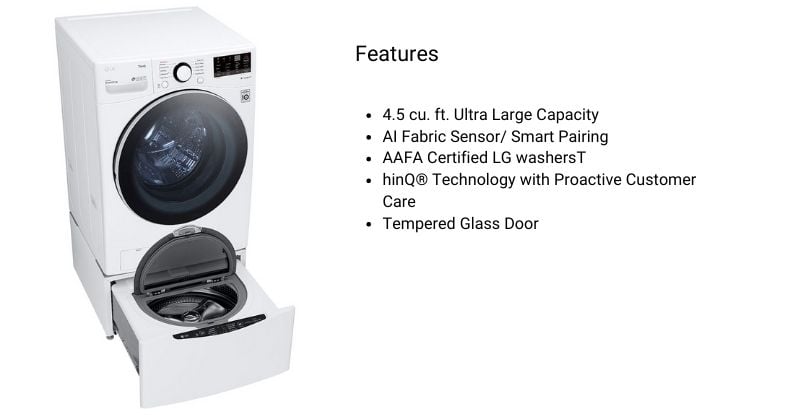 The WM3600 is a step up from the less expensive 3400. It adds the Allergiene cycle as well as steam in the wash. Steam powers out stains by loosening their grip on the fabric.
Should You Buy the LG WM3600 Laundry Pair? [Video]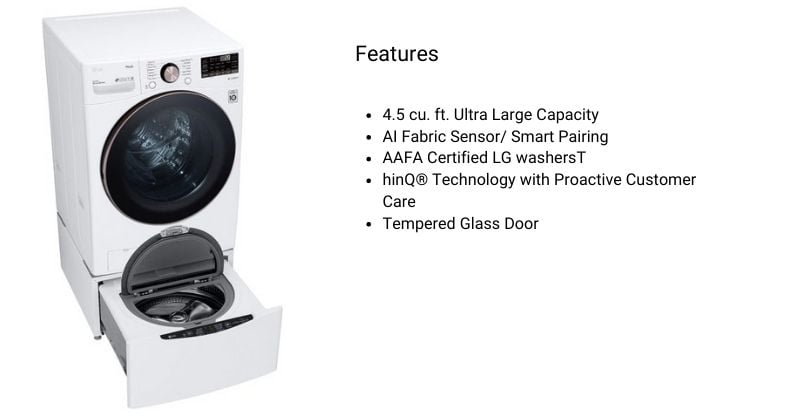 The WM4000 is one of their best 4.5 cubic foot washers. For cycles, this model gains a Sanitary and specialized towel cycle.
These models add the Turbo Wash 30-minute wash feature and the tub cleaning cycle and an extra rinse.
LG Front Load Washer WM4500HBA - $1,499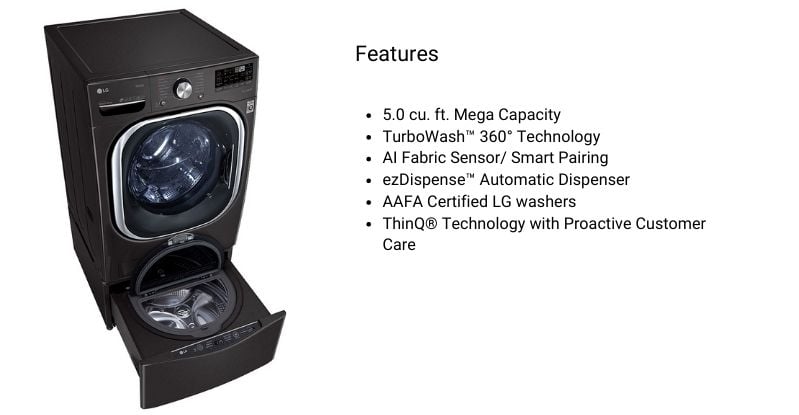 I think auto dispensers will add years of life to the front load washer. LG is 18 loads. Hopefully, they figured out how to reduce the mold problem in the dispenser by placing it at the top.
The WM4500 is a new five cubic foot and is 33.5 inches deep.
Along with the dispenser, it adds two additional cycles, including one designed for sportswear.
LG WM4500 Front-Load Washer Review
To see all of LG's front load washers, click here.
Should You Buy An LG Front Load Washer?
LG is a solid, dependable line. They have always had several cycles and have finally added a dispenser.
Its reliability has been excellent. Just check and make sure there is service available.
At the same time, you should look at other machines, especially from Whirlpool and GE, with better dispensers and better mold protection built into the device.
Additional Resources
Download our Yale Washer Buying Guide with all the features, terms, and brands of laundry. Over 820,000 people have already found answers in a Yale guide.
Related Articles:
Why Should You Trust Us?
It seems that every appliance review has nothing but glowing comments about almost every product, yet you read customer reviews and they are almost universally bad.
We are here to fill in the disconnect. We'll give you the best features, and the drawbacks as well, including reliability based on over 37,000 calls performed by our service team just last year. Our goal is to give you ALL the information so you know what's right for you.
Please consider subscribing or adding to the conversation in the comments below. We appreciate you stopping by.
A Note About Pricing
Pricing on this blog is for reference only and may include time sensitive rebates. We make every attempt to provide accurate pricing at time of publishing. Please call the stores for most accurate price.