How To Buy A Front Load Washer (Reviews / Ratings / Prices)
It's time to buy a front load washer.
I have some good news: Most have the excellent capacity, more features than you can use, and excellent reliability based on 35,256 service calls completed by our service team last year.
Now the bad news. The appliance supply chain has been broken by a pandemic starting in December in China, where many parts are produced.
It's now in the Southern US and Mexico, where many of the factories are located. If a factory hasn't been closed by COVID-19, its efficiency has been lessened due to social distancing and other safety guidelines.
In this environment, buying a front load washer is about buying what is available rather than being loyal to a particular brand.
In other words, pick your desired features (this article will help), then find the three brands with those specs.
Your selection will be easy because 2 out of 3 will probably be out of stock.
In this article, you will learn reliability first, then the differences between the front and top load washers, then how to size.
After that, you will see the best features and a few suggested models.
There will be a few videos along the way. I will boldface some important points for you to consider (and make sure you are still awake).
Let's begin.
Short on time? Get our free Washing Machine Buying Guide
How To Buy A Front Load Washer
Are Front Load Washers Reliable?
Most Reliable Front-Load Washers for 2020
| | | | |
| --- | --- | --- | --- |
| | Service Qty | Shipped Qty | Service Ratio |
| Whirlpool | 20 | 350 | 5.71% |
| GE Appliances | 1 | 15 | 6.67% |
| LG | 161 | 2270 | 7.09% |
| Samsung | 27 | 349 | 7.74% |
| Maytag | 251 | 659 | 38.09% |
| Electrolux | 13 | 13 | 100% |
| Grand Total | 473 | 3656 | 12.94% |
Most Reliable Top Load Washers for 2020
| | | | |
| --- | --- | --- | --- |
| | Service Qty | Shipped Qty | Service Ratio |
| Fisher & Paykel | 0 | 2 | 0.0% |
| Amana | 3 | 126 | 2.4% |
| Whirlpool | 22 | 292 | 7.5% |
| LG Electronics | 2 | 31 | 9.7% |
| Maytag | 31 | 310 | 10.0% |
| Samsung | 1 | 7 | 14.3% |
| GE Appliances | 1 | 4 | 25.0% |
| Speed Queen | 55 | 160 | 34.4% |
| Grand Total | 116 | 932 | 12.4% |
You are looking at sales and service calls for one year through yesterday.
First, GE, LG, Samsung, and Whirlpool are all excellent. Maytag looks bad, but it's a mold problem in their dispenser. It's easily correctable. You have to remember to clean it.
Of course, Maytag could have placed their dispenser in the door like GE and parent Whirlpool company for better reliability. Maybe next year.
You want a reliable front load washer. Most of these brands deliver better than average reliability, so your choice depends on what features you want.
I get ridiculed on this blog for these numbers by two groups of people. The people who hate Samsung are the first group and the people who love Speed Queen are the second group.
Speed Queen is Consumer Reports number 1 brand. I am a member of Consumer Reports. They are right about unreliable brands being unreliable.
Because their reliability analysis is based on ten years of surveys, great brands marketing recently bad machines get a free pass like Speed Queen.
The same manufacturers with bad machines in the past turning good as in GE's case still don't rate well.
Speed Queen was great and had a few off-years. They will be great again, but you should be mindful now.
You aren't buying for eight years ago.
Samsung has the problem of every other brand. Their service infrastructure cannot handle their sales.
Only with Samsung, it's more pronounced because they are America's number 1 most popular brand based on unit volume.
You may hear this one or two times more during this article:
You should know who will be fixing your appliances before you buy them.
Front loads may be reliable, but fixing a direct drive motor is not easy and requires a specialized technician.
Top Load Vs. Front Load Washers Vs. Hybrid Washers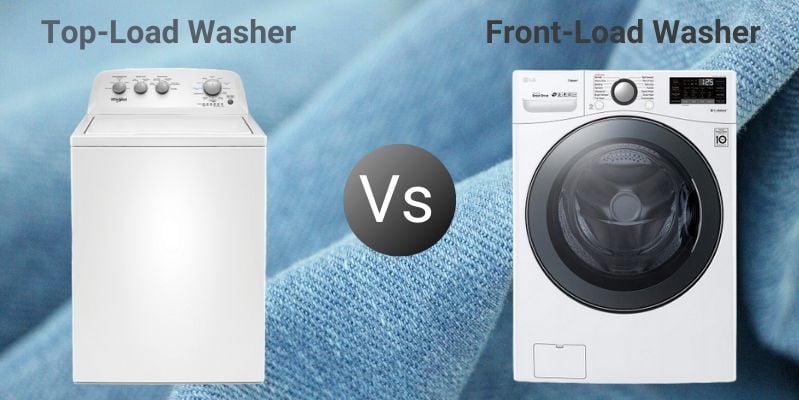 There is an age-old debate between the front and top load washers. Manufacturers complicated it by removing the agitator and creating a larger, more energy-efficient top load.
I always say buy what you are familiar with and comfortable with purchasing. The reliability is pretty similar, as evidence by the service graphs.
Top Load Washers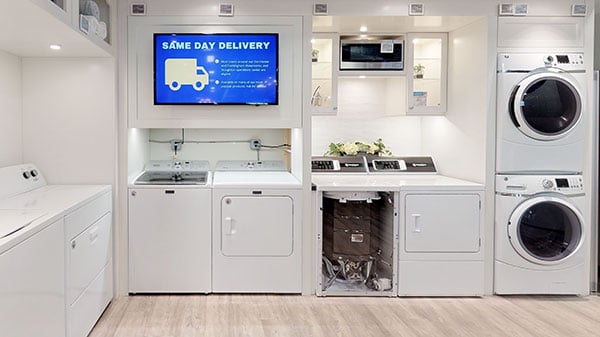 Top Load Washers at Yale Appliance in Framingham
Attributes: Inexpensive initial prices. A good top load should cost about $500 as opposed to $700-1000 for a front load. It's easier to use with no bending and less expensive to fix.
Top Load Washer Problems: Legacy products have few new features. Top loads haven't changed much since the 1940s. They are are much less efficient and smaller than a front loader, especially when you remove the agitator's volume.
Front Load Washers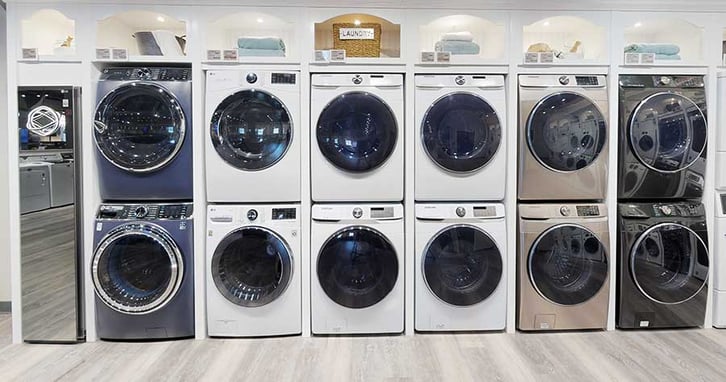 Front Load Washers at Yale Appliance in Hanover
Attributes: Front loads are 50% bigger than a standard top load with more features like Wi-Fi, Speed, Steam, and Auto dispensers. It is way more efficient and should save $75-100 per year in operating costs.
Front Load Washer Problems: More expensive and harder to fix.
Hybrid Washers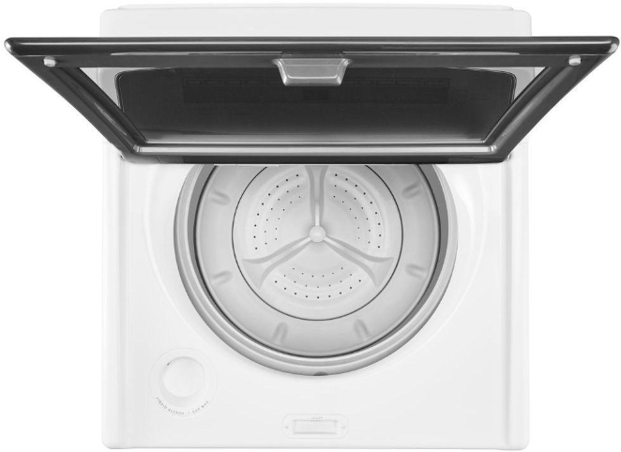 Hybrid top load washer with no agitator
Attributes: I am so biased against this machine, but the hybrid is supposed to combine the size and efficiency benefits of a front-load with the no bending convenience of a top-load.
Hybrid Washer Problems: Does a poor job of cleaning. By removing the agitator from a machine designed to have one, how can the clothes be clean?
Front Load Washer Size & Installation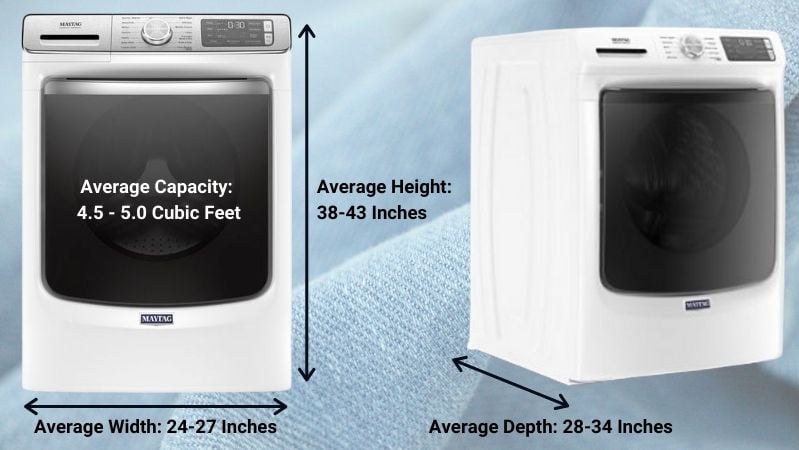 Front loads have the second-highest delivery return rate after refrigerators due to sizing problems.
The average size of a front-load is between 4.5-5.0 cubic feet. Front-loaders don't have agitators like the top loads, so their effective capacity is almost double.
Although you can buy washers up to 5.8 cubic feet, you don't need more. The cost becomes prohibitive after five cubic feet.
This "Mega-Sized" LG is 5.8 cubic feet (left) and is listed at $1,799, or double this GE 4.8 cubic foot washer (right) for only one cubic foot more.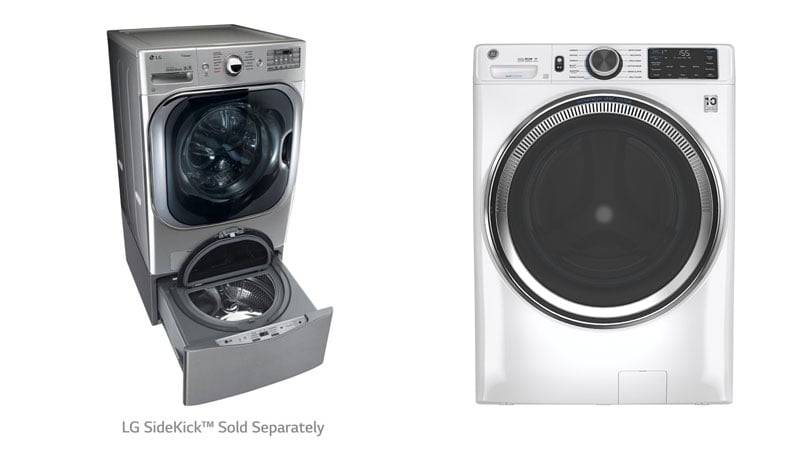 Most of the larger machines will not fit in your hallways, doors, or laundry room anyway.
The average depth of a front-load is 30.25" to 34.5", so measure before you buy and stay within 4.5-5 cubic for the best value.
Can You Stack a Front Load Washer?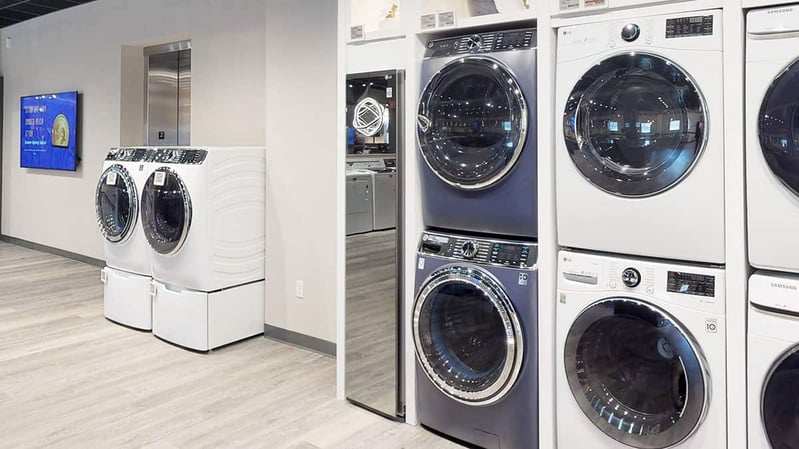 Stacked Front Load Washers (Right) at Yale Appliance in Hanover
You can stack almost every front load washer. They are designed to be stacked with some exceptions. Speed Queen cannot be stacked.
Samsung and LG have a few isolated non-stackable models.
Brands design stacking kits to pair their washers and dryers so you should stay within the same brand.
Front Load Washer Standard Features
Besides similar size, you should expect the following features.
Cycles

GE Front Load Washer Controls
Our parents had three cycles, two speeds, and three wash/rinse combinations.
The least featured front load now has ten cycles with 11 options, so you can pretty much wash any type of fabric.
Speed
Almost every brand can wash a small load in 15-20 minutes.
Steam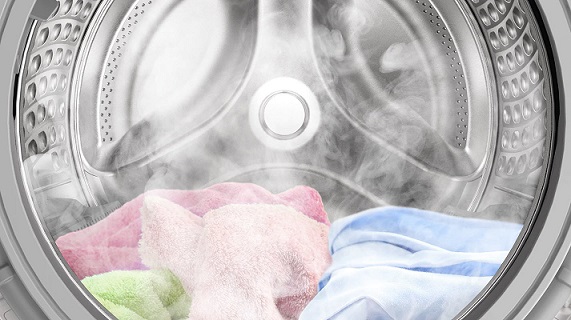 Front Load Washer With Steam
Steam loosens tough stains. In the dryer, it can refresh your favorite shirt before your night out. It used to be a premium feature. Now steam is available on most decent front load washers.
RPM (Revolutions Per Minute) Speed
The final spin of a washer will wring out excess water. Higher spins will extract more. A top load has a 400 RPM spin. A basic front load spins 2.5 times faster at 1000 and tops out about 1400 RPM.
Front Load Washer Premium Features
Automatic Dispensers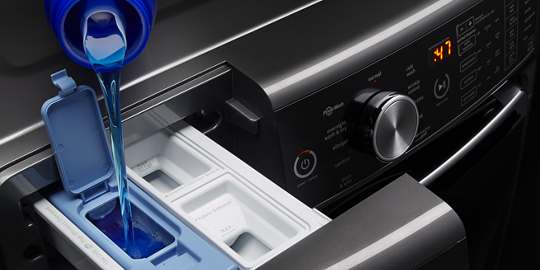 Maytag Front Load Washer Dispenser
You probably don't need 10-14 cycles with 14 options, but automatic dispensers are not a gimmick.
Auto dispensers solve two problems. First, you have the convenience of filling them once for every 8-40 cycles without reloading.
More importantly, auto dispensers add the right amount of detergent at the right time.
Most people (myself included) add too much detergent. You only need a capful. Too much detergent creates foam.
Over time, this excess detergent foam will eat away at the motor and bearings of your washer, causing an unnecessary and expensive repair.
Wi-Fi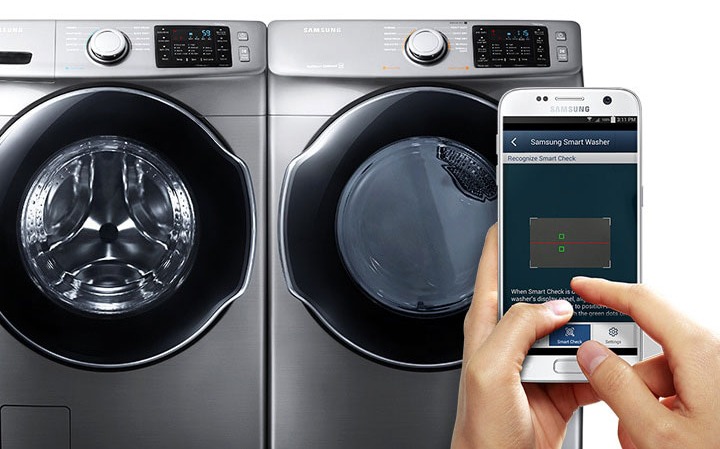 Samsung Smart Front Load Washers
Wi-Fi hasn't reached its potential yet in many appliances.
Wi-Fi sends alerts when the cycle is over, so you don't have to wait. You can also turn the machine on and off from an app on your phone.
Overnight Wash and Dry Cycle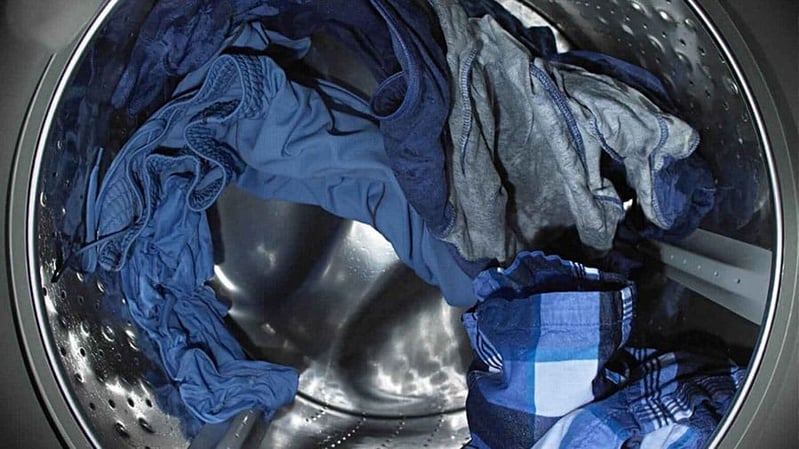 Maytag Front Load Washer With FreshHold
Many better machines have cycles to wash and dry a small load without transferring to the dryer.
It's perfect for an outfit you want to wear for the next day.
Most of the other premium cycles are unique to the manufacturer.
What To Stay Away From In Front Load Laundry: Common Mistakes
As already mentioned, the size of over five cubic feet becomes too expensive for the extra size.
The 2-in-1 Samsung washer is similarly too expensive, as is the little one cubic foot LG SideKick unless they give it away.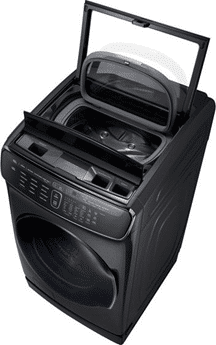 In front loads, don't pay for extra size, cycles, and features, you don't need.
What About Smaller, Compact Laundry?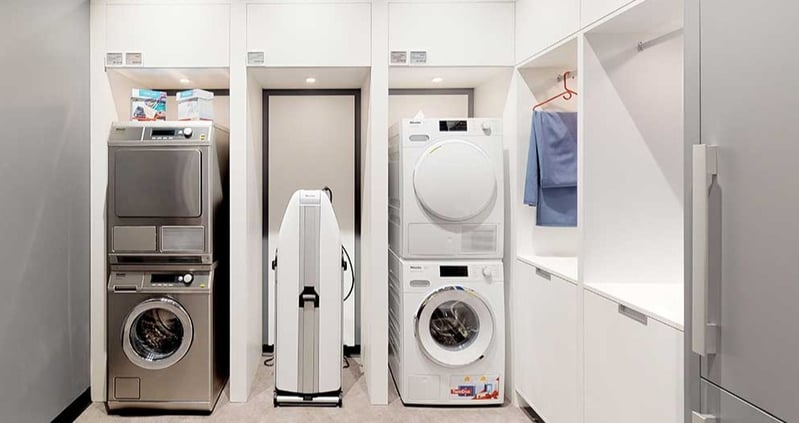 Miele Compact Laundry at Yale Appliance in Framingham
If you live in a condo in Boston or looking to relocate your laundry upstairs to a closet, compact laundry is ideal.
It's 35-inches high, 24-inches wide, and 24-inch depth profile allows you to stack anywhere or even fit it in standard kitchen cabinetry.
Compact laundry is advanced feature-wise as well, especially in ventless and heat pump drying.
However, you pay more for a much smaller capacity.
What Are The Best Front Load Washers For 2020?
We have a more in-depth article in the "Best Front Load Washers," but the following is a summary.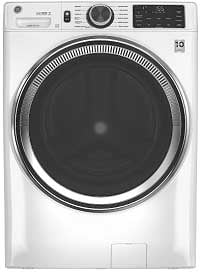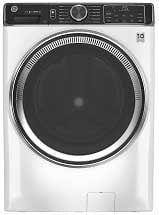 GE is new, and they were smart about their redesign.
They incorporated the best features of most of the brands like a reversible door (Electrolux), Auto Dispenser (Whirlpool), Speed, and Wi-Fi (LG and Samsung).
Then they added mold protection.
Microban antibacterial surfaces are on the gasket, hoses, and dispensers.
The Odorblock features uses a fan located on the inside designed to dry any moist surfaces.
At this point in 2020, GE is the most reliable washer.
GE Smart Front Load Laundry Review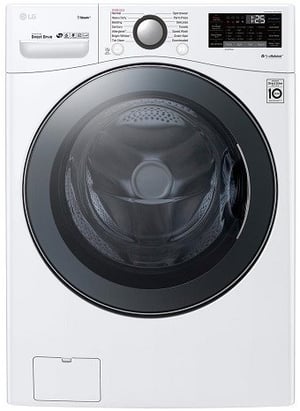 LG originated the current style of the modern front load washer. The Maytag Neptune may have been first, but LG is the standard.
LG was also the first with Wi-Fi.
Their Turbo360 cycle will speed any selection by employing six sprays at the front. Reliability has also been a key to this brand.
They have finished in the top 3 most reliable washers every year.
LG Front Load Laundry Review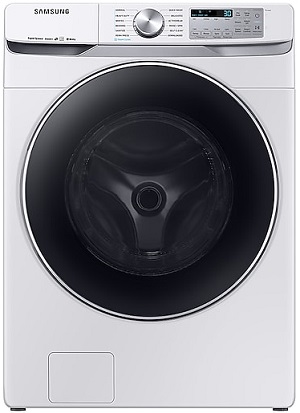 Samsung is the least expensive front load on the list, yet it has steam, speed, and a 1300 RPM spin speed.
Wi-Fi and an auto dispenser are the only missing features.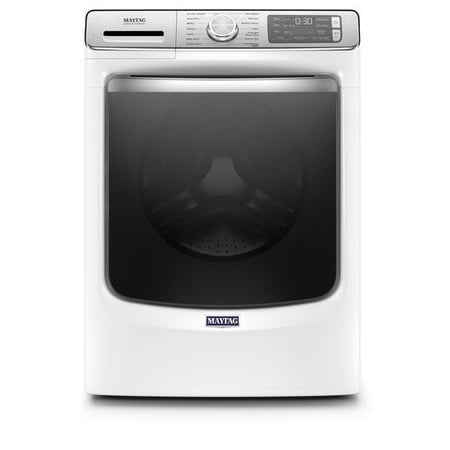 Maytag's brand new washer has the "Extra Power' cycle. I am ambivalent about new cycles because typically, I use 3, but Extra Power has merit.
You can wash both colors and whites in the same wash in this cycle.
It starts in cold water and gradually warms to clean different types of clothes without staining.
Now you don't have to split your laundry into different piles. What's troubling about Maytag is their moldy dispenser. You have to remember to clean it, as we said previously.
Maytag Front Load Laundry Review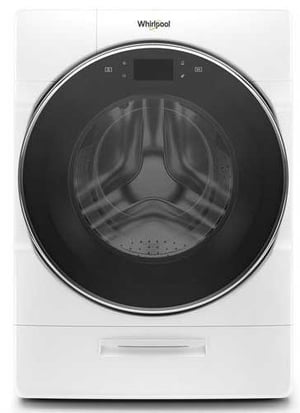 Whirlpool has decent, reliable laundry. This machine is their best with every cycle imaginable and the largest dispenser.
When Is The Best Time To Buy A Front Load Washer?
Before this year, the best times to buy a front load washer or any other appliance are: Presidents' Day, Memorial Day, July 4th, Labor Day, and especially Black Friday. Savings can be between 10-35%.
However, you should be careful. If you wait, there is a distinct possibility of no inventory in your area due to COVID-19 disruptions in the supply chain.
How To Prevent Mold In Your Front-Load Washer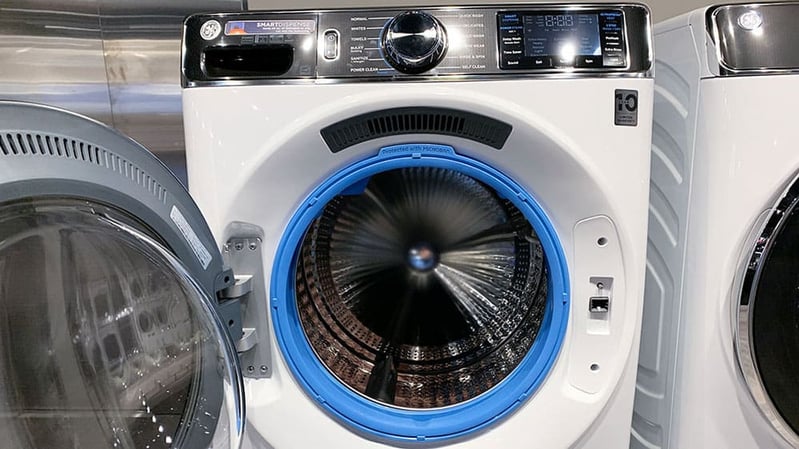 GE Front Load Washer With Microban Technology at Yale Appliance in Hanover
This is a popular question.
Mold, mildew, and odor are by-products of standing water. In a front load washer, the gasket and back of the machine are particularly susceptible to mold and mildew.
What I do is wipe down the gasket after every wash and leave the door open. Sometimes, I will run the washer in high heat without clothes as well.
Mold can happen. Just be vigilant about standing water, and it should not be an issue. Or you can buy GE and not worry about it.
Key Takeaways
First, stay within the 4.5 to 5 cubic foot guidelines for the best value.
All the major brands are reliable, more reliable than the average appliance with more cycles than you need.
Pick whatever features are appealing, whether it's basic or a washer with better dispensers, Wi-Fi, and specialty cycles.
With products being so scarce, you want to look at three or four models with the hopes of buying one.
As long as you stay within those guidelines, picking a washer should not be a problem.
Although washers are reliable, repairing them is not.
You should figure out who will be fixing your new appliances before you buy them.
Additional Resources
Download our Yale Washer Buying Guide with all the features, terms, and brands of laundry. Over 820,000 people have already found answers in a Yale guide.
Related Articles:
Why Should You Trust Us?
It seems that every appliance review has nothing but glowing comments about almost every product, yet you read customer reviews and they are almost universally bad.
We are here to fill in the disconnect. We'll give you the best features, and the drawbacks as well, including reliability based on over 37,000 calls performed by our service team just last year. Our goal is to give you ALL the information so you know what's right for you.
Please consider subscribing or adding to the conversation in the comments below. We appreciate you stopping by.
A Note About Pricing
Pricing on this blog is for reference only and may include time sensitive rebates. We make every attempt to provide accurate pricing at time of publishing. Please call the stores for most accurate price.