How to Buy a Front Load Washer: The Definitive Guide
August 25th, 2022 | 11 min. read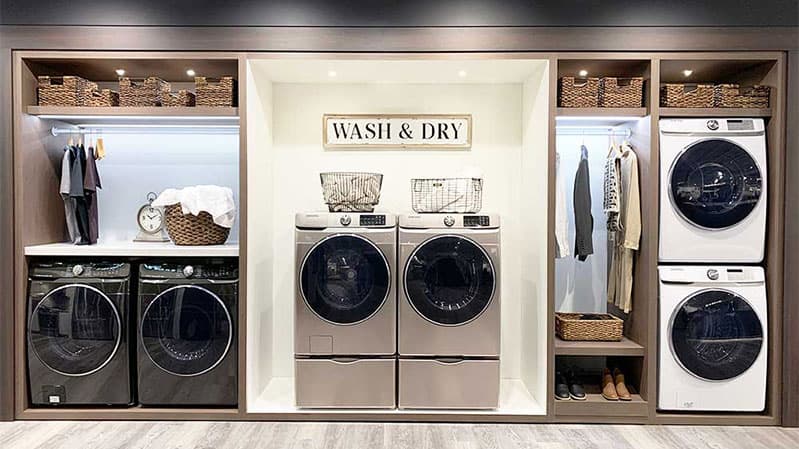 Front load washers are larger, and use less water, detergent, and energy than a top-load washer.
Contrary to what you may have heard, most front-loads are more reliable than the average top load.
In this article, you will learn how to buy a front-load washer with short comparisons to the other types, the best models to consider, and the pros and cons.
Then you will see reliability stats based on over 40,000 service calls logged by our service department last year.
I have sprinkled in some general tips throughout the article, from reversing your door to how to detect water leaks.
But before you buy a front load washer, let's see if one is available.
How to Buy a Front Load Washer: The Definitive Guide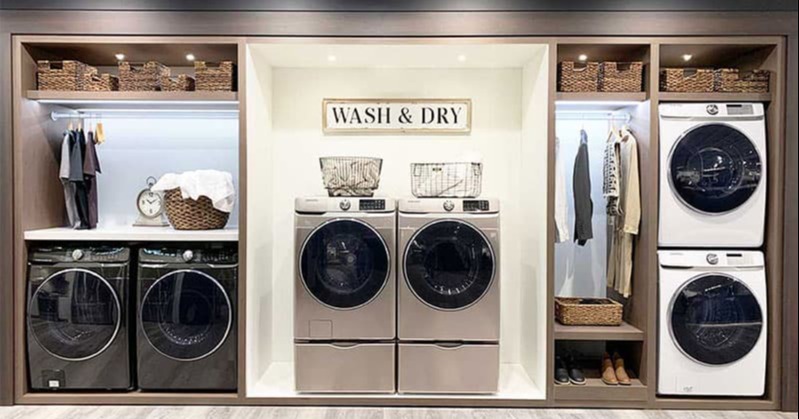 Front Load Washers at Yale Appliance in Hanover
Front-load washer prices hadn't changed much from 2000-2016. Then you had tariffs affecting appliance prices in 2018, and now it's the post-pandemic supply chain issue.
In this environment, buying a front-load washer is about buying what is available rather than being loyal to a particular brand.
In other words, pick your desired features, then find the brands with those specifications.
This article will help you find the right brand, features, and models to consider. After availability, the following factor to consider when buying a front load washer is reliability.
Front Load Washer Reliability
First, having an available repair service is an integral part of your purchase. We have logged over 100,000 service calls in the Boston area in the last three years.
We calculate appliance reliability by dividing the products we serviced by the products we sold.
Front load washers are below the appliance service rate average of 9.6% with a 6.3% service rate within the first year.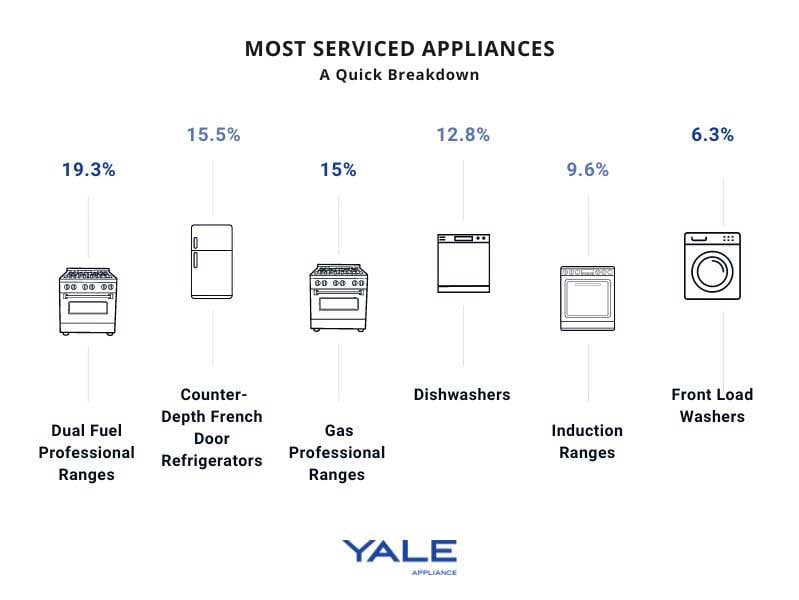 For the most reliable appliance brands, the following service rates are based on a minimum of 300 front load washers sold per brand and a total sample of over 3000.
Most Reliable Front Load Washers from December 2020 to October 2021
| | |
| --- | --- |
| | Service Ratio |
| LG | 3.3% |
| Samsung | 4.9% |
| GE Appliances | 8.0% |
| Whirlpool | 9.5% |
| Maytag | 15.0% |
| Grand Total | 6.3% |
GE, LG, Samsung, and Whirlpool are all excellent.
Maytag looks bad, but it's a mold problem in their dispenser. It's easily correctable. You have to remember to clean it.
Of course, Maytag could have placed their dispenser in the drawer below like GE and parent company, Whirlpool, for better reliability. Maybe next year.
You want a reliable front load washer, especially now, because parts and experienced technicians are scarce.
Most of these brands deliver better than average reliability, so your choice depends on your desired features.
Read More: Most Reliable Front Load Washers
Reliability Reports
Many wonder why our ratings differ from Consumer Reports (CR) or Wirecutter. We respect and are often quoted by both publications, but neither has performed a service call.
CR has performed lab tests, but how you use and maintain your machine differs from a lab setting.
Their reliability ratings are based on predictions, not actual reliability.
You may hear this several times in this article:
You should know who will be fixing your appliances before you buy them.
Service is almost unspoken in this industry because it's so bad. Front loads may be reliable but fixing a direct drive motor is not easy and requires a specialized technician.
Read More: Is Consumer Reports Accurate for Appliance Reliability?
Top Load vs. Front Load Washers vs. Hybrid Washers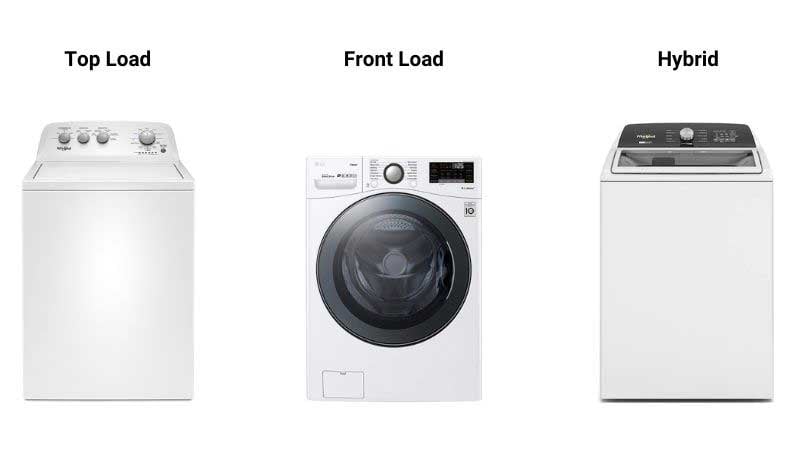 There is an age-old debate between front and top load washers.
Manufacturers complicated it by removing the agitator and creating a larger, more energy-efficient top load.
I always say buy what you are familiar with and comfortable with purchasing.
The reliability is pretty similar, as evidenced by the top load service graph below:
The average repair rate for top load washers is 5.7%, or about 2.7% better than appliances in general.
Top Load Washer Reliability for December 2020 to October 2021
| | |
| --- | --- |
| | Service Rate |
| LG | 1.7% |
| Maytag | 6.4% |
| Speed Queen | 7.5% |
| Whirlpool | 8.0% |
| Grand Total | 5.7% |
The following are the differences between front load, top load, and hybrid washers.
Top Load Washers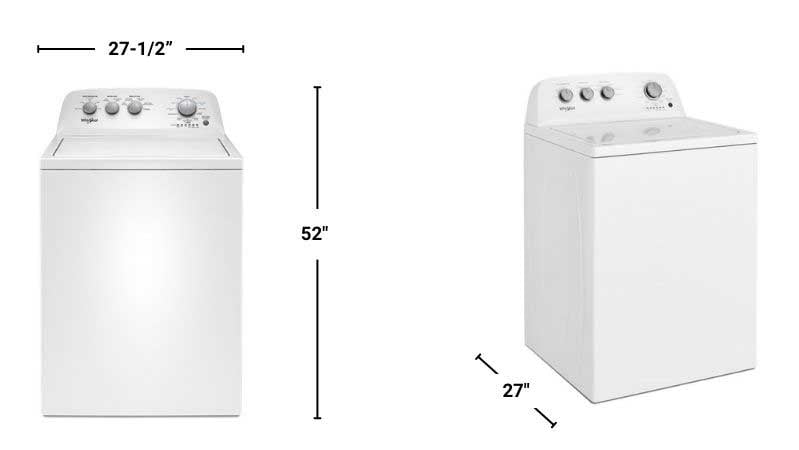 Attributes: Top load washers have inexpensive prices. A good top load should cost about $600 instead of $800-$1,200 for a front load.
It's easier to use with no bending down and less expensive to fix.
Top Load Washer Problems: Legacy products have few new features. Top loads haven't changed much since the 1940s. They are much less efficient and smaller than a front loader, especially when you remove the agitator's volume.
Read More: Best Top Load Washers
Front Load Washers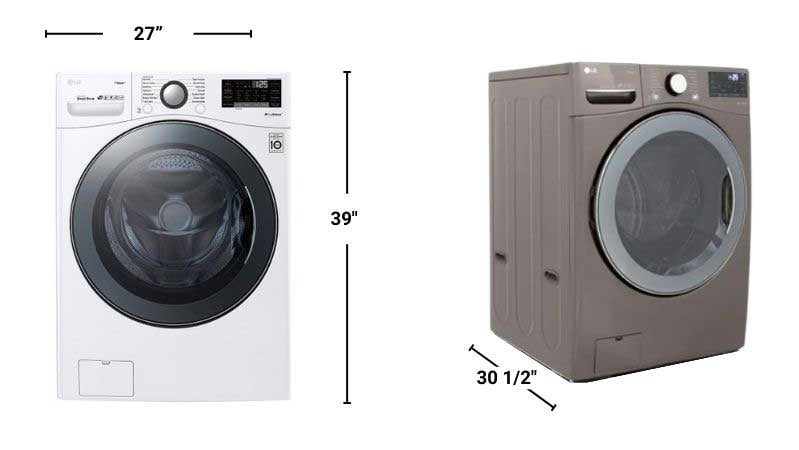 Attributes: Front loads are 50% bigger than a standard top load with more features like Wi-Fi, speed, steam, and auto dispensers. In a front load, the clothes wash through friction rather than using an agitator.
It is much more efficient, using less detergent, electricity, and water than either type.
The average RPM (Revolutions Per Minute) spin speed is considerably more than a top load at 1200 RPM.
It will spin more water out of your clothes for less time in the dryer, reducing drying time and costs.
You should save $75-$100 per year by buying a front load washer.
Of the three types, you can only stack a front load set.
Front Load Washer Problems: Front load washers are more expensive to buy initially and harder to fix. You can have mold and mildew issues from standing water.
Then again, you won't after reading the easy solutions outlined later in this article.
Read More: Front Load Vs. Top Load Washers
Hybrid Washers
Attributes: I was biased against this machine for many years because the older ones didn't work.
The hybrid was supposed to combine the size and efficiency benefits of a front-load with the no-bending convenience of a top-load.
However, manufacturers removed the agitator (AKA the mechanism that cleaned the clothes) for greater volume. It wasn't clean.
They solved the problem by adding a larger drum, an agitator, and better RPM, water, and electricity efficiency.
You have some good considerations in the new Profile and LG hybrids with large sizes and decent features.
Hybrid Washer Problems: The size and specifications are still better in a front load washer.
Front Load Washer Size & Installation
Due to sizing problems, front loads have the second-highest delivery return rate after refrigerators.
The average capacity of a front-load is between 4.5-5.0 cubic feet.
Front-loaders don't have agitators like the top loads, so their effective capacity is almost double the basic top load.
Pro Tip: Measure your hallways, doorways, and your laundry room before delivery. Front loads are often deeper than existing top or older front load machines.
Can You Stack a Front Load Washer?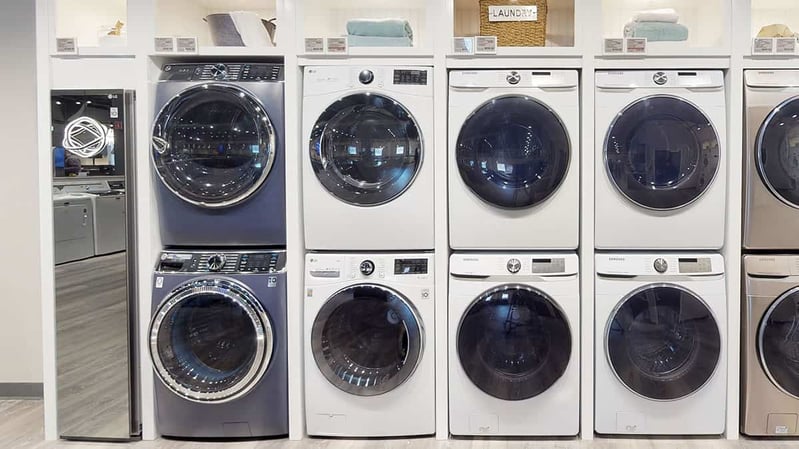 Stackable Front Load Washers at Yale Appliance in Hanover
You can stack almost every front load washer. They are designed to be stacked with some exceptions.
Speed Queen cannot be stacked. Samsung and LG have a few isolated non-stackable models.
Brands design stacking kits to pair their washers and dryers, so you should stay within the same brand.
Sad Tip: Don't buy both washer and dryer with the idea you will only have to replace one down the road if it is broken. You may have to replace both if the stacking kit changes or is discontinued.
LG WashTower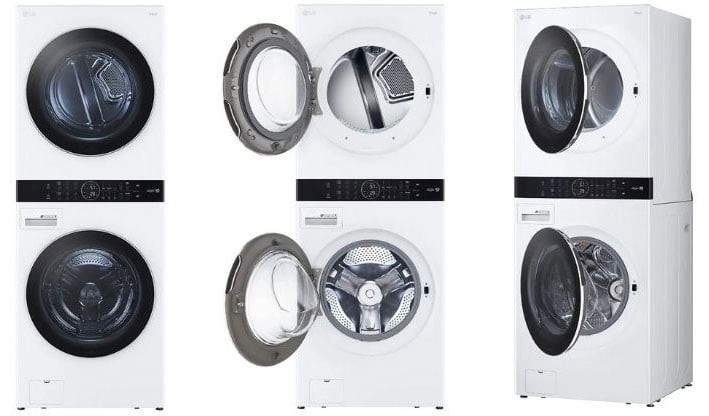 If you are stacking, consider the LG WashTower because the controls are in the middle rather than the top, like a two-piece stack.
The WashTower has some advanced features you will learn later in the article, or you can watch this video now if you want.
Read More: Unitized One-Piece Stacked Laundry vs. Two-Piece Stackable Laundry
Front Load Washers to Avoid
Although you can buy washers up to 5.8 cubic feet in Samsung or LG, that's not our recommendation.
The cost becomes prohibitive after five cubic feet, often with fewer features.
This "Mega-Sized" LG is 5.8 cubic feet and is listed at $1,799, or $700 more than a GE 4.8 cubic foot washer for only one cubic foot more and fewer features.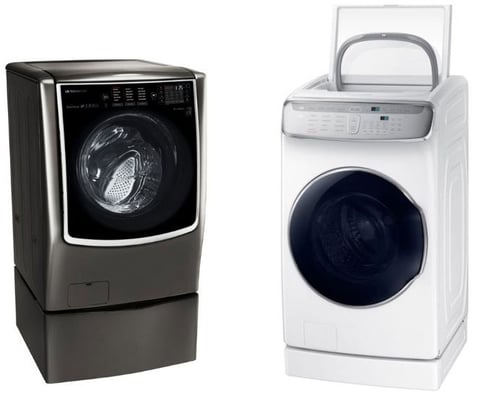 Most larger machines will not fit in your hallways, doors, or laundry room.
The average depth of a front-load is 30.25" to 34.5", so measure before you buy and stay within 4.5-5 cubic for the best value.
Front Load Washer Standard Features
Besides similar size, you should expect the following features:
Cycles
Our parents had three cycles, two speeds, and three wash and rinse combinations.

LG Front Load Washer Cycles
The least featured front load now has ten cycles with 11 options so that you can wash pretty much any fabric.
Speed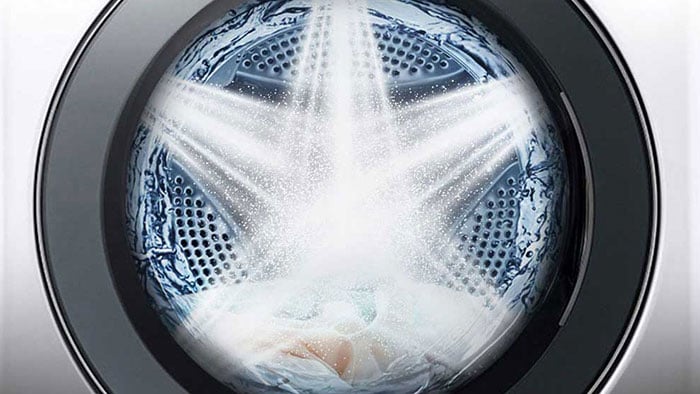 LG Front Load Washer Turbo360 Wash Jets
Almost every brand can wash a small load in 15-20 minutes. LG's Turbo360 can turn any cycle into a 30-minute cycle by employing five high-pressure wash jets in the front.
Steam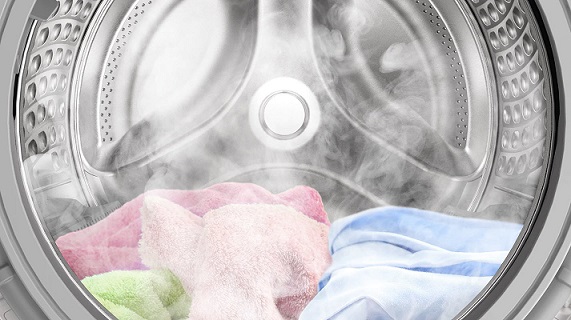 Samsung Front Load Washer Drum with Steam
Steam loosens tough stains. In the dryer, it can refresh your favorite shirt before your night out. Steam used to be a premium feature but now is available on most front load washers.
RPM (Revolutions Per Minute) Spin Speed
The final spin of a washer will wring out excess water. Higher spins will extract more. A top load has a 400-800 RPM spin speed.
On average, a basic front load washer spins much faster at 1200 RPM with a 1400 RPM max.
Front Load Washer Premium Features
Automatic Dispensers
GE Automatic Detergent Dispenser
You probably don't need 10-14 cycles with 14 options, but automatic dispensers are not a gimmick.
Auto dispensers solve two problems:
1. You have the convenience of filling them once for every 8-40 cycles without reloading.
More importantly, auto dispensers add the exact amount of detergent needed at the right time.
Most people (I included) add too much detergent. You can't resist. Neither can I, and I write these posts for a living.
You only need a capful. Too much detergent creates foam.
Over time, this excess detergent foam will eventually seize the machine for a very expensive and unnecessary repair.
2. You don't have to refill your dispenser after every load.
For the smart or Wi-Fi-enabled models, you can see how much detergent is left in the dispenser.
Wi-Fi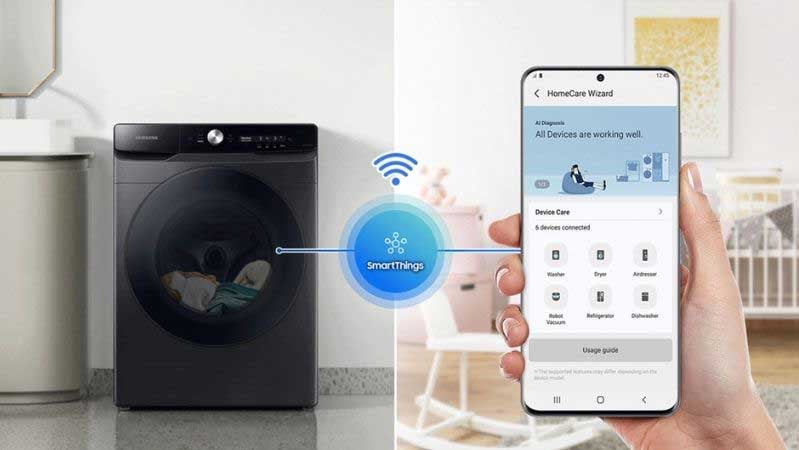 Samsung Smart Front Load Washer
Wi-Fi hasn't reached its potential yet in many appliances, but it's a convenience in laundry worth considering.
Wi-Fi sends notifications through an app on your phone when the cycle is over, so you don't have to trudge to your basement and wait.
You can also turn the machine on and off from an app on your phone.
AI (Artificial Intelligence)
LG WashTower with Smart Learning App
When you think of AI (Artificial Intelligence), images are conjured of cyborgs out to get us. AI is predictive analytics. The AI machines will remember your favorite cycle.
Some will set the dryer. LG is the most advanced, using sensors to adjust the cycle time.
Overnight Wash and Dry Cycle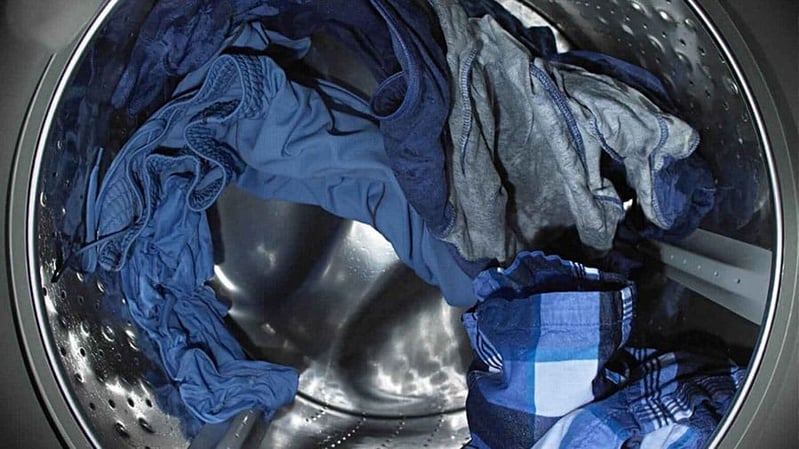 Maytag FreshHold Overnight Wash and Dry Cycle
Many better machines have cycles to wash and dry a small load without transferring it to the dryer.
It's perfect for an outfit you want to wear for the next day. Most of the other premium cycles are unique to the manufacturer.
Common Mistakes to Stay Away from in Front Load Laundry
As already mentioned, the size of over five cubic feet becomes too expensive for the extra size.
The two-in-one Samsung washer is too expensive, as is the little one cubic foot LG Sidekick unless they give it away (which they used to on occasion).
In front loads, don't pay for extra size, cycles, and features you don't need.
What About Smaller, Compact Laundry?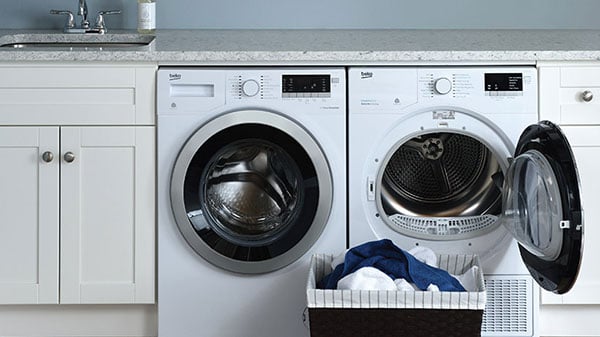 Beko Compact Laundry Set
Compact laundry is ideal if you live in a condo in Boston or are looking to relocate your laundry upstairs to a closet.
It's 35-inches high, 24-inches wide, and a 24-inch depth profile allows you to stack anywhere or even fit it in standard kitchen cabinetry.
Compact laundry is more advanced, especially in ventless and heat pump drying.
However, you pay more for a much smaller capacity.
Read More: Best Compact Laundry
Best Front Load Washer Brands
We have a more in-depth article in the "Best Front Load Washers," but the following is a summary.
GE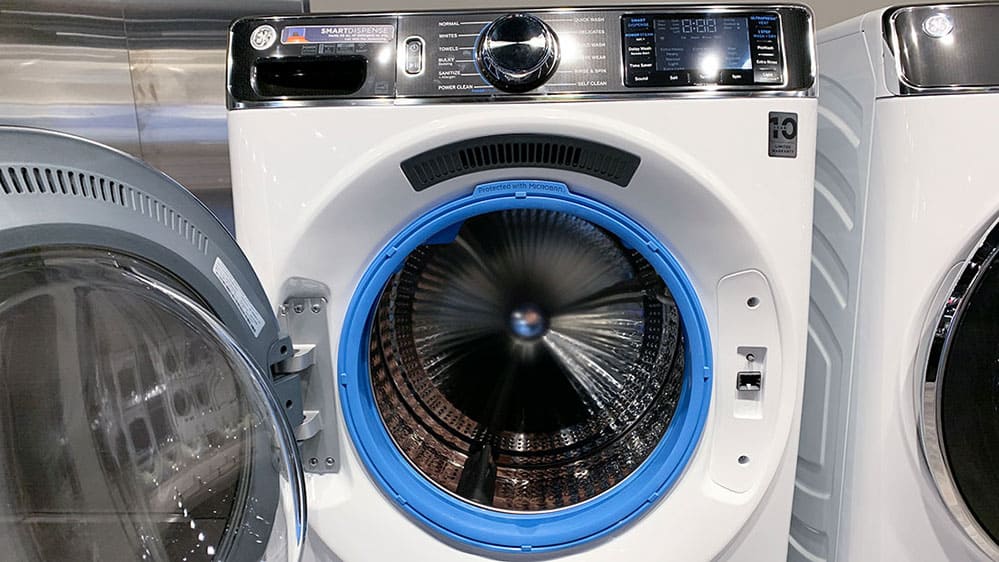 GE Front Load Washer with Antimicrobial Microban Coating ( in Blue)
GE has the newest front load washers, and were smart about their redesign.
They incorporated the best features of most brands, like a reversible door (Electrolux) so the doors can line up in any installation.
GE also has the second largest dispenser with 32 loads copying Whirlpool.
Then they have similar speed cycles to the Korean brands, LG and Samsung.
Their unique feature is mold protection. Microban antibacterial surfaces are on the gasket, hoses, and dispensers.
"Odorblock" features a fan located on the inside designed to dry any moist surfaces.
Their two best models are the GE Front-Load Washer GFW650SSNWW and GE Front-Load Washer GFW850SSNWW.
The two models differ between the overnight cycle and 0.2 cubic foot capacity.
Pro Tip: Reverse the door on the washer or dryer, so they open up away from each other. You can more easily transfer the clothes from your washer to the dryer.
If you are reversing the washer, have a technician, delivery person, or someone skilled make the adjustment. You don't want to make a mistake and spill gallons of water on your floor.
LG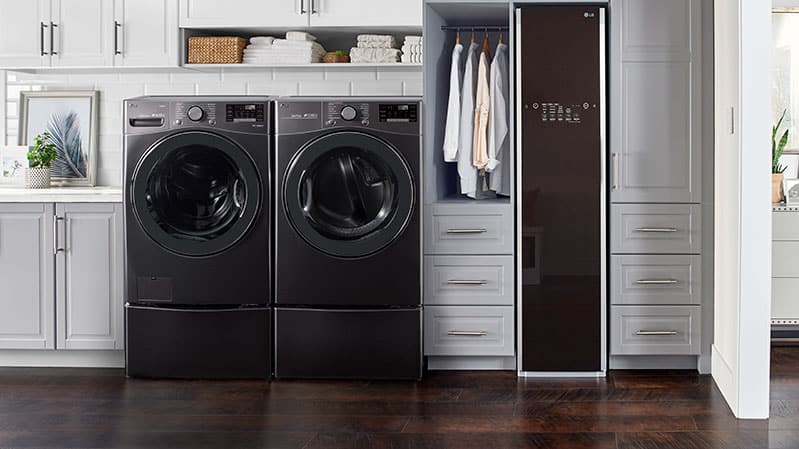 LG Front Load Washer and Dryer
LG is the most popular brand sold at Yale because of its reliability. We service what we sell, so reliability is a crucial metric for us.
LG originated the current style of the modern front load washer. The Maytag Neptune may have been first, but LG is the standard.
LG is the most reliable and the shallowest. It's a good choice for stacking. Their best washers are listed below:
The WM3400CW is basic but has plenty of features with eight cycles and plenty of options.
The WM4000HWA adds Wi-Fi, steam, and the Turbo360 turns any cycle to 30 minutes.
The WM4500HBA is larger at five cubic feet but also deeper and has its automatic dispenser as well.
For stacking, you should certainly consider the WashTower, especially if you are under 5" 6' so you don't have to reach.
It's a beautiful machine (can I say that about laundry?) with its latest wash cycles and AI programs.
They have finished in the top three most reliable washers every year.
Maytag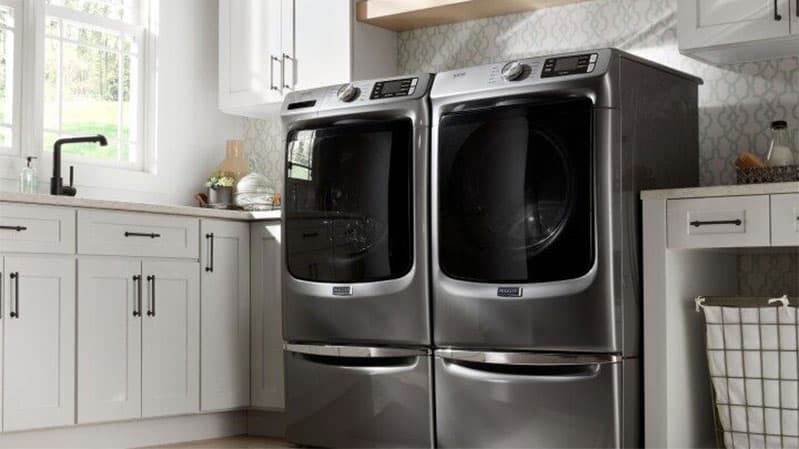 Maytag Front Load Washer and Dryer
Maytag's brand-new washer, the MHW8630HW, has the "Extra Power' cycle. I am ambivalent about new cycles because typically, I use three, but Extra Power has merit.
In this cycle, you can wash both colors and whites in the same wash.
It starts in cold water and gradually warms to clean different types of clothes without staining.
Now you don't have to split your laundry into different piles.
What's troubling about Maytag is their moldy dispenser. You have to remember to clean it, as we said previously.
Whirlpool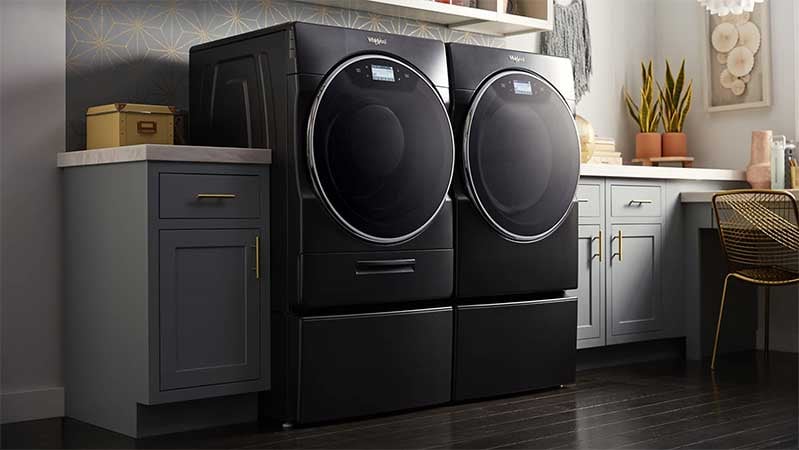 Whirlpool Front Load Washer and Dryer
Whirlpool has decent, reliable laundry. The WFW9620HW is their best model with every cycle imaginable and the largest dispenser.
Read More: Best Front Load Washers
When Is the Best Time to Buy a Front Load Washer?
In 2019, the best times to buy a front load washer or any other appliance would have been Presidents' Day, Memorial Day, July 4th, Labor Day, and especially Black Friday.
However, with supply chain issues, waiting may be a problem. I don't see promotions returning to 2023 soon, so be careful.
Read More: How to Buy Appliances During a Supply Crisis
Service and Extended Warranties
With the lack of available technicians, service is a huge problem. With machines this close, buy the one with the best service in your area.
From a percentage standpoint, you don't need a warranty. However, front load washers are incredibly hard to fix.
If you buy a Yale extended warranty, it's less expensive for us to replace the machine than the parts and person-hours to fix it.
It would help if you only bought a warranty from a service provider with technicians.
Most warranties are third-party call centers, so the service experience is less desirable.
Read More: Are Appliance Extended Warranties Worth the Cost?
Quick Tip on Preventing Water Damage
Most water damage is caused by poor installation or older fittings in older buildings. Boston is an older place.
Now you and hopefully the delivery people will see the water rushing out of the back in case of massive problems.
The real problem is slow leaks. Before you discover the source of that mold, it is too late.
We use specially laminated paper and place it under the machine. If a customer sees any water on it within 24 hours, we can return and repair it before issues arise.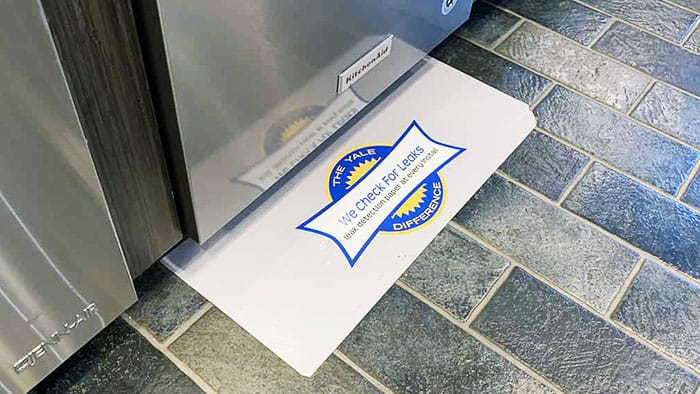 Leak Protection Paper
It would be best if you did the same for your washer and dishwasher.
Read More: 4 Major Appliance Delivery Problems Nobody Ever Tells You About
How to Prevent Mold in Your Front-Load Washer
This is a popular question.
Mold, mildew, and odor are by-products of standing water.
In a front load washer, the gasket and the back of the machine are susceptible to mold and mildew.
I wipe down the gasket after every wash and leave the door open. Sometimes, I will also run the washer in high heat without clothes.
Mold can happen. Just be vigilant about standing water; it should not be an issue. Or you can buy GE and not worry about it.
Read More: How to Prevent Mold in Your Front Load Washer
Key Takeaways
First, stay within the 4.5 to 5 cubic foot guidelines for the best value.
All the major brands are reliable, more reliable than the average appliance with more cycles than you need.
Pick appealing features, whether basic or a washer with better dispensers, Wi-Fi, and specialty cycles.
Although washers are reliable, repairing them is not. You should figure out who will fix your new appliances before buying them.
Additional Resources
Download our Yale Washer Buying Guide with all the features, terms, and brands of laundry. Over 1 million people have already found answers in a Yale guide.
Related Articles:
Why Should You Trust Us?
It seems that every appliance review has nothing but glowing comments about almost every product, yet you read customer reviews and they are almost universally bad.
We are here to fill in the disconnect. We'll give you the best features, and the drawbacks as well, including reliability based on over 37,000 calls performed by our service team just last year. Our goal is to give you ALL the information so you know what's right for you.
Please consider subscribing or adding to the conversation in the comments below. We appreciate you stopping by.
Steve Sheinkopf is the third-generation CEO of Yale Appliance and a lifelong Bostonian. He has over 38 years of experience in the appliance industry, and he is a trusted source of information for consumers on how to buy and repair appliances.

Steve has also been featured in numerous publications, including the New York Times, Consumer Reports, The Boston Globe, Bloomberg Radio, the New York Post, The Wall Street Journal, and Entrepreneur, for his knowledge of how to buy appliances and appliance repair.

Steve is passionate about helping consumers find the best appliances for their needs, and he is always happy to answer questions and provide advice. He is a valuable resource for consumers who are looking for information on appliance buying, repair, and maintenance.

Despite being the worst goalie in history, Steve is a fan of the Bruins and college hockey, loves to read, and is a Peloton biker. The love of his life is his daughter, Sophie.
A Note About Pricing
Pricing on this blog is for reference only and may include time sensitive rebates. We make every attempt to provide accurate pricing at time of publishing. Please call the stores for most accurate price.