LG vs. Samsung Front Load Washers (Reviews / Ratings / Prices)
June 22nd, 2021 | 8 min. read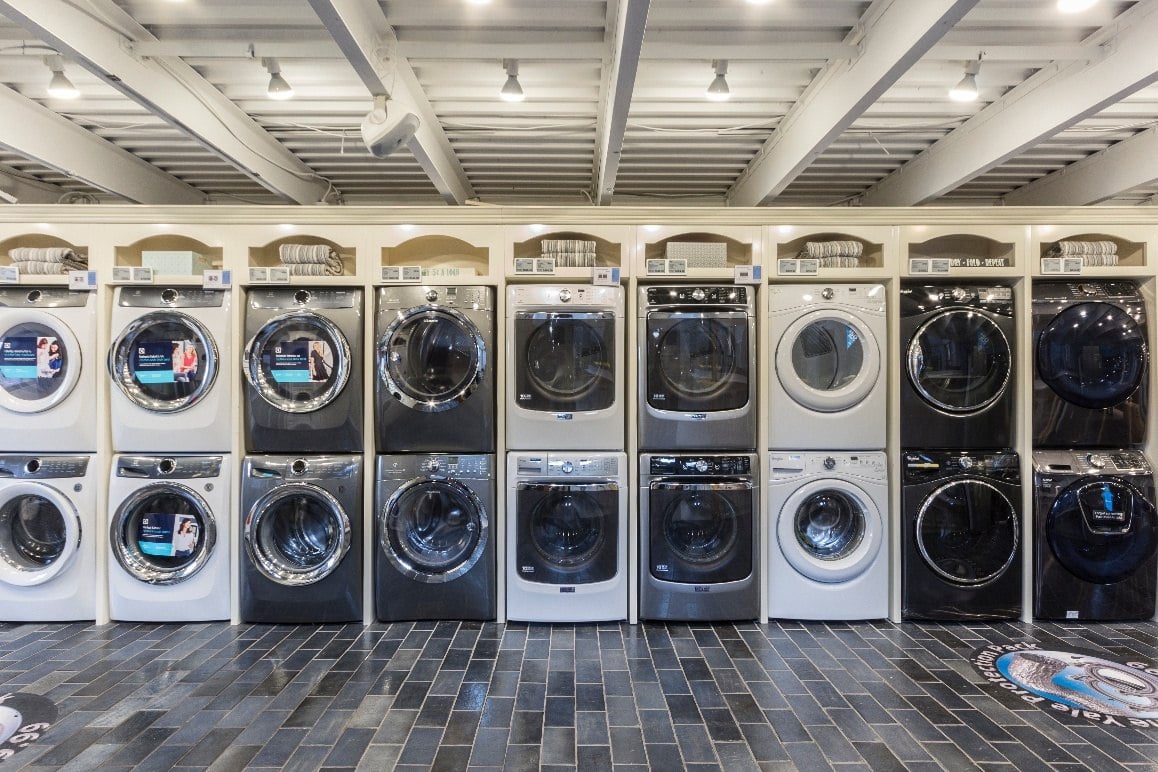 Without question, you should consider both LG and Samsung for your new front load washer (along with Whirlpool, Maytag, and GE).
However, choosing Samsung or LG can be unbelievably confusing.
These companies are almost carbon copies of each other.
Both are substantial Korean conglomerates. You know them for phones and TVs, but they are into many other similar businesses.
What's interesting is that both are innovative.
Yet you don't want to buy their most innovative washers because they are too expensive for the feature upgrades.
In this article, you will learn the top four considerations for both brands based on features, availability, and reliability based on real service calls.
As a bonus, you will also learn what you might not want to consider.
I am all for a special drawer on a washer to add a sock during the wash, but not when it costs $250.
Ditto for double "Flex" and Mega capacity washers, but you are spending double for .8 cubic feet.
What You Need to Consider Before Choosing a Front Load Washer in 2021
Choosing the best front load washer for you depends on several important factors - washer availability, reliability, and what appliance services are in your area.
Front Load Washer Availability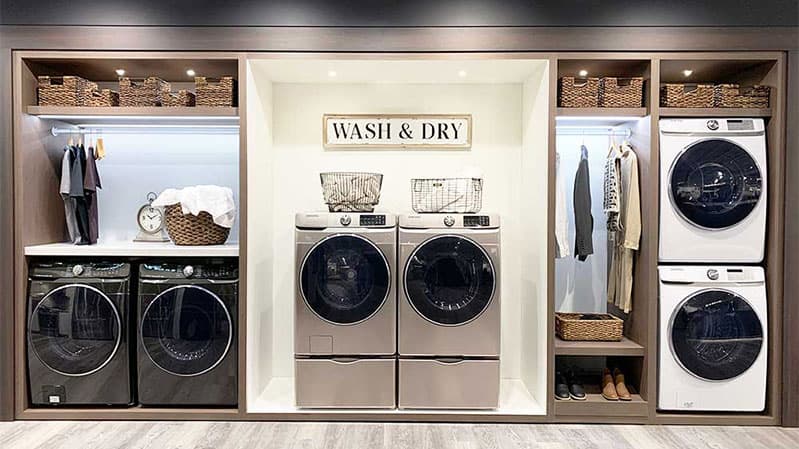 Samsung Front Load Laundry at Yale Appliance in Hanover
Before the Coronavirus (Covid-19), you could buy an available washer during promotional holidays to save the most money.
Manufacturers all promote holidays like Presidents' Day, Memorial Day, July 4th, Tax-Free Weekend, Labor Day, and Black Friday (now all of November).
Now, the COVID-19 presents a challenge, unlike any other recession. It affects supply and demand versus just demand in 2008, 2001, and 1991.
Demand has spiked for household products from swimming pools to stoves to laundry.
For 2020-2021, LG has been more available than Samsung by a large margin, at least in Boston.
You should look at features in your area and consider LG, GE, Whirlpool, Maytag, and Samsung, depending on availability.
If you can wait for a promotion, then see which brand is less expensive with similar features to what you're looking for.
Samsung has been promoting while LG has not.
Front Load Washer Reliability
As you can see in the graph below, front load washers are reliable except for Maytag's dispenser issue.
Front load washer reliability based on a minimum of 300 washers sold from December 2019 to November 2020:
| | |
| --- | --- |
| | Service Rate |
| Whirlpool | 1.85% |
| Samsung | 2.90% |
| LG Electronics | 4.14% |
| GE Appliances | 8.61% |
| Maytag | 17.61% |
| Total | 6.18% |
However, the statistical difference for reliability is not great enough to be a major deciding factor decide on its own.
Due to the Coronavirus (COVID-19) and repair, availability is two of the biggest problems currently in choosing appliances.
Work through those first, and then look at features and buy what is available.
At one time, Samsung outsold LG at Yale, but availability has hurt Samsung this year.
Available Appliance Service
Now to the part nobody likes to discuss.
Every blogger loves everything. Here is an affiliate link to buy it somewhere else.
Service? That's somebody else's problem.
Does that warranty cover you? Wait until you call for service. Extended warranties are even worse.
Both companies lack internal resources to help with repair in many areas of the country.
LG is trying. Their service manager is an old friend and sometimes adversary, but a good man with an almost impossible task.
So whether you are currently residing in Los Angeles, Chicago, Boise, Idaho, or Boca Raton, Florida, find out where the better service is for either brand.
It differs depending on where you live.
Front load washers, in general, can be hard to fix, but neither brand is worse than any other brand.
LG and Samsung Washers You Shouldn't Buy
Most other bloggers tout these machines as "innovative" and "the best." However, these machines don't make sense when you look at the price tag. Innovative doesn't always mean popular. Let me show you why.
Samsung Smart Front Load Washer WF50A8800AV/US - $1,049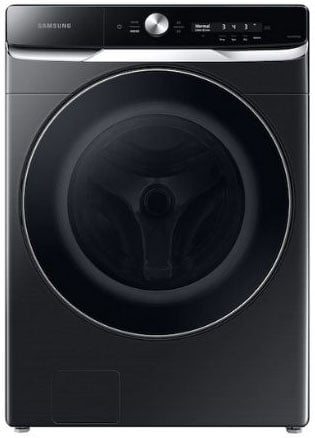 At $1,049, the new Samsung Smart Dial front load washer 5.0 Cu. Ft capacity with an AI-powered display to save your favorite cycles.
It also features a smart Optiwash cycle. This cycle senses soil levels during the wash and adds detergent as needed.
Now, like GE's front load washers, Samsung's smart dial front load washer features CleanGuard, an antimicrobial coating inside the drum.
CleanGuard adds protection from mold and mildew while keeping your washer smelling fresh.
LG Signature Washer WM9500HKA - $1,799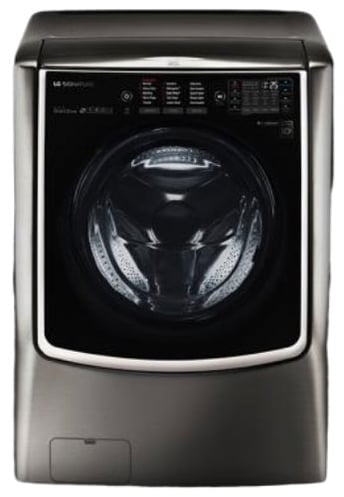 I love this machine. It is beautiful looking with every cycle imaginable. Once again, you are paying almost double for 0.8 of a cubic foot more.
The width of this washer is almost 30 inches. It's typically larger than most spaces allocated for washers.
Having a larger machine helps, but you pay a ton more for not much greater capacity over five cubic feet.
You cannot stack the dryer on top of the washer in both the Samsung Flex and this LG. It's side-by-side only.
LG SideKick Pedestal Washer - $729-$829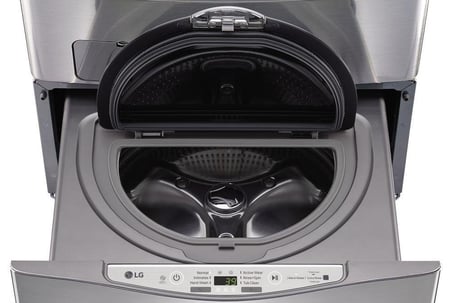 Another great idea, the SideKick pedestal mini washer fits under your compatible washer for more capacity. Sometimes LG includes one of these with the purchase of their washers.
However, when they don't, it costs $746 for one extra cubic foot.
If you must Buy a Mega Capacity machine, consider the LG WM4500. You have that 5.8 cubic foot capacity at a less high $1499 price.
Let's look at some washers you should consider.
LG vs. Samsung Front Load Washers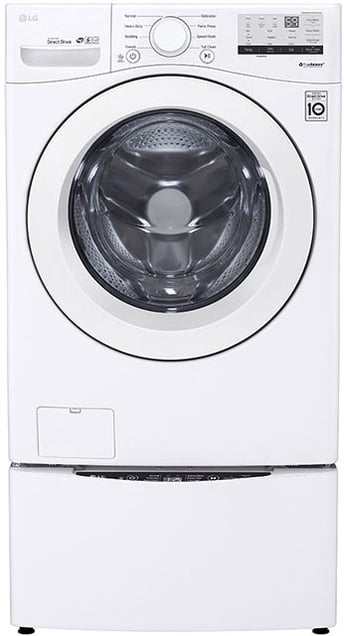 Dimensions: 27 Wide, 39 H, 30.25 Deep | Capacity: 4.5 Cubic Feet | Number of Cycles: 8 Cycles, 6 Options | Spin Speed: 1300 RPM | Reversible Door: No
The WM3400 is LG's most economical washer at $799. LG has two unique features against Samsung.
The first is size. Both companies have the same capacity at 4.5 cubic feet.
However, LG has the shallower depth at 30.25 inches versus 31.375 inches for Samsung.
It doesn't look like much, but for stacking and other tight installations, shallower depth is a major benefit.
LG also has a faster spin speed at 1300 RPMs versus 1200 RPM. Faster spins mean less water in your clothes and less time in the dryer.
The WM3400 has eight cycles and six options at an affordable price of $799.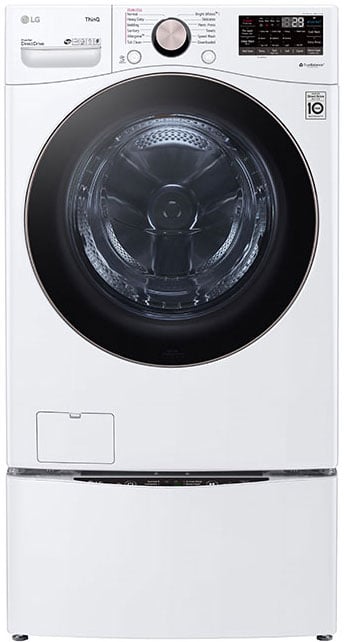 Dimensions: 27 W 39 H 30.5 D | Capacity: 4.5 Cubic Feet | Number of Cycles: 14 Cycles, 12 Options | Spin Speed: 1300 RPM | Reversible Door: No
The WM4000 is LG's most popular washer. It has all the features of the WM3400 along with steam to power out tough stains.
You add cycles like the TurboWash, shortening any cycle by adding five high-pressure sprays in the front.
You have Allergiene and Sanitize to remove 95% of pet dander and allergens from your laundry.
The WM4000 is the first LG with Wi-Fi and Smart functionality as well. You can start, stop, and see the time remaining and receive a text when the wash is done.
Best Seller for Samsung Washers: Samsung Front Load Washer WF45R6300AW - $799-$999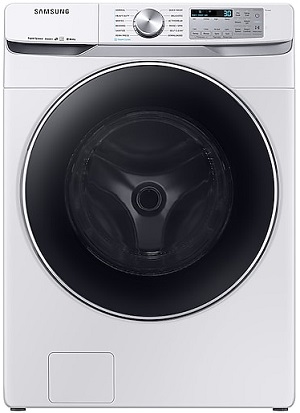 Dimensions: 27" x 78 3/4" x 31 3/8" | Capacity: Washer 4.5 Cu. Ft., Dryer 7.4 Cu. Ft. | Number of Cycles: 12 Washer Cycles & 9 Wash Options | Washer Spin Speed: 1200 RPM | Reversible Door: No
This washer has a 30-minute full-wash cycle with its SuperSpeed feature. You also have a soak cycle. The soak and steam cycles should power out tough stains.
This new Samsung washer is reputed to be extremely quiet. They claim 40% quieter.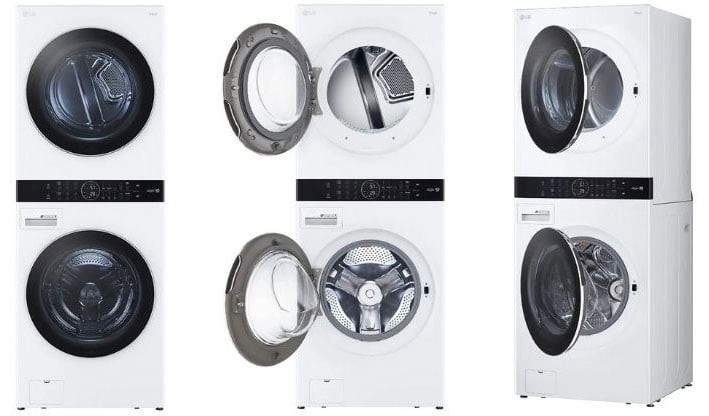 Dimensions: 27" x 74 3/8" x 30 3/8" | Capacity: Washer 4.5 Cu. Ft., Dryer 7.4 Cu. Ft. | Number of Cycles: 12 Washer Cycles & 10 Washer Options, 6 Dryer Cycles & 9 Dryer Options| Washer Spin Speed: 1300 RPM | Reversible Door: No
If you are stacking a washer and dryer, look at the LG WashTower.
Here is a graphic description as to why:
Stacking a dryer means the controls will be tough to reach for anyone under 5'5"
Compare that to the WashTower controls in the middle.
However, the WashTower has LGs latest technology AI DD with 11,000 sensors to determine optimum washing and drying.
The washer sets the dryer, and you can program your favorite cycles.
How Samsung and LG Front Load Washers Compare
Inverter Motors
Inverter motors for washing machines use fewer parts and are quieter than the traditional types. Samsung is belted, while LG is direct drive.
Wi-Fi
As expected, both companies offer decent Wi-Fi experiences, Samsung has SmartThings, and LG has their ThinkHQ, so you can monitor your wash through an app on your phone.
Both will text you when the cycle is completed and allow you to start and stop the machine remotely. LG will notify you of scheduled maintenance as well.
Cycles
Our parents somehow managed three cycles and three temperatures, while the minimum is nine cycles, five temperatures, and several options on top of that.
Speed Cycles
Both have speed cycles. LG's is a bit better with their TurboWash of 5 high-pressure sprays in the front of the machine.
Size
The most popular size for both manufacturers is 4.5 cubic feet.
Problems
Service is a problem for both companies. However, LG probably hired the best corporate service manager in the industry and has tried a bit harder lately.
Samsung has the twin problem of being the most popular brand in the US with little or no service.
Before you buy either LG or Samsung, check the service in your area. In a comparison this close, service should be the deciding factor.
Most Popular LG vs. Samsung Front Load Washers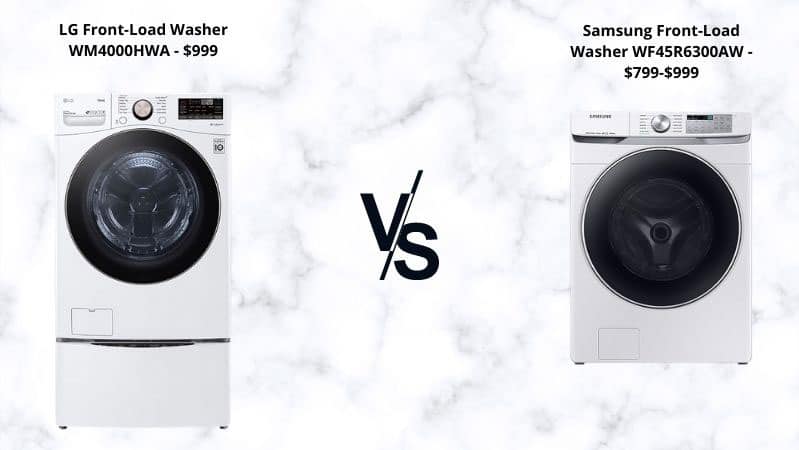 What They Have in Common:
Smart: Both can be controlled by an app on the phone. You can see the time remaining, so you don't have to trudge to your basement.
Capacity: Both are 4.5 Cubic feet. The vast majority of laundry by both companies was purchased at this size.
Steam: Both have steam in the washer to loosen stains.
Samsung Front Load Washer With Steam
Cycles: Both have a tremendous amount of cycles. Samsung has ten cycles and seven options.
LG has 12 cycles and 13 options vs. 12 cycles and nine options for Samsung.
TurboWash vs. SuperSpeed: Both have faster washes using higher-powered sprays.
How They Differ:
Depth: Laundry is the second most returned appliance after refrigerators.
Older laundry rooms were designed for top load pairs measuring 25-28.5 inches deep.
Front-load pairs can be up to 34 inches deep, so many cannot fit.
LG's depth is the shallowest at 30.25 for the washer and 30 inches for the dryer.
Samsung is 31.3 and 31.5 inches in the dryer.
When stacking in a tighter space, depth can be a problem, so shallower is better.
Price: What makes the WF45R6300 more popular is the promotions. Even though Covid, during holidays, Samsung has lowered that price to $799.
What About LG vs. Samsung Compact Washers?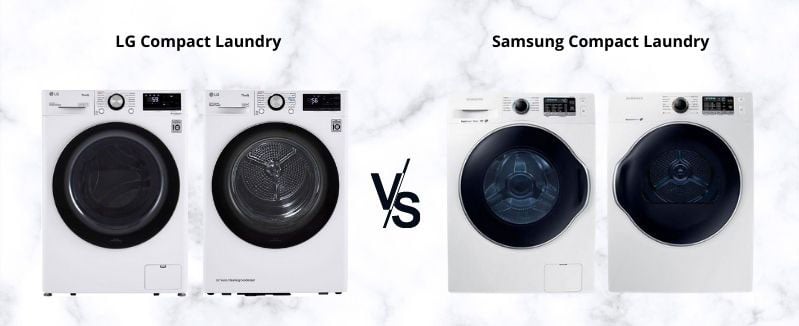 Compact laundry, or washers and dryers, are designed to fit 24-inch cabinets and smaller closets, which is the only category where Samsung and LG do not compete.
LG uses a condenser and is ventless. You can place ventless laundry anywhere with water and power.
Samsung's primary compact laundry is vented. It can replace regular laundry.
Typically, your home is set up for one or the other, not both.
Samsung also has their new heat pump, ventless laundry available at a higher price. Heat pumps use compressors instead of dryer elements.
We wrote about heat pumps in detail in other articles, but it's more efficient and doesn't project heat like regular condenser dryers.
Key Takeaways
LG is a technically better machine with better availability. Samsung will be less expensive and a bit more reliable, yet a nightmare when service is needed.
However, buy what can physically be delivered in any decent brand, whether it's GE, Whirlpool, LG, or Samsung.
Consider features. You are looking at the two most widely sold nationally. A few other machines with fewer features will be less.
Don't overbuy. You most likely won't, but that added capacity costs way more.
That said, the Wash Tower has been the most interesting washer and dryer for at least 20 years.
Consider depth. Less depth can be the difference in many spots.
Lastly, service is the most important. The possibility of waiting four weeks to fix that washer is highly likely with either (or any) brand.
Finding out the best repair should be the main consideration.
Additional Resources
Download our Yale Washer Buying Guide with all the features, terms, and brands of laundry. Over 800,000 people have already found answers in a Yale guide.
Related Articles:
Why Should You Trust Us?
It seems that every appliance review has nothing but glowing comments about almost every product, yet you read customer reviews and they are almost universally bad.
We are here to fill in the disconnect. We'll give you the best features, and the drawbacks as well, including reliability based on over 37,000 calls performed by our service team just last year. Our goal is to give you ALL the information so you know what's right for you.
Please consider subscribing or adding to the conversation in the comments below. We appreciate you stopping by.
Steve Sheinkopf is the third-generation CEO of Yale Appliance and a lifelong Bostonian. He has over 38 years of experience in the appliance industry, and he is a trusted source of information for consumers on how to buy and repair appliances.

Steve has also been featured in numerous publications, including the New York Times, Consumer Reports, The Boston Globe, Bloomberg Radio, the New York Post, The Wall Street Journal, and Entrepreneur, for his knowledge of how to buy appliances and appliance repair.

Steve is passionate about helping consumers find the best appliances for their needs, and he is always happy to answer questions and provide advice. He is a valuable resource for consumers who are looking for information on appliance buying, repair, and maintenance.

Despite being the worst goalie in history, Steve is a fan of the Bruins and college hockey, loves to read, and is a Peloton biker. The love of his life is his daughter, Sophie.
A Note About Pricing
Pricing on this blog is for reference only and may include time sensitive rebates. We make every attempt to provide accurate pricing at time of publishing. Please call the stores for most accurate price.