LG vs. Samsung Front Load Washers & Dryers: Which Is Better?
October 6th, 2023 | 8 min. read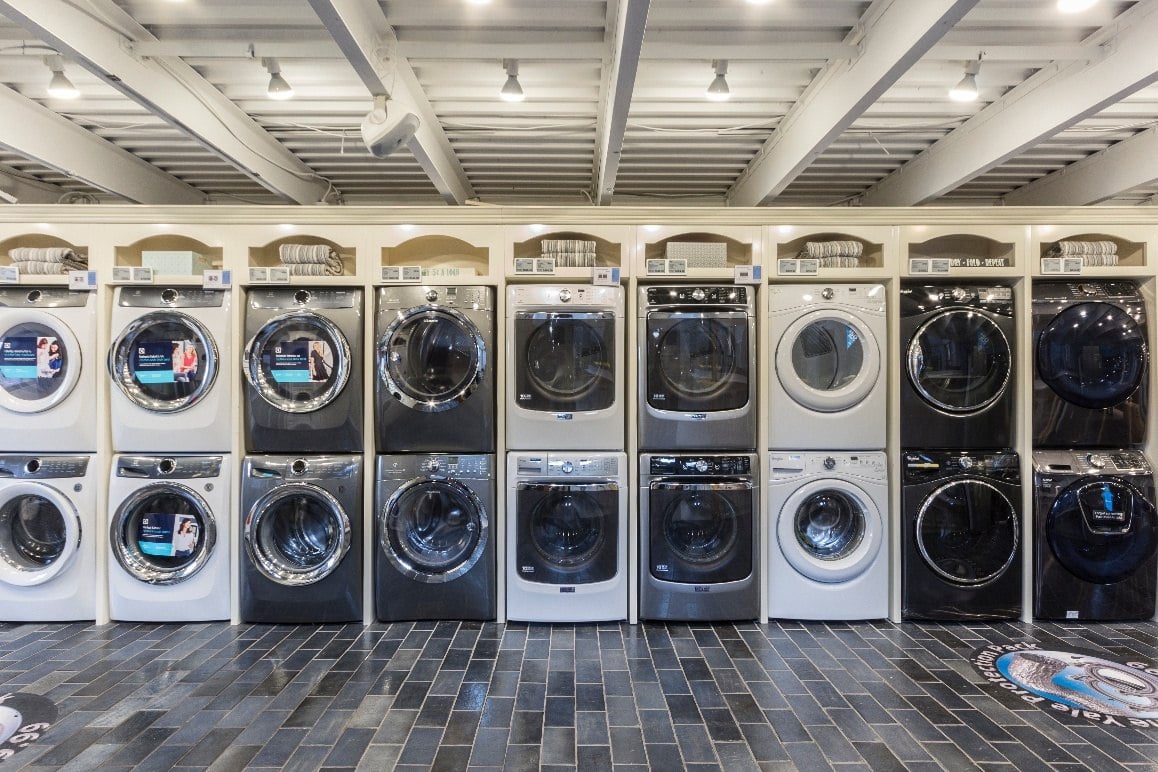 In this article, you will learn the core differences between LG and Samsung front-load washers, including which washers you should not buy from either company.
Furthermore, we will dive into three of the top-rated price comparisons and provide you with the latest updates on heat pump dryers.
Let's get started.

The Most Frequent Issues with LG and Samsung Washers
A popular YouTuber owns a used appliance store and says Samsung washers are doomed because of a spider bracket.
What is a spider bracket? It is part of the suspension and causes massive failures.
Curiosity got the best of us, prompting us to start digging into potential spider bracket issues. However, what we stumbled upon was ten years' worth of tub replacements.
Over the past decade, we have conducted 35,000 service calls exclusively for washers and pulled all the data. Here's what we found:
LG Service Issues from 2013-2023
LG Washers Sold - 13,708
LG Washers Exchanged - 595
LG Washer Tubs Jobs - 5
Samsung Washers Service Issues from 2012-2021
Samsung Washers Sold - 2,264
Samsung Washers Exchanged - 157
Samsung Washers Tub Jobs - 12
"Tub job" is service person parlance for replacing a tub or suspension system.
Exchanges could mean anything like damage, so look at the number of tub jobs.
We replace the machine under warranty or Yale's extended warranty because of the labor and parts involved.
Samsung's tub repair rate is low at just 0.5%. However, LG surpasses even that with a tub repair rate of only 0.03%.
Therefore, the numbers prove otherwise. Sorry Ben. I still like your videos.
However, where Ben and most of the other YouTubers get it right is both companies have problems if you need repair.
I will always advise you to check the service options available in your area before making any appliance purchase.
To be transparent, we haven't sold Samsung for two years after being their largest dealer in New England.
I still like the brand and their washers and will be objective throughout.
Now, a bit about both companies:
LG Washers: An Overview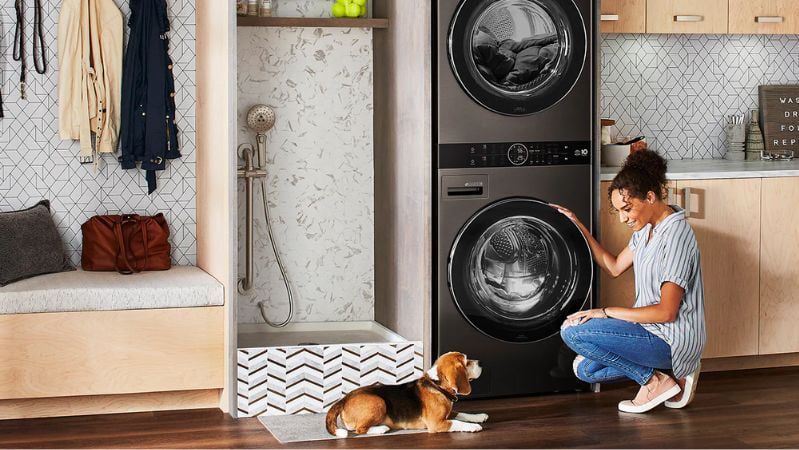 LG is a Korean manufacturer formally known as Goldstar until 2022. Like Samsung, LG is a conglomerate in many different businesses.
They recently exited manufacturing phones and have a more appliance focus. That focus sustained LG during the pandemic as they had washers and dryers in stock.
Washers and dryers are LG's number one product.
LG's Washing Technology
6Motion™ Technology
LG's 6Motion™ Technology uses up to six different wash motions to provide a smart cleaning experience that is gentle on clothes and maximizes washing performance.
The six motions include stepping, filtration, scrubbing, tumbling, rolling, and swinging. Each motion specifically ensures clothes are cleaned thoroughly, with minimal wear and tear.
Direct Drive Motor
Many LG washers have a Direct Drive Motor coupled directly to the drum, reducing noise, vibration, and wear and tear. This results in a more efficient and durable washing machine.
Best LG Washers
Samsung Washers: An Overview
Samsung is one of the dominant companies worldwide. Their products compete on style and function even against Apple.
In appliances, they set the standard for style and quickly became the number-one brand in the US.
However, they are more known for kitchen appliances rather than washers and dryers.
Still, they manufacture excellent washers and dryers, as you will see.
Samsung's Washing Technology
"A powerful water spray helps detergent penetrate fabrics faster and speeds up rinsing. A larger diameter drum cleans with more force, and a Swirl+ pattern extracts water effectively."
Inverter Motor
Inverters use fewer parts and cost less to run. Along with the VRT suspension, Samsung is one of the quieter washers in the industry.
I think Samsung's Swirl vs. LG's 6Motion would be a good test, which we will do in the next few months.
Both companies are similar in terms of structure and origin.
Both are manufactured in the US. LG is in Tennessee, while Samsung produces in South Carolina.
Samsung has 25 front-load washers listed on its website, and LG has 23.
Best Samsung Washers
Samsung WF45B6300AW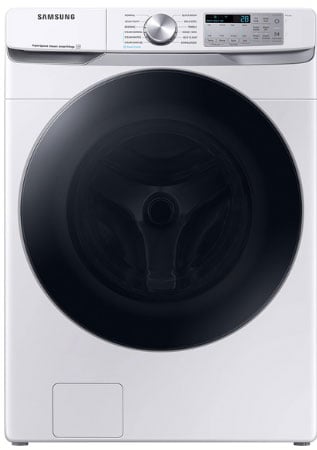 4.5 cu. ft. Large Capacity Smart Front Load Washer with Super Speed Wash
Samsung WF50BG8300
5.0 cu. ft. Extra Large Capacity Smart Front Load Washer with Super Speed Wash and Steam
Samsung WF53BB8900AT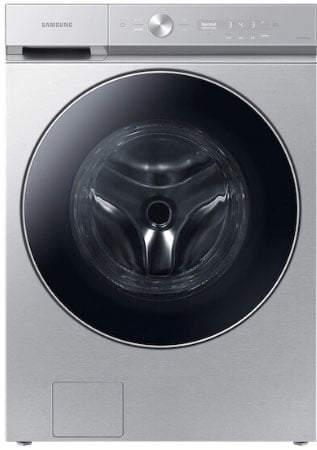 Bespoke 5.3 cu. ft. Ultra Capacity Front Load Washer with AI OptiWash™ and Auto Dispense
Click here to subscribe to our blog for insights, reviews, and resources on home appliances.
LG vs. Samsung Front Load Washers
LG WM3400CW ($699) vs. Samsung WF45B6300AW ($679)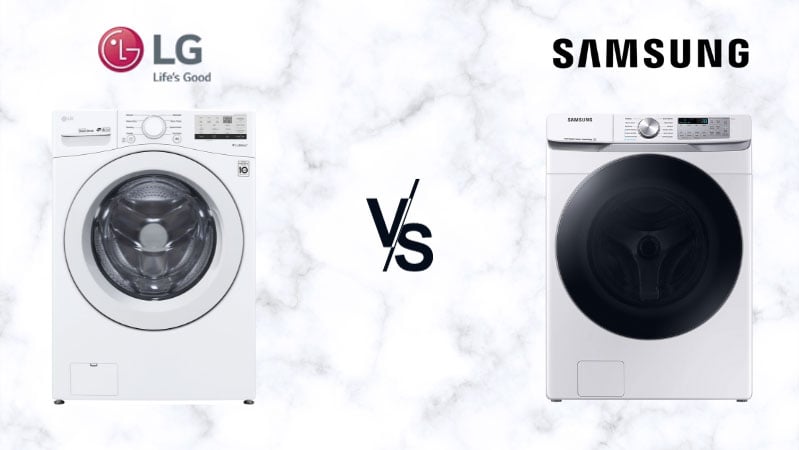 Capacity
This is a basic comparison of their two least expensive machines, and it's the only comparison where the cubic footage is the same at 4.5 cubic feet.
Cycles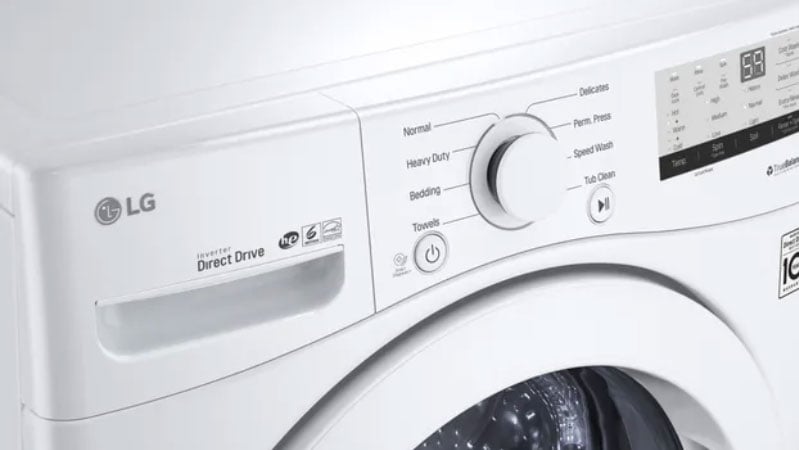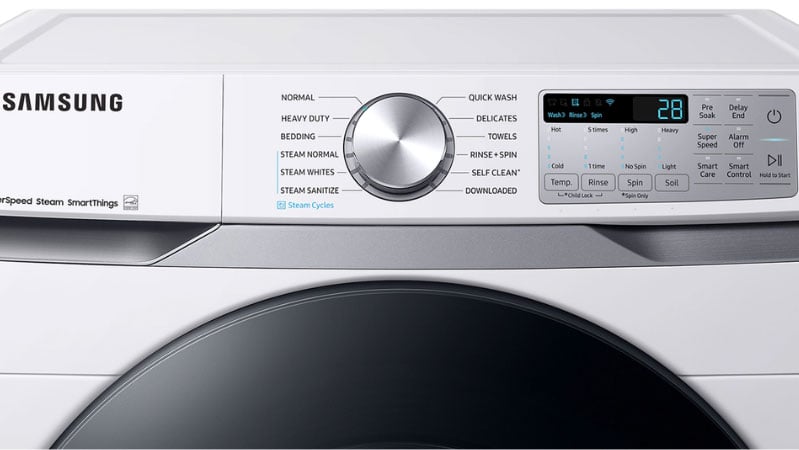 Samsung has ten cycles and more options, while LG has eight or more options. Samsung has steam to loosen stains. That's the most important distinction.
Dimensions
But LG is shallower by a little over an inch at 30.25 vs. 31.38 for the Samsung, which could be important when stacking.
Spin Speed
LG also spins faster at 1300 vs. 1200 RPM, so clothes will be dryer for less drying time.
Final Analysis
This comparison is so similar it should depend on price and, more importantly, which machine can be fixed quicker in your area.
LG WM4000HWA ($749) vs. Samsung WF50BG8300AVUS ($849)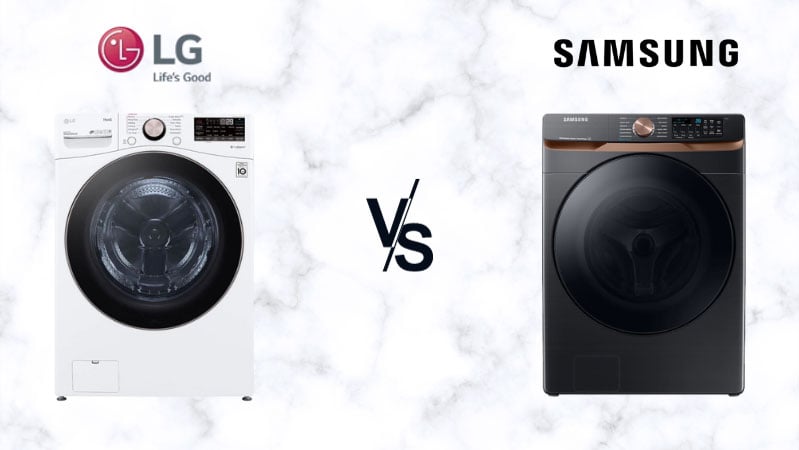 The WM400 and the WF50BG8300 is the most popular single comparison between LG and Samsung.
Both have upgraded features.
Cycles
LG has TurboWash, shortening any cycle by adding five high-pressure sprays in the front.
Samsung has SuperSpeed shortening their cycles to 28 minutes by using one high-pressure spray at the top of the machine.
You have Allergen and Sanitize to remove 95% pet dander and allergens from your laundry.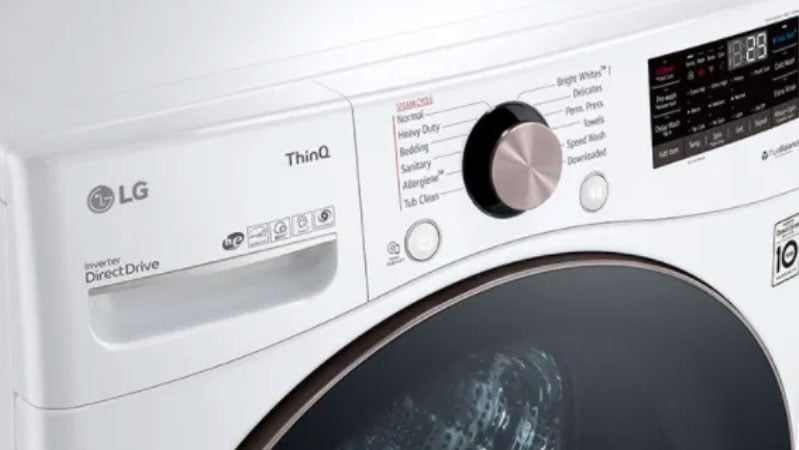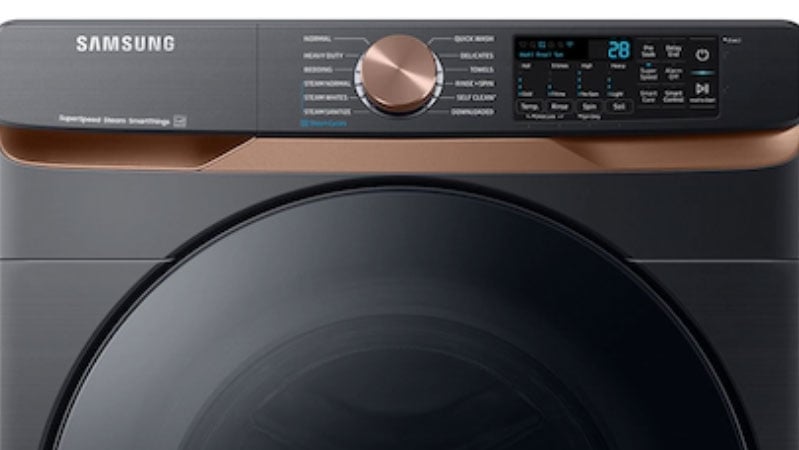 LG has 12 cycles and 13 options, but Samsung has every cycle imaginable with 23.
Capacity
However, the comparable Samsung is 0.5 cubic feet larger at five cubic feet, but you have to remember it is also 3.25 inches deeper if you are stacking.
Wi-Fi
They both have smart functionality telling you cycle time and alerting you when the cycle is over.
Final Analysis
Overall, Samsung is a bit bigger with more features, while LG will fit better when stacking and will be better in a few cycles with a higher spin.
LG's TurboWash cycle will be better than Samsung's Super Speed Wash with five high-pressure jets.
LG's spin speed is also still faster at 1300 RPM versus 1200.
However, Samsung has CleanGuard microbial technology to prevent mold.
Mold prevention is now a feature in front-load washers because it can develop, especially in the gasket.
Quick Tip: Mold is a product of standing water. You can prevent mold in any front-load washer by running a monthly tub clean or sanitizing cycle. Leave the door open after every wash and dry the gasket.
LG WM6700HBA ($1,099) vs. Samsung WF53BB8900AT ($1,098)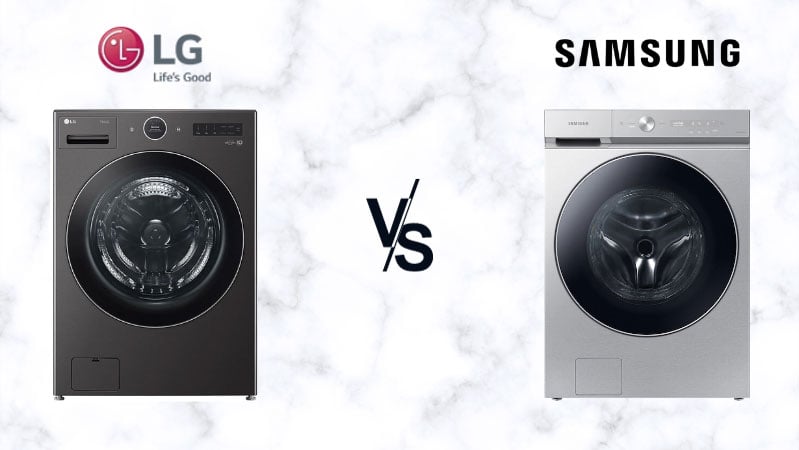 The Samsung Bespoke and the LG WM6700HBA have infinite cycles with their AI Smart dial.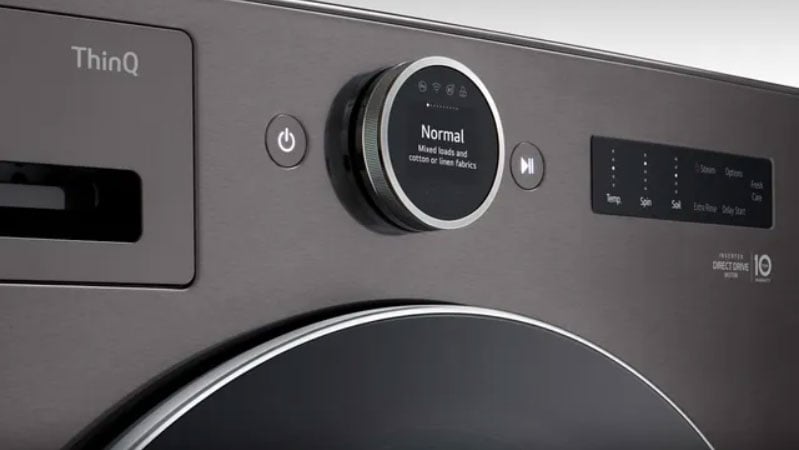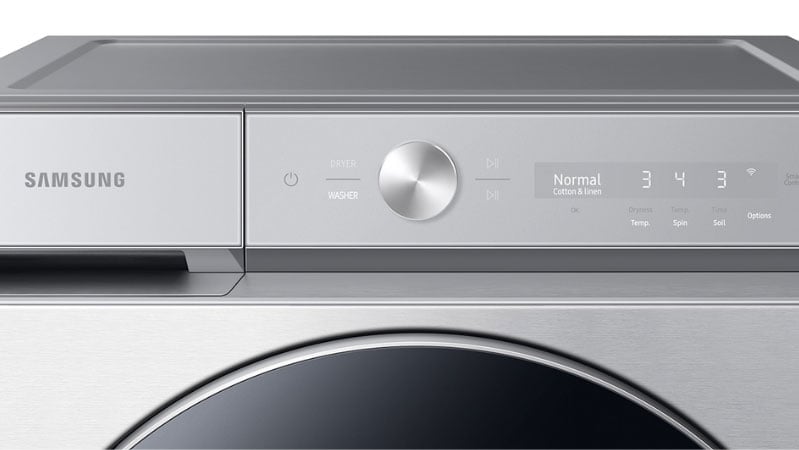 They simplify, learn, and recommend cycles, allowing you to customize any cycle.
Want to do a hot wash in a color cycle for a set time? You can do that, but why would you do it?
Auto Dispensing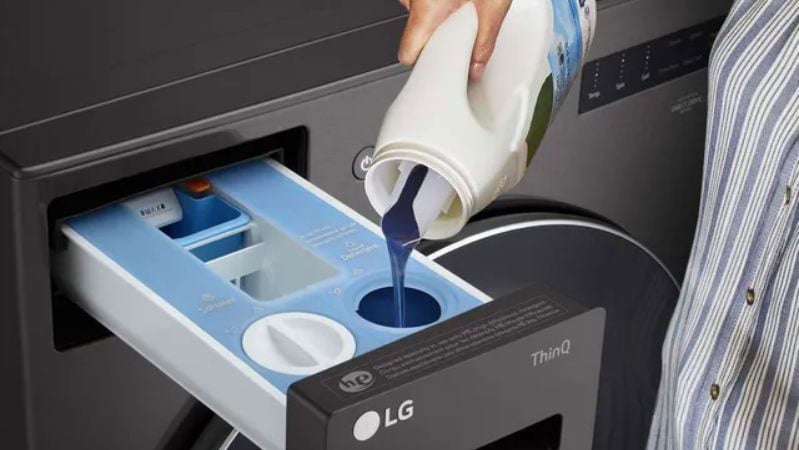 Both have an auto-dispensing feature. LG can dispense 18 loads, while Samsung has 32 loads.
Auto dispensing is not a gimmick; it dispenses the perfect amount of detergent at the precise moment for the best cleaning results.
Most people will put in too much. This soap will stay inside the machine for an expensive feature service call.
Final Analysis
Samsung is a bit larger at 5.3 versus five cubic feet and has an antimicrobial coating.
Both are good and so similar. I would default to price and consider available service the tiebreaker in all these comparisons.
For reliability, both are good, yet LG is a bit better. That should factor into your decision as well.
Now, the real differences:
LG WashTower WKHC202HBA ($1,899)
Where LG has the advantage is in two places:
AI DD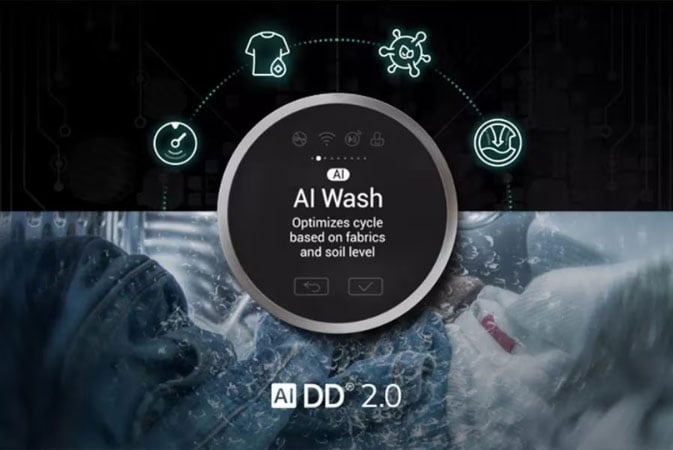 First, the WashTower is a one-piece set of laundry using their advanced AI DD using 11,000 data points to wash your clothes.
AI DD is also available in some of LG's premium washers as well from $1,299-$1,499.
It optimizes the wash patterns through the weight and softness of the fabrics.
Controls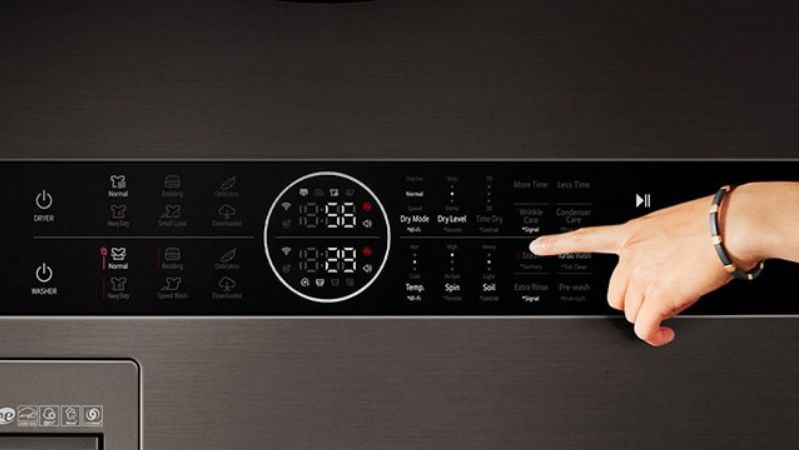 The WashTower has a control panel in the middle, so you don't have to reach for a stacked dryer.
Samsung has "MultiControl" on their models with Smart functionality where you can control both from the washer, but it's not quite the same.
The WashTower is also inexpensive for the features starting at $1599-1999.
Heat Pump Dryers
Now, we should talk about specialty drying. LG has the larger heat pump dryers in their more expensive WashTower.
Heat pump dryers are super efficient and should be your next dryer.
Ventless
First, you don't have to vent a heat pump, so you can place laundry anywhere with water, power, and a drain.
Have an upstairs closet, no problem now you don't have to walk downstairs.
Efficiency
Heat pumps are also 50-60% more efficient than standard dryers because they recycle air using an evaporator to pull moisture from the clothes.
The compressor heats the air through an exchanger. Over time, that recycled air becomes hotter.
Compare recycling heat versus a standard dryer.
Standard dryers pull the air from the room. Then heat it with elements (think hair dryer) and then expel the heat through a vent.
For a family of 5 in an expensive electricity market, you will save $300-500 yearly with a heat pump.
Many people have commented that heat pumps take way more time.
In our tests, the LG heat pump was only 7-10 minutes slower than a conventional dryer for whites and colors.
In this one area, LG is superior.
LG and Samsung Washers You Shouldn't Buy
LG Signature Washer
Sure, this machine is LG's biggest at 5.8 cubic feet.
Big is good when you need to do a lot of laundry, but it is only 0.8-1.3 cubic feet more for over $1000-1300 more. Plus, you lose the features in their better models, like the automatic 18-load dispenser.
Do you still want to consider this machine?
The width of this washer is almost 30 inches, with a depth of 33.08.
It's typically larger than most spaces allocated in laundry rooms or most doorways, even if it does fit because you can't take the doors off like we do with refrigerators.
You cannot stack the dryer on top of the washer, either. It's side-by-side only.
LG SideKick Pedestal Washer
Speaking of paying more for a cubic foot, the SideKick pedestal mini washer fits under your compatible washer for more capacity.
Sometimes, LG includes one of these free with the purchase of their washers. Free is good; you have another place to wash that favorite shirt.
However, it costs $746 for one extra cubic foot when they don't.
If you must buy a mega capacity machine, consider the LG WM4500: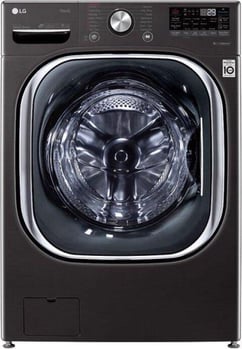 You have that 5.8 cubic foot capacity at a more reasonable $149 price.
Samsung Washer with Flexwash
Samsung WV60M9900AV/A5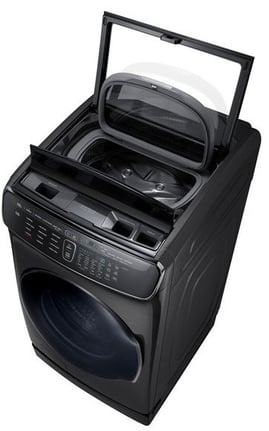 6.0 cu ft. Smart Washer with Flexwash in Black Stainless Steel
Samsung Flexwash is a six cubic-foot double washer.
The idea of two washers and the extra cubic footage seems valid.
Again, you are paying an extra cubic feet premium at 1699-1999.
It, too, is missing some of their better cycles, like their AI programs and Cleanguard antimicrobial surfaces.
You can't stack this machine either.
Click here to subscribe to our blog for insights, reviews, and resources on home appliances.
When You Should Buy an LG and Samsung Front Load Washer
Thank both of these companies for introducing the appliance industry to promotions.
Both started in electronics and beat industry leaders like Sony, Toshiba, and Mitsubishi by lowering their prices at key buying moments like Black Friday.
Promotions are debatable in appliances.
You probably will not wait 50 days when your washer is broken like you would for a TV.
However, you can save 10-35% on either brand by waiting for a holiday.
But here is what you need to know.
Black Friday is Halloween until the week after Christmas.
Same with Presidents' Day, it's three weeks in February, and ditto with Memorial Day and July 4th, which is one six-week holiday.
Labor Day starts in August through the middle of September.
LG vs. Samsung Front Load Washers: Conclusion
You are comparing similar companies with minute differences.
LG has the WashTower and heat pump technology in a full-size dryer. Other than that, wait for a holiday to check prices.
The real tiebreaker is service.
LG is a bit better, but Samsung is still excellent. In this case, the company with the better support in your area wins.
Additional Resources
Download our Yale Washer Buying Guide with all the features, terms, and brands of laundry. Over 1 million people have already found answers in a Yale guide.
Related Articles:
Why Should You Trust Us?
It seems that every appliance review has nothing but glowing comments about almost every product, yet you read customer reviews and they are almost universally bad.
We are here to fill in the disconnect. We'll give you the best features, and the drawbacks as well, including reliability based on over 37,000 calls performed by our service team just last year. Our goal is to give you ALL the information so you know what's right for you.
Please consider subscribing or adding to the conversation in the comments below. We appreciate you stopping by.
Steve Sheinkopf is the third-generation CEO of Yale Appliance and a lifelong Bostonian. He has over 38 years of experience in the appliance industry, and he is a trusted source of information for consumers on how to buy and repair appliances.

Steve has also been featured in numerous publications, including the New York Times, Consumer Reports, The Boston Globe, Bloomberg Radio, the New York Post, The Wall Street Journal, and Entrepreneur, for his knowledge of how to buy appliances and appliance repair.

Steve is passionate about helping consumers find the best appliances for their needs, and he is always happy to answer questions and provide advice. He is a valuable resource for consumers who are looking for information on appliance buying, repair, and maintenance.

Despite being the worst goalie in history, Steve is a fan of the Bruins and college hockey, loves to read, and is a Peloton biker. The love of his life is his daughter, Sophie.
A Note About Pricing
Pricing on this blog is for reference only and may include time sensitive rebates. We make every attempt to provide accurate pricing at time of publishing. Please call the stores for most accurate price.