Should You Buy the LG WashTower? (2023 Review)
The LG WashTower was the newest, most revolutionary washer. Dryers have been introduced over the last ten years, maybe more.
I used to have my friends asking me about it back in 2020. There wasn't much else to discuss back then.
It has unique features and is a great alternative to stacking a front-load washer and dryer.
But is that still true in 2023, three years later, even with my friends no longer asking me about it?
In this article, you will learn about all the best features of the LG WashTower and its drawbacks.
You will see a comparison of the LG to other one and two-piece stackable units from Whirlpool, Speed Queen, and GE, including reliability from just under 40,000 service calls logged by our service department last year.
Then you will also learn about some problems with the LG WashTower. Some may stop you from buying it.
Let's look at the LG WashTower's dimensions and features first.
Short on time? Get our free Washing Machine Buying Guide
LG WashTower 2023 Review
The LG WashTower
The LG WashTower solves some basic problems.
Its one-piece design is more streamlined at 74 ⅜ inches versus stacking two pieces at around 80 inches.
The controls are also in the middle, which is incredibly helpful compared to reaching for the controls that sit 6 ft and 3 inches up from the ground.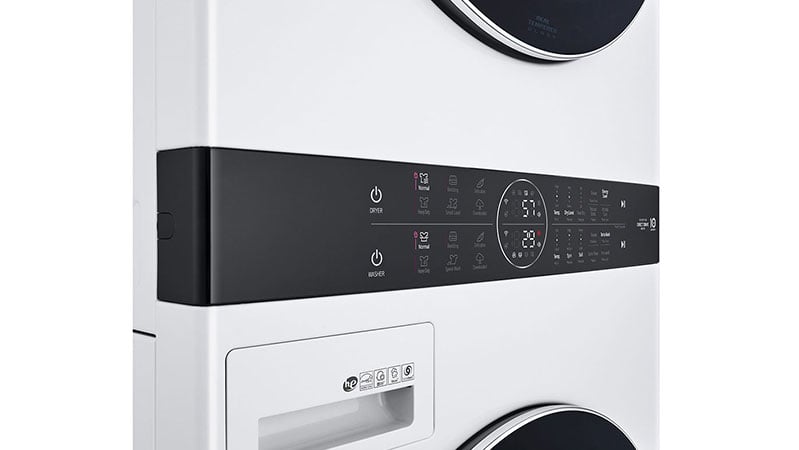 LG WashTower Controls
Samsung has that height, plus the controls are angled, making it even more difficult to reach for anyone under 5'5".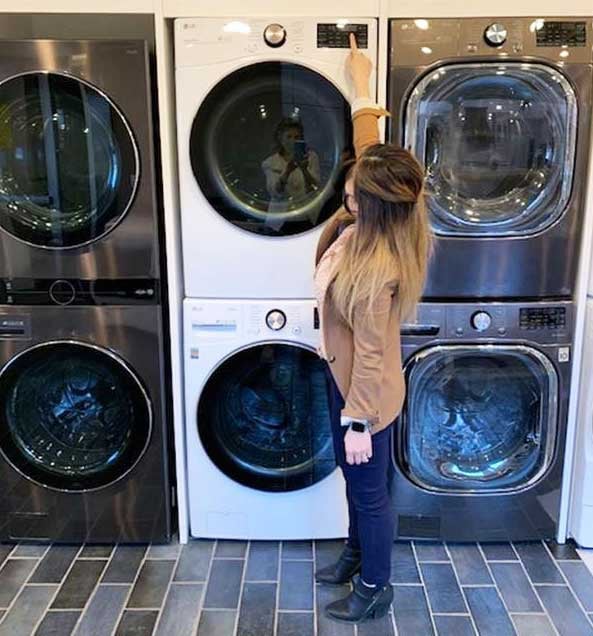 Yale Appliance Sales Consultant, 5'2" With Heels, Reaching Up to Washer Controls
The LG WashTower's design also makes sense. You do not sacrifice capacity or many features, as you will see later in this article.
LG WashTower Depth
LG has the shallowest washer and dryer at only 30 1/16 inches deep.
This is over an inch and a half shallower than the next shallowest brand, so it's designed for tighter spaces like closets.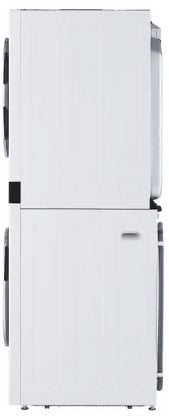 Yet the LG WashTower has a decent size at 4.5 cubic feet in the washer and 7.5 cubic feet in the dryer.
In other words, this single-piece unit is great for tight spaces, and you still have good capacity.
A capacity of 4.5 cubic feet is the same size as LGs popular front load washers.
Although you can buy larger, 4.5 cubic feet is plenty for context. Our parents used top-load washers with about 2.5-2.7 cubic feet of usable capacity.
LG WashTower Reliability
Reliability is not a feature per se, but it is the most important consideration for buying a washer and dryer.
You want a reliable machine, especially when the average wait for a technician to come to your home is currently 2-4 weeks. That translates into piles of unwashed clothes for weeks or time and money spent at the laundromat.
LG is again the most reliable front-load washer brand sold at Yale.
Their washers require just 2.1% service in the first year based on just under 40,000 service calls completed by our service team last year.
Compare that to an average service rate of 3.7% for front-load washers and 9.7% for appliances overall.
From reliability and size, the LG WashTower is a good consideration.
Let's look at the models.
LG WashTower Models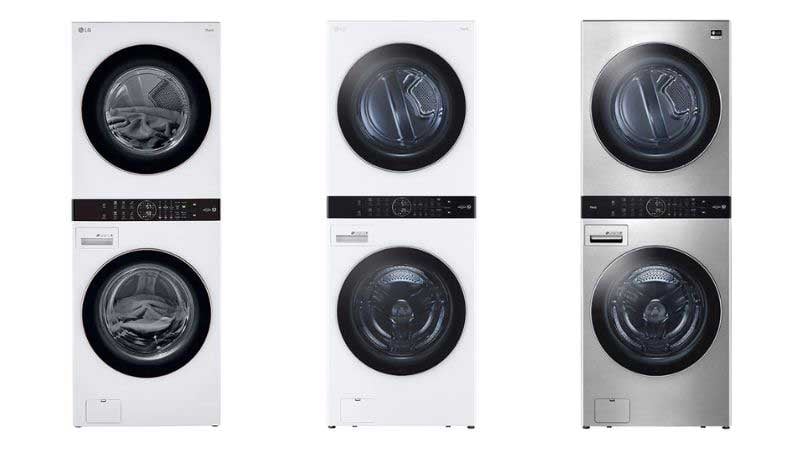 LG WKE100HWA | LG WKEX2000HWA |LG Studio WSEX200HNA
These three WashTower models have similar features. The base model, the WKE100HWA, starts at $1,799 with six cycles and nine options.
The WKE100HWA has smart functionality, five wash temperatures, and steam functionality in the washer.
LG's middle model, the WKEX2000HWA, offers steam in the dryer to refresh and de-wrinkle clothes.
Their TurboWash360 cycle uses five high-pressure jets to turn any wash cycle into 30 minutes.
Their best model, the LG Studio WSEX200HNA, is larger at five cubic feet for the washer and adds additional wash cycles.
However, it's 33 inches deep, so measure your space first.
LG WashTower Features
The LG WashTower incorporated the latest LG technology.
AI DD
The AI DD (Artificial Intelligence Direct Drive) washes your clothes by determining weight and softness. It uses 11,000 data points to determine the washer's cycle, time, and motion.
The dryer will save up to 22% of drying time by sensing moisture and softness in the dryer.
The best part is you just hit a button without choosing any cycles and options. The newer AI DD front load washers introduced in late 2022 incorporate an automatic detergent dispenser.
Smart Learner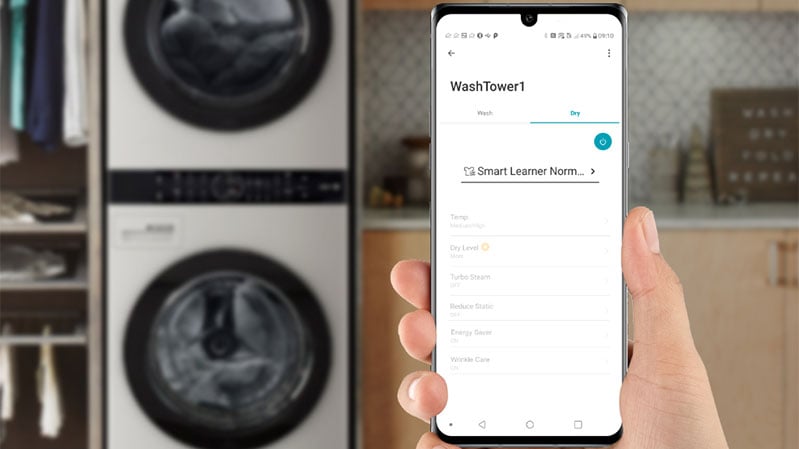 LG WashTower App with Smart Learner
The "Smart Learner" remembers any of your favorite cycles you use often. So, if you want to wash clothing with bright colors in hot water with a cold rinse, then the machine will remember that cycle - not that you should ever have the machine learn that cycle.
Smart Pairing
Smart Pairing intuitively sets the dryer setting based on the washer. Once again, many LG, GE, and Samsung front-load laundry units now have this feature.
Smart Home Connectivity and Wi-Fi-Enabled
The LG WashTower is Wi-Fi driven and can be operated from your phone and even text you when it's done.
You can also download customizable cycles not available on any of the machines.
Many of these functions are replicated in many brands, such as GE, Whirlpool, and Samsung.
GE has its washer communicating with its dryer through smart functions. However, LG's AI functions are the most user-friendly and extensive.
TurboWash360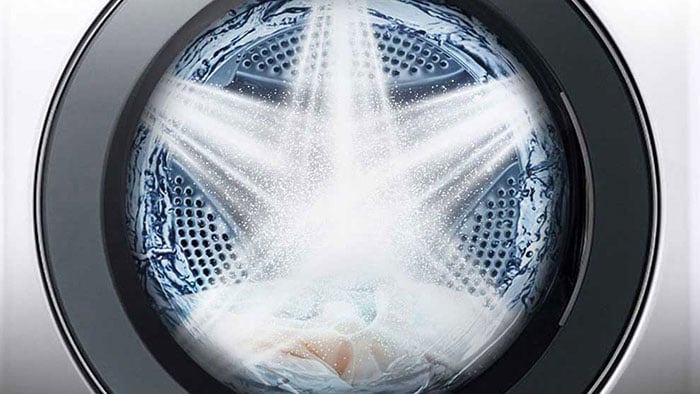 LG TurboWash360 cycle featuring five wash jets
Other cycles include TurboWash360. LG adds five high-pressure sprays to shorten any cycle to 30 minutes.
Most brands have a short cycle for small loads under 10 lbs. LG with TurboWash360 can shorten light to medium loads.
Steam
Both the washer and dryer have steam in the top two models.
In the washer, steam is used to power out tough stains. In the dryer, steam is used to refresh and de-wrinkle your clothes.
Have a favorite shirt? Place it in a steam cycle to wear it out that night. It will be done in about 10 minutes.
LG WashTower Price
At $1799, it's $300 less than the most popular GE two-piece stackable washer and dryer. GE is a bit bigger at 4.8 cubic feet and has other features.
The price can vary between comparable LG washer and dryer sets by $200-$400.
Overall, the LG WashTower is a smart machine with the latest technology.
Now, let's talk about what it does not have while we compare it to other front-load units. Then you will see a comparison to other one-piece stacks.
LG WashTower's Missing Features
The main missing feature is an automatic detergent dispenser.
GE and Whirlpool now have 32 and 40-load dispensers. You just load it up, and the machine dispenses the exact amount of detergent needed at the right time.
Most of LG's most popular washing machines have a 15-load dispenser. You should consider an auto dispenser because it prevents using too much detergent.
You only need a capful at most. Too much detergent causes over-sudsing. The excess suds will create service problems later inside the machine.
Also, loading multiple loads of detergent is convenient.
Mold Protection
Mold can build up in front-load washers due to standing water.
LG has the Tub Clean feature to reduce mold and mildew, but LG has not adopted GE's extensive mold protection.
GE uses Microban anti-microbial surfaces and a fan to evaporate standing water.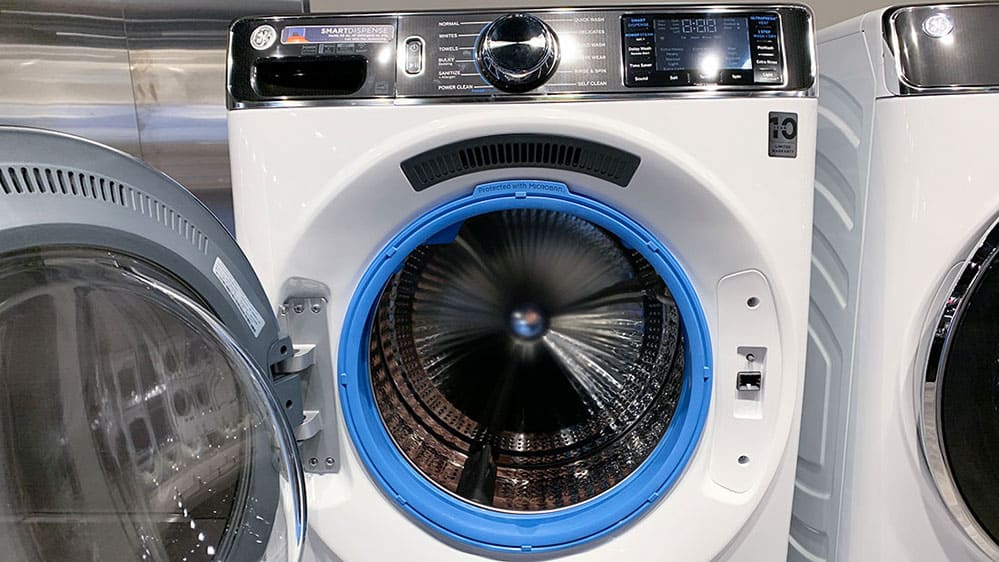 GE front load washer with antimicrobial Microban coating on gasket
You can reduce mold by wiping down the gasket and keeping the door open. You also want to run the washer in a high-temperature wash like LG's Tub Clean every month.
Overnight Cycle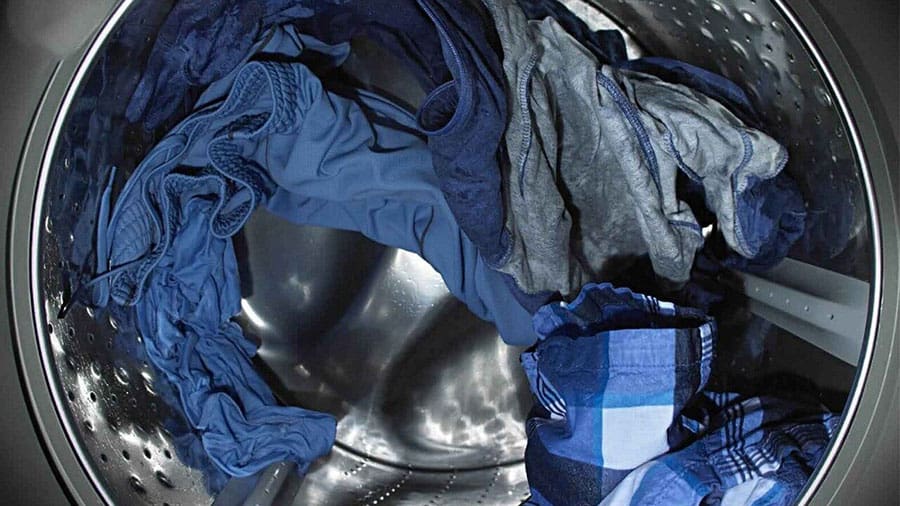 Maytag FreshHold Overnight Cycle
LG also does not have a similar cycle to Maytag's and GE's overnight cycles. With an overnight cycle, you can wash and dry an outfit overnight and have it ready in the morning.
Repair and Replacement
You may be thinking, as a one-piece, that if the washer or dryer dies, you must replace the whole machine.
Even with a two-piece stackable washer and dryer, you would have to change both most of the time because stacking kits and dimensions change so frequently.
LG WashTower Delivery Issues
The LG WashTower is shallow. However, every one-piece unit could have delivery issues, especially if you live in Boston.
You can't turn a one-piece effectively on narrower landings, like in a Brownstone. For two pieces, drivers can lift each machine over a stairwell banister as needed.
That can't or shouldn't be done with the LG WashTower. We perform free site checks if you have a tight space and live in Massachusetts.
Venting the Dryer
The LG WashTowers, like most large laundry units, are vented only. As of this writing, its ventilation system must reach outdoors.
You can't place the LG WashTower in a closet without an outside vent like you could with many compact laundry sets with heat pumps or condenser drying systems.
You also do not have the long-run venting options of the GE and Whirlpool one-piece stacks.
Reversible Door
Only GE and Electrolux offer reversible doors. The LG opens right to the left, which could be an issue if it's placed in a tight space.
Now, let's compare the LG WashTower to all your options.
How Does the LG WashTower Compare to Other Brands?
LG WashTower vs. One-Piece Washer and Dryer Stacks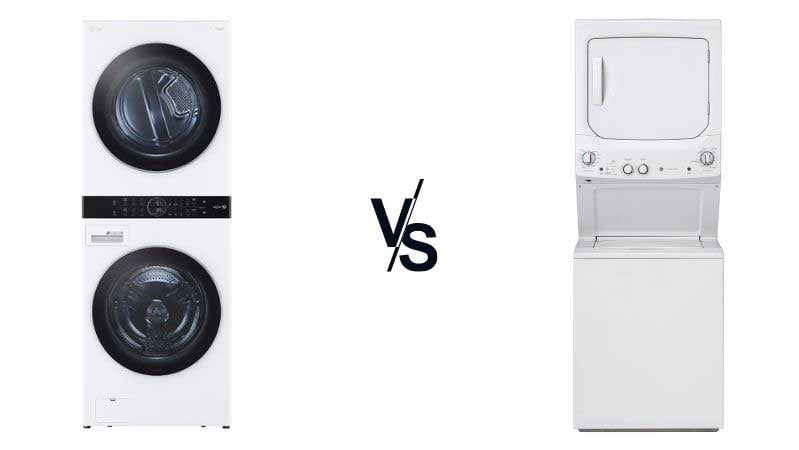 The LG WashTower is superior mostly because Whirlpool and GE are older designs from the 1970s and 1980s.
GE is 3.8 cubic feet, and Whirlpool is only 1.6 cubic feet. Both have agitators, so the usable cubic footage is even less.
Front loads are larger and more energy-efficient, but the LG WashTower has more features. Steam, speed, and smart technology are not part of these one-piece conventional machines either.
LG, however, is much more expensive, almost $1,000 more, but it's a much better machine.
LG WashTower vs. Speed Queen SF7003WE Stack Laundry Machines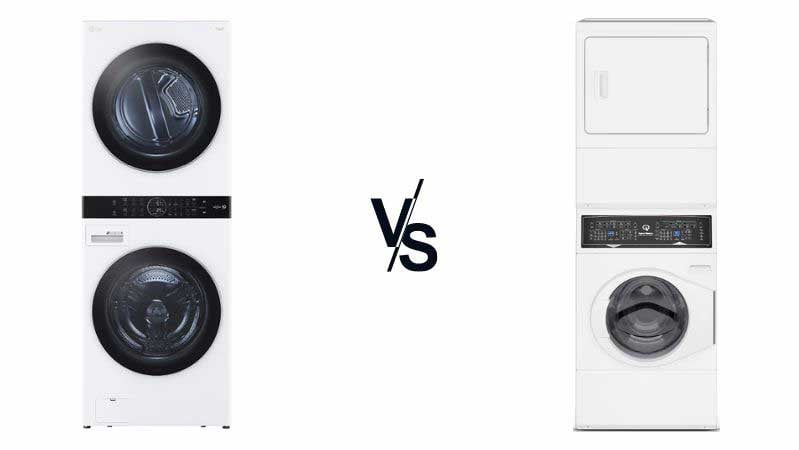 Speed Queen may be more solid in terms of build quality but it's even more expensive at $3,699.
Speed Queen is a heavily commercially rated machine with up to a five-year warranty but lacks LG's internal capacity and smart features.
Why You Shouldn't Buy the LG WashTower
There is only one reason not to buy the LG WashTower: The Size.
You already know potential delivery issues. Many closets are designed for 24-inch widths. The LG WashTower is 27 inches.
For a 24-inch space, you are looking for a compact washer and dryer like Miele, Bosch, Beko, or Samsung, among others.
Venting the dryer or lack of ventilation could be an issue as well.
As we mentioned earlier, LG needs to be vented to the outside, while most compact dryers are purchased with ventless drying systems.
With a ventless dryer, you can place compact laundry anywhere with water and electricity.
In addition, most people want the largest size, which is now 5 -5.8 cubic feet, but 4.5 cubic is enough. Also, the key dimension is the shallow depth at 30 1/8. That becomes much larger at 33-35 inches.
Should You Buy the LG WashTower?
This is an interesting machine. The rest of LG and other manufacturers have caught up with the latest technology for washers and dryers.
AI DD and smart home connectivity are now featured on many popular LG appliances as well as other brands.
You have other options for laundry sets such as Samsung, GE, Whirlpool, and still within LG.
However, the LG WashTower is worth considering for its convenience.
It's only 27 inches wide with a shallow depth and only 74 inches tall. Ultimately, it will fit in more places and be much easier to use and control.
That much has not been duplicated by Samsung, GE, Whirlpool, or Electrolux.
Additional Resources
Download our Yale Washer Buying Guide with all the features, terms, and brands of laundry. Over 820,000 people have already found answers in a Yale guide.
Related Articles:
Why Should You Trust Us?
It seems that every appliance review has nothing but glowing comments about almost every product, yet you read customer reviews and they are almost universally bad.
We are here to fill in the disconnect. We'll give you the best features, and the drawbacks as well, including reliability based on over 37,000 calls performed by our service team just last year. Our goal is to give you ALL the information so you know what's right for you.
Please consider subscribing or adding to the conversation in the comments below. We appreciate you stopping by.
A Note About Pricing
Pricing on this blog is for reference only and may include time sensitive rebates. We make every attempt to provide accurate pricing at time of publishing. Please call the stores for most accurate price.