2. Samsung - 2.90% Service Rate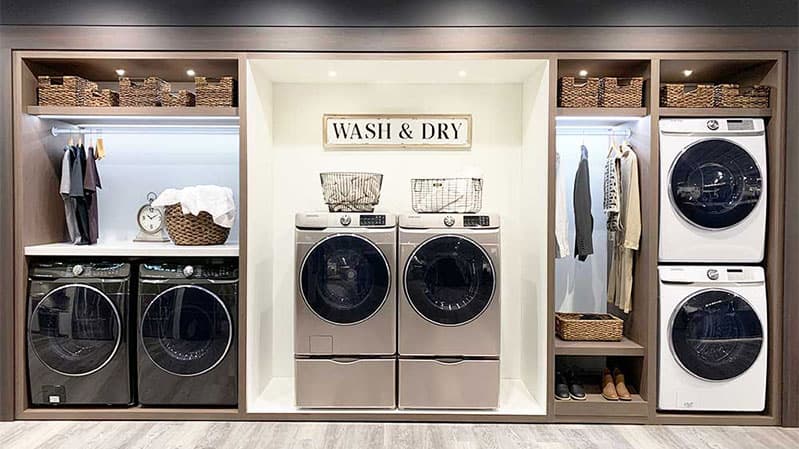 Samsung Front Load Washers and Dryers at Yale Appliance in Hanover
Every time I write about Samsung's appliance reliability, I unleash a torrent of frustration from other stores' unhappy consumers.
Like this one:
"I too am a Samsung appliance survivor. We bought the full set of their high-end crapfest....refrigerator with [a] defective motherboard that leaks and won't make ice...microwave that comes on by itself and beeps at all hours of the day and night.....dual convection stove with a malfunctioning timer that seems designed specifically to screw up whatever you're trying to make. And hours spent on the phone with a customer service department whose sole mission, seemingly, is to drive you so completely over the edge with frustration So for all you folks out there pondering the wisdom of purchasing a Samsung appliance, who are you going to believe....Steve 'Leverage Your Retailer'....I'm not in the tank for Samsung, Honest!' Sheinkopf, or the multitudes of consumers on here who have ALL shared in virtually identical, awful experiences with this wretched, patently dishonest and corrupt manufacturer?!?! In the immortal words of TV Superdad Mike Brady: Caveat Emptor!"
Let me explain. The product works. However, when it doesn't work, the problem becomes your issue.
We didn't sell this washer to this customer. We can only advise him to return to his dealer (the place that accepted his money) to resolve his issue.
Samsung is the number one sold brand in the U.S. yet doesn't have a service department.
Their basic models are more popular than their most expensive 2-in-1 and AddWash models, not sold at Yale.
You will have a problem buying Samsung this year. Their availability is extremely poor, so be careful when that website or store says its in stock.
Make sure your money is refundable.
Best Samsung Front Load Washer to Consider: Samsung WF45T6200AW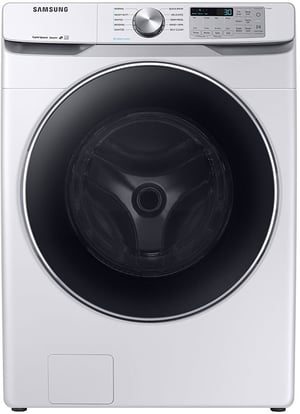 3. LG - 4.14% Service Rate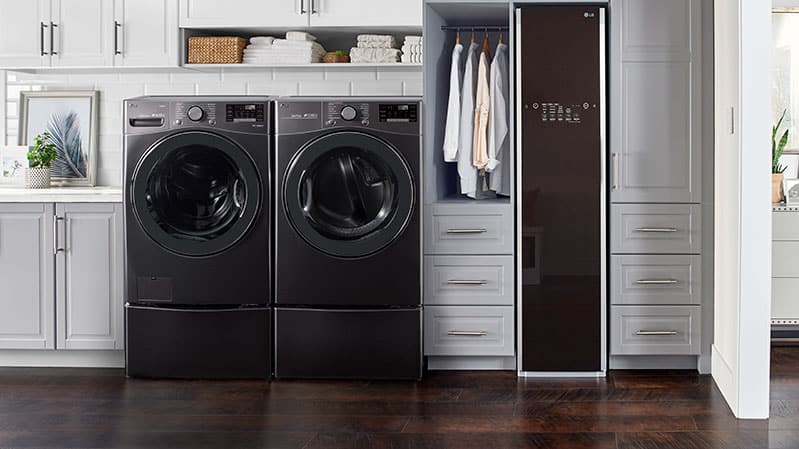 LG Front Load Laundry with the LG Styler
LG just changed their machines to be larger. It's good and bad.
Being large is good. However, smaller and shallow in depth is better for stacking in the closet.
This brand has been excellent since we started measuring reliability five years ago.
However, they have placed their new auto dispenser on the top like Maytag.
It can collect mold if not washed regularly.
The more reliable machines like GE, Whirlpool, and Miele's compact washer have the dispenser at the bottom.
It will be interesting to see where their reliability is next year.
Best LG Front Load Washer to Consider: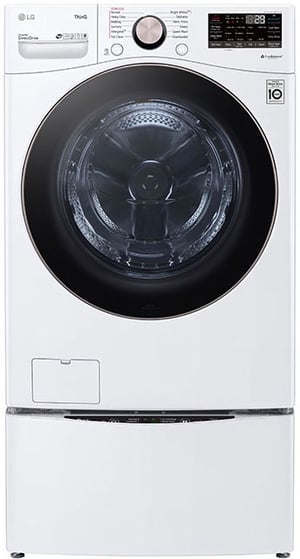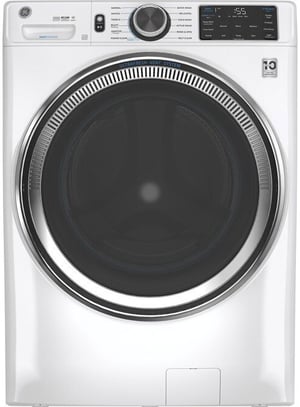 Front-Load vs. Top-Load Reliability
You would think the more straightforward top load is more reliable. However, the numbers suggest otherwise.
I was shocked initially as well, but that was three years ago. It's been trending towards front-loads for awhile.
Front loads are 0.8% more reliable, but that's a tie.
Read More: Most Reliable Top Load Washers
Yale Appliance Vs. Consumer Reports Appliance Reliability
I like Consumer Reports, and I'm a member.
However, their methodology is laboratory testing and predictive analysis.
Laboratory testing is fine.
Although, I tend to believe you use your washer differently than a specialist in a product testing lab.
It's at least a valid attempt.
However, predictive analysis or surveys can be a problem.
Consumer Reports sends surveys to their members over ten years and then rates appliance reliability based on those responses.
You will have decent information on the consistently good and bad brands.
However, it's a bit flawed in two ways.
Good brands from ten years ago, like Speed Queen, are rated highly even if they have recent issues.
Speed Queen had problems in 2018 and 2019. Their front-loads were rated number 1 last year when there was a recall.
Brands that have rated poorly ten years ago, like GE, are still rated poorly even with a newly designed machine and a low current 8.61% repair rate.
If you are researching reliability, check recent consumer reviews on Google and Yelp.
What happened 5-10 years ago should not matter as much unless it's part of a consistent pattern.
Read More: Is Consumer Reports Accurate for Appliance Reliability?
What Are the Most Common Front Load Washer Problems?
Should You Buy an Extended Warranty?
You will be asked and probably even pushed by your store to buy an extended warranty.
First, you should never buy a warranty from a company that does not offer its service.
These warranties are outsourced and not designed to fix anything promptly or even correctly.
If you are buying this for peace of mind, you will get exactly the opposite of repair or lack thereof.
For washers, the numbers suggest not buying a warranty. At 6.18%, these machines work better than almost every other appliance.
Unfortunately, the repair itself is incredibly expensive because they have a direct-drive motor.
We replace the machines instead of spending five hours repairing a direct-drive motor even in year five of an extended warranty.
It's that much of a hassle.
If there is no service department at your retailer, you are probably better off without buying an extended appliance warranty.
With a service department (assuming it's reputable), it depends on your appetite for risk.
It's the insurance of a low repair percentage versus a very high cost of a repair or replacement.
Read More: Are Appliance Extended Warranties Worth It?
Most Reliable Front Load Washers: Key Takeaways
Reliability is better than the average on a front load washer and almost the same as a simple, less efficient top load washer.
We have changed the brands we sell at Yale because of the 300% spread between reliable and less reliable machines.
There is a flip side to reliability as well.
What are the best companies when there is an issue?
Whirlpool and GE have their service networks and are the best on this list for handling service and have better parts availability.
LG has made recent investments in service and has improved a bit. Their rival Samsung has problems.
Most of the horror stories about front load washers and appliances, in general, are the inability to find qualified technicians to fix the washers on a timely basis.
Front loads have become feature-packed and highly technical.
Before you buy a front load washer, you should investigate service as much as features and price.
Frequently Asked Questions:
1. Which brand is best for front load washing machines?
LG, Samsung, GE, and Whirlpool are statistically the best front load washers.
2. How long do front load washers last?
According to the United Servicers Association, the average lifespan of a washer is 6-10 years on average.
3. What's better, a top load or a front load washer?
Front-load washers are larger with better cycles and energy efficiency. You can read more about front load washers vs. top load washers by clicking this link.
4. Why do front load washers smell?
Standing water is the main problem, especially at the gasket. You want to dry the gasket and any residual water. Leaving the door open helps as well.
Additional Resources
Download our Yale Washer Buying Guide with all the features, terms and brands of laundry. Over 800,000 people have already found answers in a Yale guide.
Related Articles
Most Reliable Appliances Series:
Why Should You Trust Us?
It seems that every appliance review has nothing but glowing comments about almost every product, yet you read customer reviews and they are almost universally bad.
We are here to fill in the disconnect. We'll give you the best features, and the drawbacks as well, including reliability based on over 37,000 calls performed by our service team just last year. Our goal is to give you ALL the information so you know what's right for you.
Please consider subscribing or adding to the conversation in the comments below. We appreciate you stopping by.
A Note About Pricing
Pricing on this blog is for reference only and may include time sensitive rebates. We make every attempt to provide accurate pricing at time of publishing. Please call the stores for most accurate price.