January 11th, 2023 | 7 min. read
Your local appliance store is likely to push you into buying a top-load washer instead of a front load based on reliability.
That's a mistake as well.
Let's get started.
Table of Contents
Feel free to click through to each section
The Most Reliable Front Load Washer Brands for 2023
The following service rates are based on a minimum of 100 front load washers sold and a total sample of over 3,000 over a 12-month period.
| | |
| --- | --- |
| | Service Rates |
| LG | 2.1% |
| GE Appliances | 3.7% |
| Grand Total | 3.7% |
LG - 2.1% Service Rate
LG Front Load Washer and Dryer
What's amazing about LG is that they are the most reliable appliance brand and the most innovative. Usually, most innovative means most serviced.
Their new WashTower is exceptional, using 300 sensors to wash your clothes at the right setting needed.
LG's washers are also the shallowest for easier stacking and fitting into closets.
LG has the most models varying in size and feature.
Best LG Front Load Washers to Consider:
LG 4.5 cu. ft. Front Load Washer WM4000HWA
LG 5.0 cu. ft. Front Load Washer WM4500HBA
GE - 6.4% Service Rate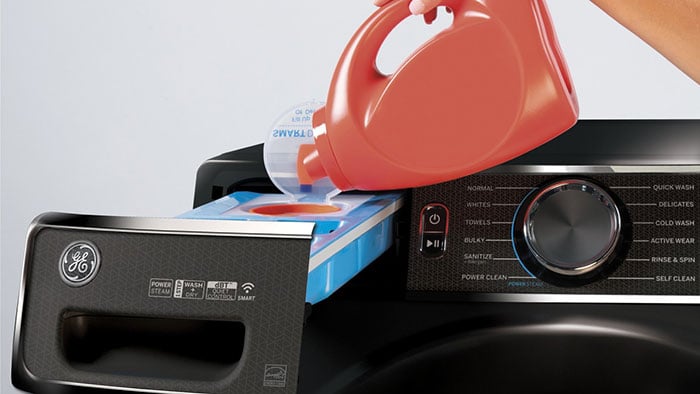 GE Front Load Washer with an Automatic Detergent Dispenser
GE's front load washers are newer with unique features. We only sell high-end GE models with more features than basic LG models.
GE's front load washers have a 32-ounce detergent dispenser. An automatic detergent dispenser will also lower the need for service in the long term.
Most people, and maybe you, place too much detergent in the dispenser. You only need a capful of detergent.
Excess detergent creates foam and slowly dissolves the bearings making an expensive service call.
Auto dispensers prevent that by dispensing the exact amount of detergent needed at the right time.
More importantly, GE is the only company to address mold by having anti-mold Microban surfaces and a fan inside the machine to dry excess moisture.
Pro Tip: Standing water causes mold. Always dry the gasket and leave the door open to prevent it from being in your front load washer after every wash.
Best GE Front Load Washers to Consider:
What Happened to Maytag, Whirlpool, and Samsung?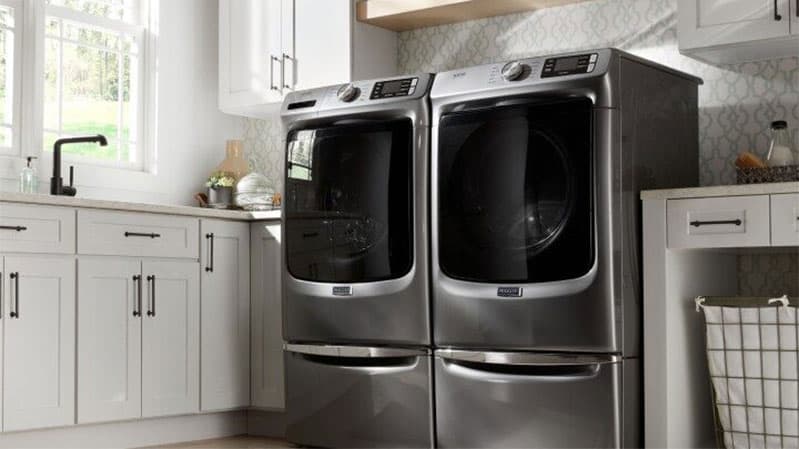 Maytag Front Load Washer and Dryer
We don't sell Samsung anymore. Their marketing and sales focused away from independent dealers like Yale Appliance to box stores.
Whenever I write about Samsung's decent appliance reliability, I unleash a torrent of frustration from other stores' unhappy consumers.
At least I don't have to be their apologist listening to comments like this:
"I, too am a Samsung appliance survivor. We bought the full set of their high-end crapfest....refrigerator with [a] defective motherboard that leaks and won't make ice...microwave that comes on by itself and beeps at all hours of the day and night.....dual convection stove with a malfunctioning timer that seems designed specifically to screw up whatever you're trying to make. And hours spent on the phone with a customer service department whose sole mission, seemingly, is to drive you so completely over the edge with frustration So for all you folks out there pondering the wisdom of purchasing a Samsung appliance, who are you going to believe....Steve 'Leverage Your Retailer'....I'm not in the tank for Samsung, Honest!' Sheinkopf, or the multitudes of consumers on here who have ALL shared in virtually identical, awful experiences with this wretched, patently dishonest and corrupt manufacturer?!?! In the immortal words of TV Superdad Mike Brady: Caveat Emptor!"
I still like Samsung and wish them well. They have good-looking appliances.
Whirlpool and Maytag are the same company. I love their people, but their once-famous laundry is not in the same league as the market leaders.
Again, they have focused on alternate channels like box stores and even direct to you.
That won't last long. As Whirlpool and Samsung will discover, delivery and installation are the most challenging part of selling appliances.
How Washer Reliability is Measured
We calculate appliance reliability by dividing the products we serviced by the products we sold. For this article, we looked at the number of front washers sold and serviced from January 1, 2022 to December 31, 2022.
It's the fairest measure of initial quality.
Over the years, we have changed laundry brands more than any other category to limit your potential service issues.
Reliability, by our standard, is measured by the percentages of actual service calls versus sales.
We have 35 service technicians on 8-10 service calls per day, five days a week, with 110 on weekends.
Last year, we logged just under 40,000 appliance service calls.
For perspective, that number is more than the total population of Braintree, Massachusetts.
We have logged over 100,000 service calls in the Boston area in the last three years, just about the size of Cambridge, MA.
Having an available repair service is an integral part of your purchase.
Unfortunately, you have read a ton of misinformation because most review blogs or websites do not service a single appliance.
You are reading marketing, sales, and advertising pieces. It can lead to some regrettable buying decisions.
Some of their recommendations could not have been worse advice for buying a washer or dryer.
Why We Only Look at Service Rates Within the First Year of Ownership
Customers call us in the first year because we offer a free warranty service. What happens after the first year is much more challenging to track.
Customers will move or call another service provider.
Front Load vs. Top Load Washer Reliability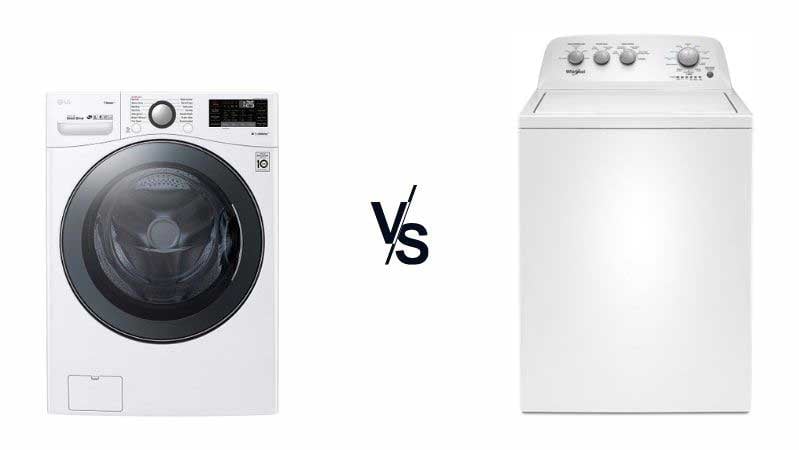 Front Load Washer (Left) vs. Top Load Washer (Right)
Earlier, we mentioned most appliance stores will most likely push you into buying a top load laundry set over a front load laundry set.
Buying based on reliability between a front and top load washer is a mistake.
First, you have three choices for top load washers:
Base Model: It's less expensive with less capacity and features.
A Hybrid Washer Without an Agitator: You have a much larger size without cleaning the others. The agitator performs the cleaning in a top-load design.

We don't sell these at Yale.

A New Hybrid Washer: Larger top loads with the agitator.
Most customers chose the new hybrid top load washers. They have an oversized tub averaging 4.8 cubic feet.
Quick Tip: If you prefer a top load washer, buy a larger top load washer with an agitator. It will clean your clothes much more thoroughly.
Let's look at the most reliable top load washers and compare them to the most reliable front load washers.
The following service rates are based on a minimum of 100 top load washers sold and a total sample of over 600 pieces.
| | |
| --- | --- |
| | Service Rates |
| LG Electronics | 2.5% |
| GE Profile | 5.1% |
| Speed Queen | 5.9% |
| Grand Total | 4.3% |
LG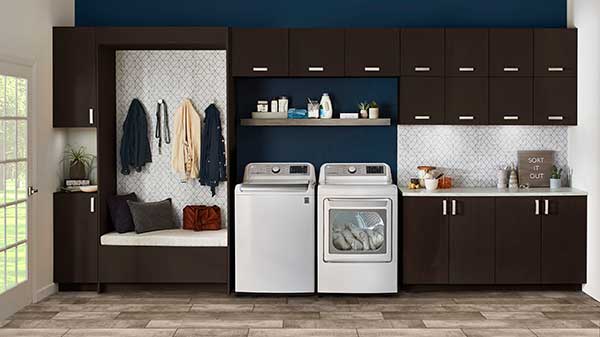 LG Top Load Washer and Dryer
Like the others on this list, LG, with a service rate of 2.5%, incorporated many of the traditional front-load features.
The most popular top load washer, the LG WT7405CW, is huge at 5.3 cubic feet. It features their TurboWash system turning any cycle into 30 minutes.
Unlike their front load washer, you have a deep fill option to soak your clothes with water.
GE Profile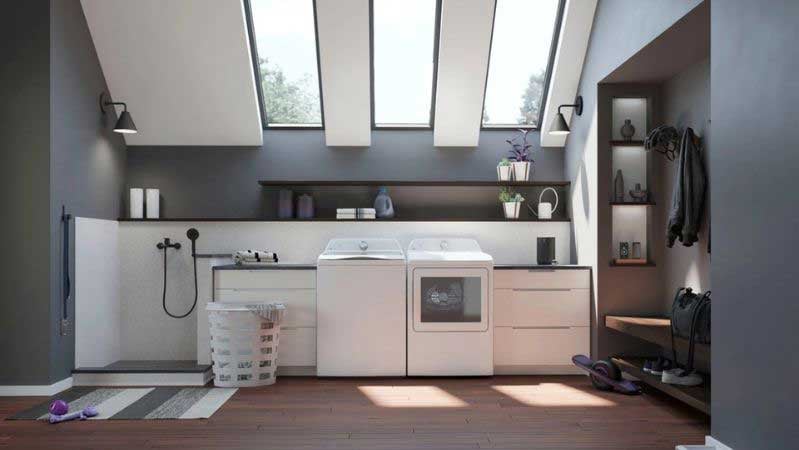 GE Profile Top Load Washer and Dryer
GE Profile's service rate of 5.1% was over the average of 4.3% for all top load washers.
The GE Profile washer has an extra-large capacity of 4.9 cubic feet. They feature custom dispensing in the back of the machine and plenty of cycles.
I now have an old top load washer in my apartment and wish I had GE Profile's Knot cycle. That cycle changes the wash action so the machine won't knot your bed sheets and blankets.
The best GE Profile top load washers to consider are the PTW605BSRWS and the GTW525ACPWB.
Speed Queen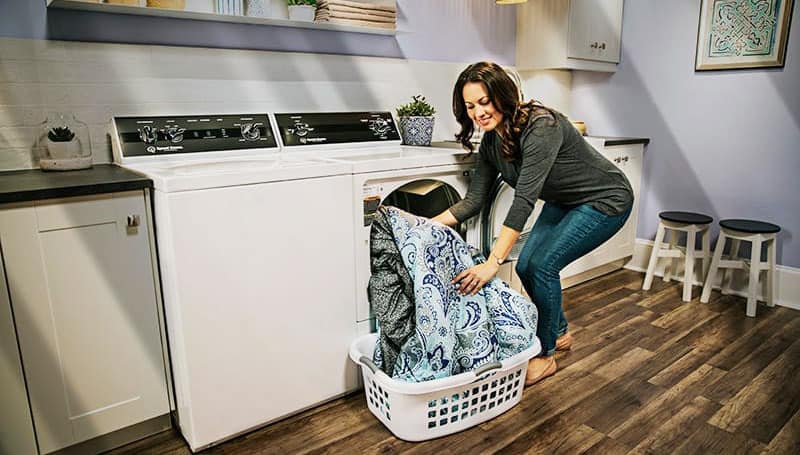 Speed Queen TR Series Top Load Washer and Dryer Set
Speed Queen is the heaviest machine on this list and is made in Wisconsin. Speed Queen's service rate of 5.9% was also above the average.
They have two series, the quieter TR series, and the classic TC series top load washers. The agitator moves with the water and is a quieter machine at 43 dB (decibels).
The agitator of the TC is tied to the motor for an aggressive washing action and agitation. It is not designed for delicate fabrics.
Speed Queen's top load washer may be the heaviest, but it has the smallest capacity at 3.3 cubic feet compared to LG, GE Profile, and Maytag.
Read More: Most Reliable Top Load Washers
Which Is More Reliable, a Top Load or a Front Load Washer?
Top load washers require more service than front load washers with a difference of 0.6%.
However, a nearly one percent difference is not a wide margin and not statistically significant. Both top load and front load washers require fewer repairs than appliances in general with an average service rate of 9.7%.
Still, front-load washers are more expensive to fix.
Read More: Front Load vs. Top Load Washers
Key Takeaways
Front load washers have a larger capacity and will use less energy and water than a hybrid top load washer.
A basic top load washer, or your base model, will be less expensive but have less capacity and use more water and energy.
Top load washers are less costly to fix without any mold issues.
Hybrid top load washers on this list have better capacity and decent features without mold problems and are less expensive.
Overall, all three are good options. Your choice depends on how you wash your clothes.
Learn more
FAQs
Common questions about front load washers.
Which brand is best for front load washing machines?
How long do front load washers last?
What's better, a top load or front load washer?
Why do front load washers smell?
Additional Resources
Download our Yale Washer Buying Guide with all the features, terms, and brands of laundry. Over 1 million people have already found answers in a Yale guide.
Related Articles
Most Reliable Appliances Series:
Why Should You Trust Us?
It seems that every appliance review has nothing but glowing comments about almost every product, yet you read customer reviews and they are almost universally bad.
We are here to fill in the disconnect. We'll give you the best features, and the drawbacks as well, including reliability based on over 37,000 calls performed by our service team just last year. Our goal is to give you ALL the information so you know what's right for you.
Please consider subscribing or adding to the conversation in the comments below. We appreciate you stopping by.
A Note About Pricing
Pricing on this blog is for reference only and may include time sensitive rebates. We make every attempt to provide accurate pricing at time of publishing. Please call the stores for most accurate price.