Most Reliable Front Load Washers for 2020 (Reviews / Ratings)
In this article, you will learn the reliability of every major brand based on 35,256 service calls logged last year by our service department in 2019.
Then you will also learn how and when to buy a front load washer, as well as if you should buy an extended warranty (you probably shouldn't).
How Front Load Laundry Reliability is Measured
Reliability is measured by the percentages of actual service calls versus sales. It is not predictive like others, but actual.
Unfortunately, there is a ton of misinformation you may have read because most review blogs or websites do not service a single appliance.
So, you are truly reading marketing and advertising pieces. It can lead to some very unfortunate buying decisions.
In front load laundry, some of the recommendations could not have been worse advice. The best brand for laundry by a leading publication was recalled by the manufacturer for repair.
The most sold brand in the Northeast has well documented issues as well.
This article will contradict much of what you have read.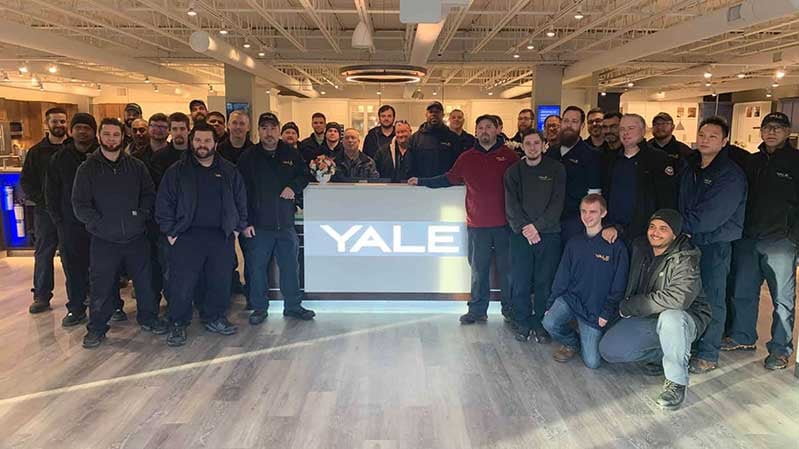 We have 30 service techs on 8-10 service calls per day, 5 days a week with 110 on the weekend. To be exact, we had 35,256 appliance service calls booked in 2019.
By the way, in case you don't think service is important, our current ratio is 1.5 service calls to every sale.
In the chart below, you will see sales in the right column and service calls within the first year on the left. The percentage is calculated by service calls divided by sales.
It is the fairest measure of initial quality. However, we do not distinguish between a major or minor call. If you need us to send a technician, it counts.
The numbers are a good estimate, especially between brands.
Short on time? Get our free Washing Machine Buying Guide
Most Reliable Front Load Laundry for 2020
| | | | |
| --- | --- | --- | --- |
| | Service Qty | Shipped Qty | Service Ratio |
| Whirlpool | 20 | 350 | 5.71% |
| GE Appliances | 1 | 15 | 6.67% |
| LG Electronics | 161 | 2270 | 7.09% |
| Samsung | 27 | 349 | 7.74% |
| Maytag | 251 | 659 | 38.09% |
| Electrolux | 13 | 13 | 100.00% |
| Grand Total | 473 | 3656 | 12.94% |
The average repair rate for front load washers was 12.94% in 2019.
Whirlpool has overtaken LG as the most reliable front load laundry units for 2020. However, Whirlpool is sold mostly through the builder channel.
Builders typically buy less expensive machines. Often times, they will pay us to perform "start up" checks. Many issues are mitigated by our techs before they become issues.
Both LG and Samsung had excellent repair rates. LG's number has been the most impressive with more units.
As we have written so many times, Samsung and LG struggle in some areas with parts, service, and technical service after the sale.
You should check with the local service agent before you buy. The actual repair is about the same as other brands.
Whirlpool and Maytag have faster turnaround times with parts, so you (and we) should not wait very long for a repair.
Electrolux has great technology but needs to improve their reliability and their dryers have a well-documented lint issue.
Speed Queen has issues with their front load washers. In fact it was off the market for most of last year.
Many review sites love Speed Queen and for that matter, loved Electrolux. They have great marketing and features, but the numbers do not dictate reliability in the past two years.
GE has brand new front load washers. They also may be a brand to consider in 2020.
What's the Problem With Maytag Front Load Washers?
Maytag and Whirlpool are the same machine. However, Maytag usually has more features or we sell the lower Whirlpool and the better Maytag.
Maytag has the 30 load dispenser, so you can load one time for a month. However, the problem with that dispenser is mold.
Clean it every month, and you should be fine.
Which Front Load Washer Should You Buy?
Whirlpool, LG and Samsung all have very good reliability. They have similar features. LG has a shallower model. Samsung has the best features at a price, but after that similar in washing.
With this in mind, buy the one that can be fixed faster in your area. Seriously.
Read reviews and speak to the local service agents. If performance is the same, then service is your prime consideration.
Front Load vs. Top Load Reliability
The basic Whirlpool is the most reliable in both categories. In terms of overall reliability, the next best machines are all front load machines.
Top loads are simpler, less expensive and cheaper to repair, but front loads are much bigger and use less water, detergent, and electricity. They also spin faster for less time in the dryer.
So the payback on a front load washer is 2-3 years with greater capacity.
How to Buy a Front Load Washer
When I started at Yale in 1986, you bought a 1 or 2-speed top load washer. Nobody complained (or knew to).
Now every machine has 5 speeds, 5 rinse combinations, and more cycles for every possible fabric type with almost twice the capacity.
You should always look for good reliability first and then the features. The capacity and cycle options you now have in front load laundry are probably more than you will ever need or use.
Let's dive into those options.
Front Load Capacity
A top load washer with an agitator has a usable capacity of about 2.4-2.5 cubic feet. Front load washers average about 4.5 cubic feet or almost twice as large.
The largest front load washer is 5.8 cubic feet. However, at 34 inches deep, you may have a tough time fitting this huge machine into your space.
Prices are the most competitive around the 4.5 cubic foot size at $599-$699 during promotions. The 5.8 cubic is roughly $1,800-$2,000, so you pay dearly for added capacity.
Cycles & Features
Cycles are hard to understand, but its based on a timer. This machine has 16 cycles to cover the accurate wash, rinse and soak duration for each fabric.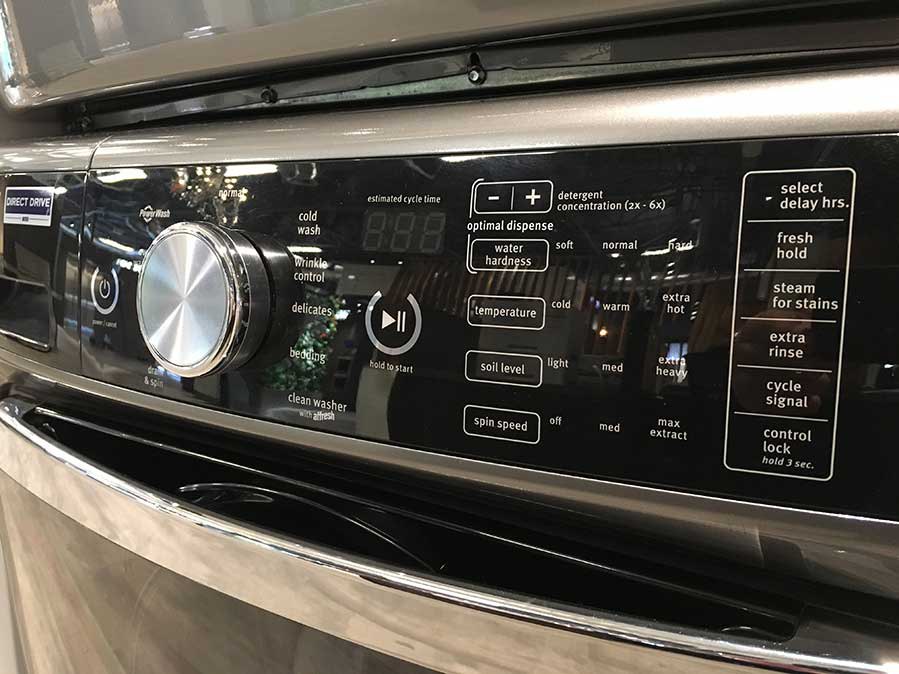 Maytag Washer Controls
Wash/Rinse: Most people use "Hot" for whites and "Cold" to not shrink anything. You have 5 combinations in most machines for different fabrics.
Spin Speed: Measured in revolutions per minute (RPM) of the wash drum. Faster spins dry the clothes faster.
Higher-priced models typically include:
Smart Dispense: In the Whirlpool/Maytag, there is a smart dispense holding loads of detergent, so you do not have to fill the dispenser for every wash. Remember to clean it.
Turbo: LG washes 30 minutes faster than a normal LG cycle.
Wi-Fi: Most upgraded have Wi-Fi compatibility. You can see the time remaining as well as turn on/off the machine remotely. You don't have to go down to the laundry room every 3 minutes. The machine will notify you when it's done.
Heat Boost: Better models offer an internal heater for added cleaning power on whites.
Steam: Steam lifts the tough stains like grass, wine, and blood. This is a worthwhile upgrade depending on how you stain your clothes.
SmartBoost: Electrolux mixes the detergent and water and then applies the mix on your clothes.
2 Washer: Samsung offers a double washer in the same chassis. It's a good feature, but you can buy 2 full-sizes for less.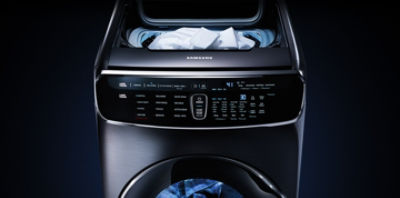 Overnight Cycle: Maytag offers a way to wash and dry an outfit or small load using the wash and spin cycle.
LG Sidekick: Kind of the opposite of the Samsung two washer, but the second washer is under the main washer. It's a good idea, but there are numerous water connections to install, so be careful.
AI: In the near future (perhaps this year), you will turn on the machine and it will calculate time and temperature automatically.
How to Prevent Mold in your Front Load Washer
A lot of reviews talk about mold in their front load washers. Mold is caused by standing water over a prolonged period of time. To prevent mold in your washer, you should always make sure the wash drum is dry as possible, especially the gasket in the front.
You can do this by running a towel over the gasket and leaving the door open to air dry after you are done using your washer.
A few companies specifically address mold. LG has the TubClean cycle, which is a 149-degree wash. Maytag has a separate fan.
If you do have mold, wash under a high temperature and use Affresh tablets to clean any mold and/or mildew.
You can read our full article on how to prevent mold here.
When is the Best Time to Buy a Front Load Washer?
Although you probably will not wait if you have a broken washer, there are better times to buy major appliances.
Ranking from the best: Black Friday, MA Tax-Free Weekend, Labor Day, President's Day, Memorial Day, and Independence Day.
Around these holidays, prices could be 10-30% off. LG and Samsung employed this strategy in conquering the electronics business. Every commodity manufacturer has followed.
Use it to your advantage.
Should you buy an extended warranty?
You will be asked and pushed by your store to buy an extended warranty.
First, you should never buy a warranty from a company who does not offer their own service. These warranties are outsourced and not designed to fix anything promptly or even correctly.
If you are buying this for a peace of mind, then you will get exactly the opposite of repair or lack thereof.
For washers, the numbers suggest not buying a warranty. At 6-8%, these machines work better than almost every other appliance.
Unfortunately, the repair itself is incredibly expensive because they have a direct drive motor.
We find it better for you to simply replace the machine than the parts and time to properly repair a bad direct drive motor.
So it's insurance of a low repair versus a very high cost.
Final Thoughts
Reliability is better than the average on a front load washer and almost the same as a simple, less efficient top load washer.
We have changed the brands we sell at Yale because of the 300% spread between reliable and less reliable machines.
There is a flip side to reliability as well.
Most of the horror stories about appliances are the inability to find qualified technicians to fix the washers on a timely basis, especially on more complicated front load models.
Above all, you need to figure out who will be fixing your new washer before you buy it.
Frequently Asked Questions:
Which brand is best for front load washing machines?
LG, Samsung, and Whirlpool are statistically the best front load washers.
How long do front load washers last?
The average life span of a washer is 6-10 years on average according to the United Servicers Association.
What's better, a top load or a front load washer?
Front load washers are larger with better cycles and energy efficiency. You can read more about front load washers vs. top load washers by clicking this link.
Why do front load washers smell?
Standing water is the main problem especially at the gasket. You want to dry the gasket and any residual water. Leaving the door open helps as well.
Additional Resources
Download our Yale Washer Buying Guide with all the features, terms and brands of laundry. Over 350,000 people have already found answers in a Yale guide.
Related Articles
Most Reliable Appliances Series:
WHY SHOULD YOU TRUST US?
A few review sites have placed this at the bottom of their articles. So here is our take: Our mission is to find reliable products for you to buy. Other review sites may say this as well.
However, we don't love every product. Quite frankly, it costs us way too much money in repair costs to support less reliable brands.
In fact, we sell fewer brands than most appliance stores. Here is why:
We feel it is our responsibility to repair your appliances after you buy them.
We now have 30 service technicians, each averaging 8-10 calls a day Monday through Friday, plus another 110 on Saturday. That's over 30,000 service calls logged in one year.
The labor rates of fixing an appliance do not come close to the true cost in any product's warranty period.
That is why no major retailer has a service department. It costs too much labor, money and time.
Our Blog is a bit different than most others you will read. We cannot write glowing reviews of unreliable products.
Hopefully, the bloggers and organizations who write such glowing product reviews for every brand consider servicing these products first. Only then they will understand the consequences of their marketing.
Steve Sheinkopf
My goal has always been simple: I want Yale to be the best retail experience anywhere. I have tried to create a compelling environment for customers and employees alike.
A Note About Pricing
Pricing on this blog is for reference only and may include time sensitive rebates. We make every attempt to provide accurate pricing at time of publishing. Please call the stores for most accurate price.