Maytag vs. Electrolux Front Load Washers (Reviews / Ratings / Prices)
It's hard to believe that LG and Samsung have the highest market share in what was a truly American product, the washing machine.
Before you buy either, there are some other brands to consider like Speed Queen, Samsung, Whirlpool, GE, and Frigidaire.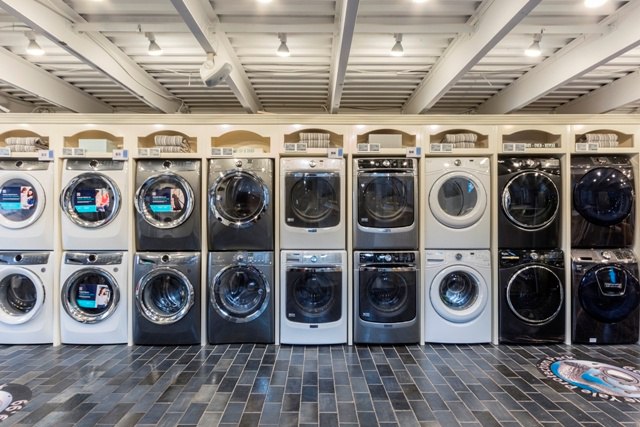 However, Maytag and Electrolux should be towards the top of your list. We will look at both brands, the products, and then compare them.
Both are very different, so you will have a sense of what might be right for you after reading this article.
Maytag
Maytag, manufactured in the U.S., created its first washing machine back in 1907. They were the original dependable company as their products lasted 18-20 years. Unfortunately, bad management and faulty products forced Maytag to be sold to Whirlpool in 2003.
However, with the best reliability currently in the laundry category, Maytag is now again a viable product. Maytag is US manufactured and is the best laundry product offered by Whirlpool.
Watch this short video about Maytag washers.
Maytag Washers
Thanks for reporting a problem. We'll attach technical data about this session to help us figure out the issue. Which of these best describes the problem?
Any other details or context?
message
Electrolux
Electrolux broke into the laundry market a little later when they introduced their pioneer laundry center in 1970. Their products are made in Mexico, and they have continually tried to create innovations in their cleaning systems.
It's safe to say Electrolux has been redefining fabric care technology. In 2006 Electrolux introduced the first steam dryer. Now, they have new rinse and "SmartBoost" features.
Watch this video about Electrolux to learn more about their company.
Electrolux Laundry
Thanks for reporting a problem. We'll attach technical data about this session to help us figure out the issue. Which of these best describes the problem?
Any other details or context?
message
Maytag MHW8200FW vs. Electrolux EFLS617SIW
The Maytag MHW8200 is a reliable machine, with a lot of cycle options. This washer features PowerWash, combining extra cleaning action and heated water to fight stains. Beyond the 1-year parts and labor, the MHW8200FW comes with a complimentary 10-year limited warranty on the washer motor and basket.
This washer has a 12 hour Fresh Hold option, where circulating air helps keep odors and wrinkles from setting in for up to 12 hours after the wash cycle ends. You can also select this option manually at any time to dry out the interior.
One of the biggest issues to front loaders is odor. It is caused by residual water, usually in the gasket.The fan mitigates the ordors by drying the moisture. Still, you should dry the gasket and keep the door open to eliminate the problem.
Another cycle unique to this washer is the Overnight Wash and Dry cycle. For a small load, start the washer before you go to bed, and it's dry and ready to wear the next day.
MHW8200FW Features:
Steam - Powers out stains using the additional soak time, optimal water temperature, and a boost of steam from the Steam for Stains option, which can be added to select cycles.
Power Wash System - An enhanced cleaning cycle that uses an extra cleaning action and a thorough rinse to remove tough stains.
Fresh Hold Option
4.6 cu. ft. Capacity
11 Wash Cycles - allow you to customize exactly what you are washing.
1,200 RPM - spins out all of the excess moisture to help cut down on drying time.
Overnight Wash & Dry Cycle
Comes in White or Granite
Electrolux EFLS617SIW Front Load Washer - $1,099.99
This is the newest generation of Electrolux laundry. Their patented second-floor guarantee in the new models have not been as quiet either.
On the other hand, they have updated some of the aesthetics and controls, for a more modern and advanced appearance.
In addition, these washers have a two-pump system which bypasses the detergent dispenser in the rinse cycle which prevents residual soap running through the rinse. This is especially appealing to people who have skin allergies or sensitivities.
SmartBoost premixes detergents and automatically releases the mix during the wash for a better clean.
EFLS617SIW Features:
4.4 cu ft capacity - Easily cleans a king-sized comforter.
LuxCare Wash System - offers a thorough clean by combining improved wash actions, temperature control, and smart load sensing.
Perfect Steam Technology - rises from the bottom, gently lifting dirt and stains from fibers.
StainSoak Option - starts with premixing the water, detergent, and stain remover before the cycle begins to create a powerful, yet gentle cleaning solution. Then, it optimizes the wash program based on the stain you select.
SmartBoost for Vibrant Colors - delivers an exceptional clean in cold water, so your favorites stay flawless and colors stay vibrant, longer.
9 Wash Cycles - Colors, Whites, StainTreat, Rinse & Spin, Quick Cycle, Casual, Normal, Heavy, and Delicates.
Option Selections: Clean Water, Delay Start, Freshwater Rinse, Stain Pre-Treat, Light, and End-of-Cycle-Chime.
15 Minute Fast Wash - Quickly deep cleans the items you need most

Comes in Island White or Titanium.
What are their differences?
Maytag

MHW8200FC - $899

Electrolux

EFLS617SIW - $1,099

Capacity
4.6 cu. ft.
4.4 cu. ft.
Drum Material
Stainless Steel
Stainless Steel
# of Wash Cycles
11
9
# of Performance Options
8
6
Spin Speed
1,200 RPMs
1,300 RPMs
Special Features
Overnight Wash and Dry Cycle, FreshHold Option, Steam
SmartBoost Technology, Stainsoak Option, Steam
Stackable
Yes
Yes
Option of a pedestal
Yes
Yes
Reliability
7.3%
15%
Warranty
10-year Motor and Basket
10-year motor, Lifetime Tub
First, both are excellent machines. They are both large and have a tremendous amount of cycles for any type of fabric with 5 wash and rinse temperatures as well as 5 speeds for every type of fabric.
Electrolux has the second rinse and the SmartBoost features producing cleaner clothing.
Maytag has the fresh hold, the 12-hour wash and dry cycle, the fan, and the overnight cycle for convenience. You can also load up to 12 loads of detergent, and the machine will add it as needed.
In terms of features, they both are the best in different ways. Electrolux has better cleaning versus Maytag's more robust options.
Perhaps, another measure would be reliability. According to our own service department, the Maytag/Whirlpool machines are only 7.3% serviced within the first year while Electrolux is still good, but over double at 15%.
Additional Resources
Download our free Washer Buying Guide for features, specs, and reviews on all the major brands. Over 220,000 people have already found answers in a Yale Guide.

Related Articles:
Danny Nguyen
Danny Nguyen is an Appliance Sales Consultant at Yale Appliance + Lighting. Danny has completed 2 half marathons and enjoys spending time travelling and snowboarding.

Schedule a showroom visit with me
A Note About Pricing
Pricing on this blog is for reference only and may include time sensitive rebates. We make every attempt to provide accurate pricing at time of publishing. Please call the stores for most accurate price.