10 Kitchen Appliances You Should Never Buy
I was shocked when writing this article.
Many products on this list are flagship, highly marketed products boosted by multi-million dollar advertising campaigns.
Some of the products listed are personal favorites.
Who wouldn't want a refrigerator that can also be a hub of communication for your whole family?
Not the general buying public.
Many of these items are sold in our outlet at a steep discount.
In this article, you will learn the ten products people don't buy, the reasons why they don't, and better options to consider.
We'll also cover custom appliance finishes to stay away from.
Let's get started.
Short on time? Get our free Appliance Buying Guide
10 Kitchen Appliances You Should Never Buy
1. Samsung Family Hub Counter Depth Refrigerator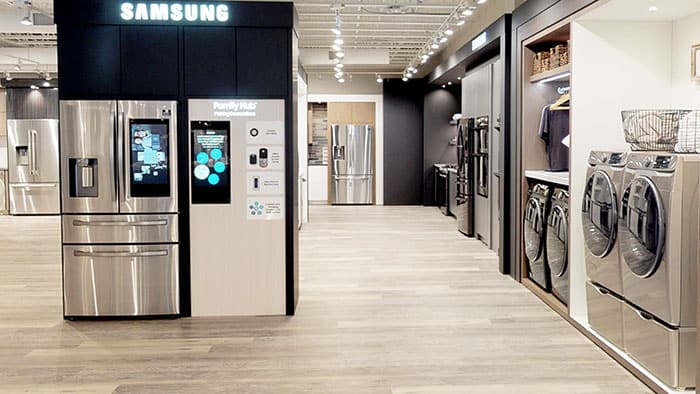 I love this refrigerator. It is internet ready. You can leave notes on it and run your ring to see who is at your door.
You can also see the inside of the refrigerator, so you don't buy that extra bottle of mayo or mustard.
Yet the sales are disappointing.
You and every member of your family already have a Family Hub in your pocket. Your cell phone performs most of these same functions.
What Appliances People Buy Instead: French door refrigerators are still the most popular in three-door, four-door, and three-door with drawers.
Should You Buy the Samsung Family Hub Counter-Depth Refrigerator? [Video]
2. Samsung Slide-In Range With Flex Duo Divider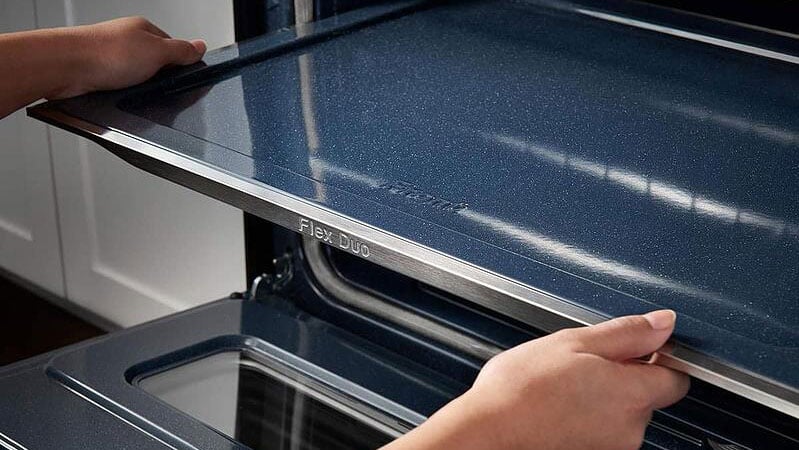 This product is ingenious. You have one large oven divided into 2 with a "Smart Divider."
Samsung even placed the convection fans vertically instead of horizontally, so you have convection in both.
However, the ovens do have limitations when both are operating.
What Appliances People Buy Instead: Large regular ovens in KitchenAid are popular. Double ovens ever since the original Maytag Geminis have never been that popular.
The Café Appliances may be the only exception. JennAir and KitchenAid also have a baking drawer, allowing you a much larger oven and a small place to bake below.
Should You Buy the Samsung Slide-In Range with Flex Duo? [Video]
Read More: Café Appliances Vs. Samsung Double Oven Gas Slide-in Ranges
3. Oversized Washers and Dryers (6 Cu. Ft. or More)
Look at this huge 5.8 cubic foot LG Washer or the double washer from Samsung. It sells for $1,799.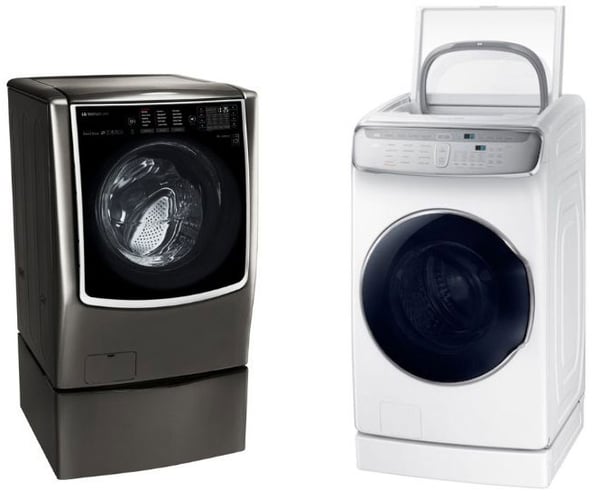 You can't buy this set because it is too deep at 35.75 inches, so it probably will not fit your space.
It is also double the price of a 5.0 cubic foot washer. Like this one:
What Appliances People Buy Instead: You will have plenty of room at 4.5-5 cubic feet for half the price.
Read More: How to Buy a Front Load Washer
4. LG Sidekick Compact Pedestal Washer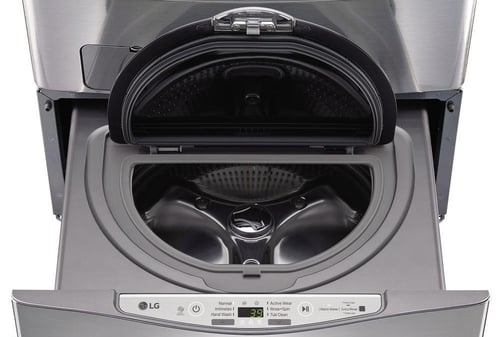 This is another great idea. The Sidekick is a one cubic washer designed to fit under your regular LG washer.
However, it costs $700+. You also have to bend to add or retrieve that small load. You cannot buy a Sidekick dryer to match the washer.
Samsung and LG have shown up prominently on this list, yet they are the fastest-growing brands.
They are also the most innovative. Their few misses pale in comparison to their many successful products.
5. Miele Rotary Ironer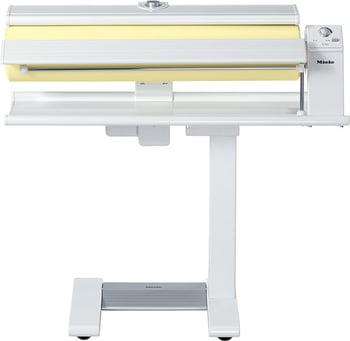 Like all Miele products, the rotary iron is well designed to flatten anything entirely, even bed sheets. The product truly works.
However, for $2,049, you may want slightly wrinkled bed sheets.
What Appliances People Buy Instead: I can only guess it would be a regular $40 iron.
6. Gas Wall Ovens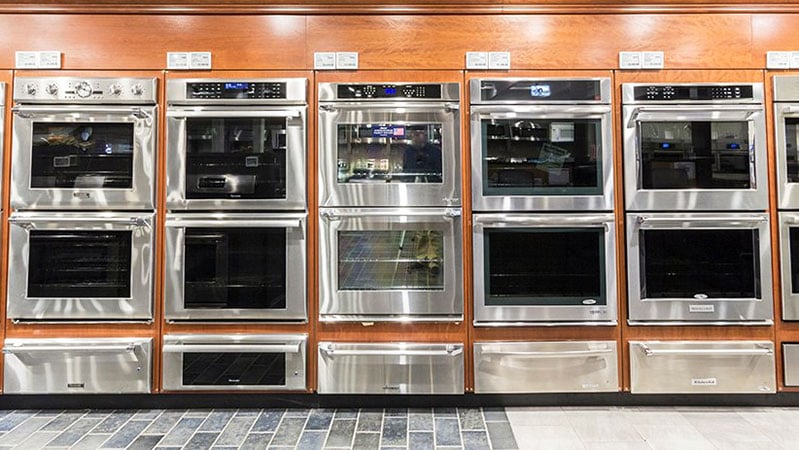 Many people have a gas oven and can only have one. It's a smaller 24-inch style designed for replacement.
More people would buy a gas wall oven if they had a choice. Gas is a moister heat and better for roasting and especially broiling. Electric is better for baking.
Thirty years ago, Modern Maid debuted a beautiful double 30-inch wall oven with gourmet broilers. Nobody bought it.
Why did I put the BlueStar French door gas double wall oven on display only to sell it 40% off in the outlet?
Again no idea.
What Appliances People Buy Instead: Electric wall ovens.
Look at this display: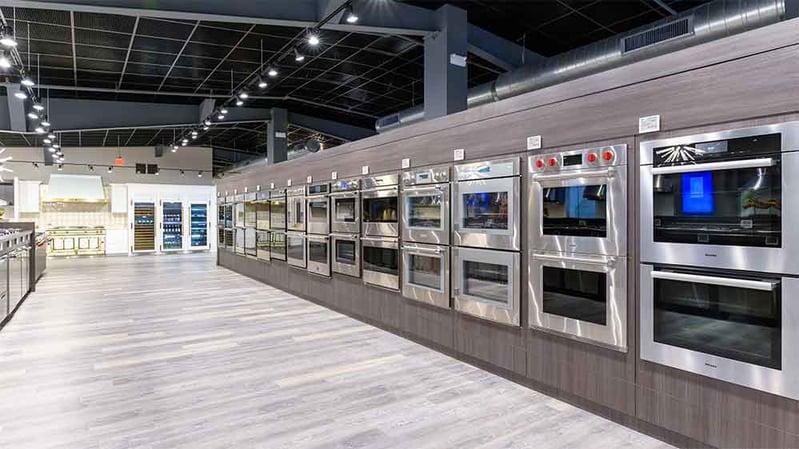 All of these wall ovens are electric in our Hanover showroom.
Read More: How to Buy a Wall Oven
7. Warming Drawers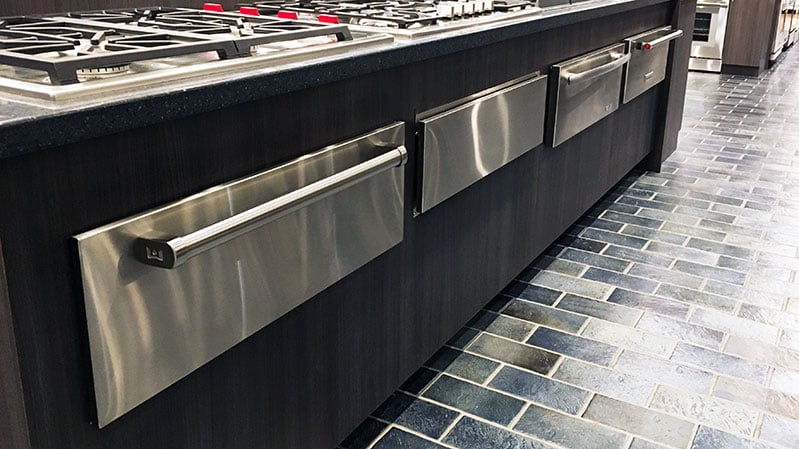 Warming drawers are such a good idea. Let's say you, your kids, and significant others are on different time schedules.
You place the food in a warming drawer for up to 3 hours. It will not dehydrate your food like a microwave.
However, they are costly around $1,000 and up.
Many ranges have built-in warming drawers instead of storage drawers for not much more than $1,000 for a whole range.
What Appliances People Buy Instead: Microwaves, sadly.
8. Trash Compactors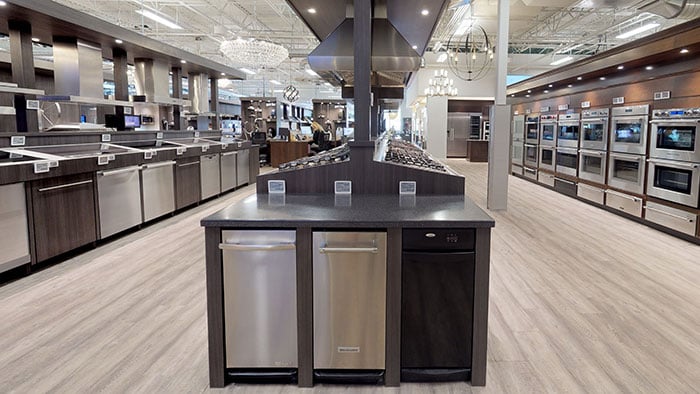 We had a trash compactor in my house growing up. I was tasked with taking out the garbage, so it was simple to hit the compact button on a cold night.
Compactors compress the garbage and air around it.
Unfortunately, hitting the button so many times created a hefty bag of garbage.
Instead of using trash compactors, people are recycling and splitting the garbage into two separate piles.
9. Indoor Grills for Professional Ranges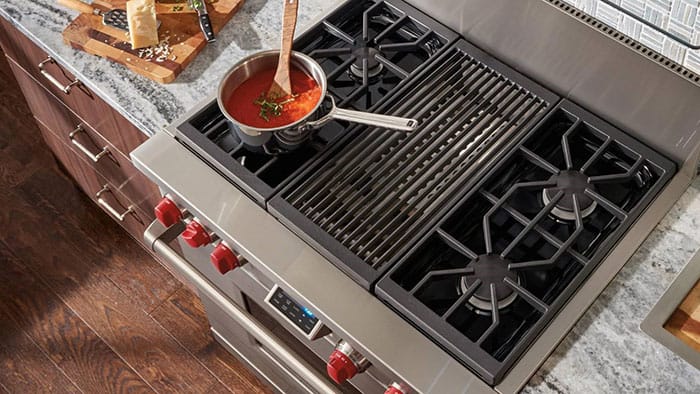 This was somewhat surprising, but griddles and six burners outsell grills by a large margin.
Then again, grilles are harder to keep clean and need much more venting.
As our ex store manager turned purchasing manager Jay Upton once said:
"See that smoke off your outdoor grill. Do you want that inside your house?"
What Appliances People Buy Instead: On pro ranges, griddle and burner configurations are more popular.
Wolf as a brand will be marketing their new dual-fuel eight burners 48 inches without griddle or grill. They already have one in all gas. BlueStar has its eight burners as well.
10. Outdoor Appliances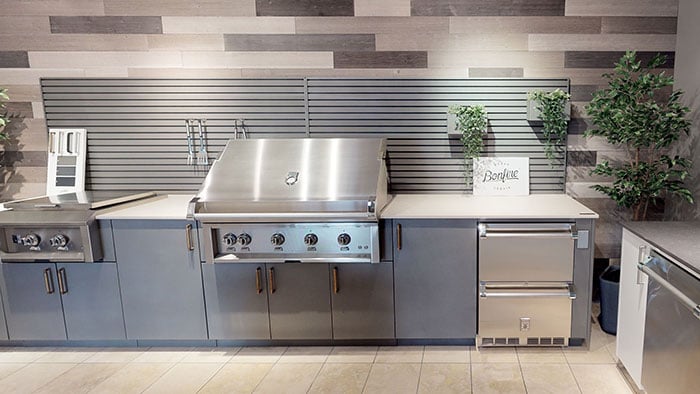 Outdoor kitchens have become way more popular. It's become your second eating area. A place to enjoy the outdoors while eating with family and friends.
Of course, as I write this in late November, the last place I want to eat is outdoors.
If you live North of, say, in Virginia, then you know what I mean.
You need to examine how you use your grill before you buy an outdoor kitchen.
They see what other people don't buy, maybe the right way to narrow down your selection.
You should have already placed a cover on it for your grill and hopefully wheeled it in your garage.
Outdoor Dishwashers
For your dishwasher, you have to shut off the waterline, uninstall it, and place it in your garage.
Outdoor Kegerators or Beer Taps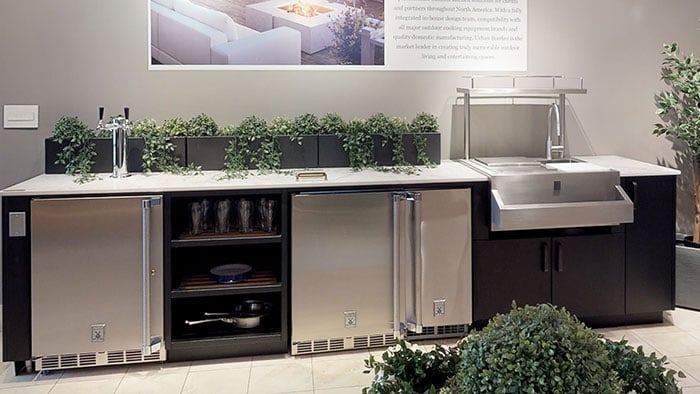 Beer taps or taps into kegs have been a staple in every kitchen brochure. However, they are infrequently purchased.
What Appliances People Buy Instead: Generally people invest in their grills, side burners, waste chutes, and watertight cabinets for an outdoor kitchen.
Read More: How to Design an Outdoor Kitchen
Custom Appliance Finishes People Don't Buy
Black Stainless Steel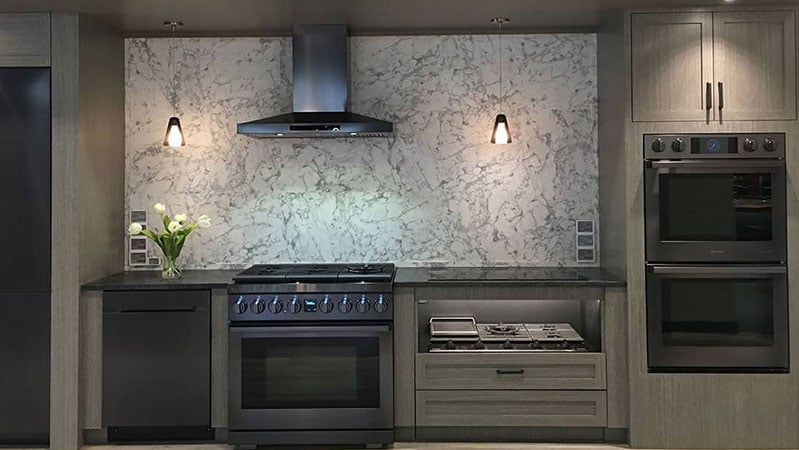 At one time, Black Stainless Steel was the hottest finish at 30-35% of all appliance packages. Its warmer tones yet industrial finish was a decent alternative to stainless.
Before deciding to sell this finish, we decided to perform a scratch test.
As you can see, it scratches easily. Black Steel is an oxide coating over stainless, so it is easily scratchable.
More importantly, you cannot repair that scratch.
Over time, you will have a nice black finish with a constellation of bright stainless scratches.
Black Steel is now less than 3% of sales today nationally.
It is still a decent finish. You have to be extremely careful around it.
Read More: Should You Buy Black Stainless Steel Appliances?
Brown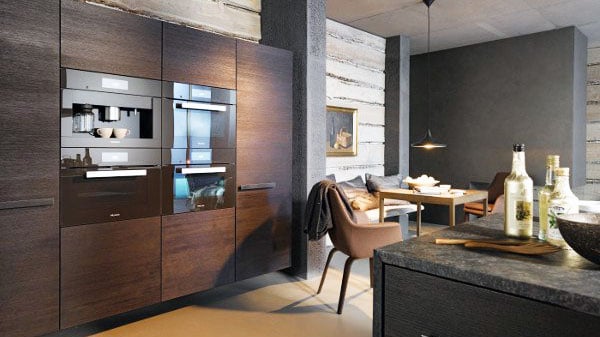 Brown is introduced in every generation.
My Grandfather sold it in Coppertone. JennAir had oil rubbed bronze. My dad loved it. We used to have a full display in the middle of the store.
So why did I put Miele's Truffle Brown on a few years back?
No idea.
Brown supposedly matches your brown cabinets. However, it never seems to because there are endless shades of brown.
So what do you do if you don't want stainless?
We wrote a post on adapting color a few months ago. If you are sick of stainless steel, how just a pop of color on a range or refrigerator.
Read More: Best Color Alternatives To Stainless Steel For Kitchen Appliances
Key Takeaways
Many of these products are still worth considering.
If you love to grill and live in Boston, then yes, you should buy that indoor grill. Just make sure you vent correctly and buy a cover, so it doesn't look like a messy, used grill.
Ditto for the Family Hub. There is value in having a centralized place to keep your family organized.
The new Samsung Flex Duo has air frying and is well priced. Just know its limits.
As far as the others, there are better alternatives for far less money.
Still, there is nothing on this list not worthy in some applications.
Need something uplifting? Read about the 7 Appliances to Consider in Your New Kitchen.
Additional Resources
Want more information on the worst renovation mistakes to avoid? Get The Book of Bad Renovations to learn how to avoid a renovation failure. Well over 1 million people have read and trusted a Yale Guide.
Related Articles:
Appliances You Should Never Buy Series:
Why Should You Trust Us?
It seems that every appliance review has nothing but glowing comments about almost every product, yet you read customer reviews and they are almost universally bad.
We are here to fill in the disconnect. We'll give you the best features, and the drawbacks as well, including reliability based on over 37,000 calls performed by our service team just last year. Our goal is to give you ALL the information so you know what's right for you.
Please consider subscribing or adding to the conversation in the comments below. We appreciate you stopping by.
A Note About Pricing
Pricing on this blog is for reference only and may include time sensitive rebates. We make every attempt to provide accurate pricing at time of publishing. Please call the stores for most accurate price.