Café Vs. Samsung Double Oven Gas Slide-in Ranges (Reviews/Ratings/Prices)
Two of the best gas ranges you can buy are Café Appliances, the CGS750P4MW2 and the Samsung NX58K9850SS (their better 60 model is not new and not as popular yet).
You may also consider a high powered professional (pro) range, but these two have total BTU output in most cases, plus better ovens and self-cleaning.
So this should be an easy comparison of burners, ovens, reliability, and prices.
But it's not.
These brands, and especially ovens, operate differently. How you use your oven will determine the better choice.
Samsung Slide-In Gas Range With Flex Duo at Yale Appliance in Hanover
In this article, you will learn the technical specs of both products, their reliability, a comparison of the cooktop, range, and one last small but crucial variable.
In the end, you will know which gas range will be best for you.
Short on time? Get our free Gas Cooking Buying Guide
Samsung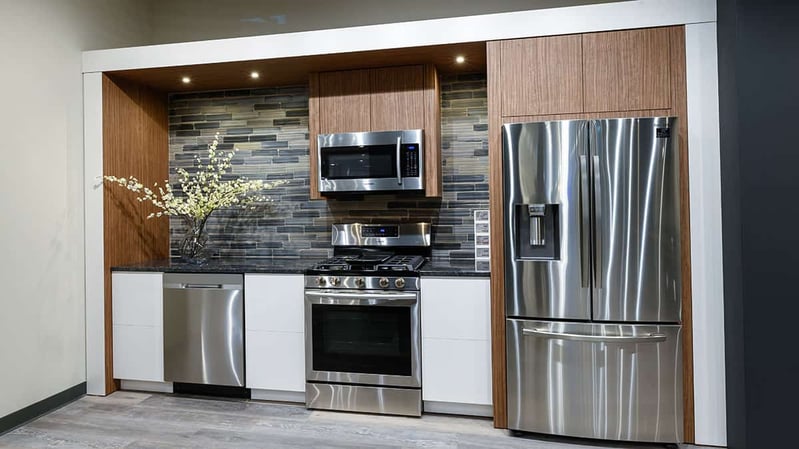 Samsung Kitchen Appliances at Yale Appliance in Hanover
Samsung is the number 1 preferred brand in the US. What is shocking is the exponential growth and the short time to be number 1
They leapfrogged every major company by promoting well-styled, fairly priced, and reliable (I will explain reliability later in detail) products.
Samsung is also innovative. For appliances, innovation can make your life easier. Their refrigerators with the ability to change from freezer to refrigerator are an example.
Other times, innovation can frustrate you as well. Products being too technical or too expensive will not deliver the expected results.
Let's take a look at their range.
The Samsung gas slide-in range with Flex Duo is both these categories of being helpful yet frustrating.
The "Flex" in Flex Duo is based on a Smart Divider inserted in the main oven cutting the oven in half.
Samsung had the foresight to place the two fan convection vertically instead of horizontally.
Each oven has convection. That's a good idea.
Samsung is now marketing two units, the NX, and NY. The NY is newer with an Air Fry featuring two hotter burners and a slightly larger oven by cutting the storage drawer.
Café Appliances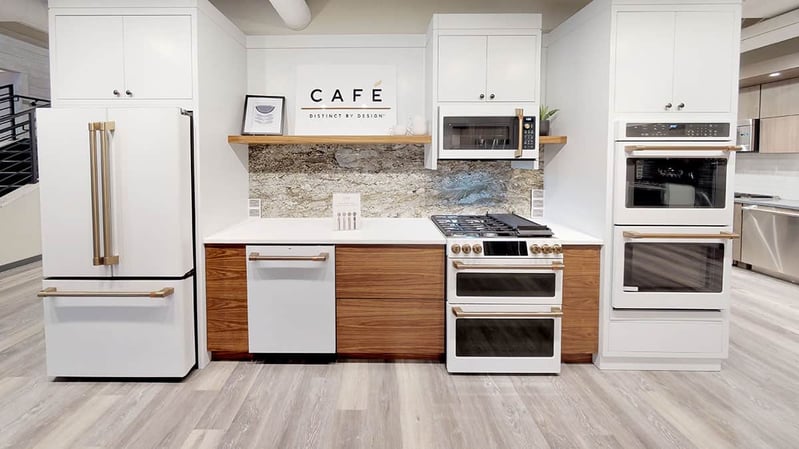 Café Appliances Kitchen Appliances at Yale Appliance in Hanover
The Café Appliances is the best of the GE lines. Of course, GE is not the GE you knew. It is now owned by Haier, a Chinese appliance only company.
Let's take a look at their range.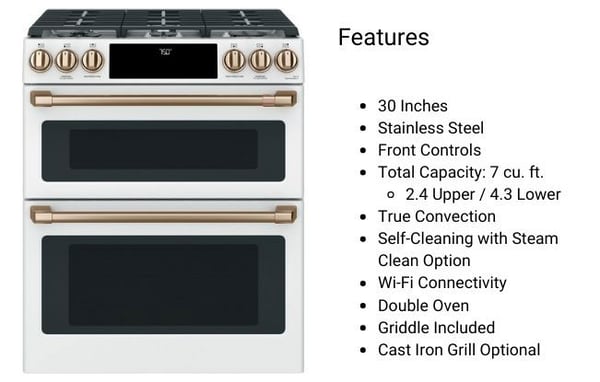 This line distinguishes itself by features but also style.
The Café Appliances slide-in gas range with double ovens has four styles: Mirrored, Black, White, and Stainless.
It also has three accent packages: Stainless, Copper, and Brass.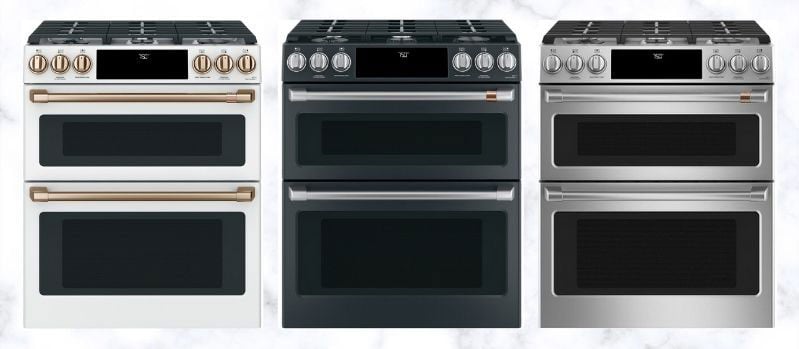 White, Black Stainless, and Stainless Finishes forCafé Appliances Gas Ranges
Copper and brass are great for traditional New England homes.
With style, two ovens, and six burners, this range is excellent, but a bit pricey.
Café Appliances CGS750P4MW2 Gas Range Video Review
Now let's compare. I will save the best for last to keep you in suspense, or you can just scroll down.
Café Appliances Vs. Samsung Gas Range Reliability
Gas Range Reliability For June 2019-July 2020
| | | | |
| --- | --- | --- | --- |
| | Service Qty | Shipped Qty | Service Ratio |
| Bosch Benchmark | 8 | 14 | 57.14% |
| BlueStar | 9 | 18 | 50.00% |
| JennAir | 83 | 263 | 31.56% |
| LG | 3 | 12 | 25.00% |
| Blomberg | 3 | 12 | 25.00% |
| KitchenAid | 48 | 231 | 20.78% |
| Fisher & Paykel | 3 | 19 | 15.79% |
| Bosch | 33 | 241 | 13.69% |
| Café Appliances | 9 | 81 | 11.11% |
| GE Profile | 17 | 177 | 9.60% |
| Beko | 1 | 11 | 9.09% |
| Samsung | 76 | 1199 | 6.34% |
| Whirlpool | 11 | 239 | 4.60% |
| GE | 0 | 32 | 0.00% |
| Grand Total | 304 | 2549 | 11.92% |
It looks like Samsung is more reliable. However, you are comparing a portfolio of Samsung ranges against a six-burner, two oven range.
If we spliced out the basic appliances, the reliability is similar.
The experience when you do have an issue may not be.
Samsung has had explosive growth and has outgrown its support. So you could be waiting a while for repair.
GE has its own service department. It's better, depending on the tech in your area. Factory service is a mixed bag for every manufacturer and unfortunately, mostly bad.
Most manufacturers look at it as a cost center rather than a way to keep you happy and buying their products.
Customer retention is harder to measure and is most often overlooked by most brands and retailers.
Café Appliances Vs. Samsung Double Oven Gas Slide-in Ovens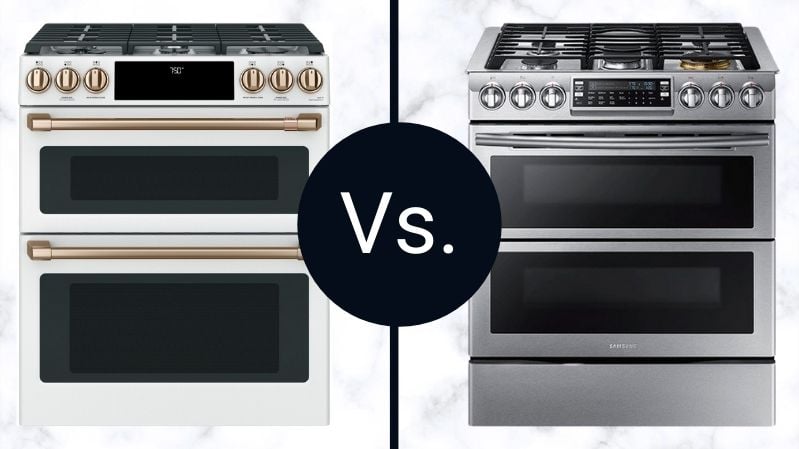 Cooktop Surface
I used to think four burners were enough. I can't remember when a normal family used more except on Thanksgiving and other holidays.
For both brands, it can be Thanksgiving every day.
Samsung has the now-standard five burners with a griddle in the model.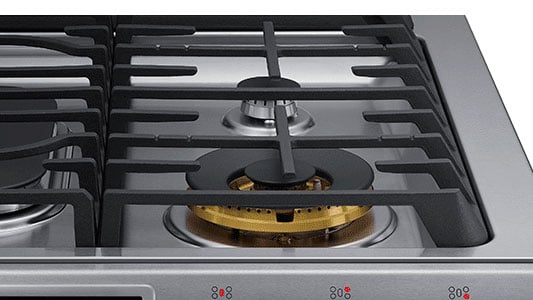 Samsung Gas Range Cooktop
Samsung's output is excellent as well, with 22,000 and 15,000 BTU power burners, a 10,000 griddle burner, a 9500, and a simmer at 5,000 BTU.
Their better series has a 23,000 and a 16,000 BTU along with the other three as well.
Café Appliances manages to have six burners on a 30-inch range with two power burners of 21,000 and 15,000 with a 12,000, 2 9,500, and a simmer at 5000 BTU.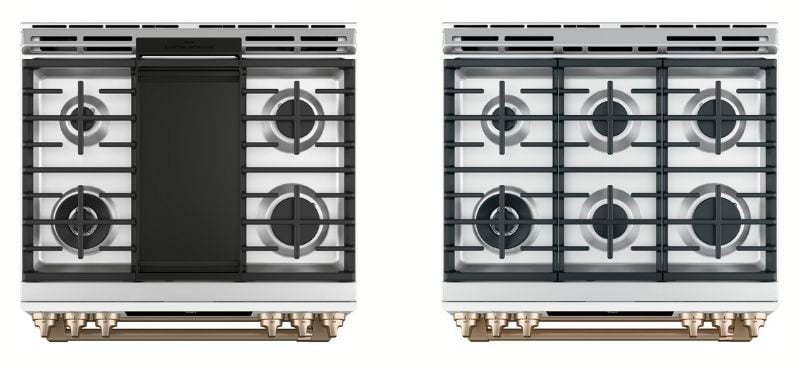 Café Appliances Gas Range Cooktop
You can boil quickly on two burners as well as simmer well on one burner on both ranges.
The output is not the reason to buy one or the other.
Oven
The oven is straightforward, or so you should think.
Café Appliances is the largest with two ovens. The bottom is convection.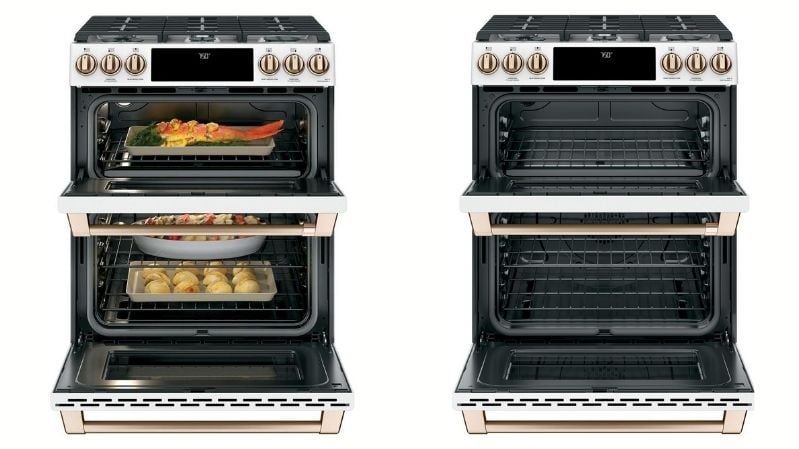 Café Appliances Double Oven Gas Range Interior
Samsung is twin convection with a slightly smaller capacity because of a storage drawer below.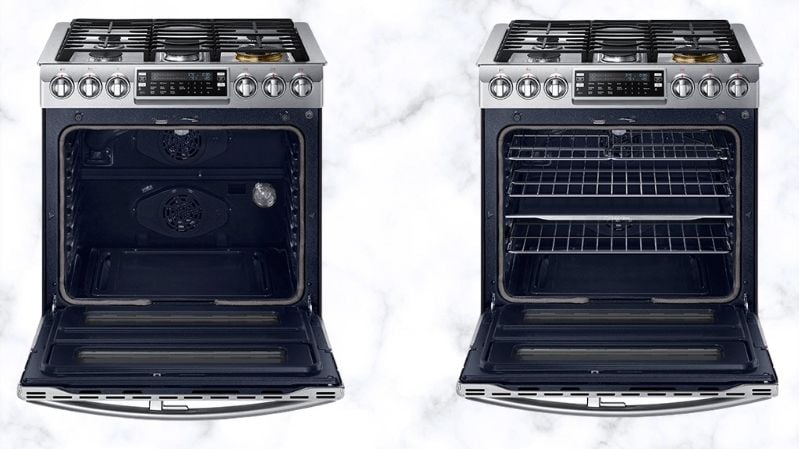 Samsung Gas Range With Flex Duo Interior
They have the advantage of splitting that bigger oven into two convection ovens or keeping it a large twin convection oven.
Unlike the GE, you don't have to bend in half to retrieve that Thanksgiving bird every holiday, because the storage drawer lifts the oven off the floor.
Normally you would have the six-burner Café with larger capacity and better style options against a more flexible, innovative dual convection concept with Samsung.
However, innovation can go two ways. It could make a produce better or make a produce worse.
Reading the Owner Manual for the Samsung, specifically pages 24-25, I noticed a problem with the Flex Duo.
Look at this: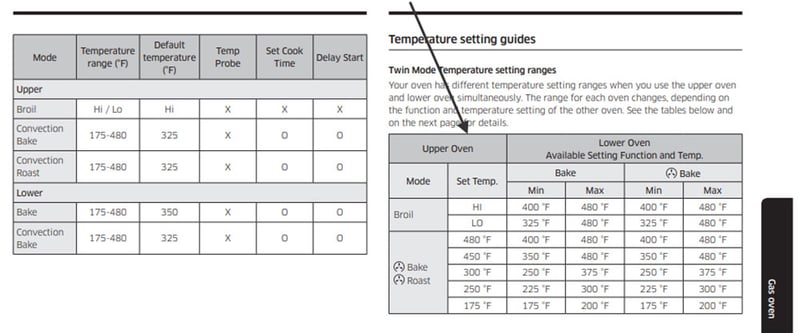 It turns out you can use both ovens for every mode simultaneously. But, what does that mean for you trying to cook?
With the broiler on the top when you split the oven, you scorch food on the top while undercooking on the bottom.
In our cookie test, you also cannot change or regulate the temperature below 350 degrees. So there are limitations on the whole Flex concept.
As we said before, it's innovative but a bit annoying, depending on how you cook.
Which Gas Slide-In Range Should You Buy?
I still think these ranges should be considered. At this level, a pro range after their rebates can be considered, because the price is about the same.
Both have excellent output and thoughtful burner design.
Café Appliances has more capacity, one more burner, and style options, while Samsung is less expensive with a more innovative 2 in 1 oven.
But the real answer is how much you will use that second oven and will Samsung's limitations prohibit you from cooking in both ovens simultaneously.
So although both are good, the oven is your big question mark.
Additional Resources
Want to learn more about the latest gas ranges and technology? Read the Yale Gas Range Buying Guide with features, specs and detailed profiles of every major brand. Well over 800,000 people have downloaded a Yale Guide.
Related Articles:
Why Should You Trust Us?
It seems that every appliance review has nothing but glowing comments about almost every product, yet you read customer reviews and they are almost universally bad.
We are here to fill in the disconnect. We'll give you the best features, and the drawbacks as well, including reliability based on over 37,000 calls performed by our service team just last year. Our goal is to give you ALL the information so you know what's right for you.
Please consider subscribing or adding to the conversation in the comments below. We appreciate you stopping by.
A Note About Pricing
Pricing on this blog is for reference only and may include time sensitive rebates. We make every attempt to provide accurate pricing at time of publishing. Please call the stores for most accurate price.