11 Kitchen Renovation Mistakes to Avoid
April 22nd, 2021 | 10 min. read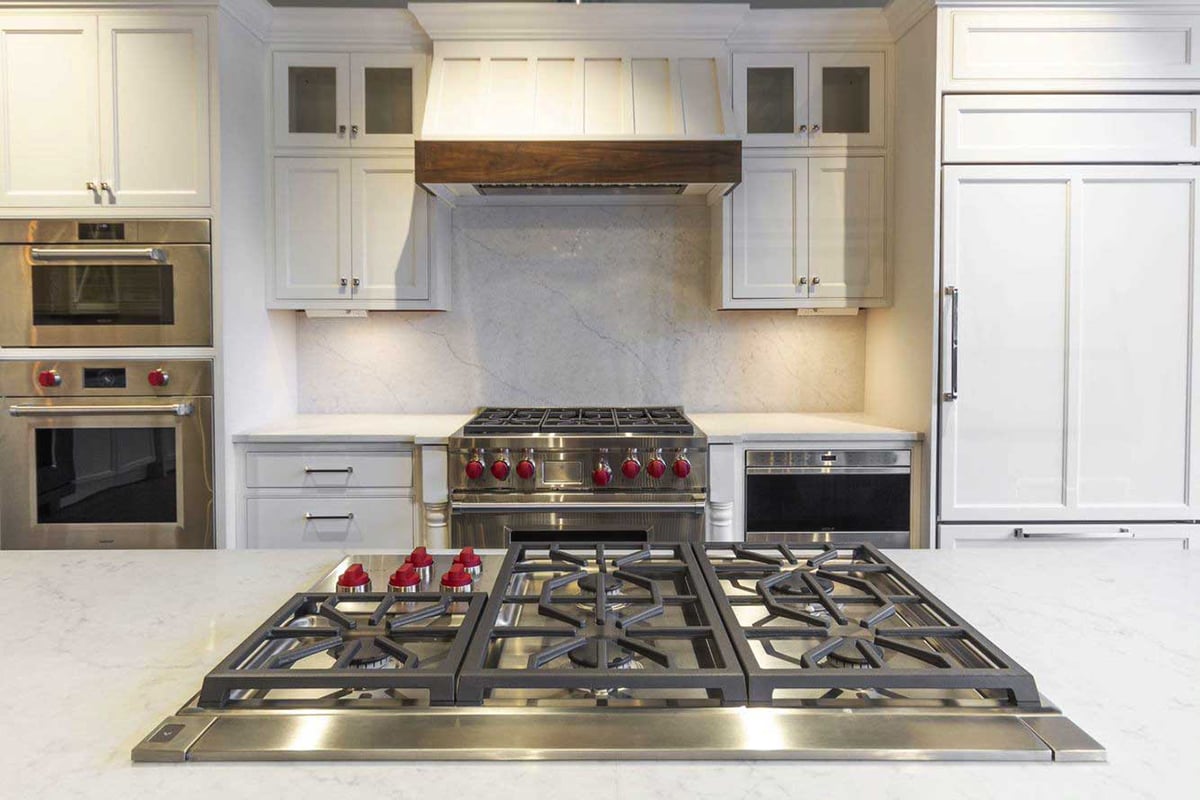 You know how red hot the real estate market is in New England. People are outbidding on homes and offering well over the asking price.
It's red hot as a seller if you don't make a mistake like this one below: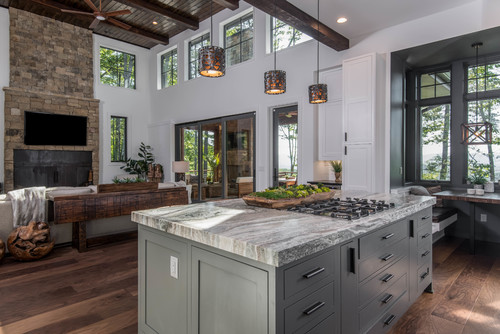 Gas Cooktop in Kitchen Island With No Ventilation
I was surprised to see a beautiful apartment for sale not sold in the South End. It had been on the market for a while.
What was wrong? It had high ceilings, beautiful crown moldings, and plenty of space, even parking (a huge bonus in the constricted South End). Then I immediately saw the problem.
They placed a cooktop in the middle of a big, beautiful island with no ventilation.
You can't place a hood over it because the upstairs neighbor wouldn't appreciate it or even allow it.
A downdraft wouldn't work because it doesn't work with a long duct run.
Maybe I could have swapped the cooktop for the sink, I would lose a cabinet with the hood, but it's doable.
Except the sink base was 24 inches and a cooktop is 30 or 36 inches.
Swapping will have a cascading effect resulting in replacing the whole kitchen.
So that one little mistake, in addition to the baffling placement of the other appliances, has kept the unit on the market.
It will probably cost the owner $100,00-200,000 off their asking price plus the loss of time just for that one small mistake.
11 Kitchen Renovation Mistakes to Avoid
I initially wrote the 10 Kitchen Appliance Remodeling Mistakes You Should Never Make just last October.
However, with Covid and supply issues, I needed to write a second article because there are more than 10.
This article will be split between planning or the failure of planning in all its different forms to popular products you shouldn't buy.
Like the red hot market, the chances of making a mistake have become ominously higher.
I deleted the annoying but not fatal mistakes like buying black steel, super quiet dishwashers, extra-large laundry, and combo washers and dryers.
These 11 mistakes are the money and time black holes.
Be wary.
Construction is divided into four equal parts:
Designing

Scheduling

Construction

Closeout
This article deals with the first two.
Let's start with planning and the two biggest mistakes you can make.
1. Hiring the Wrong People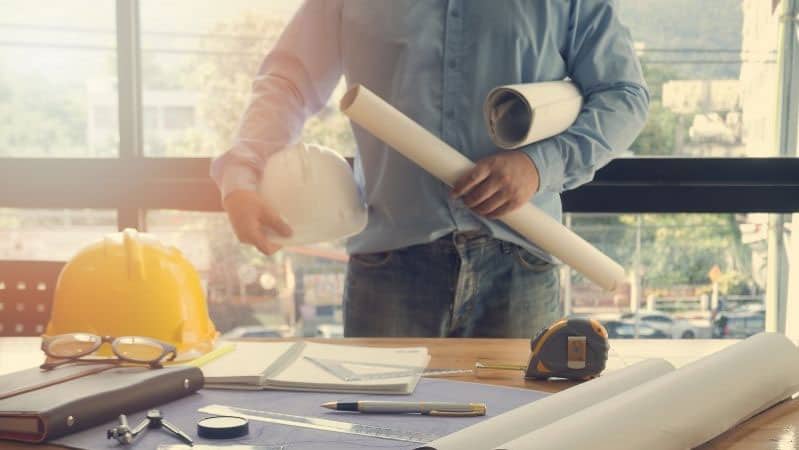 Every renovation nightmare usually involves a bad general contractor (GC) or contractor.
One of our salespeople at Yale hired his under-qualified best friend to renovate his house. Let's just say they are not friends anymore. I am sure the court proceedings haven't helped either.
Truly great general contractors and people who know what they are doing only know great subcontractors, plumbers, electricians, masons, and even appliance stores.
So your job will run smoothly even with problems, and there will always be problems.
We had to rip the front off our store in Hanover before we started construction.
Before Construction: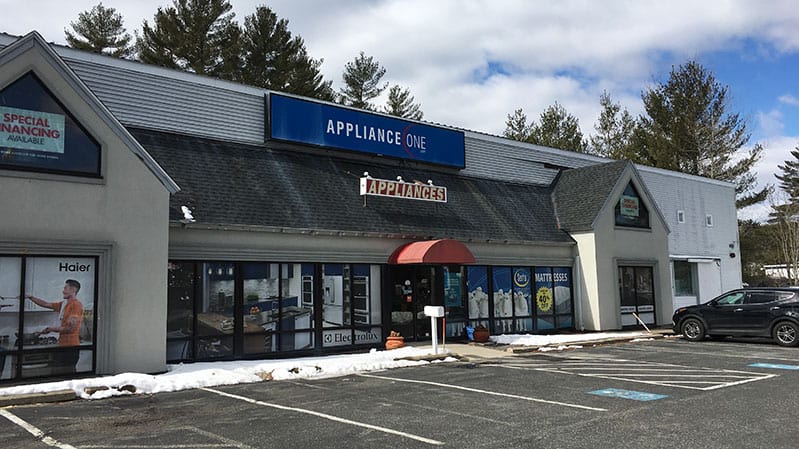 After Construction: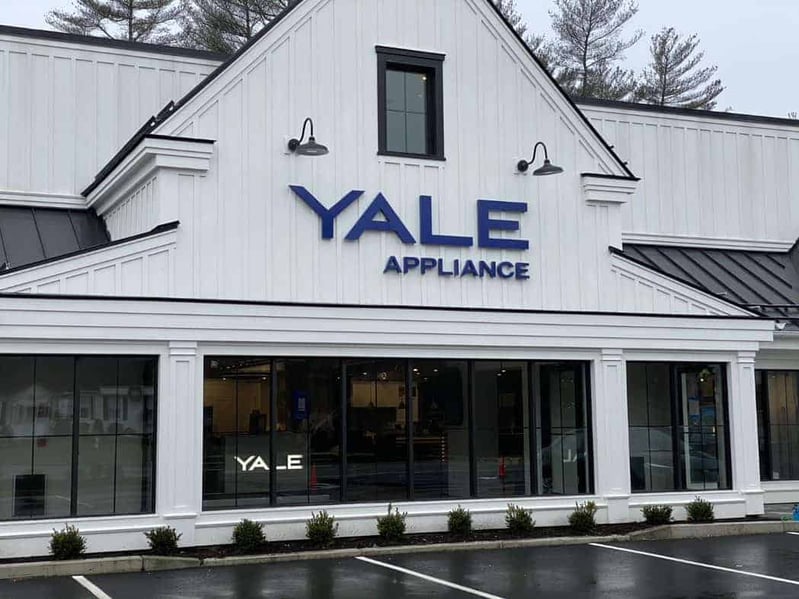 That wasn't part of the plan, but our GC (actually our Director of Facilities, who is also our GC) still delivered the store on time and under budget.
The good news is you can easily find the right contractor.
The internet is great for searches. Looking for builders in your town is a good search.
Look around your neighborhood or at similar houses under construction. Look at magazines for names as well.
But don't stop there.
Ask for references and interview the homeowners for what they liked and didn't like. Ask if their project was on time and within your budget.
Let's say you pick a great GC. Fantastic. You are almost there.
Now you need to interview the Project Manager, also known as the point person for seeing your project to a successful conclusion.
But what do their skills and experience look like?
(One of the best GCs in Boston city is S&H Construction. It's also woman-owned).
Anyway, here is a good blueprint:
Ricky, our Project Manager, has:
28 Years of experience
Master licensed electrician
GC License
7 Years Head of Yale Installation (Built It)
5 Years Head of facilities
Familiar with plumbing, roofing, drywall, and waterproofing
You probably won't have someone with this experience.
However, the good Project Managers were tradespeople at one time.
They must understand each trade and be three steps ahead to schedule the right time for each aspect of your construction.
Spend time here because good contractors solve problems, but bad contractors seem to cause them.
2. Not Knowing Your Lifestyle
A good contractor will know good people to help you, schedule your project, and help with the design.
You have to make the decisions.
If you don't know what you're looking for before you start, that's OK.
Here are a few tips from my recent renovations.
I gutted my condo in 2013 and rebuilt a brownstone in 2017.
First, if handed a blank space, start at the sink. Then move on to your cooking appliances. Cooking is the only real variable in your kitchen for dimension.
In a previous article, I talked about renovating and then moving after the birth of my daughter.
I placed the kitchen in the basement because I wanted direct access to parking for bundles and unloading Sophie without walking to another floor.
Living on a fourth-floor walk-up will imprint that on your brain.
At the same time, my sister moved from her house, sold her cottage, and bought a home on the water.
She wanted an undisturbed view of the water and a Miele coffee maker to enjoy it.
She bought the coffee maker and placed the TV in her hood. Now she has both.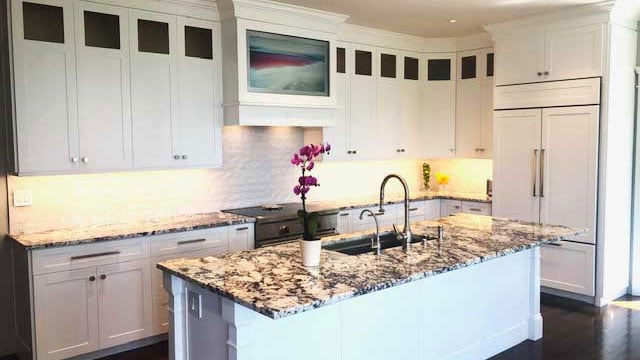 So, what's your lifestyle like?
Here are some questions to ask yourself.
Do you cook? Do multiple people cook?

How big is your space?

Where is the kitchen in relation to other rooms?

Do you have an island?

How about windows?

Are there objects you want to highlight?

Do you have children, or are you an empty nester?
I cover this in great detail in "How to Plan Your Kitchen Project."
It's a template for basic kitchen and lighting design. It will help you start and enjoy a functional kitchen.
Kitchens and baths are the hardest rooms to design. You have to worry about plumbing, the lighting, electrical, and hardware in greater detail than any other room.
3. Thinking You Have Time
First, you do have time. Endless amounts before construction begins.
Planning should be the biggest and first part of what you do. You shouldn't feel rushed.
However, that will change once the shovel hits the dirt.
COVID-19, supply problems, container shortages, freak ice storms shutting out crucial factories, and raw material issues have made the process of home building as much an art as a planned science.
Sub-Zero, for example, is now quoting 4-6 month lead times.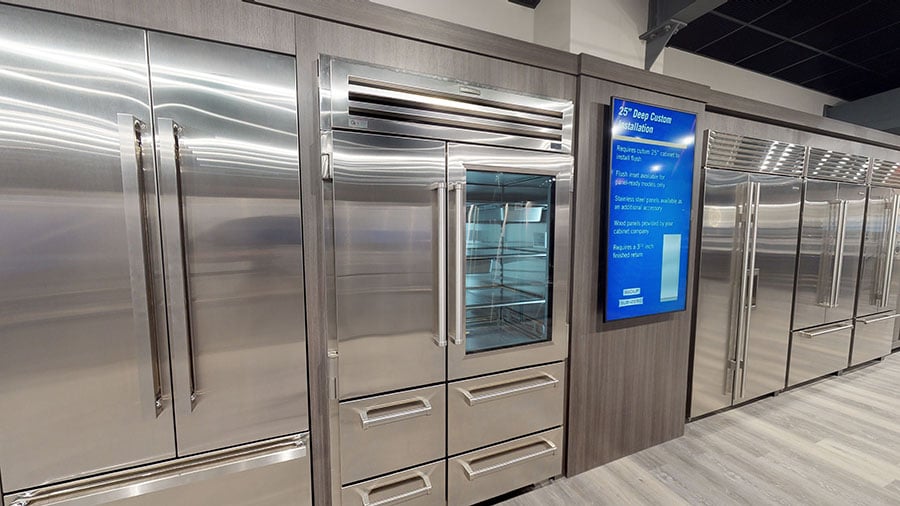 Sub-Zero Professional Refrigeration at Yale Appliance
You can't find a Bosch dishwasher under $1000 currently.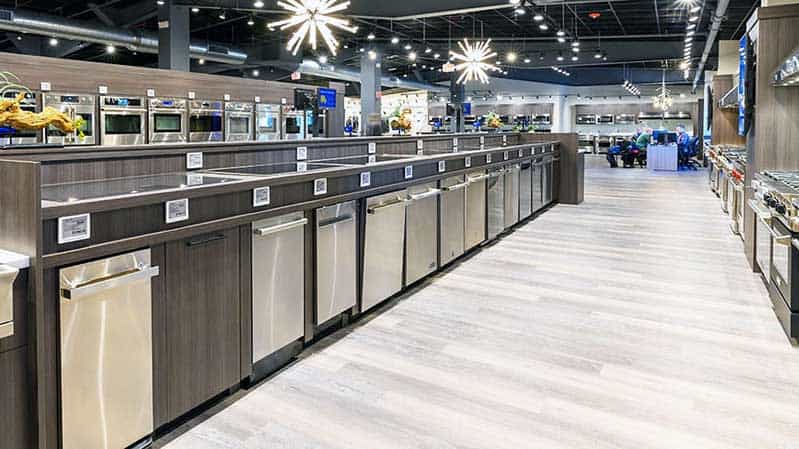 Dishwashers at Yale Appliance
Most home improvement manufacturers are way behind in fulfilling orders.
So prepare for way longer lead times than at any time in my 36-year history at Yale.
It's not just appliances but also roofing, decking, and most other necessary components to building a house.
The best contractor in the world can't help you if you are indecisive.
Back when I was selling appliances, contractors would call asking for appliance specifications for their clients or reconfirming what they thought was an order.
When I said there was just a quote or the client had not booked an appointment, the contractor would not be happy.
Without appliance specifications, the contractor could not order the cabinets. So the electrical, plumbing and venting lines could not be run.
Fast forward to today, when every trade is straight out busy, you could add a month to your timeline plus the lead time of all the associated products.
Remember, your Project Manager has to be three steps ahead but can only do so with your concrete decisions.
Many of the decisions you are or will agonize over, like the color of your countertop, the cabinet, and the faucets and tubs in your master bath, won't matter that much once you are living in your house.
Get the flow and lifestyle right and be willing to compromise on some finishes and product choices.
4. Overpaying for Cabinets and Underpaying for Cabinet Designers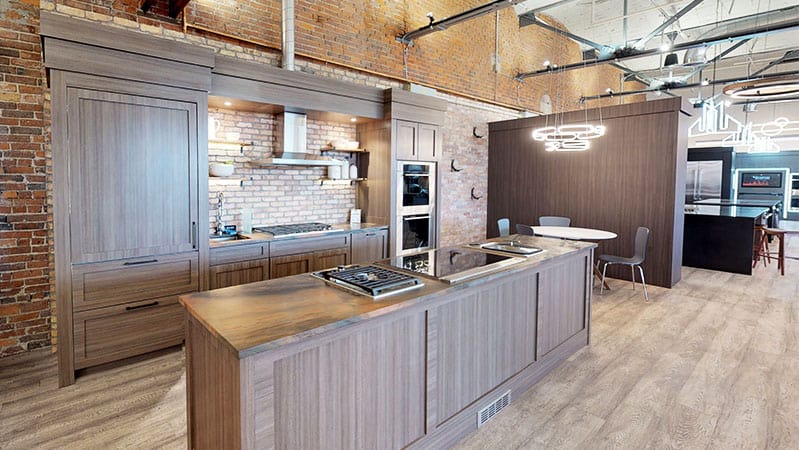 Yale Appliance Boston Showroom featuring a Sub-Zero and Wolf Kitchen
Kitchens and baths are two of the toughest rooms to plan. You really need to plan the flow and functional lighting more than any other space.
Living rooms and bedrooms are much easier.
That's why your kitchen designer is important. They can find storage places you wouldn't have considered.
In my new kitchen, there is a place for the tops of pots (it's a great idea, by the way). I have a spice rack next to the stove and a garage for the blender and juice, so it's not exposed on the counter.
Guess which one was my idea? None to be precise.
A good cabinet designer is worth the investment.
Cabinets? I am not so sure.
Back when I was training salespeople, I would always ask which kitchen display was the most expensive.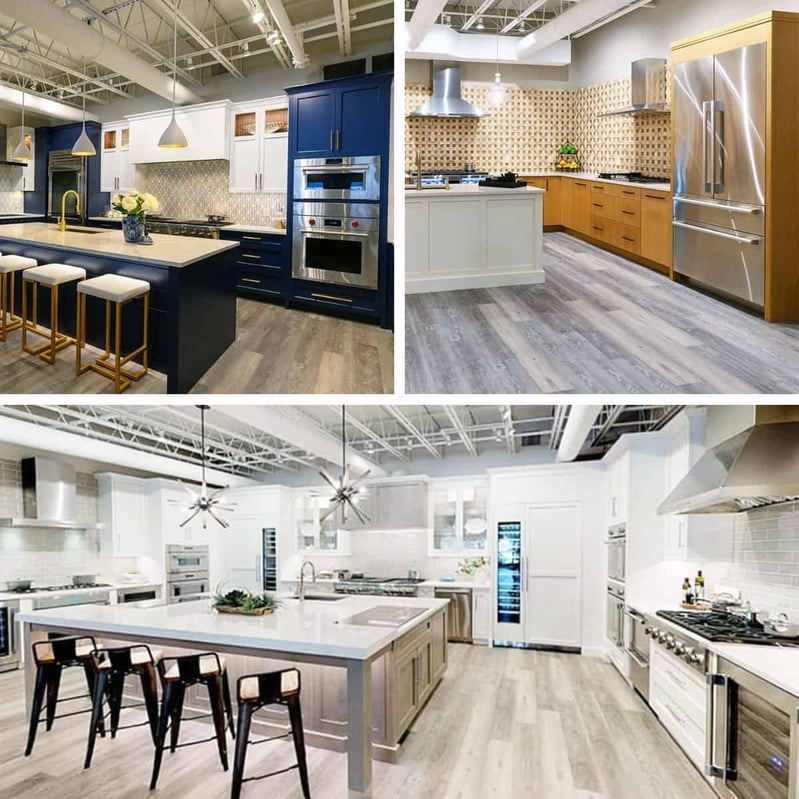 Most guessed wrong.
It's easy to understand why. Most white cabinets look the same. There are details in the hinging and overall construction.
However, there are four types of cabinets.
RTA or Ready to Assemble:

You assemble RTA cabinets yourself. Durability is a long-term issue with RTA. That said, some European cabinets are RTA.

Stock:

Stock doesn't allow any customization. However, that doesn't mean you should not consider a stock cabinet. You are buying the wood and finish as much as the dimensions. Good materials are available in a stocked cabinet

Semi-Custom:

This allows some customization of materials, sizes like depth, and finishes.

Custom:

Custom is built to order and is the most expensive. Materials really could be almost anything from plywood to wood. What you want is decent material with a good finish.
Could a $15,000 kitchen with stock cabinets look better than a $30,000 kitchen with semi-custom cabinets? It depends on the materials you use.
A great designer can make average cabinets look very good as well as providing a better kitchen design.
5. Thinking Your Appliances Will Be Repaired
Before you learn about appliances, repair has to be part of your consideration.
Here is the sad reality: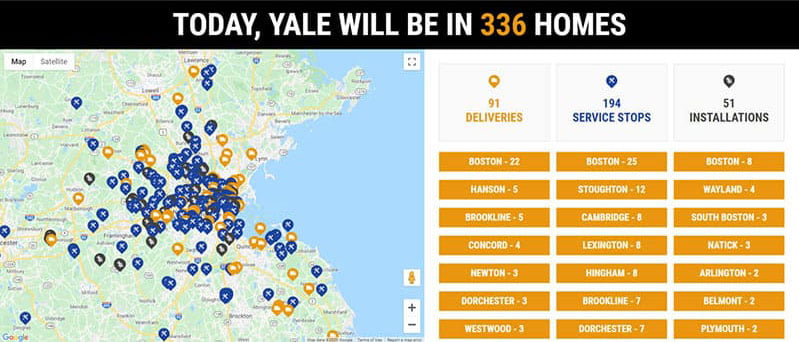 Most of our business is now repair and maintenance. As appliances become "smarter" and more complicated, appliance repair will become more of an issue.
Some manufacturers have limited repair, but most have none at all.
Ditto for retailers. Ninety-five percent of retailers don't employ a single technician.
So investigating who will fix that new steam oven, stove, or coffee maker should be part of your research.
Read reviews of all perspective retailers before you buy from them.
I could say the same about installation or delivery. Service is only marginally worse.
6. Placing Your Stove in the Middle of Your Island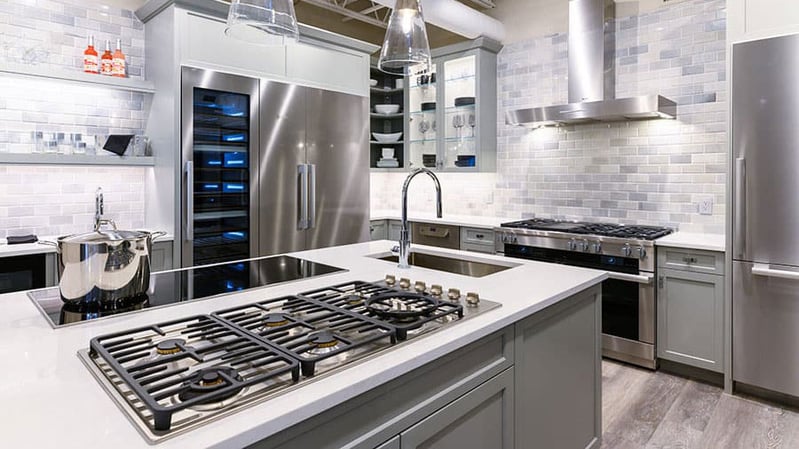 Kitchen Sink along with Gas and Induction Cooktops in Kitchen Island at Yale Appliance in Hanover
After seeing that unit in the South End and looking at pictures on Houzz, you should be very careful about placing a stove on your island.
Now you may want to entertain your guests by cooking, but you have to be prepared to vent properly.
Large, deep island hoods are the only way to vent on an island.
In my last presentation, I mentioned Benihana, which is about entertaining with food. They have a huge hood over each station.
Sinks work so much better on an island.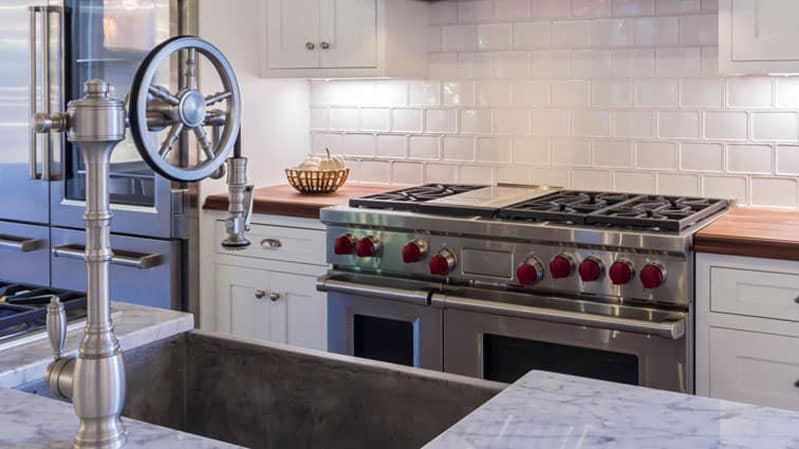 Kitchen Sink in Island at Yale Appliance in Boston
It is the most used appliance.
By centralizing your most used appliances, like your sink, stovetop, or dishwasher, you never have to move that far in your kitchen.
Remember, if you are placing a cooktop or rangetop on an island, be prepared to vent it.
7. Not Understanding Ventilation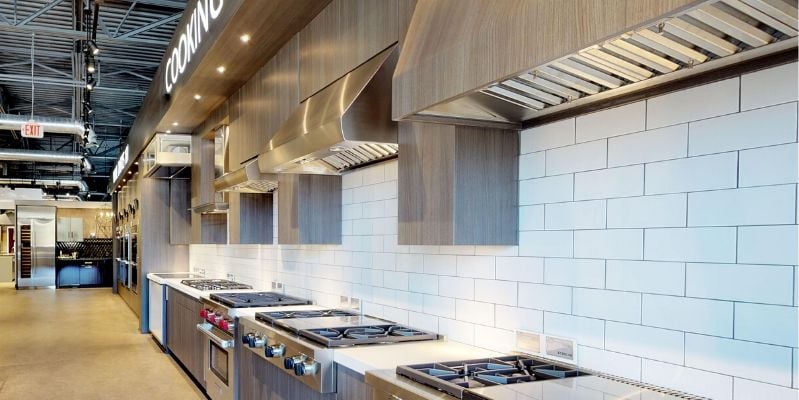 Ventilation is extremely important.
Planning ventilation incorrectly will either make your kitchen smell like your meal or deny a sign-off from your inspector for lack of a fresh air intake or Make-Up Air.
Let's look at each problem.
Broan, the hood manufacturer, published a study of four gallons of grease building up in your kitchen from poor ventilation.
Ventilation is composed of four elements.
CFM or Cubic Feet Per Minute: A 600 CFM exhaust will evacuate 600 cubes of air per minute.
Capture Area: The depth of the hood is the capture area. A high-powered but shallow hood will still have smoke billow past it into the kitchen. Plan on at least 24 inches on the depth
Duct Size: You should use the minimum specs for ducting. You may also want to oversize if you stir fry or wok cook.
Duct Run: Short as possible. Straight up or straight back. Do not use more than one elbow, or it will reduce the static flow to almost nothing.
Learn more: Free Ventilation Buying Guide
8. Oversizing a Vent (Massachusetts Residents Only)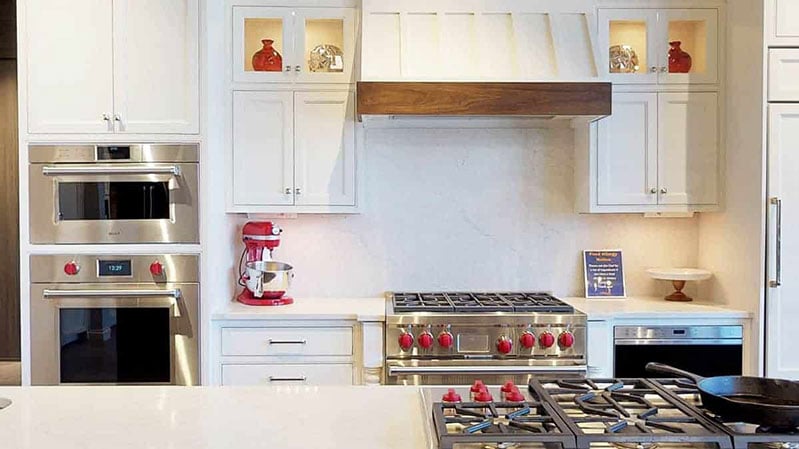 This professional range and professional hood need make-up air.
You have a Wolf range in a new kitchen. That is not the time to learn about the 2007 Mass Make-Up Air Regulations.
Over 400 CFM, you have to replace the air in your home.
Here's why: In new construction, you will have energy-efficient products like windows and heaters. It will be more airtight than older homes.
So you fire up that pro range and turn on your 1100 CFM hood, that's 1100 cubes of air exiting an airtight home or the equivalent of a small room.
You need a return the air, or it will create an incredibly unhealthy environment because the air will be "made up" from your furnace, attic, or garage.
It's easy to do through your HVAC during the planning stage.
It's not simple once you have finished your kitchen.
You have to cut an equivalent return somewhere in your kitchen at least 10 feet away and on the other side.
Broan has a $100 aftermarket kit of a smart damper and exit cap. However, you still have to cut the hole and wire the smart damper to open when your hood is on.
9. Outside Grills Placed on the Inside of Your Home
You probably wouldn't put an outside grill on the inside of your house. (Please don't do this).
How about your three-season porch or pool house?
I have personal experience with this nightmare.
One of our best builders once had a previous customer who placed a Lynx grill (not our installation, thank heaven) on a three-season porch and needed advice.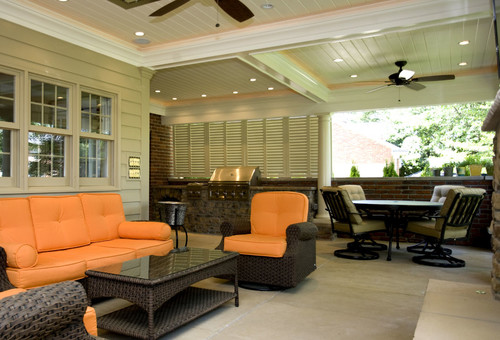 I grilled some chicken sausage on the grill and watched the smoke billow past the hood.
The poor guy had to buy a commercial hood with an enormous commercial blower on the roof.
Plus, he had to reinstall a particular duct.
The total cost came to $35,000 plus two months of planning and installation.
Now my point: A grill creates a ton of smoke. Place it outdoors and entirely outdoors.
If I have not discouraged you, then know many towns do not allow it by code.
If you are still unmoved, plan a huge vent. I mean HUGE - deeper than 27 inches.
Residential vents cannot handle the smoke from an outside grill. Commercial vents are typically island-style because the stove is in the middle of the kitchen.
10. Stacking Wall Ovens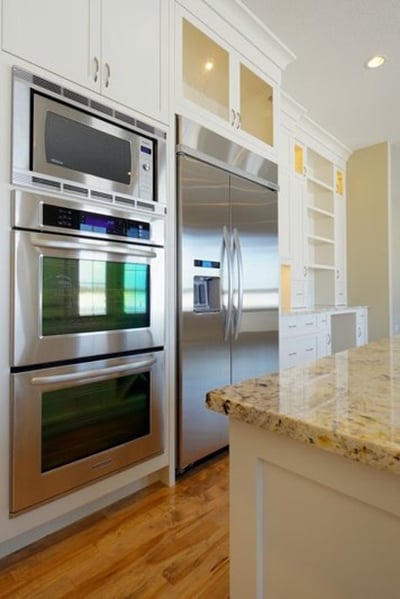 I look at this picture and cringe.
Stacking wall ovens are becoming popular because designers want to centralize cooking, but it's dangerous.
Grabbing hot or boiling food out of a microwave from over your head is a bad idea.
The most you should stack is a single wall oven, microwave, and warming drawer.
You want to save space but not at the expense of safety. You can always place microwaves, speed ovens, and warming drawers somewhere else.
Double-wall ovens with an appropriately mounted warming drawer are as high as you should go.
Look at this image. This one is installed at 84 inches tall - over 7 feet.
You will be taking a burning hot plate from over your head. Not smart.
You should place ancillary ovens anywhere from an island to under a cabinet.
11. Downdrafting a Professional Range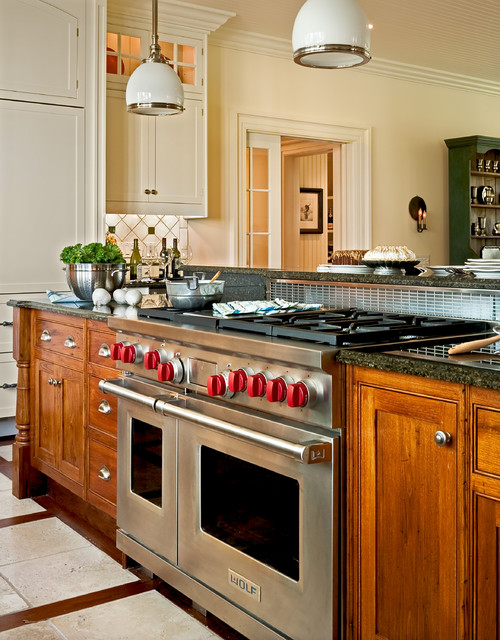 You are looking at a recent trend. Placing cooking on an island is already a bad idea.
Placing a high-powered professional (pro) range with a downdraft is quite simply a worse one.
Smoke is captured, channeled, and exhausted, as you know.
Downdrafts have a 2-inch slot for capture area for 60-150,000 BTU range.
Then smoke then needs to be reversed downward.
In other words: No capture, no channel, then no exhaust.
The Broan Cattura advertises this solution.
Save yourself the trouble. It won't work.
Key Takeaways
Abraham Lincoln once said, "Give me six hours to chop down a tree, and I will spend the first four sharpening the ax."
Sage advice.
Planning ahead solves all these problems.
Remember, construction should be broken down into four equal parts: design, scheduling, construction, and closeout.
Finding good people at every level and truly taking time to understand your lifestyle will mitigate most of these issues.
Think a bit about how you cook and how you will use the space.
You can plan, but once you start, move decisively.
You can do this, and it can even be fun.
Here are some other resources to help you with your project.
Webinar Recording: Kitchen Renovation Mistakes to Avoid
Below is a recording of our recent webinar on this topic, with great Q&A from the webinar attendees and panelists from our team.
Additional Resources
Want more information on the worst renovation mistakes to avoid? Get The Book of Bad Renovations to learn how to avoid a renovation failure. Well over 1 million people have read and trusted a Yale Guide.
Related Articles
Why Should You Trust Us?
It seems that every appliance review has nothing but glowing comments about almost every product, yet you read customer reviews and they are almost universally bad.
We are here to fill in the disconnect. We'll give you the best features, and the drawbacks as well, including reliability based on over 37,000 calls performed by our service team just last year. Our goal is to give you ALL the information so you know what's right for you.
Please consider subscribing or adding to the conversation in the comments below. We appreciate you stopping by.
Steve Sheinkopf is the third-generation CEO of Yale Appliance and a lifelong Bostonian. He has over 38 years of experience in the appliance industry, and he is a trusted source of information for consumers on how to buy and repair appliances.

Steve has also been featured in numerous publications, including the New York Times, Consumer Reports, The Boston Globe, Bloomberg Radio, the New York Post, The Wall Street Journal, and Entrepreneur, for his knowledge of how to buy appliances and appliance repair.

Steve is passionate about helping consumers find the best appliances for their needs, and he is always happy to answer questions and provide advice. He is a valuable resource for consumers who are looking for information on appliance buying, repair, and maintenance.

Despite being the worst goalie in history, Steve is a fan of the Bruins and college hockey, loves to read, and is a Peloton biker. The love of his life is his daughter, Sophie.
A Note About Pricing
Pricing on this blog is for reference only and may include time sensitive rebates. We make every attempt to provide accurate pricing at time of publishing. Please call the stores for most accurate price.