Should You Buy Blomberg and Beko Appliances?
October 22nd, 2021 | 8 min. read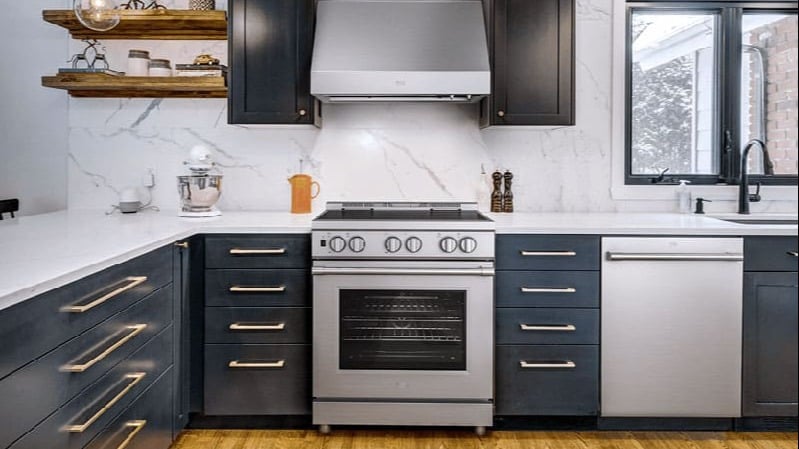 If you're struggling to find appliances for your kitchen project or even replace one appliance, should you buy a less familiar brand like Blomberg?
We have been through this before during the recessions in 1990, 2001, and 2007. We replaced brand-name products with private labels or off-brands to save some money.
Most of us never returned to the formerly favored name brand.
Appliances are different because you need support, unlike paper goods and other items you find in the grocery store or clothing outlet.
In this article, you will learn about Blomberg and its parent company Beko. We will highlight some of their best appliances and compare them to other popular brands.
First, let's cover who Blomberg is and how they are related to Beko.
Are Blomberg and Beko Appliances the Same Company?
Blomberg is a Turkish appliance manufacturer. Originally, Blomberg was established in Germany in 1883 as a metal-making company.
In 2002, Beko, owned by the Turkish appliance manufacturer Arçelik, acquired Blomberg appliances. They are popular in Europe and widely sold.
Many of Beko's products are innovative, with features not seen before.
Being said, Blomberg's appliances are Beko appliances but with Blomberg branding.
Beko is also extremely fortunate.
Most of Beko's competition has issues shipping products such as Miele and Bosch for dishwashers and Samsung for refrigerators and stoves.
For compact laundry, you may have no other choices other than Blomberg and Beko until March 2022.
You may want to consider Beko or Blomberg appliances if you need an appliance before 2022 due to limited options.
But as I said, the products are unique. Let's look at both Beko and Blomberg appliances by category.
We will refer to Beko appliances for simplicity in the article. It's also the brand we sell and have information on.
Beko Refrigerators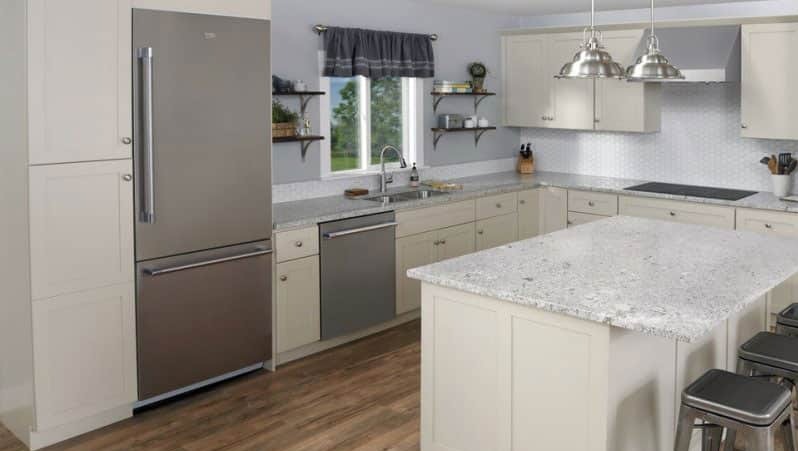 Best Features of Beko Refrigerators
Counter Depth:

All the Beko refrigerators are counter depth, so they don't protrude past the cabinets. It's better looking, but on the smaller models, it decreases cubic footage.

EverFresh+:

The EverFresh+ filters ethylene gases off spoiling foods to keep food fresh longer and prevent cross-contamination to other foods.

Blue Light:

From my old days selling lighting, Blue Light, or higher Kelvins emulates sunlight. That similar lighting promotes and extends photosynthesis in your fruit and vegetables. Beko uses Blue Light technology to help keep your food fresh.

Dual Evaporators:

Dual evaporators keep the refrigerator and freezer air separate, so the warmer, moist air isn't recirculated into the dry, colder air of the freezer. You have less defrosting in your freezer, but the odors and tastes don't transfer. Your ice cream should taste better, especially if you like to store more aromatic foods in your freezer.

IonGuard:

You will see this in many of Beko and Blomberg's best products. The ion generator pulses negative ions to cancel the positive ions of odors, so your refrigerator smells fresher.

Ice Maker:

Beko ice makers make six pounds of ice in 24 hours.
Best Refrigerators to Consider

Beko Bottom Freezer Refrigerator BFBF3018SSL - $1,449

Beko Counter Depth French Door Refrigerator BFFD3624SS - $2,499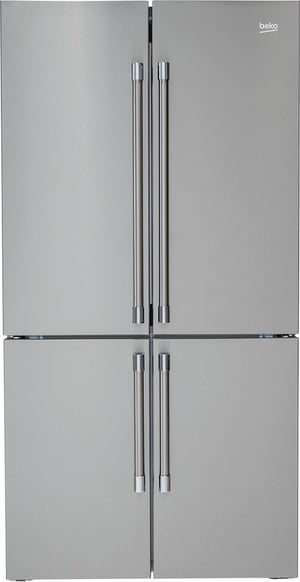 What You Will Like:
The smaller refrigerators don't skimp on features. They have all the features of the larger ones but IonGuard (shown below).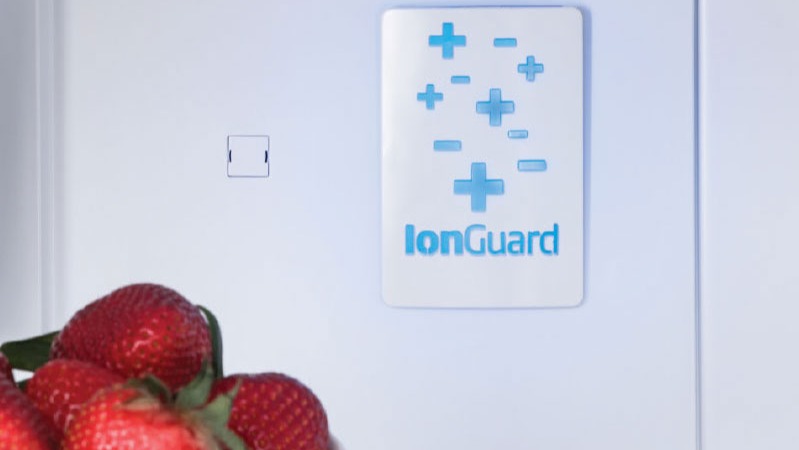 They are all counter depth and look pretty good, especially when you compare them to the regular smaller refrigerators of other brands like Whirlpool, GE, or Frigidaire.
You have the best food preservation on the larger refrigerators with the Blue Lighting, EverFresh+, and dual evaporators.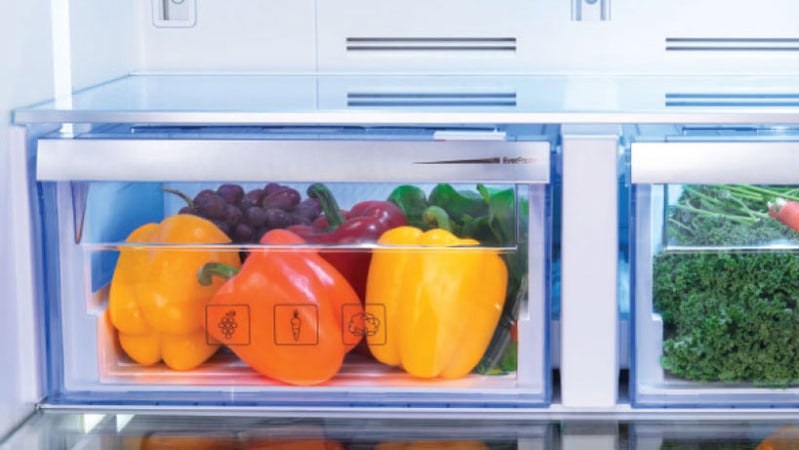 Beko Refrigerator Crispers with BlueLight Technology
I know what you are thinking: Does it work?
We compared Beko against other refrigerators with the same fruit and vegetables. They finished second only to a $10,000 Sub-Zero.
Read More: Which Refrigerator Keeps Food Fresh the Longest?
Beko Refrigerator Problems
Although they have a decent food preservation story, their capacity is less than competitive refrigerators.
The smaller units, due to the shallow depth, have less capacity and fewer cubic feet to store food.
The larger units are 20 cubic feet, whereas the more expensive KitchenAid, LG, and GE are 21-23.5 cubic feet.
Reliability
French Door Counter Depth Refrigerator Reliability for December 2019 - November 2020
| | |
| --- | --- |
| | Service Ratio |
| GE Appliances | 12.1% |
| Bosch Appliances | 16.9% |
| Fisher & Paykel | 17.3% |
| Beko Appliances | 18.1% |
| Samsung | 20.9% |
| KitchenAid | 21.6% |
| Café Appliances | 21.9% |
| GE Profile | 22.8% |
| LG Electronics | 27.8% |
| JennAir | 36.7% |
| Average | 21.1% |
These figures are based on a minimum of 20 sold per brand and over 3,000 total pieces.
Beko Dishwashers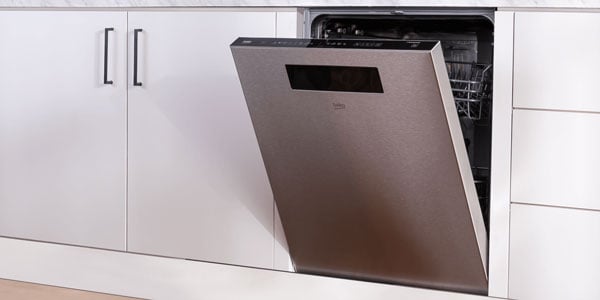 Beko Dishwasher
Best Features of Beko Dishwashers
All stainless tanks:

Most brands are either plastic or, like a Bosch Ascenta and Samsung dishwasher, a combination of plastic and stainless steel. Beko is all stainless, even in their least expensive models. All stainless dishwasher tubs require less cleaning than plastic tubs. With a stainless dishwasher tub, germs and odors cannot be trapped in the pores of the plastic.

Quietest dishwashers in their class at 48 dB and 39 dB:

Beko is the quietest dishwasher. Only KitchenAid has a similar decibel rating in this price range. You would have to pay over $1,000 more for a 39 dB sound level for Miele or Bosch.

Special cycles and special wash arms:

Most brands' cycles operate on similar wash, rinse, and dry cycles. Beko has an extra arm applying more intense water pressure to the lower rack, and the AquaFlex cycle shifts the water pressure to the lower rack.

Ability to be paneled with a cabinet front and still be seamless:

Many American brands protrude, so they look like a dishwasher with a panel stuck on it rather than a seamless look. Like Miele, Bosch, and Asko, Beko doesn't protrude and looks like a cabinet for $500-$1,000 dollars less.
Best Dishwashers to Consider

Beko Dishwasher DDT39432XIH - $1,129

Beko Dishwasher DIT39432 - $1,129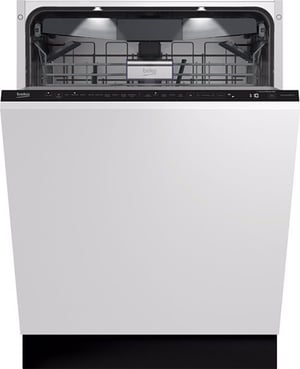 What You Will Like:
You can buy a less expensive dishwasher without it being cheap. Their basic dishwasher has good wash action, the most used cycles, and a 48-decibel silence rating.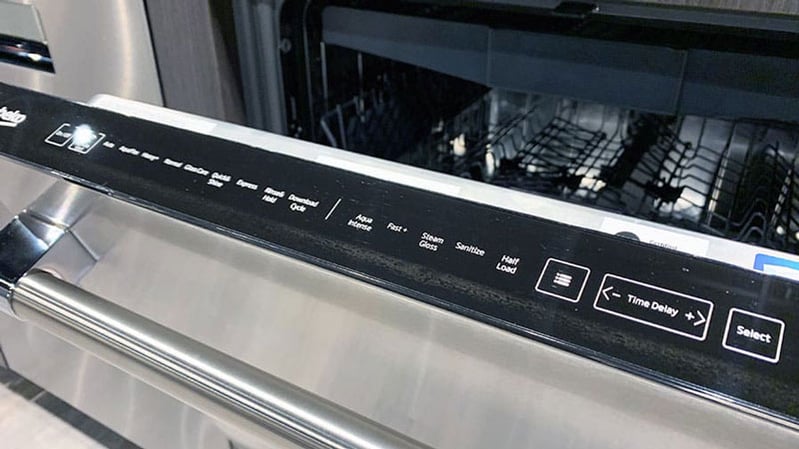 Beko Dishwasher Wash Cycles
You will faintly hear Beko's basic dishwasher, but it's quieter than the 50-55 dB Samsung and Bosch dishwashers.
Their DDT39432 models are loaded with features with AquaIntense and AquaFlex cycles to scour the pots and pans on the lower rack (shown below).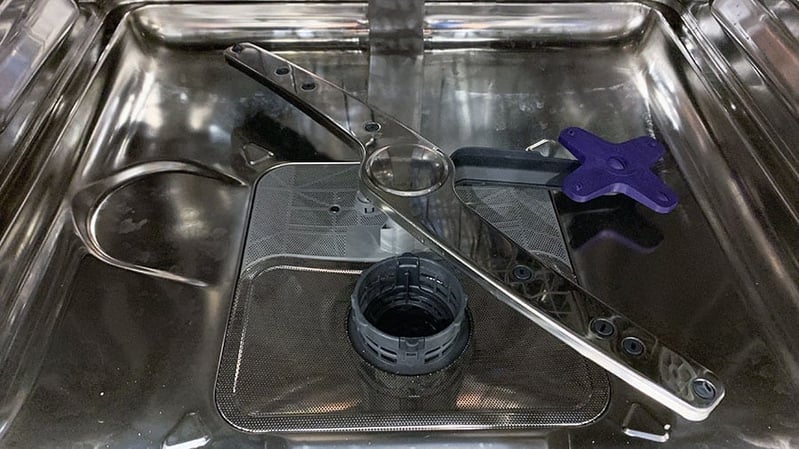 At 39 dB, this dishwasher is the quietest available at $1,129. You will not hear it.
You have Wi-Fi, so you can track cycle completion on your phone.
If you are placing a panel on your dishwasher, look at the DIT39432. It has all the same features as the DDT39432. It is at least $500-$1000 less than a comparable Bosch or Miele dishwasher with a panel.
Beko Dishwasher Problems
First, you should consider these dishwashers when all the brands predict to have stock in 2023 or 2024 (yes, availability is that bad).
However, Beko has the same drying as a basic Bosch or KitchenAid. It's called condensation drying, but it uses the steam and heat from the wash along with JetDry to dry your dishes.
It doesn't have the better drying features of the more expensive dishwashers like CleanAir from Miele, ProDry from KitchenAid, or CrystalDry from Bosch.
Overall, Beko and Blomberg have average drying.
Reliability
Dishwasher Reliability From December 2019 to November 2020
| | |
| --- | --- |
| | Service Ratio |
| Blomberg | 0% |
| LG | 1.9% |
| Whirlpool | 2.1% |
| Thermador | 7.6% |
| Beko | 7.67% |
| Miele | 8.2% |
| GE Profile | 10.5% |
| Samsung | 10.6% |
| JennAir | 11.0% |
| KitchenAid | 11.0% |
| Asko | 11.6% |
| Bosch | 12.8% |
| Bosch Benchmark | 18.4% |
| Café Appliances | 18.8% |
| GE Appliances | 19.5% |
| Fisher & Paykel | 27.8% |
| Average | 11.2% |
Each brand represented has a minimum of 50 units sold and a total sample of over 10,000 pieces.
At 7.67%, Beko is certainly competitive.
Their dishwashers are Beko and Blomberg's best category with excellent reliability, quietness, and features.
Beko Ranges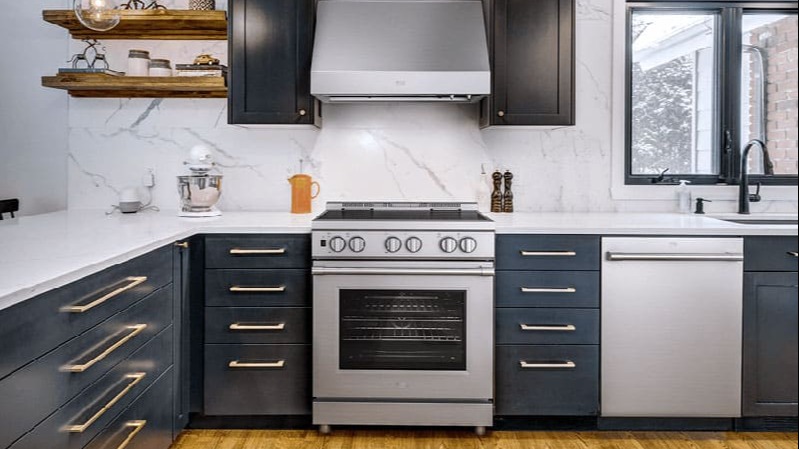 Beko 30-Inch Pro-Style Range
Best Features of Beko Gas, Electric, Induction, and Dual Fuel Ranges
Capacity:

They tout 5.7 cubic feet as being the largest. It is, in fact, one of the largest interiors. LG has 6.3 cubic feet, KitchenAid and JennAir have 7.1 cubic feet, including the baking drawer.

"Surf" convection:

They claim to cook the most even of all the brands without describing exactly how. The fan is the largest in comparison to other brands. Perhaps it moves air better.

7 Modes:

You have interesting automatic cooking modes for pizza, turkey, and bread among others.
Warming drawer: Warming drawers are a great feature keeping food warm for up to three hours without dehydrating it into mush like a microwave. I wish I had one. My daughter eats at 5:30 PM. I come home an hour later and ladle semi-warm food into my bowl. Warming drawers cost $1,200 just on their own.

Price:

The price is $1,799-$1,999 for the gas or electric range, and is less expensive than comparable ranges from LG, GE, and Samsung.

Large cooktop size:

The controls are on the face rather than on the top. You will have more room for your pots and pans than almost every competitive brand.
Best Ranges to Consider
Beko 30-Inch Electric Range SLER30530SS - $1,999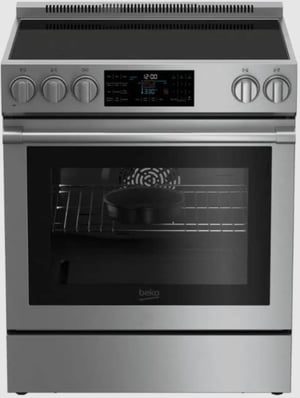 Beko 30-Inch Gas Range SLGR30530SS - $2,099

Beko 30-Inch Dual Fuel Range SLDF30540SS - $2,449

Beko 30-Inch Pro-Style Gas Range PRGR34550SS - 2,999

Beko 30-Inch Pro-Style Dual Fuel Range PRDF34550SS - $3,499


Beko 30-Inch Induction Range PRIR34450SS - $3,699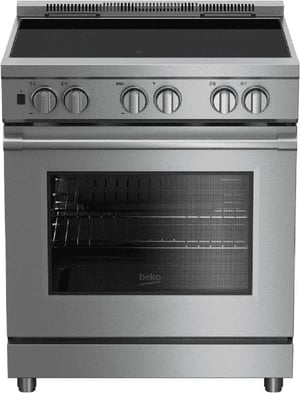 What You Will Like:
It's a good combination of features and size. It may not be the largest, but you have a good size without compromising space on the cooktop like KitchenAid or LG.
The modes will simplify your cooking as well. The warming drawer will allow you to cook now serve later.
With Beko and Blomberg, you can affordably package your range with a dishwasher, refrigerator, and microwave.
Beko Range Problems
It depends on the category.
However, Beko's gas-only ranges have one power burner at 18,000 BTU and then decrease after that. You have two on most manufacturers.
Their induction range is a bit pricey at $3,699.
Wi-Fi and smart functionality is missing in Beko cooking. You cannot control the range remotely.
Smart technology is starting to evolve where you can download recipes directly to your stove.
Beko could be at a disadvantage in the future for home connectivity.
Reliability
Gas Range Reliability from December 2019 - November 2020
| | |
| --- | --- |
| | Service Ratio |
| KitchenAid | 1.75% |
| Whirlpool | 2.14% |
| Beko Appliance | 3.91% |
| Bosch | 3.95% |
| Samsung | 4.33% |
| JennAir | 12.20% |
| Grand Total | 4.62% |
These figures are based on a minimum of 100 ranges sold with over 2400 total pieces.
Electric Range Reliability for December 2019 to November 2020
| | |
| --- | --- |
| | Service Ratio |
| Whirlpool | 0.59% |
| Samsung | 2.38% |
| Bosch | 4.76% |
| GE | 7.41% |
| Beko | 8.25% |
| KitchenAid | 8.54% |
| Grand Total | 3.06% |
These figures are based on a minimum of 90 ranges sold and a sample of over 1900 total pieces.
Beko Compact Laundry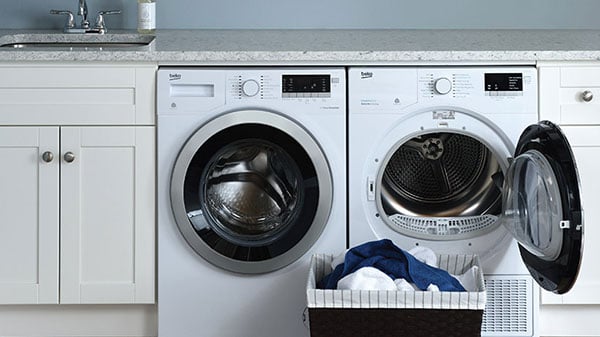 Beko Compact Laundry
Best Features of Beko Compact Laundry
15 Wash Cycles:

Beko's compact laundry has 15 cycles to choose from.

1400 RPM spin speed:

The washer has a high 1400 RPM spin speed helping you have shorter drying times.

Heat pump dryers:

The dryer has heat pump technology and is

fairly inexpensive despite having a heat pump dryer.

Good availability:

Lastly, Bekos compact laundry is available. Miele's and Bosch's compact laundry sets will not be available until the middle of 2022.
Best Compact Washer and Dryers to Consider:

Beko Compact Washer WMY10148C2
- $1,099

Beko Heat Pump Compact Dryer HPD24412 - $1,099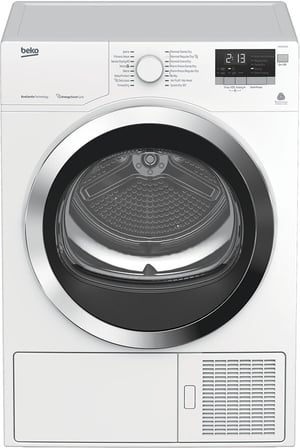 What You Will Like:
It has plenty of cycles for just about every type of fabric. They were amongst the first with heat pump technology in this country and are still one of the most affordable.
Heat pumps use compressors instead of elements and are far more efficient. You also have less heat emission than a regular condenser dryer, so your laundry room won't be hot.
What you may like the most is its availability. You will have problems finding compact laundry from almost every manufacturer.
Beko Laundry Problems
It does not have a pod or automatic dispenser like Miele. Then again, the comparably featured Miele is much more expensive.
It doesn't offer steam as a feature. Steam is on many of the more expensive machines to power out stains like grass and wine.
Reliability
Compact Washer Reliability for December 2019 to November 2020
| | |
| --- | --- |
| | Service Ratio |
| Bosch Appliances | 2.5% |
| Samsung | 4.3% |
| Beko Appliances | 5.2% |
| Asko | 8.0% |
| Miele | 8.6% |
| Grand Total | 5.3% |
These figures above are based on a minimum of 10 compact washers sold per brand and over 2200 total units.
Beko and Blomberg Service
Service may be one area where Beko and Blomberg are different due to the two different channels. Blomberg is supplied by a distributor, whereas Beko is a direct model.
You will have to check in your area if your store does not service what they sell. Always read reviews.
Beko, Blomberg, and many other brands do not have service departments, which you should factor into your overall decision.
No brand is close to being flawless. Expect problems. Just make sure whatever you buy can be fixed.
Should You Buy Blomberg and Beko Appliances?
As a store with 35 service technicians (with five more starting next month), I am reluctant to sell more brands than we must. It just creates more problems when you need repair.
However, from a feature and reliability standpoint, Beko is incredibly competitive. It's a great choice when you have limited choices.
Having great features but needing tons of repair does not work for you or me.
You are mad at a broken appliance while we own the liability of fixing it.
Beko may be one of the most popular brands even when the others have the available inventory.
The brand does stand on its own and merits against any manufacturer, even the premium ones.
But, like any other purchase, make sure Beko or Blomberg can be repaired in your area.
Additional Resources
With in-depth profiles of brands, answers to the ten most asked appliance questions, and a section on how to buy appliances at the right price, the Yale Appliance Buying Guide will help you in every stage of the buying process.
Related Articles:
Why Should You Trust Us?
It seems that every appliance review has nothing but glowing comments about almost every product, yet you read customer reviews and they are almost universally bad.
We are here to fill in the disconnect. We'll give you the best features, and the drawbacks as well, including reliability based on over 37,000 calls performed by our service team just last year. Our goal is to give you ALL the information so you know what's right for you.
Please consider subscribing or adding to the conversation in the comments below. We appreciate you stopping by.
Steve Sheinkopf is the third-generation CEO of Yale Appliance and a lifelong Bostonian. He has over 38 years of experience in the appliance industry, and he is a trusted source of information for consumers on how to buy and repair appliances.

Steve has also been featured in numerous publications, including the New York Times, Consumer Reports, The Boston Globe, Bloomberg Radio, the New York Post, The Wall Street Journal, and Entrepreneur, for his knowledge of how to buy appliances and appliance repair.

Steve is passionate about helping consumers find the best appliances for their needs, and he is always happy to answer questions and provide advice. He is a valuable resource for consumers who are looking for information on appliance buying, repair, and maintenance.

Despite being the worst goalie in history, Steve is a fan of the Bruins and college hockey, loves to read, and is a Peloton biker. The love of his life is his daughter, Sophie.
A Note About Pricing
Pricing on this blog is for reference only and may include time sensitive rebates. We make every attempt to provide accurate pricing at time of publishing. Please call the stores for most accurate price.