Best Alternatives to Stainless Steel for Your Kitchen
You are in a quandary. How do you make your white cabinet, gray countertop, white subway tile, and stainless-steel appliances stand out from your neighbors?
Somehow, the different subway tile doesn't change the look that much. Do you dare place color on one or more of your appliances?
That will certainly change the look, but many colors have been discontinued over the years for various reasons. You may have a problem replacing the broken mint green range in 6-10 years.
In this article, you will learn all about the most popular finishes to consider and, more importantly, how to apply a unique color in your kitchen.
You can fall into a few traps by adding custom finish to your appliances.
However, you will learn what not to do and see a graveyard of recently discontinued finishes. As a bonus, you will also learn other ways to change the look of your kitchen without using color.
Lastly, we will wrap up the benefits of stainless steel. Just in case you default to a stainless finish out of frustration. If you choose stainless steel in the end, don't feel bad. I chose all stainless steel appliances in my renovation in 2017.
Let's look at the best alternatives.
Short on time? Get our free Appliance Buying Guide
Best Alternatives to Stainless Steel for Your Kitchen
1. Black - Not Black Stainless Steel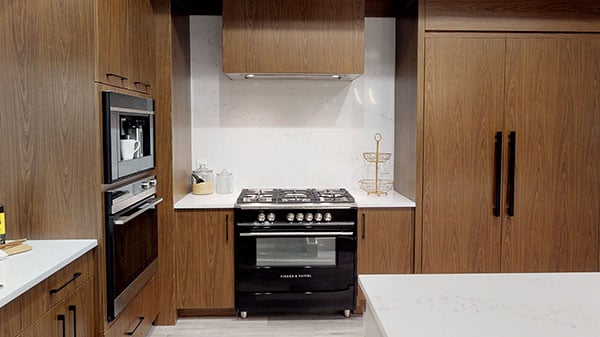 Fisher & Paykel Black Professional Range at Yale Appliance in Hanover
Black stainless steel was popular six years ago. It was an oxide coating that turned out to be easily peelable. Also, it wasn't covered under warranty. So right now, millions of homes have peeled appliances. We will cover Black Stainless later in the article.
Black has returned as a finish. Fisher & Paykel, Café Appliances, BlueStar, Viking, and La Cornue offer black finish and additional color options. The Café collection has a decent Matte Black finish.
Fisher & Paykel has a beautiful black finish (shown above). They have the best pro-style ranges. However, their pro-style ranges do not offer the high output of a professional range. Fisher & Paykel also offers red and white finishes.
2. White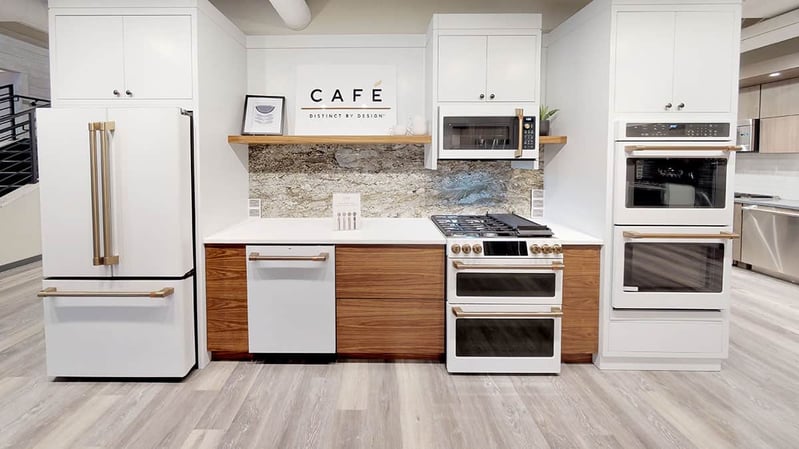 Café Appliances Kitchen in White and Brass at Yale Appliance in Hanover
Back when I started, white was the premium color. It was white on white with no accent colors, and people paid more for it. Many companies like the ones outlined above offer white.
However, Café offers the best because they also offer optional handle accents like brass or copper handles.
Café Appliances has become a popular, affordable luxury brand. It's different, good-looking, and doesn't cost a fortune.
3. Custom Finishes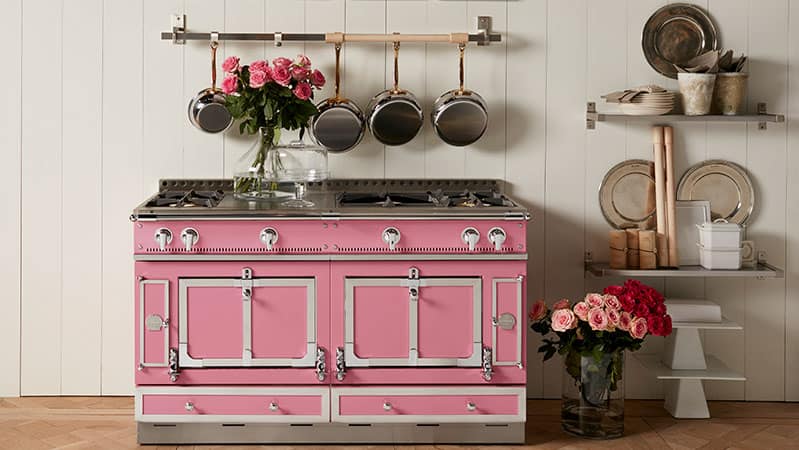 La Cornue Château Pro Range in Pink
If you want to be truly unique, you should consider a custom color. Without question, La Cornue executes color better than anyone.
It looks like furniture. The whole range is customizable from the top to the different trim finish.
La Cornue can customize anything. An F1 driver had his range front manufactured in the same material as his car. La Cornue's Paris showroom features a range with the front designed by a French graffiti artist.
You can also choose their base colors and trims. However, it starts at $30,000. They manufacture a more standard, less expensive CornuFé series which you can now choose 50 colors and their eight common finishes.
BlueStar manufacturers 1000 colors and ten trims with the ability to customize.
Over 75% of BlueStar and La Cornue are ordered in a custom color at Yale.
Other companies offering color are Viking, with 17. The Italian ranges again have several colors as well.
4. Custom Cabinet Panels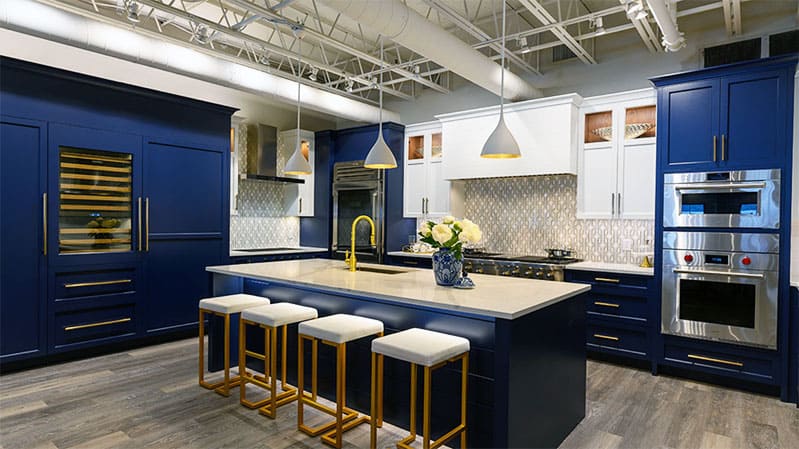 Sub-Zero and Wolf Kitchen With Custom Panels at Yale Appliance in Hanover
Wary of color? Don't like stainless? Then panel it. Why worry about any of it when you can place your cabinet front over your dishwasher, refrigerator, beverage, or wine cooler.
The only appliance you can't panel is your cooking appliance, so that would have to be black, white, stainless, or another unique color.
5. Glass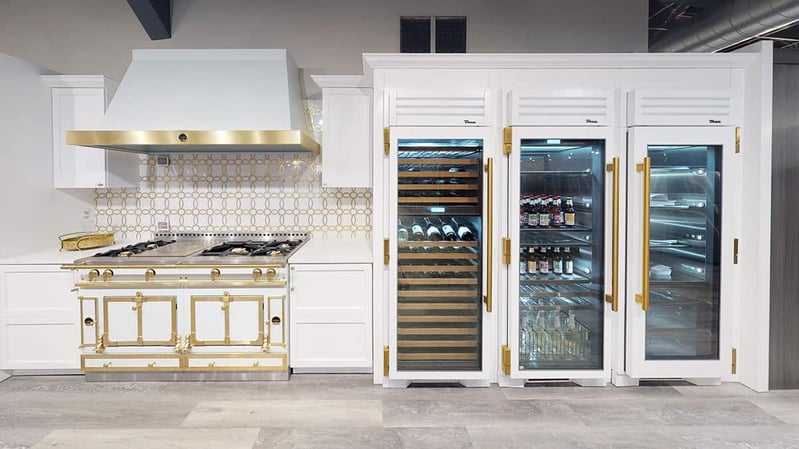 True Refrigeration With Glass Doors at Yale Appliance in Hanover
You probably knew beverage and wine coolers have glass fronts, but Sub-Zero, LG, and True have glass fronts on their refrigerators as well. Bonus points for True in glass with a custom color and hinge accent like their refrigeration shown above.
However, the problem with large glass refrigerators is the expense. They are $15,000 and up.
How to Place Color in Your Kitchen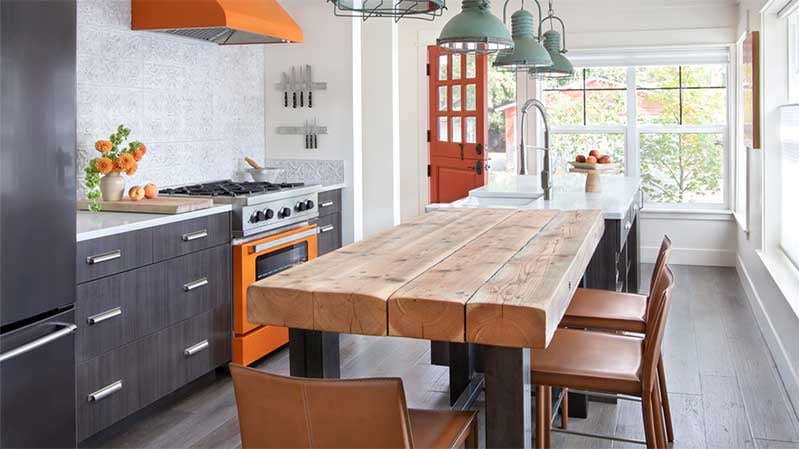 How to Correctly Use Color In Your Kitchen Appliances
The best strategy for color is to use it as a focal point.
Most people are tempted to add color to their whole kitchen. However, a kitchen with orange appliances will have problems if the manufacturer discontinues that color. Moreover, a pop of color is interesting, and not overwhelming.
I always use orange as an example. Once I had a customer who was from Tennessee and wanted all orange appliances.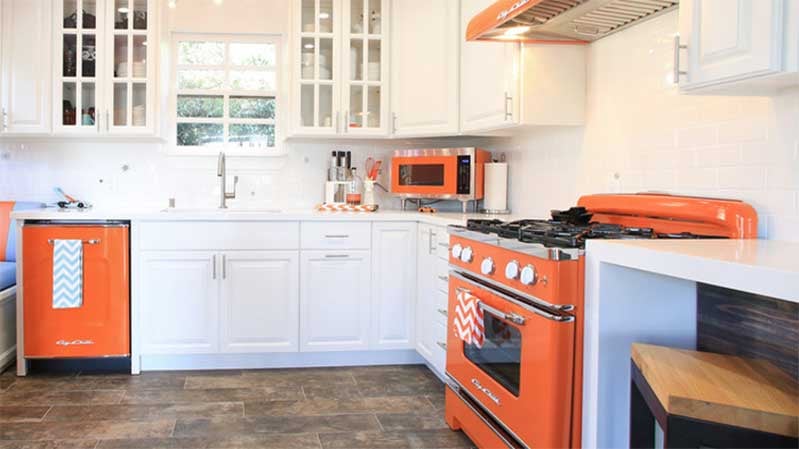 How to Incorrectly Use Color In Your Kitchen Appliances
Burnt orange is the University of Tennessee's color. I remember thinking you live in Massachusetts now. What is the resale value of orange in Boston?
This brings us to where it can all go wrong.
Where It All Goes Wrong: How to Not Add Color to Your Kitchen
Imagine five years ago, after swearing you would never buy another stainless steel kitchen again; you bought Black Stainless.
It looked good. Then it scratched, revealing the shiny stainless underneath. You can't fix it either.
Thankfully, Black Stainless is almost out as a finish. We never sold much. Then again, we did some research and performed our own Black Stainless scratch tests.
Many larger manufacturers want you to buy all their funky appliance colors. They win on replacing those appliances one at a time because other manufacturers won't have that "funk."
One of the issues is whether the manufacturer will maintain this portfolio of colors when they are not selling in mass quantities.
Larger manufacturers don't manufacture appliances in small batches and discontinue a finish without a decent amount of sales.
Then you will have a problem in 6-10 years when you do need to replace an appliance or two.
Here is a partial list of recently discontinues finishes.
Whirlpool Sunrise Bronze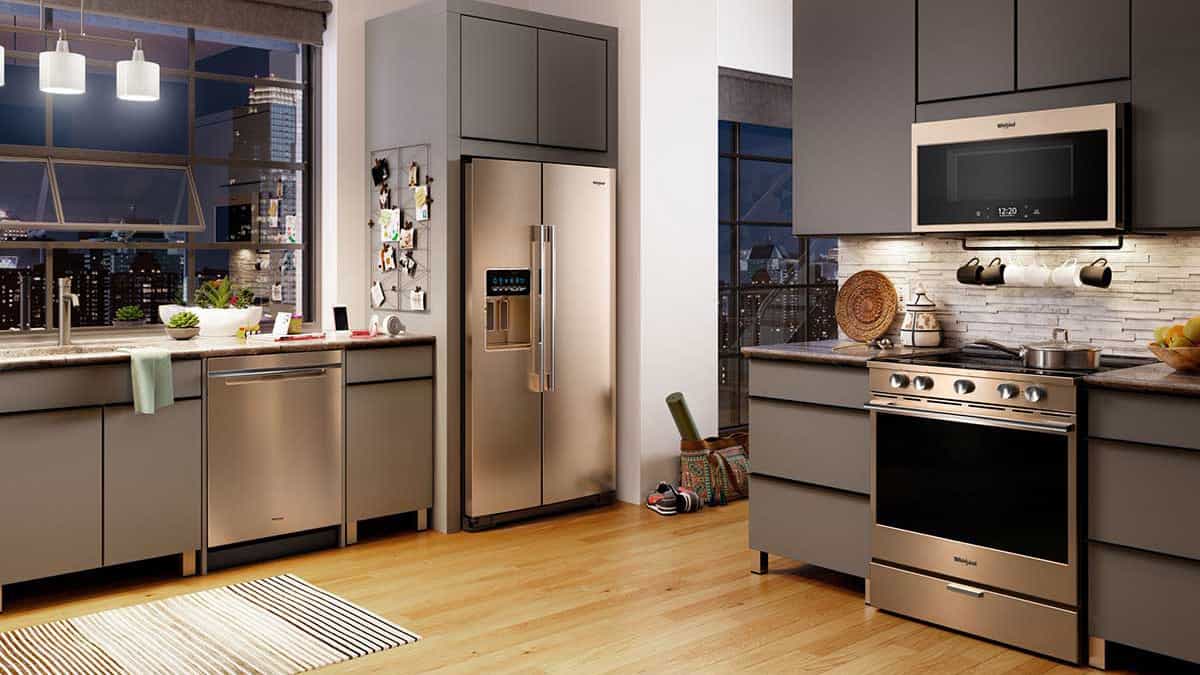 It's a different hue of stainless, more of yellowish steel. Whirlpool's Sunrise Bronze looked too much like stainless. You won't notice much of a difference. If you don't see a huge difference, then why bother?
Samsung Tuscan Bronze and Matte Black Finishes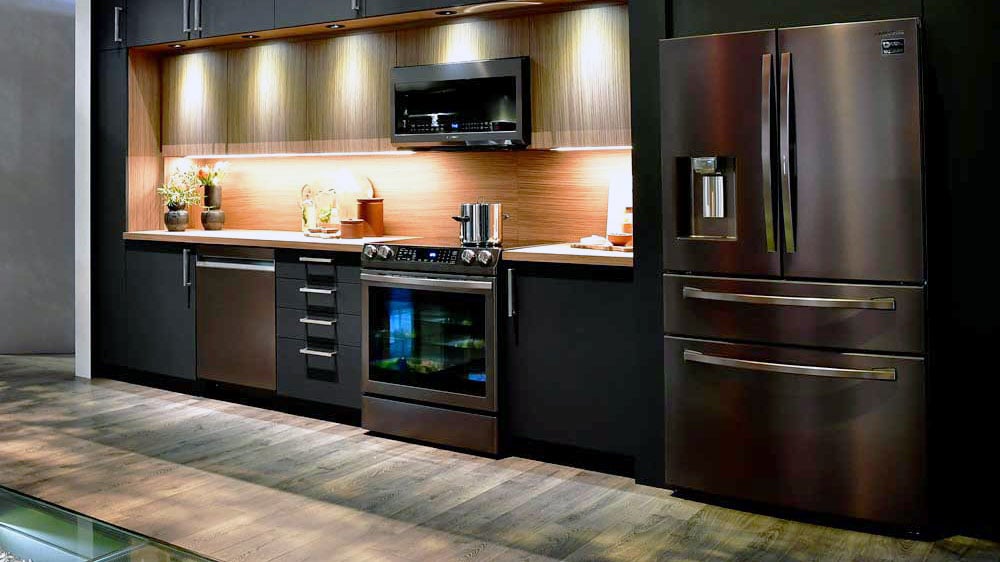 You should be wary of bronze. Most of the "hot" bronze finishes of yesteryear are discontinued.
JennAir Oil-Rubbed Bronze Finish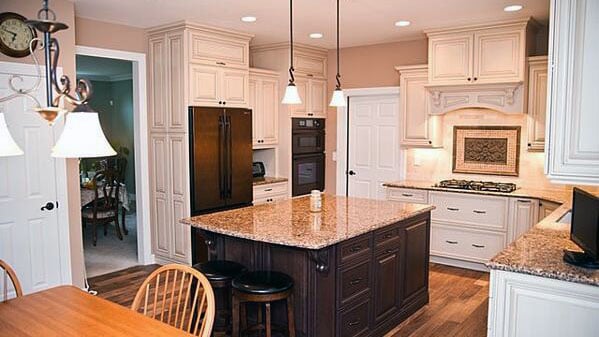 I liked this finish. It was a rich brown and looked good with traditional cabinets. It lasted for about five years.
Miele Truffle Brown Finish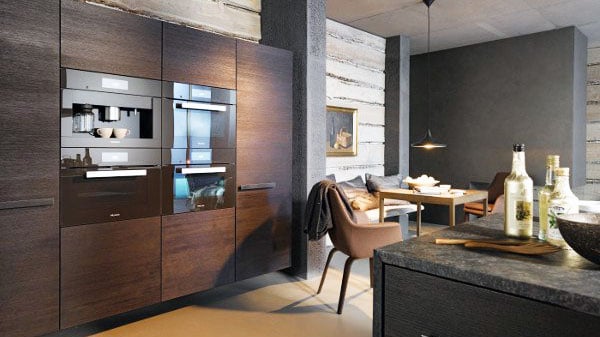 Brown seems to be a curse as a finish. Many cabinets are brown or brownish. Yet it doesn't work for appliances. We made the unfortunate decision to put this on display and sold one unit - the display.
GE Artistry Series
GE's Artistry series was a retro-looking white and steel line. I like retro, also known as mid-century deco, but in a bar or restaurant, not in your home.
Frigidaire Silver Mist Finish
This was a bad idea under any name from any manufacturer Silver Mist, Silver Frost, Platinum, Titanium, etc. Gray appliances are just ugly even when marketed as cheaper stainless alternatives. Many companies fell into this trap.
Whirlpool Black and White Ice Finishes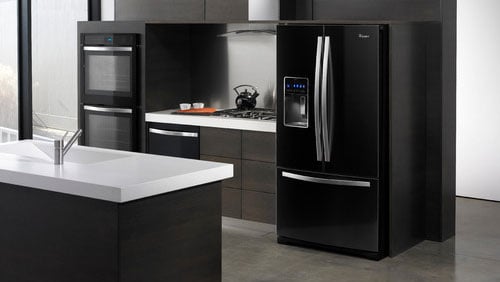 High-tech smooth white and black finishes are not popular with chrome handles. Whirlpool had Black and White Ice. Eventually, the "ice" was chrome.
The Other Problem With Colorful Appliances
When choosing a colorful finish for your appliances, you run the risk of that color being dated, especially as a package of kitchen appliances.
I remember when "Salmon" was in for bathroom toilets and vanities in the late 80s. The Salmon finish was pink. The problem with trendy colors as a package is they will eventually not trend.
In contrast, a pop of color or accent will remain interesting (or at least a lot less expensive to replace).
Why You Shouldn't Dislike Yourself For Buying Stainless Steel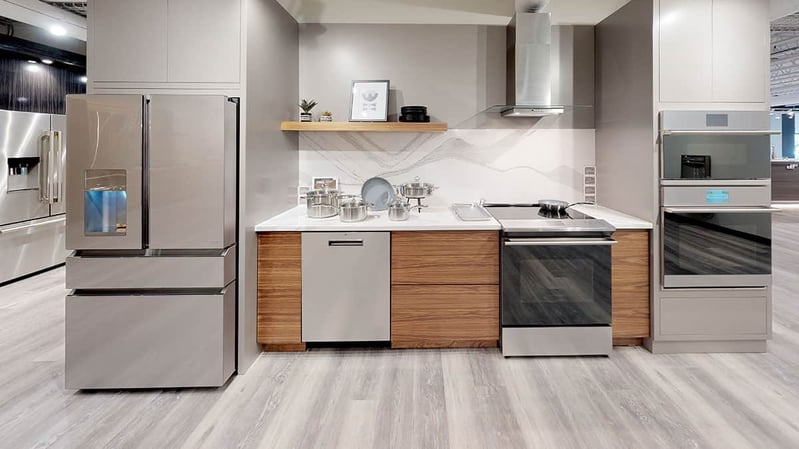 Café Appliances Kitchen in Stainless Steel at Yale Appliance in Hanover
OK, you have alternatives, but the magnetic pull to stainless appliances may be too great. So, here is why you shouldn't feel bad buying it.
Stainless steel is easy. It matches every cabinet type from modern to traditional and will never go out of style (in theory).
Stainless is also inexpensive compared to other finishes. It also wears better and is simple to clean (yes, I know you can't hang your kid's report card or latest art on stainless steel with magnets).
Key Takeaways
You do have options. Black and white are back as finishes. Glass has its place with under-counter beverages and wine coolers. You should think about custom cabinet panels, especially with nicer cabinets.
Colors are unique and should be considered in some cases. If you want a unique kitchen, consider a pop of color and panel the rest of your appliances.
Then again, after reading this, you may find stainless steel is not a bad option.
Additional Resources
Get the free Yale Appliance Buying Guide. It has features, specs, and inside tips for all the brands like Sub-Zero, Thermador, Bosch, and Miele. It covers built-ins, counter depth, freestanding vs. slide-in, and much more (plus a ton of good product shots as well). Well over 1 million people have read a Yale Guide.
Related Articles:
Why Should You Trust Us?
It seems that every appliance review has nothing but glowing comments about almost every product, yet you read customer reviews and they are almost universally bad.
We are here to fill in the disconnect. We'll give you the best features, and the drawbacks as well, including reliability based on over 37,000 calls performed by our service team just last year. Our goal is to give you ALL the information so you know what's right for you.
Please consider subscribing or adding to the conversation in the comments below. We appreciate you stopping by.
A Note About Pricing
Pricing on this blog is for reference only and may include time sensitive rebates. We make every attempt to provide accurate pricing at time of publishing. Please call the stores for most accurate price.