Best Color Alternatives To Stainless Steel For Kitchen Appliances (Trends)
This article has been a hobby of mine. Every year, I rewrite it to show you new ways to add color to your kitchen.
You don't want that bright orange kitchen to look dated in a few years and being the obstacle to selling your place.
If the manufacturer discontinues that bright orange color, will you replace that bright orange dishwasher?
If not, you will have a bright orange stove (Hook em Horns), bright orange refrigerator (Go vols), bright orange hood (add your favorite college with orange here), and a white, black, or stainless dishwasher.
However, it's been almost 30 years since stainless became the norm for appliances. So much so that many people are looking for anything but stainless.
Maybe that includes you as well.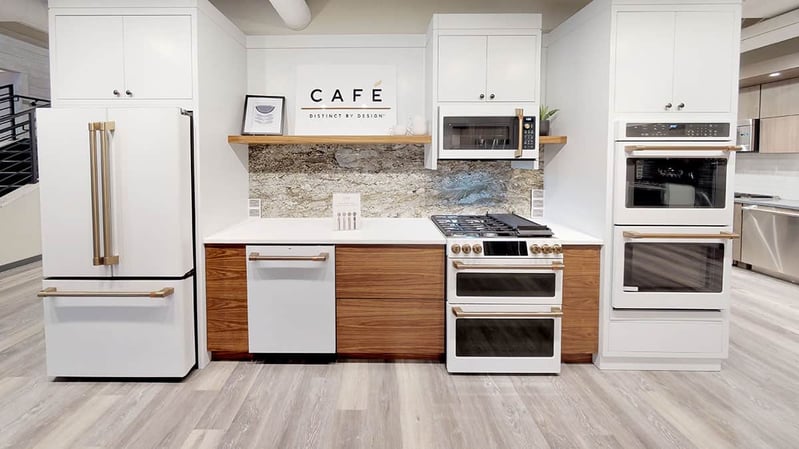 Café Appliances Kitchen in White at Yale Appliance in Hanover
In this article, you will learn how to apply color and style in your kitchen. Yes, you can have that bright orange if executed correctly.
You will also see the graveyard of once-promising finishes, and why it's a huge problem for anyone renovating now.
Lastly, we will wrap up with the benefits of stainless steel. Just in case you default to stainless out of frustration. Don't feel bad. I did too.
But let's start with a cautionary tale of the promising finishes from last year.
Short on time? Get our free Appliance Buying Guide
Best Color Alternatives To Stainless Steel For Kitchen Appliances
7. Black Stainless Steel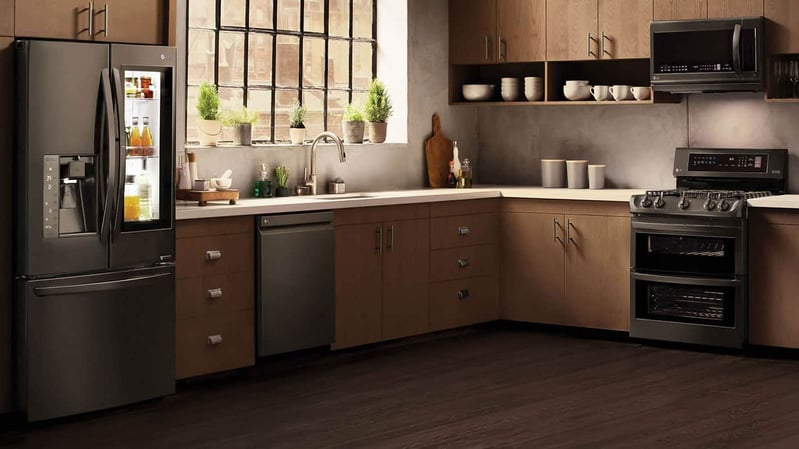 Black Stainless Steel Kitchen Appliances
Black stainless steel was the most popular non-stainless finish ever in 2019. Thirty percent of the packages sold in U.S. box stores were black stainless steel - that's a lot.
Every major manufacturer produces like Electrolux (and Frigidaire), Samsung, LG, Whirlpool (Maytag and KitchenAid), GE, and Bosch.
Black stainless steel matches all cabinet styles like regular stainless but has a darker hue. That's the good part.
Now, black stainless steel has gone from 30% to less than 5%. The finish is nice, but the maintenance is pretty tough.
Unfortunately, the finish is an oxidized coating. It's easy to scratch, and then you will see the stainless underneath. That's bad. You cannot repair that scratch.
I would skip this finish.
Black Stainless Steel Appliance Scratch Test [VIDEO]
6. Whirlpool Sunset Bronze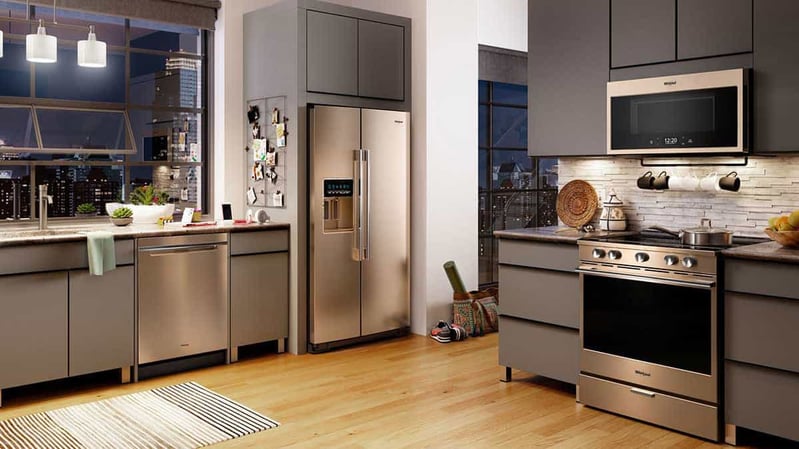 Whirlpool Sunset Bronze Kitchen Appliances
I am not sure this ever actually took off to crash. This is another finish you probably would want to steer away from.
It's a different hue of stainless, more of yellowish steel. The look is nice, and it won't peel like black stainless steel.
But, Sunset Bronze looks too much like stainless. You won't notice much of a difference. If you don't see a huge difference, then why bother?
5. Café Appliances White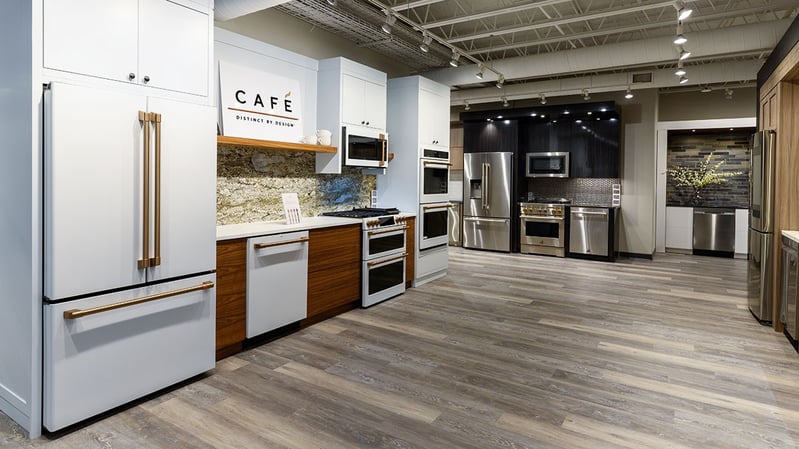 Café Appliances Kitchen in White at Yale Appliance in Hanover
This finish has accelerated in popularity. Most kitchens are white these days with gray counters, so it isn't much of a surprise.
White was the high-end finish before stainless. The Café line also allows you to customize the handles in brass, as shown or in copper or stainless.
4. Samsung Tuscan Bronze and Matte Black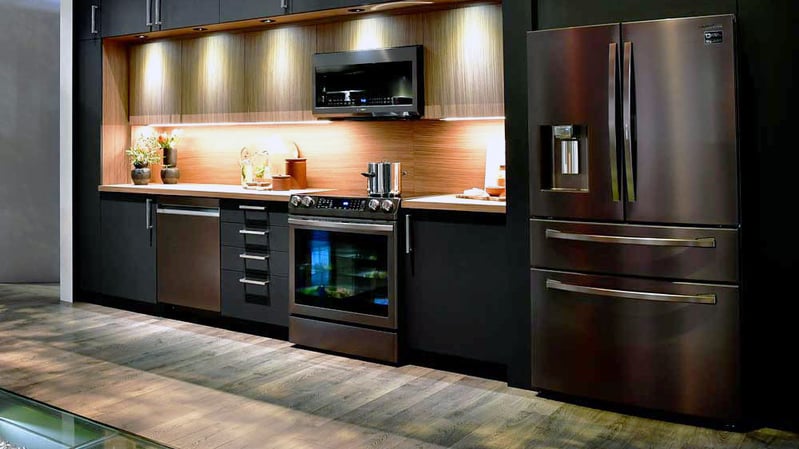 Samsung Tuscan Bronze Kitchen Appliances
You should be wary of bronze. Most of the "hot" bronze finishes of yesteryear are discontinued.
Samsung is a bit different. It's more of a black than bronze finish and is much harder to scratch.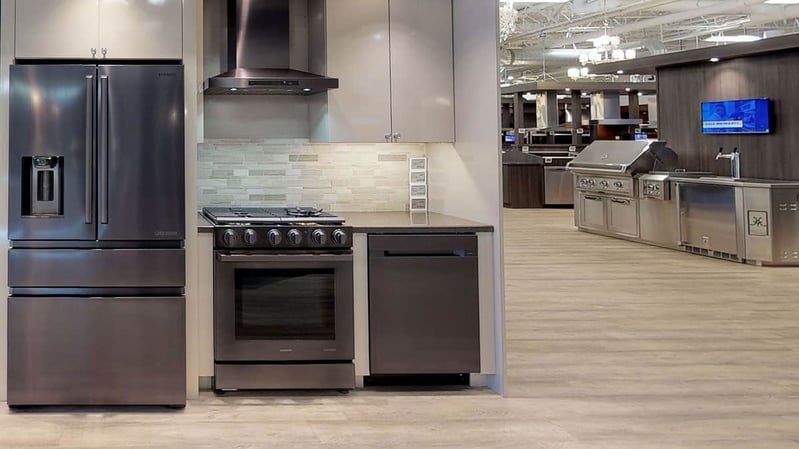 Samsung Matte Black Kitchen Appliances at Yale Appliance in Framingham
These finishes are not dead but haven't met expectations either. Brown as a finish must be unlucky, as you will see later.
3. Fisher & Paykel Finishes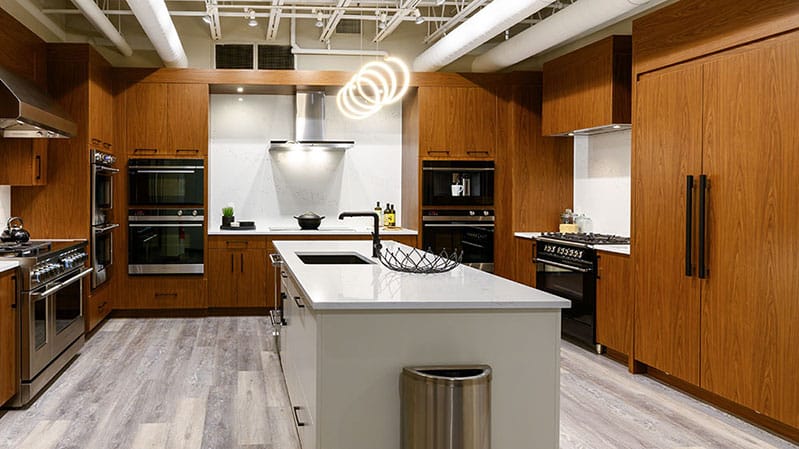 Fisher & Paykel Black Kitchen Appliances at Yale Appliance in Hanover
Fisher & Paykel is the best of the professional-looking ranges without the output. This segment includes Ilve, Bertazzoni, and Smeg. All have limited colors.
Fisher & Paykel offers red, white, and black.
These finishes have done pretty well, but not as a suite, as you will see in a bit.
2. BlueStar Custom Color Finishes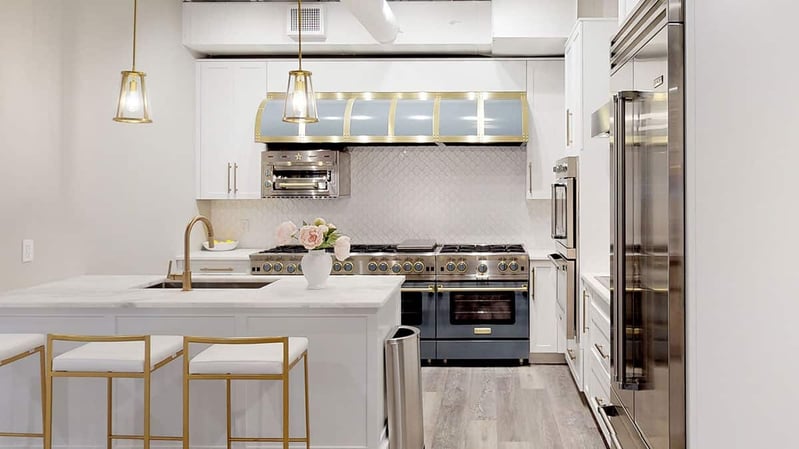 BlueStar Kitchen at Yale Appliance in Hanover
BlueStar now has 1000 different colors plus eight different trim and knob packages. If you don't like their 750, you can send a paint chip to create your custom color.
1. La Cornue Finishes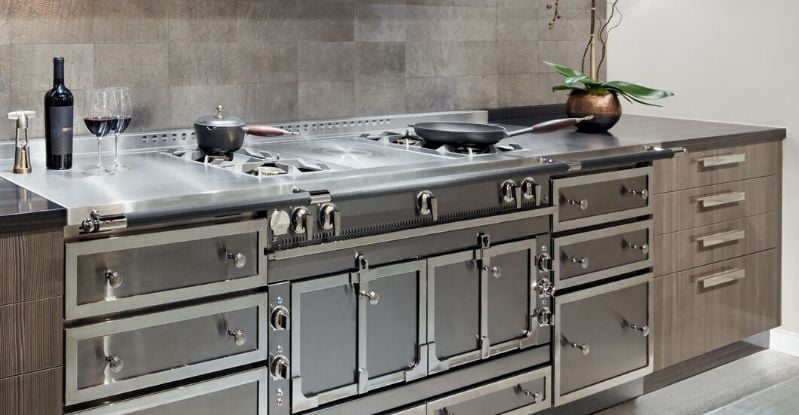 La Cornue Custom Color Professional Range
Without question, La Cornue executes color better than anyone. It looks like furniture. The whole range is customizable from the top to the different trim finish.
However, it starts at $24,000. They do manufacture a more standard, less expensive CornuFe series with eight more primary colors.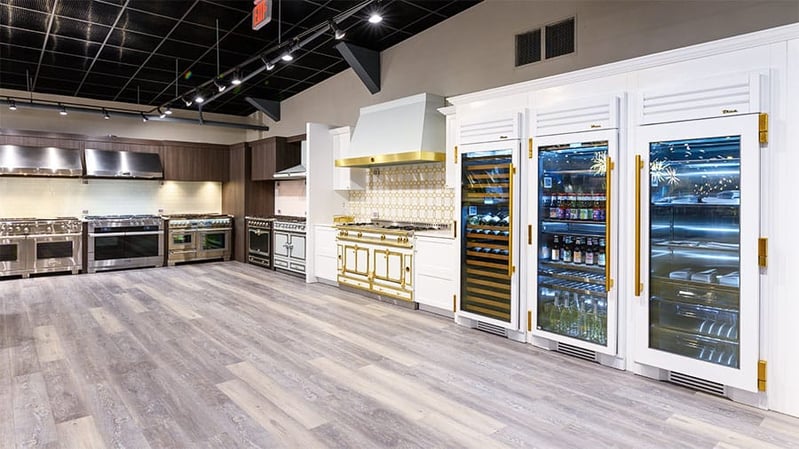 La Cornue Custom Color Professional Ranges at Yale Appliance in Hanover
BlueStar and La Cornue have been incredibly successful with color. Let me show you why and how you can apply color in your kitchen.
How To Place Color In Your Kitchen
Photo by Denman Construction
An alternative strategy is to use a pop of color on one appliance like a refrigerator or stove.
You still have a unique kitchen with none of the problems of all color appliances.
There is that bright orange kitchen. It looks good there as a design element, not an overpowering color.
The Problems With Colorful Appliances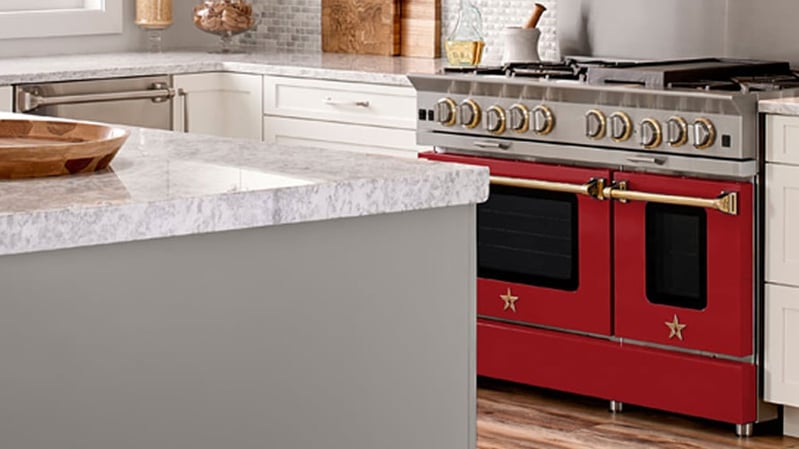 Custom Red BlueStar Professional Range
Many manufacturers want you to buy all your appliances in their funky colors. They win on replacing those appliances one at a time because other manufacturers won't have that "funk."
One of the issues is whether the manufacturer will maintain this portfolio of funky colors when they are not selling in mass quantities.
Larger manufacturers don't manufacture in small batches and discontinue a finish without a decent amount of sales.
Smaller manufacturers will discontinue or delay production on fancy colors out of financial necessity.
Then you will have a problem in 8-12 years when you do need to replace an appliance or two.
Of course, you also run the risk of that color being dated, especially as a suite.
Click here to read about the ten kitchen appliances and lighting remodeling mistakes you should never make.
The Best Stainless Steel Alternative: Custom Cabinet Panels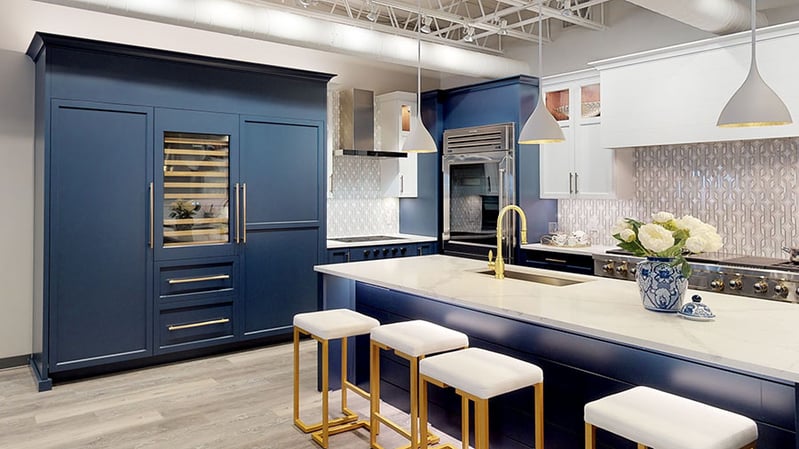 Sub-Zero & Wolf Custom Panel Appliances at Yale Appliance in Hanover
Wary of color? Don't like stainless? Then panel it.
Why worry about it when you can place your cabinet front over your dishwasher, refrigerator, beverage, or wine cooler?
The only appliance you can't panel is your cooking, which would have to be black, white, or stainless...or one of the 1000 BlueStar colors.
Unfortunately, you have to pay more and generally upgrade for paneled models.
But it looks good.
Why You Shouldn't Dislike Yourself For Buying Stainless Steel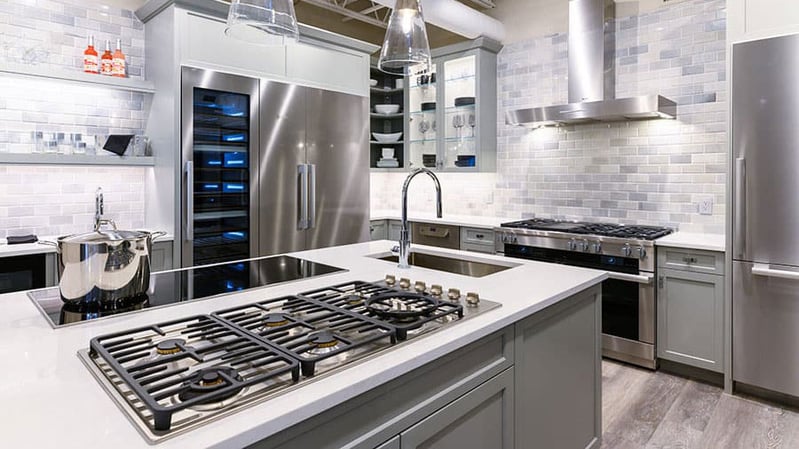 Miele Stainless Steel Kitchen at Yale Appliance in Hanover
Ok, you have alternatives, but the magnetic pull from stainless appliances can be too great.
So here is why you shouldn't feel bad buying it.
Stainless steel is easy.
It matches every cabinet type from modern to traditional and will never go out of style (in theory).
Stainless is also available inexpensively compared to other finishes.
It also wears better and is simple to clean (yes, I know you can't hang your kids report card or latest art on stainless with magnets).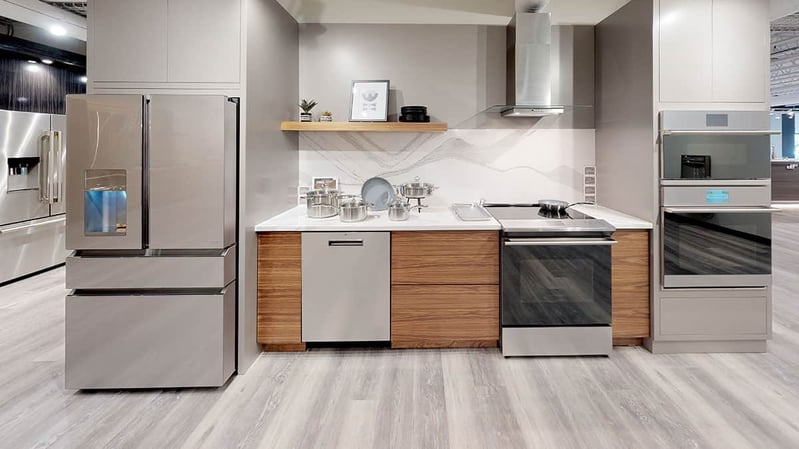 Café Appliances Stainless Steel Kitchen at Yale Appliance in Hanover

Don't feel bad opting for stainless steel appliances because this next section will not happen to you.
If you are still feeling bad, take a moment to read yesteryears popular finishes. Smile knowing you are not going to make that same mistake as your stylish neighbor or hot designer
Following trends sometimes leads you to wear bell-bottom jeans, open-collared silk shirts or even worse...discontinued finishes.
Discontinued & Disappointing Designer Finishes
Back in my day, the "sunset" (pun intended) of most finishes was occurring.
Gone were Avocado, Harvest Wheat, Harvest Gold, Coppertone, Coffee, Platinum, and Silver.
But these next finishes were launched as the next great thing and are no longer with us.
JennAir Oil-Rubbed Bronze Finish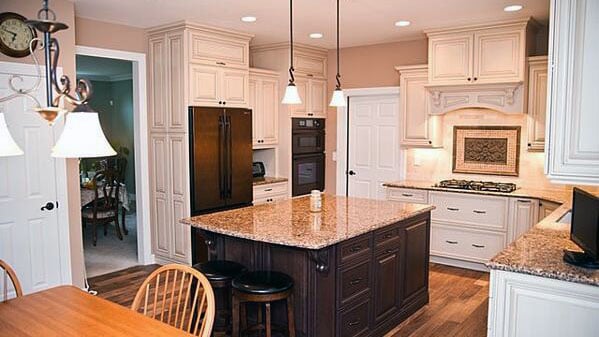 JennAir Oil-Rubbed Bronze Appliance Finish
I liked this finish. It was a rich brown and looked good with traditional cabinets. It lasted for about five years.
Miele Truffle Brown Finish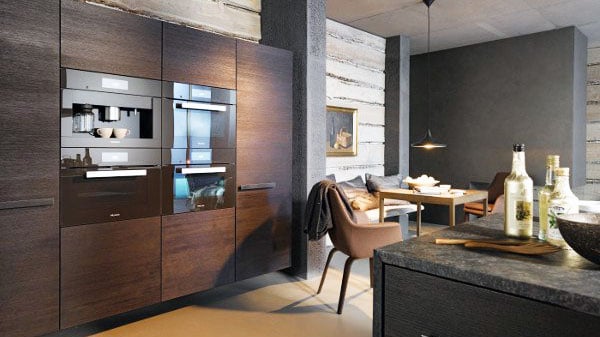 Miele Truffle Brown Appliance Finish
Brown seems to be a curse as a finish. Many cabinets are brown or brownish. Yet it doesn't work for appliances. We made the unfortunate decision to put this on display and sold one unit...the display.
GE Artistry Series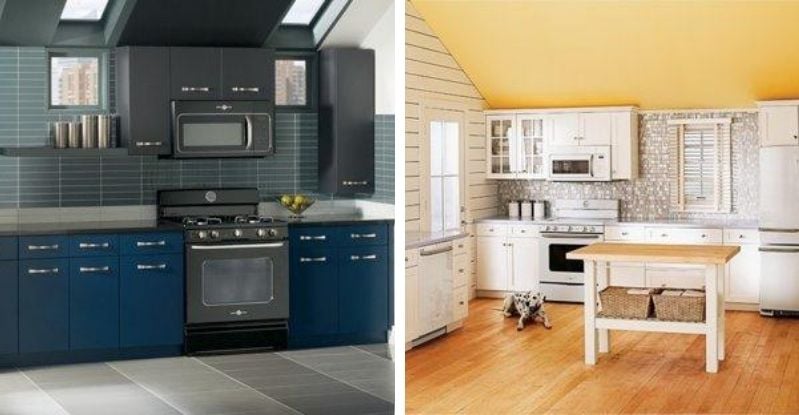 Ge Artistry White And Steel Appliance Finishes
GE Artistry series was a retro-looking white and steel line. I like retro is also known as mid-century, deco, but in a bar or restaurant, not in my home.
Frigidaire Silver Mist Finish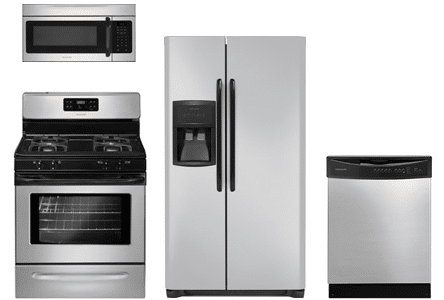 Frigidaire Silver Mist Appliances
This was a bad idea under Silver Mist, Silver Frost, Platinum, Titanium, etc. Gray appliances are just ugly even when marketed as cheaper stainless alternatives.
Many companies fell into this trap.
Whirlpool Black and White Ice Finishes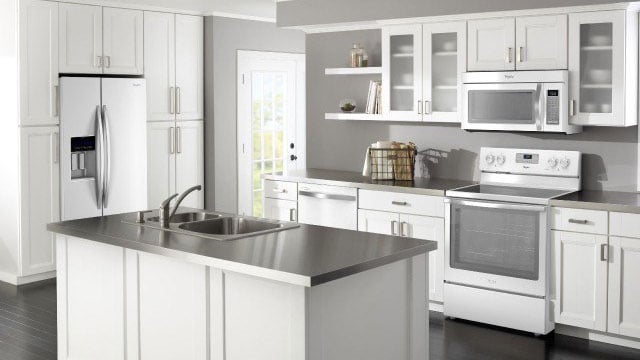 Whirlpool White Ice Appliances
High tech smooth white and black finishes are not popular with chrome handles.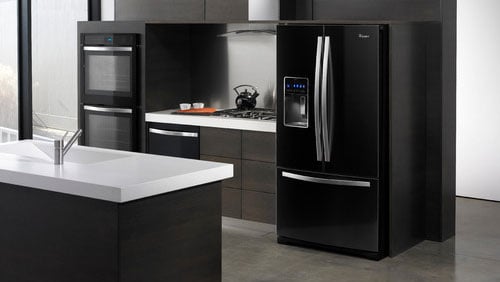 Whirlpool Black Ice Appliances
Whirlpool has Black Ice as well.
Best Color Alternatives: Key Takeaways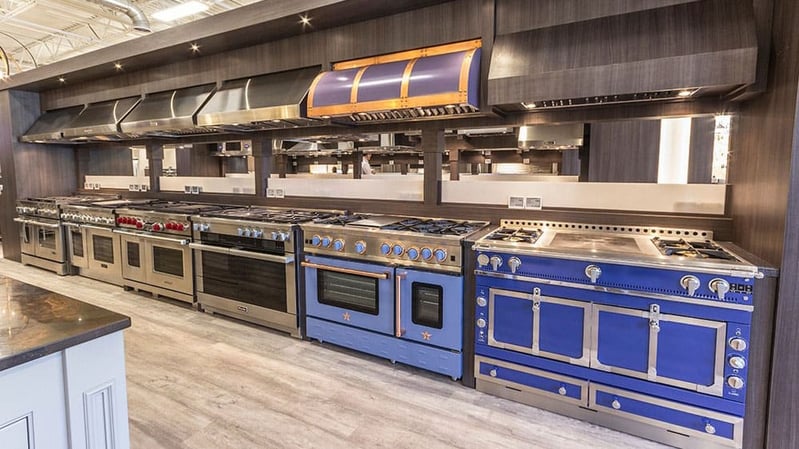 Custom Color Professional Ranges at Yale Appliance in Framingham
You have options that are good and bad news.
I think colors are unique and should be considered in some cases.
But you should be careful.
Selecting colors requires a great eye for style. You may also be the only one with that eye. It could be a problem selling your place.
Manufacturers will most likely discontinue that trendy color leaving you with a replacement problem in 8-12 years.
If you want a unique kitchen, then consider a pop of color and panel the rest of your appliances.
Then again, after reading this, you may find stainless steel is not a bad option.
Additional Resources
Get the free Yale Appliance Buying Guide. It has features, specs, and inside tips to all the brands like Sub-Zero, Thermador, Bosch and Miele. It covers built-ins, counter depth, freestanding vs. slide-in and much more (plus a ton of good product shots as well). Well over 580,000 people have read a Yale Guide.
Related Articles:
Why Should You Trust Us?
It seems that every appliance review has nothing but glowing comments about almost every product, yet you read customer reviews and they are almost universally bad.
We are here to fill in the disconnect. We'll give you the best features, and the drawbacks as well, including reliability based on over 37,000 calls performed by our service team just last year. Our goal is to give you ALL the information so you know what's right for you.
Please consider subscribing or adding to the conversation in the comments below. We appreciate you stopping by.
A Note About Pricing
Pricing on this blog is for reference only and may include time sensitive rebates. We make every attempt to provide accurate pricing at time of publishing. Please call the stores for most accurate price.