How to Buy a Wall Oven (Reviews / Prices / Ratings)
Wall ovens should be an easy purchase. It's just the oven part of your stove without the burners.
However, it's the most complicated purchase in your kitchen. There are more brands, feature possibilities, and combinations of wall ovens than any other product.
In this article, we will simplify your decision by showing you what to consider. We'll start with the basics such as sizes and fuel types - whether you need gas or electric. Then we will touch upon different features, options, and your different wall oven brands.
You can refer to this article whether you are simply replacing an existing oven or buying a new kitchen.
First, let's cover the basics.
How to Buy a Wall Oven
Wall Oven Sizes
Wall ovens are available in 24, 27, 30, and 36 inches in width.
For new construction, a 30-inch wall oven has been the standard for over 20 years. When we say 30-inch wall oven, we refer to the cabinet as wall oven dimensions do vary between brands.
If you are replacing your existing 27 and 24-inch existing wall oven, wall ovens are a possibility depending on how old the kitchen is. Just measure the width of your cabinet.
You can buy double or single ovens. Many brands sell a fully-featured convection double wall oven, then a mid-level oven with more basic controls, and then just a base model.
Short on time? Get our free Wall Oven Buying Guide
Wall Oven Fuel Types
Wall ovens are almost always electric with a few exceptions. Many ovens built in the 50s and 60s are smaller 24-inch gas types.
Many people buy electric almost as a default because the best brands are electric. However, gas is a moist heat and is better for roasting. Broilers are hotter in gas as well.
BlueStar has the best gas oven in a very limited selection.
Now that you know size and fuel types, let's look at wall oven features. This is the toughest part.
Wall Oven Features
Before you buy a double wall oven, you can customize your cooking better with a single wall oven and then buying different cooking products around it. Here are a few options:
Steam ovens cook your food by injecting moisture into the oven cavity for better flavor. You are not baking out the nutrients and taste. Miele, Wolf, JennAir, and Thermador all have good steam oven options.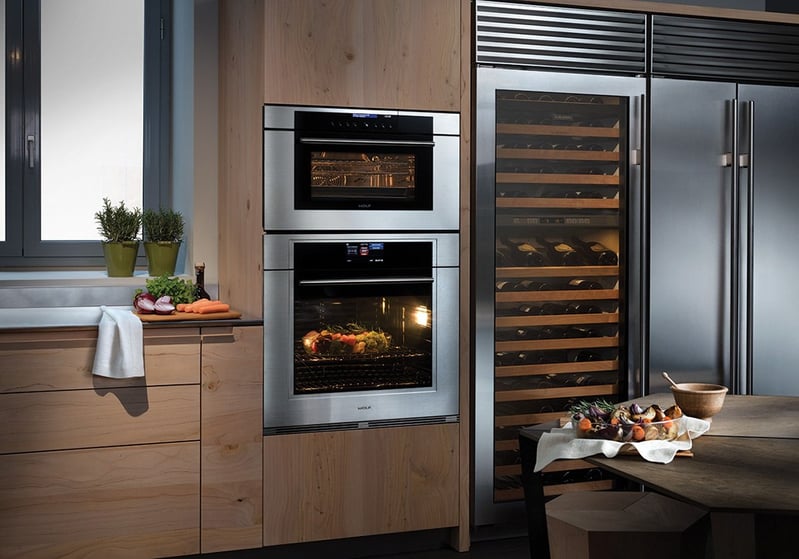 Wolf Steam Oven and Wall Oven in Kitchen
Speed Ovens use microwave and convection in a combination for faster cooking without losing the texture and quality.
Speaking of microwaves, you can buy them to fit over a single oven with a fold-down door. You can also place a microwave below with a drawer instead of placing it somewhere else in your kitchen.
You can also install a warming drawer to keep food warm for up to three hours if you cook at one time and your family eats at another.
Convection Cooking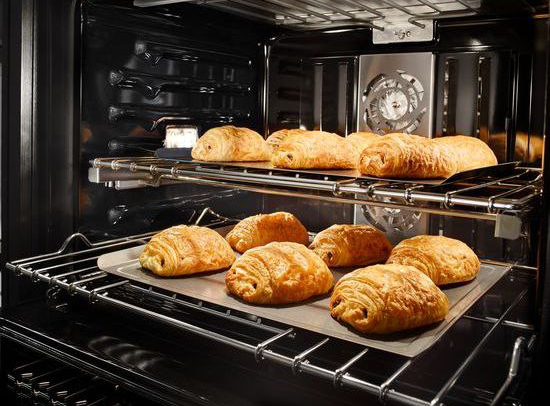 JennAir Convection Wall Oven Fans
Convection should be simple to understand. It is a fan blowing the air around so the temperature is more even throughout.
However, there are many types of convection in electric and gas.
Gas/Electric Convection: Single fan blowing from the back. It blows the heat from the bottom heating element.
True Convection also known as Pure Convection and European Convection: The element is behind the fan, so the heat is blowing straight across for more even baking.
Twin Convection (electric only): Two fans instead of one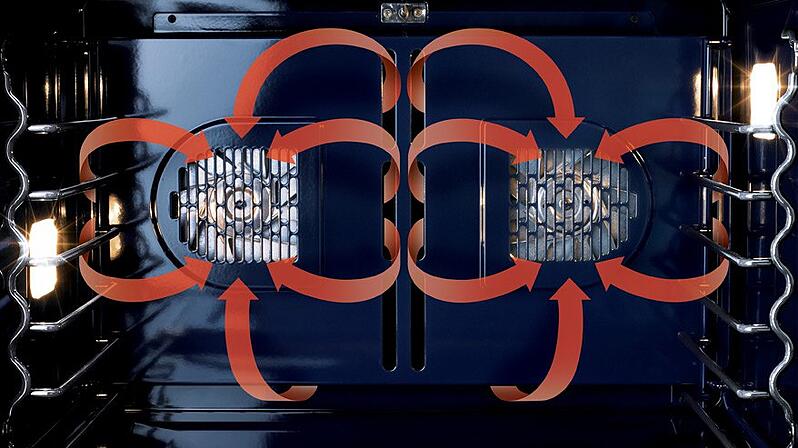 Twin Convection in a Wall Oven
Wolf Twin Convection: Wolf has thermometers behind both fans instead of one. So they act independently based on temperature for more even heat.
Wolf VertiCross Convection: Blowers for faster distribution of heat (blowers are faster than fans). Adds capacity as well.
You have plenty of options all dependent on how you like to cook.
Let's look at the top wall oven brands to make sense out of your purchase. It's easier to look at brands in different groups.
Premium Wall Oven Brands
The more expensive brands have programmable features and will guide you through the best way to cook.
These brands include Wolf, JennAir, Miele, and Gaggenau. You will spend $6,000-$8,000 for a double wall oven with these features.
Miele Wall Ovens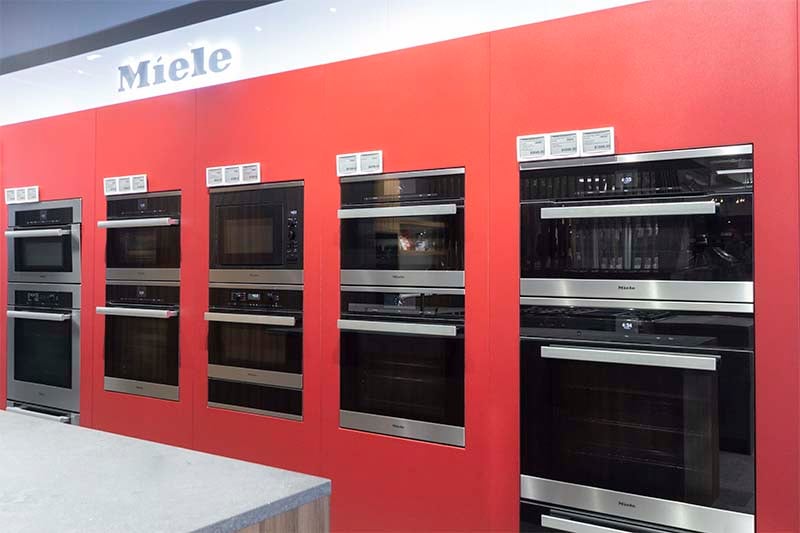 Miele Wall Ovens in Framingham Showroom
Miele has a steam assist, so it is the only oven with the ability to bake bread. The MasterChef is simple to operate as well. You just program food and how you want it to cook and the oven does the rest.
JennAir Wall Ovens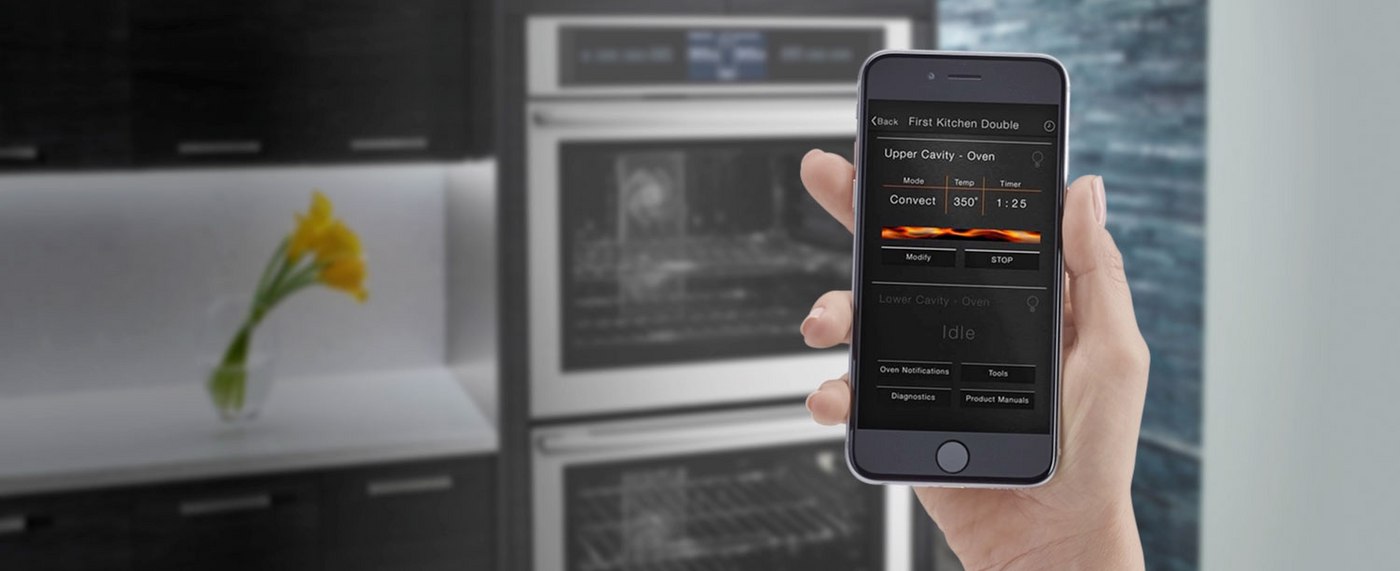 The top JennAir has controls similar to the Miele but also shows pictures of what your food will look like before you cook. Wi-Fi and Alexa compatibility is standard on the JennAir as well.
Wolf Wall Ovens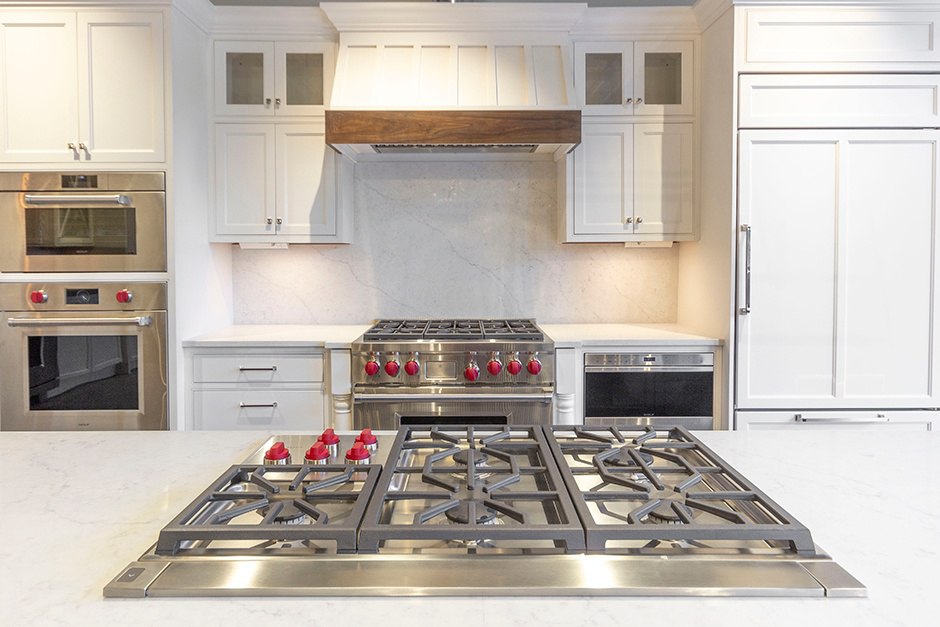 Wolf Kitchen in Framingham Showroom
Wolf has their Gourmet Center giving you similar controls as Miele and JennAir, but Wolf has the best convection system employing blowers instead of fans for better speed and evenness.
Gaggenau is the most precise wall oven with the ability to set the oven at 1-degree increments. You also have the most modes to cook. Their controls are more difficult than any other wall oven.
Affordable Luxury Brands
Bosch Double

Wall Oven

Thermador Double

Wall Oven

KitchenAid Double

Wall Oven

Samsung Double

Wall Oven
You can still buy a very good wall oven between $2,700 and $4,000. These ovens offer convection and less robust controls.
The best brands in this category are Bosch, Thermador, and KitchenAid. Samsung has a great double wall oven for under $3,500 with twin convection and Wi-Fi connectivity.
Click here to read more about our Best Affordable Luxury Appliance Brands.
Commodity Wall Oven Brands
If you are looking for a less expensive wall oven option GE, Whirlpool, and Frigidaire manufacture a wall oven with basic controls and no convection for $2,000 or even less.
What Are the Most Reliable Wall Oven Brands?
| | | | |
| --- | --- | --- | --- |
| | Service Qty | Shipped Qty | Service Ratio |
| Dacor | 6 | 7 | 85.71 % |
| Frigidaire | 5 | 11 | 45.45 % |
| JennAir | 44 | 149 | 29.53 % |
| Blomberg | 1 | 4 | 25.00 % |
| Bosch - Benchmark | 19 | 95 | 20.00 % |
| Thermador | 62 | 321 | 19.31 % |
| Wolf | 56 | 310 | 18.06 % |
| Frigidaire Professional | 4 | 23 | 17.39 % |
| Electrolux | 1 | 6 | 16.67 % |
| Gaggenau | 9 | 56 | 16.07 % |
| Kitchenaid | 12 | 100 | 12.00 % |
| Bosch Appliances | 27 | 246 | 10.98 % |
| Whirlpool | 2 | 51 | 3.92 % |
| Miele | 4 | 149 | 2.68 % |
| Grand Total | 254 | 1555 | 16.33 % |
In 2017, we had 30,761 service calls. We removed any brands with fewer than 5 wall ovens sold. Our measurement is service calls divided by sales for the service percentage over the first year.
The percentages are pretty good considering many of these are double or two appliances in one.
Miele is excellent mostly because they manufacture every part of the oven including their own controls while other brands outsource.
Gaggenau, KitchenAid, and Bosch are decent and among the top percentage.
Whirlpool looks good but they are typically sold for multi-unit projects. It's hard to know whether the units are occupied and if the individuals know to call us for service.
Our Final Advice for Buying a Wall Oven
Look at your size options first, especially if you are replacing an existing wall oven.
Then consider the different options. Do you need a double oven or would you be more suited for a more customized selection of steam, speed, or microwave along with a single oven?
The brands are not that difficult to choose from. You pay more for better controls and functionality. The wall ovens with the ability to cook automatically cost more.
Lastly, if you are buying more sophisticated wall ovens, you should see them working before you buy one. Also, because the technology is evolving, you also want to know who will fix your new wall oven.
Frequently Asked Questions
Do wall ovens need to be vented?
No, the last wall oven to be vented was Thermador 20 years ago.
How do you measure a wall oven?
Don't measure the oven, measure the cabinet. Wall ovens will differ in size slightly, but wall oven cabinets are 24, 27, 30, or 36 inches wide.
What are double wall ovens?
Two equal-sized wall ovens, although the top can have more features depending on the brand, model, and price.
Which is better, a gas wall oven or an electric wall oven?
Briefly, gas wall ovens have a moist heat and are better for roasting. You also have a better broiler in a gas wall oven. Electric is drier and better for baking. You have better features and more options with an electric oven. It all depends on your style of cooking, what you like, and what you would use most in an oven.
Are new wall ovens energy efficient?
No, they use the same power as older models.
Additional Resources
Looking for more information about wall ovens? Download the Yale Wall Oven Buying Guide packed with the latest features, specs, and detailed profiles of all the major brands. Well over 355,000 people have read a Yale Guide.
Related Articles:
Why Should You Trust Us?
It seems that every appliance review has nothing but glowing comments about almost every product, yet you read customer reviews and they are almost universally bad.
We are here to fill in the disconnect. We'll give you the best features, and the drawbacks as well, including reliability based on over 37,000 calls performed by our service team just last year. Our goal is to give you ALL the information so you know what's right for you.
Please consider subscribing or adding to the conversation in the comments below. We appreciate you stopping by.
A Note About Pricing
Pricing on this blog is for reference only and may include time sensitive rebates. We make every attempt to provide accurate pricing at time of publishing. Please call the stores for most accurate price.