How to Design Your Dream Kitchen With Luxury Appliances
February 3rd, 2022 | 10 min. read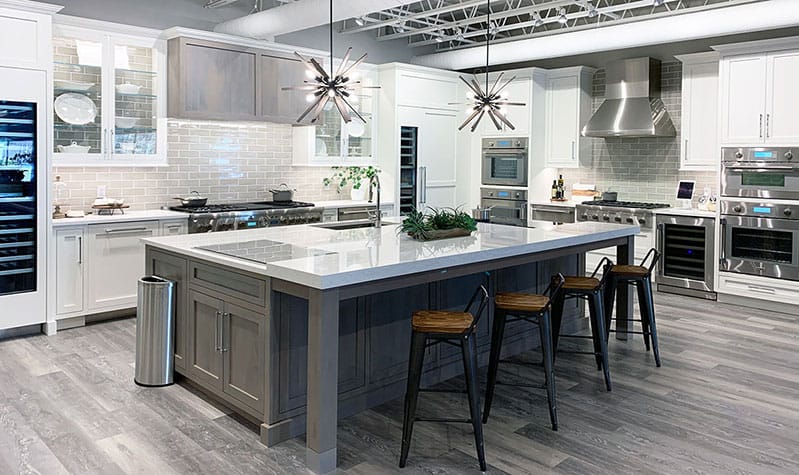 You have heard all the nightmare stories about designing and building a luxury or "dream" kitchen.
Every day you are reminded about supply chain issues with every type of building material, especially for appliances.
Yet despite staring at an ample space, you still want to do it. It can be done. When you look at these kitchens, they are like any other kitchen, just with more "stuff."
You need a plan of action to place appliances and cabinets in the right areas to have a functional kitchen.
This article will provide the master plan you need to create your dream kitchen. You will learn where to start, what appliances should be chosen first, and all subsequent important decisions.
We will also tell you about the differences between all high-end products. No brand can satisfy every requirement, so you want to buy whatever brand best matches your cooking style.
As a bonus, you will also see what not to do. There are plenty of beautiful yet unfunctional kitchens on the internet.
Let's go for beautiful and functional by starting with a prime example of a luxury kitchen.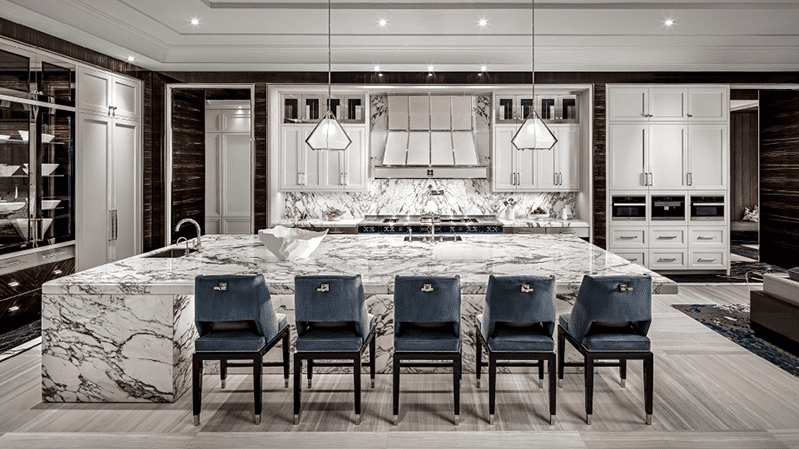 Drake's (the Rapper) Kitchen
You are looking at about $220,000 worth of appliances. This kitchen is always the last slide if you have ever seen any of our webinars. It's well designed and attractive.
Let's talk about the luxury appliances in Drake's kitchen:
The Château Supreme and hood
Two 24-inch columns
One 18-inch wine cooler
A Miele coffee maker
A speed oven and steam oven
Two dishwashers
Two sinks
All are great selections and are considered the best available (depending on how you use them). I like the pot filler at the back of the stove. You can fill pots without lugging around water. This kitchen is so well-conceived he doesn't need it.
Now scroll up to the original picture. What you want to do is look at the placement of the appliances.
Notice where the sink is. It's close to the range. You should also note where the refrigeration is located. It's located away from the main flow of your appliances.
You will learn why this is important and will be able to design a kitchen to this degree yourself by the end.
Let's dive in.
How to Design Your Dream Kitchen with Luxury Appliances
The ABC Dream Team (Architects, Builders, Contractors)
Finding the right people is critical before ruminating over tile, floors, lighting, cabinets, and appliances. I have redesigned a condo, rebuilt a burnt-out Brownstone, and designed Yale Framingham. My biggest issues were contractor-related without question.
Great people know the best subcontractors. You will have ideas and other considerations from people who have similar projects.
Finding a Project Manager
So, you've hired a great contractor. Now you want to start the interview process all over for the best Project Manager. You don't want the owner's kid fresh out of college, but someone more seasoned.
Think of hiring these teams based on the expectation of having an 18–24-month marriage. Treat it accordingly.
Questions to Ask When Vetting Architects, Builders, and Contractors
If you are building a contemporary house, you ideally want someone who has built a house in that style. For Bostonians, you have the unique Brownstones. You want to find the contractor best matching that particular style.
The following are 18 questions to ask your architect, builder, and contractor:
How long have you been a General Contractor for? (How many years of construction experience do you have)
Are you licensed by the state in which the project is located?
Do you have Proper Insurance, current and up to date with at least 1mill GL?
Are you familiar with the city/town Permit Process and Bylaws?
Have you built new homes in the past? Locations? ( If a new home is the Scope of work).
Would I have a point of contact for my project?
What companies do you typically use for subcontractors?
Do you have any references I can contact?
How does your payment schedule work?
What would be your timeline for the project?
What type of warranty do you offer?
Can you provide a letter of completion? (To avoid any type of lien against the property).
What do you see as the biggest challenges for this project?
What is your policy on project delays?
How do you close out a project? (A good contractor would clean the site like he was never there),
Do I get weekly and or monthly progress reports?
How can we receive the written proposal?
Would the proposal have a detailed list of material?
Knowing Your Self and Lifestyle
Before you copy that kitchen on Houzz or off the internet, assess how you use the space.
How do you cook? Do you cook? Do you mind bending down for a stove? Is there an object you will be highlighting? If you are on the ocean as an example, you would want your kitchen to be positioned to take advantage of the water views.
The following are questions to ask yourself before planning your kitchen layout:
How much space do you have?
Do you and/or your partner like to cook?
What appliances do you use frequently?
Do you have an object you're highlighting?
Will your lifestyle be changing?
Don't copy somebody else's !!!!
Do you store wine?
Do you entertain often?
Would you use a steam or speed oven?
Do you need an icemaker and what type of ice?
How much refrigeration do you need and where would you place it?
Do you bake or broil more? Grill? Griddle?
Where to Start Your Kitchen Project
Without question, you should start at the sink. It seems odd for an appliance guy to say, start at the sink. However, your sink is the most used "appliance" in your kitchen. You do use the sink more than a stovetop.
Positioning a sink on an island is ideal. You won't have any venting issues and you can personalize your kitchen with lights like in this picture: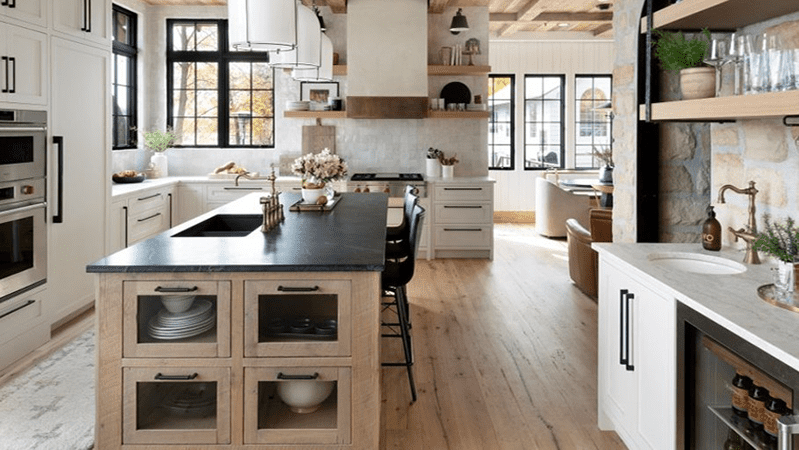 You are looking at the number four most viewed kitchen on Houzz last year. It garnered thousands of views. The style is excellent. Look at the floors, ceilings, and the black handle accents.
Yet, the sink is wrong, assuming they use the stovetop. If they do and burn their food or, heaven forbid, start a fire, their sink is not accessible.
You should always place your sink near your cooking appliances.
My Version of the Kitchen Triangle and Why It's So Important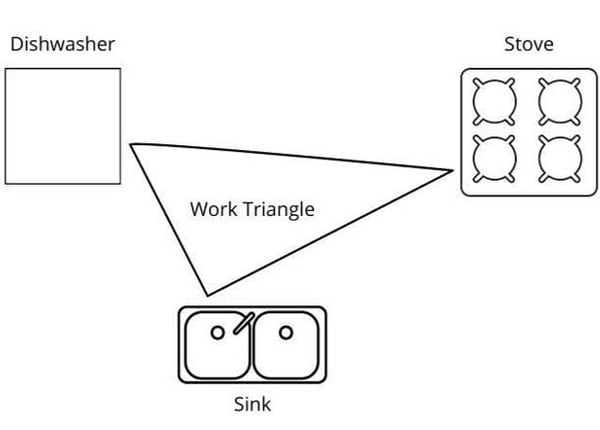 The kitchen triangle keeps the most used appliances nearby.
My version of the kitchen triangle is to centrally locate the the sink, stovetop, and dishwasher (shown above).
Below is my sister's kitchen. She builds houses for a living.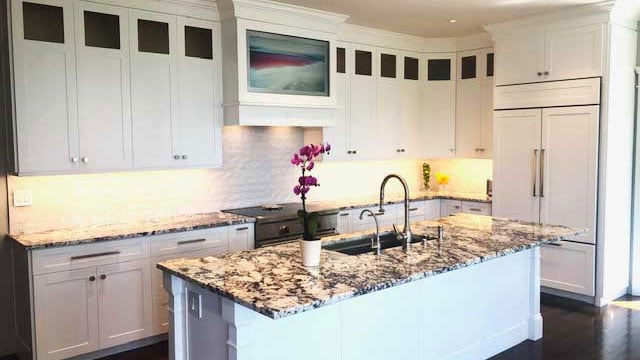 Note where the sink is. She never has to move more than one step to access the sink, stovetop, or dishwasher.
Your Other Appliance Decision

The other appliance decision you need to make is whether or not to buy a wall oven and cooktop or a range.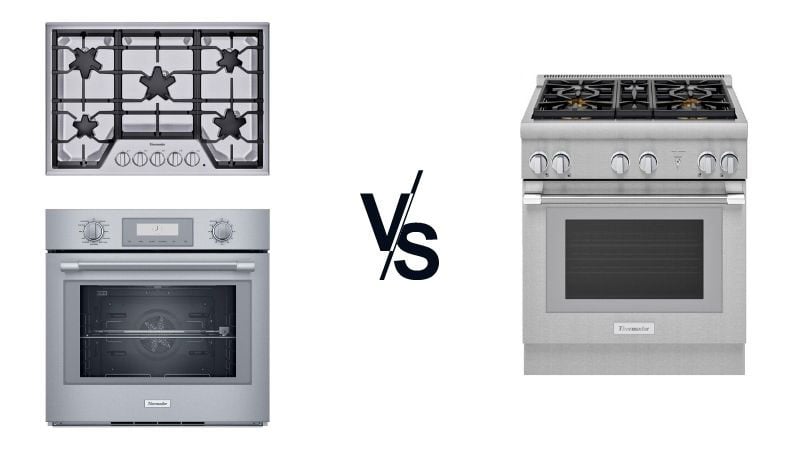 The decision depends on a variety of factors. If you have a smaller space, the range is better. It also centralizes everything.
Then again, you can place a wall oven anywhere. It may sound like a novel concept, but you don't check the food in your wall oven much.
Options like steam, speed, microwave ovens, and warming drawers are more readily available in a wall oven to personalize your cooking a bit better as well.
Hard to believe, but after placing your sink and cooking appliances, the layout of your kitchen is almost done. Every other appliance is a standard measurement.
Your only other decision is what type of appliances and secondary appliances you want in this kitchen.
Read More: How to Plan Your Kitchen Appliance Project
What Not to Do in a Kitchen
You don't want to fall into two major traps. The first you have seen. It is the positioning of the sink or stovetop far apart, like in this kitchen.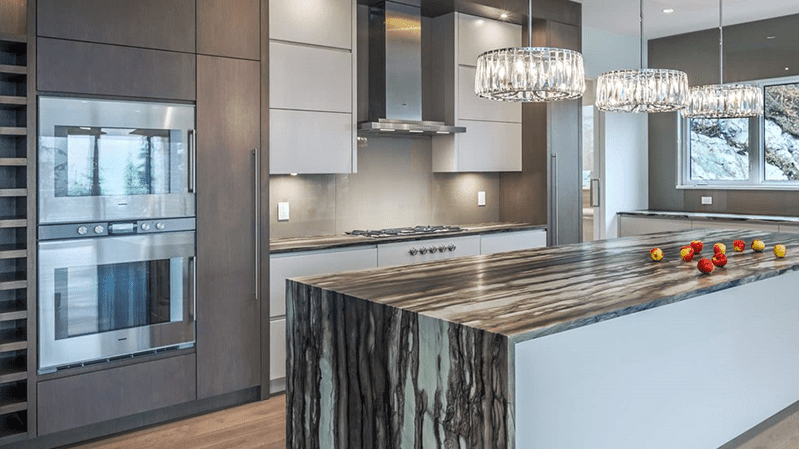 They could move the sink across from the stovetop and place a wet bar on that side. The sink in that position does take advantage of looking outside, but the position does not work.
Venting
Venting is a big problem, and these problems are tough to fix after the fact.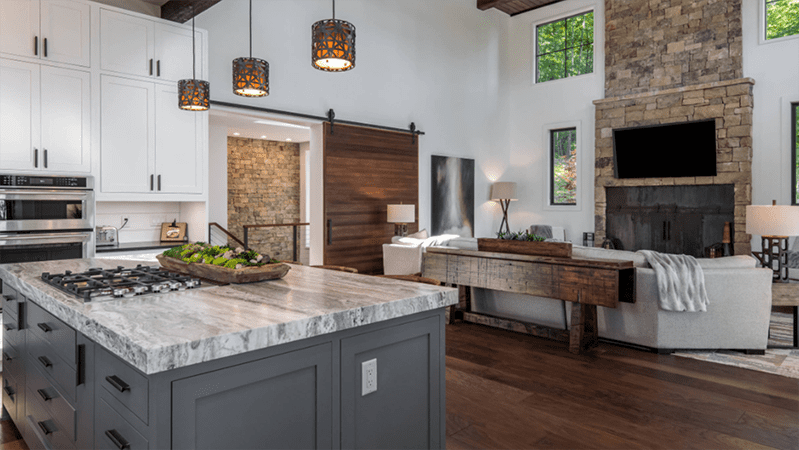 You have no way to retrofit a vent on an island affordably after the fact. You either have to drop a vent from the ceiling and open the whole ceiling for the vent or open the floor for a downdraft.
Downdrafts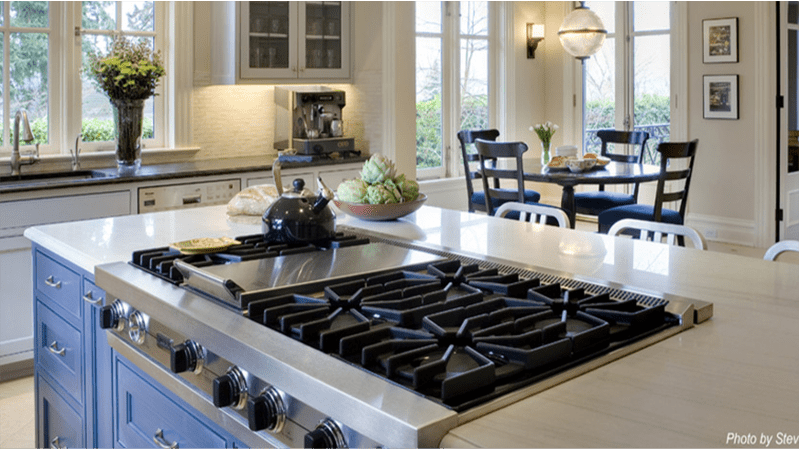 It's not my favorite appliance. It won't work when you place it behind a high-output or professional cooktop. The capture area for the smoke is nonexistent in a downdraft, plus you have to reverse gravity.
Downdrafts have no place in new construction, just in older retrofits. So, why are downdrafts specified?
They allow you to not look at a bulkier hood. You also have the advantages of adding lighting and having a cleaner-looking space. But the design doesn't work if you cook.
Read More: 11 Kitchen Renovation Mistakes to Avoid
Best Luxury Brands and Appliances
The following is a list of the best luxury brands.
Sub-Zero and Wolf
La Cornue
Miele
Thermador
BlueStar
JennAir
True
Viking
Monogram
Dacor
Signature Kitchen Suite (SKS)
Fisher & Paykel
We have an article dedicated to the pros and cons of each luxury brand. Just know you have plenty of options, and no one brand has every feature, so match the brand to your preferences.
Luxury Appliance Options
Pro Ranges
Wall Ovens
Refrigerators
Vents
Dishwashers
Steam Ovens
Speed Ovens and Microwave drawers
Coffee Makers
Point of Use Refrigeration
Sinks
We will look more closely at each option, so you know the advantages and drawbacks of each.
Pro Ranges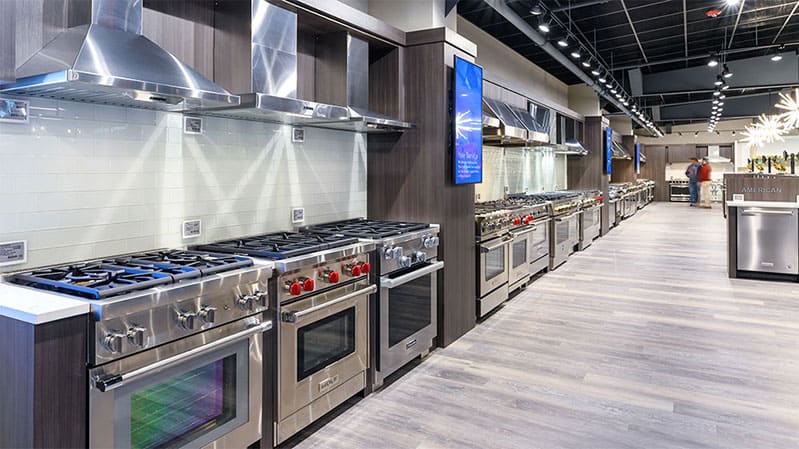 I have said throughout the article there is no one best option for everyone. With the Chateau Supreme range, I may be wrong.
It has a gas and electric range. Gas is better for roasting and broiling. Electric is better for baking. The archtops help maintain an even temperature. The top can be anything you want like a Wok burner, grill, griddle, French top, and induction.
So yes, La Cornue may be the best, but at $130,000+, only four were sold globally.
To find the right professional range for your lifestyle, you need to ask the following questions:
Do you bake, roast or broil?
Do you want more output or a better simmer?
Would you use a grill, griddle, Sous Vide, or French top?
Basic controls or Smart functionality?
Regular oven, steam assist or steam oven?
The best brands to consider for a professional range include Wolf, BlueStar, Miele, and Thermador. These brands are the big four.
However, SKS has Sous Vide (precision boiling in a bag) and induction. Fisher & Paykel has its induction and high output gas combination.
Learn More: Pro Cooking Buying Guide
Wall Ovens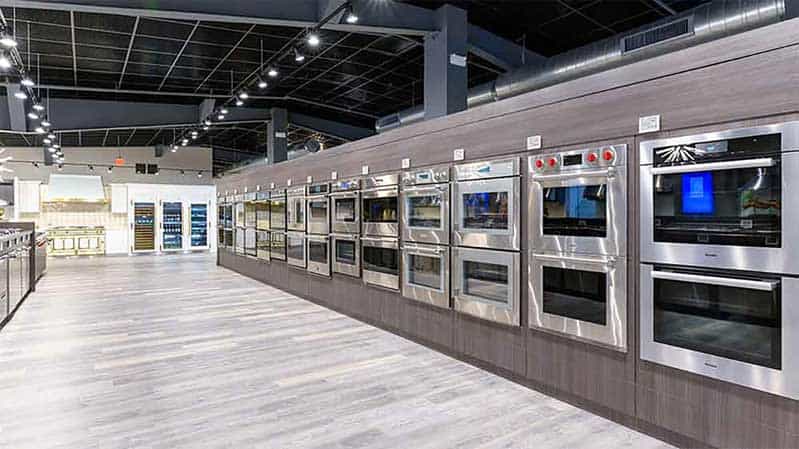 Wolf, JennAir, and Miele have the most functionality in their wall ovens. Each one of these brands features guided cooking programs. You just enter food, and how you want it cooked, the ovens calculate time and temperature. Wolf will show you the best rack position while Miele adds steam assist functionality.
French door ovens allow you to not lift your food over a door and are a cool design element. Then you have Gaggenau with 17 different modes and a modern design.
Buying a double wall oven or a single with steam, speed, or microwave is another consideration.
Learn More: Wall Oven Buying Guide
Professional Refrigerators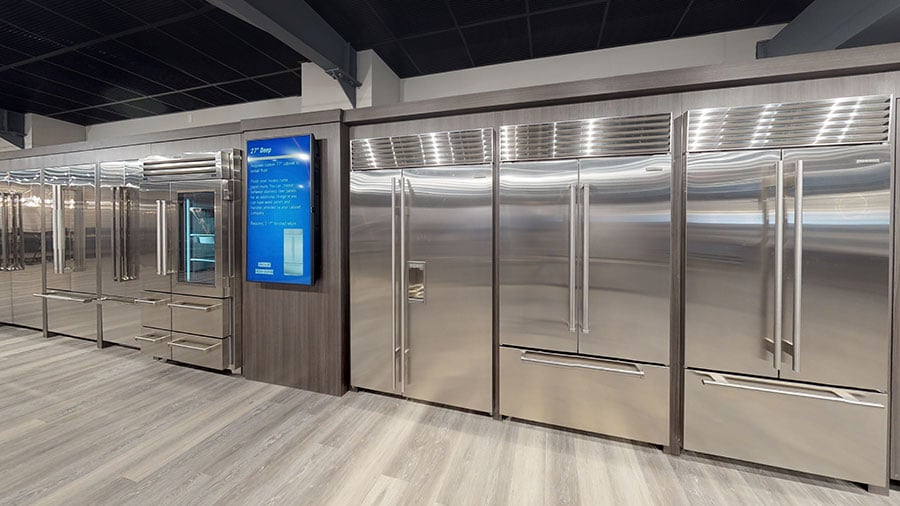 I haven't spent much time on refrigeration, although you probably consider it important. For design, it's not crucial to be placed in the middle of your kitchen. It is not critical to access a refrigerator like you stir a pot.
They are also designed to fit standard-size cabinets and are easy to place throughout your kitchen. However, you do have plenty of options.
Professional refrigerators have a compressor on the top to look like a restaurant. You can buy them in paneled or stainless. The sizes are 30,36, 42, and 48 inches wide.
Integrated Refrigerators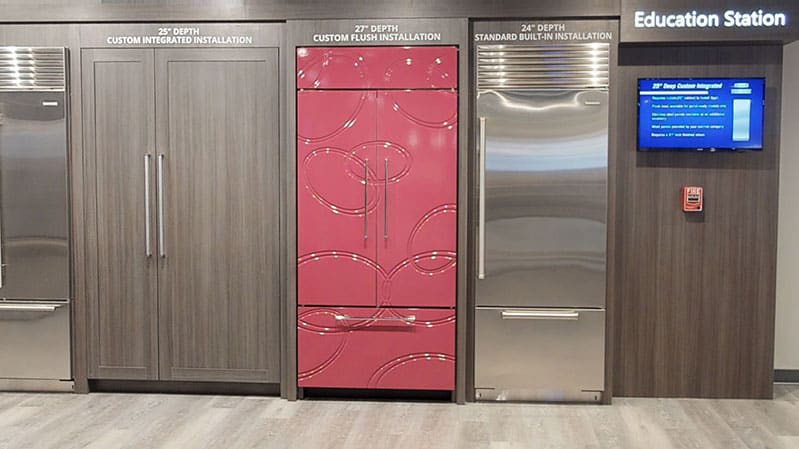 Integrated refrigerators fit within cabinets, so they look like a cabinet rather than a refrigerator. Integrated has more combinations of refrigerator, freezer, and all refrigerator or freezer types starting in smaller sizes like 18, 24, 30, and 36 inches.
Learn More: Refrigerator Buying Guide
Venting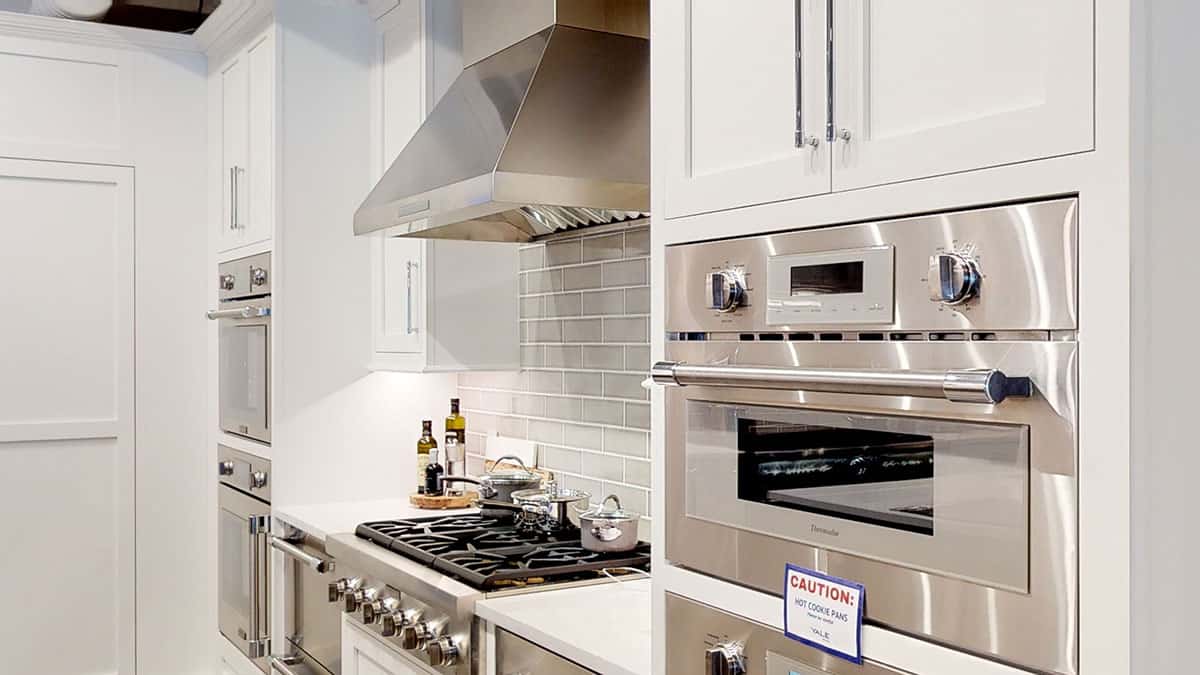 Venting seems easy, but it causes the most problems. You will be buying your hood one of two ways. You can buy a hood and stainless or just a liner and blower to customize in wood or another material.
However, you should be aware of the CFM, the depth of the hood being 24 inches, to capture the smoke and heat from cooking. Then the duct run should be short and either straight up or back.
In Massachusetts, you must be concerned with Make-Up air laws for air returning in hoods over 400 CFM. It should not be a problem in new construction. Outside of Massachusetts, you should also plan to make up the air.
CFM: Cubic Feet Per Minute or how many cubes of air is exhausted in a minute. 600 over a high output 30 –36 inch range
Capture: Depth of the hood. 24 inches depth minimum if over a high output range
Duct Run: Shorter runs without transitions are the best
Duct Size: Larger ducts are best
Mass Residents: Make-Up Air over 400 CFM. If you pull out 600 CFM, you have to put back 600 CFM
Downdrafts are last resort only
Learn More: Ventilation Buying Guide
Dishwashers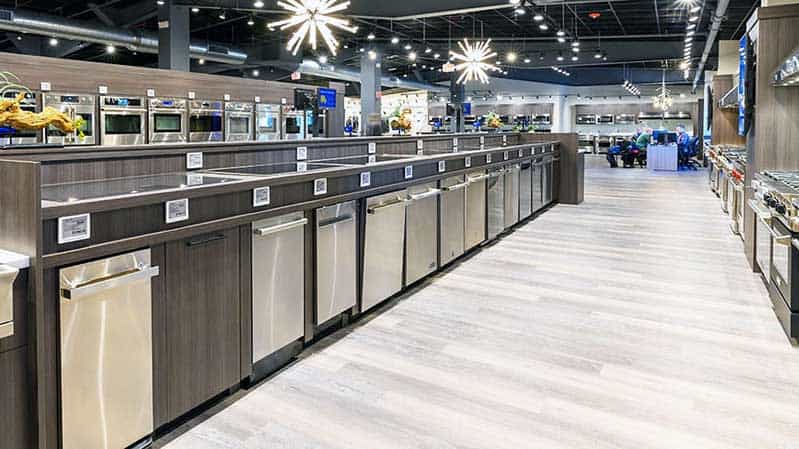 Dishwashers should follow your sink and cooktop. They follow the same dimensions of 24 or 18 inches. Any dishwasher 44 decibels or under will be quiet in an open kitchen. If you panel, stick with a European type to mount flush and not protrude past the cabinets.
Learn More: Dishwasher Buying Guide
Sinks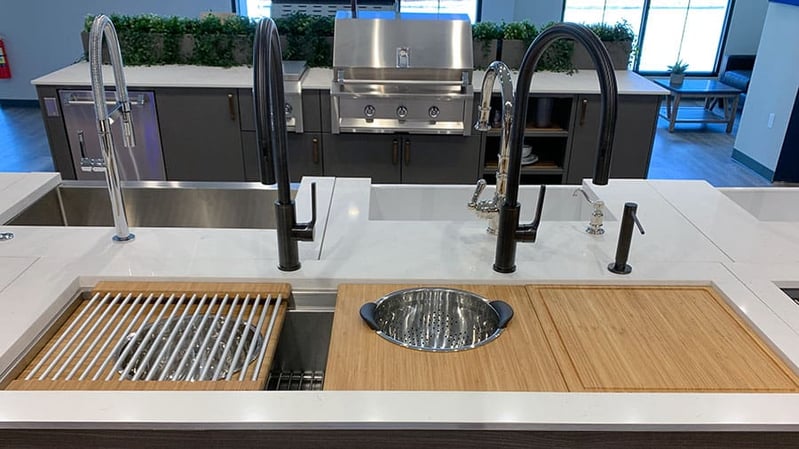 We talked about sinks in the Kitchen Triangle, but sinks can be accessorized to almost anything. Like the entertaining Galley sin shown above.
Secondary Appliances
If you're considering any secondary appliances, like steam ovens or coffee makers, think about which ones you'll use.
Steam Ovens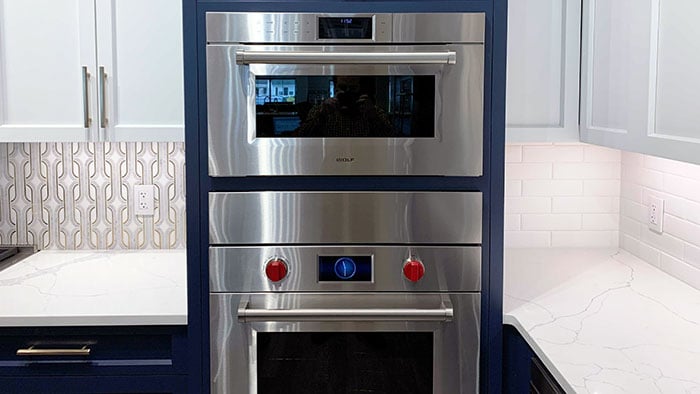 You should consider steam for healthy yet delicious cooking. Steam adds moisture without baking nutrients. You can cook anything in a steam oven. It's also great for refreshing leftovers. Miele is the easiest to use. Gaggenau has the most modes if you know what you are doing.
Speed Ovens
Speed employs convection, microwave, and combination. The real benefit is the combination of using mostly convection with a microwave assist for speed without the microwaved texture.
Coffee Makers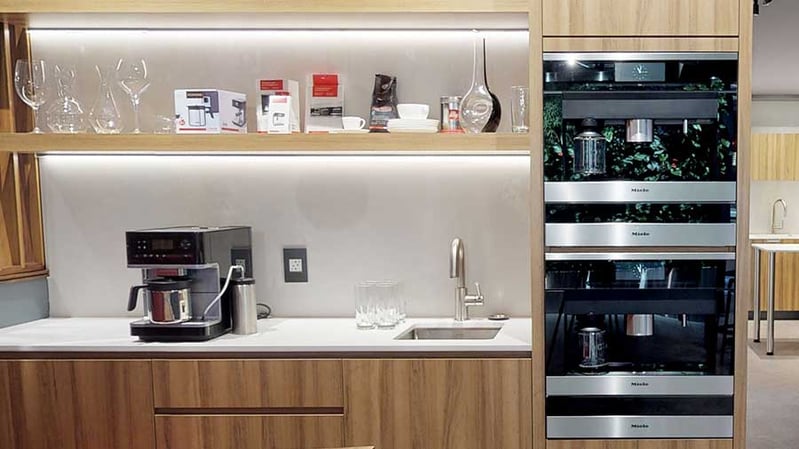 You can have fresh ground coffee at home. My sister brews a blueberry latte to die for. Miele and Wolf are the best in this segment.
Warming Drawers
Warming drawers keep food warm for up to 3 hours without dehydration. If you cook at one time, and your family eats at another, warming drawers are a good consideration. You can also stack a warming drawer under a wall oven or in a standard cabinet.
Point of Use Refrigeration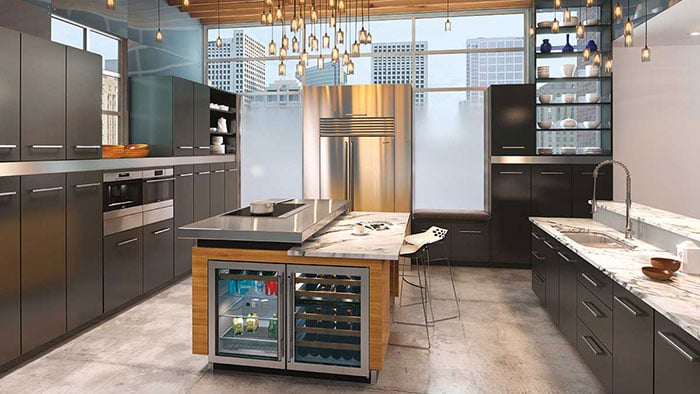 You can now buy any combination of wine, beverage, and refrigeration in a larger or more common under-counter model. Many people use drawers as a secondary refrigerator for their kids.
Icemakers
Icemakers are another option. They can produce any style of cubes. The most popular cubes are slushy for soft drinks or clean ice for cocktails.
You must clean an icemaker twice a year.
Appliance Service
As you can see from this graphic, most of our business is related to service and installation. I could mention delivery as well. Most of what you have seen is highly technical, so make sure adequate repair is available. With many brands being similar, repair should be a tiebreaker.
Read More: Most Reliable Appliance Brands
Appliance Availability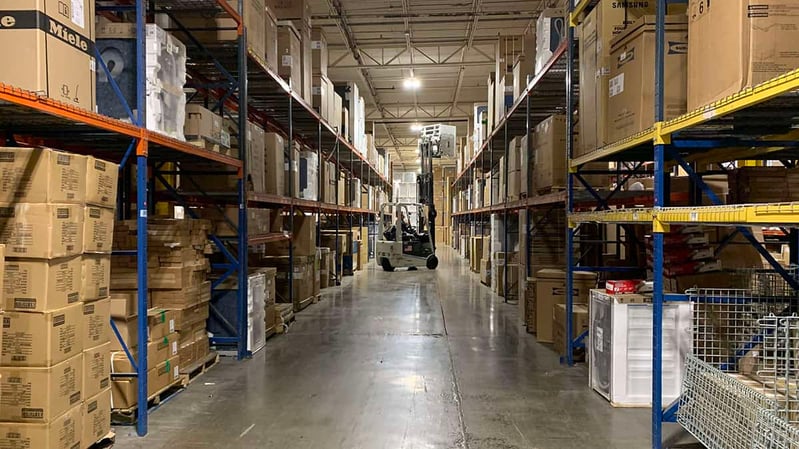 Yale Appliance Warehouse
In 2019, you bought your appliances 2-3 months before needed. That was fine. In 2022-2024, you will be waiting another four months, maybe more.
Availability is a big problem, but not if you plan it right. Your project will take 12-24 months, depending on the scope and contractor.
Pick and order your appliances first, and you should not have a problem. If you are not sure of the project, buying 10-12 months will guarantee almost every brand.
Read More: How Long Will It Take to Have My Appliances Delivered?
Key Takeaways
Hire hood people. Good ones are worth the wait.
Understand your lifestyle and how you use your appliances.
No brand dominates. Buy the brand matching your needs.
Start at your sink, then cook. Every other appliance falls into place dimensionally, so you must choose which secondary appliances.
Plan your ventilation well.
Repair needs to be addressed before you buy your appliances.
Don't wait to order. Plan 10-12 months out.
Upcoming Webinar: Best New Brands & Appliances to Consider
You'll have to wait 8-15 months for many of the premium appliance brands, so this webinar will focus on the best new brands and best new products if you can't wait.
It's hard to believe there are 5 more appliance trends to avoid. So you will learn those and some basic kitchen design as well.
You can sign up for free and you'll receive the recording even if you can't attend. You can ask any appliance or design-related questions at the end of the webinar, or submit them when you sign up.
Additional Resources
Have questions about appliances? Get the Yale Appliance Buying Guide with features, specs, and detailed profiles of all the major brands. Well over 1 million people have read a Yale Guide.
Related Articles:
Why Should You Trust Us?
It seems that every appliance review has nothing but glowing comments about almost every product, yet you read customer reviews and they are almost universally bad.
We are here to fill in the disconnect. We'll give you the best features, and the drawbacks as well, including reliability based on over 37,000 calls performed by our service team just last year. Our goal is to give you ALL the information so you know what's right for you.
Please consider subscribing or adding to the conversation in the comments below. We appreciate you stopping by.
Steve Sheinkopf is the third-generation CEO of Yale Appliance and a lifelong Bostonian. He has over 38 years of experience in the appliance industry, and he is a trusted source of information for consumers on how to buy and repair appliances.

Steve has also been featured in numerous publications, including the New York Times, Consumer Reports, The Boston Globe, Bloomberg Radio, the New York Post, The Wall Street Journal, and Entrepreneur, for his knowledge of how to buy appliances and appliance repair.

Steve is passionate about helping consumers find the best appliances for their needs, and he is always happy to answer questions and provide advice. He is a valuable resource for consumers who are looking for information on appliance buying, repair, and maintenance.

Despite being the worst goalie in history, Steve is a fan of the Bruins and college hockey, loves to read, and is a Peloton biker. The love of his life is his daughter, Sophie.
A Note About Pricing
Pricing on this blog is for reference only and may include time sensitive rebates. We make every attempt to provide accurate pricing at time of publishing. Please call the stores for most accurate price.