7 Kitchen Appliances You Should Never Buy in 2022
June 30th, 2022 | 9 min. read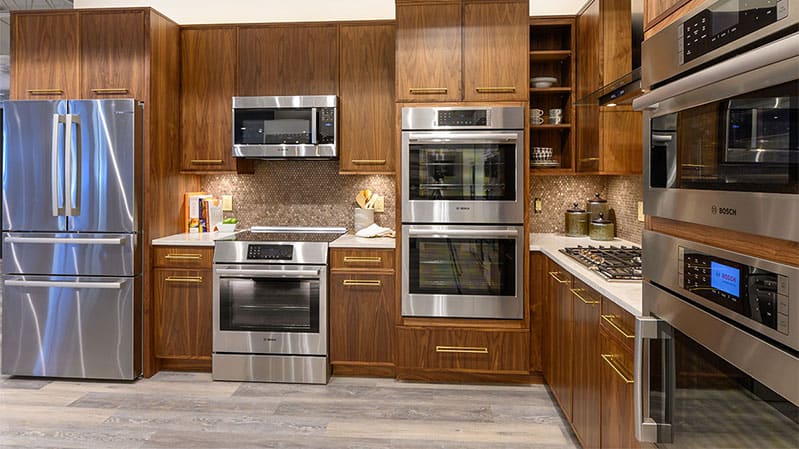 Unfortunately, there are appliances you shouldn't buy.
Everything unsuitable for your home can be avoided with planning and good design, especially in new construction.
This article is part three of an article I wrote last year, as there are more appliances to be wary of. I kept several of the worst appliances on the list from the 11 Kitchen Appliances People Don't Buy: Part Two.
Many of these products are hoods because ventilation, in general, is misunderstood and problematic, affecting the air you breathe in your home.
A framework of what not to do will bring you closer to a functional and well-designed kitchen.
Today you will learn the latest appliances to avoid, but I will also give you some worthy alternatives.
For new kitchens, you can certainly buy better alternatives. I realize it's much harder to retrofit some of the already installed appliances without expensive remodels.
Pay close attention to the last five. Let's get started.
What's Not Included from Last Year
Samsung Family Hub Refrigerator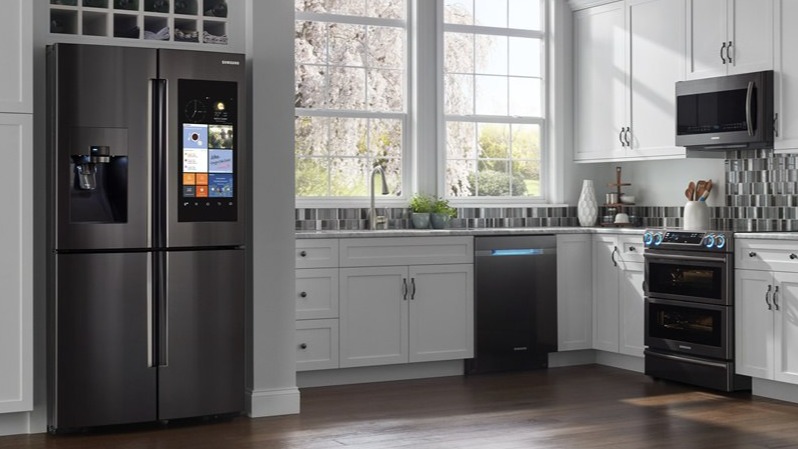 Samsung Family Hub Refrigerator
You won't use its functionality, but it won't ruin your kitchen design like the others on this list.
Your Samsung phone has more functionality than this Samsung refrigerator, plus you easily access your phone since it lives in your pocket.
Extraordinarily Quiet Dishwashers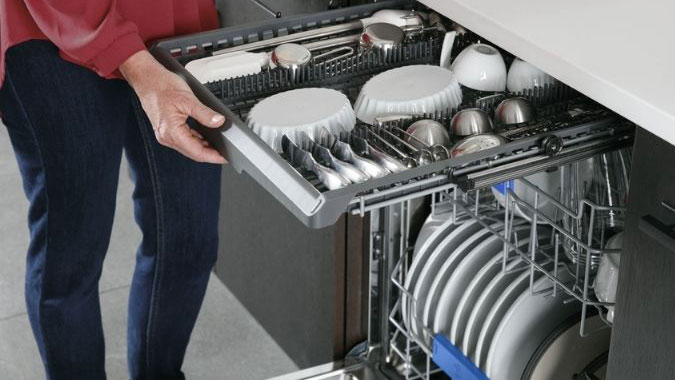 GE Profile Dishwasher
You can buy some of the quietest dishwashers for roughly $1,000.
Look at Beko, GE Profile, and LG for decent dishwashers with lower decibel ratings.
When I first wrote this article, the general impression was that spending more meant a quieter dishwasher.
"Extra," "Mega," and "Flex" Washers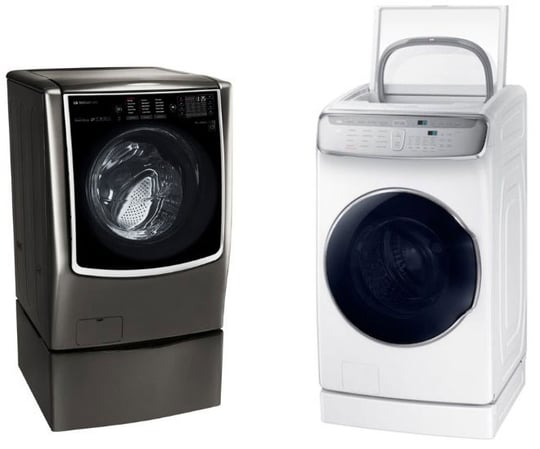 You will pay more than you should for an extra-large washer. Stay between 4.5-5.0 cubic feet and save $300-$700.
Samsung "Flex Duo" Ranges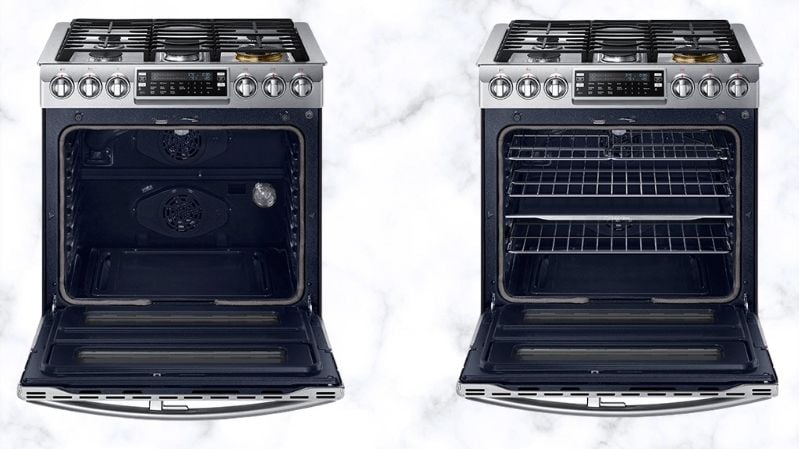 Samsung Flex Duo Range
You can't cook in both ovens simultaneously at different temperatures, but you can remove the smart divider for one decent oven.
The design doesn't have tragic consequences like the others on the list.
Outdoor BBQ Grill on the Inside of Your Home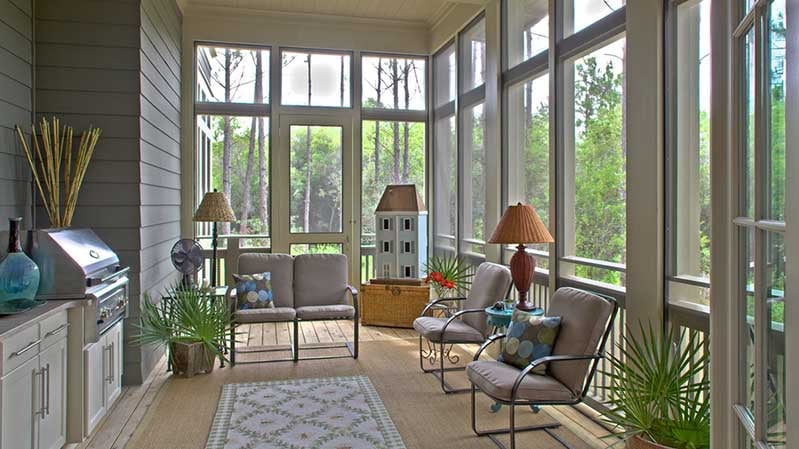 BBQ Grill on a Three Season Porch With No Ventilation
I left this off the list because most people don't do it. You can technically put a grill inside your house with a massive high-speed vent over it.
You still shouldn't do it, though.
Here's a better idea:
Put our grill outside where it belongs.
Read More: How to Design an Outdoor Kitchen
Dual Fuel 30-Inch Ranges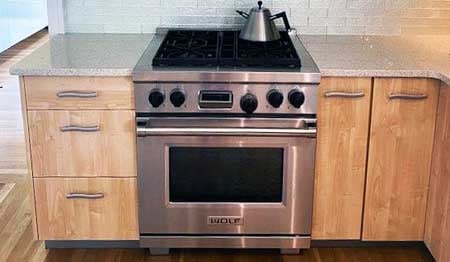 30-Inch Dual Fuel Range
You have been told a dual fuel range is the best you can buy.
Really?
As I said last year, whenever I visit my parents, I stare at my mom's dual fuel range (shown above).
Dual fuel promises the even heat distribution of an electric oven with the speed of a gas stovetop.
Yet, induction or magnetic heat is faster and has a better electric oven.
Gas is better for roasting. If you like to broil, gas is far superior, especially with an infrared broiler.
Then again, it seems to work for my mom. She is not in a rush to cook anything and prefers to bake these days.
Again, you should be wary of anything marketed as the best. It may not be the best for the way you cook.
Black Stainless-Steel Appliances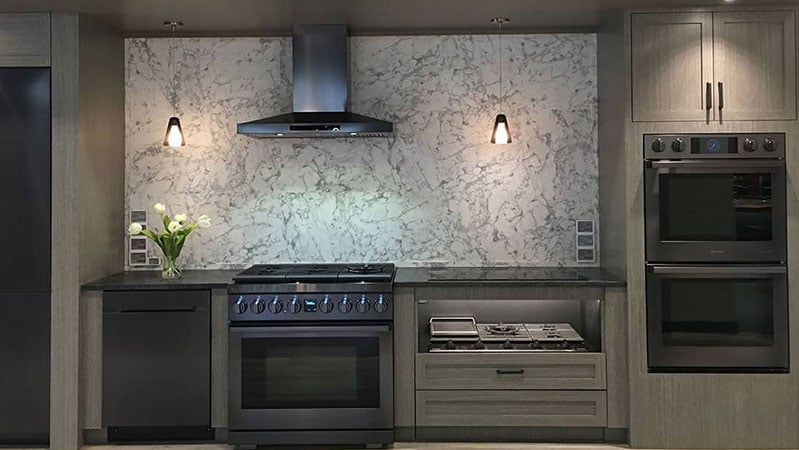 Black Stainless Steel Appliances
Why are people still buying this finish?
It looks great until you scratch it to reveal its stainless undercoat.
It's not fixable and not covered under warranty.
Here's a better alternative:
Go for stainless, white, or black finishes.
Stainless is still the most popular finish. It wears the best and matches every cabinet style.
You can always buy white, black, or another high fashion color and use it as a pop of color in your kitchen.
Seventy-five percent of the ranges sold by BlueStar and La Cornue are a unique finish.
We covered unique finishes in our Kitchen Trends Webinar.
Color can be interesting as a focal point in your kitchen. We have a webinar and several articles that may help you at the bottom of this article.
Green is making another triumphant return. Before going green crazy, that color was not popular when we sold lighting.
Read More: Should You Buy Black Stainless Steel Appliances
Combo Washers and Dryers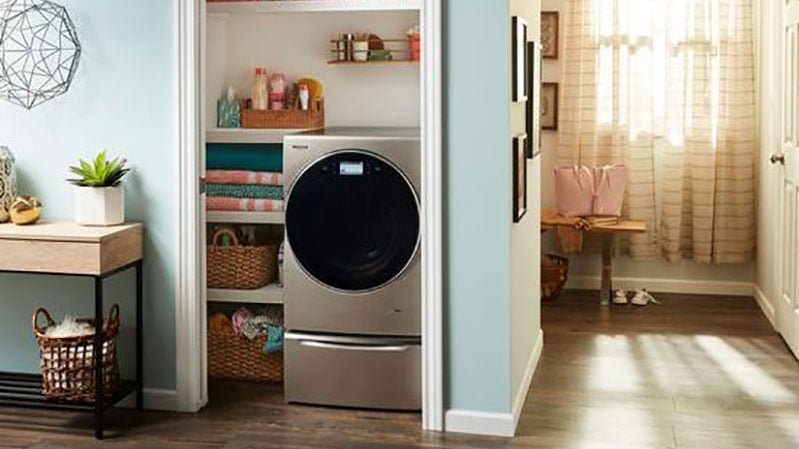 Whirlpool All-in-One Washer and Dryer
I love the idea. Throw your clothes in one machine and have them washed and dried.
You don't even need to transfer your clothes from washer to dryer.
However, none of these machines can effectively remove lint, so over time, excess lint will seize the machine for an impossible service call.
Here's a better alternative:
Buy a stackable washer and dryer set with a ventless heat pump dryer.
You will need a bit more space with the dryer, but at least these are designed to work for more than three years.
Downdrafts
Downdraft Ventilation Hood
Downdrafts are always number one on my list of appliances not to buy for new construction as people sacrifice functions for aesthetics.
Before you learn about downdrafts, you need to plan your ventilation. Many people buy the 48-inch range and then the vent as an add-on.
Poor ventilation is the cause of Internal Air Pollution (IAP).
Downdrafts are a problem because they reverse gravity and lack any capture area to house the smoke before it is exhausted.
Once again, venting is the biggest problem in your kitchen. Please plan accordingly.
Here's a better alternative:
Place your sink on the island instead of your cooking appliance and downdraft, or use an overhead hood.
Many people want to place their cooking on their island. If so, buy an overhead vent.
However, you can also place your sink in the middle of your island instead. You are at your sink more than any other appliance.
I covered this in a webinar about the 11 Renovation Mistakes You Don't Want to Make. I mentioned a condo with a venting issue causing a kitchen to be completely gutted.
7 Kitchen Appliances You Should Never Buy in 2022
7. Samsung Bespoke Refrigerator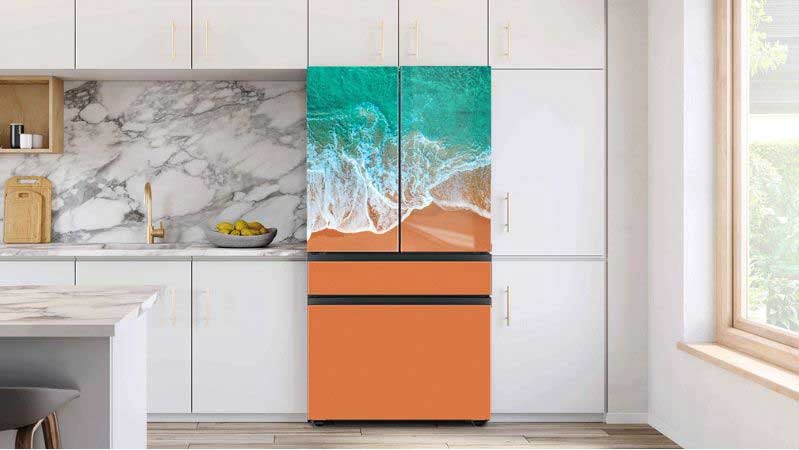 Samsung Bespoke Custom-Designed Refrigerator
Bespoke seems like a clever idea. I give credit to Samsung for trying.
The Bespoke kitchen revolves around all their appliances, but especially the refrigerator.
The stove, microwave, and dishwasher are available in Navy, Tuscan, Stainless, and Black Stainless Steel.
However, their refrigerator is the main attraction and the focal point of Bespoke.
You have seven options in glass-like Charcoal, Grey, Morning Blue, Clementine, Pink, Green, and Sunrise Yellow, along with the steel options mentioned above.
Here is the problem:
Refrigerators are never the focal point in good kitchen design.
You centralize the sink, cooking, and dishwasher in a good kitchen plan.
Refrigeration is always outside the kitchen triangle because you don't need to be in your refrigerator in a hurry.
Adding three or four different trendy colors to any appliance is a bit much.
Replacing them at $250 per panel plus installation is a bit misplaced whenever you grow tired of this multi-color design.
Installation is always a problem with any appliance, plus Bespoke has not been popular.
If Samsung discontinues the series, that multi-colored refrigerator will be your last.
6. Single Compressor Refrigerators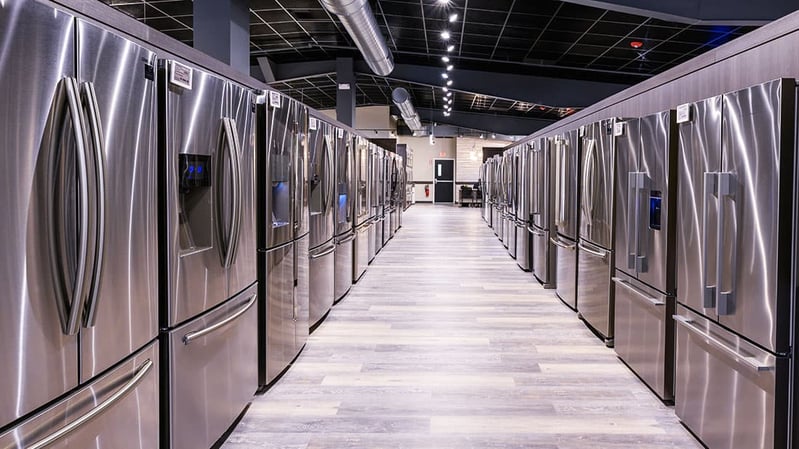 Counter-Depth Refrigerators at Yale Appliance in Hanover
They will store your food. No problem there. It's just an older design.
Most brands are now twin evaporators, so the drier frozen air stays in the freezer while the warmer, humid air stays in the refrigerator.
With a two-compressor refrigerator, you have better temperature management. The tastes and odors from your refrigerator don't end up in your freezer like a stinky cheese aroma in your ice cream.
You also have less defrosting in your freezer because warmer air isn't always circulating from the refrigerator.
You can still buy a single compressor refrigerator, but the better refrigerators will all have two at the same price.
5. Air Frying and Sous Vide Modes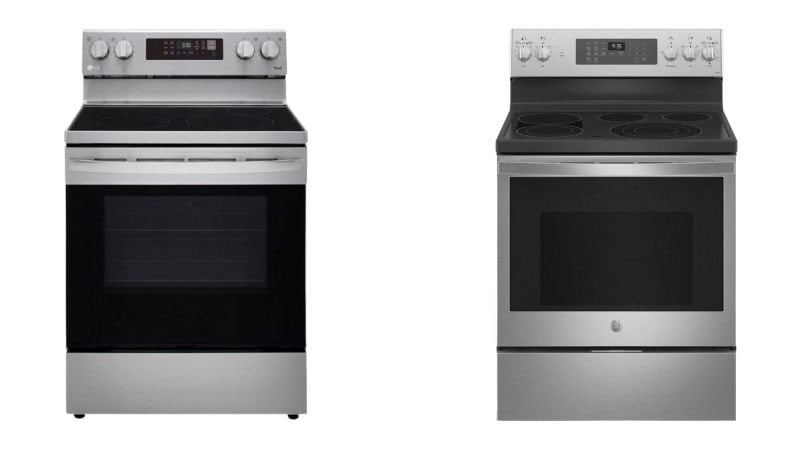 LG and GE Freestanding Ranges with Air Frying Modes
A year later, I still haven't been able to air fry anything on any range. I would guess it's hard to generate the airflow needed to fry in a 5.0-6.3 cubic foot oven.
Air Sous Vide requires you to vacuum seal a bag, set the right cycle, and then wait two hours.
Then, you have to finish it in a pan for texture.
I would be in bed by the time it was ready for dinner.
4. Anything You Won't Use or Anything Unique You Need to Order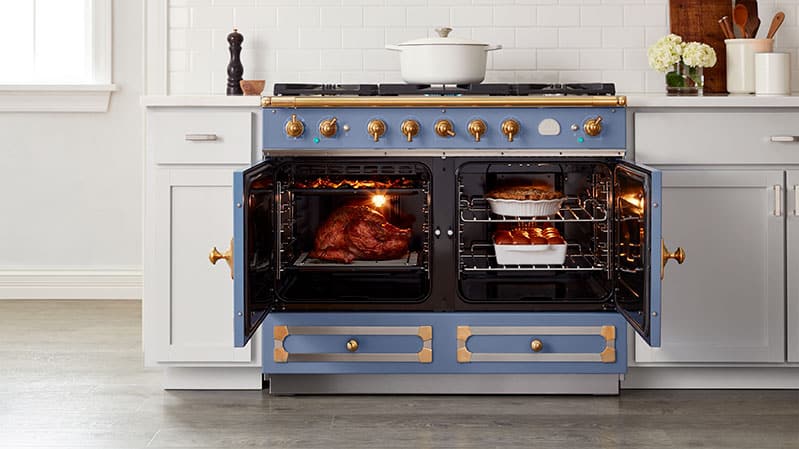 La Cornue CornuFé Custom Range
Steam, speed, convection, and sous vide are great advances to how you can cook, but only if you use them.
As I said last year, almost all these features are expensive and have to be incorporated into your design.
Try a beverage cooler instead. You will always need something to drink.
Now for a more ominous problem.
Don't buy any unique appliances with longer lead times.
Many manufacturers will wait until they have enough on order, then manufacture the appliance.
For a unique appliance, that could be a problem.
Many speed oven combinations have been in order for almost two years.
Be careful.
Read More: 6 Appliance Trends to Avoid
Ventilation Appliances to Never Buy
The next several appliances are about ventilation.
Ventilation is a big problem these days.
Most vents haven't changed since I started in 1986. However, your gas range output has increased by over 50%, with the front burners having the highest output.
Many vents don't cover the front burners, so smoke, grease, and gases will billow past into your room.
At the same time, the new homes are efficient and air-tight, so those gases will stay in your home much longer.
Many vents are sold every day at Yale and other stores. Unfortunately, when your kitchen plan is set and ordered, it's impossible to change it.
Some venting is better than nothing.
Basics of Ventilation
CFM (Cubic Feet Per Minute): Cubic feet per minute or how many cubes of air are exhausted in a minute. 1200 CFM is 1200 cubes of air per minute or the equivalent of a small room.
Capture: Height, width, and depth of your hood. Smoke and grease are captured and then expelled out of your house. If you buy a 1200 CFM 21-inch hood for your pro range, the smoke will billow.
Vent Direction: Straight up or straight back is ideal. Elbows reduce static flow. Replan your duct if you have more than one
Vent Size: Use rigid only so grease doesn't become an issue with the properly sized ducts or greater.
Read More: How to Vent Your Kitchen Range
Ceiling Blowers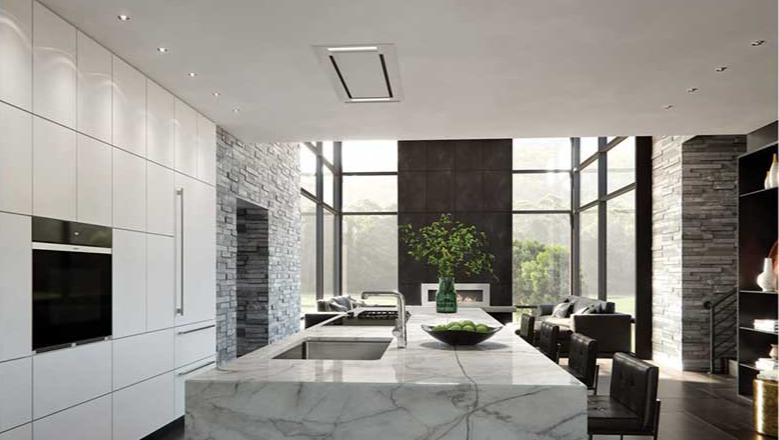 Transitional Kitchen Kitchen with a Ceiling Blower
I love this design to a degree. You can use this blower instead of a big hood and see through your windows.
Great idea.
However, back in the 1980s, my property owner had a much smaller 410 CFM (Cubic Feet Per Minute) bath fan, and the grime around it was palpable.
Flash forward, and these are much larger with greater CFM.
Yet many people are placing them on higher ceilings when the instructions call for 4-7 feet off the surface or 10 feet maximum.
Interesting solution, but not ideal, so be careful.
Here's a better alternative:
A hood 24 inches in depth with adequate CFM for how you cook.
Over-the-Range Microwaves
Over-the-Range Microwave Over Range at Yale Appliance in Hanover
Over-the-range microwaves are my favorite appliance on this list. They centralize your cooking. You can even buy them in convection as well.
Yet the design hasn't changed much since the 1990s, but the ranges have.
The depth averages ab0out 16 inches deep, while the front burners of a range are past that.
The CFM is also a bit light at 350.
Slide Out Hoods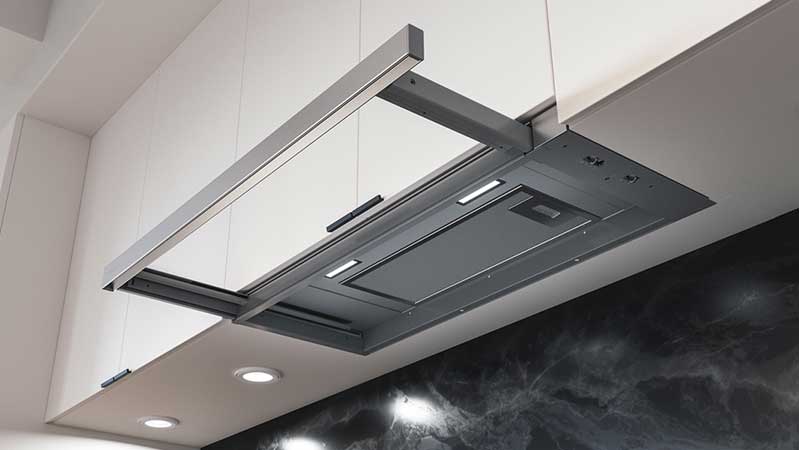 Glass Slide-Out Vent Hood
Slide-out hoods are another "upscale" appliance that should have died in the late 1980s.
The glass extension does not provide much capture.
You also lose the cabinet.
Here's a better alternative:
Buy a wood hood. Just be sure it is 24 inches deep with the appropriate amount of CFM.
Bonus Issues to Be Wary of in 2022
You now have the base concepts of what to avoid and a better framework for your space. I will leave you some added planning resources at the bottom of this article.
You have run the gauntlet and have designed a decent space.
However, you are only half done - if that.
The lack of skilled labor has hit these three areas in particular.
Delivery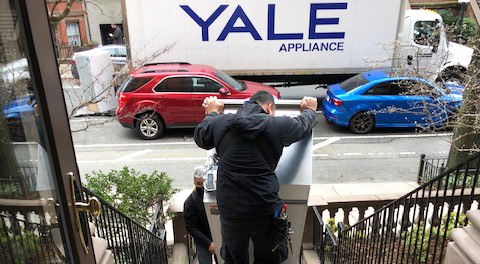 Yale Appliance Delivery
Appliance delivery is an awful experience.
Forget about the damages, no-show, lateness, and hidden fees.
Ask this one question:
Are they qualified to move an 800-pound refrigerator or stove on your new soft floors?
Check reviews and download this delivery checklist, so you know what to ask.
It outlines every possible scenario, from stairs to leak detection.
Read More: 4 Major Appliance Delivery Problems Nobody Ever Tells You About
Service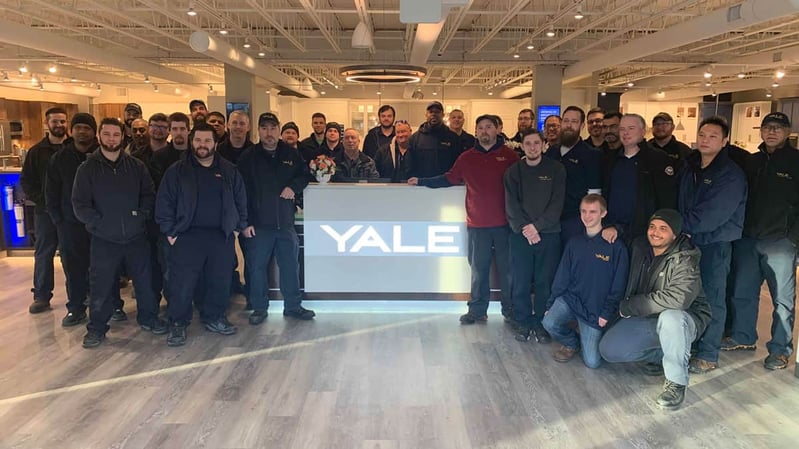 Yale Appliance Service Technicians
I have a theory:
All these companies with their new supply chains will have issues with these new parts. Service rates and problems will arise.
Find the best service in your area.
You will need it.
Read More: Why Doesn't Every Appliance Brand and Store Offer Service?
Installation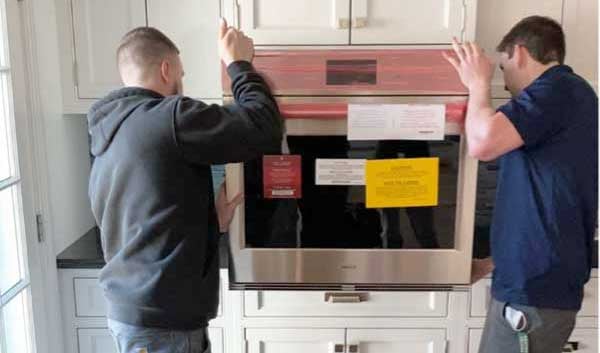 Yale Appliance Installation
I looked at the Samsung Bespoke and wondered who would install the panels?
It won't be the delivery drivers.
That lack of skilled help has forced many general contractors to push back on some installations.
The reality of buying an appliance is really this: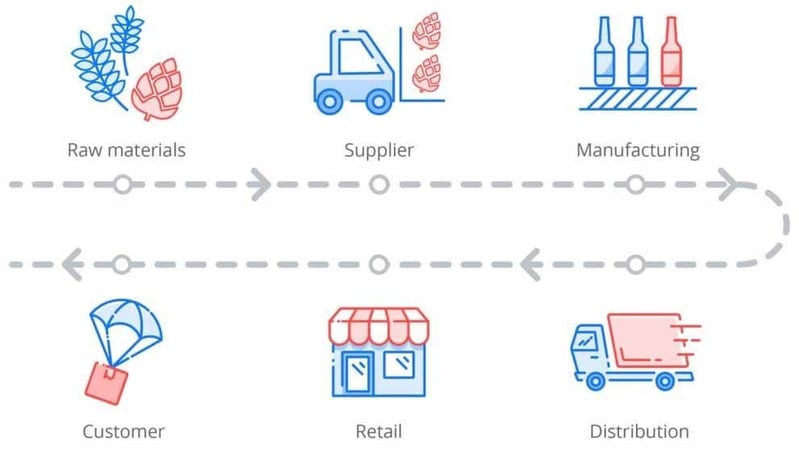 Read More: Appliance Prices, Shortages, and Final Mile Issues
Key Takeaways
Many of these problems are annoying yet manageable. Air fry, for example, doesn't work, but the rest of the stove functions do.
I can always say that the steam oven will add to my resale. It's also a great place to hide my daughter's chocolate bears.
We are never in it, so she doesn't think to look.
However, venting is a big issue.
Plan well. It will go a long way to enjoying your kitchen and the rest of your home.
Remember specifying the right appliances means you are halfway there.
What happens after the sale, installation, service, and delivery are more important in many ways.
Additional Resources
Want more information on the worst renovation mistakes to avoid? Get The Book of Bad Renovations to learn how to avoid a renovation failure. Well over 1 million people have read and trusted a Yale Guide.
Related Articles:
Appliances You Should Never Buy Series:
Why Should You Trust Us?
It seems that every appliance review has nothing but glowing comments about almost every product, yet you read customer reviews and they are almost universally bad.
We are here to fill in the disconnect. We'll give you the best features, and the drawbacks as well, including reliability based on over 37,000 calls performed by our service team just last year. Our goal is to give you ALL the information so you know what's right for you.
Please consider subscribing or adding to the conversation in the comments below. We appreciate you stopping by.
Steve Sheinkopf is the third-generation CEO of Yale Appliance and a lifelong Bostonian. He has over 38 years of experience in the appliance industry, and he is a trusted source of information for consumers on how to buy and repair appliances.

Steve has also been featured in numerous publications, including the New York Times, Consumer Reports, The Boston Globe, Bloomberg Radio, the New York Post, The Wall Street Journal, and Entrepreneur, for his knowledge of how to buy appliances and appliance repair.

Steve is passionate about helping consumers find the best appliances for their needs, and he is always happy to answer questions and provide advice. He is a valuable resource for consumers who are looking for information on appliance buying, repair, and maintenance.

Despite being the worst goalie in history, Steve is a fan of the Bruins and college hockey, loves to read, and is a Peloton biker. The love of his life is his daughter, Sophie.
A Note About Pricing
Pricing on this blog is for reference only and may include time sensitive rebates. We make every attempt to provide accurate pricing at time of publishing. Please call the stores for most accurate price.