We wrote about the 11 kitchen appliances you should never buy last year. Then we realized you have six more trends to avoid in your kitchen.
In this article, you will learn all about the six appliance trends to avoid. We will also share better alternatives to prevent problems you may have later. They start with mild caution and end with real future issues.
Let's get started.
6 Appliance Trends to Avoid
6. The Hot New Color: Mint Green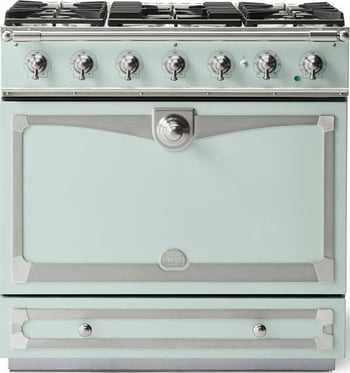 This year the best companies for style, True and La Cornue, chose Mint Green as their hot new color.
For True, the addition of Mint Green is significant. They only have ten other colors. Mint will be La Cornue's 49th color, so it is less so. BlueStar will be next. It will be their 1001 color, so you do have other choices.
Green is like Brown, a color doomed to fail. Brown has been called "Truffle Brown" by Miele, "Oil-Rubbed Bronze" by JennAir, and "Bronze" by Samsung. It has also been called "Coffee," "Toast," and many other euphemisms.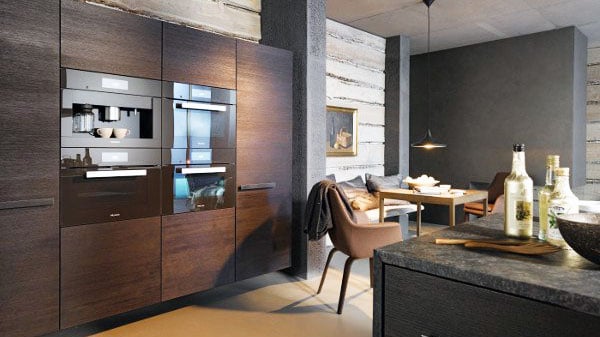 Miele Coffee Maker and Secondary Wall Ovens in Truffle Brown
The problem with green is its shaded past with colors like Avocado, Emerald Green, and Turquoise. Green has fewer surnames than brown, but it never had many sales for the 90 years we sold it.
Mint Green is paler and may not be an adequate contrast to your white or light wood cabinets.
What Are the Hot Colors for Kitchen Design?
White is back, especially in New England. You can add different accents like copper and brass. Black has been popular, especially as a high gloss finish.
How to Add Color in Your Kitchen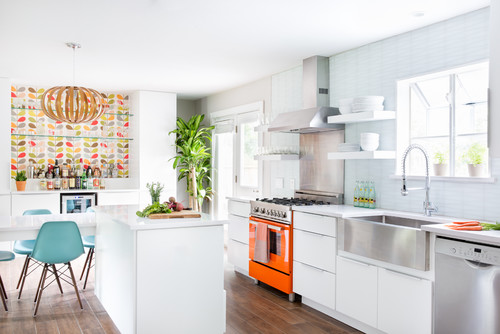 Kitchen Inspiration for Adding a Pop of Color
You do not have to colorize your whole kitchen. Mint Green is only available in True refrigerators and La Cornue ranges, so you cannot make every appliance that finish anyway.
The best way to add color in your kitchen is at add a "pop" of color or an accent piece. This way, you are creating a focal point rather than filling your kitchen with a fading trend.
In that case, you can buy Mint Green. That is why it is number six, not number one.
Suppose you want to learn more about applying color, read this article, 5 Ways to Make Your Kitchen Unique With Appliances.
5. Smart Appliances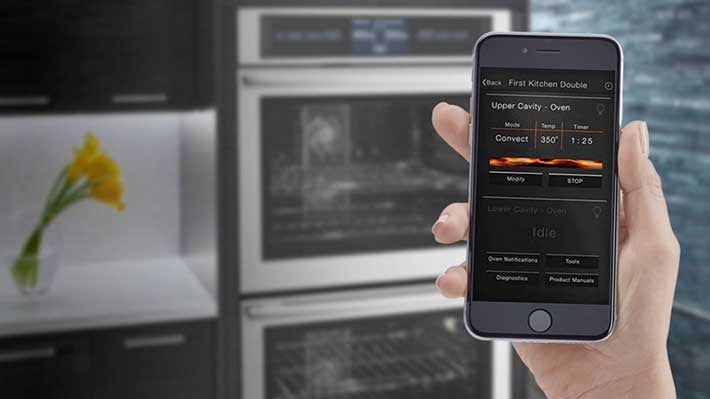 JennAir Smart Double Wall Ovens and App
Using smart appliances is like asking my five-year-old to wake up, get dressed, eat her breakfast, and brush her teeth. She will do most of the above, just not all.
Smart appliances can be turned on or off from an app on your phone. You can see the time remaining in the cycle or how much detergent is in your dispenser.
You will also have any number of push notifications like leaving your door open on your fridge or your cycle ending. These are convenient features. However, ask Alexa to cook that lasagna, and she will draw a blank.
Smart technology, like my daughter, is growing up. LG and GE are testing service alerts, so the product sends an alert of a problem, diagnoses the right part, and then sends it to us automatically. Service alerts would save you (and me) a ton of time and money.
Smart functions will be an excellent feature one day. Just temper your expectations for now.
Click this link to our webinar to learn more about smart appliances.
Learn More: Smart Appliance Buying Guide
4. Air Sous Vide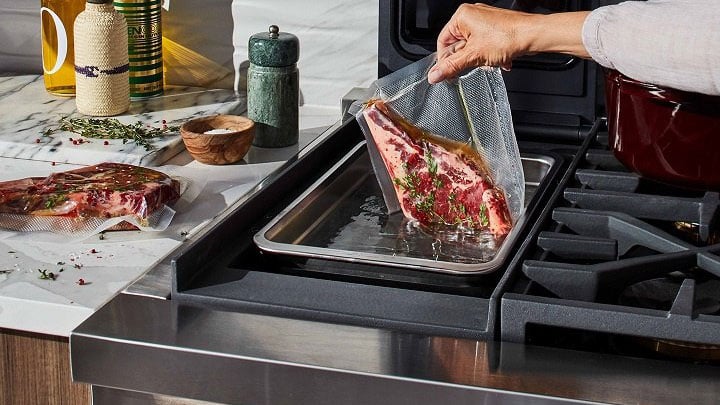 Traditional Sous Vide Method
Traditional sous vide is precision boiling in a bag in water. Air sous vide is boiling with air. Isn't that boiling? I just watched a few videos on how air sous vide works and have a better understanding which I will share.
First, you must place your food in a vacuum-sealed bag (if you have them lying around).
Then you must read the directions and figure out the time and temperature.
For a salmon fillet, the time is about two hours to complete a cycle.
Then you finish it off on your stovetop for texture.
Air sous vide seems a lot of work if it works. We are still trying to fry using an Air Fry mode in regular gas ranges, which does not work.
3. Ventilation Capture Area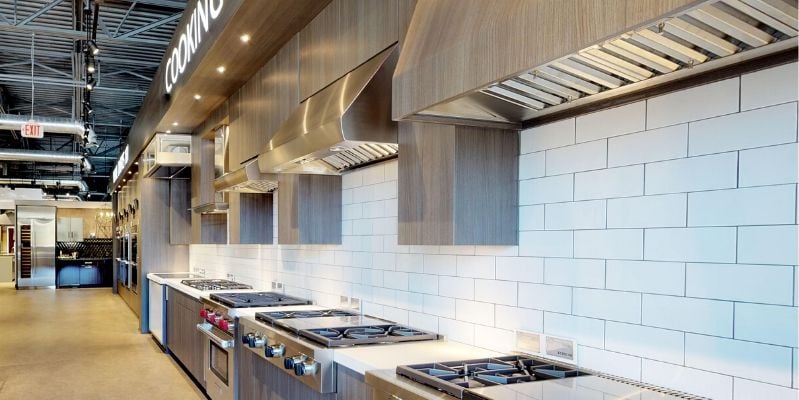 Professional Range Hoods Over Gas Cooking Appliances at Yale Appliance in Framingham
The air inside of our homes is worse than even the outside air. Poorly vented homes have significant amounts of Internal Air Pollution (IAP).
Cooking, especially gas, adds Carbon Dioxide, Carbon Monoxide, and Formaldehyde into your home. Cooking was listed before even smoking for adding pollution to your home.
You may have specified a hood, but many ventilators like these lack capture area, specifically depth.
The highest output burners on your range are in the front at 24 inches, whereas many hoods like over the range microwaves are 16 inches deep. Downdrafts have no capture area either.
So, buy the right capture area before the entire country bans gas ranges.
Read More: 4 Kitchen Hoods You Should Not Buy
2. Banning Gas Ranges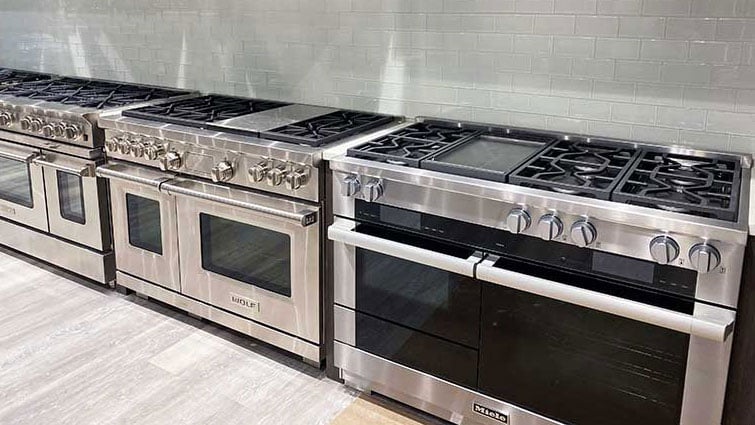 Professional 48-Inch Gas Ranges at Yale Appliance in Hanover
We were contacted by the California Electric Group (KEG) about four years ago. They wanted some induction information and wanted to use our Induction Buying Guide.
Their goal was to eliminate gas ranges from the State of California. I thought they were idealistic and wished them well. Then they were successful. Last year, 53 cities adopted a no gas range law.
There are many other issues at stake, including climate change, gas lines being ruptured during an earthquake, and gas-emitting more than twice the gasses of electricity.
However, gas uses less than 15 amps, while an electric range will consume 40-50 amps. Multiply that out by the millions of households, and how is all that power being generated?
That is where the conversation needed to start, not end. Boston, New York, Cambridge, and Brookline have all recently adopted gas bans in multi-unit dwellings.
1. Appliance Availability
My cousin is driving me nuts. He bought his appliances in August of 2021. He was told a year on a few of the items. It is now April, 8 months later. The builder wants the appliances now and in May.
I told him I did not have a magic wand to make them magically appear. Not what he wanted to hear, but the truth. The next family gathering should be a tad bit uncomfortable. However, the appliances will be there before the promised date.
The big problem is many appliances will not be on time. Even worse, your new appliance order may be discontinued later after you order it.
The supply chain is broken in so many ways, from components, shipping, containers, trucking, and warehousing. But what is in stock or buy brands with better availability like SKS (Signature Kitchen Suite) and Fisher & Paykel on the high end or GE, Profile, Beko, and LG for more affordable luxury appliances.
Read More: How Bad Is the Appliance Supply Chain?
6 Appliance Trends to Avoid: Key Takeaways
One of my friends is so proud of his all-green dining room. I do not have the heart to tell him. You can buy Mint Green and panel the rest of your appliances but refrain from the above. Then again, I am not the authority on style for anything.
Smart functions are convenient, but not essential yet. Service will be huge. Alexa will soon cook your lasagna to your liking after sending out the missing ingredients and set the proper dishwasher cycle for clean-up.
Air sous vide is not a feature you should spend money on. Then again, you will not because you, like me, did not know it existed, and it is a standard feature on many ranges anyway.
Vent your stove properly. Seriously. Why pollutes your environment. Make sure the hood covers the burners.
But what is in stock? Pick a more available brand or be prepared to wait.
Lastly, invest in electricity because we will need a bunch.
Upcoming Webinar: Best New Brands & Appliances to Consider
You'll have to wait 8-15 months for many of the premium appliance brands, so this webinar will focus on the best new brands and best new products if you can't wait.
It's hard to believe there are 5 more appliance trends to avoid. So you will learn those and some basic kitchen design as well.
You can sign up for free and you'll receive the recording even if you can't attend. You can ask any appliance or design-related questions at the end of the webinar, or submit them when you sign up.
Additional Resources
Want more information on the worst renovation mistakes to avoid? Get The Book of Bad Renovations to learn how to avoid a renovation failure. Well over 1 million people have read and trusted a Yale Guide.
Related Articles:
Why Should You Trust Us?
It seems that every appliance review has nothing but glowing comments about almost every product, yet you read customer reviews and they are almost universally bad.
We are here to fill in the disconnect. We'll give you the best features, and the drawbacks as well, including reliability based on over 37,000 calls performed by our service team just last year. Our goal is to give you ALL the information so you know what's right for you.
Please consider subscribing or adding to the conversation in the comments below. We appreciate you stopping by.
A Note About Pricing
Pricing on this blog is for reference only and may include time sensitive rebates. We make every attempt to provide accurate pricing at time of publishing. Please call the stores for most accurate price.