Finding the Best Appliance Dealers Near You: A Comprehensive Guide
August 24th, 2023 | 9 min. read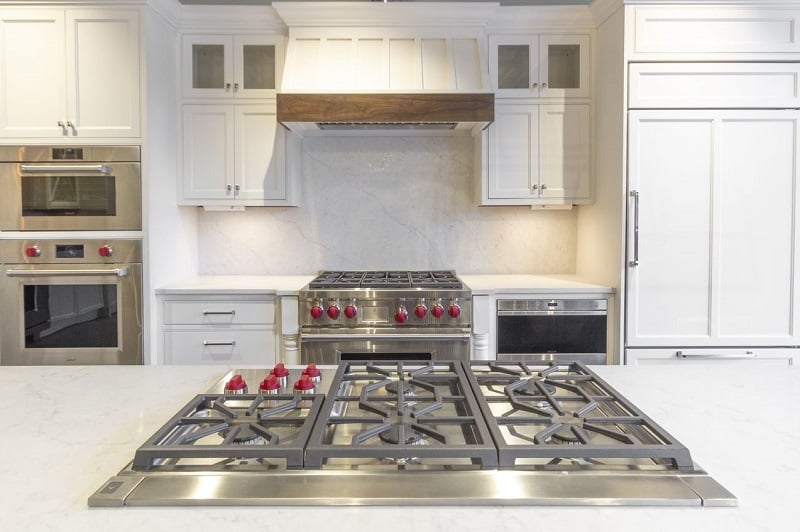 A few weeks ago, we wrote the article "6 Ways to Determine if Your Appliance Store Is Going Out of Business."
We wrote it because a prominent local appliance store, Boston Appliance, went out of business, taking millions of dollars in deposits from unsuspecting customers.
In this article, you will objectively learn your best options, including Big Box Stores, online retailers, and your local appliance stores.
In the end, you will learn which appliance store might be right for you.
Key Takeaway: Check reviews of every local appliance store, internet, and box store before you purchase any appliances.
What You Need from an Appliance Store
Buying appliances is a broad concept when you think about it. Buying a washer and picking it up is relatively easy. Buying a refrigerator and having it delivered is harder.
Completely renovating a kitchen, which involves buying appliances, arranging the delivery, and installation, is the hardest.
In fact, delivery and installation complicate every purchase and appliance store choice.
Step one is determining what you need from your appliance store.
Showroom Displays
You should visit a showroom to see larger appliances, like professional ranges or any type of unique finishes, in person.
In addition, visiting a showroom can help you determine if an appliance will fit in a tighter space, especially if your appliance dealer doesn't offer a site check.
Washers, dryers, and dishwashers can be purchased online. Then again, you will only know if that odd dish will fit by bringing it into the store and checking beforehand.
Delivery Expertise
Delivering a dishwasher is simple. An 800-pound Sub-Zero refrigerator is much more difficult.
Refrigerators, in general, are harder, especially when removing an existing one.
You need a qualified delivery team.
You can pick up this delivery checklist to compare all things delivery. (It's free).
Installation
Installing a washer is easy.
Then again, if installed wrong, water damage will be a big problem. My upstairs neighbor has flooded my lower unit three times this year. Installing a dishwasher is tougher.
Installing cooktops, rangetops, and wall ovens can be challenging as it involves cutting holes in your cabinets and countertops. You need a qualified installer to ensure the job is done properly.
In Massachusetts, a plumber is required to install gas appliances.
Among the various gas appliances, replacing a gas cooktop is considered the most challenging to manage despite being a relatively straightforward process.
What is the hardest appliance to install?
A built-in refrigerator with a custom cabinet panel (ask any builder):
After-Sales Support
After purchasing a washer or dishwasher, you may not require after-sales support.
However, you will most likely need tons of support after purchasing a full set of kitchen appliances.
Your designer and contractor will call at least four times for specifications and delivery coordination.
Here is a tip: Call those stores to see how long it takes before you get to a live person. You will need to speak to that person a couple of times.

Bonus Tip: When you visit the website and start a live chat conversation, is there a person chatting with you or a bot? I love clicking to chat and bypassing bureaucracy, but only if I am not met by a chatbot with the same menu choices.
Returns
Returns are not as pervasive in appliances as they are in other industries. But what happens if a product doesn't fit in your laundry room or kitchen?
Box stores are usually better, but they have firmed up the policies over the years.
Online dealers are the most difficult, with inflated shipping costs and 30-35% restocking fees.
Local stores tend to be more forgiving.
We only charge for redeliveries like many stores. However, some local stores will charge restocking fees of 25%, so read the "not so fine print."
Service
Service will be a short paragraph because 95% of local appliance stores, online stores, and box stores do not employ a single technician. However, a few do.
A store with its own service department may have to be a default if your desired brand does not have a service of its own (which it probably won't).
Again, determining the level of interaction will be crucial to picking the right store.
The Importance of Reviews
Reviews are critical, and you need to check them.
As an industry, appliance stores have some of the lowest reviews of any sector.
One reason may have been due to the supply chain issues from 2020-2022. Appliance stores had issues beyond their control.
Also, appliance stores are treated more critically than other industries.
For example, you buy a refrigerator. The store delivers and installs on time, but they get a poor review when it breaks within seven years.
It's like giving your restaurant a bad review about food poisoning seven years later.
However, the industry has not kept up with Amazon. Other industries may also have immediate responses and better customer experiences.
Some appliance stores are better than others, but you have to check the reviews.
How to Check Reviews
Star ratings are important - most of the time.
The Better Business Bureau (BBB) will give almost everyone an A+ rating if they are a member.
So, you want to look at the number of complaints. When checking Google and Yelp reviews, make sure to pay attention to the dates they were written.
When reading reviews, pay attention to any recurring themes or issues.
You also want to look at store replies. Sometimes, people are unreasonable.
Other times, stores do fix their issues.
Now, let's look at the pros and cons of different appliance stores.
Comparing Different Types of Appliance Stores: Weighing the Pros and Cons
Online Appliance Retailers
Pros of Shopping at an Online Appliance Retailer
Websites
Internet dealers are the best place to research your choices because they have the best websites.
AJ Madison, Appliance Connection, and US Appliances have great websites, comparison tools, and tons of brands.
Brands
One site has 150 different brands. I didn't know there were 150 appliance brands.
So, if you are looking for an Italian or German brand of appliances, those sites will probably have them available. You can compare many different brands on one site.
Free Delivery
All offer free delivery if you want curbside delivery. For people living in a remote area, an internet store may be a good option.
Cons of Shopping at an Online Appliance Retailer
Delivery & Damage
Most of these dealers are in New York.
If you are buying outside their area, your appliances will be on a truck and warehouses for longer periods of time.
The possibility of damage is much higher on a longer haul.
After the free curbside delivery, delivery in your home becomes much more expensive, especially for installation and removal.
Check the rates before you buy.
Returns
Returns are an onerous procedure if you buy from an online retailer. In fairness to them, the reverse logistics of returning an item from your home to New York is expensive.
Lowest Rated
The problem with having so many brands is the inventory. They may and probably do have to order from that distant factory.
Support after the fact is also a problem. Then again, how can they help you when they are so far away?
Buying an appliance online is different from clothes and books. They aren't easy to return or fix after the fact.
In summary, delivery, installation, returns, and inventory problems are the main issues.
Local Appliance Stores
Pros of Shopping at Your Local Appliances Store
Better Customer Service
I am going to name some places you should shop in New England at the end of the article.
Most of these stores have a long history, spanning over 50 years. Their salespeople have been working there for a decade or more, making them knowledgeable and experienced.
When you visit these stores, you can expect to receive answers to even the toughest questions.
Delivery
Also, they are local, so a damaged refrigerator or wrong stove can be redelivered the next day.
The supply chain of delivering to your home is shorter, so they can react to issues quicker and deliver within 48 hours.
Additionally, delivery is a problem in areas like Boston with tight spaces, so having a company familiar with the area is important.
Product Service
Many have service departments, and you will need service within five years for most appliances. We typically have more service stops than deliveries.
Installation
Many have installation departments, but most will work with third parties to coordinate installation. Installation and service are the bulk of what we do at Yale.
Many contractors do not want to install complicated appliances like built-in refrigerators or pro ranges.
Your appliance store can install or at least coordinate with your contractor.
Highest Rated
Then again, an average of 3.5 stars is nothing to be excited about.
Cons of Shopping at Your Local Appliances Store
Limited Brands
We are probably the guiltiest of having limited brands. Our rationale is to carry only the best brands.
However, local appliance dealers are not a good choice if you're looking for a specific brand we don't carry.
Dated Thinking
When you think of appliance stores, you think of rows of basic appliances with polyester-clad salespeople in bad toupees. You aren't wrong with most of your images.
The main problem with appliance stores is their failure to attract younger shoppers and younger staff members.
Consequently, they tend to be depressing places to shop, not all but most.
Bad Technology
Many people don't want a sales and showroom experience and would rather live chat or do research online.
Appliance stores are the worst of the three, with technology by far.
Box Stores
Pros of Shopping at a Box Store
Great Internet Experiences
I remember listening to the Home Depot CMO a few years ago.
They were so far ahead back then in terms of using technology. Best Buy and Lowe's are in the same category.
They comprise 58% of the total appliance purchases in the US.
Local Warehouses
Home Depot is not one huge central place where every appliance is delivered from.
They operate 900 warehouses in the US. Local warehousing means deliveries are scheduled more easily and problems are solved faster - in theory.
Box stores have a selection similar to online stores and a bit of delivery flexibility like local appliance stores.
Exciting Stores
I love walking into these places for plants and other odds and ends. There is so much to see and test out.
Solid Financially
Even if their stock is tanking, these three, Home Depot, Lowe's, and Best Buy are not going out of business anytime soon.
Cons of Appliance Shopping at a Box Store
Lacking Store Expertise
It is a rarity to find a salesperson with the same expertise as a salesperson at a local store. These stores are now set up mostly for self-service. Pick what you want and go to the cashier.
After-Sales Support
Remember the four phone calls needed for your kitchen order? A home center is not a place to store your order or answer your phone calls about specs.
No Niche Products
You won't find Sub-Zero, True, or Gaggenau in these stores because the manufacturers can't handle the volume.
Also, they need skilled salespeople to sell these products and super competent people to deliver.
Box Stores vs. Online Stores vs. Local Appliance Stores: Prices
You would think there is a huge price disparity, but there usually is not.
The box stores have more buying power, but the locals have almost as much with their buying groups.
Most follow manufacturers' suggested prices because it's enforced on the web. Plus, anything less is tough in a margin-poor industry like appliances.
You can find better deals on installation. The price of installation varies greatly on just about every appliance.
Pro Tip: Appliance sales like Black Friday, Tax-Free Weekend, Presidents' Day, and Memorial Day are the best times to buy an appliance from any of the stores.
Box Stores vs. Online Stores vs. Local Appliance Stores: Extended Warranties
An extended warranty on a French door refrigerator is a good idea because the ice maker will usually have problems within five years.
However, all internet dealers, box stores, and most locals don't employ a single technician, so I would not count on them to service your products.
That said, box stores will eventually find a service or replace your product.
Local stores with good service departments are your best bet.
Of course, you can also buy an extended warranty from a competent service-only company.
The Rest of Your Appliance Buying Options
Manufacturers Direct
Most companies have their own online stores. However, you don't have a large selection. The Achilles' heel of manufacturers is the whole delivery, installation, and service aspect. Still, it's a good place to buy a closeout with extended payment terms.
Amazon
Most appliances sold through Amazon are third-party appliance stores, so it's like an online store on a better platform.
At the same time, I believe Amazon will one day enter the appliance business directly when they figure out how to deliver to the whole country to their exacting standards.
Hopefully, after I retire. 🙂
What Is the Best Appliance Store Near You?
It varies based on where you live.
The most important aspect of the process is to check reviews and see what people think about their experiences.
Then, it's a matter of what you need.
For local pick-up of a dishwasher, a box store is fine. For brand shopping, an online dealer is the best, and for a whole kitchen, the local appliance store is probably a good place to try.
Of course, different areas may have better-managed box stores or poorly-managed local stores, so always check first.
Please leave any insight or suggestions in the comments below.
Best Local Appliance Stores (in No Particular Order):
Poirier Appliance (Newton, Norwood): Poirier is a second-generation family-owned business with sales and service from low to high-end. The owner, Michael, is a great guy.
George Washington TOMA TV and Appliance (Weymouth, Brockton): "There is always a Toma to talk to" has been their motto for over 70 years. Sounds a bit better than saying, "There is always a Sheinkopf to shout at." Anyway, the business started in service and has continued that legacy.
Doyon's Appliances (Bedford, Gloucester, Reading, North Andover): How many Doyon's are there? Enough for four stores. They are a nice family with a good reputation.
KAM (Hyannis, Hanover, Nantucket): KAM is another family-owned business located in Hyannis, Hanover, and Nantucket.
Poirier Appliance (Newton, Norwood): Poirier is a second-generation family-owned business with sales and service from low to high end. The owner, Michael, is a great guy.
George Washington TOMA TV and Appliance (Weymouth, Brockton): "There is always a Toma to talk to" has been their motto for over 70 years. Sounds a bit better than saying, "There is always a Sheinkopf to shout at." Anyway, the business started in service and has continued that legacy.
Doyon's Appliances (Bedford, Gloucester, Reading, North Andover): How many Doyon's are there? Enough for four stores. They are a nice family with a good reputation.
KAM (Hyannis, Hanover, Nantucket): KAM is another family-owned business located in Hyannis, Hanover, and Nantucket.


Additional Resources

Download the Yale Appliance Buying Guide covering all topics of appliances. Over 1.5 million people have read a Yale Guide.

Related Articles:
Why Should You Trust Us?
It seems that every appliance review has nothing but glowing comments about almost every product, yet you read customer reviews and they are almost universally bad.
We are here to fill in the disconnect. We'll give you the best features, and the drawbacks as well, including reliability based on over 37,000 calls performed by our service team just last year. Our goal is to give you ALL the information so you know what's right for you.
Please consider subscribing or adding to the conversation in the comments below. We appreciate you stopping by.
Steve Sheinkopf is the third-generation CEO of Yale Appliance and a lifelong Bostonian. He has over 38 years of experience in the appliance industry, and he is a trusted source of information for consumers on how to buy and repair appliances.

Steve has also been featured in numerous publications, including the New York Times, Consumer Reports, The Boston Globe, Bloomberg Radio, the New York Post, The Wall Street Journal, and Entrepreneur, for his knowledge of how to buy appliances and appliance repair.

Steve is passionate about helping consumers find the best appliances for their needs, and he is always happy to answer questions and provide advice. He is a valuable resource for consumers who are looking for information on appliance buying, repair, and maintenance.

Despite being the worst goalie in history, Steve is a fan of the Bruins and college hockey, loves to read, and is a Peloton biker. The love of his life is his daughter, Sophie.
A Note About Pricing
Pricing on this blog is for reference only and may include time sensitive rebates. We make every attempt to provide accurate pricing at time of publishing. Please call the stores for most accurate price.