How to Design an Outdoor Kitchen
When I started in 1986, this was your outdoor kitchen: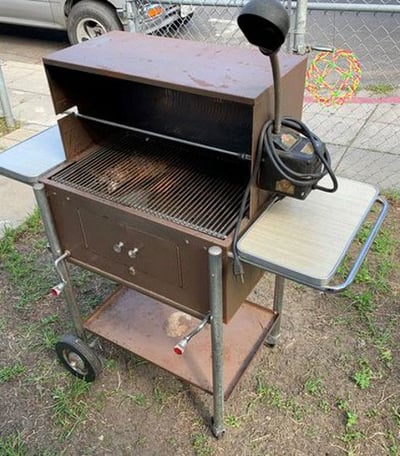 Vintage Outdoor BBQ Grill
Now in 2021, you can have all this: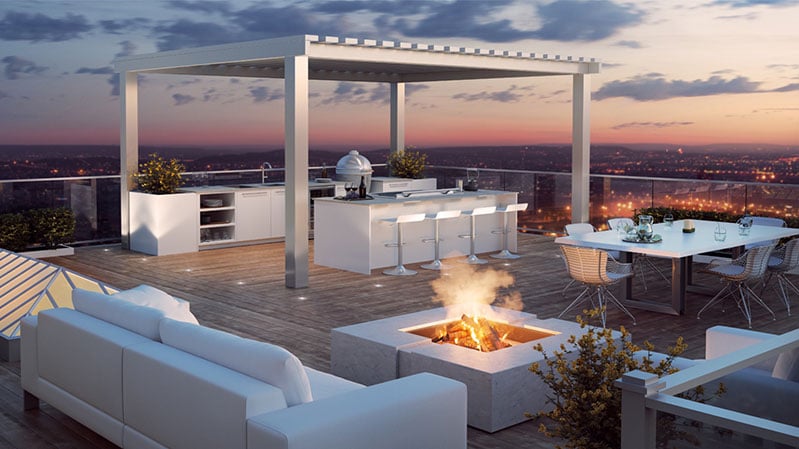 Outdoor Kitchen from Urban Bonfire
You can have about any appliance for an outdoor kitchen. Perhaps even more. The options are limitless, from power burners to pizza ovens to everything between.
Before you invest in your outdoor living space, let's talk about what you truly need.
After all, every space is separate, and so is the way you will look at grills and outside entertainment.
In this article, you will learn about the essential questions to ask before you start building your outdoor kitchen.
We'll also cover what must-have components, like water, gas, and electricity, to power your outdoor kitchen.
Then you will learn all the options from BBQs, smokers, griddle, ice makers, and everything else you can use for your outside area.
After that, I will give you a framework of 4 different configurations to help you with your outside space.
This article will walk you through the beginning of your research to the planning phases. In the end, you'll know how to transform your outdoor space into a functional kitchen. I'll also include a worksheet to keep you on track.
I also added some quotes from some of the industry's most notable experts:
Scott Grugel, President of Middleby Residential Sales
Basil Larkin, Vice President of Sales at Hestan Commercial Corporation
Ashley Smith, Director of Design and Account Management at Urban Bonfire
Russ Faulk, Chief Designer and Head of Product at Kalamazoo Outdoor Gourmet
There are links to various resources at the end to help you along the way.
Don't worry. You can do this.
Let's get inspired!!!! (I know I am. I loved writing this article).
Step one is an inspiration. Look at plans, sketches, inspirational images, and/or create a Pinterest board, and do not limit yourself by only looking at other outdoor kitchens! Find inspiration from indoor kitchens as well and create a wish list as well as a list of "must-have" items you would like to include." Ashley Smith, Urban Bonfire
How to Design an Outdoor Kitchen
Below is a recent webinar we hosted about how to plan and build a successful outdoor kitchen.
Whether you watch the video below or read this blog, you'll walk away with foolproof tactics to build the perfect outdoor kitchen from start to finish.
It was a 22 minute presentation with 20 minutes of questions on grill types, availability, and design.
How to Plan and Build Your Own Outdoor Kitchen Webinar [Video]
For the full presentation, click here.
Who Plans and Builds Your Outdoor Kitchen?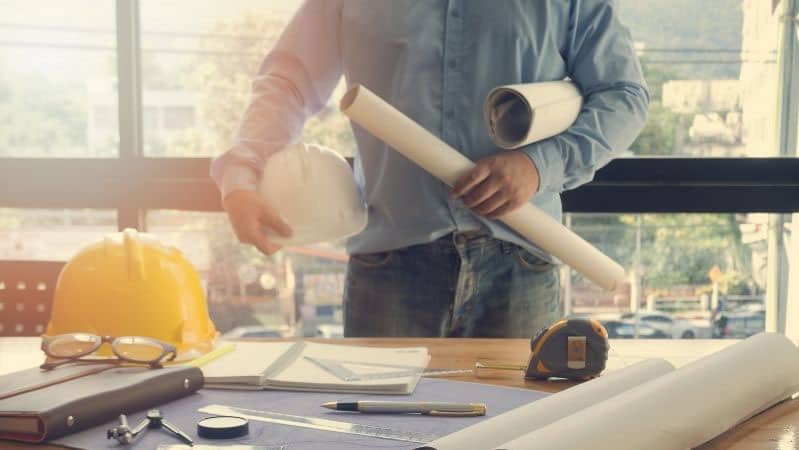 Outdoor Kitchen General Contractor
Let's start with who you should hire for designing your outdoor kitchen.
Is it the architect, landscaper, landscape architect, contractor, builder, mason, or general contractor? How involved are your cabinet shop and appliance store?
The answer can be any of the above.
Many of the problems building your outdoor kitchen start from knowing who will take responsibility.
Make sure to research the best contractors and suppliers. Vet them by checking portfolios and reviews, and then delegate responsibility.
Don't assume any builder can design an outdoor cooking space.
In Miami, FL, outdoor kitchens are part of the house. In Boston, it's a fairly new phenomenon.
Now, you need to ask yourself three important questions.
Ask Yourself the Right Questions
1. First, what is your entertainment strategy?
How are you going to use this space? Is it a place to make burgers, so all you need is a grill and some space to lay your prep?
Or, do you want a fully operational kitchen?
If it's a central place, you may need to think about more countertop space for entertaining or for your kids to do homework outside.
Outdoor cooking tools and platters are usually larger than indoor ones, so having more counter space is key.
It's often an overlooked component to success when cooking and serving guests.
In your inside kitchen, you use plates. You will serve on platters in the outdoor kitchen.
"Will you have one entertainment area or an area for hot and one for seating?" Scott Grugel, Middleby Residential Sales
2. Second, what is the proximity of your outdoor kitchen to your indoor kitchen?
If it's just next to the screen door, you do not need as many appliances and kitchen options outside.
Think about where you'll prepare that corn on the cob. Is it inside or outdoor?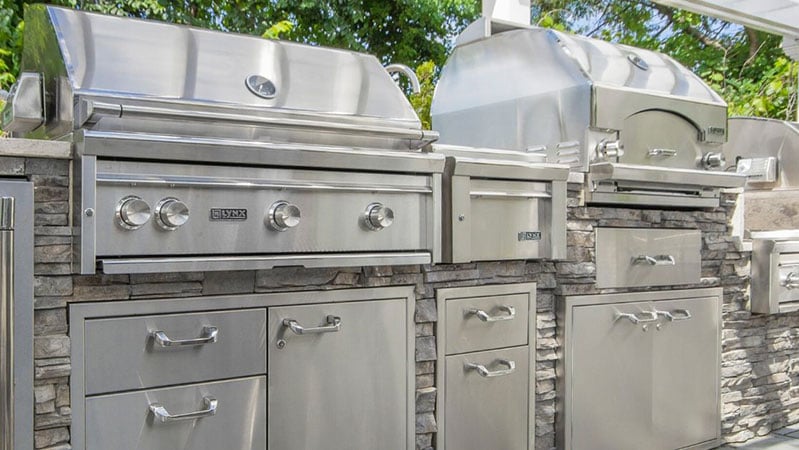 Built-In Lynx Grills and Outdoor Kitchen at Yale Appliance in Framingham
If your outdoor space is away from your main kitchen, you may need more storage and appliances.
Think about trying to avoid the classic "back and forth" when preparing or cooking.
Consider the relationship between your indoor and outdoor kitchens. If they are close together, an outdoor kitchen can rely on the indoor kitchen for prep and cleanup.
Russ Faulk Kalamazoo Grills
Shelves, storage for dishes and glasses, places for garbage, and the need for ice and refrigeration are all important factors to consider.
"Plan space for the basic tasks, including prep, cooking, serving, and cleanup. Each station needs its own countertop space so that entertaining does not turn into an exercise in frustration." Russ Faulk, Kalamazoo Outdoor Gourmet
Most of the important principles to consider for your indoor kitchen apply outdoors as well.
When mapping out the space for your kitchen outdoors, be sure to consider:
Countertop space for preparation
The placement of appliances for the best flow
Storage
Write out what you will want to store outdoors so you can choose applicable storage inserts.
"Assessing how you will use your kitchen and its main functions are important to consider when designing this space." Ashley Smith, Urban Bonfire
3. Third, how do you like to cook, and what will you use the most?
You will learn about products later in the article. But how many products dictate your final space.
You can do pretty much anything now outside, so what do you want to do?
Try to mimic how you use your indoor space to maximize investment, usage, and enjoyment needs.
You want to plan around the right amount of counter space, especially if you serve large parties.
Short on time? Get our free BBQ Buying Guide
Factoring in Wind and Sun When Planning an Outdoor Kitchen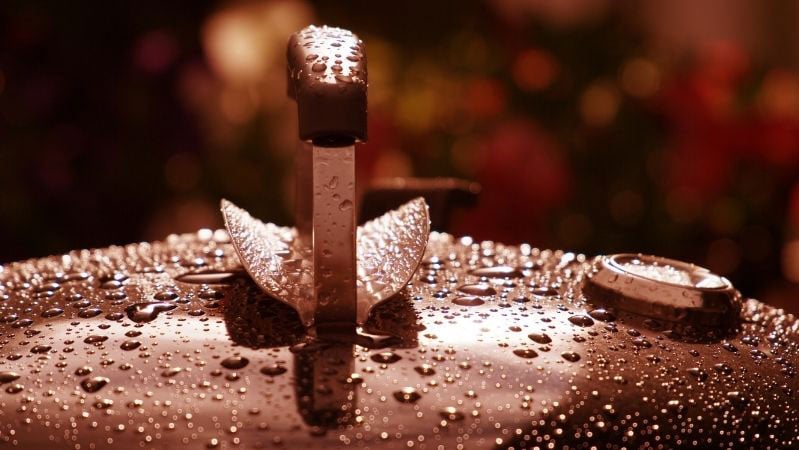 Rain-Soaked BBQ Grill
The grill experts talked about the sun and wind during my interviews. You want to consider wind, sun, and rain exposure when planning your grill.
"Understand prevailing winds. You don't want the smoke from your Grill or smoker blowing into your house." Scott Grugel, Middleby Residential Sales

"Location of the kitchen is usually the next best step. You'll want to pay attention to things like direct sunlight (do you need coverage) and wind direction (location of the grill)." Basil Larkin, Hestan Commercial Corporation
Fuel Considerations for an Outdoor Kitchen
Your builder will know this along with proper irrigation.
However, natural gas grills and side burners need gas plumbed to the locations. If this is a problem, you can buy a grill powered by propane.
You may need electrical work done for your outdoor appliances, grill ignition, blenders, rotisserie motors, or even charging your phone.
Refrigerators, warming drawers, and wine coolers will also need electricity.
If you choose an icemaker, sink, faucet, or dishwasher, you also need water lines.
Remember, in areas where winters have freezing temperatures, any appliance with water will need to be "winterized."
We will talk about maintenance later.
It's 34 degrees when I wrote this. Not an ideal time for grilling but a perfect time to plan and install your gas and electric lines.
Lighting Considerations
Lighting should be part of the plan, especially for grilling at night. Maybe because I sold lighting, I think lighting is important.
Most people think their outside lights will handle it. But they're usually too bright and not focused on the grill. One great idea is to light your banisters.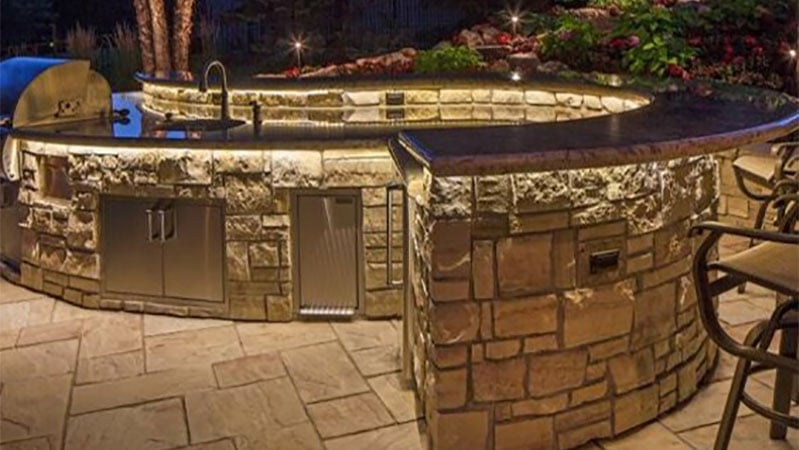 Built-In Grill and Outdoor Kitchen With Banister Lighting
It can be a 30-second difference between medium and rare on a powerful grill. You should consider task lighting near your grill.
Ventilation Considerations
As long-time readers of this blog know, I am specific about venting an outdoor grill.
It is not easy to capture the vast amount of smoke from a BBQ.
Ninety percent of the pictures on Houzz of vented outdoor kitchens will have problems with smoke.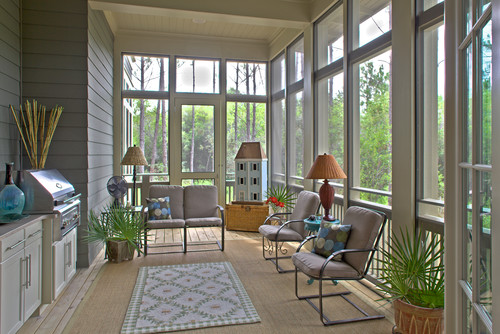 You need an extra deep hood and a powerful blower to evacuate the smoke and grease for adequate exhaust.
Smoke is channeled into the hood and then removed, so you need both.
Plan your ventilation carefully, especially if your grill is inside or on a three-season porch.
I would advise leaving the grill completely outside and not worrying about venting.
If that is not in your design, then spend time planning ventilation. You may even want to try a commercial vent if you like to cook.
Best Outdoor Kitchen Products
Grills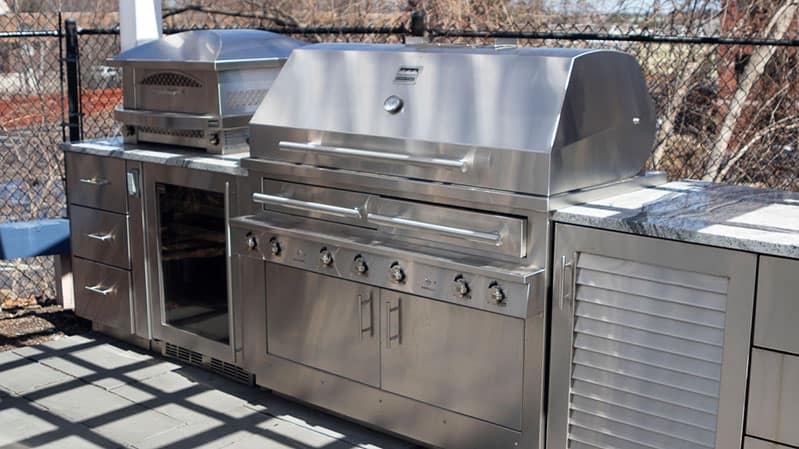 Built-In Kalamazoo Grill and Outdoor Kitchen at Yale Appliance in Framingham
There is an endless array of grills from Hestan, Kalamazoo, Weber, and Lynx.
The grill is the cornerstone of your outdoor kitchen and the middle of your flow. You want to arrange everything else around it.
"Configuring your outdoor kitchen appliances starts with the grill. Your grill is the centerpiece of the outdoor kitchen." Russ Faulk, Kalamazoo Outdoor Gourmet
Now pause here for a bit and answer a few questions:
How do you like to grill? Do you like speed? Or more low and slow? Do you want added flavor and texture? What's your go-to method?
Based on your answers, you may find yourself inquiring about different types of grills.
Here is a breakdown of the different types of grills and what they can and can't do:
Gas Grills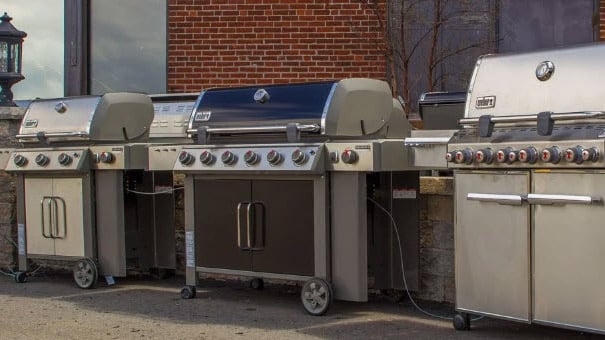 Weber Gas Grills at Yale Appliance in Boston
Incredibly fast, sear the best, especially with an infrared sear zone. Gas grills are simple to use as well.
Drawbacks: Gas grills do not add flavor or texture
Pellet Smokers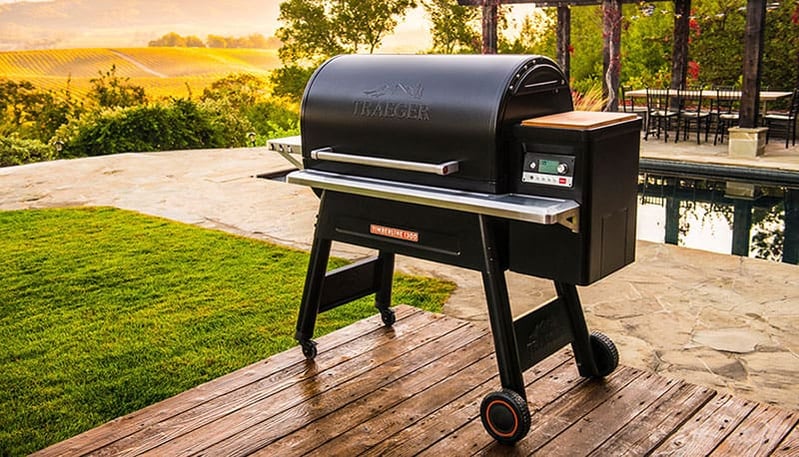 Traeger Pellet Grill
There are several types of smokers. Most popular is the pellet type. Smokers do a great job at adding flavor and texture with tons of different flavored pellets.
Drawbacks: Smokers are low and slow. You cannot quickly throw a few burgers on the Grill. At a max temperature of 400-450, a smoker cannot also sear.
Charcoal
Charcoal has the speed of gas with the texture of pellets. Pro grillers will use some type of combination of wood and charcoal in competitions.
Drawbacks: You have to add charcoal after each use and empty the ash—the temperature isn't as constant as gas. You don't have the flavor combinations of the pellet.
Ceramic
U.S. military soldiers from Japan brought ceramic cookers home after World War II. A ceramic-like The Big Green Egg or Kamado Joe can do a bit of everything.
Drawbacks: You have to learn how to use a ceramic grill. No grill can cook fast and slow. Do you incorporate a grill or add another element like a smoker, charcoal, or ceramic-type grill to your outdoor kitchen?
Best BBQ Grill Brands for Your Outdoor Kitchen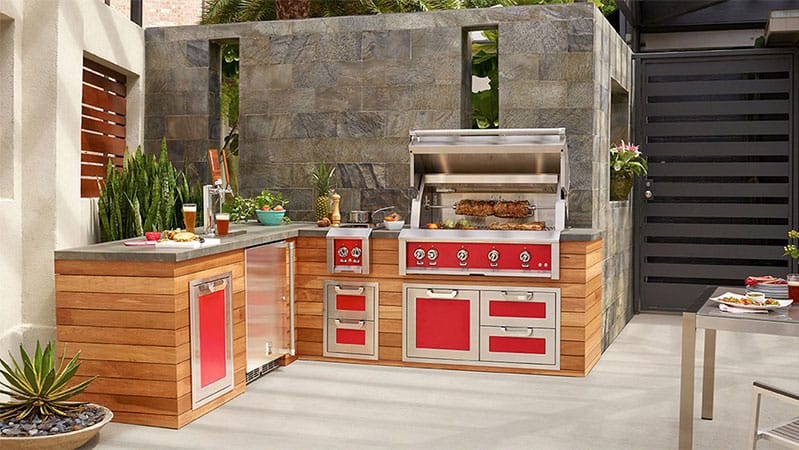 Built-In Hestan Grill and Outdoor Kitchen
1. Kalamazoo
Kalamazoo is a hybrid grill operating with pro burners to use charcoal and/or wood for speed, texture, and flavor.
They have the deepest surface for thorough "natural convection" cooking. Their grills, pizza ovens, and accessories are the most expensive but are considered the best in the world.
2. Lynx
Lynx is a pro grill with high output. Their ceramic burner is weatherproof. You can buy Lynx with all burners, all burners, and an infrared sear and all sear grill as well.
Lynx also has their Smart "MyGrill," so you can cook from an app on your phone. It can also calculate the time and temperature to cook based on a learning algorithm.
3. Hestan
Hestan residential is an offshoot of the giant commercial manufacturer Meyer. They have distinguished their grills with laser-cut grates to maintain a sear throughout
Unlike any other manufacturer, Hestan has several colors as well.
4. Weber
If Lynx was the first pro grill, Weber was the first to build a reliable grill for less money.
They may not have the other three output burner, but they offer a much lower price, especially in their Genesis and Spirit series grills.
Read More: Best Professional Outdoor BBQ Grills
Other Outdoor Kitchen Cooking Appliances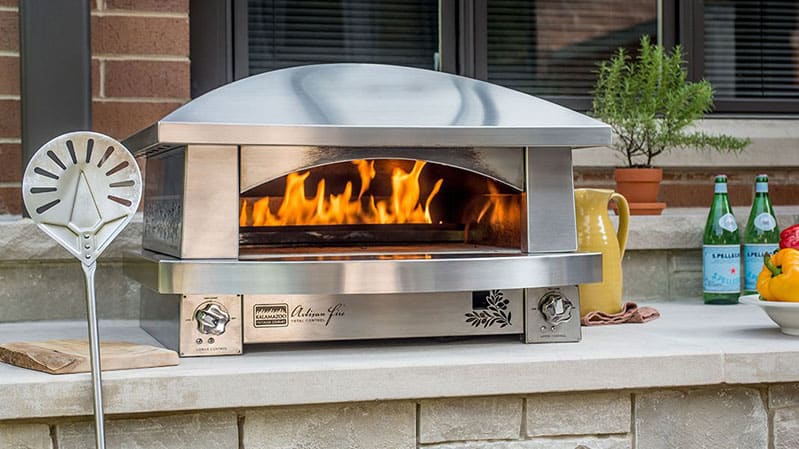 Kalamazoo Artisan Pizza Oven
Pizza Ovens: They can be pricey, but all of them cook pizza well quickly.
Warming Drawers: Place near or under your Grill. It keeps foods warm for up to an hour.
Asado Cooktops: Asado cooktops are large griddles. The hot dogs and sausages and peppers were cooked on a griddle if you go to a ballgame. You can cook anything on a griddle.
Smokers/Ceramics: Smoking or low-temperature indirect cooking is all the rage. Traeger, Weber, and Lynx have smokers, as do many other brands. I
The Big Green Egg and Kamado Joe are ceramic and offer a different type of cooking.
Side Burners: Great for boiling lobsters or corn on the cob. You can cook foods as well as Grill with side burners.
For all of our best grills, their features, and how they perform, click here.
Storage
You will need some storage or cabinets for your outdoor kitchen. You can buy them from a manufacturer like Lynx, Kalamazoo, or Urban Bonfire.
You can also find them in many prefabricated solutions (we will cover that later).
Appliances
For appliances, they should be UL rated to be placed outdoor. Their composition is more metal and resistant to rusting.
Refrigeration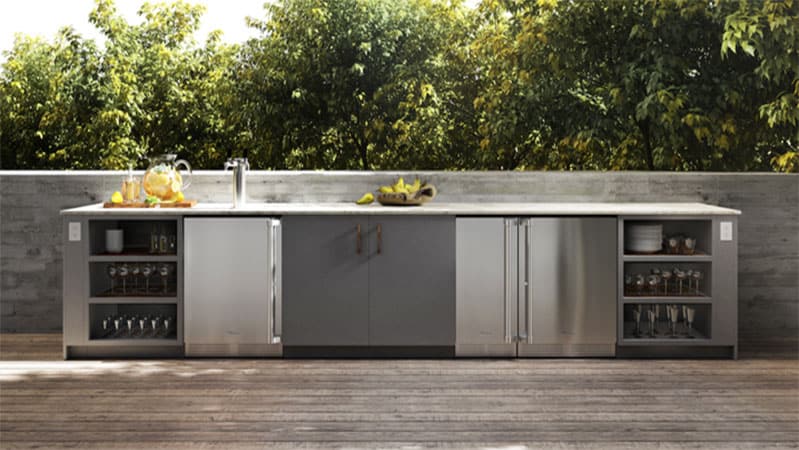 Outdoor Refrigeration and Accessories
There are all types of refrigerators. You have refrigerators, wine coolers, and ice makers.
With icemakers and dishwashers, you need a cold water line. Maintenance is always key, especially with icemakers. You should clean them periodically.
Outdoor Kitchen Sinks and Faucets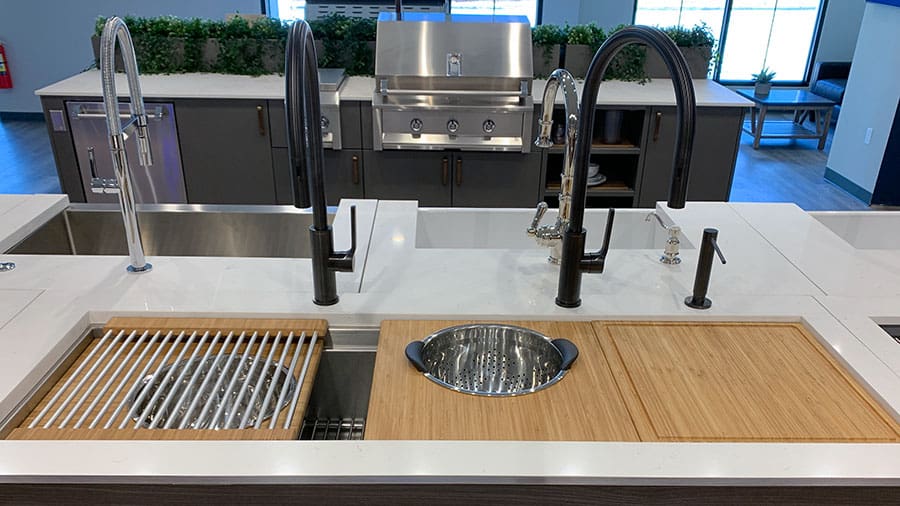 Galley Workstation for an Outdoor or Indoor Kitchen at Yale Appliance in Hanover
You should consider a sink and faucet if your outdoor kitchen is not close to your main kitchen.
The Galley is an interesting sink to consider. It is marine grade, available from 2-7 feet, and can double as a workspace.
Think of your outdoor kitchen as an extension of your home. The outdoor kitchen is often one of the last items to be added to a home, but you can start thinking about this while planning your indoor kitchen.
Consider the appliances you want indoors vs. outdoors and make sure they complement one another.
"This might include incorporating a pizza-making station or adding in a power burner to cook lobster. You do not need to limit yourself to a "traditional" kitchen. Make it suit your needs and your space." Ashley Smith, Urban Bonfire
4 Best Outdoor Kitchen Layouts
1. Island Outdoor Kitchen Layout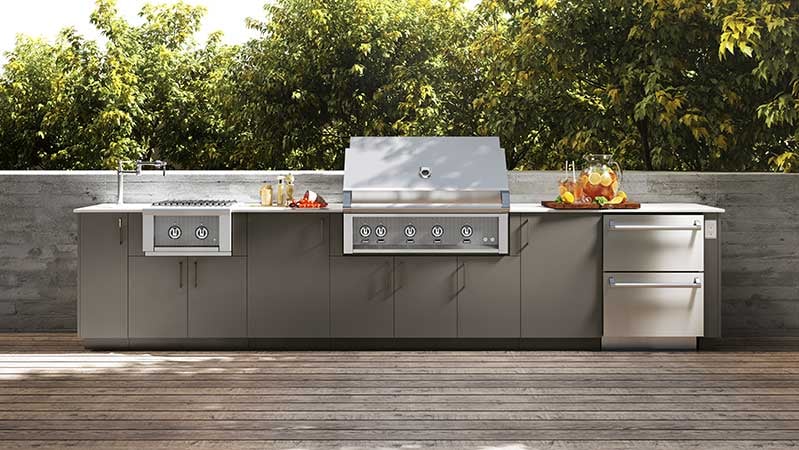 Outdoor Kitchen with an Island Layout from Urban Bonfire
Island is the most popular with the grill in the center and serving appliances on either side.
You will have to serve and eat elsewhere, but an island is the most space-efficient.
Look at the faucet next to the burner. You won't have to lug a big pot of water from the inside. You just fill that pot right there.
2. L-Shape Outdoor Kitchen Layout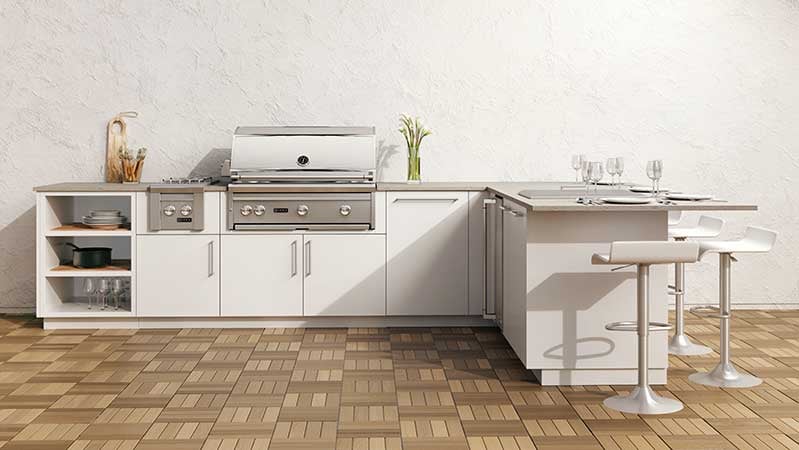 Outdoor Kitchen with a L-Shape Layout from Urban Bonfire
You can serve food in an L shape. Many designers raise the counter a bit for this reason.
The L shape is efficient. Note the distance between Grill and seating. It's easy to serve.
"If you like to entertain, consider adding an island as a place for people to sit and gather around so that the cook can interact with guests, or creating an L shape to incorporate seating." Ashley Smith, Urban Bonfire
3. U-Shape Outdoor Kitchen Layout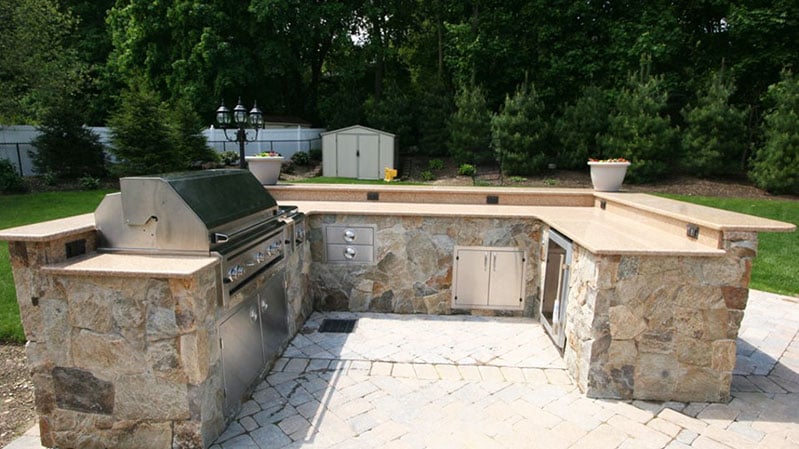 Outdoor Kitchen with an U-Shape Layout from Urban Bonfire
The U is a bigger L allowing for more entertaining and serving. You can also incorporate more appliances on the other side.
4. Galley Outdoor Kitchen Layout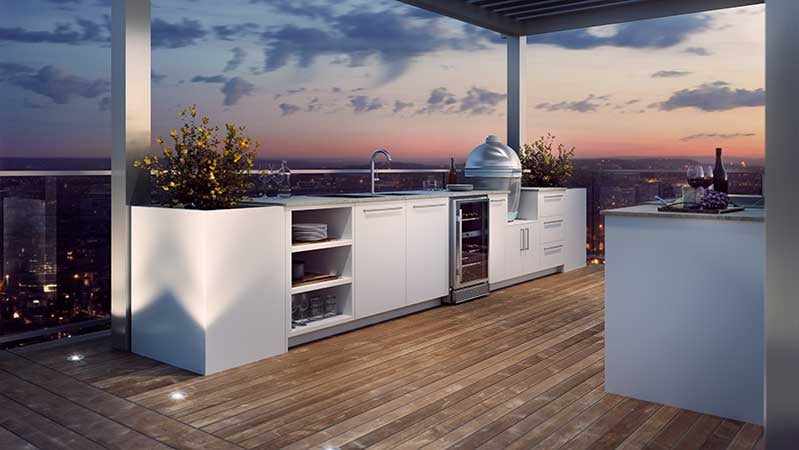 Outdoor Kitchen with a Galley Layout from Urban Bonfire
Like many indoor setups, this separates the "cooking" side from the serving and eating side. Galley layouts are growing in popularity for outdoor entertainment.
Pro Tip: Once you pick everything, chalk the diagram on your current space to see if it looks right to you.
Best Materials for Your Outdoor Kitchen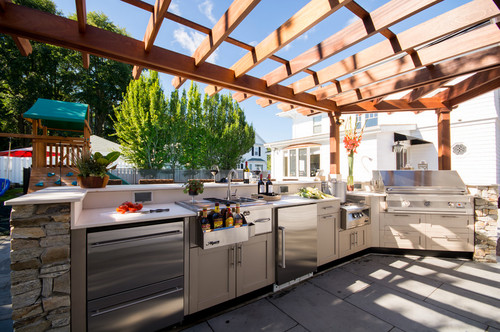 You want your kitchen weather-resistant, especially in New England.
For counters, you want a non-porous material like granite, Dekton, concrete, and stainless.
Tile can crack, and granite should be treated occasionally.
Dekton and other modern materials offer a "no maintenance" alternative and are growing in popularity.
Dekton is a composite weather-safe material.
Urban Bonfire, an outside cabinet, and design company, recommends Dekton.
Do not use quartz and limestone because they weather poorly and are not UV stable (fading over time).
Choosing Materials for Your Outdoor Cabinets
Marine-grade aluminum, stainless steel, marine-grade polymers, and stone are the best materials for your outdoor cabinets. If you want wooden cabinets, teak wood weathers the best.
Marine-grade aluminum is the best. However, there is no clear definition of "marine grade." It's typically 304 or 316 types stainless with high molybdenum content or treated with taurine to resist corrosion.
You still have to wipe it down.
Now you know the basics, let's look at the array of products.
What Are Your Best Options for Building an Outdoor Kitchen?
Many people will have an architect, designer, cabinet shop, and builder plan your outdoor kitchen.
This is a great option if you have plenty of time, space, and a larger budget.
DIY Outdoor Kitchen Islands
You can buy various kits from box stores and different manufacturers. Lynx has a cabinet line, as does, Hestan, Kalamazoo, and DCS, amongst others.
You have to make sure they are weather-resistant in all parts, including the drawers.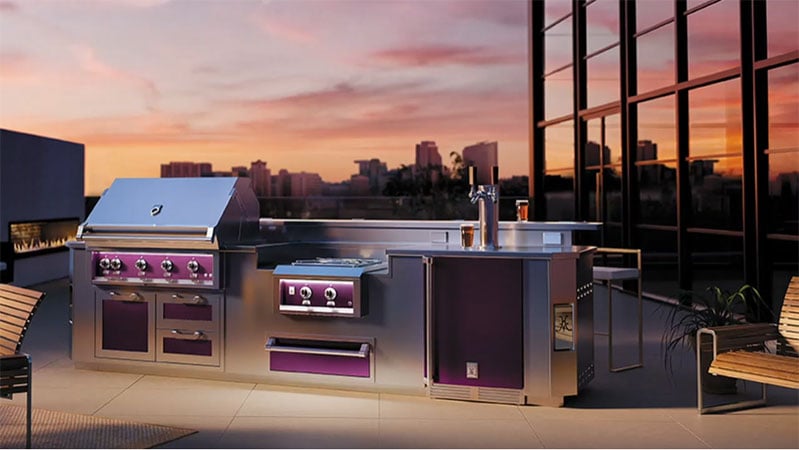 Hestan Stainless Steel Built-In Grill with Custom a Purple Finish
This Hestan in stainless steel is spectacular. But, it costs over $18,000.
Urban Bonfire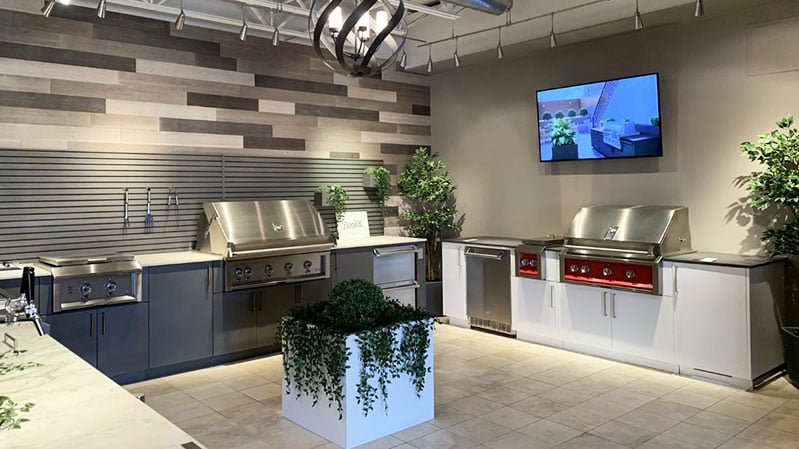 Urban Bonfire Outdoor Kitchen at Yale Appliance in Boston
Urban Bonfire is a manufacturer based in Montreal. Their cabinets are made of thick gauge, marine-grade aluminum.
It's fully powder coated to protect in sun, snow, and saltwater with all non-combustible materials.
They include the structure, storage, and design all in one and work with all major grills brands and sizes on the market.
You can customize your finishes without waiting 6-8 months for delivery. They have models with only a 2-4 week lead time.
It's the best out-of-the-box solution, plus the prices are reasonable, usually starting at $7,000.
How to Design an Outdoor Kitchen: Key Takeaways
It all starts with who will be helping you. Make sure they are qualified.
Then it's about you and your space.
Start with your entertainment strategy of what you will use or want. Pick the products, cooking, storage, and refrigeration.
Then chalk it off or draw it out.
If you are thinking about building an outdoor kitchen, start roughing electrical and plumbing early.
Look at alternatives. In this case, out-of-the-box solutions are good to eliminate delays and blowing up your budget.
You can now have any type of Grill, accessory, and appliance for your outdoor kitchen. Just plan well so that you can enjoy it fully later.
Additional Resources
Get the Yale BBQ Grill Buying Guide with features, specs, and tips to all the brands. Over 800,000 people have already found answers in a Yale Guide.
Related Articles:
Related Websites:
Why Should You Trust Us?
It seems that every appliance review has nothing but glowing comments about almost every product, yet you read customer reviews and they are almost universally bad.
We are here to fill in the disconnect. We'll give you the best features, and the drawbacks as well, including reliability based on over 37,000 calls performed by our service team just last year. Our goal is to give you ALL the information so you know what's right for you.
Please consider subscribing or adding to the conversation in the comments below. We appreciate you stopping by.
A Note About Pricing
Pricing on this blog is for reference only and may include time sensitive rebates. We make every attempt to provide accurate pricing at time of publishing. Please call the stores for most accurate price.