How to Plan Your Kitchen Appliance Project
August 25th, 2023 | 9 min. read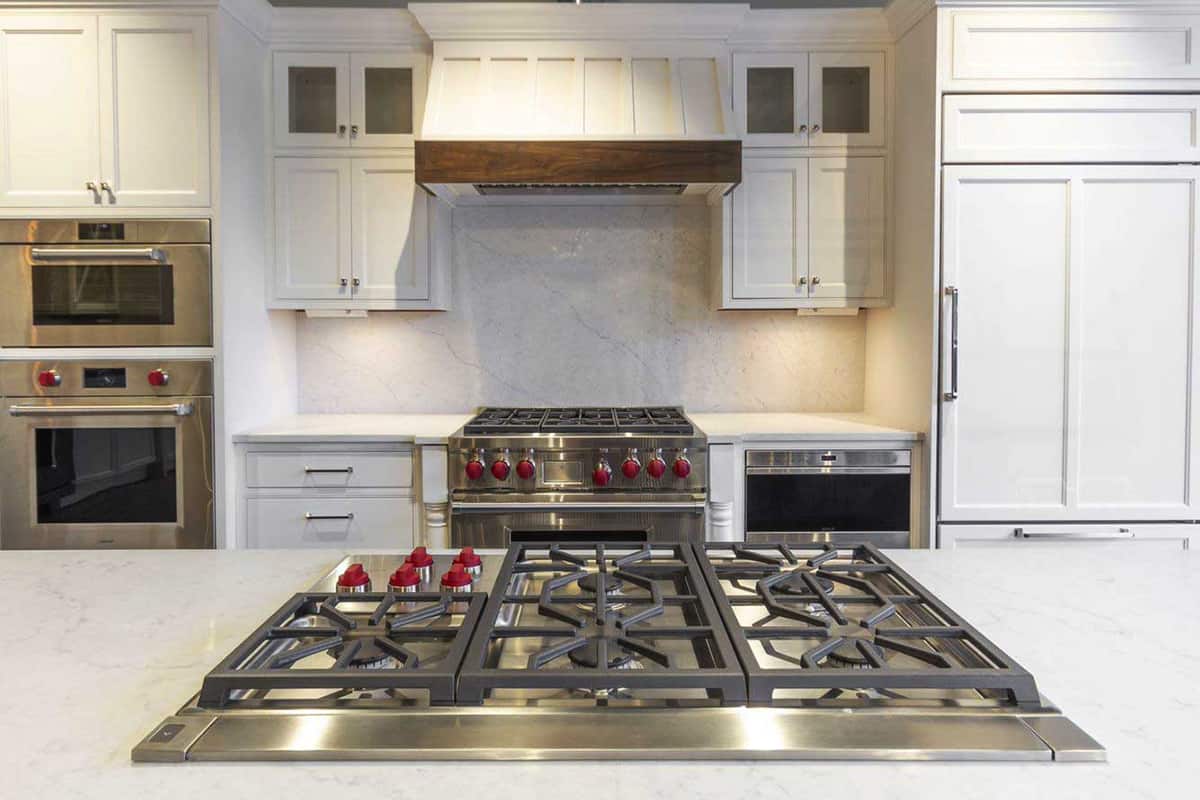 Congratulations.
You are now embarking on the rewarding and stressful task of designing and building your new kitchen.
This article will cover everything you need to know, from choosing a contractor to where you should start.
Hint: You don't start your kitchen project by choosing your appliances.
You will then learn the most important appliance decision you'll have to make to dictate your kitchen's flow.
There will be no brands in this article, just the framework to design a space right for you and your family.
Let's get started.
How to Plan Your Kitchen Appliance Project
Below is a recent webinar we hosted about planning a kitchen appliance project.
The ABCs of Kitchen Design: Architects, Builders, and Contractors
Everyone talks about the ABCs or the basics of any process.
In this case, it's literal.
Your first and most important job is to choose the best architects, builders, and contractors.
Spend 70% of your time researching your top choices in your local area.
It's easier to find reviews through Google, Yelp, and the Better Business Bureau (BBB).
Look at their portfolios, check their work, and talk to their past and present customers.
I have finished two renovations and two store openings since 2014.
One painful observation I made was good tradespeople solve problems.
Bad ones cause them.
Good contractors know the best tradespeople, electricians, plumbers, and roofers and will also know the best suppliers.
The bad ones do not.
As an illustration, the recent bankruptcy of Boston Appliance exposed a lot of these contractors.
Unsuspecting homeowners lost millions.
You want a sense of what they have done to understand what they will do.
It's the most important step in the process.
Project Management
Your project can still go off the rails even if you've hired the right firm.
The project manager is crucial because they have to coordinate the trades and keep the project moving forward.
You want to interview this person in the same way as the firm:
How long have they been a Project Manager?
What projects have they been on recently ?
How have they handled the supply chain issues (my new favorite question)?
What is their background?
What problems have they solved on other projects?
Then, get everything in writing.
Ask Yourself the Right Questions for Your Kitchen Space
Look at the space you're renovating or building for your kitchen project, and ask yourself a few questions:
How will you use your space?
Where do you find yourself doing the most in your present kitchen?
What is important to you?
How do you cook?
Do you cook a lot and have a big family?
Are there two people cooking and prepping?
Are you an empty nester and do not want to cook?
Do you not like to cook?
Are you trying to highlight any objects in your kitchen? Windows seems to be the new object for a good reason.
Each of the above allows or prohibits certain appliances.
In 2008, I hired Bergmeyer, a prominent architecture company, to design our Framingham store. It opened in 2015.
We visited all the newly opened stores such as Whole Foods and TD Bank, among others.
At the Burlington Crate & Barrel, one of the architects asked how I felt as we left the store.
It was an odd question.
However, Crate & Barrel's design focuses on having windows everywhere because people have a connection to their outdoor space.
Design your kitchen with that in mind. Windows, gardens, and other objects should be considered in your plan.
Lastly, and most importantly, what's your life situation like? Let's look at two examples.
Case Study One
You are looking at my old apartment (featured below), renovated in 2014 with a big island, new lighting, floors, and bathrooms.
I loved this place and would still be there, but it wasn't family friendly.
My 4th-floor apartment was hard with a baby.
You have to park the car in the front.
Bring the baby up or the bundles to the first-floor landing, grab the baby, and then battle for a parking spot.
She is now almost 7-years-old, so it would have been easier.
She could have walked into the apartment on her own at that age (I am pretending that she always listens).
But not when she was a baby.
I had it in my brain when we moved to a Brownstone across the street.
I placed the kitchen in the basement of all places.
It was easy to walk to with groceries and a baby. I'd place the baby on the sofa and put the bundles away in the next area.
Case Study Two
As I had my daughter, my sister was saying goodbye to her kids off to college.
She sold her house and cottage and bought a house on the water.
Her new kitchen (pictured below) has a beautiful ocean view.
In her words, she only wanted to look at the ocean with her coffee in the morning.
She even designed her TV to be part of the range to avoid interrupting her ocean view (you can do that with a wood hood insert and blower).
Therefore, you have to figure out what is important to you, what to highlight, and how to pick the right people to help you with your project.
But now, where do you start?
Where to You Start Your Kitchen Appliance Project
This may surprise you, but you should always start your kitchen project with your sink.
You use your sink more than any appliance in your kitchen.
Kitchen designers always talk about centrally locating the most-used appliances.
These appliances would be your kitchen sink, dishwasher, and stovetop.
This is my version of the Kitchen Triangle:
You should not be more than a foot or two away from any of your most used appliances.
In my kitchen, I can move back and forth between the sink and stovetop easily.
Starting with choosing where your sink goes makes sense.
You also don't need to vent your sink, so it's perfect for an island.
As different as I am from my sister, the sink is on the island in all our kitchens.
The Single Most Important Appliance Decision for Your Kitchen: Choosing Your Cooking Appliances
If you want to make your cabinet designer scream, tell them you are changing your stove and cooktop to a range or vice versa.
Choosing between a range or cooktop and a wall oven are two different designs.
Your range is centrally located, with the stovetop over your oven.
Ranges are better for smaller kitchens but can be part of any size from 20 inches to 60 inches.
They are now loaded with features, especially at the largest 48 and 60-inch sizes.
Larger ranges have more features like sous vide modes, induction, grills, griddles, French tops, steam ovens, and warming drawers.
However, to use the oven on a range, you will need to bend down to place your food inside. Additionally, if you want more features, you will need to purchase a larger stove.
Read More: How to Buy a Range
Cooktops and Wall Ovens
Cooktops now mirror ranges with the same features and sizes. Like a range, you should centrally locate the cooktop.
However, you can place the wall oven anywhere because you only check on your oven a couple of times while you're baking or roasting.
The advantages of a wall oven are having more advanced controls. It is also easy to accessorize with steam and speed ovens, warming drawers, and other options.
However, you need a space for your cooktop and a 30-inch cabinet for your wall oven. This combination is not suitable for smaller kitchens.
Choosing one of these options will determine the flow of your kitchen.
Choosing Ancillary Cooking Appliances
The default for many people is buying a double oven. You are almost traumatized by Thanksgiving and other holidays.
You may indeed need two ovens if you cook or host a lot. However, you now have an array of speed and steam ovens, microwaves, and drawer options.
Placing a microwave or steam oven over a single oven makes sense to centralize.
However, most of these options now fold down or pull out so they can be placed anywhere.
For example, our microwave is far from the wall oven because it's used sparingly.
Know you have options.
Choosing Ventilation for Your Kitchen Design Plan
Look at these bad venting examples.
These vents will not exhaust smoke, grease, and other gases (carbon monoxide, formaldehyde, particulate matter, nitrogen dioxide, and others).
They lack the capture depth to cover the more powerful front burners, so all the gasses bypass your hood and stay in your home.
With better building materials and windows designed for efficiency, that air stays in your home longer.
How to Ventilate Your Kitchen Range the Right Way
CFM
CFM is the industry term for cubic feet per minute or how many cubes of air are exhausted per minute.
A 500 CFM hood will exhaust 500 cubes of air per minute.
Capture
Capture is overlooked. It causes most of the problems. Capture is the height, width, and depth of the hood.
Smoke is never immediately exhausted. It is channeled and then exhausted.
A shallow 1200 CFM hood will not work because the smoke will billow past, especially on the front burners.
Buy a hood 24 inches or greater, especially over a professional range, to cover the front burners.
Duct Run
Follow gravity. Smoke travels upward (this is another reason why downdrafts don't work effectively). Using elbows in your duct run decreases efficiency as well.
Duct Size
A 4-inch duct is for dryers. You should have larger ducts of 6-10 inches, depending on the output of your stove.
Make-Up Air (for Massachusetts Residents Only)
Any blower over 400 CFM will require a return of the same amount in Massachusetts.
It's easy to plan with your HVAC contractor before construction or place a return ten feet away from the opposite side of the stove.
Why Make-Up Air Is Important: 1,200 CFM is like venting a small room of air every minute. Without a make-up air return, that air is made up from your furnace, attic, and garage.
Why Benihana May Not Be Your Best Kitchen to Model After
When I was selling appliances eons ago, clients would say I like entertaining my friends while cooking.
I always used to think of the restaurant Benihana, where cooking is the entertainment.
You can place your cooking appliances on an island like Benihana, but you must vent like Benihana with an island hood.
If you love to cook, it has to be a large, high CFM hood.
Do NOT do this. You do not want to downdraft a professional range. Downdrafts, in general, are last-resort options only. If you plan well, you won't need it.
Read More: How to Vent Your Kitchen Range
Choosing Refrigeration for Your Kitchen Design Plan
It seems odd the sequence of planning.
After all, a refrigerator with a stove is the focal point of your kitchen.
While that may be true, refrigerators are easy to incorporate into a design.
You can place a refrigerator anywhere because you aren't in your refrigerator as much and only retrieve your food.
It's not as critical as stirring your soup.
They are available in standard sizes.
With the acceptance of column-style refrigerators, you can place a refrigerator anywhere.
Are you a lefty and want the refrigerator on the left and the freezer on the right? You can do that easily.
You can customize any type of refrigerator. You can have an all-refrigerator, all-freezer, or any combination anywhere.
Choosing Ancillary Refrigeration
Maybe it's because I have a small child, but having a set of refrigerator drawers for her is convenient. I toss her water and fruit in the drawer, so she doesn't have to open the main refrigerator.
Maybe you want a refrigerator near the sink to chop vegetables or chill wine.
You can place small refrigeration anywhere in your kitchen design, like wine coolers, beverage centers, and ice makers.
These items are commonly referred to as "point-of-use" appliances. Some place them in convenient spots.
Now, let's move on to common issues you should be aware of before purchasing your appliances.
Read More: How to Buy a Refrigerator
Three Problems to Consider Before Buying Appliances
1. Delivery
In many cases, you will be ordering 600-800-pound appliances.
Whoever you trust with your order should have a proven track record of delivery.
2. Installation
Installation is the newest hot potato. The contractors have started to push back as the newest appliances have been harder to install.
So, who does it? And better yet, can they do it?
3. Service
I must mention this because nothing seems to work as it should in the appliance industry.
Appliances break and need tune-ups, while service is a well-documented nightmare.
Our service team logged over 33,000 service calls in 2022. The average appliance service rate was 9.7% within the first year.
As you can note below, we surpass any deliveries or installations with the number of service stops we have daily.
Only 5% of appliance retailers have any type of service.
Before buying the Wi-Fi-enabled pro range with a steam oven, you should check for local, competent service.
Read More: The Best Places to Buy Appliances
How to Plan Your Kitchen Appliance Project: Key Takeaways
First, don't start. Plan.
Good people will help you from every perspective with much less stress. Spend most of your time finding the best in every facet.
I wish I had one during my renovations.
Understand the space and what you want to highlight, if anything.
It sounds strange starting at the sink, especially from a guy who sells appliances, but centrally locating a sink works on many levels.
Choosing between a range or cooktop and wall oven is the only important appliance decision for planning.
Vent properly. It makes a difference.
After that, understand your refrigerator and cooking options.
Additional Resources
Have questions about appliance? Get the Yale Appliance Buying Guide with features, specs, and detailed profiles of all the major brands. Well over 1.5 million people have read a Yale Guide.
Related Articles:
Other Resources:
Why Should You Trust Us?
It seems that every appliance review has nothing but glowing comments about almost every product, yet you read customer reviews and they are almost universally bad.
We are here to fill in the disconnect. We'll give you the best features, and the drawbacks as well, including reliability based on over 37,000 calls performed by our service team just last year. Our goal is to give you ALL the information so you know what's right for you.
Please consider subscribing or adding to the conversation in the comments below. We appreciate you stopping by.
Steve Sheinkopf is the third-generation CEO of Yale Appliance and a lifelong Bostonian. He has over 38 years of experience in the appliance industry, and he is a trusted source of information for consumers on how to buy and repair appliances.

Steve has also been featured in numerous publications, including the New York Times, Consumer Reports, The Boston Globe, Bloomberg Radio, the New York Post, The Wall Street Journal, and Entrepreneur, for his knowledge of how to buy appliances and appliance repair.

Steve is passionate about helping consumers find the best appliances for their needs, and he is always happy to answer questions and provide advice. He is a valuable resource for consumers who are looking for information on appliance buying, repair, and maintenance.

Despite being the worst goalie in history, Steve is a fan of the Bruins and college hockey, loves to read, and is a Peloton biker. The love of his life is his daughter, Sophie.
A Note About Pricing
Pricing on this blog is for reference only and may include time sensitive rebates. We make every attempt to provide accurate pricing at time of publishing. Please call the stores for most accurate price.