Should You Buy Black Stainless Steel Appliances? (Reviews / Ratings)
You're probably curious about black stainless steel if you are just buying appliances.
You may be looking at black stainless as an alternative to the stainless steel you see everywhere.
Black stainless steel became a very popular finish in a short period of time, comprising a whopping 30% of package sales nationally in 2017.
In 2020, it's less than 3%.
So what happened?
When I originally wrote this in 2016, Black Steel was the hot new finish. Now, it's a cautionary tale.
Our Black Steel Scratch Test Video has over 63,000 views on our site and YouTube since October of 2017.
The videos are pretty telling.
In this article, you will learn what black stainless steel is, the pros and cons, the best brands for black stainless steel, and how it cleans.
We will also tell you whether you can repair the finish if it is breached.
You may like the finish, but by the end of the article, you will know why there are risks.
Short on time? Get our free Appliance Buying Guide
What Is Black Stainless Steel?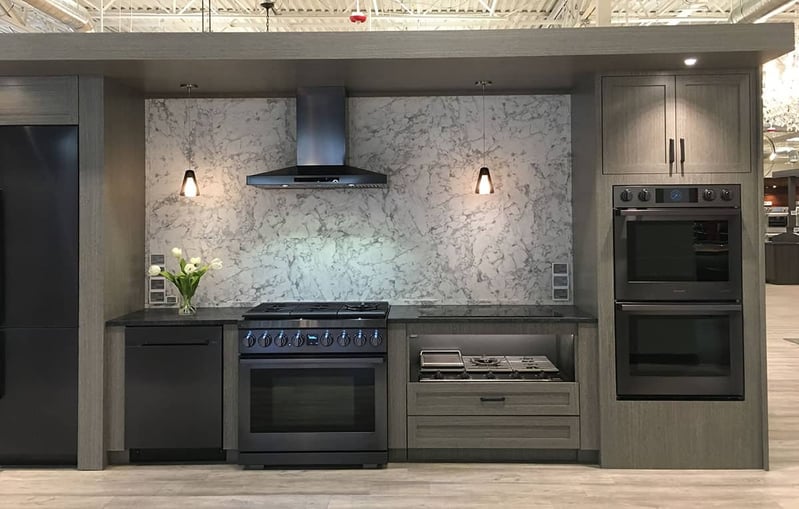 Samsung Black Stainless Steel Appliances at Yale Appliance in Framingham
In terms of appearance, black steel is a different hue of stainless and coordinates well with most cabinets' styles.
It looks good, especially as an alternative to stainless steel and is much easier to clean than stainless.
However, black stainless steel is simply a coating over stainless steel. It's not a painted or baked-on finish for most brands, except for Bosch.
Bosch bakes their black finish to their stainless. It is much more scratch-resistant, but not scratch proof.
Black Stainless Steel Popularity
If you are sick of stainless steel, this finish was a good change of pace with its darker hues. Black stainless steel is also smudge and fingerprint-proof, unlike most stainless finishes.
Black stainless steel in 2018 was roughly 25-30% of total kitchen packages throughout the US.
At Yale, it was less than 2%. That is a significant difference.
In 2020, black stainless comprised about 3% of sales.
Why Did Black Stainless Steel Become Unpopular?
These two videos below outline the underlying problem with this surface.
Black Stainless Steel Scratch Test [VIDEO]
Scratching Bosch Black Stainless Steel [VIDEO]

It's impossible to repair, as you will see. That's the problem. The rest of the market caught up with us because it scratches, showing shiny stainless underneath.
If you have small children or use your appliances a great deal, you should worry about scratching it.
So now, you probably should not buy this finish under normal conditions.
Read More: Does Black Stainless Steel Scratch Easily?
Should You Buy Black Stainless Appliances?
No, you should not buy black stainless steel appliances. Black stainless will probably be discontinued if the sales continue to plummet.
If you must buy black stainless steel appliances, then Samsung and Bosch are the most scratch-resistant and should be considered first.
However, if or when it's discontinued, the pricing could drop dramatically. It may be worth banishing your kids out of the kitchen for ten years or so for a 10-40% discount.
Why You Should Not Buy Black Stainless Steel Appliances
There are two more reasons to stop before you rush into buying discounted black stainless steel kitchen.
First, if it's discontinued, you will have to replace it with classic stainless steel appliances one piece at a time.
Secondly, you can't repair the scratch. You can pull off the black stainless coating, I suppose and have that stainless kitchen.
To review, this is what the scratches look like on all the manufacturers: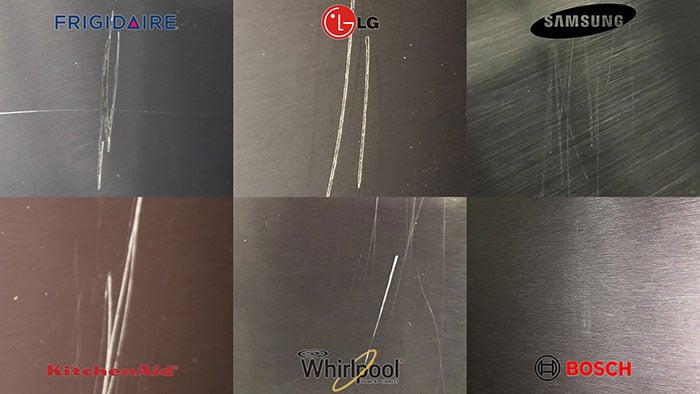 How Do You Repair A Black Stainless Steel Scratch?
I don't know. It bothers me because I should know.
I have read through enough forums and other blogs. The best is this Reddit thread.
There are many ideas but no concrete solutions. I thought the most creative was a simple black felt pen, but you would have to match that shade.
Other solutions may be colored wax or metal refinishing.
There isn't anything I have read to fix this issue.
Think of black stainless steel as tape. When you breach that tape, there is no way of re-taping or refinishing a scratched Black Steel refrigerator.
Other Popular Designer Finishes Worth Considering
I would still recommend stainless steel or placing custom cabinet panels on your appliances for a different look.
However, there are other options.
Many of these finishes will distinguish your kitchen, but be mindful that many designer finishes are discontinued after appeal diminishes.
Café Appliances Matte White And Matte Black Finishes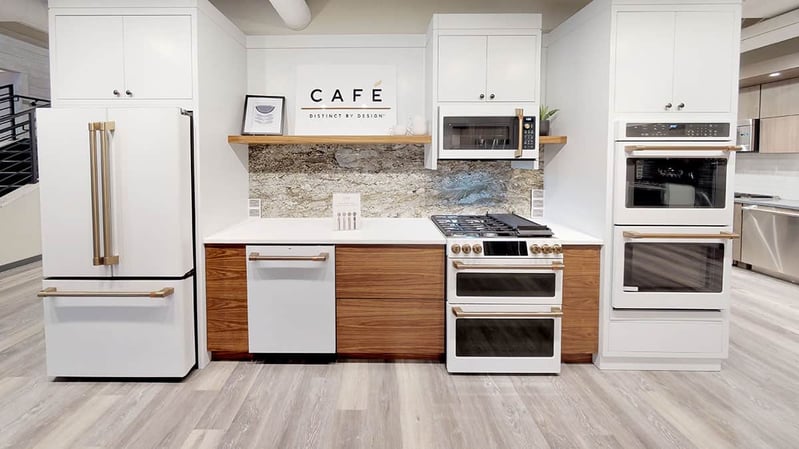 White was the high-end finish before stainless steel. Café Appliances has reintroduced that and Black Slate.
You have different handle choices like copper and brass in Café Appliances to customize your appliances even further.
Instead of buying a full suite of colors, add just a pop. Ranges, in particular, are good candidates for a different style.
La Cornue Custom Color Finishes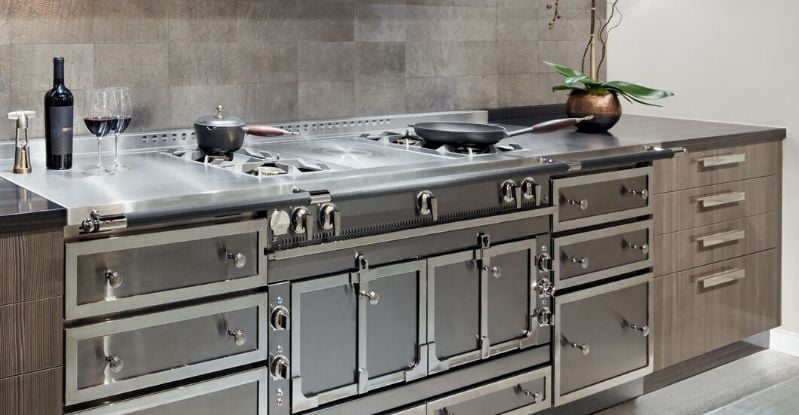 La Cornue Custom Color Grey Professional Range
La Cornue has a bunch of colors, including pink, blue, green, black, white, and so on.
BlueStar Custom Color Finishes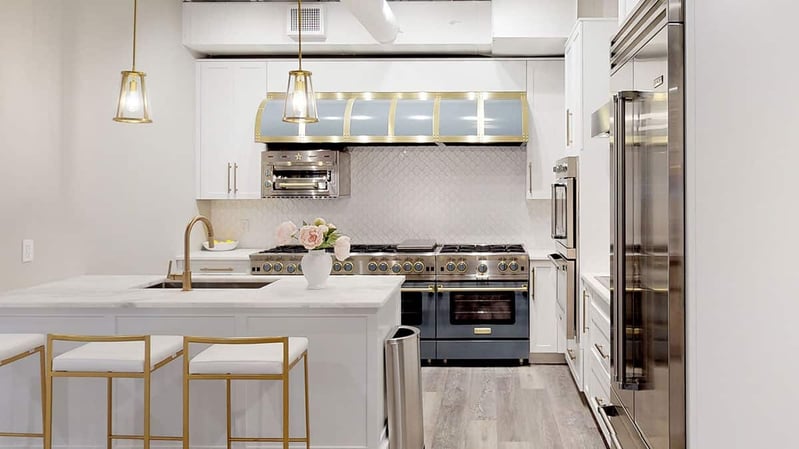 BlueStar Custom Color 60-Inch Professional Range at Yale Appliance in Hanover
BlueStar has 1000 plus different trim and knob packages. You can even send them a color, and they will match it to your range.
Fisher & Paykel Black, White, And Red Finishes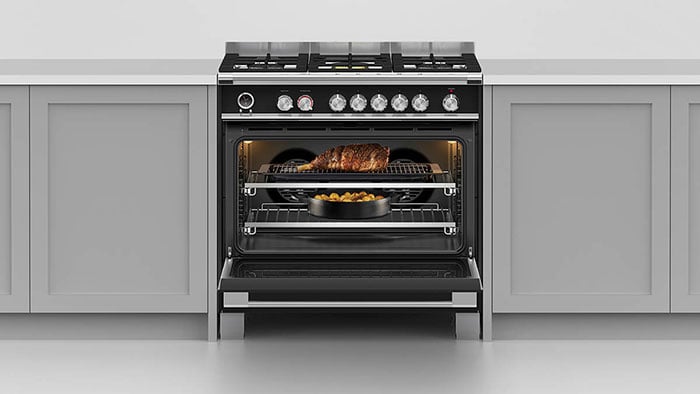 Fisher & Paykel Custom Black Dual Fuel Range
Fisher & Paykel has decent color selections in a lesser expensive range as well.
Read More: Best Color Alternatives To Stainless Steel For Kitchen Appliances
Key Takeaways
Before you buy black stainless steel, stainless steel, or any designer finishes, do some research first.
There are many ways to distinguish your kitchen for appliances. Just be mindful of all the pitfalls.
For pitfalls in black stainless steel, you can scratch it and see that shiny stainless forever with the contrasting black.
You will also be left with a black stainless kitchen with no replacement option in the next 7-10 years.
Buy black stainless steel appliances if nobody uses your kitchen, as a spare in your garage, or if it's discounted beyond a reasonable amount of money.
Additional Resources
Get the Yale Appliance Buying Guide with features, specs, and inside tips to all the brands. Well over 820,000 people have read a Yale Guide.
Related Articles
Why Should You Trust Us?
It seems that every appliance review has nothing but glowing comments about almost every product, yet you read customer reviews and they are almost universally bad.
We are here to fill in the disconnect. We'll give you the best features, and the drawbacks as well, including reliability based on over 37,000 calls performed by our service team just last year. Our goal is to give you ALL the information so you know what's right for you.
Please consider subscribing or adding to the conversation in the comments below. We appreciate you stopping by.
A Note About Pricing
Pricing on this blog is for reference only and may include time sensitive rebates. We make every attempt to provide accurate pricing at time of publishing. Please call the stores for most accurate price.