Should You Buy Black Stainless Steel Appliances? (Reviews / Ratings)
You are probably curious about Black Stainless Steel. Is it finally the alternative to regular stainless steel? There have been a number of different other finishes initially showing promise and then fading.
However, Black Stainless has become a very popular finish in a very short period of time.
When I originally wrote this in 2016, Black Steel was the hot new finish. Our Black Steel Scratch Test video has over 20,000 views on our site and YouTube since October of 2017.
In this article, you will again briefly see some other finishes. Then the pros and cons of Black Stainless Steel will also be evaluated.
In 2018, Bosch introduced their very different Black Steel.
We evaluated Bosch's new black steel separately from the other brands. Our two scratch tests are included.
But first, let's look at stainless steel as a designer finish.
Remember: Black Steel is simply a coating and can scratch leaving the shinier stainless underneath (I will remind you of that a few times) on every major brand except for one.
Stainless Steel in Appliances
When I started in 1986, Silver, Coffee, Copper Tone, Platinum, Harvest Gold, and Harvest Wheat were winding down as options. The new decorator finish was Almond/Bisque. Then it became white on white or a pure white appliance.
Bisque Finish
Stainless steel was introduced in the early 1990's by Frigidaire and Viking. Most cooking design trends in the U.S. start from the restaurant industry. In this case, these companies were smart enough to emulate the same commercial styling.
Stainless steel works because it is durable and matches every cabinet type.
It also looked much better than any other finish at that time. It still does. Stainless is timeless.
I would still recommend stainless even today or placing panels on your appliances. However, there are other options.
Many of these finishes will distinguish your kitchen, but I would not coordinate a whole kitchen in a truly designer finish as you will see later.
Premium Appliance Finishes
La Cornue Pink Range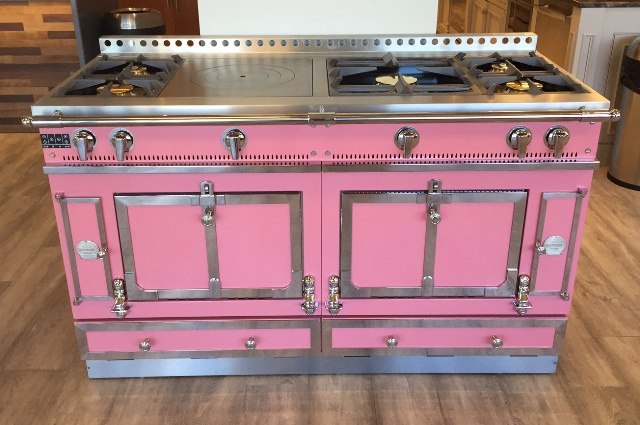 Sorry, I like this range, but you will probably like these better.
Of all the premium colors, La Cornue executes color as a statement the best. They have endless color combinations to consider. However, you will pay a huge premium for a made to order cooking product.
Viking, Fisher & Paykel, and Bertazzoni also offer a number of premium finishes. BlueStar has 750 different colors and will customize a color just for you.
Again, a color option will cost $4,000 more and above. Stainless and Black Steel are much less for the same product.
These finishes are used as statement pieces rather than a whole kitchen. Still, they are unique and striking.
Problems with Premium Appliance Finishes
If your lemon or pink range is discontinued, replacement is not a big deal. Most of the other appliances will either be stainless or covered by a panel.
However, when you buy a package in a premium color, it will be a problem matching a discontinued finish 10 years later.
What will you do to coordinate with the other premium colored appliances?
Examples of discontinued finishes from just 2 years ago.
Whirlpool Ice / GE Artistry
Two of the largest appliance companies, Whirlpool and GE, launched similar alternative finishes over 2 years ago. Basically, it was white and black appliances with stainless handles. Both were not received that well...to be kind.
I wrote that in 2016, only two years ago. In 2018, both of these finishes have been discontinued.
However, they have introduced 6 new finishes between them from "Golden Sunset" (seriously) to "Black Slate".
So what happens when you try to replace that Golden Sunset (still seriously) range and have a Golden Sunset microwave over it and the Golden Sunset dishwasher next to it?
You almost have to replace all three to coordinate your kitchen.
That is the problem with any designer finish in a package.
Black Steel has sold well to a mass audience unlike most other finishes. According to most manufacturers, it is now 30% of total package sales.
However, it is less than 5% of our package sales at Yale.
Who makes black stainless steel appliances?
LG and Samsung were first. Now GE, Frigidaire, KitchenAid, and Whirlpool now manufacture a full line of Black Steel.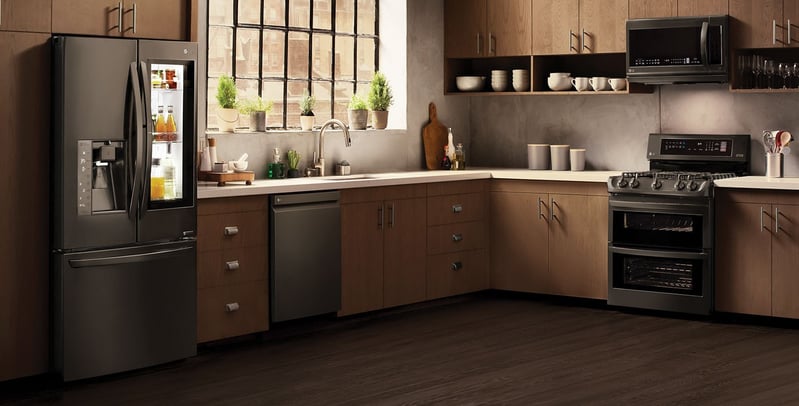 LG Black Stainless Steel
Black stainless has that appealing metallic look, so it matches most cabinet styles. It is also not a stretch from stainless steel.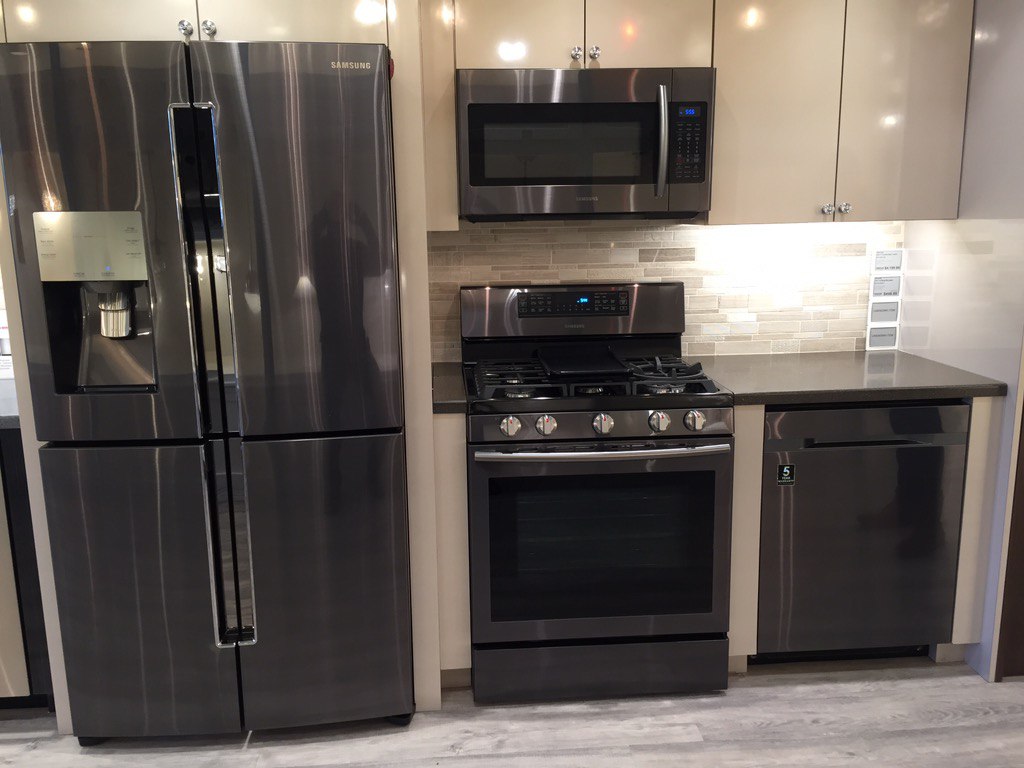 Samsung Black Stainless Steel
If you are sick of stainless, this finish may be a good change of pace. Black Stainless Steel is also smudge and fingerprint proof, unlike most stainless finishes.
What you need to know before buying black stainless steel:
There are two reasons to stop before you rush and buy a black stainless steel kitchen.
First, if it is discontinued (like the above examples), you will have to replace it with classic stainless steel one piece at a time.
At 30% of sales, Black Steel will probably not be discontinued anytime soon. However, it is a concern.
Secondly, black stainless may be metallic looking, but it's not scratch resistant like stainless.
In a way, it actually accentuates the scratches, because it is just an overcoat placed on stainless. Watch the video below to see our scratch test.
Is Black Stainless Steel Scratch Resistant? [Video]
Only Samsung passed the key scratch test.
New Bosch Black Stainless Steel
Samsung may be the best for commodity brands. However, Bosch is the best Black Steel.
Unlike every other brand, the black color is mixed in the steel itself. It is not a coating, but part of the steel. You can watch our Bosch Black Stainless Steel Test by clicking here.
Bosch is by far the most scratch resistant, but they have a different problem. They do not manufacture a range in black steel. You would have to buy a wall oven and cooktop increasing your costs substantially.
Their Black Steel range will be available in 2019 (maybe).
Should You Buy Black Stainless Steel Appliances?
It depends on your mindset. The finish is different and will work in your kitchen.
First, Bosch would be a great consideration for durability if it wasn't for their limited availability of products and an absence of a gas or electric range. (You need those in a kitchen package).
For the other brands like Whirlpool, KitchenAid, Samsung, LG, Frigidaire and Electrolux, Samsung is the most scratch resistant.
However, unlike stainless, they do not wear well when scratched. So, look out if you are a heavy user or have kids.
You should look at it before buying.
In the final analysis, Black Steel is a legitimate option to regular steel. You just have to be more careful to not scratch it.
Additional Resources
Get the Yale Appliance Buyers Guide with features, specs, and inside tips to all the brands. Well over 350,000 people have read a Yale Guide.

Related Articles
Steve Sheinkopf
My goal has always been simple: I want Yale to be the best retail experience anywhere. I have tried to create a compelling environment for customers and employees alike.
A Note About Pricing
Pricing on this blog is for reference only and may include time sensitive rebates. We make every attempt to provide accurate pricing at time of publishing. Please call the stores for most accurate price.