7 Appliances to Consider in Your New Kitchen for 2021
Yesterday, you learned about heavily marketed appliances people do not buy.
Today, it's fitting to write about trending products you might want to consider for your new kitchen.
You will learn about all seven appliances to consider for your new kitchen, the reasons why you might love them, and why they may not be for you.
I don't believe every product is right for every person. You also don't want to buy anything and then never use it.
In the end, you will learn a bit about custom color finishes for your new appliance and a new concept for your laundry and dishwasher.
This article will help you if you're renovating or planning a renovation in the future.
Let's dive in.
Short on time? Get our free Appliance Buying Guide
7 Appliances to Consider in Your New Kitchen for 2021
1. Steam Ovens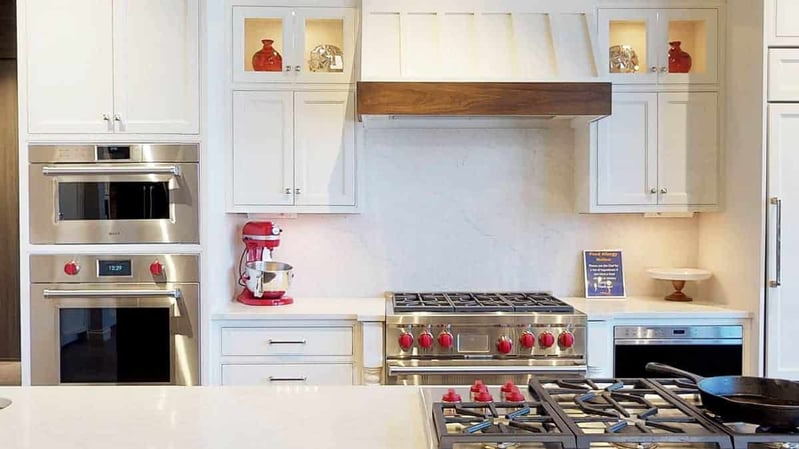 Wolf Steam Oven at Yale Appliance in Framingham
Steam ovens are a better way of cooking. When you bake brownies, for example, you're baking out moisture, flavor, texture, and any nutrients (assuming they are protein brownies).
Steam adds moisture, texture and doesn't bake out nutrients. You'll have a more flavorful and nutritious meal.
Why You Shouldn't Buy a Steam Oven:
Most steam ovens are smaller and cannot be used for your holiday cooking. Reheating crusts in steam like leftover pizza is not advisable because they tend to be soggy.
However, you shouldn't buy steam if you don't have the time to learn how to use it. Like anything new, you need time to learn.
Or you can watch this steam seminar from our chef.
How to Use a Steam Oven [Video]
2. Speed Ovens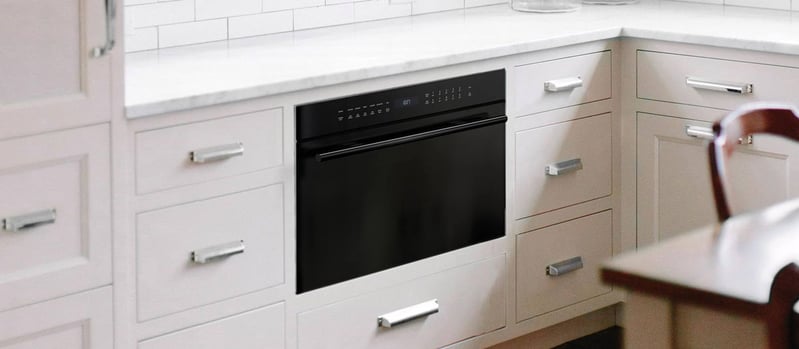 Wolf M-Series Speed Oven
In the late 1980s, Sharp launched their convection microwave. It was revolutionary at the time.
Convection microwaves use microwave and convection at different intervals to cook faster without leaving your food with a microwaved texture.
Baking was 90% convection and 10% microwave. The roast was 70/30.
Preheat times were less. Clean up was easy as well.
Our Sharp representative at the time, Bill Petrino, cooked us a meal, and it did work incredibly well.
Speed ovens work on the same principle and can allow you to cook faster without sacrificing quality.
Read More: Top 6 Best Speed Ovens for 2020
Why You Shouldn't Buy a Speed Oven:
You shouldn't buy a speed oven or convection microwave for many of the same reasons as steam. It is smaller at 1.5 cubic feet, and there is a comfort level using the convection part.
If you don't use the convection mode, then it becomes an expensive microwave - make that a very expensive microwave.
3. Induction Cooktops and Ranges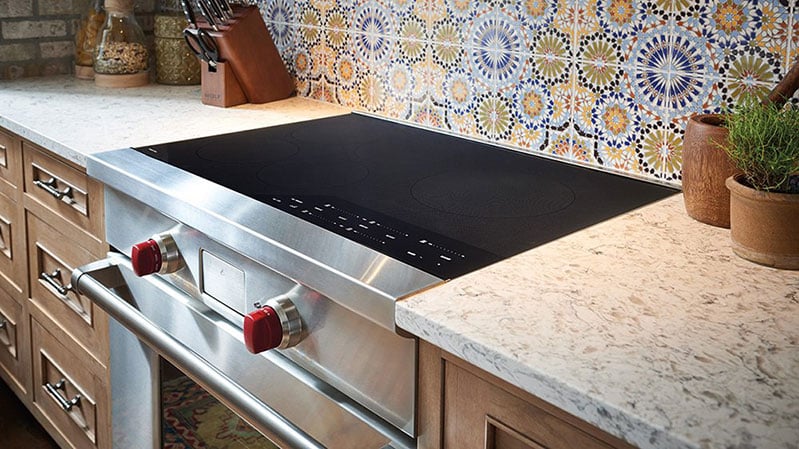 Wolf Induction Range
This year I was invited to join the KEG group or California Electric Group. They aimed to promote electric or, more specifically, induction cooking.
The KEG group was successful.
Gas cooking is being phased out in California. Gas lines are not as earthquake-resistant as electric, plus you have to vent gas for better indoor air quality in your home.
However, induction is a better way of cooking. Its magnetic heat agitates the metal in your pan, so the pan cooks the food.
Electric heat the glass, and then the glass heats the pan.
Induction is faster than even the hottest residential BlueStar 25,000 BTU gas burner with a far better simmer.
Induction Vs. Professional Gas Cooking: What Is Faster? [Video]
It's the most child-safe because the burners need to sense metal to activate. The glass doesn't heat and bakes on the food so induction is also the easiest to clean.
For Massachusetts residents, induction does not emit heat like gas, so you can use a 400 CFM hood comply with Make-Up air laws.
Best Induction Cooktops for 2021 [Video]
Why You Shouldn't Buy An Induction Cooktop Or Range:
Induction doesn't have an integrated griddle or grill option like a pro-gas rangetop. Once again, induction is different, so there is also some adjustment.
4. Galley Workstations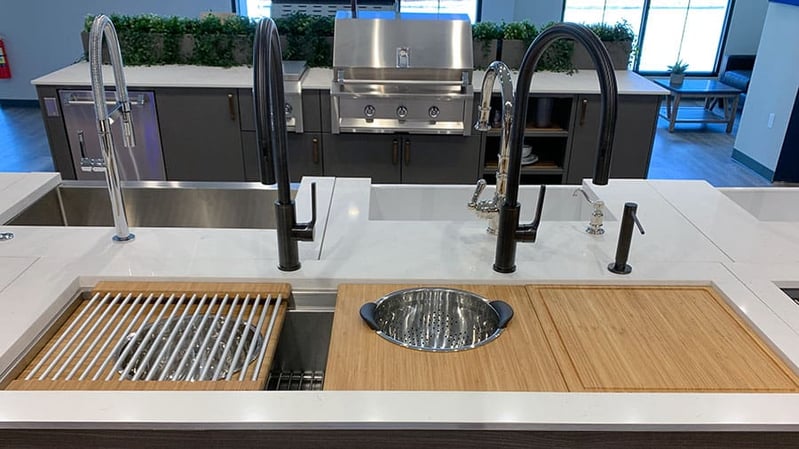 Galley Workstation at Yale Appliance in Hanover
The Galley sink adds another dimension for entertaining, working, and space management. With 500 different pieces to fully customize your workstation and 11 additional accessories, you can complete any task easier using just your sink.
It's great on large islands but allows you to use your sink as a countertop in smaller spaces. It's a brilliantly conceived, American-made product.
Should You Buy the Galley Workstation? [Video]
Why You Shouldn't Buy a Galley Workstation:
The only disadvantage to a Galley is its starting price of $1,000 per foot plus additional accessories.
Read More: Should You Buy A Galley Workstation?
5. Instant Hot Water Faucets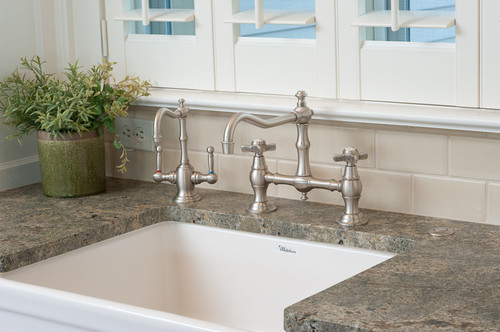 The instant hot water dispenser is an incredible convenience. Want to make tea? Press the button, and it's done.
Its hot water is great for sterilizing baby bottles and any other items. It's so much easier than watching your tea kettle boil for four minutes.
Why You Shouldn't Buy an Instant Hot Water Faucet:
It is a water tank, so there is a cost of running it plus you need a room at your faucet.
6. Water Purifiers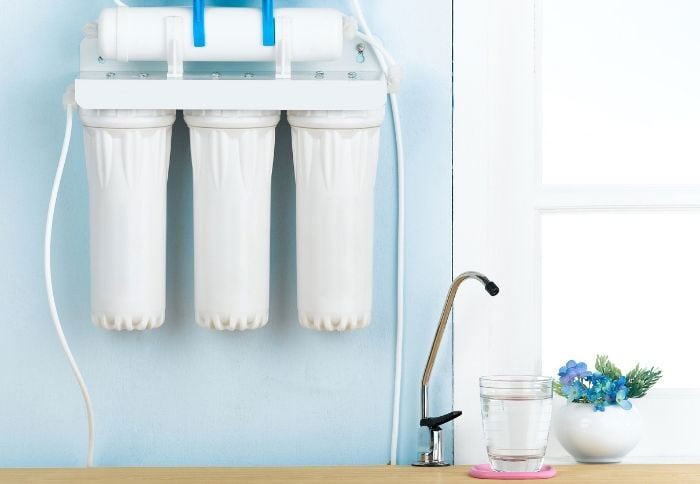 Water Filter Installed in a Kitchen
Years ago, I calculated how much bottled-water costs per gallon.
Today I Googled it. The average cost of a gallon of bottled water is $0.89 to $8.26 a gallon.
A 3000-gallon filter costs roughly $40-$200 plus $150 for a plumber. Plus, a three-stage filter filters using carbon, resin, and ceramic.
Three-thousand gallons of water is a minimum of $2,700 and probably more like the average of $5000-$6,000.
Plus you have to lug the bottles in your home. Then you have to dispose of them. Of course, there is the environmental problem of removing all this plastic.
Why You Shouldn't Buy a Water Filter:
I don't have the answer to this. I think there is no reason financially not to buy one.
7. Built-In Coffee Systems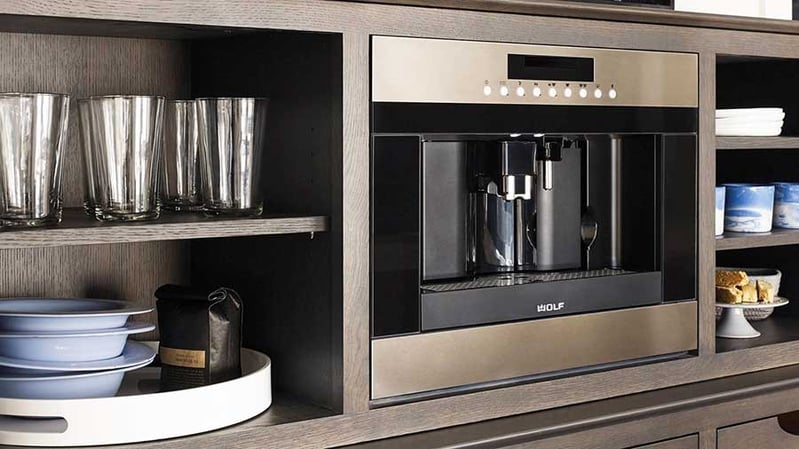 Wolf Built-In Coffee Maker
My sister brews a delicious blueberry latte in her coffee maker. I almost drive 70 minutes to the Cape just to drink it.
Coffee makers allow you to customize your drink with ground coffee or beans. If you love coffee, then you should consider buying your own.
Why You Shouldn't Buy a Coffee Maker:
Before she makes that perfect blueberry coffee, my sister will fastidiously clean it.
There is routine maintenance for every coffee maker. The good ones like Miele will remind you to clean it.
If you are not willing to clean it regularly, then don't buy one.
Read More: Best Built-In Coffee Makers
Bonus: Counter-Depth Refrigerators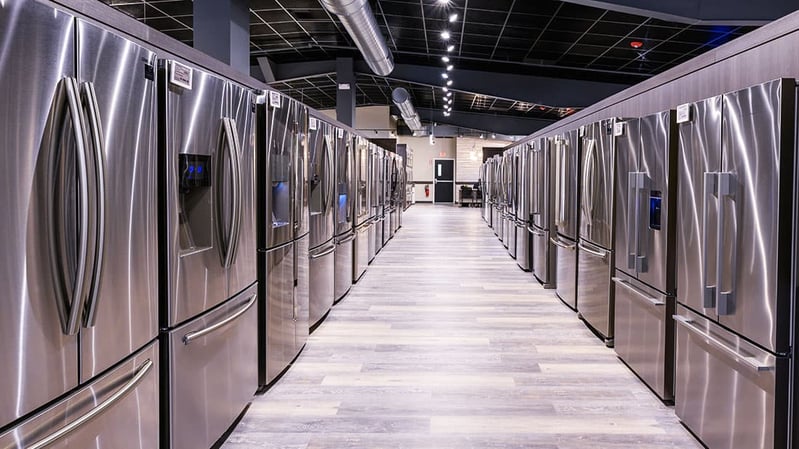 Counter-Depth Refrigerators at Yale Appliance in Hanover
Counter-depth refrigerators are a simple way to improve the look of your kitchen without renovating.
The refrigerator's body doesn't protrude into your kitchen, so you don't see the textured sides.
You will also have more room to move if you plan an island in the middle of your kitchen.
Why You Shouldn't Buy a Counter Depth Refrigerator:
You pay more for less cubic footage. If your refrigerator is at the end of the row, the sides are not as noticeable.
You can also build the cabinet forward, so you do not see the sides.
Read More: Best Counter-Depth Refrigerators
Stainless Steel Alternatives for 2021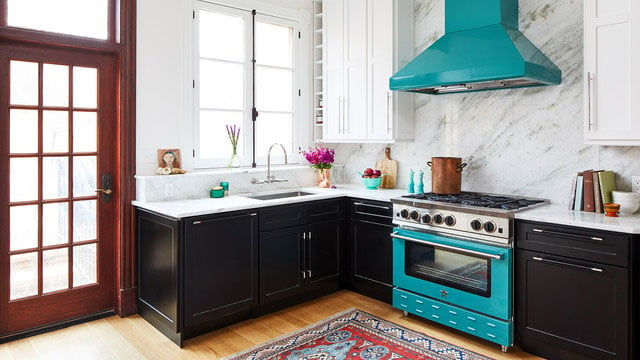 Custom Blue BlueStar Professional Range
If you are tired of stainless or want a different look, you have a couple of options.
First, you can panel a dishwasher and many refrigerators.
Then you can add a pop of color to your stove or refrigerator.
The problem with matching colors on all appliances is two-fold.
First, it can look dated over time. We used to show an all blue Viking kitchen and another in brass and burgundy. It had to be changed out every three years.
Secondly, many manufacturers will discontinue a color, so replacing it in 6-10 years can be a hassle.
The best thing you can do is match your appliances with custom cabinet panels and place a pop of color for a more unique look.
Why You Should Still Buy Stainless Steel:
It's less expensive, matches every cabinet, and will never go out of style. At least it hasn't since its inception in 1990.
Read More: Best Color Alternatives To Stainless Steel For Kitchen Appliances
New Appliance Features to Consider for 2021
Washer Automatic Detergent Dispensers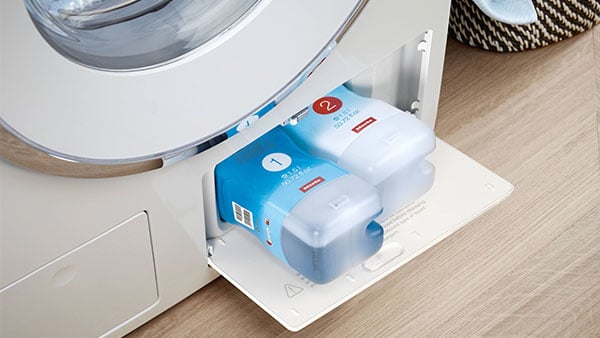 Miele Compact Laundry With TwinDos
I am usually non-committal about new features.
For example, your new washer has five speeds, 11 cycles, and ten options on average.
Your family's washer had three cycles, and the clothes were still clean. Thus, many feature improvements are not essential.
Wi-Fi or controlling your appliance from an app on your phone is the next big future feature, but it still hasn't realized its potential for various issues.
Auto dispensers or a machine automatically dispensing detergent at the right time is worth considering, especially in the laundry.
It's more convenient holding up to 40 loads. However, saving you from expensive service calls is a big feature.
Most people will place too much detergent in their washing machines. That excess foam will slowly eat away at the motor, causing a costly repair.
Dishwasher Automatic Dispensers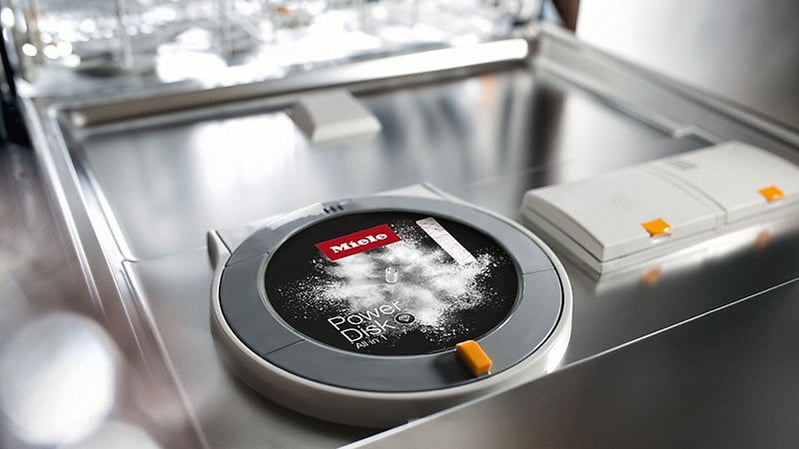 Miele Dishwasher Featuring AutoDos With PowerDisk, Their Automatic Dispensing System
Presently, only Miele has an auto dispenser in their dishwasher. You load your dispenser, placing one of the all-in-one tablets in assuming it will work.
However, clients with a Miele dishwasher with an automatic dispenser reported cleaner dishes and glass than in any previous dishwasher.
Key Takeaways
First, you will love any of these appliances in your kitchen - if you'll use them.
Other than the water filter and maybe a counter depth refrigerator, you do have to rethink your kitchen and the way you cook.
Otherwise, you will have expensive cabinet ornaments.
Now you should read 10 Kitchen Appliances People Don't Buy and 10 Kitchen Appliance Remodeling Mistakes You Should Never Make.
Additional Resources
With in-depth profiles of brands, answers to the ten most asked appliance questions, and a section on how to buy appliances at the right price, the Yale Appliance Buying Guide will help you in every stage the buying process.
Related Articles:
Why Should You Trust Us?
It seems that every appliance review has nothing but glowing comments about almost every product, yet you read customer reviews and they are almost universally bad.
We are here to fill in the disconnect. We'll give you the best features, and the drawbacks as well, including reliability based on over 37,000 calls performed by our service team just last year. Our goal is to give you ALL the information so you know what's right for you.
Please consider subscribing or adding to the conversation in the comments below. We appreciate you stopping by.
Steve Sheinkopf
My goal has always been simple: I want Yale to be the best retail experience anywhere. I have tried to create a compelling environment for customers and employees alike.
A Note About Pricing
Pricing on this blog is for reference only and may include time sensitive rebates. We make every attempt to provide accurate pricing at time of publishing. Please call the stores for most accurate price.