12 Unique Kitchen Appliances to Consider
You've planned your kitchen. You have the dishwasher, refrigerator, and range, or maybe a wall oven and cooktop, all picked out.
Perhaps you have a microwave drawer or secondary oven.
You have the basics covered.
However, there are many other items to consider. They aren't as essential but will go a long way to enjoying your kitchen more.
In this article, you'll see 12 of the most unique appliance products to consider. One is not an appliance, but it's crucial to include nonetheless. We'll also include some easy lighting design tips at the end.
This topic is certainly a departure from our usual topics. Most of our articles are telling you which appliances to avoid.
Let's get started.
Kitchens 1999 to Present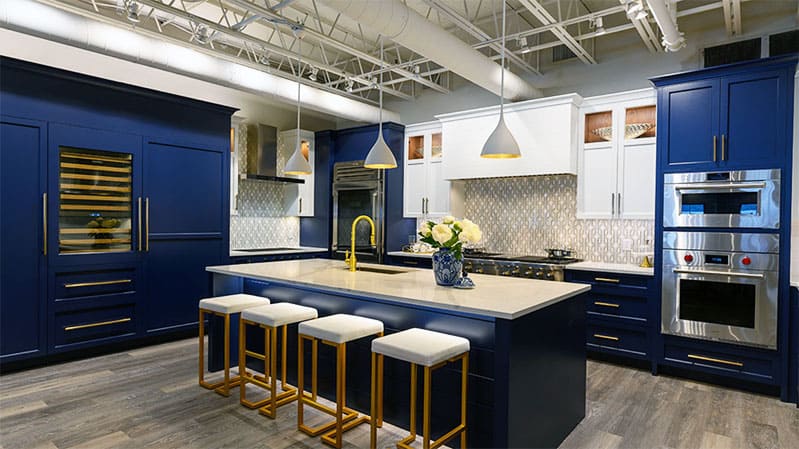 Sub-Zero and Wolf Kitchen at Yale Appliance in Hanover
In the past, kitchens were a place to cook while your formal dining was separate. Now kitchen and formal dining areas have merged to include kitchen islands and peninsulas.
Kitchens are now larger with the ability to hold more appliances.
With that in mind, below are 11 unique appliance products to consider.
12 Unique Kitchen Appliance Products to Consider
1. Water Filtration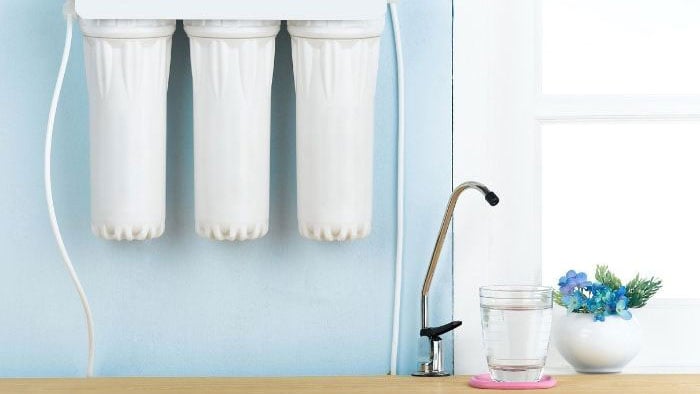 Water Filtration and Filtered Water System
Having a water filter makes so much sense on every level. For this list, it's the only must-have product for your kitchen.
You are buying a 3000-gallon water filter for $499. The replacement cartridges are $129. Think about that just from the savings.
Three thousand gallons of bottled water is at least $800. You are buying 16.9-ounce water bottles for $1-$1.29. Do the math on that.
Then you have to deal with the plastic bottles. You have to buy them, and bring them into your refrigerator and dispose of them.
I lived on a fifth-floor walk-up and got that message quickly. I hated carrying up those bottles.
Plus it's good for the environment. So, buy a water filter. A water filter is good for you on every level.
In the webinar version of this article, you will learn about other energy-efficient home appliances in addition to a deeper dive into the other appliances here.
Click here to sign up for our upcoming webinar.
2. Instant Hot Water Dispensers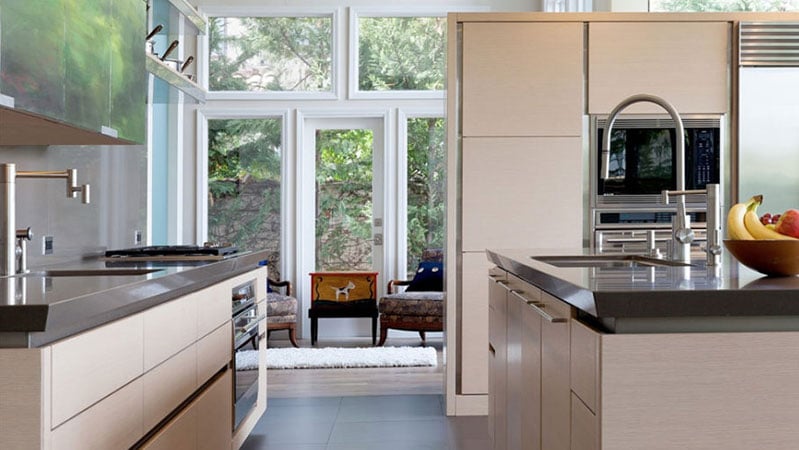 Waterstone Faucets with Instant Hot Faucet (Right)
Man, I miss the Instant Hot. Yes, it takes over three minutes to boil water, but three seconds to press a button to have a steaming cup of boiling water from an instant hot water dispenser.
I had an instant hot water dispenser and swapped it for the water filter. It was a fair swap, and the filter was by far more important.
I could have had hot, but I ordered the wrong sink. This brings us to the next item on this list.
3. Sinks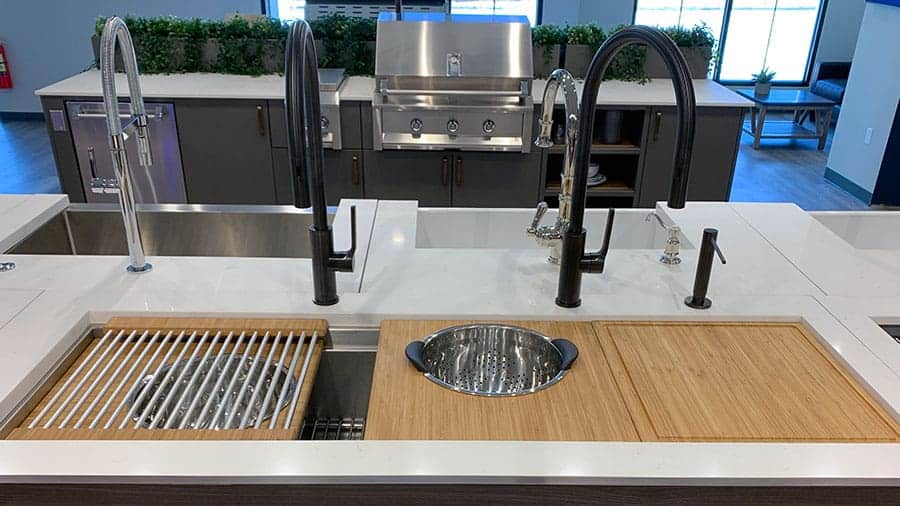 Galley Workstation at Yale Appliance in Hanover
The hardest working product in your kitchen is your sink. Think about it. You scrape the plates, wash your fruits and veggies, and dispose of your leftovers.
These days, sinks can be extreme, like the Galley Workstation (shown above), where you can set up entertainment platters in your sink.
But, you need to buy one large enough to handle dishes and have enough room to fit your faucet and other accessories.
Look at base cabinets to fit sinks over 30 inches wide instead of the standard 24 inches.
Also, sinks are a great place to start your kitchen design. They also work extremely well on your kitchen island.
Sinks are a great place to start your kitchen design. They also work extremely well on your kitchen island.
Pro Tip: If you're buying a sink, you're probably considering a disposer. Disposers are important. Buy them in at least one horsepower. It shouldn't cost much more than a 3/4 horsepower.
4. Miele Built-In Coffee Maker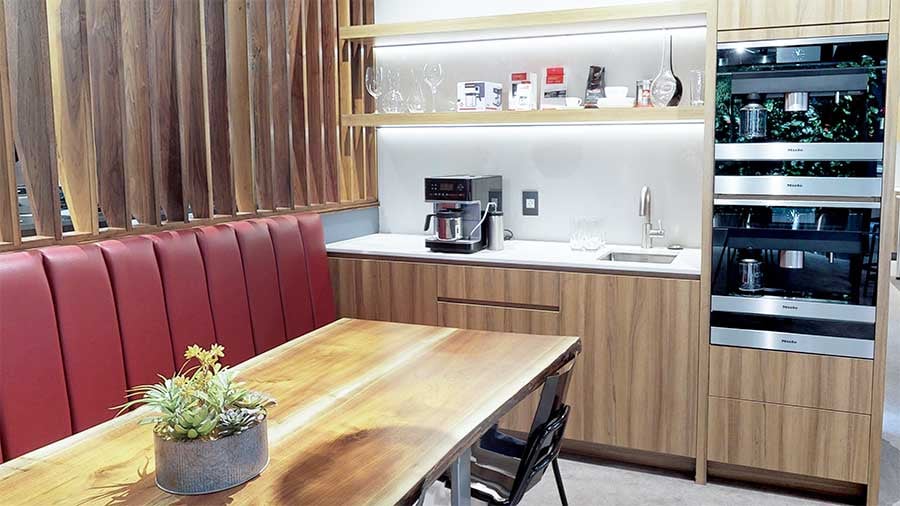 Miele Coffee Maker at Yale Appliance in Framingham
My sister brews an unbelievable blueberry latte. It's incredible. Coffee makers abound, but Miele's built-in coffee maker makes it so simple to brew any coffee. Just hit a button for any coffee or create your own.
Pro Tip: If you buy a built-in coffee maker, you have to clean them semi-regularly. Miele's coffee maker will also notify you when you clean it.
5. Wine Storage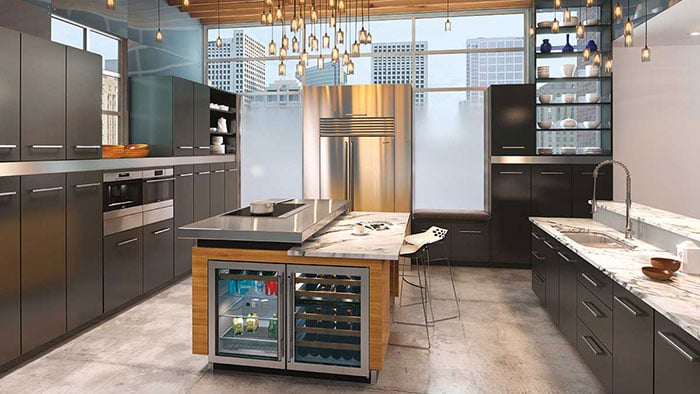 Sub-Zero Wine Storage and Beverage Center
If you bring some good wine, consider a wine storage system either under the counter or as a column of more bottles.
Wine is, in essence, a living grape, so you want a wine system to address these challenges.
Light, humidity, vibration, and temperature can change the intended taste.
Sub-Zero and True are the best in our portfolio.
There are tons of others. Just make sure they address the above concerns (even if they come from France).
6. Refrigerator Drawers
Sub-Zero Refrigerator Drawers
I love these. It's a good addition, albeit a bit more expensive than a regular refrigerator. You can place anything in a drawer. We use it for fruit and bottles (yeah doesn't make sense).
If you are lucky enough to have teenagers at home, you can give them space in the drawers, so they stay out of the main refrigerator.
7. Microwave Drawers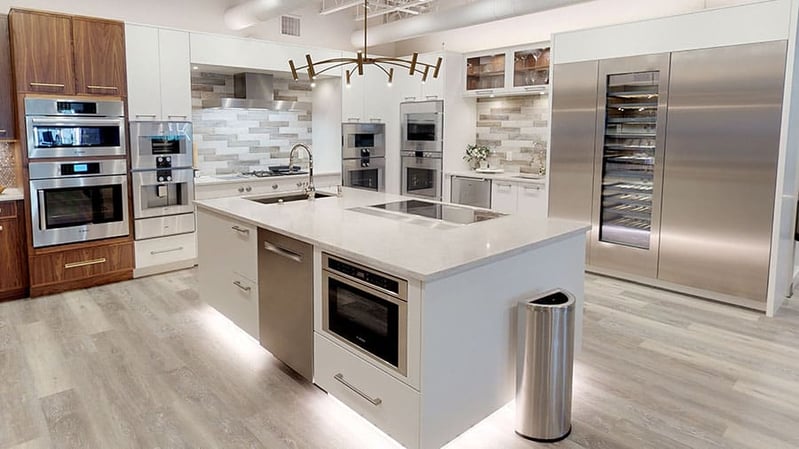 Bosch Microwave Drawer at Yale Appliance in Hanover
Microwave drawers look so much better than a microwave and stainless steel trim kit. They are all made by Sharp.
However, if you are purchasing a whole kitchen, you can buy one nearly free with other qualifying purchases.
Read More: Best Microwave Drawers
8. Warming Drawers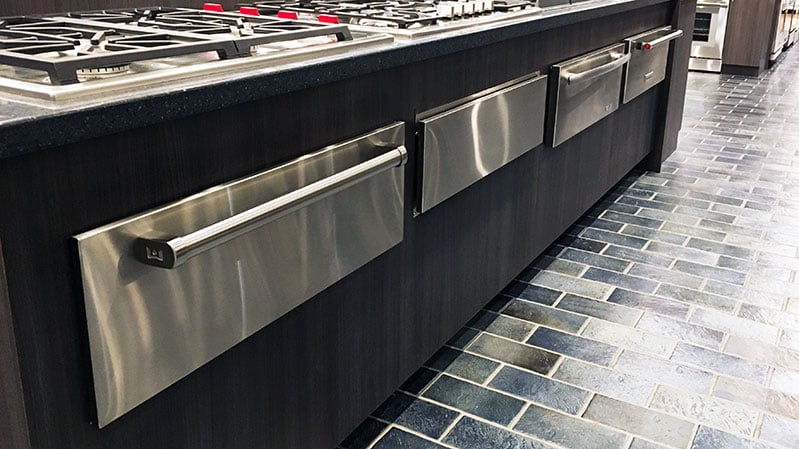 Warming Drawers at Yale Appliance in Boston
I always thought a warming drawer costs too much, especially when they are come free with the purchase of other appliances depending on the brand's rebates and promotions.
It's actually on my list of appliances people don't buy.
A warming drawer costs more than a freestanding range with a warming drawer. I thought, how could that be?
I understand it now. I work late and always come home to almost warm dinner remnants. If only we had a warming drawer, then my food could be warmed properly for up to three hours.
A warming drawer is a good place to warm the plates as well. You should consider one if members of your family often eat later.
9. Speed Oven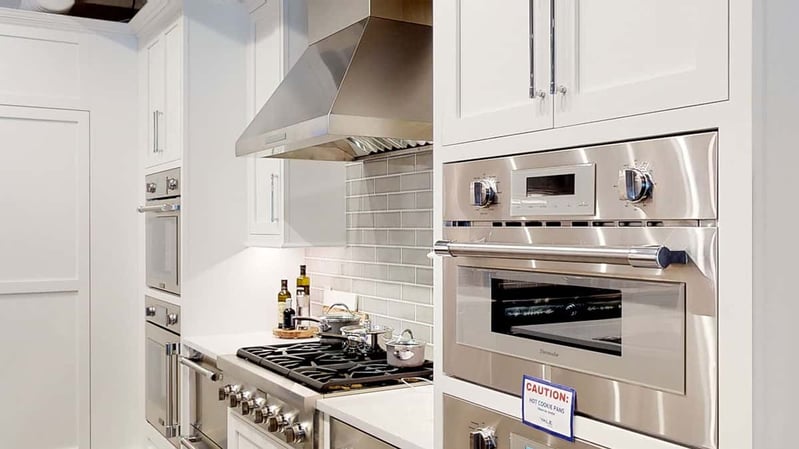 Thermador Speed Oven at Yale Appliance in Hanover
Speed ovens allow you to cook as a microwave, convection, or combination of the two. You will like it better than your regular oven with less preheat time if you cook smaller items.
Our chef has some great tips for using speed ovens.
10. Air Switch for Your Garbage Disposal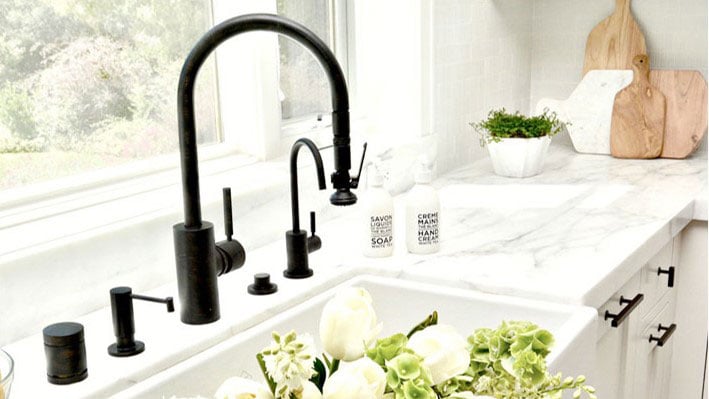 Waterstone Faucet System with Air Switch Button for Disposal
Sometimes the best solutions are simple. You can activate the disposer by placing the button on the top near your sink.
Hit the button to activate the disposer. So simple, yet elegant.
11. Burners on Your Grill
Hestan BBQ Grill and Side Burner at Yale Appliance in Hanover
If you like to grill and cook, buy a grill with side burners and do both simultaneously. Or you can do what I do - go back and forth.
You would think I read my own article or listen to my own webinar.
Rule of Thumb: The farther away your grill is from your kitchen, the more you may need additional burners, outdoor refrigeration, and storage.
12. Compact Laundry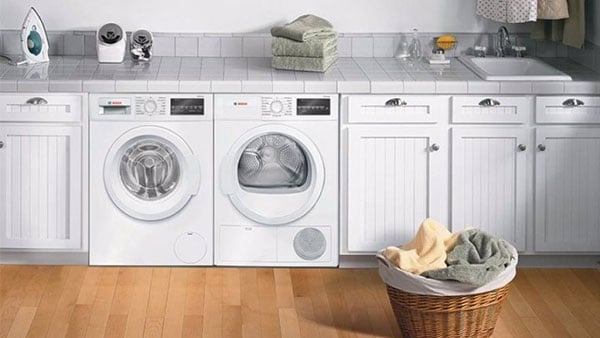 Bosch Compact Laundry Set Installed Under Counter
This may be a stretch, but know your options for your laundry. Gone are the days where you have to walk up and down for your laundry.
Compact laundry fits the standard 24-inch cabinet like a dishwasher. You could place it in your kitchen or that butler's pantry.
Most compact laundry is ventless, so you don' have to vent outside.
Almost any closet can support compact laundry. Think about moving your laundry to a more convenient place.
Pro Tip: Consider buying compact laundry with Wi-Fi connectivity. You will have access to notifications and alerts to see the time remaining. This way, you won't have to wait in front of the machine with three minutes 22 seconds left.
You should also consider buying a compact washer with an auto detergent dispenser. It releases the right amount of detergent at the right time and holds up to 40 loads.
Lighting and Lighting Design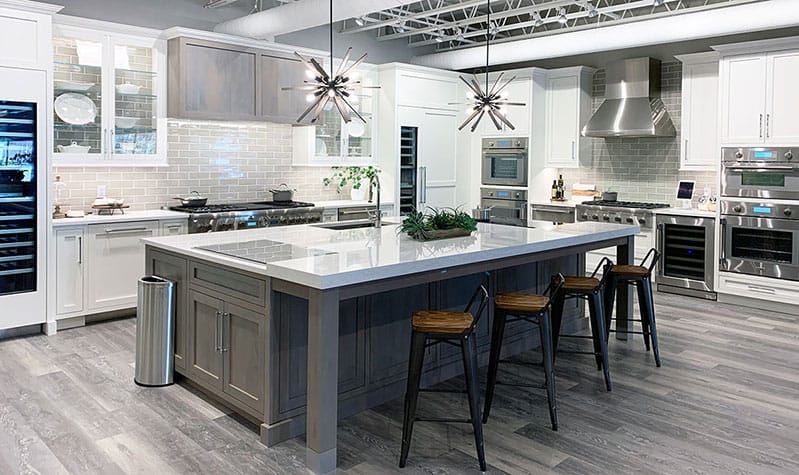 Thermador Kitchen at Yale Appliance in Hanover
I know we don't sell lighting anymore, but good lighting makes your environment, in this case, your kitchen.
Everyone always asks the same question: How many pendants do you hang over an island?
That's the wrong question to start with.
You light your kitchen with:
Task lighting: Recessed and undercabinet
Accent: Accenting your glass cabinets or other points of interests
Ambient: Indirect lighting for ceiling
Decorative: Chandeliers, pendants to add personality, but start with recessed
Start at the sink and set lighting up every three to four feet.
Do not put lighting behind you as it creates shadows.
Because you may still want an answer to the pendant question, it depends on the height of the ceiling and the size of the light.
Pendants are all for the visual. The task lighting does the actual illumination.
All lighting is not the same.
You should also be concerned with the quality of your lighting.
Buy 2,500-3,000 Kelvin degrees for your kitchen and 5,000 degrees Kelvin for your closets.
The lower Kelvin will accentuate the colors in your kitchen, while the higher will allow you to distinguish between navy and black in the morning.
Good lighting will add value to your home, so consider adding a little more to your budget.
Key Takeaways
Put the filter on your list. It's a must-have because it will save a lot of money plus the other associated benefits.
The rest is fun, secondary items for a more enjoyable kitchen if you have a need or will use them.
I want to shout to my PowerPoint guy and Head Trainer at Yale, Manny Goncalves. He inspired this post by calling previous articles and webinars "Interesting, entertaining, but depressing."
Sorry, Manny, appliance buying can be like that. Sometimes by knowing a framework of what to avoid, you can achieve the desired outcome. I hope you liked this article.
For a reality check, here are few sobering yet realistic appliance articles:
Upcoming Webinar: Best New Brands & Appliances to Consider
You'll have to wait 8-15 months for many of the premium appliance brands, so this webinar will focus on the best new brands and best new products if you can't wait.
It's hard to believe there are 5 more appliance trends to avoid. So you will learn those and some basic kitchen design as well.
You can sign up for free and you'll receive the recording even if you can't attend. You can ask any appliance or design-related questions at the end of the webinar, or submit them when you sign up.
Additional Resources
With in-depth profiles of brands, answers to the ten most asked appliance questions, and a section on how to buy appliances at the right price, the Yale Appliance Buying Guide will help you in every stage of the buying process.
Related Articles:
Why Should You Trust Us?
It seems that every appliance review has nothing but glowing comments about almost every product, yet you read customer reviews and they are almost universally bad.
We are here to fill in the disconnect. We'll give you the best features, and the drawbacks as well, including reliability based on over 37,000 calls performed by our service team just last year. Our goal is to give you ALL the information so you know what's right for you.
Please consider subscribing or adding to the conversation in the comments below. We appreciate you stopping by.
A Note About Pricing
Pricing on this blog is for reference only and may include time sensitive rebates. We make every attempt to provide accurate pricing at time of publishing. Please call the stores for most accurate price.