Best Affordable Luxury Appliance Brands for 2021 (Reviews / Ratings)
You don't have to spend a fortune to buy a beautiful set of affordable luxury kitchen appliances.
These days, the problem is finding one appliance with COVID-19, seemingly stopping the supply chain for almost a year.
Outfitting your entire kitchen will be incredibly difficult.
In this article, you will learn what to consider for affordable luxury appliances, the best affordable luxury brands, and their best appliance features, along with reliability statistics based on real service calls.
I know it's hard to find any appliance right now, whether it's basic, affordable luxury, or luxury.
This year, I added three more brands and included the availability to rank them.
Hopefully, you will be able to find a couple of choices in your area.
There will also be plenty of video reviews to help you this year if you don't want to visit a showroom.
You can also schedule an online appointment by clicking here.
What are Affordable Luxury Appliances?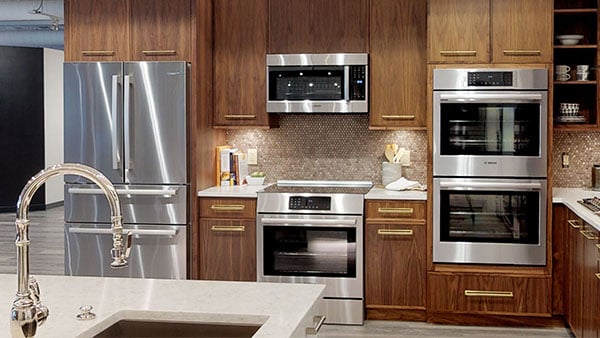 Bosch Kitchen at Yale Appliance in Hanover
Affordable luxury appliances are a step up from regular appliances.
Instead of a freestanding refrigerator and range, you're buying a counter depth refrigerator and slide-in range along with a quieter dishwasher with more features like convection in the range than a more basic set.
Short on time? Get our free Appliance Buying Guide
Affordable Luxury Vs. Luxury Appliances
Affordable luxury is far less expensive than luxury appliances.
Let's look at the refrigerator and stove segments.
Affordable Luxury Vs. Luxury: Range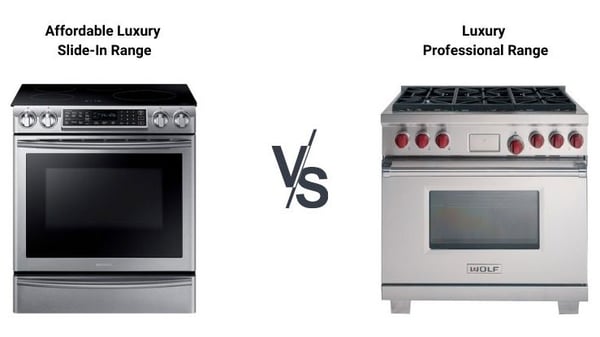 With luxury appliances, you have a professional range with higher BTU, better broilers, grill, or griddle options, often a larger 36,48, and 60-inch size versus the standard 30-inch size most common in affordable luxury.
Affordable Luxury Vs. Luxury: Refrigerator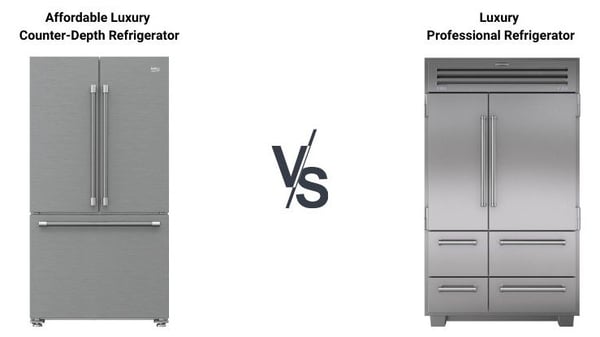 You also have a professional or integrated refrigerator for luxury appliances. An integrated refrigerator blends better into the cabinets seamlessly, while a professional refrigerator is more of a statement piece in stainless.
Affordable Luxury Vs. Luxury: Ventilation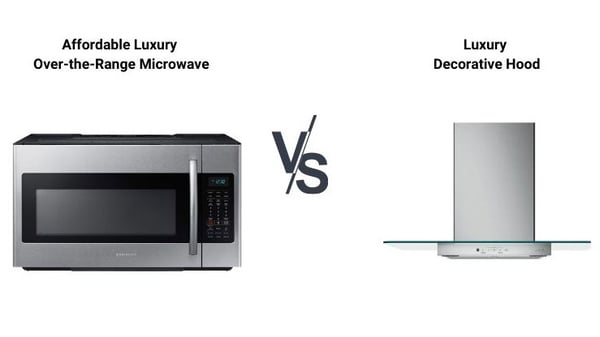 Lastly, your other main difference is ventilation. With luxury, you have a higher CFM hood instead of an over-the-range microwave.
Wall ovens and cooktops can be either classification, but the better brands are considered, the more expensive luxury types.
You can blend luxury items in affordable luxury kitchens, especially by incorporating a standard 30-inch pro range or panel-ready dishwasher.
Overall, your main differences between affordable luxury and luxury are the brands, oven, refrigerator, and ventilation.
Read More: Best Luxury Appliance Brands
Appliance Package Rebates
Before we get started, you should know that staying with one manufacturer coordinates the look throughout your kitchen and helps you maximize your rebates of 10-35%, depending on the promotion.
Now let's talk about the best Affordable Luxury Appliance brands.
Best Affordable Luxury Appliance Brands for 2021
1. JennAir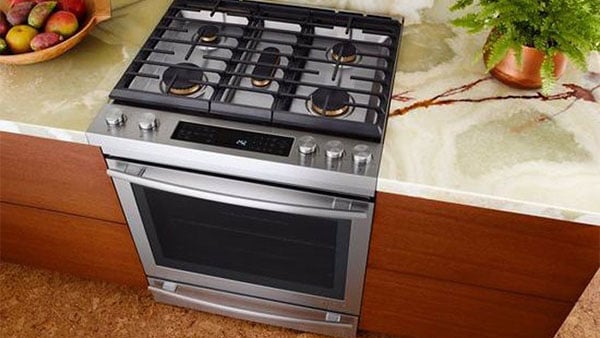 JennAir Slide-In Gas Range
JennAir is the highest-end brand in the Whirlpool family.
In many ways, they are trying to be a premium brand, yet they have the most popular affordable luxury package sold in the US.
Their slide-in package, around $6,000, includes a slide-in range with convection and warming drawer. You also have a convection microwave, so you have two ovens and a warming drawer for cooking.
Also included are an integrated dishwasher and counter-depth French door refrigerator.
In 2020, they added a new high fashion refrigerator to match their luxury pro.
PROS: This package, new refrigerator.
CONS: Pretty much everything else, product selection, Wi-Fi.
2. Café Appliances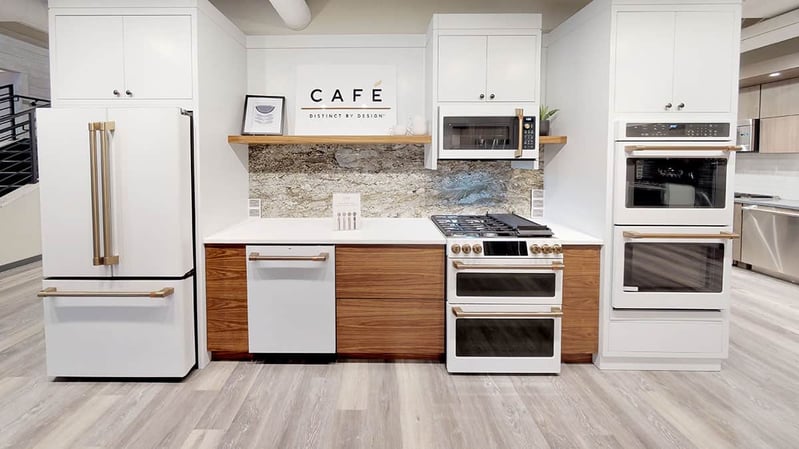 Café Appliances Kitchen Appliance Package at Yale Appliance in Hanover
Café Appliances is the best affordable luxury line of GE, now a division of the Chinese giant Haier.
Other than Fisher & Paykel, they have an appealing choice of non-stainless steel appliances in a few finishes.
They may have also figured out a true alternative to stainless - their high fashion white.
Their new modern line dubbed "The Modernist" has understated controls, graphics, and mirrored finishes.
Café Appliances has exceptional gas and induction double oven ranges, including a 6-burner 30-inch range.
Their refrigeration includes Keurig coffee as an option. Their whole line has Wi-Fi connectivity as well.
▶️ Click here to learn about the Café Appliances Double Oven Range.
PROS: Customization that won't make you crazy, great ranges and refrigerators, good color choices, Wi-Fi.
CONS: Dishwashers are just OK.
3. Beko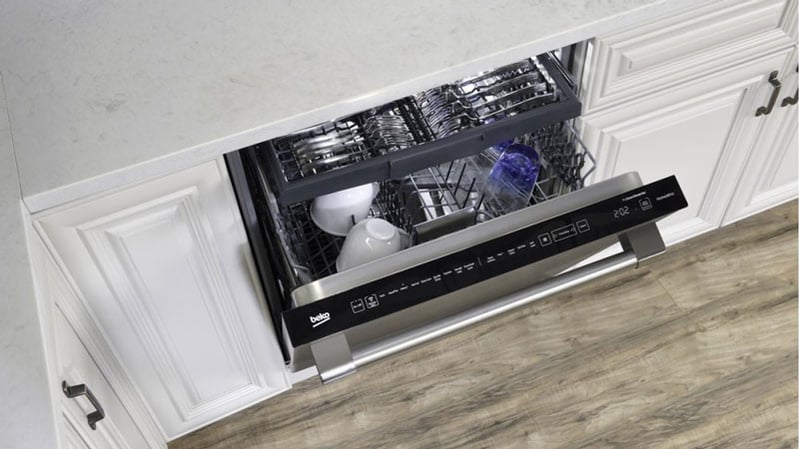 Beko Top Control Dishwasher

You will like this line and not just because it has good availability.

It has a front control range, French door refrigerator, 39 dB dishwasher, and microwave for under $4,000. It also looks good with excellent first-year reliability.

Beko is widely sold in Europe and 140 countries. It's new in the US but has sold under the Blomberg name. They also manufacture products for BlueStar and Viking.

They rank highly on availability, innovation, and reliability.

The refrigerator has Blue Lighting to promote photosynthesis and an ethylene filter to keep food fresher longer.

We tested Beko against other brands for one month with fruit and vegetables with Project Produce. They kept food fresher than every refrigerator except Sub-Zero.

The dishwasher has Wi-Fi, 39 dB, and an intense spray to clean baked-on casserole dishes.

Ranges have a ton of automatic programs and an 18,000 BTU burner.

PROS: Great refrigerators, dishwashers, and packages. Best availability of products on this list.

CONS: Name recognition and limited product line.

▶️ Click here to learn about the Beko BFFD3624SS French-Door Counter-Depth Refrigerator. <strong><br></strong>

4. KitchenAid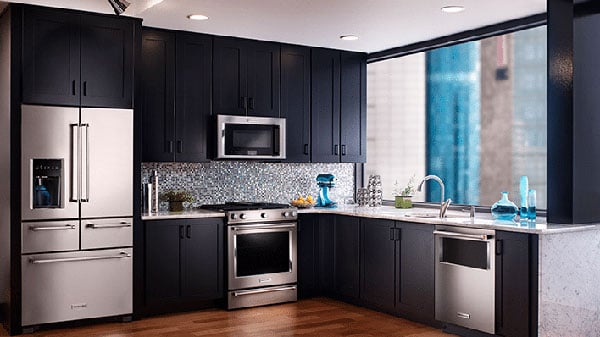 KitchenAid Kitchen Appliance Package
KitchenAid upgraded their dishwasher. It could be the best on this list, along with Beko. It now has four wash action levels and is 1.5% more reliable than archrival Bosch for the first time in 5 years.
KitchenAid's ovens are the largest in the industry and feature a baking drawer below.
They have a few good packages worth considering in the $4000-6000 range.
Their refrigerators are solid but unspectacular.
PROS: Incredibly good dishwashers, solid ranges.
CONS: Solid, but not innovative, no Wi-Fi or advanced features of any kind.
▶️ Click here to learn about the KitchenAid 600-Series KDTM604KPS Dishwasher.
▶️ Click here to learn about the KitchenAid KSGG700ESS Gas Range.
▶️ Click here to learn about the KitchenAid KRFC300ESS Refrigerator.
5. Bosch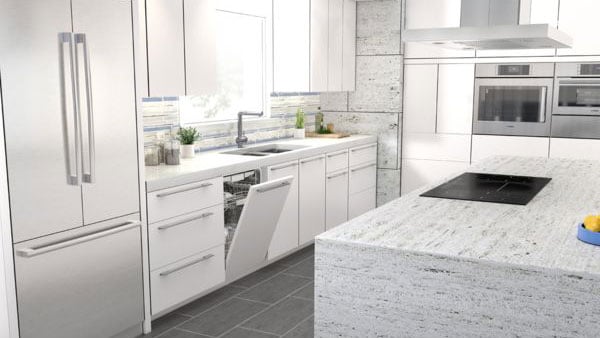 Bosch Kitchen with Panel-Ready Dishwasher

Bosch has always been considered one of the best affordable luxury brands. They are part of the BSH Corporation along with Thermador and Gaggenau.

Their CrystalDry dishwasher uses volcanic elements to absorb moisture and emit heat. It can even dry plastics.

Their refrigerator is popular with two compressors. They placed stainless on the back because it absorbs cold better.

Their HomeConnect Wi-Fi system could be the easiest to use and best in the industry.

The problem with Bosch is their cooking. It needs to be updated. Their availability has been poor even on dishwashers, especially under $1,000.

PROS: Great dishwasher with a fantastic new refrigerator

CONS: Not a ton of cooking options. They lack the product selection of other brands.

▶️ Click here to learn about the Bosch 800-Series Dishwasher with CrystalDry. <strong><br></strong>

6. Samsung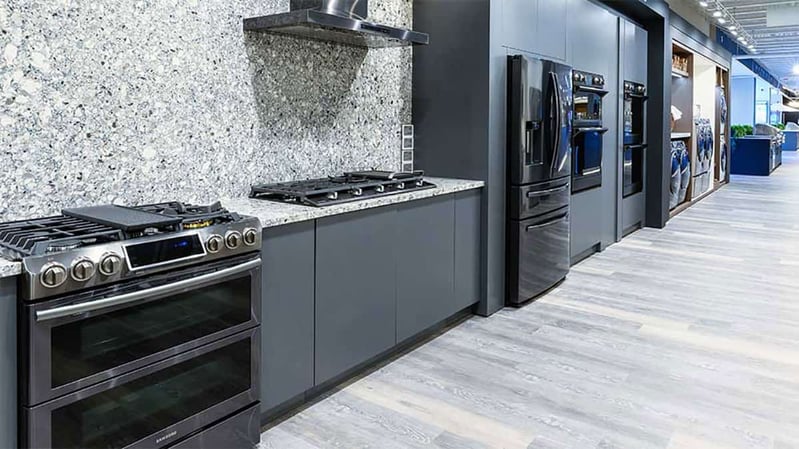 Samsung Kitchen With Double Oven Range at Yale Appliance in Hanover
Samsung's biggest problem is and will be their availability.
Their second biggest issue is service availability, as so many people have commented on this site.
Their products are excellent. Their refrigeration is well-conceived with tons of models from French-doors to double-drawers and 4-door refrigerators.
Their cooking is surprisingly good, well-styled, and priced in electric, gas, and induction. It may be the best value on the list.
Their induction has Blue Lights when it's on.
Buying it, however, will be hard in 2021.
PROS: Samsung makes some of the most advanced freestanding refrigeration, cooking in gas, and induction. You can buy packages at any price range from $2,999 to $10,000.
CONS: The downside to being number one is their customer service.
Samsung's customer service could be better, as well as their parts and service availability, nationally. (We service what we sell, so it's not a huge issue for us).
If you have a problem with a Samsung appliance, it will likely be an issue (depending on where you live).
They can over innovate as well. I love the Family Hub refrigerator with an internet-ready screen, but you have the same technology in your pocket with your cell phone.
COVID-19 hit their supply chain pretty hard.
Right now, we can't ship a Samsung 4-piece kitchen package without two of those products missing.
7. Fisher & Paykel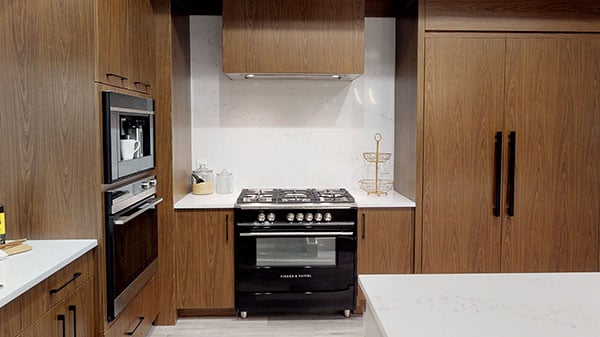 Fisher & Paykel Pro-Style Range and Integrated Refrigerator at Yale Appliance in Hanover
Fisher & Paykel has an interesting portfolio of different appliances like counter depth refrigerators of different sizes, custom finishes, and dishwasher drawers.
They have an interesting new product, including pro-style ranges in custom colors.
It's the best of what I call the "non-pro, pro-looking ranges."
In other words, it looks like a pro range without the high output and price tag.
Their panel-ready integrated refrigerators are $5,000-8,000 less than a Sub-Zero. They're also the only company with a double-drawer dishwasher.
PROS: Fisher & Paykel's strengths lie in ranges, the dishwasher drawer, and a few refrigerators. They are pretty reliable as well, especially in refrigeration.
CONS: Fisher & Paykel has a limited product portfolio and is the most expensive brand on this list. They also have no Wi-Fi connectivity or app controls.
Their availability has been poor, so please leave yourself ample time before ordering and expect delays.
8. Signature Kitchen Suite (SKS)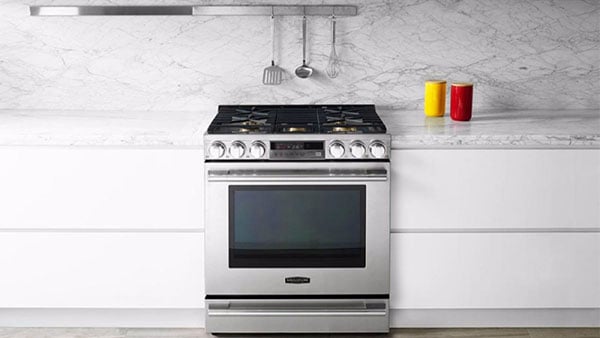 SKS Slide-In Gas Range
This package is excellent. SKS is the high end of LG. The finish is unique. It's titanium, not stainless.
However, it won't scratch like Black Steel (Please don't buy black stainless steel appliances).
SKS's kitchen appliance package includes a French door counter-depth refrigerator, front control range, convection over-the-range microwave, and 39 dB dishwasher.
All of which is Wi-Fi enabled and can be operated remotely through an app on your phone.
The best part is it's available and $6,499 for the suite.
PROS: This package and its style.
CONS: It's only this package. The stove and refrigerator are priced competitively while the dishwasher and over the range microwave are not.
9. GE Profile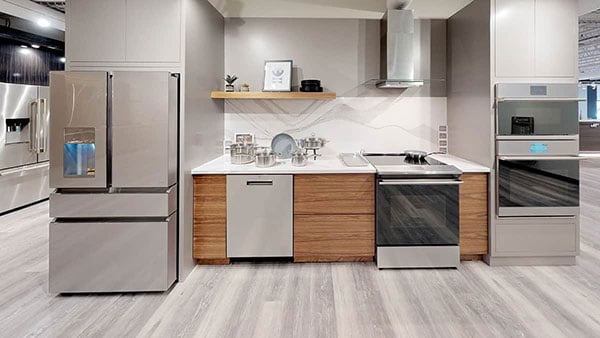 GE Profile Kitchen Package at Yale Appliance in Hanover
We just reviewed their gas range with Wi-Fi, Air Fry, and a 21,000 BTU burner. Their gas range and French door refrigerators are excellent.
Unlike many other brands, you have plenty of choices within the line and category of products.
PROS: Great overall products with decent features.
CONS: Their dishwasher is just OK. The line is solid but unspectacular.
▶️ Click here to learn about the GE Profile PGS930 Gas Range.
Which Affordable Luxury Appliance Brands are Most Reliable?
Based on 37,061 service calls logged last year, the average product service rate was 9.7% in terms of reliability. Samsung and Beko were just below that standard.
Once again, the corollary is to find service that can be tough in certain areas, so inquire about service before buying.
Overall Appliance Reliability for December 2019 to November 2020
| | |
| --- | --- |
| | Service Ratio |
| Beko | 8.80% |
| Samsung | 9.60% |
| GE Profile | 10.99% |
| KitchenAid | 13.13% |
| JennAir | 13.22% |
| Fisher & Paykel | 14.73% |
| Café Appliances | 16.18% |
These figures are based on a minimum of 100 sold per brand and over 19,500 total pieces.
We calculate appliance reliability by looking at the products sold compared to the products serviced by the brand for one year.
Read More: Most Reliable / Least Serviced Appliance Brands
Best Affordable Luxury Appliance Brands: Key Takeaways
You can spend $3,500 to $10,000 for affordable luxury appliances in several different finishes and features.
Before you spend $18-$25,000 on a luxury kitchen appliance package, check out these brands for less than half that.
You can always combine certain luxury elements like a pro range in an affordable luxury package without blowing your budget.
You have plenty of options. We always recommend starting with cooking or figure out what's important to you and work from there.
In 2021, be feature loyal, not brand loyal.
Brand loyalty will probably mean you cannot buy a complete kitchen. Availability is that poor.
However, buying features will open the possibilities of many brands.
You will need many options this year because most brands will have supply issues.
You may be brand loyal to Samsung or Bosch, for example, but end up buying a Kitchen or SKS package with the same features.
Lastly, make sure you know who will be fixing your appliances before you buy them.
Samsung, Beko, and SKS are smart considerations, but only if you can get them fixed promptly.
Additional Resources
Have questions on premium appliances? Get the Yale Appliance Buying Guide with features, specs and detailed profiles on Sub-Zero, Wolf, Miele, Viking, La Cornue, Thermador and more. Over 620,000 people have read a buyers buyers guide.
Related Articles
Why Should You Trust Us?
It seems that every appliance review has nothing but glowing comments about almost every product, yet you read customer reviews and they are almost universally bad.
We are here to fill in the disconnect. We'll give you the best features, and the drawbacks as well, including reliability based on over 37,000 calls performed by our service team just last year. Our goal is to give you ALL the information so you know what's right for you.
Please consider subscribing or adding to the conversation in the comments below. We appreciate you stopping by.
Steve Sheinkopf
My goal has always been simple: I want Yale to be the best retail experience anywhere. I have tried to create a compelling environment for customers and employees alike.
A Note About Pricing
Pricing on this blog is for reference only and may include time sensitive rebates. We make every attempt to provide accurate pricing at time of publishing. Please call the stores for most accurate price.