Best Front Load Washers for 2017 (Ratings / Reviews / Prices)
Our Best Front Load Washers article is updated frequently as rebates change from month to month. Recommendations can change with prices.
Washing machines have become as much about energy and water savings as they are about washing clothes.
Front loaders offer the larger size with better efficiency and a higher spin. This in turn reduces drying time, so you save by washing more clothes yet with less energy.
Almost all washers have 5 wash/rinse combinations and 5 speeds for any type of fabrics. They are very similar in many ways with slight differences.
Short on time? Get our free Washing Machine Buying Guide
Buying a new Washer/Dryer [Video]
Thanks for reporting a problem. We'll attach technical data about this session to help us figure out the issue. Which of these best describes the problem?
Any other details or context?
message
Washers
Pricing updated for August, 2017
This is a decent top loader. Top loads have been the same since I started back in 1986 in terms of features and capacity. They were $399 back then, yet 31 years later are cheaper at $329.
This is not a front load, but ideal for a decent yet inexpensive washer. Top loads have way higher operating costs in water, electricity with half the usable capacity.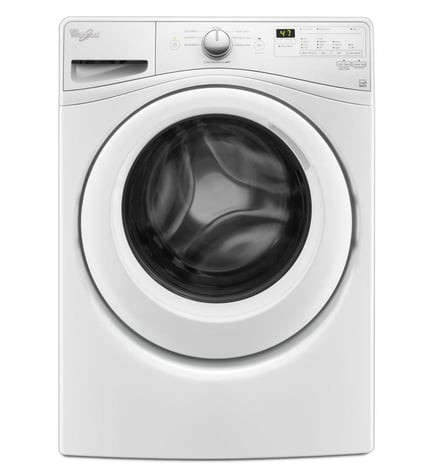 A good basic machine that has great capacity at 4.5 cu ft. and 8 wash cycles with 5 wash / rinse combos and 4 speeds. Whirlpool and Maytag (same company btw) have the best reliability based on our 20,000 + service calls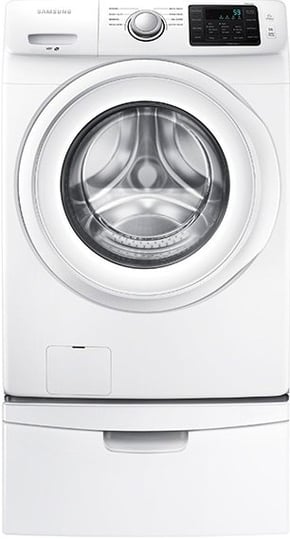 Samsung's entry line machine features their Diamond Drum interior, which is gentler on clothes than most machines.
(This image is shown with optional pedestal. It is available at an added cost).
Huge 4.5 cubic foot interior with steam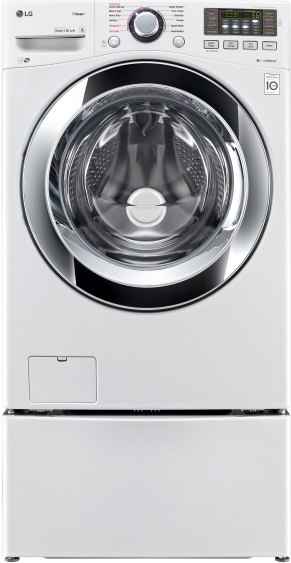 This is one of the most popular washers on the market because of its value. It has great capacity, steam, and a fast spin speed at 1300 RPM. Shown with optional pedestal storage base.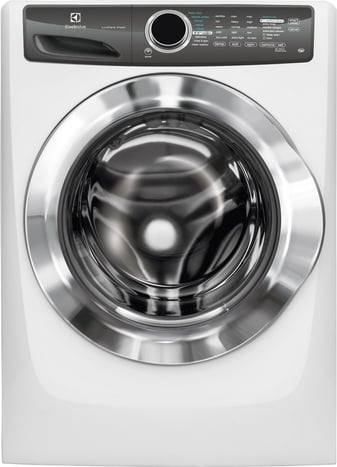 The Electrolux has two pumps for the only machine with a fresh water rinse, so your clothes have less detergent imbedded after the wash cycle. This unit also adds steam to loosen dirt and other stains.
Electrolux Washers
Thanks for reporting a problem. We'll attach technical data about this session to help us figure out the issue. Which of these best describes the problem?
Any other details or context?
message
This Samsung is amongst the largest at 4.5 cubic feet. Samsung has good technology and controls.
It will also include the AddWash system, allowing you to add laundry mid cycle which is an industry first (pedestal is extra).
If you are interested in steam we also wrote a post about steam washers.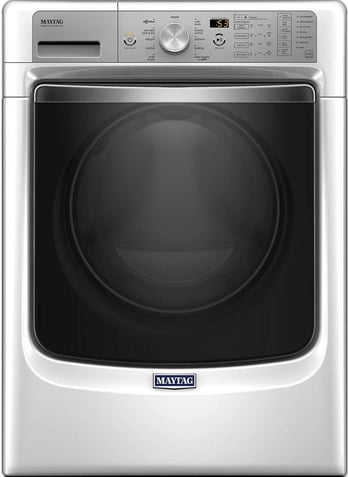 Best Maytag washer (and Whirlpool who is the actual manufacturer). Largest capacity at 4.5 cubic ft. It has every cycle including steam and a "Fresh hold" which will rotate the machine to keep clothes fresh in case you are not around.
The detergent dispenser will hold up to 12 loads, so you do not have to reload after each wash
Two key features to Maytag are the overnight wash and reliability. The overnight wash allows you to put an outfit in the washer and have it completely washed and dried the next morning.
In terms of reliability, Maytag is among the best in terms of percentage. However, their parts turnaround and support is better than the competition.
Maytag/Whirlpool is also US made versus Mexico for Electrolux and Korea for Samsung and LG, so parts availability and support is much better.
Maytag Washers
Thanks for reporting a problem. We'll attach technical data about this session to help us figure out the issue. Which of these best describes the problem?
Any other details or context?
message
Call us with any questions at 617-825-9253
Top Front Load Washer & Dryer Laundry Pairs
Most people concentrate on the washer as part of a laundry purchase, yet the dryer is very important.
Most of the front load dryers now have sensor dry, which automatically shut down the heat by sensing moisture in clothes. This will save you money and prevent shrinkage of clothes.
Maytag Entry Line Laundry Pair
$999 Electric I $1,099 Gas after $330 in rebates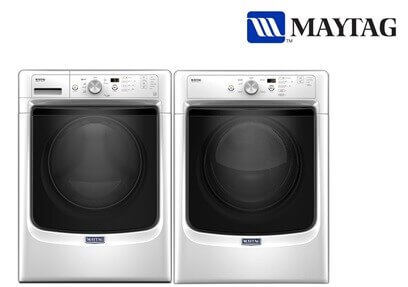 This is a good less expensive option for washer and dryer. Washer has 4.3 cubic foot capacity. Dryer has wrinkle release, so clothes can tumble for an extra 90 minutes with no heat
Whirlpool Line Laundry Pair
$1,599 Electric I $1,699 Gas after $146 in rebates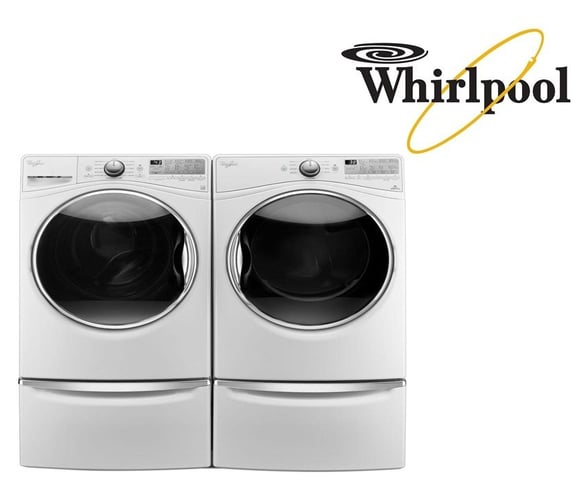 The Whirlpool duet has full size capacity at 4.5 cu ft, a 1200 RPM spin speed and 8 cycles. The dryer is huge at 7.4 cubic feet with mositure sensing, so clothes are not overdried
Electrolux Front Load Laundry Pair
Electric $1,499 | Gas $1,599 after $100 in rebates
This new Electrolux pair can wash a small load in 40 minutes along with every other major cycle. You can place this on a second-floor because it runs quiet and has a second-floor guarantee.
Maytag Front Load Laundry

MHW8200FW and MED8200FW
The top of the line Maytag Maxima set will give you every conceivable feature you could really want in a machine. Steam, 1,400 RPM spin-speed, and 11 wash cycles are pretty standard on most high-end machines.
What isn't standard is the overnight wash cycle which allows for a small load to be washed AND dried overnight. The dryer adds steam as well
With a $200 rebate, this may be the best pair to consider.
Samsung Front Load

AddWash

Laundry

WF45K6500AW and DV45K6500EW
Samsung is a company known for innovation, but not just for the sake of doing it. There latest washer adds the ability to add a small article of clothing to a load that has already started.
When front loaders first emerged, this was one of the bigger complaints, over a decade later someone finally answered the call. They will also give you steam and a litany of other features, but the ability to throw in the inevitable missing sock is the key feature here.
Speed Queen Front Load Pair

AFNE9BSP113TW01 and ADEE9BGS173TW01
Electric $2,899 | Gas $2,959 after $99 in rebates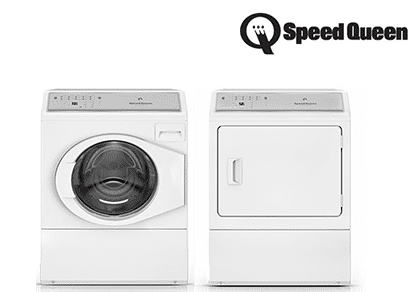 Speed Queen is a throwback to the old more reliable washers with all steel instead of plastic. Both machines carry a 5 year complete warranty. Speed Queen is the best constructed machine in all steel on the market.
Which Should You Buy?
Confused? Don't be. All the machines have an abundant number of cycles and features. Every unit has 5 speeds and different temperature selections for every fabric type. Back when I started, it was 1 speed and three temperatures.
Samsung is the largest and fastest. I like the Electrolux for second floor installation and their fresh water rinse leaves less detergent in the clothes as well.
Maytag/Whirlpool is the most reliable in terms of percentage with the fastest turnaround for parts and service. Their 8200 model may currently be the best value
Additional Resources
Download our Yale Laundry Buying Guides with all the features, terms and brands of laundry. Over 220,000 people have already found answers in a Yale guide.
Call us with any questions at 617-825-9253
Related Articles:
Steve Sheinkopf
My goal has always been simple: I want Yale to be the best retail experience anywhere. I have tried to create a compelling environment for customers and employees alike
A Note About Pricing
Pricing on this blog is for reference only and may include time sensitive rebates. We make every attempt to provide accurate pricing at time of publishing. Please call the stores for most accurate price.