19 Appliances, Trends, and Ideas You Should Avoid in 2023
January 24th, 2023 | 10 min. read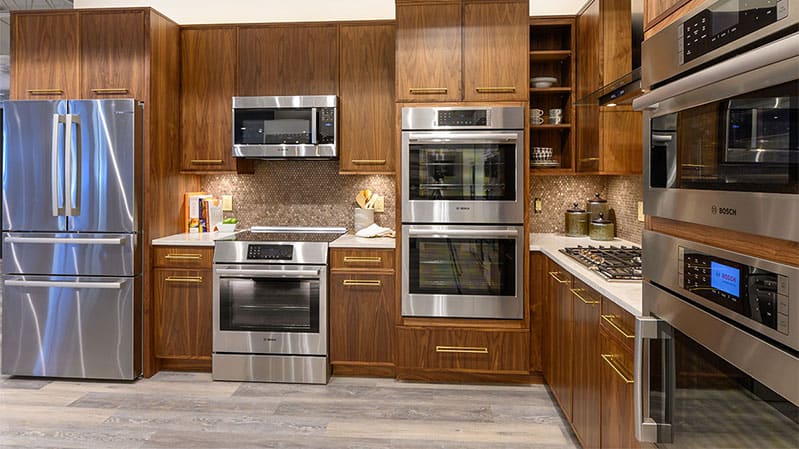 Look at this cooktop. This KitchenAid is the number one appliance you should not buy: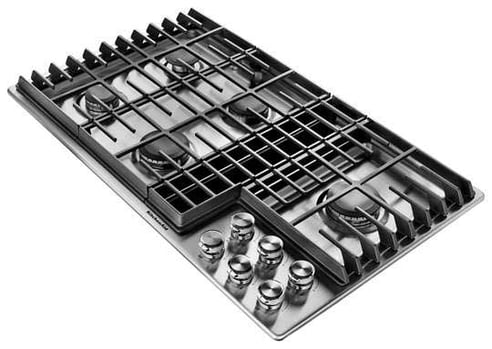 Downdrafts don't work well, but this one has the added problem of pulling from burners further away.
I am showing you this first rather than keeping you in suspense at the end of the article.
Then again, the last five appliances are not much better.
The 10 Appliances You Should Never Buy was initially published in 2020.
Since then, we've created a series of articles sharing the worst appliances you should never buy each year.
Avoiding bad products and designs will bring you much closer to having a kitchen you enjoy using. So, it's time for an update for 2023.
In this article, you'll learn all about the 19 appliances you should never buy. Plus, I'll share where I may have been wrong in the first three editions with products that may not have been as bad as I originally thought.
At the end of this article, I will give you a few basic tips to improve your kitchen design and how to vent your kitchen range even if your gas stove is banned - yes, that's now a thing.
Let's get started.
Where I May Have Been Wrong
Smart Functionality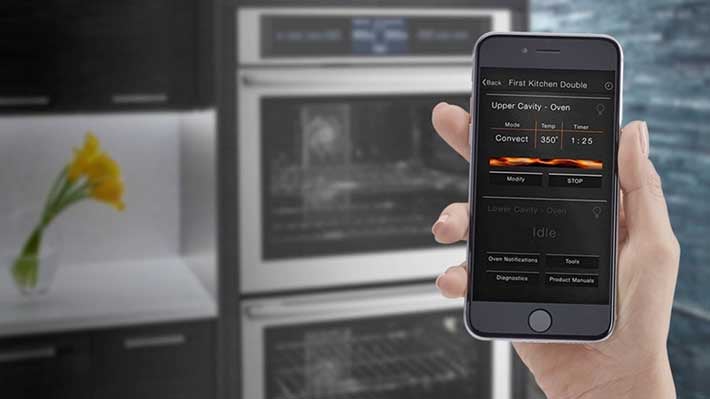 Wi-Fi-Enabled Wall Ovens with Home Connection and Smartphone App
Back in 2021, I said smart appliances were more of a gimmick and not worth the expense. I was correct back then.
Eighteen months later, smart appliances have some decent functionality.
You can now look into your oven from your phone to see how your food is cooking, in addition to the basics of turning the range on or off remotely.
Many brands, like Gaggenau and others, have special cycles available only on their related app.
With GE Profile's new front load washer, you can customize your cycles, stain removal settings, and more with their SmartHQ app. With Gaggenau's built-in coffee maker, you can make 34 types of coffee like this Viennese:
Smart Service Systems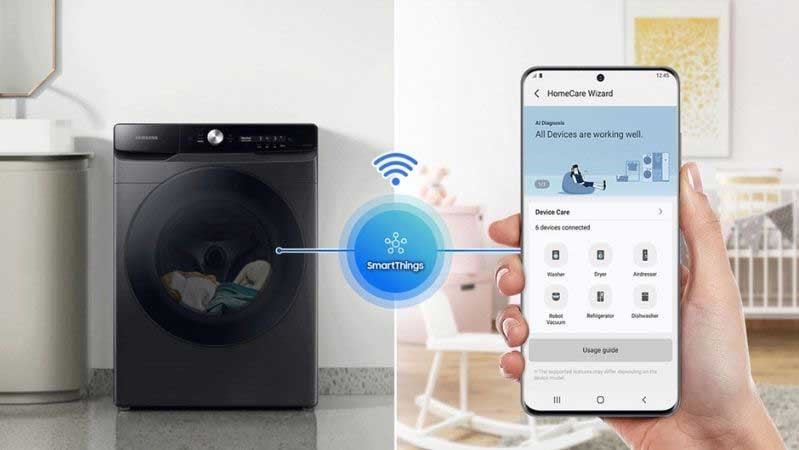 Smart Front Load Washer and Smartphone App
GE and LG are still working on smart diagnosis systems. With a smart diagnosis system, you can easily troubleshoot your appliance with your smartphone without waiting for a service technician to diagnose the issue.
Your appliance will send you the next steps on your phone, and the parts recommended to fix the appliance.
It can even transmit data to your service provider saving you from waiting weeks for a repair.
So, smart appliances are finally getting smart.
19 Appliances, Trends, and Ideas You Should Avoid in 2023
1. Air Fry and Air Sous Vide Modes
It's true. We haven't been able to fry anything using air fry mode, mostly because the oven is too big. In addition, LG's and LG Studio's air sous vide mode is two hours long, and you must finish the food for texture.
But these cycles are part of most ranges these days. You are not paying more for these modes, so just don't use them.
2. Samsung Bespoke Appliances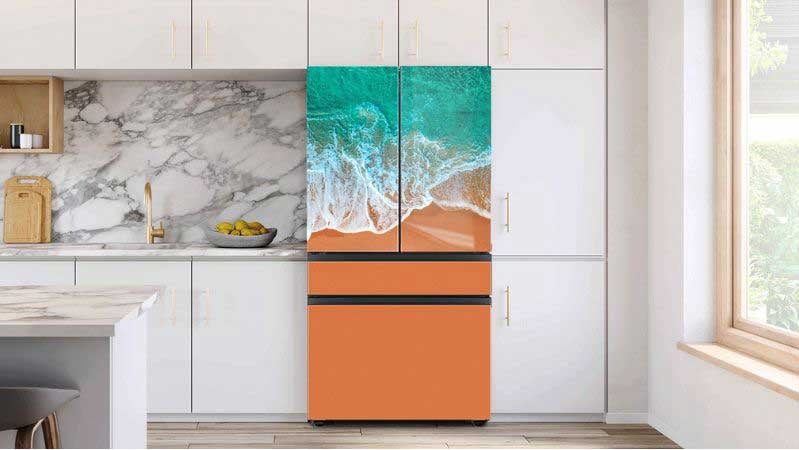 Samsung Bespoke Custom French Door Refrigerator
Maybe I was a little hard on Samsung for their new Bespoke line. Sure, you can turn your refrigerator pink if you want.
It's your kitchen.
However, ranges are central in every kitchen design, so start with color there before you turn your refrigerator into a sea of finishes.
Matching Bespoke is a problem because the options on the other Samsung appliances are limited, especially with Black Stainless and Tuscan Stainless Steel.
3. The Samsung FamilyHub Refrigerator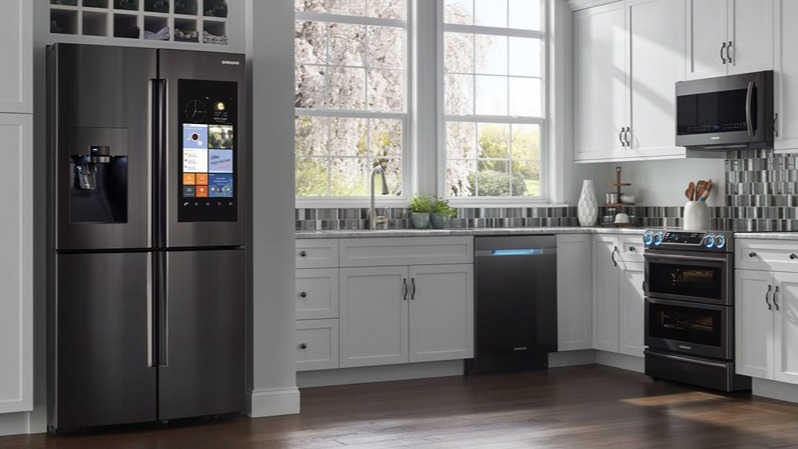 Samsung FamilyHub Refrigerator and Smart Appliances
The Samsung FamilyHub refrigerator is another good idea with a smart tablet on the refrigerator door. Getting your family to anything centralized seems worthwhile and beats my idea for a refrigerator.
But your teenager is probably reaching for their phone before interacting with you through the refrigerator.
The Samsung FamilyHub is a good idea, but I am not sure it's worth the extra money.
4. Samsung Double Oven Ranges with Flex Duo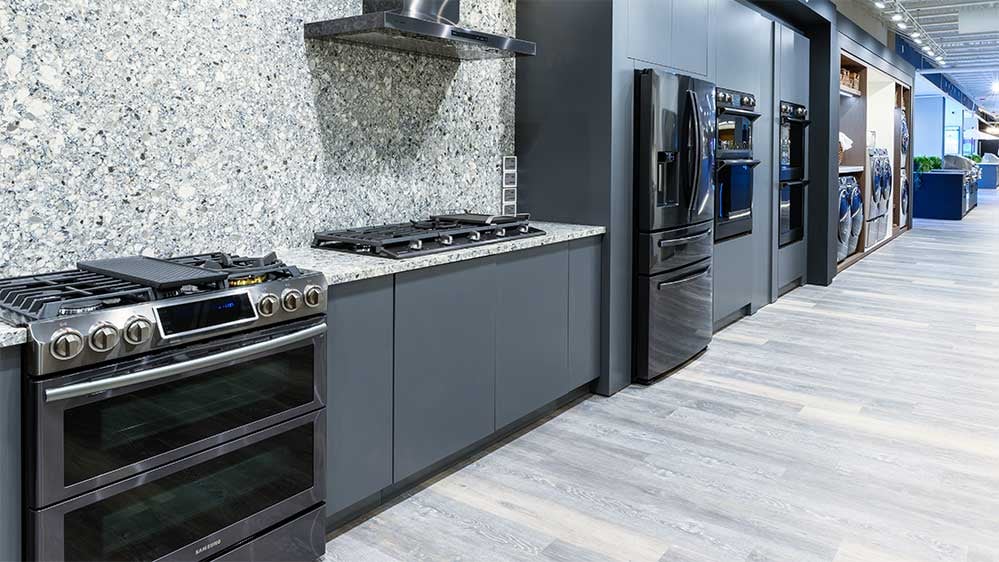 Samsung Double Oven Range
The Samsung double oven range with Flex Duo is a great idea. It's like a Transformer. It can transform from one large convection oven to two smaller convection ovens by a divider.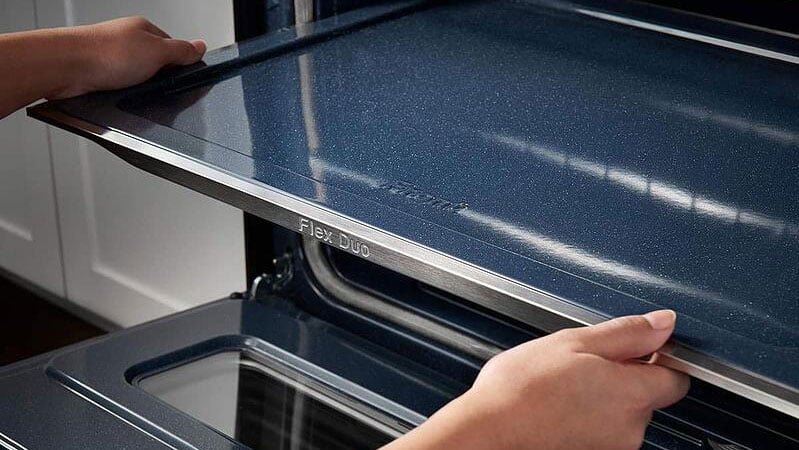 Samsung Flex Duo Oven Divider
Based on our tests, we found the Samsung Flex Duo feature to be limited and inefficient for cooking at two different temperatures.
It's best to use it as one single oven.
5. Black Steel Finishes
Black Stainless Steel Appliances
Well, Black Stainless Steel is still with us. That finish is harder to kill than Dracula.
I didn't depreciate $23,000 worth of high-end French door refrigerators in this now infamous video for no reason.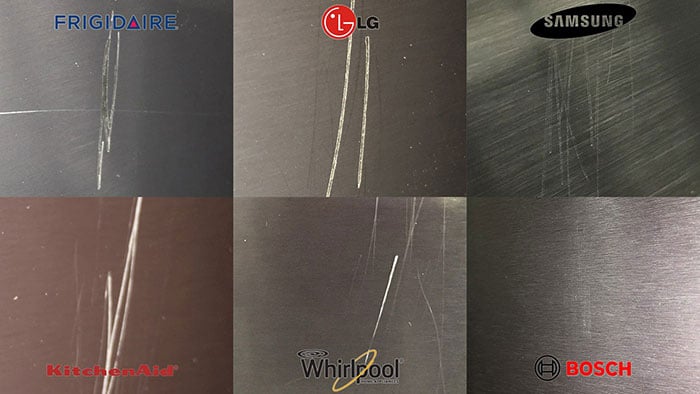 Black Steel is a coating, like tape, over stainless steel. You can easily scratch it, and there is no fix for the scratches. Nor is the inevitable scratch covered under warranty.
Don't buy any appliance in Black Stainless unless you don't use your kitchen or live in a museum.
6. Brown Finishes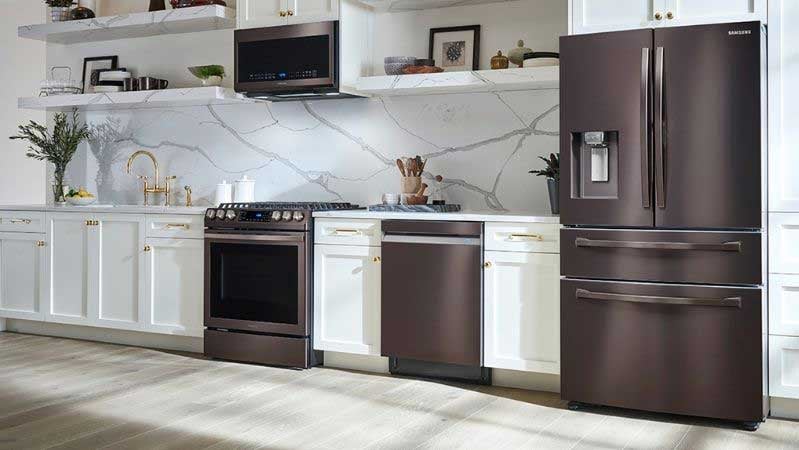 Brown Stainless Steel Appliances
The same rule that applies to Black Steel goes for brown finishes. Even if brown cabinets come back in style, the metallic, glass brown finish on your appliances won't match the cabinet brown, whether they call it Truffle, Tuscan, Cappuccino, or Copper.
7. Green Finishes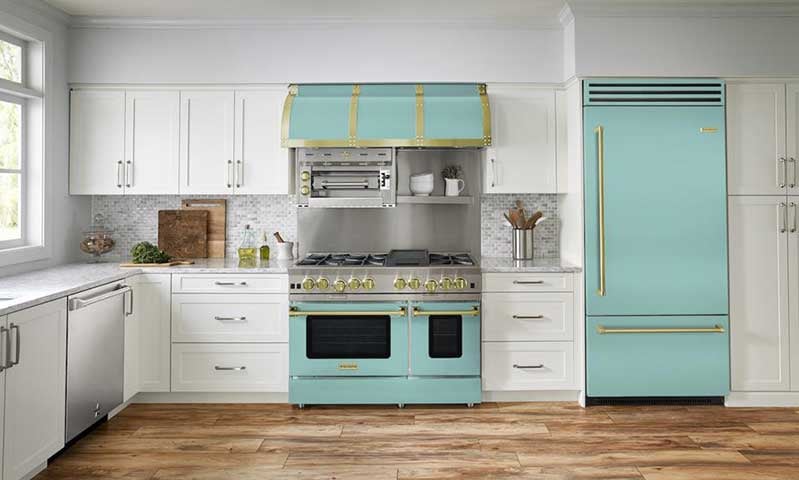 Custom Green Professional Appliances
I kind of look dumb here. As soon as I wrote out green as a trend to avoid, Boston Magazine said green was the hot new color for 2022 in their Best of Boston series - oops.
Then again, green was the least popular color in the 95 years we sold lighting.
In the past, we also tried green appliance finishes like Avocado, Emerald, and Forest Green, and none of them lasted.
But green could work if it's done right. Make your range green and maybe the range hood.
Adding colors as a focal point makes temporarily trendy colors into something permanently unique.
You can always add a custom panel to your refrigerator or dishwasher if you want to get away from stainless steel.
8. Extra Quiet Dishwashers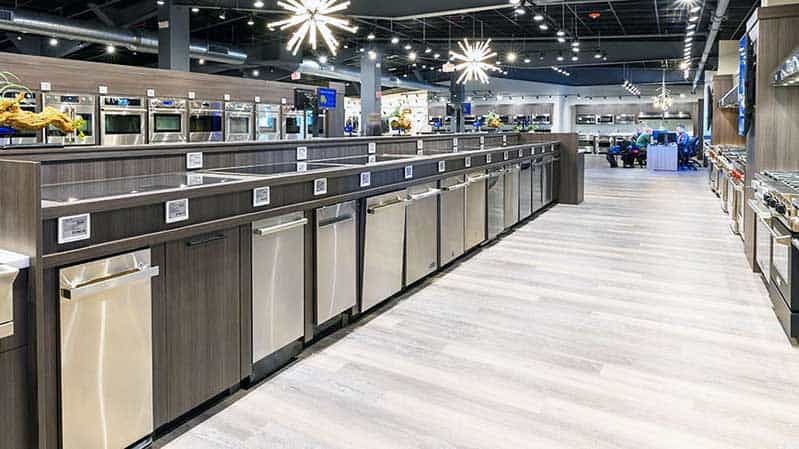 Dishwashers at Yale Appliance in Hanover
Forty-four decibels is the silence rating standard for a quiet dishwasher. The human ear can barely detect operating a dishwasher at 44 dB. You don't need to pay more for a quieter decibel rating.
That said, brands like KitchenAid and Beko offer more reasonably priced 39-decibel dishwashers.
But you don't have to spend $2,000 for a much quieter dishwasher in a premium brand unless you want other features.
9. Extra Large Laundry
This mega-capacity LG front-load washer is advertised on their website at $1,999. However, it's only 0.8-1.3 cubic feet larger while being $1,000-$1,300 more expensive than their popular front-load washers.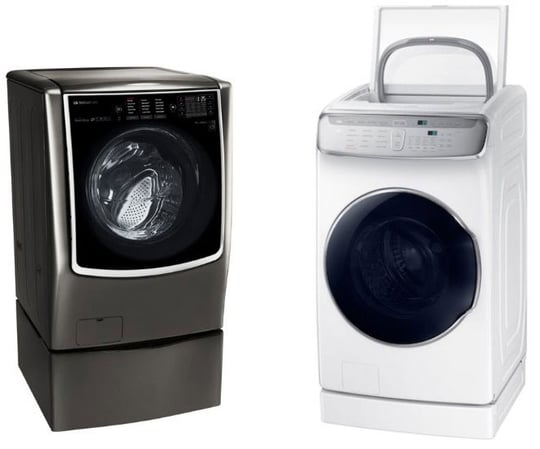 Extra Large Front Load Washers
Many large front-load washers lack the best features, like an automatic detergent dispenser.
Lastly, if you still want one, check the size of your laundry room. Chances are, at 35 inches deep, it probably won't fit.
10. Buying Relabeled Expensive Brands
Look at this Whirlpool, KitchenAid, and JennAir, gas slide-in: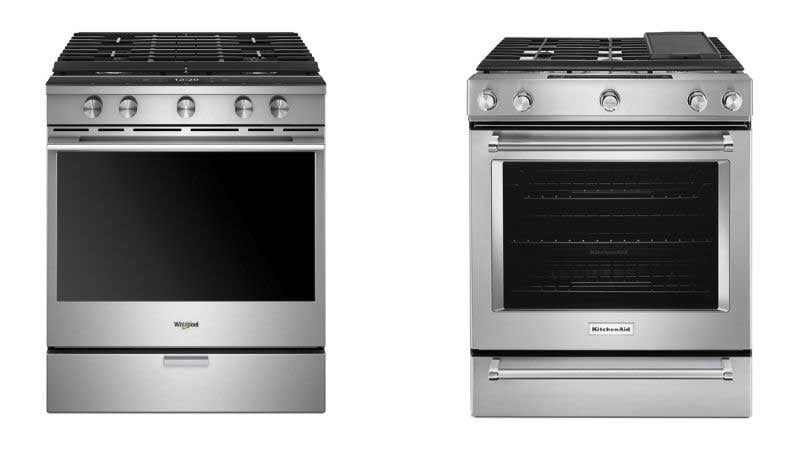 Whirlpool and KitchenAid Five-Burner Gas Ranges
It's in the same range, except KitchenAid has the warming or baking drawer, and JennAir has a bit more output, but the price is much higher. Their refrigerators are near identical as well.
You could say the same about GE Profile and Café Appliances, except Café has the color combinations, which is why people buy it anyway.
Many brands market the same products produced by the same company, like microwave drawers made by Sharp.
Every brand has one, but they are identical to Sharp for much higher prices.
In this case, buy the least expensive, which, oddly enough, is this Beko at $1,549 with a five-year warranty: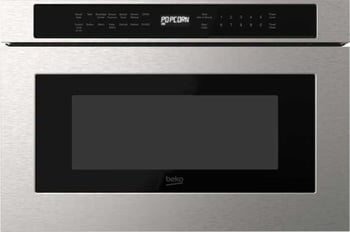 Beko Microwave Drawer MWDR24100SS
On the other hand, if you are selling or flipping a house, better brand names can help the resale value.
11. Anything You End Up Not Using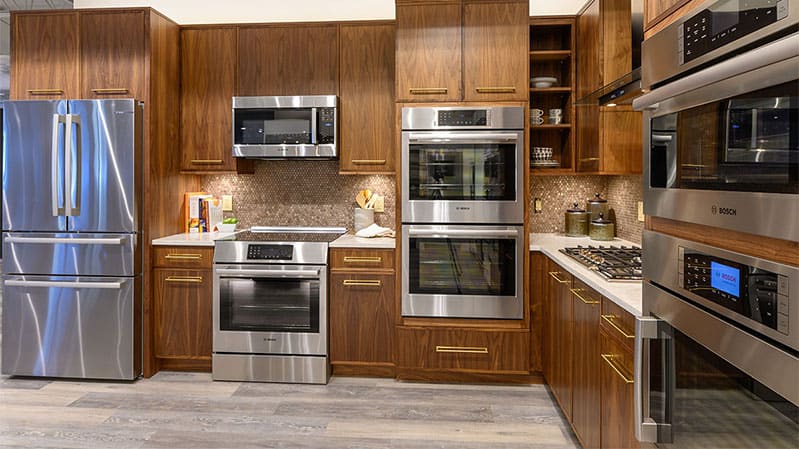 A Kitchen Featuring a Range, Wall Ovens, Speed Oven, and Steam Oven
Some people commented with "no kidding" when I wrote the 2021 sequel.
However, will you use that steam oven if you buy it? How about the coffee system? Will you keep it filled or clean it?
If the answer is probably not, then spending $8,000 on both may not be a good idea.
12. Combo Washers and Dryers
All-in-One Washer and Dryer
I have taken a lot of heat on this one as well.
I understand it because the combo washer and dryer is such a good idea - a single machine to wash and dry your clothes is so convenient.
You don't have to stop and transfer the loads from the washer to the dryer.
However, the machine can't remove lint effectively. We tested the popular combo washers and dryers in our repair center in Stoughton.
This will be an impossible future service issue.
Despite all the comments, no one has said we have a family of five and use this consistently.
The main defenders are people who seem to travel and use it sparingly.
That's all a combo washer and dryer can handle.
13. Single Evaporator Refrigerators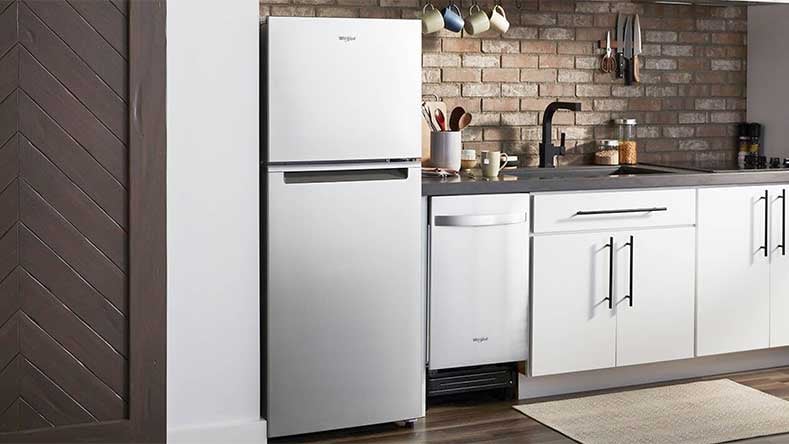 Standard Top Mount Refrigerator
My grandmother and mother both had one.
Most refrigerators have two evaporators, so the air doesn't mix between the refrigerator and the freezer.
The temperature is managed better, and you don't have the warmer air from the refrigerator landing in your freezer.
Your ice cream won't taste like whatever is in the refrigerator.
14. Dual Fuel Ranges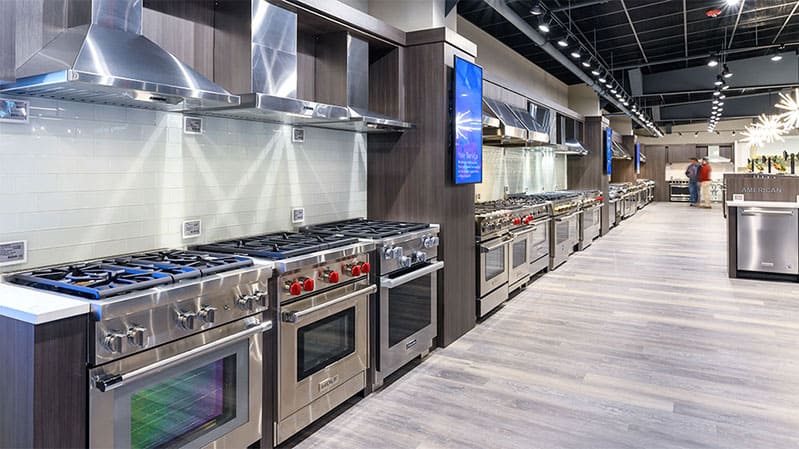 Professional Dual Fuel Ranges at Yale Appliance in Hanover
Ah yes, everyone loves having a dual fuel range with the speed of a gas stovetop and the even baking of an electric oven.
An induction range is much faster than a gas range and easier to vent. Induction ranges are also easier to clean and are the most child safe.
A straight gas stove is better if you like to roast or broil.
I am referring to the 30-inch sizes because Wolf, Miele, Thermador, and SKS have additional features in their larger dual-fuel ranges.
OK, now let's get into some nightmares. In the next section, we'll look at some popular products and ideas that will be problems if you like to cook or use your kitchen.
15. Pro-Style Ranges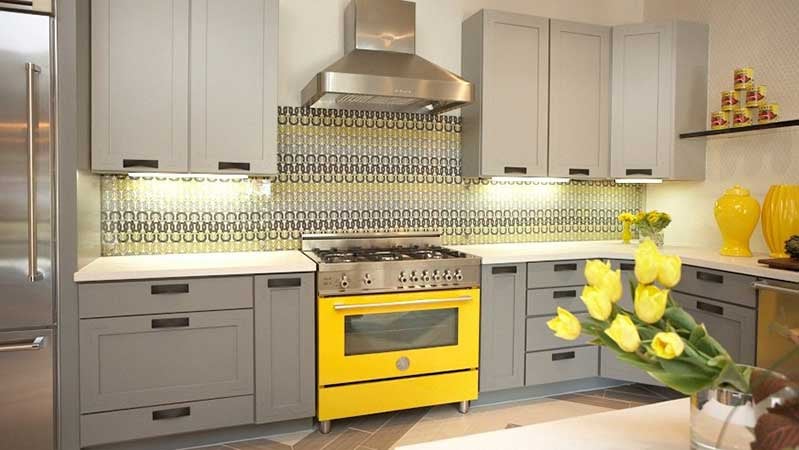 Pro-Style Range
I watched an influencer on YouTube extol the virtues of her new pro-style range, which was less than half the price of the others.
I doubt she will feel that way once she starts cooking.
Usually, the burners of pro-style ranges have one high-output burner, and the rest are simmer burners. This is especially common for Italian pro-style ranges like Bertazzoni.
Pro-style ranges have half the capacity of a professional range and only knob controls. Most of these off-brands do not have a service network either.
The bottom line is if you are looking for a cheaper, pro-looking range, then yes, consider one, but look elsewhere for any measure of performance.
16. Banning Gas Ranges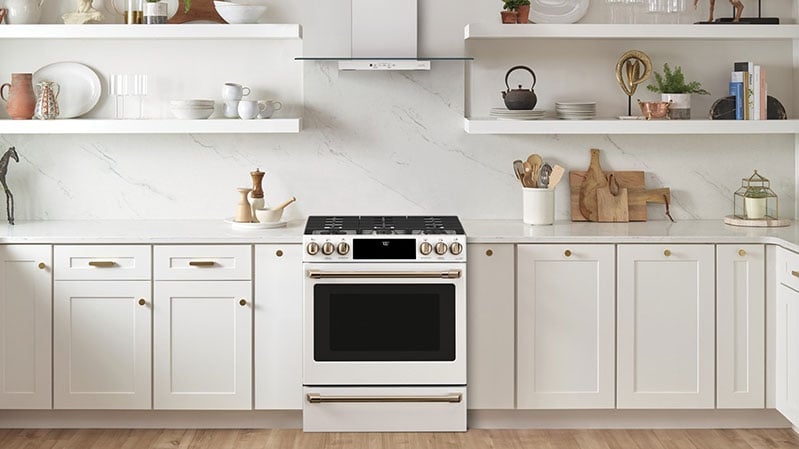 Gas Slide-In Range
I am a big fan of induction and now begrudgingly use an electric range. However, a universal ban on gas ranges is a bad idea.
I understand that gas produces a toxic mixture of formaldehyde, carbon dioxide, and nitrogen oxide.
Burning fats to some degree will produce some, even in induction or electric cooking.
The problem is power.
Replacing 40 million gas ranges will require 1 billion additional amps at least to convert to the 40-50 amp electric or induction types.
That's the equivalent of 33,333,333 solar panels. We only have 2.7 million residential solar panels installed in the United States.
Your home will require added electrical capacity and wiring to handle the added power of an induction or electric stove.
The cost is roughly $3,000 per home if you can find an electrician.
I like the induction range, but a massive ban needs to be rethought, even on a state level.
The Truly Worst Appliances and Trends You Should Avoid
Now, let's go over the truly worst appliances and trends. To some degree, you can buy any of the appliances previously mentioned and be OK.
For instance, you can buy an all-green kitchen that looks like the Wizard of Oz, and it's fine if it makes you happy. However, the next few appliances and trends can be dangerous.
17. The Over-the-Range Microwaves and Slide-Out Range Hoods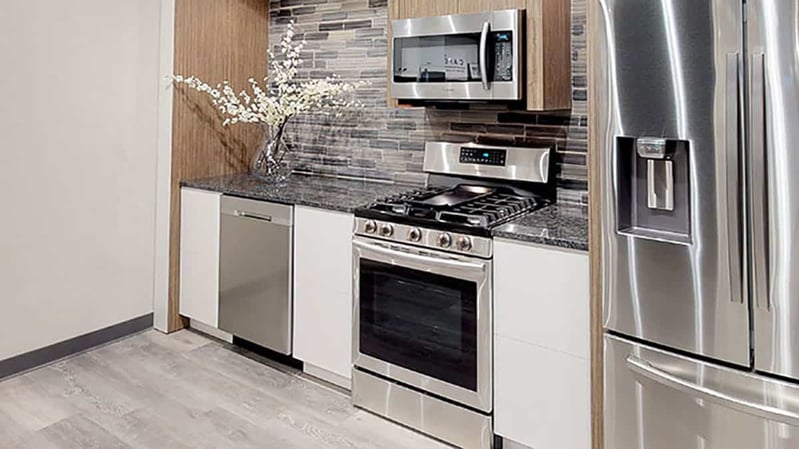 Over-the-Range Microwave with a Freestanding Range
Over-the-range microwaves were one of my favorite appliances when introduced in the 1990s. However, they haven't changed much, while stoves have.
The most powerful gas burners are in the front of the stove at about 22 inches. The over-the-range microwave is about 16 inches deep, so the smoke bypasses the vent.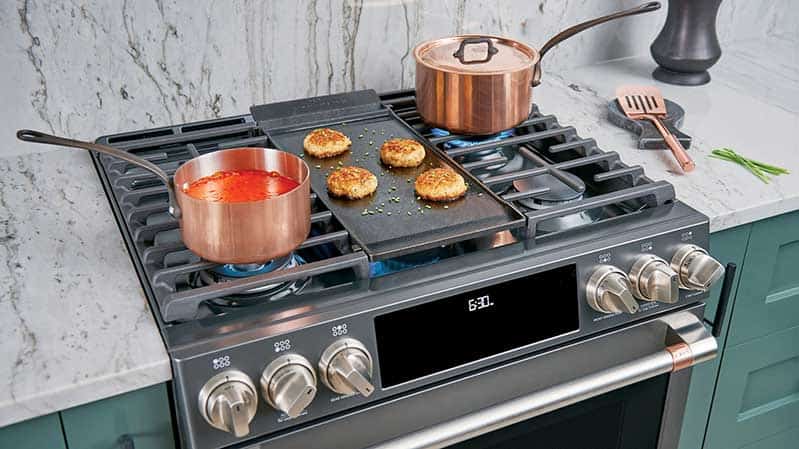 Gas Stovetop on a 30-Inch Gas Range
I should know. I now have an over-the-range microwave in my rental apartment.
Most people aren't buying slide-out hoods anymore, but that slide-out glass doesn't cover the burners or provide enough capture, even if it did.
By the way, people have asked us why we sell over-the-range microwaves when we don't recommend them. Unfortunately, we can't do much if the kitchen plan is already designed with an over-the-range microwave.
18. Downdrafts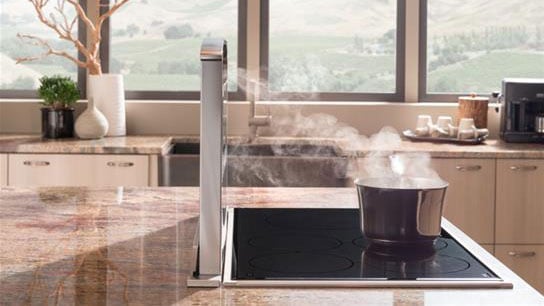 Integrated Downdraft Ventilation System with an Induction Cooktop
If venting properly requires a hood to capture the smoke with a short vent directly to the outside, then how effective are downdrafts that do the opposite?
Downdrafts are the 1980s and 1990s way of putting your cooking on an island to entertain your guests without losing the visual by having an overhead hood.
It was bad in the 1980s when the average burner was about 6,000-10,000 BTU, but now it's worse, with the average burner being 12,000-21,000 BTU.
You have better options, like using a hood or centralizing your sink on an island.
JennAir finally discontinued its downdraft range. However, many manufacturers are introducing new downdraft cooktops.
It doesn't matter whether you place a powerful downdraft on the back because the high-output burners are in the front.
Still, the next two trends are the most dangerous.
19. Not Venting Your Kitchen Range or Using a Recirculating Vent
You look on Houzz or other online design magazines, and you should see 60-inch pro ranges with no ventilation.
Even with an average gas range of 50,000-60,000 BTU, you significantly impact the quality of the air you breathe inside your house.
Lastly, recirculating vents treat the smoke and odor, not the more dangerous fumes off your stove. In some cases, the air is blown back into your face.
Bonus Problem: Make-Up Air
Using a range hood that meets make-up air requirements is a law in Massachusetts for a good reason. When you vent a small room of air every minute, you want a return of fresh air.
If not, that air is "made up" from your garage, attic, or furnace. That's not healthy air.
Even if your state doesn't have a make-up air law, you should have fresh air return. You can create a return through your HVAC or a minimum of 10 feet from your stove on the opposite side.
So how did I do?
If I missed anything, leave it in the comments below. If you want to learn how to vent your kitchen range properly, then watch this video:
Upcoming Webinar: Appliance Trends to Follow and Avoid at All Cost
When: March 29th at 12:00 PM
Your kitchen and laundry room will change dramatically in the next 1-5 years with brand new appliances, brand new colors and styles from old and new upstart companies.
Some appliance trends are worth considering, but some heavily marketed appliances you should avoid and others you should wait and see.
In this webinar, you will learn the latest trends and better yet the ones to avoid before they find your way into your home.
This webinar is free to attend. We will answer all questions about trends, or anything appliance or kitchen related at the end of the presentation. Click here to register.
Additional Resources
Want more information on the worst renovation mistakes to avoid? Get The Book of Bad Renovations to learn how to avoid a renovation failure. Well over 1 million people have read and trusted a Yale Guide.
Related Articles:
Appliances You Should Never Buy Series:
Why Should You Trust Us?
It seems that every appliance review has nothing but glowing comments about almost every product, yet you read customer reviews and they are almost universally bad.
We are here to fill in the disconnect. We'll give you the best features, and the drawbacks as well, including reliability based on over 37,000 calls performed by our service team just last year. Our goal is to give you ALL the information so you know what's right for you.
Please consider subscribing or adding to the conversation in the comments below. We appreciate you stopping by.
Steve Sheinkopf is the third-generation CEO of Yale Appliance and a lifelong Bostonian. He has over 38 years of experience in the appliance industry, and he is a trusted source of information for consumers on how to buy and repair appliances.

Steve has also been featured in numerous publications, including the New York Times, Consumer Reports, The Boston Globe, Bloomberg Radio, the New York Post, The Wall Street Journal, and Entrepreneur, for his knowledge of how to buy appliances and appliance repair.

Steve is passionate about helping consumers find the best appliances for their needs, and he is always happy to answer questions and provide advice. He is a valuable resource for consumers who are looking for information on appliance buying, repair, and maintenance.

Despite being the worst goalie in history, Steve is a fan of the Bruins and college hockey, loves to read, and is a Peloton biker. The love of his life is his daughter, Sophie.
A Note About Pricing
Pricing on this blog is for reference only and may include time sensitive rebates. We make every attempt to provide accurate pricing at time of publishing. Please call the stores for most accurate price.