Most Powerful Downdrafts for 2022 (Reviews / Problems)
I think I know why you are here.
You have planned a center island with a high-powered range and want a powerful downdraft to vent it.
It's good thinking to have a high CFM exhaust for high output cooking.
Perhaps, you have seen this in a magazine and like placing your cooking appliances in the middle of your kitchen.
In this article, I will show you the highest CFM downdrafts currently on the market.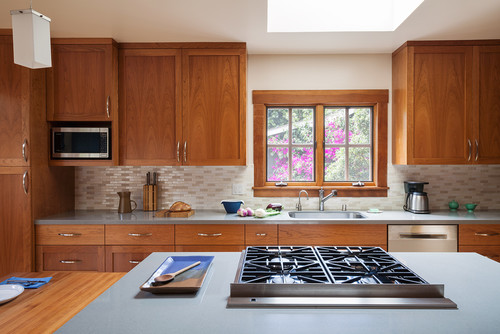 Photo by Sustainable Home
Then you will learn why none of these will work properly.
As a bonus, I will show you some better options and some ideas for your kitchen.
Small note here: Although I am not a fan of downdrafts, it is better than nothing.
Like this inexplicably designed yet nicely styled kitchen with no ventilation (shown below).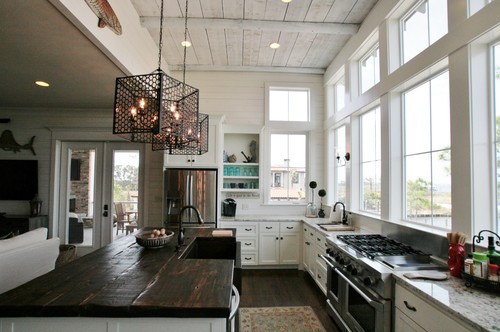 Photo by Bob Chatham Custom Home Design
Use this article to discover what is best for what you need. Hopefully, you can redesign your kitchen before adding a downdraft.
How to Buy a Downdraft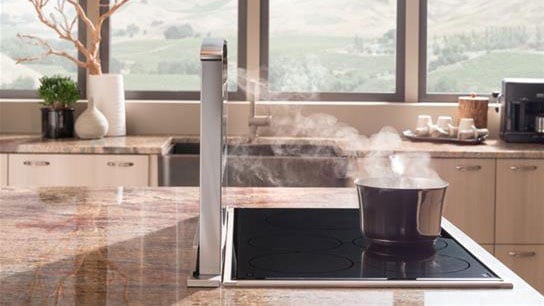 Downdraft Paired With an Induction Cooktop
You can buy downdrafts from 370 CFM to 1500 CFM.
Downdrafts are a separate item in the back of your cooktop or (heaven forbid) your range. You typically buy them as one piece from 370-600 CFM.
For downdrafts over 600, you buy the blowers and intakes, the part that pops up and down, separately.
The blowers can be mounted in the cabinet, inline, or in the duct pipe away from your stove for less noise or outside your house.
I am not a fan of inline fans in case you need access for repair. Having access to the fan is a must.
That's almost every downdraft.
JennAir has its own integral to the counter that doesn't pop up, and so does Gaggenau, but it's part of the overall design of the cooktop.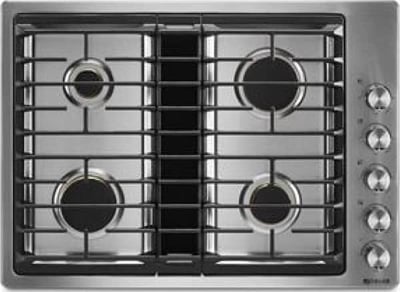 JennAir 30" JX3 Gas Downdraft Cooktop
The downdraft on these is in the middle.
Short on time? Get our free Ventilation Buying Guide
Most Powerful Downdrafts for 2021
Pair it with an EB15 Blower 1,500 CFM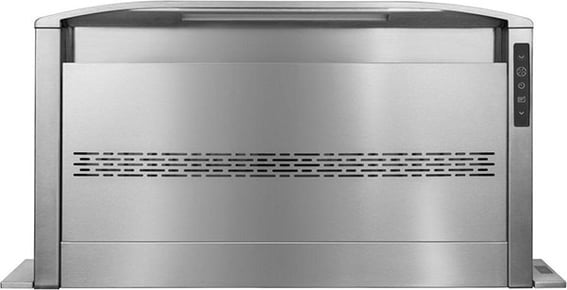 BEST was the first to design a downdraft for a freestanding range and even a professional range by placing the blower in an adjacent cabinet.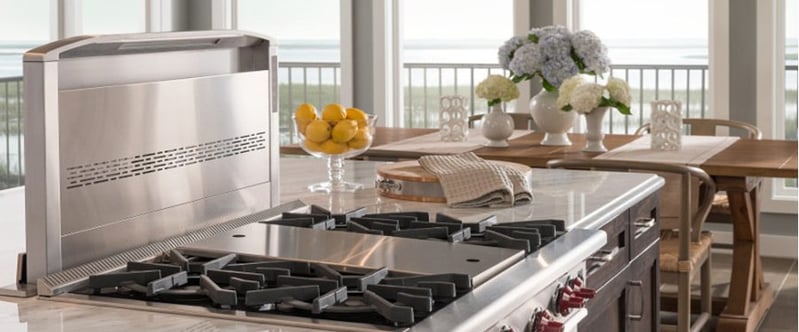 BEST by Brown Cattura Downdraft
BEST's downdraft is also available in 36 and 48-inch sizes. You should pair it with an EB15 Blower 1500 CFM.
Overall, this downdraft has decent features and specifications.
Features:
18-inch max height (Ostensibly to catch more steam and grease).
Type 304 steel
Anti-vibration guards
Choice of inline, outside, and inside blowers (Not that it matters).
Pair it with the VTR1330 1300 CFM outside blower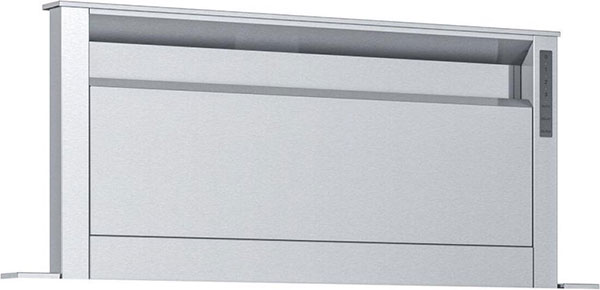 Thermador is the original downdraft company. Its downdraft rises 14 inches to cover large pots and provides 1300 CFM.
Thermador's downdraft is the only unit with a recirculating option (which is nothing to brag about. It's even less effective).
Thermador claims the UCVM36XS downdraft's 14-inch intake "protects against splatters when cooking and provides better performance in capturing steam and smoke even from the front burners. "
I don't think so.
According to Thermador, this downdraft's full-face filters maximize grease capture without affecting airflow.
However, does it really maximize grease capture? Certainly not. You will find out about that in a bit.
Features:
Choose from five options of remote, inline, or integrated blowers. All equally ineffective if you cook a lot.
Silent drive system
Three power levels offer a full range of ventilation options
Easy-to-use controls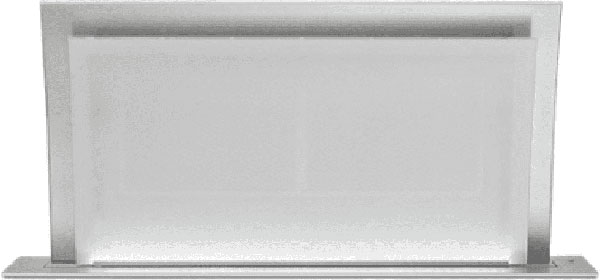 For 1,200 CFM, $8499 is a bit expensive as an overstatement.
It is nice looking, but is style really important?
The answer is probably not, as downdrafts are hidden when retracted.
JennAir imports their downdraft from Italy. It is a beautiful, stylish piece but is also over $8499.
It rises 19 inches claiming to "ventilate cooking vapors from all types of cookware effectively from shallow sauté pans to tall stockpot." That is doubtful.
JennAir says its 1,200 CFM high-performance blower "provides exceptionally powerful ventilation that's designed to accommodate high heat from every type of cooktop and capture even the most persistent cooking odors."
But it cannot. You will find out why later.
The downdraft has aluminum mesh filters, a stainless-steel frame and is dishwasher safe, making it easier to clean. This also helps to keep your ductwork clean and maintains proper ventilation.
With JennAir's Magnetic Filter Lock, your downdraft uses a quieter system by locking the filter tightly against the seal.
Features:
19-Inch Rise
1,200-CFM High-Performance Blower (Sold Separately)
Dishwasher-Safe Aluminum Mesh Filters, with Stainless Steel Frame
Ambient LED Lighting
Three Exhaust Positions
Remote Control
4 Fan Speed Settings
Timed Blower Off
Automatic Shutoff When Retracted
Status and Fan Speed Indicator Lights
Clean Filter Indicator Light
Why Downdrafts Are Not Effective: Ventilation Basics
First, to understand why downdrafts are the last choice replacements only, let me show you the ventilation basics.
Ventilation is divided into equal parts.
CFM:

CFM stands for cubic feet per minute. It's how many cubes of airflow through the vent in one minute. Downdrafts can vent quite a bit at 1500 CFM max. That is one small room of air per minute, every minute.

Capture:

Smoke is not expelled immediately after reaching your vent. It is captured, then vented. It's why you see huge hoods in the middle of restaurant kitchens. Capture is best defined by the height, width, and depth of your hood. Downdrafts have zero capture area (a 2-inch slit) and will not effectively cook higher output.

Duct Run:

The best ducting follows gravity and where the smoke is naturally headed. So straight up is best. Short horizontal runs of the straight back are ok as well. Downdrafts, however, direct the smoke down against gravity and then transition with an elbow reducing static flow. Most downdrafts are longer runs as well.

Duct Size:

Duct size was more of an issue years ago when contractors were using dryer ducting. Typically 8-10 rounds are adequate for any vent.
So you now know downdrafts will be a challenge, especially if you wok, grill, griddle, or fry. They will work better with induction or electric cooktops.
Downdraft Alternatives
Overhead Hoods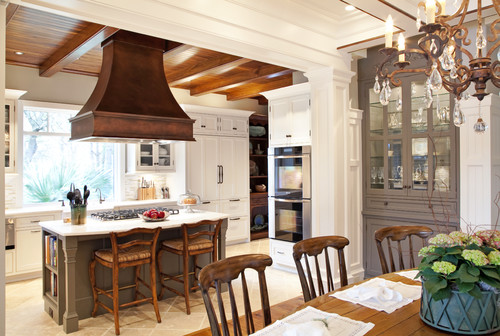 Overhead hoods have the proper capture area and can be placed over a range and rangetop.
You do not want to vent a long way, but an overhead hood is way better than a downdraft.
Island hoods were poorly designed when I started back in 1986. The Europeans changed that. BEST, Zephyr, and Faber manufacture beautiful hoods in several different sizes.
You can even design your hood. Just buy a liner, the controls, and the blowers. If it sounds hard, it's not.
Kitchen Design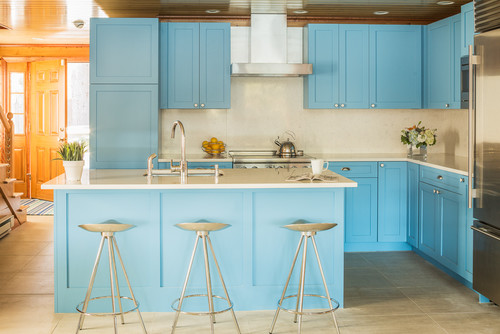 Photo by Maine Coast Homes
You probably saw this in a magazine. It looks good in a magazine. You do not have your sightlines obscured by a hood.
You can also entertain your guests by cooking while sitting on the other side of the island.
But think about that.
The downdrafts all promote themselves as splash guards for grease. If you cook, especially high-volume cooking, grease will splatter everywhere.
Is that entertaining? Maybe so, but probably not.
From a kitchen design standpoint, you should follow a classic tenet.
Never be one step from the most used appliances in your kitchen, namely your sink, refrigerator, and rangetop.
We used to call it the kitchen triangle.
With that in mind, the best appliance to place on your island is your sink, not your cooking.
You use it the most. Seriously.
You can even place an entertainment sink like the Galley in the middle and have every possible accessory to entertain.
Most Powerful Downdrafts: Key Takeaways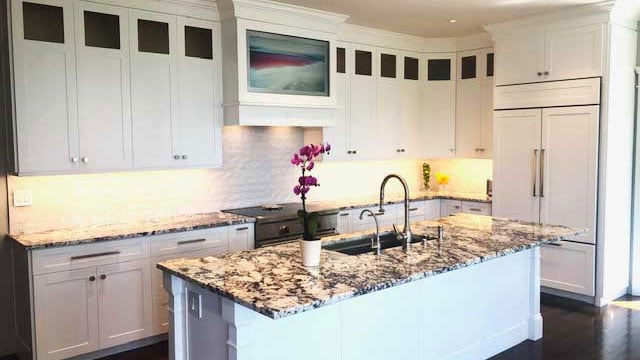 My Sister's Well Designed Kitchen
Downdrafts seem like a good idea but are the by-products of a poorly designed kitchen or as a last resort option only, like a replacement.
Stoves should be against the wall with short duct runs to maximize the effectiveness of your vent.
If you have to place your cooking in the middle, consider an overhead vent with good CFM for better capture.
You should also consider another design with the sink in the middle. I have mine in the middle, BTW.
However, your key takeaway is that high CFM downdrafts will not help vent if you like to cook.
You can learn much more by downloading our Ventilation Buyers Guide with tips and how to vent properly.
Additional Resources
Download the Yale Ventilation Buyers Guide with features, specs, and inside tips on how to plan for any type of hood. Over 900,000 people have read a Yale Hood.
Why Should You Trust Us?
It seems that every appliance review has nothing but glowing comments about almost every product, yet you read customer reviews and they are almost universally bad.
We are here to fill in the disconnect. We'll give you the best features, and the drawbacks as well, including reliability based on over 37,000 calls performed by our service team just last year. Our goal is to give you ALL the information so you know what's right for you.
Please consider subscribing or adding to the conversation in the comments below. We appreciate you stopping by.
A Note About Pricing
Pricing on this blog is for reference only and may include time sensitive rebates. We make every attempt to provide accurate pricing at time of publishing. Please call the stores for most accurate price.