Induction vs. Gas Cooking: A Quick Guide to the Pros and Many Cons of Both
Induction versus gas cooking is becoming a hotly debated topic these days.
The answer is complicated as there is no one answer to the question despite induction being touted as the best.
In this article, you will learn all about the differences in performance, safety, and reliability between induction and gas.
You will also learn the cons of both. Too many articles have focused on the pros.
Let's get started.
How Induction and Gas Stovetops Work
Induction is magnetic heat, so the electromagnets excite the molecules of the pan while the pan heats the food.
The pan is the circuit bypassing the glass, an important detail for cleaning, venting, and safety, as we will explain later.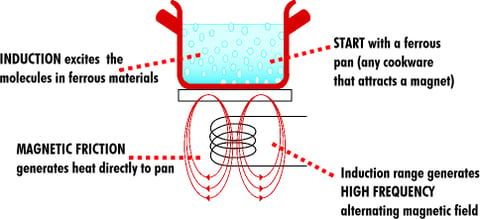 Well, you know how gas stovetops work. Gas stovetops use spark ignition with an oxygen and gas mixture through smaller perforations in your burner.
Induction vs. Gas Cooking: A Guide to the Pros and Many Cons of Both
Performance
Almost every article you will read will talk about the speed of induction.
They will reveal the results of boiling different amounts of water.
But how do they compare to cooking solid food?
We tested induction versus a high-powered professional gas unit in searing a steak and cooking a complete pasta dinner.
Searing was two minutes faster, while the complete pasta dinner was 7 minutes faster than the fastest gas cooktop.
You can learn more about our cooking test by watching the video below.
Read More: Which Is Faster, Induction or Professional Gas?
Simmer
Induction is an instant simmer. The electronics to manage the temperature are more precise if you look at the controls of induction vs. gas.
Also, gas cannot reach lower temperatures without extinguishing.
The lowest is 100 degrees from Thermador's XLO or SKS (Signature Kitchen Suite) Ultralow burners.
Power Boost / Power Share vs. Lower BTU Burners
These times will vary.
The induction will be slower in the back burners because the unit will share some power with the front burners for max output.
Thermador and Bosch boost the power in the front by using the available power in the circuit in the back burners.
For gas, the less powered burners are in the back as well.
A cooktop varies between 5,000-12,000 BTU (British Thermal Unit). You have more output in a rangetop up to 15,000 BTU.
Controls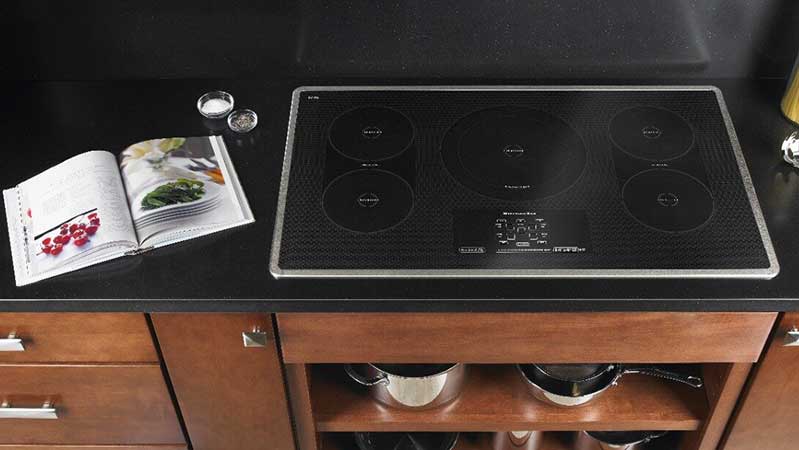 KitchenAid 36-inch Induction Cooktop
Look at the more precise controls of the induction versus the knobs of the gas burner.
Brands are starting to allow you to control your induction from an app on your phone.
Cleanability
The induction will be more easily cleaned. It is a smooth glass surface without crevices unlike gas grates.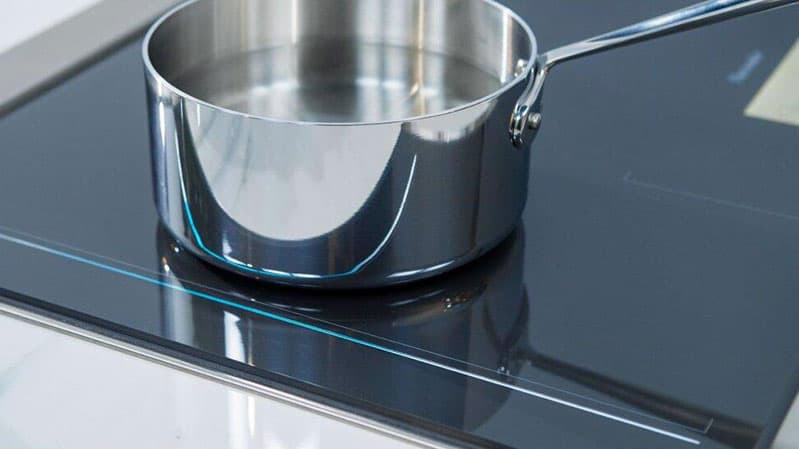 Thermador Induction Cooktop
However, the cooktop doesn't heat like gas. It bypasses the glass, so food does not burn into the unit.
The grates and burners are much harder to clean.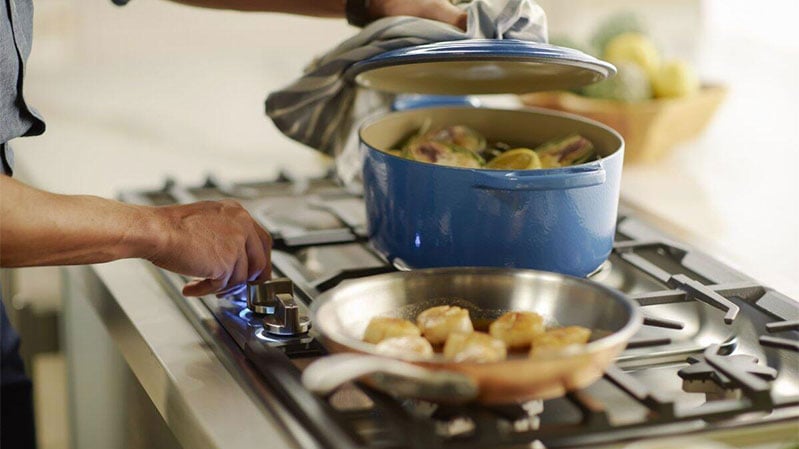 Thermador Gas Cooktop with Star Burners
The possible exception to gas will be the Thermador Star burner. It is raised over the surface, so you clean easier underneath.
Safety
Induction will be safer.
You won't scald your hand on the cooler surface of induction. The glass does not conduct heat like an electric stovetop.
You will feel some residual warmth from the pot to the surface. You see the flame with gas, but the burner is still hot after shutting off.
Your kids or spouse can't accidentally turn induction on either. The magnets in the burner have to sense metal to turn on.
Venting Safety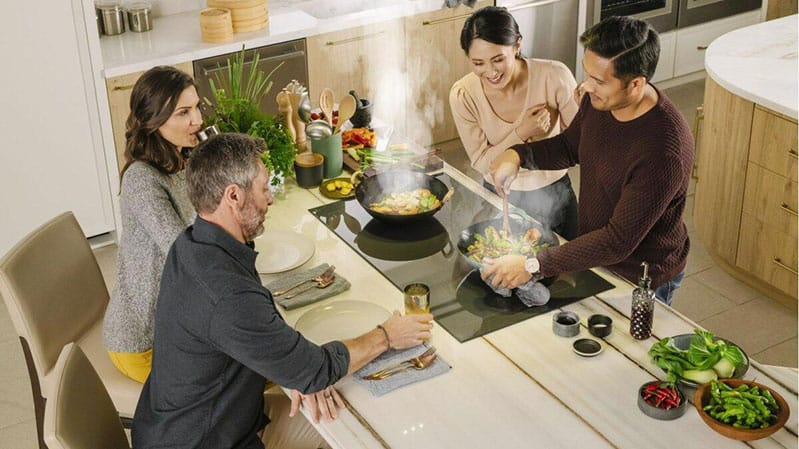 High Heat Cooking with an Induction Cooktop
Gas diffuses heat, so you have more heat to vent.
However, venting should be a more serious consideration in this decision for both induction and gas.
Gas will emit potentially toxic chemicals from tiny particles like PM10 and PM2.5 plus Nitrogen Oxide, Nitrogen Dioxide, Carbon Monoxide, and Formaldehyde.
Induction produces very little gaseous toxins, if any, including no Carbon Dioxide.
Induction is a cleaner, safer form of cooking.
But before you buy one, look at this:
Reliability
We logged over 40,000 service calls last year.
For this article, we looked at the number of gas ranges and induction ranges sold and serviced from December 1, 2020, to October 31, 2021.
The following service rates are based on a minimum of 40 ranges sold and a total sample of over 1000 ranges.
Gas Range Reliability from December 2020 to October 2021
| | |
| --- | --- |
| | Service Rate |
| Whirlpool | 2.5% |
| GE Appliances | 4.4% |
| LG Electronics | 4.4% |
| Samsung | 4.5% |
| GE Profile | 7.6% |
| KitchenAid | 8.9% |
| Beko Appliance | 12.9% |
| JennAir | 15.4% |
| Fisher & Paykel | 17.7% |
| Grand Total | 6.4% |
Induction Range Reliability from December 2020 to October 2021
The following service rates are based on a minimum of 25 induction ranges sold and a total sample of over 450 pieces.
| | |
| --- | --- |
| | Service Rate |
| JennAir | 2.6% |
| GE Profile | 3.5% |
| KitchenAid | 6.0% |
| Bosch | 8.0% |
| LG | 10.3% |
| Samsung | 10.6% |
| Beko | 13.9% |
| Café Appliances | 15.6% |
| Miele | 17.2% |
| Fisher & Paykel | 17.7% |
| Grand Total | 9.6% |
Gas ranges are more reliable than induction at 9.4% vs. 6.4% for a gas range.
In addition, gas is much easier to service than induction.
You will also find more service people available in gas than induction.
Power
Gas uses standard 120-volt electricity and is rated for less than 12 amps.
With induction, you will be using 40-50 amps.
For many people in condos and co-ops (cooperative housing), you may not have available power in your unit for the added amperage.
Blackouts and Outages
If you live in an area with frequent power outages, you can turn on your gas range by lighting it with a match.
With induction, you have to wait.
It's curious.
California, the state leading the charge for banning gas ranges, has frequent power outages.
They will have to add 30-40 amps per household times millions of houses.
I hope they have that figured out.
More Choices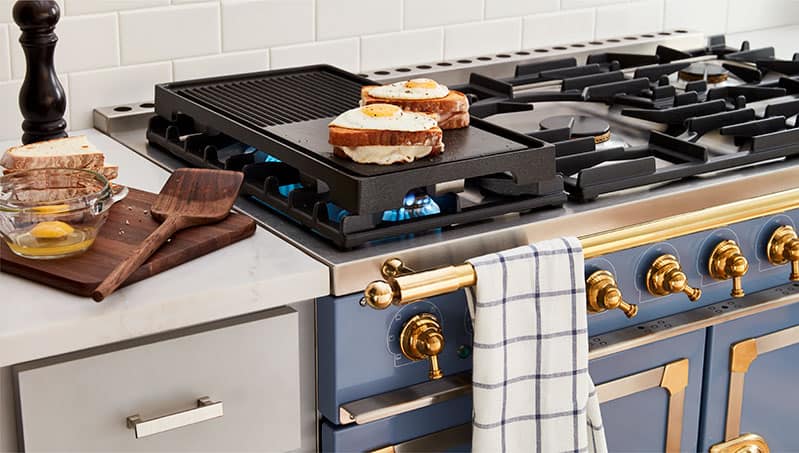 La Cornue CornuFé Gas Range
You have a grill, griddle, and wok compatibility with gas, especially with professional rangetops.
You even have a French top to cook many different foods simultaneously.
Cookware
Gas can be used on almost any pan.
With induction, it has to be metallic to attract the magnetic burner.
A quick tip: Take a magnet and see if it sticks.
Induction Cooktops to Consider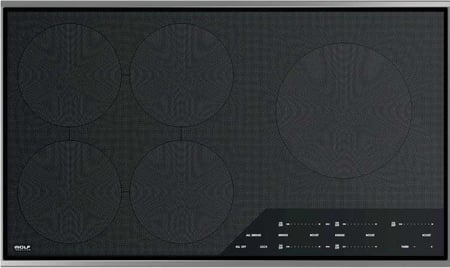 The four burners on the left can merge to form a super burner to accommodate any large pot.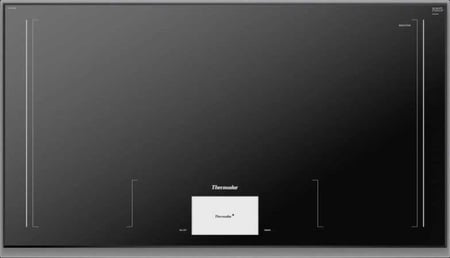 Thermador Freedom reacts like one large burner. You can move the pot, and the sensing technology moves with it.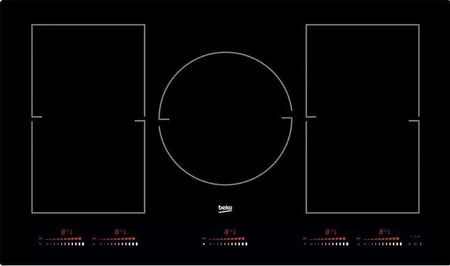 Beko may not be fancy, but you have two spots for oblong-shaped plates with a higher wattage burner in the middle.
Gas Stovetops to Consider
BlueStar Platinum Gas Range
Look at the BlueStar Platinum top with 25,000 BTU max output for sheer output.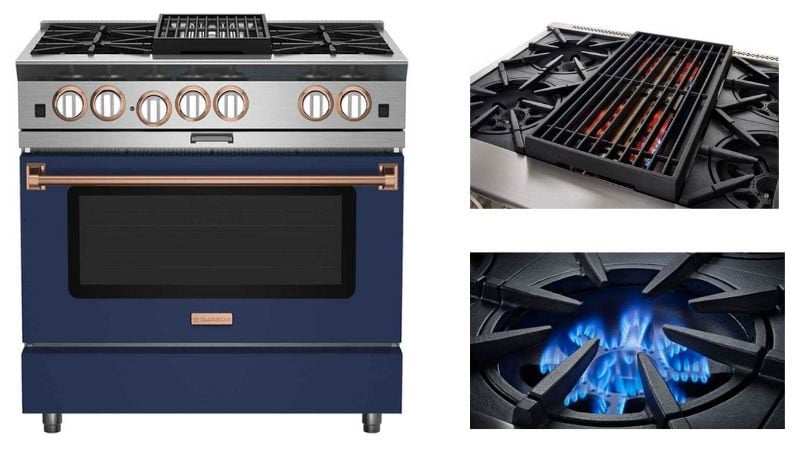 BlueStar Platinum 36 inch Pro Range BSP366B
Thermador Star Burners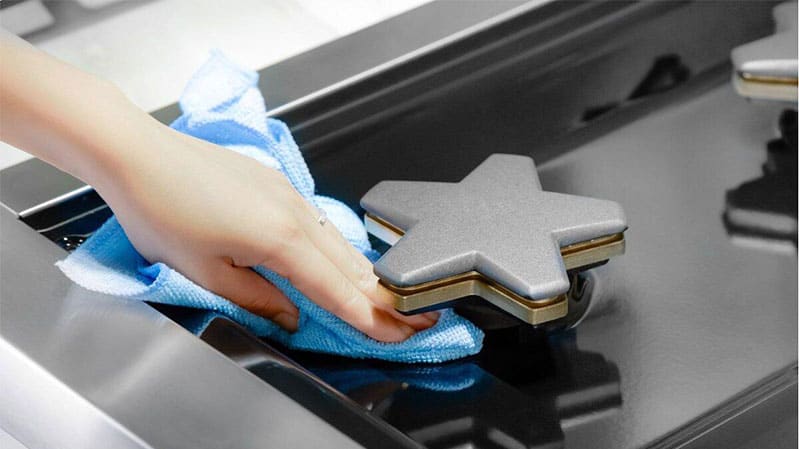 Thermador Star Burner
Forget about the shape. You can clean under these, unlike the round sealed burners of other brands.
Wolf Wok Rangetop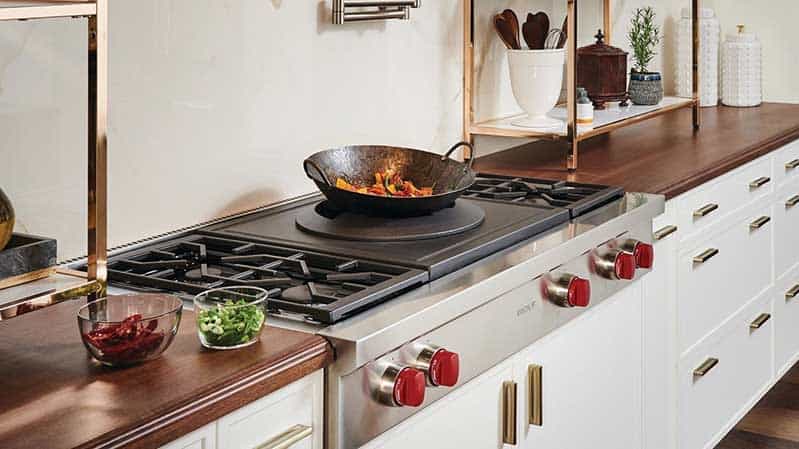 Wolf 48-inch Gas Rangetop with Wok Burner
Specially designed to wok with a 35,000 BTU wok burner.
Induction vs. Gas Cooking: Key Takeaways
Many cities have started to ban gas ranges for emissions and other environmental concerns.
That's noble.
However, local authorities have not assessed how many power plants are needed to generate all the additional wattage needed for induction.
Your decision should be based on how you cook and where you live.
Induction is a better cooktop for output, simmering, and overall control. It is safer and easier to ventilate.
Gas is more reliable, requires less power, and has more interesting models.
If I lived in California and experienced frequent outages, I wouldn't be so quick to switch to induction.
Maybe induction is the future or a combination of both induction and gas burners. You have the speed and control of induction with the reliability of gas.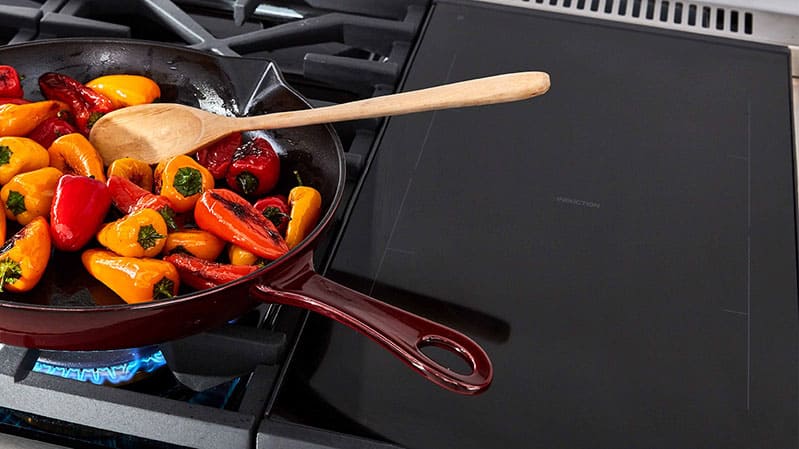 SKS Pro Range with Induction and Gas Burners
You can even cook when the power is out.
What do you think of your induction or electric cooktop? Feel free to leave any comments below.
Additional Resources
Read our Induction Cooking Buying Guide for features, buying tips, and ratings of every available induction cooking product in the market. Well over 1 million people have read a Yale Guide. Induction is our most popular.
Related Articles:
Why Should You Trust Us?
It seems that every appliance review has nothing but glowing comments about almost every product, yet you read customer reviews and they are almost universally bad.
We are here to fill in the disconnect. We'll give you the best features, and the drawbacks as well, including reliability based on over 37,000 calls performed by our service team just last year. Our goal is to give you ALL the information so you know what's right for you.
Please consider subscribing or adding to the conversation in the comments below. We appreciate you stopping by.
A Note About Pricing
Pricing on this blog is for reference only and may include time sensitive rebates. We make every attempt to provide accurate pricing at time of publishing. Please call the stores for most accurate price.