Are Over-the-Range Microwaves Going Out of Style? (Reviews / Ratings)
The over-the-range microwave checks a lot of boxes in kitchen design. It will centralize your cooking and remove the microwave off your counter.
Over-the-range microwaves are relatively inexpensive and look good over the matching stove.
It checks all the boxes except one important feature.
Unfortunately, it can be a pretty big problem, depending on how you cook.
In this article, you will learn the specifications of over-the-range microwaves and why they don't matter.
You will learn how to vent and the best alternatives to an over-the-range microwave as well.
Are Over-the-Range Microwaves Going Out of Style?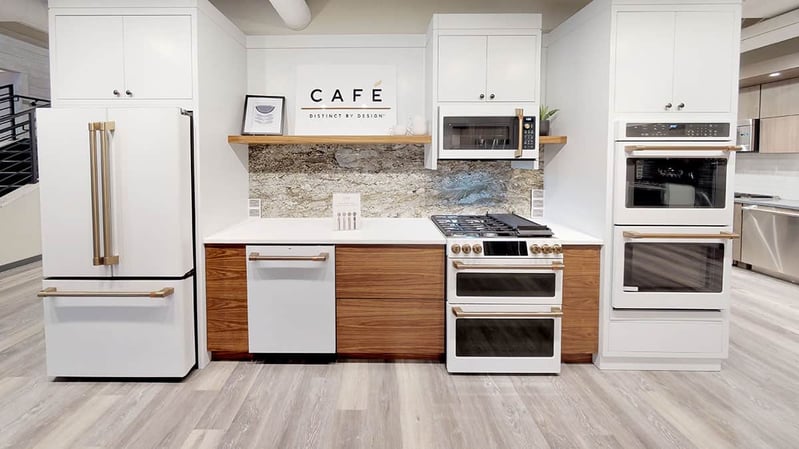 Café Appliances Over-The-Range Microwave And Gas Range at Yale Appliance in Hanover
First, to answer that question, the answer is no, over-the-range microwaves are not going out of style.
Whirlpool just started manufacturing an over-the-range microwave to be a direct replacement for a hood.
You can still buy an over-the-range microwave with plenty of features.
Short on time? Get our free Ventilation Buying Guide
Best Over-the-Range Microwaves
Here are a few interesting over-the-range microwaves to consider.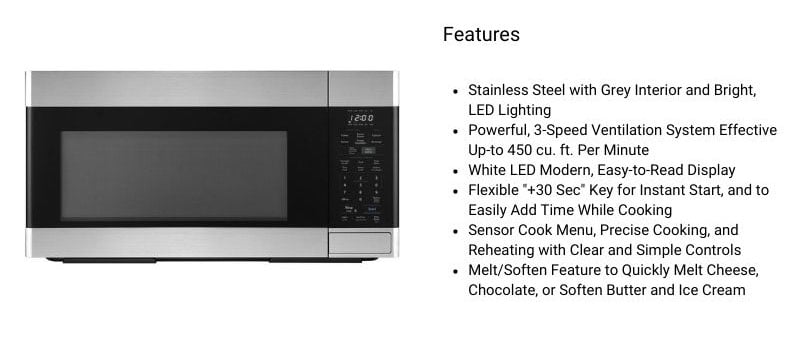 Sharp has convection over-the-range microwaves. You can use it as a regular microwave, use convection, or combine the cycles to save half the time without compromising the food's flavor.
GE JNM7196SKSS Over-the-Range Microwave - $279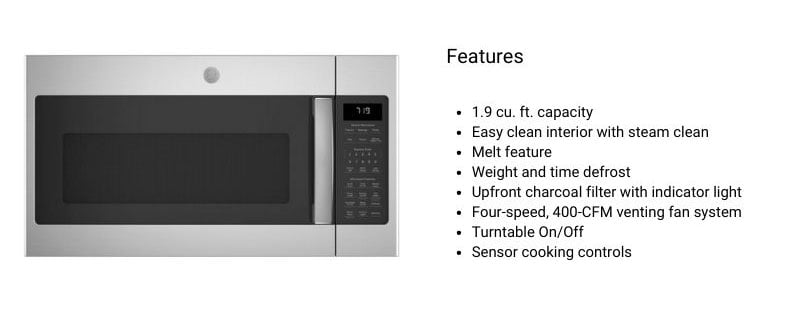 GE has Advantium technology in its over the range. They use high powered light bulbs for cooking with two different models.
You can buy it in standard 110-volt or rewire your outlet and cook eight times faster with their 220-volt model.
Over-the-Range Microwave Venting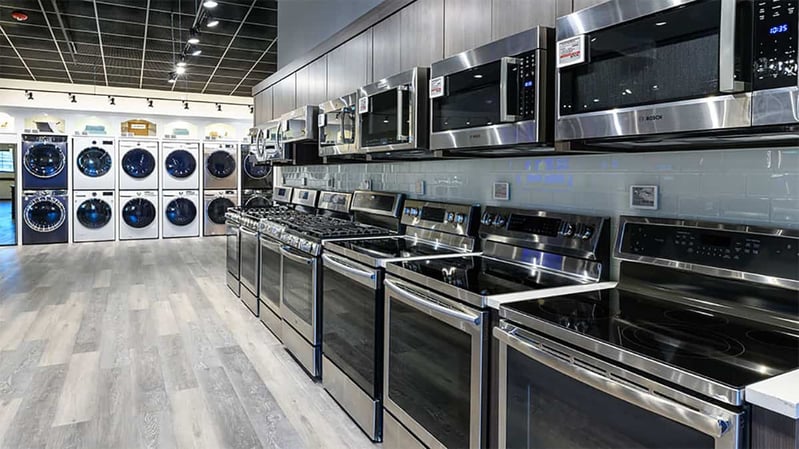 Over-The-Range Microwaves and Freestanding Ranges at Yale Appliance in Hanover
The over-the-range microwave has not changed much since I first saw it back in 1988.
The typical specs are 16.2" tall, 16.375" deep, and 30" wide to match the range.
Depth is a problem, as you will see.
The average CFM (how many cubes of air is exhausted in a minute) is 300-400.
Most range hoods are 400-695 CFM's for a standard gas range.
The microwave was an adequate vent for a typical stove designed in the 1980s and 1990s.
However, while the over-the-range microwave specifications haven't changed, gas ranges have increased output considerably.
The average gas range had a power burner of 12,000 BTU back in 1988.
Now let's look at an average range.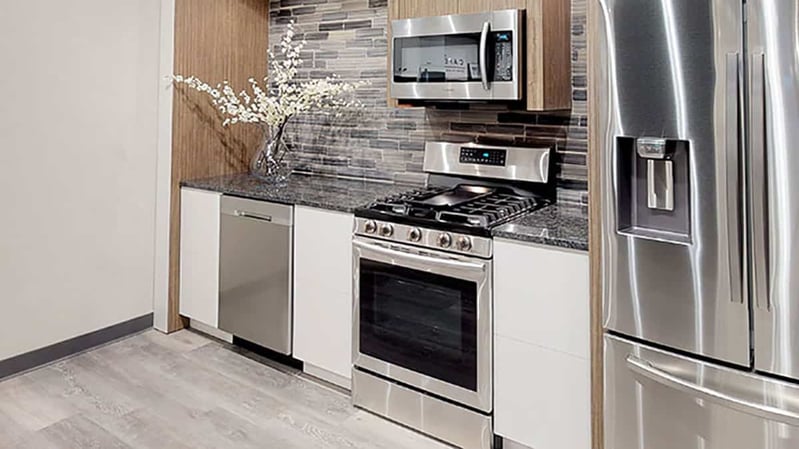 Samsung Freestanding Gas Range and Over-The-Range Microwave at Yale Appliance in Hanover
This Samsung has two burners similar to a pro range at 19,000 and 17,000 BTU with a 5th burner at 10,000 BTU.
A range was 50% more powerful at 60,000 BTU versus 40,000 BTU back in 1988.
Yet the over-the-range microwave hasn't changed, and low CFM is only part of the problem.
How to Vent Your Stove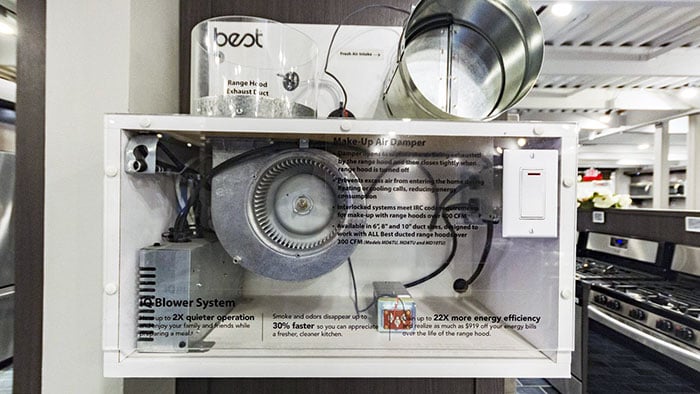 Ventilation and Blower System at Yale Appliance in Boston
Let me break down the various components of proper venting.
CFM
You may know it as blower speed. It is the acronym for cubic feet per minute or how many air cubes are exhausted per minute.
A 400 CFM over-the-range microwave exhausts 400 cubes of air. Blowers can be mounted internally, externally, or inline in the duct.
Capture Area
Capture is a frequently overlooked component of ventilation. It's just the depth.
However, if you think you can buy a shallow 1000 CFM hood, the smoke will billow past the hood and into your kitchen.
The average hood is 21-24" in depth, whereas the over-the-range microwave is only 16".
Along with below-average CFM, you now have a shallow capture area.
That will be an issue on the more powerful burners.
Duct Run
Straight up is the best way to exhaust your hood. It's where the smoke is already going. Straight back is also ok.
However, bending the duct more than once will reduce the static flow of the exhaust.
Duct Size: 4 inch round duct is for a 180 CFM dryer exhaust, not a range. Duct sizes should be a minimum of 6 inch round or larger.
Make-Up Air
Any vent over 400 CFM in the state of Massachusetts now needs an equal return of air into your home.
Wherever you are reading this, you should have a return on a more powerful exhaust.
Over-the-Range Microwave Alternatives
Induction Ranges and Cooktops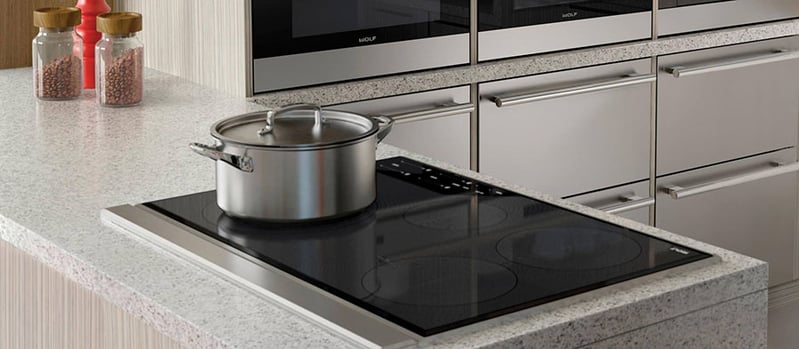 Wolf Induction Cooktop
Induction is a magnetic heat and is far more efficient than gas at 90% vs. 55% gas.
Consequently, the advantages include:
Boils faster: Way faster than even a pro burner
Simmers lower: Gas blows out at a low temperature
Most child safe: Induction can only be activated by metal, so your (and my) toddler can not accidentally turn it on.
Easiest to clean: The glass is not heated. Spills do not become encrusted into your cooktop
Fewer HVAC costs: You don't have 60,000 BTUs of heat in your house
Less venting required
Over-the-Range Microwaves Alternatives
Microwave Drawer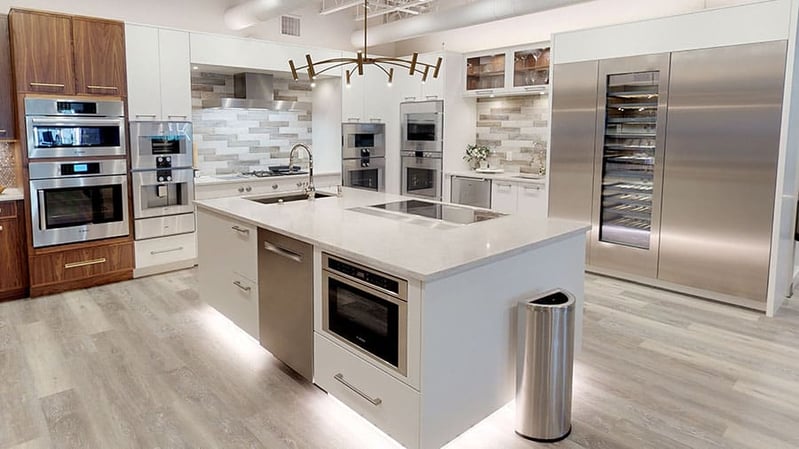 Installed Bosch Microwave Drawer at Yale Appliance in Hanover
Microwave drawers slide out with a button touch and are great in spaces like islands and cabinets.
Microwave drawers are all produced by Sharp. But with brands like Jenn-Air, Thermador, and Bosch, they are better-looking and can be mounted flush to your wall.
Speed Oven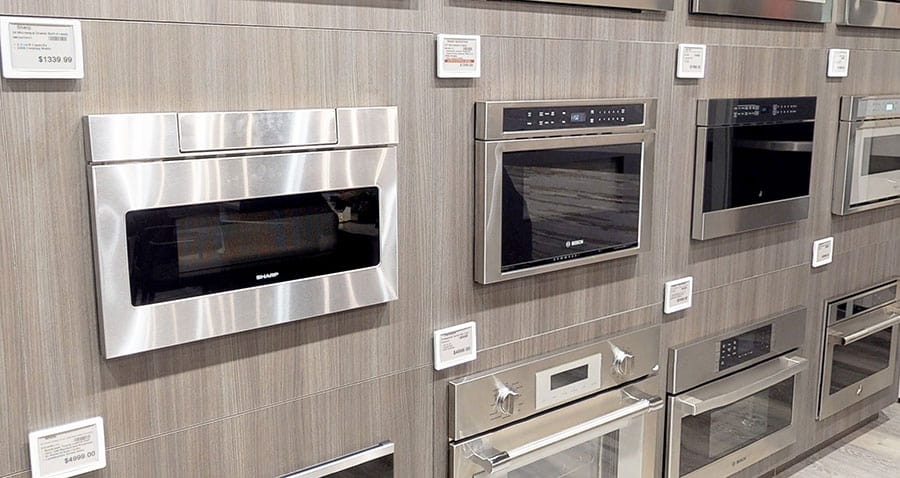 Speed Ovens And Built-In Microwaves at Yale Appliance in Hanover
Speed ovens are convection microwaves. They can cook as a microwave, convection oven, or both.
Speed ovens can be placed anywhere, unlike microwave drawers, because they fold down and do not slide out.
The more powerful 220-volt products need to be placed in a wall cabinet.
You can cook in a speed oven. The best is Miele because the controls are so easy to use. JennAir, KitchenAid, and Bosch Benchmark have a decent product as well.
Under Cabinet Microwave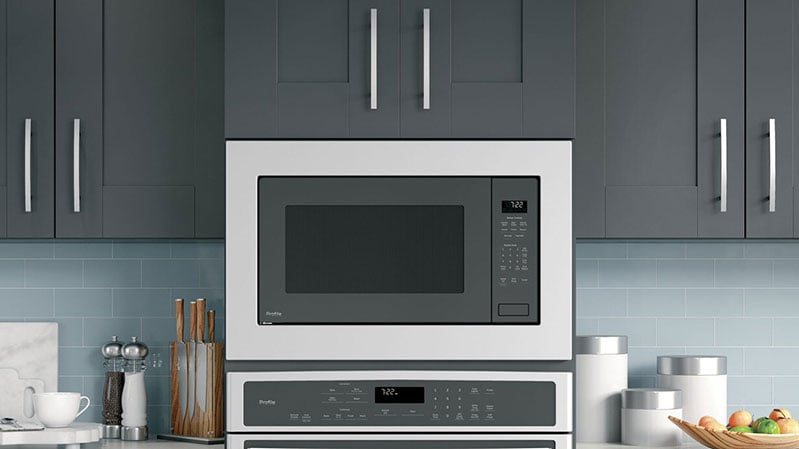 GE Appliances Under Cabinet Built-In Microwave
GE has a 12-inch deep microwave designed to be placed under a cabinet. It is a bit dated looking, but not bad as a last resort.
You can build it into a cabinet as well.
Should You Buy an Over-the-Range Microwave?
The over-the-range microwave is not going out of style. It still is a good design even after all these years.
However, an over-the-range microwave can not handle the grease and smoke of today's higher-powered gas stoves.
If you do cook, consider induction or place the microwave somewhere else in your kitchen.
Additional Resources
Get the Yale Ventilation Buying Guide with features, specs and how to vent any range properly. Well over 800,000 people have read a Yale Guide.
Related Articles:
Why Should You Trust Us?
It seems that every appliance review has nothing but glowing comments about almost every product, yet you read customer reviews and they are almost universally bad.
We are here to fill in the disconnect. We'll give you the best features, and the drawbacks as well, including reliability based on over 37,000 calls performed by our service team just last year. Our goal is to give you ALL the information so you know what's right for you.
Please consider subscribing or adding to the conversation in the comments below. We appreciate you stopping by.
A Note About Pricing
Pricing on this blog is for reference only and may include time sensitive rebates. We make every attempt to provide accurate pricing at time of publishing. Please call the stores for most accurate price.