What's the Difference Between All Gas and Dual Fuel Professional Ranges? (Reviews / Ratings / Prices)
If you were looking at a dual fuel and gas range, you wouldn't notice a difference. On the outside, they look identical. But there is a big difference in the installation and performance.
| | |
| --- | --- |
| Dual Fuel Pro Range | Gas Pro Range |
Short on time? Get our free Pro Cooking Buying Guide
In this article, you will learn the cooking differences between all gas and dual fuel as well as their installation differences, special features, and their cooking performance differences.
Dual Fuel vs. All Gas Range Differences
You probably have heard that a dual fuel range is better than all gas range. That is only partially true. Electric convection in a dual fuel range is a drier and more precise heat so it is better for baking. Gas convection is moister and better for roasting.
However, many of the professional (pro) ranges have other features in their dual fuel models, so there are other differences than their cooking performance.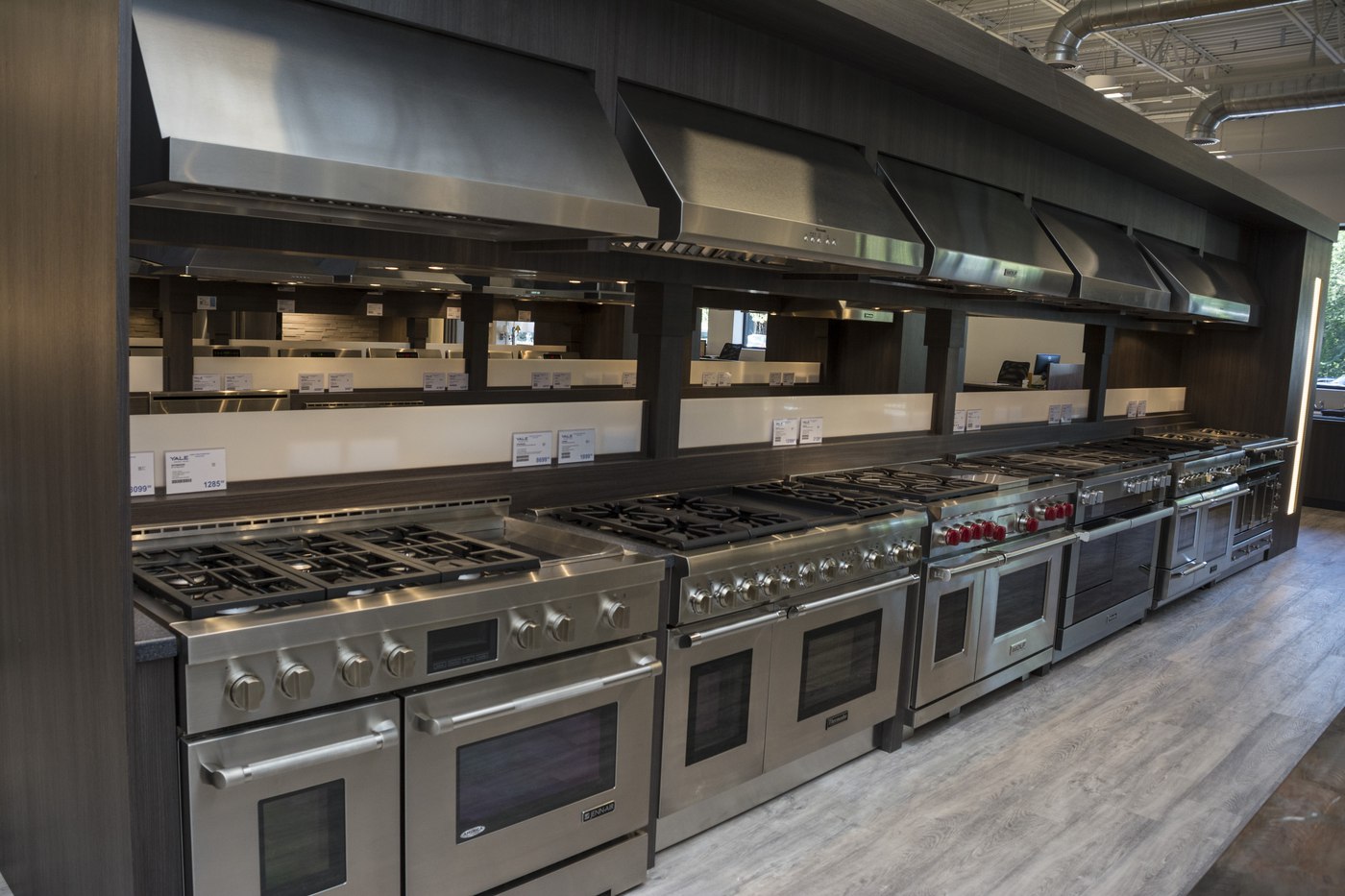 For a quicker synopsis, we created a video explaining the differences between a dual fuel and gas range. In this video you will learn:
The performance differences between all gas convection and dual fuel convection in a range's oven
Which manufacturers have the best gas convection systems
Which manufacturers have different features between all gas and dual fuel
What to buy depending on how you cook
All Gas vs. Dual Fuel Professional Ranges
There are many other differences between the two range types. Dual fuel typically is more expensive and offers more features like self-cleaning, steam, and better controls.
Below, we'll look at the basic differences in oven functions (the tops are the same) in baking, broiling, and roasting.
Installation of Dual Fuel vs. All Gas Ranges
The vent requirements will be the same because the rangetops are identical except when using liquid propane (LP) where there may be a slight drop in BTU output.
In a dual fuel, you will need a gas line plus 30-50 amps for the electric ovens depending on whether you have a single 30 or 36 inch or double 48 and 60-inch oven (please consult the manual before installation).
You are just installing the gas line with 110 volts in an all gas range.
Baking in All Gas vs. Dual Fuel Oven
Electric convection is more precise and is better for baking. Many brands like Wolf, Jenn-Air, and Miele have twin convection for more even temperature.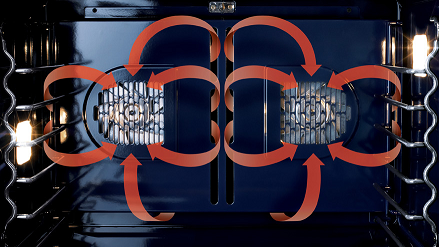 Twin Convection
All pro dual fuel ranges are "pure" and "European", so the air is blown to the rear rather than the bottom for more consistent cooking results.
Gas is almost always still blown from the bottom and then the fan distributes the air. Only BlueStar and Signature Kitchen Suite (SKS) offer pure convection in a pro gas range.
Broiling in an All Gas vs. Dual Fuel Oven
Gas is the better broiler. Infrared gas broilers are a direct heat and do not spread the heat like regular gas and electric broilers. They are in fact the sear burners to a high-end grill.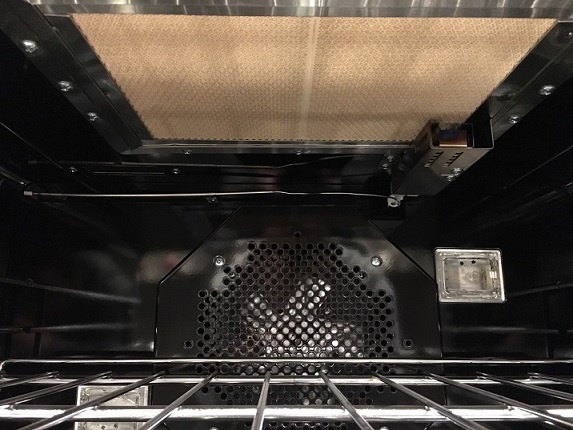 Infrared Broiler
The hottest infrared is BlueStar at 1850 degrees followed by Wolf at 1500. In addition, Thermador and Miele offer infrared as well.
Roasting
Roasting is a dry heat cooking method typically for more structured foods like meats and vegetables cooked at high temperatures. Gas is a moist heat whereas electric is more dry. For meats and poultry, gas would be a better option for roasting.
Gas vs. Dual Fuel for Different Brands
It's not just a simple difference in fuel types for a few brands. Some brands offer feature upgrades for electric, not available in gas. Moreover, you will pay more for a dual fuel range.
Jenn-Air Gas vs. Dual Fuel Ranges
Jenn-Air Dual Fuel Range JDRP548WP - $10,199 | Jenn-Air Gas Range JGRP548WP - $8,199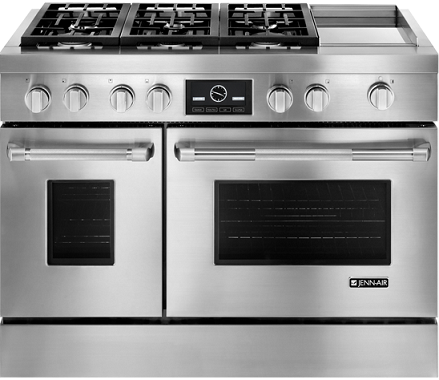 Jenn-Air would be the exception as it is exactly the same except for the difference in fuel types.
Thermador Gas vs. Dual Fuel Pro Ranges
Thermador offers two series, Harmony and Pro Grand.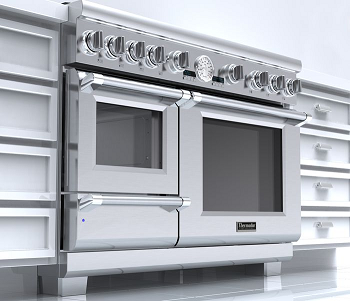 Thermador Pro Grand Range
Thermador looks the same in all gas or dual fuel as well, except it offers self-cleaning in electric but not in gas.
The feature package is the same in the Thermador Pro Grand range series.
Their 48 and 60-inch Pro Grande ranges offer steam and warming drawers and are dual convection only.
Wolf All Gas vs. Dual Fuel Pro Ranges
Wolf is completely different. The burner output increases from 15,000 BTU in all gas to a 20,000 BTU maximum in Wolf's dual fuel range.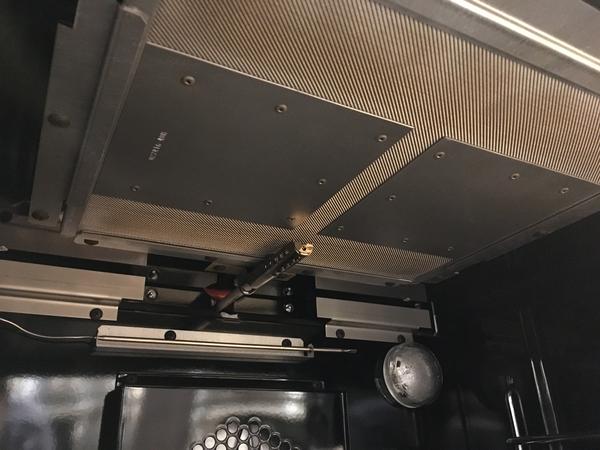 All Gas Broiler
Dual Fuel Broiler

You also have a clock, a timer, and twin convection. On top of that, you have a self-cleaning option in dual fuel versus an all gas range.
Miele All Gas vs. Dual Fuel Pro Ranges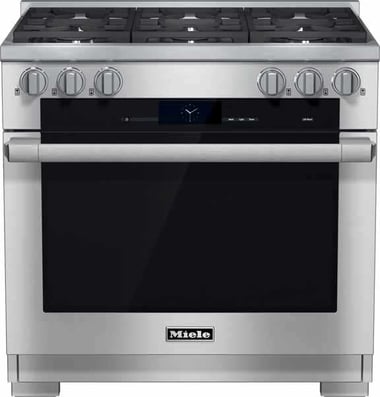 Miele Dual Fuel Pro Range
Miele does not add extra output on the top like Wolf, but they introduce technology and steam in the oven of their dual fuel range.
Steam is great for hardening crusts and other foods, especially bread. You can add steam to a cycle or automatically bake bread in the Miele oven.
But Miele, along with Dacor, was the first to add sophisticated controls to their professional range. Their MasterChef control system is completely intuitive.
All you have to do is choose the meat or other food, the type, and then press a button. The oven calculates time and temperature automatically.
Dacor All Gas vs. Dual Fuel Pro Ranges
Dacor has two series. Their better modernist series is dual fuel only and has steam, twin convection, Wi-Fi, and higher BTU burners than their Heritage pro gas range series.
Their Heritage line has the same specifications in gas or dual fuel.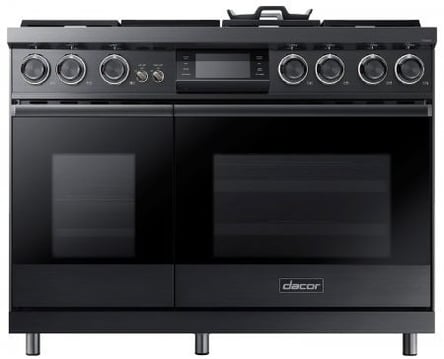 Dacor Modernist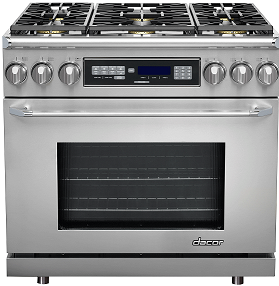 Dacor Heritage
Do You Buy an All Gas or Dual Fuel Range?
It depends on how you like to cook with your oven.
If you like to broil meats, a gas convection system will be better because it is a moist heat than electric.
Broiling is far better with a gas infrared broiler than electric. If you like to sear meats, then gas will be better than electric.
Gas is less expensive to buy and easier to install than electric in most cases. It does not require the same electrical load as gas.
Moreover, if you have limited electrical outlets, then gas is a better option.
Electric Ovens in a Dual Fuel Range
First, all electric ovens are self-cleaning whereas Wolf and Thermador are not in their all gas ranges.
You will bake better in the dry electric oven versus the moist gas. You will have advanced features in a few dual fuel ovens like steam capability and better intuitive controls depending on the manufacturer.
Do you bake, roast or broil? You can use our Pro Range Configurator quiz to help you determine the right brand and product for you.
Additional Resources
Looking for more information about professional ranges? Get the Yale Pro Cooking Buying Guide with specs, BTU outputs, and detailed profiles of all the major brands like Wolf, Viking, Miele, JennAir, GE Monogram, Thermador, and more. Well over 355,000 people have read a Yale Guide.

Related Articles
Steve Sheinkopf
My goal has always been simple: I want Yale to be the best retail experience anywhere. I have tried to create a compelling environment for customers and employees alike.
A Note About Pricing
Pricing on this blog is for reference only and may include time sensitive rebates. We make every attempt to provide accurate pricing at time of publishing. Please call the stores for most accurate price.