The Best 48-inch Counter-Depth Refrigerators for 2023
August 16th, 2023 | 11 min. read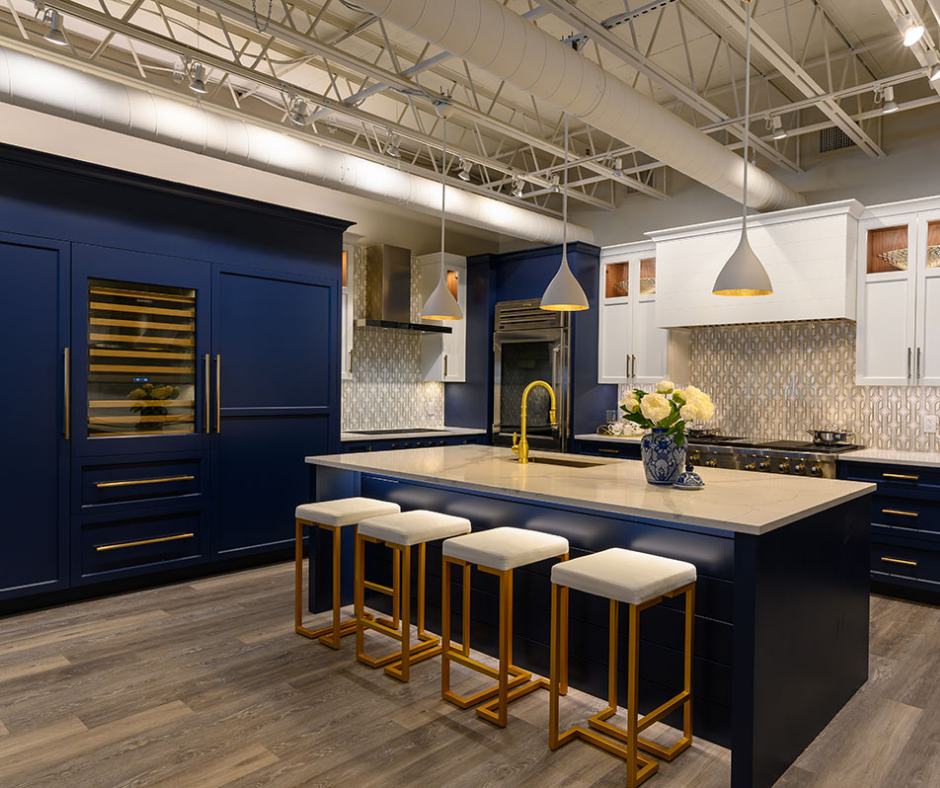 Buying a 48-inch counter-depth refrigerator is not easy and can be quite a task.
Should you opt for a side-by-side model or go with a French door design?
Then, do you prefer a sleek stainless-steel finish or a customized cabinet front?
If you're leaning toward the cabinet front, a further question arises: should it seamlessly blend into your cabinets for that integrated look?
Feeling a bit overwhelmed?
Rest assured, this article is here to guide you. You'll gain insights into the distinctions, advantages, and disadvantages of each 48-inch counter-depth style while also discovering the top brands to consider.
Moreover, we'll address several issues that should be on your radar before making a purchase.
One key takeaway stands out from this article: finding the right brand is paramount, and once you've got that down, the decision between an integrated style and a professional-grade design becomes the next focal point.
Let's get started.
The Best 48-inch Counter-Depth Refrigerators for 2023
Sub-Zero CL4850UFDID/S/P
Sub-Zero's 48-inch built-in refrigerators have gained popularity for their extensive selection of features and options in this size range.
They are the largest family-owned American appliance manufacturer based in Madison, Wisconsin. They were the first with twin compressors, one for the refrigerator and one freezer, so the warmer, moister air of the refrigerator does not cycle into the colder dryer freezer.
Sub-Zero has introduced an new French door refrigerator that has a completely revamped interior and a new range of features.
Advantages
Split Climate
One of the new additions is the "Split Climate" feature, which ensures that the air circulates in multiple directions, maintaining a consistent temperature within a one-degree range.
Better Lighting
Featuring LED lighting at the top and a lighting system in the back, this refrigerator illuminates your food from every angle.
Flip-Up Dairy Compartment
A small but smart feature allows you to fit taller bottles on the bottom shelf.
Nanotechnology Shelving
This refrigerator's nanotechnology-coated shelves congeal spills, so you aren't cleaning sticky grape juice from your refrigerator after a spill.
Food Fresh for Longer
The product has been designed to keep food fresher longer with their tight vacuum seal and magnetic crisper bins.
This refrigerator has an air purifier to scrub ethylene gases off spoiling foods to reduce spoilage.
Ice Dispenser
It's available in stainless steel, or you can use a custom cabinet panel on the front. Both styles are available with or without an ice dispenser.
Smart Functionality
All Sub-Zero's refrigerators are Wi-Fi enabled.
You can control the temperature on your phone. If you leave the door open, the refrigerator will send a text alert for temperature changes.
Warranty
Their warranty is the best with a full five year warranty and 12 years on the compressor.
Highlighted Features
Twin Compressors: Although most built-in brands offer twin compressors, Sub-Zero was the first. With twin compressors, the refrigerator and freezer environments are separate. The warmer air is not trapped in the colder, dryer refrigerator. Your frozen food will taste better, and your freezer will defrost less.
Vacuum Door Seal: The door is vacuum sealed to infiltrate outside air. Try opening a Sub-Zero, then a competitive brand, to understand the difference.
Ethylene Air Scrubber: Spoiling foods release ethylene gas. Sub-Zero has a NASA-patented air purifier. This scrubs the gases off spoiling foods and limits cross-contamination.
Magnetic Crispers: Their crispers are magnetized to close tighter.
Pure Water: They added a pure water filter and an internal water dispenser.
Nanotechnology Shelving: Sub-Zero's nanotechnology shelving congeals, rather than spreads, spillage within the refrigerator.
True
TR-48SBS-SS-C
True's entry into residential refrigeration five years ago was the most significant development in refrigeration.
True is the largest family-owned American commercial refrigerator company and based in St Louis, Missouri.
Considered the best commercial product available, it's a staple at any supermarket.
If you have grabbed frozen food or a soda at Whole Foods or Wegmans, you pulled it out of a True refrigerator or freezer.
Advantages
One Million Pull Test: The unit passes some rigorous testing. The hinges are designed to withstand 1,000,000 pulls.
All Stainless: True has a striking professional refrigerator, especially its hinges and stainless shelving. It's easy to clean with an all-stainless interior and cools quicker.
Customization: Want a Saffron-colored refrigerator with polished brass accents on your hinges? How about Cobalt and gold instead? You have 12 finishes and six hinge accent colors with a True refrigerator.
Dual Compressor: It is also a dual-compressor refrigerator.
LED Lighting: It has some nice touches, like ramp-up LED lighting and upfront electronic controls.
Refrigerator Drawers: Their all-steel crispers close tightly with soft close hinges, like well-made cabinets. They also placed shelving on the door, unlike their commercial units.
Drawbacks
No Panel-Ready Options: You cannot purchase a True refrigerator panel-ready.
No Wi-Fi or Smart Home Connectivity: True does not presently have smart functionality.
Highlighted Features
Two Compressors, Two Evaporators
Customization: This refrigerator can be customized with ten different base colors and six different trims for the hinges.
LCD Controls: The True 42 control panel offers professional performance.
Ramp-Up Lighting: Beautiful LED lighting to highlight a beautiful all-stainless-steel interior with no plastic anywhere.
Door Bins: Three adjustable, removable door bins are made from pro-grade stainless steel for hygiene, cleaning, and longevity.
Glass Shelving: Stainless steel-trimmed glass shelves that are both adjustable and removable.
Drawers: Soft-close glides and stainless steel for durability and ease of use.
Freezer Baskets: Three polished stainless-steel wire baskets are easy to see and smooth glide for a quiet, solid feel.
Door Hinges: Solid stainless steel designed to stay open at 120°, each high-grade hinge passes extreme testing and has a silent, soft close.
Stainless Interior: Absorbs cold better and is the most hygienic.
If you want to learn more about True, listen to their CEO from our series, Behind the Brand.
Monogram ZISS480DNSS
Priced at $13,100, plus rebates, Monogram is the most budget-friendly option on this list.
Advantages
Dispenser
I thought I would start here because the other brands don't have one except for Sub-Zero.
The well-designed stainless steel dispenser can accommodate various types of glassware, including pitchers.
Air Tower
Monogram's 48-inch refrigerator has a unique temperature management system.
Instead of a top-down approach, they utilize an air tower encompassing each shelf, ensuring consistent cooling throughout the unit.
Climate Drawer
This system extends to their climate-controlled drawer, allowing you to quickly thaw meats or chill beverages with a button.
SmartHQ
Monogram provides an excellent Wi-Fi experience with their SmartHQ app, making it the best in the industry for connectivity and smart features.
Drawbacks
Our experience with the line is limited, but the Monogram lacks the air purification system or nanotechnology found in Sub-Zero refrigerators.
In addition, it doesn't have the solid stainless steel interior or customization options found in True refrigerators.
Highlighted Features
Advanced temperature management system with multi-shelf air tower: Provides even distribution of air throughout the refrigerator.
Climate-control drawer: Allows you to express-chill beverages, express-thaw meats and select specific temperatures for perishable foods.
Wi-Fi Connect: Enjoy the convenience and freedom of wirelessly controlling functions from your smartphone.
LED lighting: Light columns in the freezer and fresh food compartments extend the full length of the interior and LED lighting located inside the vegetable and climate-control drawers illuminate contents without compromising space.
True stainless dispenser: Designed to accommodate glassware of all sizes, from pitchers to tumblers.
GE® water filter: Has been moved from the fresh food compartment to the overhead cabinet, where it is discreetly out of sight.
Deli drawer on full-extension slides: Keeps meats, cheeses and other everyday foods within easy reach.
Sealed vegetable drawer: Helps preserve the freshness of foods.
SKS SKSFD4826P
Haven't you heard of Signature Kitchen Suite (SKS) before? SKS is the premium line of LG.
SKS marketed the first 48-inch French-door refrigerator.
Advantages
Linear Compressor
The SKS 48-inch refrigerator has an inverter compressor.
It's worth mentioning that LG's linear compressors were involved in a class action lawsuit back in 2019.
However, they have improved the original design.
In SKS, they added a second inverter, so this refrigerator has two compressors and evaporators.
Quiet
Fewer working parts lead to fewer problems, and SKS is the quietest refrigerator on the market at 39 dB (decibels).
Reliable
LG refrigerators, including this SKS model, are known for their reliability and are considered one of the most dependable options on the market.
Integrated Design
The other brands are counter depth. SKS is integrated, meaning it is seamless to the cabinet.
You have a different look. A professional refrigerator is more pronounced, while an integrated refrigerator will be flush with the cabinets.
I will describe this more later in the article.
However, SKS is less deep, and so is the cubic footage at 26 cu. ft. compared to 28.9 cu. ft. for the Sub-Zero.
Temperature Control
Like the Monogram, SKS has four sensors and strategically placed vents throughout the body for optimal cooling performance.
Convertible Drawer
The bottom left drawer is convertible for a freezer or refrigerator with five settings from 41 degrees to –7. So you always have flexibility.
Metal Back
While it's not entirely made of metal like True refrigerators, it does have a metal backing, which allows for better absorption of cold temperatures.
Ice Makers
This refrigerator has regular ice, Craft Ice, and larger, round spheres. Craft Ice is slower to dissolve and ideal for scotch and other cocktails.
Highlighted Features
Dual ice maker with Ice™
Convertible drawer
Precise preservation
LED Lighting
Signature Fit™ integrated design
Viking VCSB5483
48" Side-by-Side Refrigerator/Freezer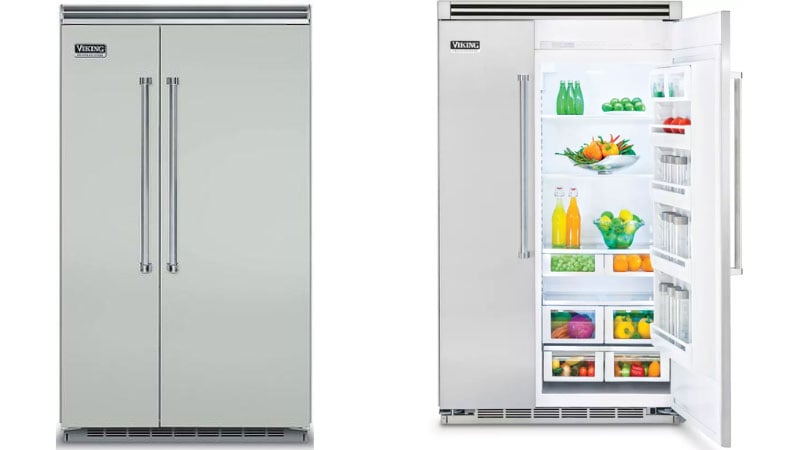 Viking redesigned their refrigerator with their ProChill temperature management system and DC Overdrive compressor.
Like the others, they have an electronic temperature display in the front.
They even have Sharp's Plasmacluster technology. This air purifier removes bacteria from your refrigerator and keeps it fresh.
Viking's refrigerator has LED lighting, 17 custom colors, and soft-close crispers. The soft close crispers seal air from the rest of the refrigerator.
They have even introduced integrated columns in their seven-series models. However, one of the problems with a Viking refrigerator, like SKS, is its single compressor compared to two compressors for the others.
In a refrigerator this big, two compressors may be better.
Having two compressors also eliminates taste and odor transfer to the freezer. Colder air will not enter the warmer refrigerator, and warmer air will not travel to the freezer.
Viking also needs to work on its reliability, especially for refrigerators.
Make sure your dealer is also responsible for service. To be transparent, we do not sell or service Viking products.
Still, it's a significant improvement for Viking. Kudos. They are an American-made company like the others on this list, so they deserve your consideration.
Highlighted Features
LED Lighting
Plasmacluster Ion Air Purifier
Metal Door Bins
Robust DuraHinge™
Adjustable HumidityZone Drawer
French Door vs. Side-by-Side Refrigerators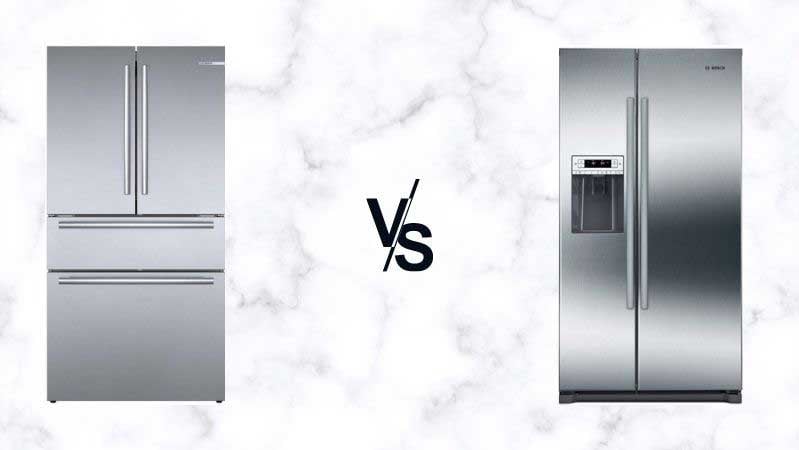 I haven't had to include this section until this year.
French doors have larger refrigerators and more lateral storage, while side-by-side refrigerators have more freezer space and more organized storage from top to bottom.
Common 48-Inch Counter-Depth Refrigerator Problems
Many people are focused on brands and features as they should be. There are other factors of concern. Some are big problems. Let's take a look.
Delivery
You would think delivery is simple and a similar experience at every store. Delivering a 600–800-pound refrigerator on new soft floors requires significant professional expertise.
Check reviews of any appliance and delivery companies before you buy any appliance.
Pro Tip: Make sure at least three people are involved in delivering any oversized refrigerator or freezer.
Installation
Installation is critical for a refrigerator this large. You must ensure the compressor is fastened to the wall because all the weight is on the top. The refrigerator could tip if it is not installed properly.
Check the electrical and water specifications if you're replacing your old 48-inch refrigerator. They differ between brands.
Service
I write this in every post nowadays. We have three stores and logged over 33,000 service calls last year, just in the Boston area. Despite what stores tell you, service is a problem. For refrigerators, you need a specialized technician.
Read More: 3 Reasons to Never Buy a Counter-Depth Refrigerator
Professional vs. Customized Integrated Refrigerators
There are two ways to buy a 48-inch refrigerator. The first is buying a one-unit professional refrigerator or the SKS you have seen.
The second is to buy two integrated refrigerators. You can customize and buy one set at 30 and 18 inches or two 24-inch units to make a total of 48 inches wide.
If you are a lefty, you can place the refrigerator on the left or split the refrigeration. You can have the refrigerator in the kitchen and the freezer in the pantry.
Professional Refrigerator:

A professional refrigerator has commercial styling with the compressor on the top.

Integrated Refrigerator:

An integrated refrigerator is 25 inches deep for a seamless installation. It will look indistinguishable from the cabinet with custom panels. You can install an integrated refrigerator without custom panels in stainless steel.
In my opinion, a professional refrigerator looks better in stainless, while an integrated looks better hidden behind panels.
The width will be the same, but you will have 10% more cubic footage with the pro-style due to the added depth.
An integrated 48-inch fridge can also be achieved by combining 30-inch and 18-inch or two 24-inch columns, as we mentioned earlier.
Best Integrated Column Refrigeration
Below are a few of our best options for the best integrated refrigerators with a 30-inch refrigerator and an 18-inch freezer. They are all similar in layout compared to buying one 48-inch unit.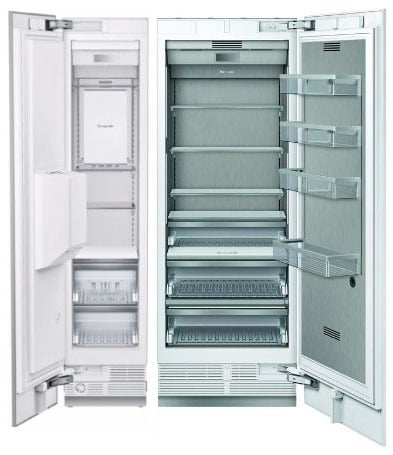 Thermador has updated its Freedom refrigerator. Again. Now Thermador is all stainless on the inside. Thermador's stainless interior is easier to clean and has a colder surface.
Thermador has elegant, easy-to-use TFT controls. You can scroll through many options, so you don't need an instruction guide.
They have the option of customizable bins for the door. You can store produce or medicines for quick access right on the door.
The door pulls or pushes depending on how you set it. Pushing is a good option because you can open the door easily with your hands full.
Wi-Fi is convenient, not necessary, allowing you to remotely change the temperature. The texts will alert you when the door is left open or when you need to change the filter.
Sub-Zero IC18FI-LH and IC-30R-RH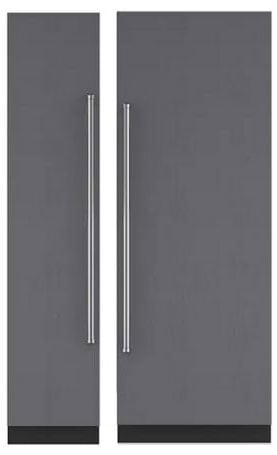 Sub-Zero has a ton of refrigerator options.
Sub-Zero's column refrigeration has the same features as their PRO units with an air scrubber, nanotechnology shelving, and a vacuum seal gasket.
Their new integrated refrigerators will also have stainless steel on the inside.
Read More: Is a Sub-Zero Refrigerator Worth the Money?
Which 48-Inch Counter-Depth Refrigerator Should You Buy?
It depends. For a 48-inch professional refrigerator, your choice depends on features and price.
For features, keeping food fresh, and good reliability, Sub-Zero is the most popular, with True being an excellent option.
However, Monogram and SKS offer excellent features at a more affordable price.
If you place panels on your refrigerator, you should consider integrated units. The seamless look is striking. For integrated refrigerators, Sub-Zero and Thermador offer the best products.
FAQs
Counter-Depth Refrigerators
FAQs
Answers to the most commonly asked questions about 48-inch counter-depth refrigerators.
What are the advantages of a 48-inch refrigerator?
Will a 48-inch refrigerator fit in my kitchen?
What are the different configurations available for 48-inch refrigerators?
Are 48-inch refrigerators energy-efficient?
What are some common features found in 48-inch refrigerators?
How do I clean and maintain a 48-inch refrigerator?
Are there any noise concerns with 48-inch refrigerators?
Can I install custom panels on a 48-inch refrigerator to match my kitchen decor?
What warranties are available for 48-inch refrigerators?
How do I handle delivery and installation for a 48-inch refrigerator?
What is the typical lifespan of a 48-inch refrigerator?
Are there color options available for 48-inch refrigerators?
Additional Resources
Download the Yale Counter-Depth Refrigerator Buying Guide with features, specs, and inside buying tips for regular, pro, and integrated counter-depth refrigerators. Well over 1 million people have read a Yale Guide.
Related Articles:
Why Should You Trust Us?
It seems that every appliance review has nothing but glowing comments about almost every product, yet you read customer reviews and they are almost universally bad.
We are here to fill in the disconnect. We'll give you the best features, and the drawbacks as well, including reliability based on over 37,000 calls performed by our service team just last year. Our goal is to give you ALL the information so you know what's right for you.
Please consider subscribing or adding to the conversation in the comments below. We appreciate you stopping by.
Steve Sheinkopf is the third-generation CEO of Yale Appliance and a lifelong Bostonian. He has over 38 years of experience in the appliance industry, and he is a trusted source of information for consumers on how to buy and repair appliances.

Steve has also been featured in numerous publications, including the New York Times, Consumer Reports, The Boston Globe, Bloomberg Radio, the New York Post, The Wall Street Journal, and Entrepreneur, for his knowledge of how to buy appliances and appliance repair.

Steve is passionate about helping consumers find the best appliances for their needs, and he is always happy to answer questions and provide advice. He is a valuable resource for consumers who are looking for information on appliance buying, repair, and maintenance.

Despite being the worst goalie in history, Steve is a fan of the Bruins and college hockey, loves to read, and is a Peloton biker. The love of his life is his daughter, Sophie.
A Note About Pricing
Pricing on this blog is for reference only and may include time sensitive rebates. We make every attempt to provide accurate pricing at time of publishing. Please call the stores for most accurate price.