Top 7 Best 48-inch Counter Depth Refrigerators (Reviews / Ratings / Prices)
Along with pro ranges, a 48-inch refrigerator is the marquee item for your kitchen. There are now two ways to have a 48-inch counter depth refrigerator.
You can buy a 48-inch commercial looking refrigerator or two integrated refrigerator and freezer units of 24 inches each or a 30 and 18-inch.
They are totally different applications and will look different in your kitchen. We will look at both options so you can decide which one is right for you.
Professional Refrigerator vs. Combining Two Units?
Counter-Depth, Professional + Integrated Refrigerator Differences [VIDEO]
There are two ways to buy a 48-inch refrigerator. The first is buying a one-unit professional refrigerator.
The second is to purchase two integrated refrigerators, at 30 and 18 inches or two 24-inch units to make a total of 48 inches in width.
A professional refrigerator has commercial styling with the compressor on the top. The Pro can have cabinet panels applied but looks better in all stainless.
Until the release of refrigerator columns, the professional refrigerator was the only way to buy a 48-inch refrigerator. An integrated refrigerator is 25 inches deep including the cabinets, so there are no seams between product and cabinet.
Although an integrated fridge can be stainless, the product will be indistinguishable from the cabinet with panels. This is a better option for cabinets fronts.
An integrated 48-inch fridge can also be achieved by combining a 30-inch and 18-inch refrigerator columns or two 24-inch units.
Have a look at two different installations: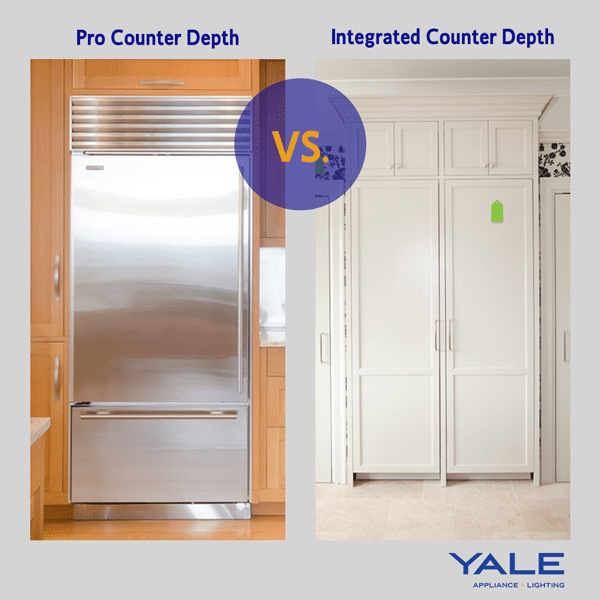 The Best 48-inch Counter Depth Refrigerators
Jenn-Air and KitchenAid are essentially the same refrigerators. Jenn-Air has the dark interior, while KitchenAid is white.
Jenn-Air has improved their unit with an ethylene gas filter to reduce spoilage and a climate control drawer for your fruit and veggies.
Like every other brand, you now have LED lighting, as well. This unit is decent and a nice way to save a few dollars from their $1,300 rebates towards other products.
Viking VCSB5483 - $9,299
Viking has a redesigned refrigerator with better (nano-technology) shelving and new temperature management system. The refrigerator is stylish.
However, Viking needs to work on their reliability, especially for refrigerators. They have moved engineering and have tried to improve it. I would be careful about buying a Viking refrigerator. Make sure your dealer is also responsible for service.
To be transparent, we do not sell Viking products.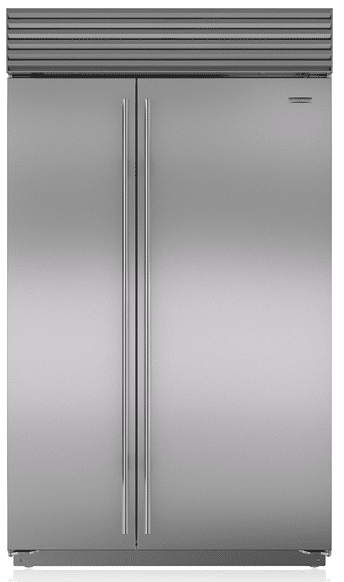 Sub-Zero has owned this niche. They were the "first movers," and for a longer period of time were the only manufacturer.
The BI-48 has twin compressors, magnetic gaskets on the crispers, plus a vacuum seal to keep air out of the refrigerator and better seal the doors.
With twin compressors, you do not share air between the fridge and freezer. This helps to keep your fruits and veggies fresh longer.
(See why Sub-Zero is recognized as the best in refrigeration in our Counter Depth Refrigerator Buying Guide).
Since our last update, Sub-Zero has added an electronic air scrubber, which scrubs the gases off the spoiling food. This slows the food spoilage process as well as eliminates cross-contamination to other foods.
In addition, they added a pure water filter as well as nano-technology shelving to congeal, rather than spread, spillage within the refrigerator.
The unit is available with or without an ice dispenser. Sub-Zero also has integrated refrigerators in the same size as the Thermador units with the scrubber, shelving, and icemaker features.
True TR-48-SBS-SS-B - $14,990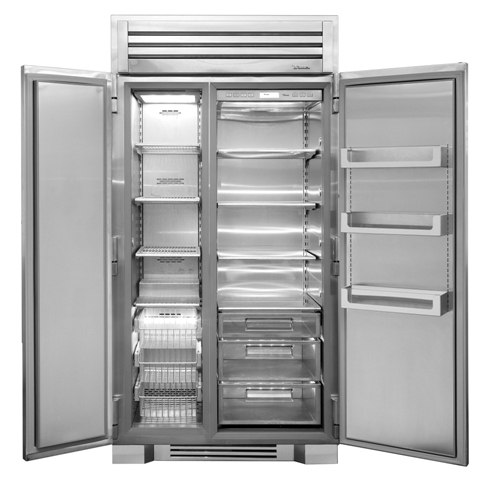 Perhaps the biggest development at 48 inches is True's entry into residential refrigeration. Long considered the best commercial product available, True has a very solid looking Pro refrigerator. Just look at the hinges and stainless shelving. With an all stainless interior, this fridge is easy to clean, and will never stain.
However, the price is more expensive than a Sub-Zero and lacks the air scrubber, shelving, and ice maker standard in Sub-Zero. Because it lacks an icemaker, the incidence of repair should be less. Icemakers are the number one repair of appliances.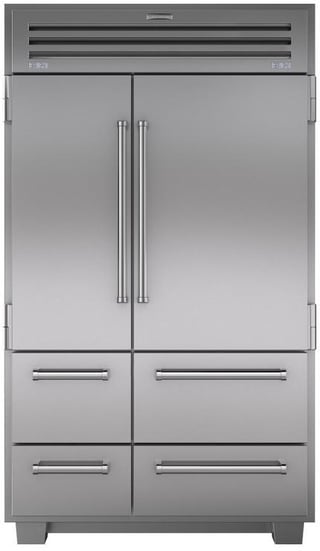 The 648PRO emulates the commercial refrigerator in all stainless steel and is similar to the BI-unit just without the scrubber and shelving.
Additionally, the PRO48 is available with a window.
Two Units
Thermador T30IR900SP / T181P900RP - $6,249
Thermador has updated their Freedom refrigerator. Their bins are customizable on the door along with a climate control crisper and brand new controls.
The door can be handleless with a push-to-open mechanism.
Thermador Freedom Refrigerators
Sub-Zero IC18FI/IC30R

These columns have the same features as their Pro units with an air scrubber, nano-technology shelving, and a vacuum seal gasket.
Sub-Zero
Which Do You Buy?
It depends.
If you are placing panels on your refrigerator, you should consider integrated units. The look is pretty nice.
However, it is a feature versus price argument. The Jenn-Air refrigerator and overall appliance package with other appliances will be considerably less expensive than a Sub-Zero package.
However, in terms of features and keeping food fresher for a longer period of time, Sub-Zero is the best…at least until True figures it out.
Editor's Note: This article was originally published on August 21, 2012, and has been updated for accuracy, freshness, and comprehensiveness.
Additional Resources
Have more questions about integrated, pro, and other counter depth refrigerators? Get the Yale Counter Depth Refrigerator Buying Guide with features, specs, and detailed profiles of all the brands. Well over 220,000 people have read a Yale Guide.

Additional Information
Steve Sheinkopf
My goal has always been simple: I want Yale to be the best retail experience anywhere. I have tried to create a compelling environment for customers and employees alike.
A Note About Pricing
Pricing on this blog is for reference only and may include time sensitive rebates. We make every attempt to provide accurate pricing at time of publishing. Please call the stores for most accurate price.