Best 48-inch Counter Depth Refrigerators for 2022
Our Top Picks for 2022:
Along with pro ranges, a 48-inch refrigerator is the marquee item for your kitchen.
In this article, you will learn about the best 48-inch built in refrigerators, their features, and reliability. You may be familiar with the traditional 48-inch refrigerator. However, there is a different way to buy a 48-inch refrigerator.
You can buy two integrated refrigerator and freezer units for a total of 48-inches. You could buy two 24-inch built-in columns or one 30-inch with an 18-inch. They are distinct applications and will look different in your kitchen.
You will learn the differences between all your options so you can decide which one is right for you. Plus, you will learn the problems of all the brands in buying an oversized, heavy appliance. Delivery, especially in Boston with its tight spaces, cannot be overlooked.
Let's begin.
Best 48-inch Counter Depth Refrigerators for 2022
Sub-Zero BI-48S/S/PH Professional Counter Depth Refrigerator - $14,330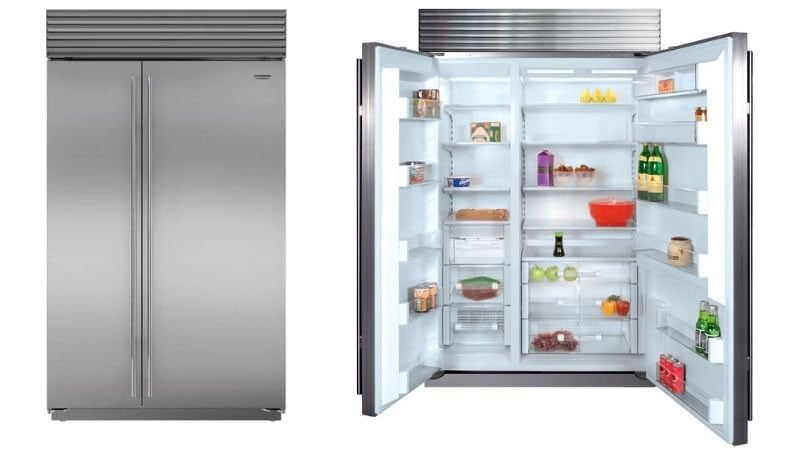 Dimensions: 48 W, 84 H, 24 D | Capacity: 19.1 Cubic Feet| Panel-Ready: No | Stainless Steel Interior: Yes | Temperature Control: Yes | Wi-Fi-Enabled: Yes
Sub-Zero is the most popular 48-inch built-in refrigerator. Sub-Zero is the largest family-owned American appliance manufacturer based in Madison, Wisconsin.
They were the first with twin compressors, one for the refrigerator and freezer, so the warmer moister air of the refrigerator does not cycle into the colder dryer freezer. They have also improved the product with Nanotechnology shelving to congeal spills.
The product has been designed to keep food fresher for a longer period with their tight vacuum seal and magnetic crisper bins. To reduce spoilage, you have an air scrubber to scrub ethylene gases off spoiling foods.
It's available in stainless steel, or you can use a custom cabinet panel on the front. Both styles are available with or without an ice dispenser.
All Sub-Zero's refrigerators are Smart. You can control the temperature on your phone. The refrigerator will send a text alert for temperature changes and if you leave the door open as well.
Their warranty is the best at five years full of 12 years on the compressor. You will learn about reliability in another section, but Sub-Zero is the best there as well.
Best Features:
Twin Compressors: Although most built-in brands offer twin compressors, Sub-Zero was the first. With twin compressors, the refrigerator and freezer environments are separate. The warmer air is not trapped in the colder, dryer refrigerator. Your frozen food will taste better, and your freezer will defrost less.
Vacuum Door Seal: The door is vacuum sealed to infiltrate outside air.
Ethylene Air Scrubber: Spoiling foods release ethylene gas. Sub-Zero has a Nasa patented air purifier. This scrubs the gases off spoiling foods and limits cross-contamination.
Magnetic Crispers: Their crispers are magnetized to close tighter.
Pure Water: They added a pure water filter and water dispenser.
Nanotechnology Shelving: Sub-Zero's nanotechnology shelving congeals, rather than spreads, spillage within the refrigerator.
Sub-Zero 648PRO Professional Counter Depth Refrigerator - $20,529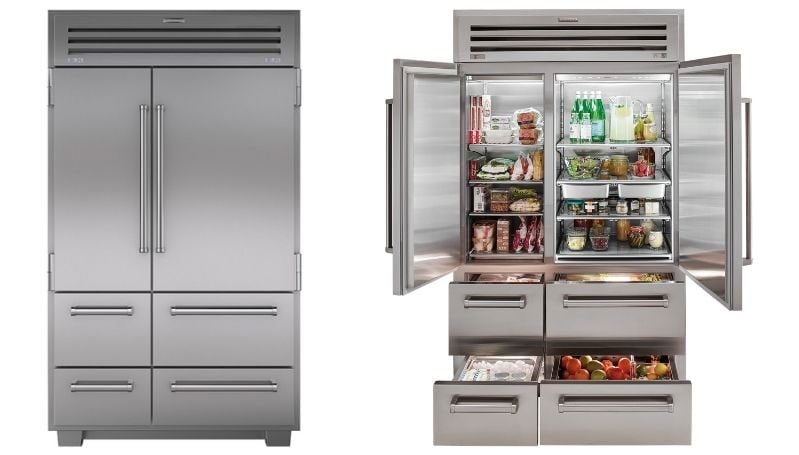 Dimensions: 48 W, 84 H, 24 D | Capacity: 18.4 Cubic Feet| Panel-Ready: No | Stainless Steel Interior: Yes | Temperature Control: Yes | Wi-Fi-Enabled: No
The 648PRO emulates the commercial refrigerator in all stainless steel. It's mostly related to the BI-48S/S/PH. However, it's an adaptation of a commercial refrigerator.
You don't have shelving on the door like a regular refrigerator. Items are placed in separate compartments.
The icemaker and crisper bins are located underneath for easier access. The thermometer is placed on the outside too. Commercial refrigerators have a thermometer on the outside so chefs can read the temperature with a glance.
The 648PRO does not have the ethylene scrubber. But it's all stainless inside. Stainless absorbs cold better, so your milk and juices from the grocery will be colder.
The total capacity is also two cubic feet bigger than the PRO48 series. PRO 48 is available with a window or in all stainless. You cannot place panels on the PRO Series.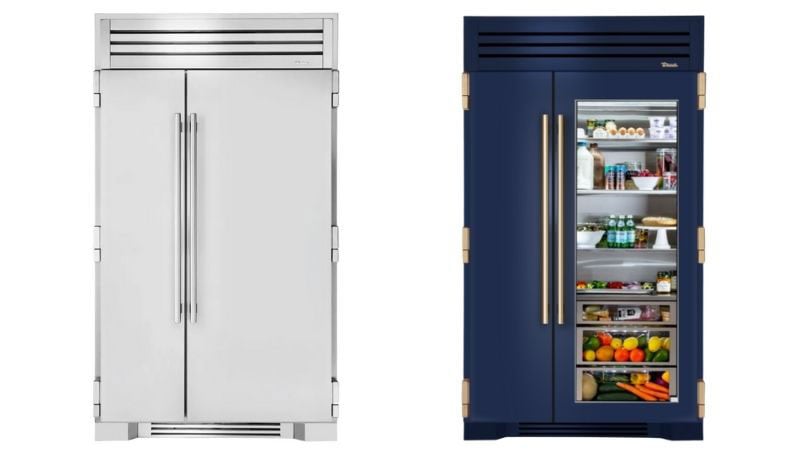 Dimensions: 48 W, 84 H, 24 D | Capacity: 20.7 Cubic Feet| Panel-Ready: Yes | Stainless Steel Interior: Yes | Temperature Control: Yes | Wi-Fi-Enabled: No
The most significant development in refrigeration was True's entry into residential refrigeration five years ago. True is the largest family-owned American commercial refrigerator company based in St Louis.
Considered the best commercial product available, it's a staple at any supermarket. If you ever have grabbed frozen food or a soda at Whole Foods or Wegmans, you pulled it out of a True refrigerator or freezer.
True has a striking professional refrigerator, especially its hinges and stainless shelving. It's easy to clean with an all-stainless interior and will cool quicker like the Sub-Zero Pro.
This refrigerator competes more with the Sub-Zero Pro refrigerator with its all-stainless construction. True does have some customization not available in a Sub-Zero.
Want a Saffron-colored refrigerator with polished brass accents on your hinges? How about Cobalt and gold instead?
You have nine finishes and six hinge accent colors with a True refrigerator. They even introduced a new color, Juniper, while I wrote this.
True is a bit different than the Sub-Zero Pro. All their crispers are on the inside. It is also a dual compressor refrigerator. It has some nice touches like ramp-up LED lighting and upfront electronic controls.
Their all-steel crispers close tightly with soft close hinges, like well-made cabinets. They also placed shelving on the door, unlike their commercial units. However, True does not address ethylene gases as Sub-Zero does. You also cannot purchase a True refrigerator panel-ready.
Viking VCSB5483 Professional Counter Depth Refrigerator - $15,679
Panel-Ready Model: Viking FDSB5483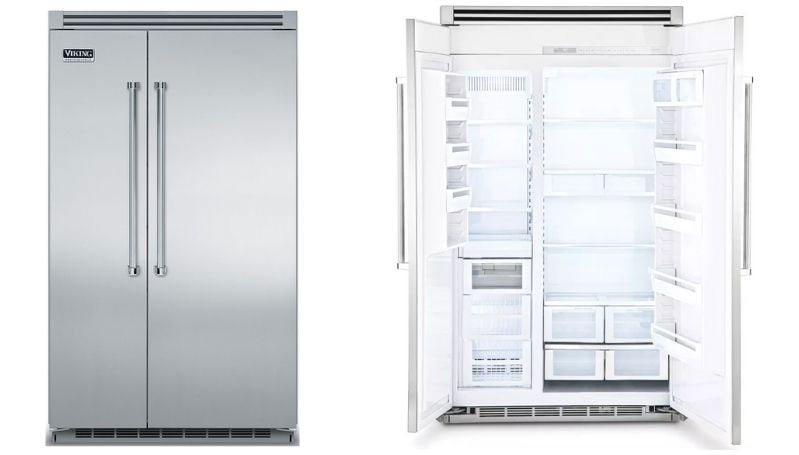 Dimensions: 48 W, 84 H, 24 D | Capacity: 19.49 Cubic Feet| Panel-Ready: Yes | Stainless Steel Interior: No| Temperature Control: Yes | Wi-Fi-Enabled: No
Viking redesigned their refrigerator with their ProChill temperature management system and DC Overdrive compressor. Like the others, they have an electronic temperature display in the front.
They even have Sharp's Plasmacluster technology. This air purifier removes bacteria from your refrigerator and keeps it fresh.
Viking's refrigerator has LED lighting, 17 custom colors, and soft-close crispers. The soft close crispers seal air from the rest of the refrigerator.
It's much improved. They have even introduced integrated columns as well in their seven series models. However, one of the problems with a Viking is its single compressor versus two for the others.
In a refrigerator this big, two may be better. Having two compressors also eliminates taste and odor transfer to the freezer. Colder air will not enter the warmer refrigerator, and warmer air will not travel to the freezer.
Viking also needs to work on its reliability, especially for refrigerators. Make sure your dealer is also responsible for service. To be transparent, we do not sell or service Viking products.
Still, it's a significant improvement for Viking. Kudos. They are an American-made company like the others on this list, so they deserve your consideration.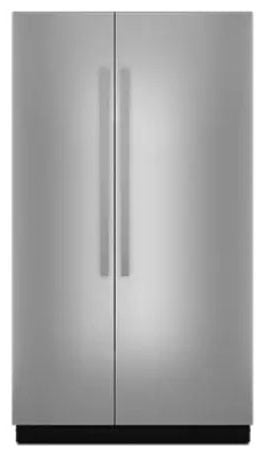 Dimensions: 48 W, 84 H, 24 D | Capacity: 29.2 Cubic Feet| Panel-Ready: Yes | Stainless Steel Interior: No | Temperature Control: Yes | Wi-Fi-Enabled: No
Any company mentioning a dazzling obsidian (black) interior as their first feature must be lacking in other areas. JennAir's best feature is its price.
You can receive a $1,300 rebate with a qualifying purchase to buy additional JennAir products.
They have other features, including temperature management, LED lighting, and filters. JennAir controls refrigerator and freezer temperature using sensors. It features a filter in their crisper bins to address ethylene gases and slow the spoilage of your products down.
It also has LED ramp-up theater lighting. It looks good, along with that dazzling interior. The JennAir JS48NXFXDW professional refrigerator is available with a crushed ice and ice cube dispenser.
However, it is not two compressors and does not have the same build quality as the others on the list. It may be for a reason. Their focus, like Thermador's, has been on integrated refrigerators.
Short on time? Get our free Counter Depth Refrigerator Buying Guide
Common 48-Inch Counter Depth Refrigerator Problems
Many people are focused on brands and features as they should. There are other factors of concern. Some are big problems.
Delivery
You would think delivery is simple and a similar experience at every store. Delivering a 600–800-pound refrigerator on new soft floors requires significant professional expertise. Check reviews of any appliance and delivery companies before you buy.
Pro Tip: Make sure at least three people are involved in delivering any oversized refrigerator or freezer.
Installation
Installation is critical for a refrigerator this large. You must ensure the compressor is fastened to the wall because all the weight is on the top. The refrigerator could tip if it is not installed properly.
Check the electrical and water specifications if you're replacing your old 48-inch refrigerator. They differ between brands.
Service
I write this every post nowadays. We are three stores logging over 40,000 service calls last year, just in the Boston area. Despite what stores tell you, service is a problem. For refrigerators, you need a specialized technician.
Read More: 3 Reasons to Never Buy a Counter-Depth Refrigerator
Professional vs. Integrated Refrigerators
There are two ways to buy a 48-inch refrigerator. The first is buying a one-unit professional refrigerator you have seen.
The second is to buy two integrated refrigerators. You can buy one at 30 and 18 inches or two 24-inch units to make a total of 48 inches in width.
Professional Refrigerator:

A professional refrigerator has commercial styling with the compressor on the top.

Integrated Refrigerator:

An integrated refrigerator is 25 inches deep for a seamless installation. It will look indistinguishable from the cabinet with custom panels. You can install an integrated refrigerator without custom panels in stainless steel.
In my opinion, a professional refrigerator looks better in stainless, while an integrated looks better hidden behind panels.
The width will be the same, but you will have 10% more cubic footage with the pro-style due to the added depth. An integrated 48-inch fridge can also be achieved by combining 30-inch and 18-inch or two 24-inch columns, as we mentioned earlier.
Best Integrated Column Refrigeration
Below are a few of our best options for the best integrated refrigerators with a 30-inch refrigerator and an 18-inch freezer. They are all similar in layout compared to buying one 48-inch unit.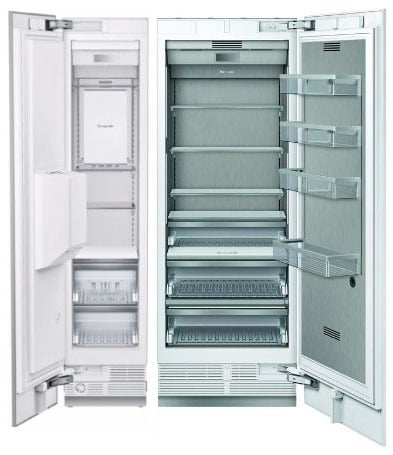 Thermador has updated its Freedom refrigerator. Again. Now Thermador is all stainless on the inside. Thermador's stainless interior is easier to clean and has a colder surface.
Thermador has elegant, easy-to-use TFT controls. You can scroll through many options, so you don't need an instruction guide.
They have the option of customizable bins for the door. You can store produce or medicines for quick access right on the door.
The door pulls or pushes depending on how you set it. Pushing is a good option because you can open the door easily with your hands full.
Wi-Fi is convenient, not necessary, allowing you to remotely change the temperature. The texts will alert you when the door is left open or when you need to change the filter.
Sub-Zero IC18FI-LH and IC-30R-RH - $16,370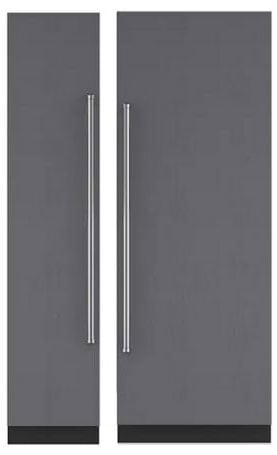 Sub-Zero has a ton of refrigerator options. Sub-Zero's column refrigeration has the same features as their PRO units with an air scrubber, nanotechnology shelving, and a vacuum seal gasket. Their new integrated refrigerators will also have stainless steel on the inside.
Read More: Is a Sub-Zero Refrigerator Worth the Money?
Which 48-Inch Counter Depth Refrigerator Should You Buy?
It depends. For a 48-inch professional refrigerator, your choice depends on features and price. For features, keeping food fresh, and good reliability, Sub-Zero is the most popular, with True being an excellent option.
If you place panels on your refrigerator, you should consider integrated units. The seamless look is striking. For integrated refrigerators, Sub-Zero and Thermador offer the best products.
Additional Resources
Download the Yale Counter Depth Refrigerator Buying Guide with features, specs, and inside buying tips for regular, pro, and integrated counter depth refrigerators. Well over 1 million people have read a Yale Guide.
Related Articles:
Why Should You Trust Us?
It seems that every appliance review has nothing but glowing comments about almost every product, yet you read customer reviews and they are almost universally bad.
We are here to fill in the disconnect. We'll give you the best features, and the drawbacks as well, including reliability based on over 37,000 calls performed by our service team just last year. Our goal is to give you ALL the information so you know what's right for you.
Please consider subscribing or adding to the conversation in the comments below. We appreciate you stopping by.
A Note About Pricing
Pricing on this blog is for reference only and may include time sensitive rebates. We make every attempt to provide accurate pricing at time of publishing. Please call the stores for most accurate price.