Best Induction Ranges for 2022
Induction slide-ins could be the best cooking product you can buy. Induction can boil faster. Yes, even better than the hottest professional range.
You also have an infinite simmer with induction. In a gas, the flame will extinguish at low temperatures. It's the easiest to clean because the top doesn't heat, so spills do not bake on the cooktop. Because it needs to sense metal to activate, induction is also child safe.
That said, induction is good cooking technology. Finding an induction range is another matter completely.
With the pandemic-induced factory issues, component problems, port problems, warehousing problems, shipping problems, and overwhelming demand, finding an induction slide in can be a problem. Unless you know where to look.
In this article, you will read about the best induction slide-in ranges to consider based on affordability, unique features, and availability. Then you will see reliability statistics based on real service data. We have logged over 100,000 service calls over the last three years.
You may have read about reliability on other blog sites and from other reviewers. Their descriptions of "sturdy" and "well designed" are often at odds with how a product truly performs in your home. (I am being extremely polite here).
Reliability should be a huge concern because parts have worse availability than appliances. That is if you can find a qualified technician to fix your appliances.
First, let's look at the differences between slide-in ranges. The industry term "slide-in" is often confused with "front control." They are not interchangeable. You do not want to discover that during your delivery.
Let's get started.
Short on time? Get our free Induction Cooking Buying Guide
Freestanding vs. Slide-In vs. Front Control Ranges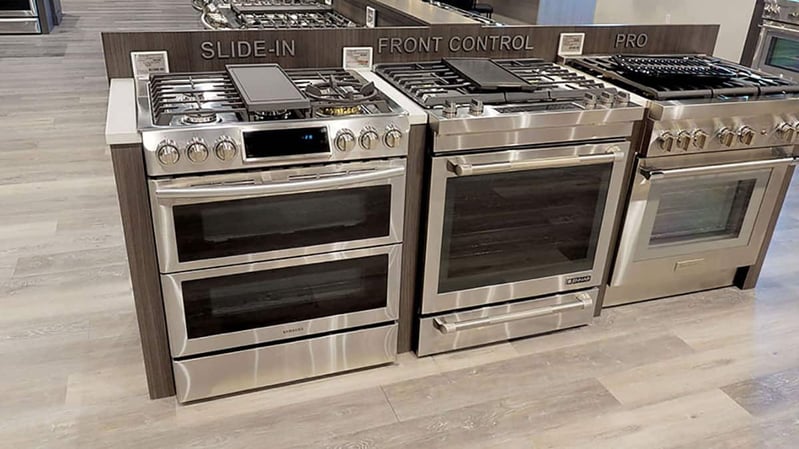 Slide-In and Front Control Range Learning Center at Yale Appliance in Hanover
A freestanding range has controls on a backguard. The terms slide-in and front control are used interchangeably yet they shouldn't be. They look the same but are installed differently.
Slide-in ranges are two inches wider and fit over the countertop. This eliminates the seams so food and liquids can't spill between the range and counter. You cannot replace an existing stove with a slide-in without modifying your countertop.
Front control ranges are designed to replace a regular freestanding range. Unlike a slide-in, front control ranges have finished sides. They can be placed at the end of your cabinets. However, front controls have a seam, so spillover between the counter and range can occur.
Most manufacturers now produce front control. Samsung and Bosch are the main companies manufacturing slide-ins.
Here's a simple rule to remember: Slide-ins are better for new construction. Front controls are better for replacing an existing range.
You still may end up buying a front control range only because most manufacturers are producing just front control ranges.
Read More: What's the Difference Between Freestanding and Slide-In Ranges?
Best Induction Ranges for 2022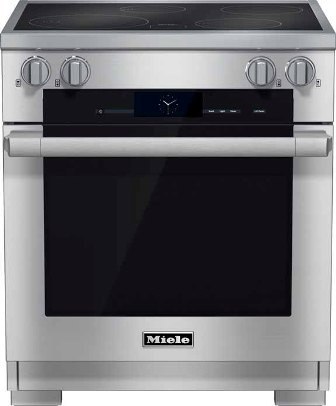 Miele is the best all-around range from the cooktop to the oven. The stovetop is by far the most powerful, with three burners over 3,000 watts with two at 3,850 and one at 3,100 with a smaller burner at 2,300. However, you buy this for the oven. It is twin convection for more precise control.
The MasterChef guided cooking system is one of the best oven controls you can buy in any cooking product. You simply pick the type of food, the weight, and how you like it cooked and the oven calculates time and temperature automatically.
The MasterChef guided cooking system has 15 different cooking modes covering any type of recipe you could consider. You can also choose 100 different preprogrammed recipes.
Miele is also the only oven with Steam Assist. Steam is a necessary ingredient for baking bread. There are 15 different automatic settings just for bread. Hit a button, and it's done. Want to cook California Sourdough? Just hit a button.
That's the beauty of Miele. They simplify everything.
Miele Strengths: Miele has the most powerful cooktop, best oven, and controls. You can cook better and more creatively with a Miele.
Miele Drawbacks: The price is one of Miele's drawbacks. At $7,999, the price is much higher than the other ranges on this list. It also does not have smart functionality yet. Lastly, Miele does not offer colors or knob accessories.
Features:
M Touch controls and backlit precision knobs
EasyClean Ceran surface with 4 variable induction cooking zones
TwinPower Convection fans
Moisture plus
MasterChef and MasterChef Plus automatic programs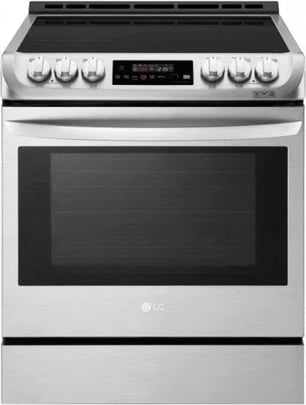 LG has best navigated the pandemic and all the product shortages after that. You can buy LG everywhere. They were the first with many trends, including Wi-Fi and smart functionality through an App on your phone.
With Wi-Fi and smart connectivity, you can turn your range on or off, set the temperature, and get alerts. It's a convenience, but not a necessity yet.
LG has a 4,000, 3,200, two 1,800, and two 100-watt burners. The oven is amongst the largest at 6.3 cubic feet. I could mention other modes like AirFry, but we haven't been able to fry anything in any of these modes from any manufacturer.
The other reason to buy LG is for reliability. They were the most reliable brand sold at Yale last year, with a 4.4% service rate.
LG Strengths: Good oven size and combination of features.
LG Weaknesses: No warming drawer.
Features:
6.3 cu.ft. Large Capacity
ProBake Convection™
Induction Cooktop
EasyClean™
SmoothTouch™ Glass Controls
6.3 cu. ft. Capacity
PrintProof™ Finish
UltraHeat™ 3200W Power Burner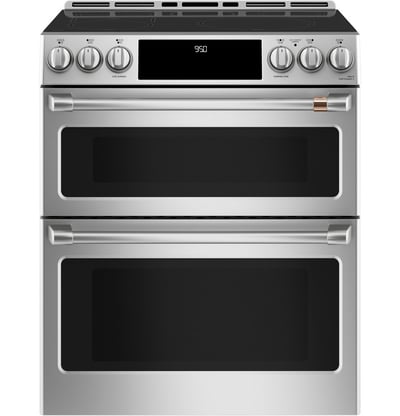 Café Appliances double oven has the most capacity at seven cubic feet split between two ovens. Café Appliances has a decent output on the top with a max burner of 3,700. You even have a warmer of 100 watts as a fifth burner.
Besides the advantages of a double oven, Café Appliances is a smart range like LG. Their parent company, Haier, has invested in smart technology.
They are always adding modes as well. Last year, thousands of existing GE and Café customers found a new Turkey Mode button on their ranges with a "Gobble Gobble" end of cycle signal.
Café Appliances are also different. You have several different finishes like black, white, and stainless, but you can also accessorize with different handle styles.
Café Appliances Strengths: Smart, double oven, style options
Café Appliances Drawbacks: The drawback to GE's double oven is the main oven sits on the floor. You will have to stoop for that turkey.
Features:
True European Convection with Precise Air
Double Oven
Warming Zone
Self-Clean with Steam Clean Option
Wi-Fi Connect
Bosch Induction Slide-In Ranges HII8056 ($3,699) and HIIP056U ($3,899)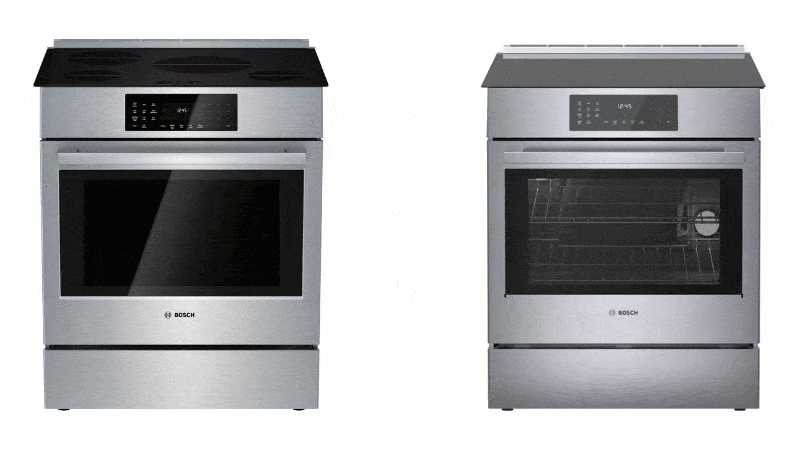 Bosch is the best looking with their industrial look and clean European lines. You can package Bosch well with other appliances for a good look in your kitchen.
From a specification standpoint, Bosch has a decent stovetop at 3,700, two at 3,600, and a 2,200-watt burner for the Benchmark series slide-in range (the HIIP056U). You have a convection oven and a warming drawer underneath as well.
Bosch Strengths: Looks and package opportunities.
Bosch Drawbacks: No smart functionality.
Features:
FlexInduction
Speed Boost
4.6 cu. ft.
Self Clean
Warming Drawer
4 Cooktop Elements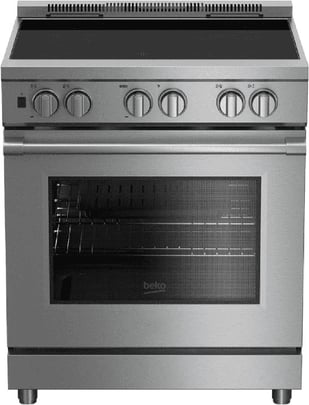 Beko, like LG, has been a reliable supplier throughout the pandemic. Their range is "Pro-Style," so it looks like a professional range.
The burners are OK with two at 3,700 watts and two at 2,200 watts. Their touted features are "Surf Convection." It may mean their larger fan moves more air. Capacity is another advertised feature, but at 5.7 cubic feet, it is the second biggest after LG.
Beko Advantages: Style, decent overall features
Beko Drawbacks: No warming drawer or smart functionality
Features:
Surf Convection
Induction Cooking Zones
5.7 cu. ft. Oven Capacity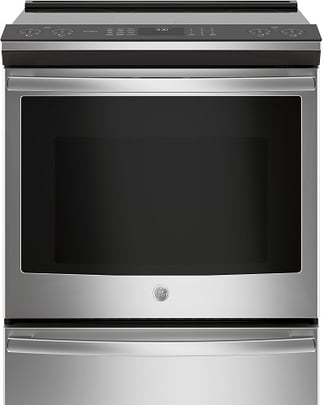 If you like GE Profile but want a single oven, this GE Profile may be a good consideration. However, the power isn't as good at 3,700 watts, two at 2,500 watts, and an 1800-watt burner. You have the smart functionality of GE with all the modes available through their app.
GE Profile Strengths: Modes and smart functionality
GE Profile Drawbacks: No warming drawer, less power.
Features:
Built-In Wi-Fi, Powered by SmartHQ App
Guided cooking
Sous vide capability
No Preheat Air Fry
Touch controls
True Convection with Precise Air
Are Induction Ranges Reliable?
The following service rates are based on a minimum of 25 induction ranges sold and a total sample of over 450 pieces from December 2020-October 2021.
| | |
| --- | --- |
| | Service Rate |
| JennAir | 2.6% |
| GE Profile | 3.5% |
| KitchenAid | 6.0% |
| Bosch | 8.0% |
| LG | 10.3% |
| Samsung | 10.6% |
| Beko | 13.9% |
| Café Appliances | 15.6% |
| Miele | 17.2% |
| Fisher & Paykel | 17.7% |
| Grand Total | 9.6% |
Induction is about the same as appliances in general at 9.6% versus 9.5%. However, the problems are mostly electrical, not from the unit.
Induction ranges, unlike electric, max out the amperage in the circuit. This leaves them vulnerable to surges and voltage spikes. Two of the top problems are unit tripping breakers and no power to the cooktop.
Before you buy an induction range, make sure you have adequate power. Café has two ovens and should have more problems as a percentage. Miele must have a water line installed for the steam.
Read More: Most Reliable Induction Ranges
Key Takeaways
First, determine whether your installation calls for front control or slide-in. Second, check your electrical requirements to avoid issues later.
Service, especially on technical products like induction, is necessary. Find a good service agent in your area before you buy it. Check reviews online as well.
For products, Miele is the best if you love to cook. The MasterChef is easy to learn and will cook better and more creatively. LG is well priced for induction. GE will give you smart functionality and two ovens. Bosch is the best looking. Beko will give you a good combination of features.
Frequently Asked Questions
1. Why are slide-in ranges more expensive than a regular range?
There is no rational reason why one is so substantially more. Economics may play a role. Manufacturers produce millions of regular $799 ranges, so there is some scale and less cost to produce. Slide-ins are made less, so the cost would be higher based on pure economic theory.
2. Can you place a slide-in range at the end of a counter?
No. Slide-ins have unfinished sides. However, you can with a front control range because the sides are finished.
3. Can you replace a freestanding range with a slide-in range?
It depends on the range. You can replace a regular range with a front control without modifying your counters. That's easy. You can replace a slide-in with a slide-in. Just check the cut-outs first on slide-ins.
If you have your heart set on a slide-in, then a few stores (including ours) have countertop specialists on staff and can cut to fit any slide-in or specialty range.
Additional Resources
Want to know the best induction brands, products and have a better understanding of how induction works? Download the Yale Induction Cooking Buying Guide with features, specs, and inside buying tips. Over 1 million people have read a Yale Guide.
Related Articles
Why Should You Trust Us?
It seems that every appliance review has nothing but glowing comments about almost every product, yet you read customer reviews and they are almost universally bad.
We are here to fill in the disconnect. We'll give you the best features, and the drawbacks as well, including reliability based on over 37,000 calls performed by our service team just last year. Our goal is to give you ALL the information so you know what's right for you.
Please consider subscribing or adding to the conversation in the comments below. We appreciate you stopping by.
A Note About Pricing
Pricing on this blog is for reference only and may include time sensitive rebates. We make every attempt to provide accurate pricing at time of publishing. Please call the stores for most accurate price.