The Best 30-Inch Induction Ranges for 2023
June 15th, 2023 | 10 min. read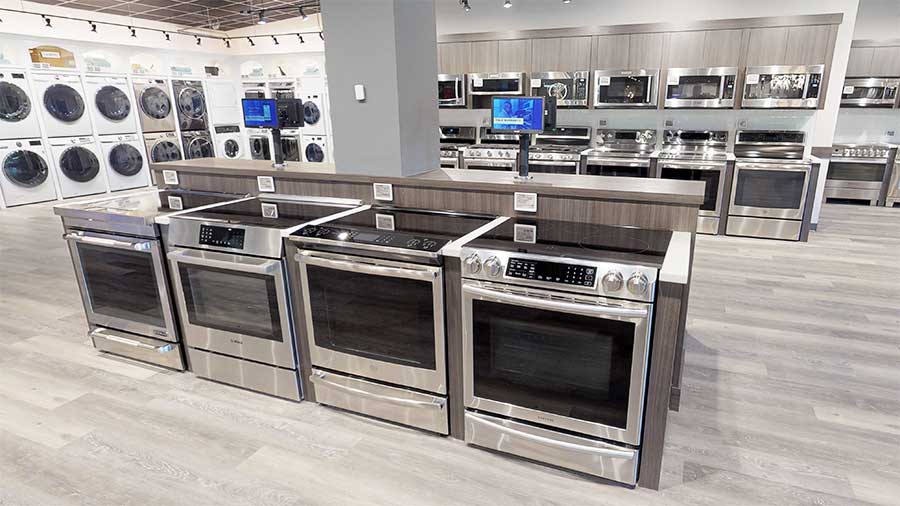 Induction cooking is likely something you've heard of before. By utilizing magnets to stimulate the metal molecules in your pan, the pan itself - not the glass - is responsible for cooking your food.
We talk about the many benefits of induction cooking in other articles. You will be reading about the best induction models to consider now and why you should consider them.
Of course, like every other appliance, there is not one best induction range for everyone.
I could say Miele is the best, for example, but not if you want a double oven, a different finish than stainless, and you don't want to spend over $9,000.
That's why we've listed the eight best induction ranges to consider based on features, real service numbers, and availability.
Let's start there. (I will include a Q&A section at the end of the article as well).
Potential Drawbacks of Buying an Induction Range
Reliability
Nobody talks about reliability. I must have read every article about induction ranges.
Every article focuses on features and then sends you a link to buy it for their commission.
Then again, nobody has a service department.
It's not a problem with disposers, hoods, and to a certain degree, washing machines.
But induction ranges are another story. They are one of the most serviced appliances you can buy.
Have a look:
Induction Range Reliability for 2023
The following service rates are based on a minimum of 40 induction ranges sold and a total sample of over 500 pieces.
| | |
| --- | --- |
| | Service Rate |
| Bosch | 5.4% |
| Café Appliances | 9.3% |
| LG | 9.9% |
| Fisher & Paykel | 10.0% |
| GE Profile | 12.6% |
| Beko | 25.5% |
| Grand Total | 10.5% |
The average service rate for induction ranges is about the same as appliances at 10.5% compared to the appliance average of 9.7%. However, the problems are mostly electrical, and not from the unit itself.
Induction ranges, unlike standard electric ranges, max out the amperage in the circuit. This leaves them vulnerable to surges and voltage spikes. Two of the top problems for induction ranges is from tripping breakers and having no power in the stovetop.
Ensure that your electrical system meets the necessary requirements and has sufficient power before purchasing an induction range.
Pro Tip: I spoke to our staff electrician. He said to buy a "smoother" device that monitors current and prevents voltage spikes.
Reliability should be a huge concern because parts have worse availability than appliances. That is if you can find a qualified technician to fix your appliances.
Many of these repairs are minor. However, you will most likely need service on your new induction range within five years.
That's the first problem. Here is the second:
Availability
As induction has grown, especially with the bad publicity of gas cooking, the availability is almost as bad as the supply shortages of 2020-2021.
Maybe worse.
We now have 700+ induction ranges on order.
So be prepared to wait for many brands from one to six months minimum.
Now that you're equipped with knowledge of the common pitfalls of buying an induction range, it's time to review the top-rated induction ranges for 2023.
The Best 30-Inch Induction Ranges for 2023
Miele is the best all-around range from the cooktop to the oven.
Burners
The stovetop is by far the most powerful, with three burners over 3,000 watts, two at 3,850 and one at 3,100, with a smaller burner at 2,300.
Twin Convection
With twin convection, Miele's range offers precision and control, ensuring that your dishes come out perfectly cooked every time.
Cleanability
The racks in this induction range are built to last, even during the self-cleaning cycle that heats up to an impressive 900 degrees.
M Touch Controls
The MasterChef guided cooking system is one of the best oven controls you can buy in any cooking product.
You simply pick the type of food, the weight, and how you like it cooked, and the oven calculates time and temperature automatically.
The MasterChef guided cooking system has 15 different cooking modes covering any recipe you could consider. You can also choose 100 different preprogrammed recipes.
Miele is also the only oven with Steam Assist. Steam is a necessary ingredient for baking bread. There are 15 different automatic settings just for bread.
Want to cook California Sourdough? Just hit a button, and you're done. That's the beauty of Miele. They simplify everything.
Pro Tip: To utilize the steam function, a water line must be connected to your stove.
Smart Functionality
Almost every brand has smart functionality. Miele is the best for connection, at least in our showroom.
Smart technology will allow you to control the oven through your smartphone or tablet.
Miele doesn't have a camera like LG or GE Profile to see your food on your phone, but it does have the standard smart features.
Wireless Probe
This is a great idea allowing you to place the probe on the thickest part of the meat for better temperature control.
While the wireless probe is a good idea, there is a more impressive accessory that you should consider: The MEATER.
You can use the MEATER temperature probe indoors and outdoors. The algorithm calculates the ideal time for cooking meat, including resting time out of the oven.
You set that steak for medium rare, and the MEATER will calculate it.
Sorry if I am gushing, but it's awesome.
Miele Strengths: Miele has the most powerful cooktop, the best oven, and controls. You can cook better and more creatively with a Miele.
Miele Drawbacks: The oven size is 4.59 Cubic feet, so it's one of the smallest on this list. The largest single oven is 6.3 cubic feet.
In addition, the Miele does not have a bridge element for a griddle or odd-shaped dish.
At $9,299, the price is much higher than the other ranges on this list. Lastly, Miele does not offer colors or knob accessories.
LG has best navigated the pandemic and all the product shortages after that except on induction.
Output
The LG Studio induction range has 4,200, 3,200, two 1,800, and two 100-watt burners. 4300 is the highest wattage in the industry, so it will cook quickly.
Oven
The oven is amongst the largest at 6.3 cubic feet. I could mention other modes like AirFry, but we haven't been able to fry anything from any manufacturer in any of these modes.
Air Sous Vide is a feature but a two-hour cooking cycle. Then you need to finish for texture.
The other reason to buy LG is for reliability. They were the most reliable brand sold at Yale last year, with a 4.4% service rate.
Their induction was about average. They should improve in 2023 (if they can make them first)
LG Studio Strengths: They have good oven size and excellent output on their power burner. If you want to boil quickly, 4200 watts will get it done. You have good opportunities to package with other LG appliances.
LG Studio Weaknesses: This range doesn't have a bridge element, either. The other three burners are underpowered, with two at 1800 watts and one a warmer at 100 watts.
Do you like this article? Then subscribe to the Yale Blog first to be notified of new articles on induction and how to buy appliances.
Largest Oven Capacity
Café Appliances double oven has the most capacity at seven cubic feet split between two ovens.
Output
Café Appliances has a decent output on the top with a max burner 3,700. You even have a warmer of 100 watts as a fifth burner.
The Café does have the bridge burner on the left side as well.
Wi-Fi Enabled
Besides the advantages of a double oven, Café Appliances is a smart range like LG. Their parent company, Haier, has invested in smart technology.
They are always adding modes as well. Last year, thousands of existing GE and Café customers found a new Turkey Mode button on their ranges with a "Gobble Gobble" end-of-cycle signal.
Café Appliances are also different. You have several different finishes like black, white, and stainless, but you can also accessorize with different handle styles.
Café Appliances Strengths: With its smart technology, double oven, and stylish design options, the Café Appliances CHS950P4MW2 is a great choice if you want both form and function in your induction range.
Café Appliances Drawbacks: The drawback to GE's double oven is the main oven sits on the floor. You will have to stoop for that turkey. Once again, you have one powerful burner at 3700 watts; then it's two ok sized at 2500, one at 1800, and then warmer at 100 watts.
Bosch is the best looking with their industrial look and clean European lines. You can package Bosch well with other appliances for a good look in your kitchen.
Reliability
Bosch is the most reliable induction range at 5.4%, far below the average of 10% for induction as a category.
Bosch is also three of the top four most reliable induction cooktops.
Output
From a specification standpoint, Bosch has an excellent output at 3,700, two at 3,600, and a 2,200-watt burner. You have the bridge element on the left side of the range,
Warming Drawer
Warming drawers are a great convenience. You can keep your dinner warm for up to 3 hours. It's especially convenient if you cook and your family eats at different times.
Bosch Strengths: Great cooktop for power and the bridge element. You will learn to love the warming drawer. It won't shrivel your food like a microwave.
Bosch Drawbacks: The oven size of the Bosch Benchmark HIIP057U, at 4.6 cubic feet, may not be the largest in the industry, but its reliability and other features make up for it.
A Word of Caution: Boschs "Pro" 30 and 36-inch units are not made by Bosch but are sourced from SMEG.
Beko, like LG, has been a reliable supplier throughout the pandemic. Their range is "Pro-Style," so it looks professional.
The range has some good features at $2,499 (starting in two weeks).
Output
The burners are decent, with two at 3700 and 2200 watts with no bridge burner.
Oven
Similar to Miele, the Beko PRIR34452SS induction range has twin convection with added functionality due to its fans that reverse to maintain an even temperature throughout the oven.
In addition, with a size of 5.7 cubic feet, the oven is larger than the industry average.
Cleanability
One of the best features of the Beko PRIR34452SS induction range is its self-cleaning mode.
The self-cleaning mode heats the oven to high temperatures, turning any food residue to ash that can be easily wiped away once the cycle is complete.
Packages
After two years of selling products without much competition, Beko is super aggressive with package rebates and now with prices.
Availability
Beko may just be the answer to your induction range needs, and the best part is, it's available for purchase (at least as of writing this).
Beko Strengths: Decent overall features of burner output, oven size, and availability (now a feature, in my opinion).
Beko Drawbacks: The unit does not have smart functionality, a bridge element, or a warming drawer. Their reliability is below average, but the issues, like handles, are more annoying than functional ones. They are super responsive to issues and, one day, will be one of the most reliable brands.
If you like Café but want a single oven, this GE Profile may be a good consideration.
The GE Profile range is popular because they were one of the first brands to offer induction.
I sold the GE induction cooktops back in 1986.
Output
You have the same output as the Café at 3700 watts, two 2500-watt burners, and 1800 watts with a 100-degree warmer.
Oven Size
The convection oven is average at 5.3 cubic feet, whereas LG and Samsung are larger at 6.3.
Wi-Fi Enabled Range
The GE Profile range is a smart range, just like the Café Appliances range, as it comes with their SmartHQ app that offers the same functionality.
With the app, you can remotely monitor your oven, preheat it, and receive alerts when your meals are ready. You can also use voice commands to control your oven through Amazon Alexa or Google Assistant.
The app also provides access to more than 5,000 recipes that you can download and use with your range.
GE Profile Strengths: GE Profile stands out for its impressive burners, oven, and customer service. With the industry's largest service department, GE is an excellent choice if you're purchasing from a store without service.
GE Profile Drawbacks: It's decent but lacks the features of the better ranges
Least Expensive: Samsung NE63B8211SS
6.3 cu. ft. Smart Rapid Heat Induction Slide-in Range in Stainless Steel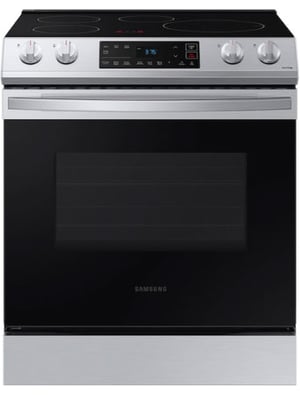 We don't sell Samsung, so I can't attest to their reliability anymore. You have to be careful with Samsung service.
They are now the most popular brand but lack a service department. Buy it from the unlikely dealer who services what they sell, or be prepared to wait.
I do not pick on Samsung, but the same goes for most brands. You are probably on your own, even with that extended warranty.
Output
This Samsung range is the lowest at 2400 watts, two 1800-watt burners, and a 1200 watts.
Oven
The oven is decent at 6.3 cubic feet. This model does not have convection, but you can buy better models for $500-1000 more.
Samsung Strengths: This unit is inexpensive. Builders and house flippers can say they have an induction stove. The range does have a large oven.
Samsung Weaknesses: Weak burners with no bridge. I don't think you will have fast heating with the small burners.
Best 36 Inch Range: Fisher & Paykel OR36SCI6X1
If you're in the market for a 36-inch range, the options are plentiful. From Wolf to Bosch to Viking, the choices can be overwhelming.
However, for the purpose of this article, we're going to focus on Fisher & Paykel's 36-inch induction range, which offers top-notch features and performance. Let's take a look at Fisher & Paykel's best features.
Output
In a word: Powerful.
Four 3700-watt burners on the side can be bridged. The center burner is 2600 watts.
Oven Modes
Fisher & Paykel has a mode for any way you want to cook. Their "Aero" mode uses top and bottom elements to cook faster and more evenly. You have nine modes with Fisher & Paykel.
Warming Drawer
The warmer is 36 inches wide. Separate warming drawers cost over $1,200 on average.
Style
Fisher & Paykel's 36-inch induction range offers style options to match your kitchen decor with colors such as red, white, black, or stainless steel.
Fisher & Paykel Strengths: Fisher & Paykel truly delivers with their 36-inch induction range, with powerful burners that can be bridged, several oven options, and a warming drawer that is sure to come in handy.
Fisher & Paykel Drawbacks: The oven capacity is only 4.9 cubic feet, which is smaller than what you might find in other 30-inch ranges. Additionally, this model doesn't offer smart functionality.
Key Takeaways
First, determine what is available. You will have problems finding induction ranges and cooktops. Then consider reliability.
You aren't buying a reliable top-load washer or dishwasher. Induction ranges need repair.
After that, look for your desired features, whether it's a powerful top or a more robust oven.
What do you think?
If you have any questions, we're here to help. Feel free to schedule a showroom visit, call, or live chat with one of our senior staff members by clicking here.
Induction Ranges
FAQs
Learn answers to the most common questions about Induction Ranges.
Why are slide-in ranges more expensive than a regular range?
Can you place a slide-in range at the end of a counter?
Can you replace a freestanding range with a slide-in range?
Additional Resources
Want to know the best induction brands and products and have a better understanding of how induction works? Download the Yale Induction Cooking Buying Guide with features, specs, and inside buying tips. Over 1 million people have read a Yale Guide.
Related Articles
Why Should You Trust Us?
It seems that every appliance review has nothing but glowing comments about almost every product, yet you read customer reviews and they are almost universally bad.
We are here to fill in the disconnect. We'll give you the best features, and the drawbacks as well, including reliability based on over 37,000 calls performed by our service team just last year. Our goal is to give you ALL the information so you know what's right for you.
Please consider subscribing or adding to the conversation in the comments below. We appreciate you stopping by.
Steve Sheinkopf is the third-generation CEO of Yale Appliance and a lifelong Bostonian. He has over 38 years of experience in the appliance industry, and he is a trusted source of information for consumers on how to buy and repair appliances.

Steve has also been featured in numerous publications, including the New York Times, Consumer Reports, The Boston Globe, Bloomberg Radio, the New York Post, The Wall Street Journal, and Entrepreneur, for his knowledge of how to buy appliances and appliance repair.

Steve is passionate about helping consumers find the best appliances for their needs, and he is always happy to answer questions and provide advice. He is a valuable resource for consumers who are looking for information on appliance buying, repair, and maintenance.

Despite being the worst goalie in history, Steve is a fan of the Bruins and college hockey, loves to read, and is a Peloton biker. The love of his life is his daughter, Sophie.
A Note About Pricing
Pricing on this blog is for reference only and may include time sensitive rebates. We make every attempt to provide accurate pricing at time of publishing. Please call the stores for most accurate price.