The Best 36-Inch Induction Cooktops for 2018 (Ratings / Reviews / Prices)
You probably perceive gas to be a superior way to cook in the kitchen.
Often customers come into our showrooms in need of a new cooktop, and with a pained look on their face they tell us, "Unfortunately, we do not have gas in our house, so we are stuck with electric."
My response to those customers is "Hey, that is great! That means that you can do induction!"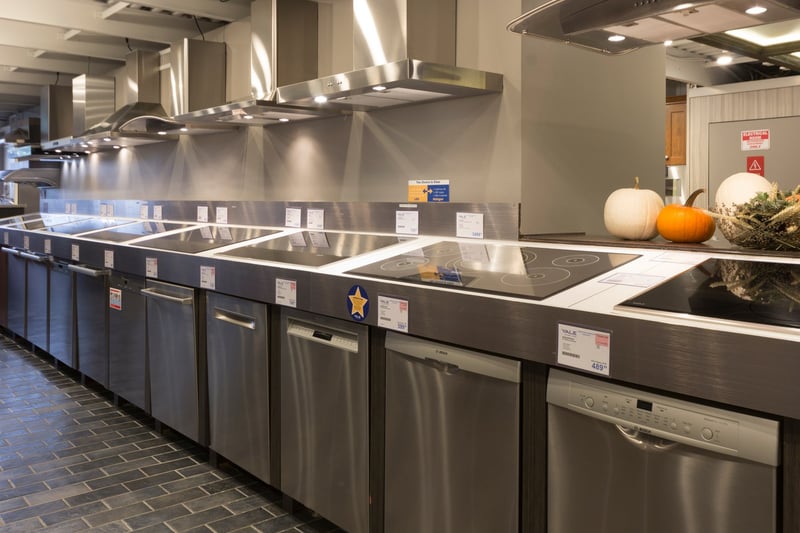 There is nearly universal disdain for electric cooktops. If you have ever used one, you likely can list off the many things that you do not like. They get too hot, take too long to cool down, are unsafe, hard to keep clean, the list goes on and on.
Well, induction can likely solve these problems for you.
Induction is faster to boil then even pro gas with a better simmer. It requires less venting and is the most child safe. It is also the easiest to clean because the glass stays cooler as well.
There are many great articles online and on the Yale Blog that go into detail about the science of induction, but there are few important first steps that you need to consider if you are thinking about getting an induction cooktop.
What to Consider When Buying an Induction Cooktop
First off, your pans need to be magnetic (don't worry, most are) and if you plan to buy some new pots and pans, you don't have to spend a fortune buying 'special pans'. As long as a magnet sticks to the bottom you are good to go.
If you plan on putting a wall oven below your induction cooktop, pay special attention to the manufacturer specifications. Only certain brands and models are approved to have an oven placed below them in the same cabinet.
Lastly, while induction is still a relatively new trend in the US, it has been around since the 1980s. It is a proven technology and it works.
Now, let's break down how induction works.
How Induction Works
Induction is the safest cooking method. Unlike the glass on a traditional electric cooktop, the glass on an induction cooktop does not get scolding hot.
Instead, a magnet excites the molecules in the pan so that the pan itself becomes the cooking surface, directly cooking the food bypassing the glass.
For this reason, induction is the most efficient cooking method as there is very little loss of heat when cooking.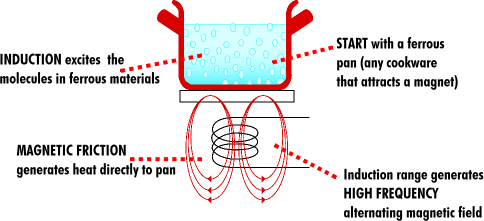 Induction is a unique technology that is around 50% more efficient than cooking on conventional gas or electric cooktops.
You get an immediate response if you lower the heat, and cleaning is a breeze because the cooktop does not get hot enough to bake anything onto the surface of the glass.
In this article, we'll cover the best induction cooktops you should consider for your home. In my opinion, 'Best' does not just mean the fastest boil time or the model with the most wattage. I am considering build quality, manufacturer warranty, burner size/configuration, and ease of use.
All my recommendations are in the 36-inch configuration, but every brand also makes 30-inch induction cooktops as well. With that in mind, these are the four recommended.
The Best Induction Cooktops for 2018
The following cooktops were ranked higher than other brands for their configuration and wattage. Additionally, the following rates and displays 36-inch cooktops. Go here for the best 30-inch induction cooktops.
4. Wolf CI365TS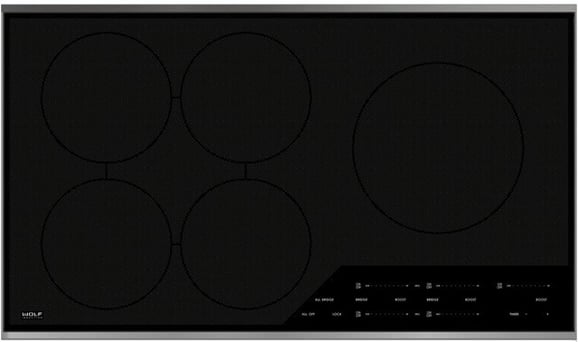 Features:
"Best in Class" Cooking Options
40% Faster Response
Cooktop Stays Cool
Cookware Sensing
Highly Efficient
Incredible Control
Rigorously Tested to Ensure Dependability
Exceptional 24/7 Customer Support
This Wolf cooktop features an 11" burner that can use up to 3700 watts of cooking power on the boost setting.
The Bridge function on this cooktop can allow all four smaller burners to be utilized at the same time creating a 17"x17" cooking surface.
This unit also has a melt setting on one of the burners. While Wolf will always keep up with the pack on the high heat settings, they are also concerned with reaching the extremely low heat settings as well.
This unit comes with a full 2-year parts and labor warranty, and you can also get this unit with a full beveled stainless trim to provide extra protection to the glass surface.
Also, an important note, this unit will require a 50 AMP electrical connection.
Features:
HeatShift
PanBoost
Touch Control
Cook Smart
Stopwatch Timer
Thermador has an entry-level model, as well as the high-end Freedom model that allows you to put a pan anywhere, but my pick is their new unit, called the Liberty induction.
It includes 11 oval shaped inductors separated into three zones. This flexible setup will allow multiple 10" pans to be used or a large griddle/ Teppan Yaki style pan up to 16" long. This unit has 17 power modes to help dial in the exact temperature you are looking for, and in boost mode, can utilize up to 3600 watts of power.
This cooktop has numerous smart technologies built into it, including a Move mode that will sense your pan movement and maintain the same power setting on the burner you move your pan to. It also has a heat shift setting that works in a similar way to a French top.
It allows you to preset the oval inductors to different heat settings, and as you shift your pan forwards and backward, the cooktop will adjust the heat based on your predetermined settings.
This unit comes with a 2-year warranty, requires a 50 Amp connection, and at this time DOES NOT allow the current generation of Thermador wall ovens to be used underneath them. The next generation of wall ovens released this year should correct this issue.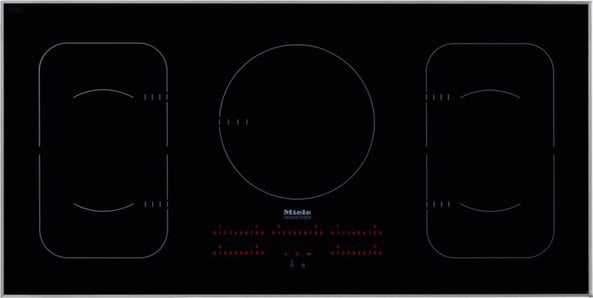 Features:
PowerFlex Zone
Auto Heat-Up
Pan Size Recognition
Timer
TwinBooster Function
Direct Selection Plus Controls
Connectivity 2.0
Stop & Go Function
Miele has made induction cooktops for many years, and there are quite a few models to fit a variety of needs. My recommendation is the flush mount model KM6375. This unit has a great configuration with 5 cooking zones that allows for a variety of pan sizes from a 4" round up to a 9"x15" rectangular burner.
This unit has a power boost setting like most other induction cooktops, however, with the Miele, two of these inductors are used at the same time on the 9x15" burner providing an incredible 7,700 watts of power. This unit will connect to a Miele hood Via Bluetooth to turn it on as you begin to cook. It also is required to be mounted flush with the countertop which will provide an incredibly modern, sleek look.
This unit comes with a 1-year warranty, requires a 50amp connection, and due to the flush mount requirements, is more ideal for someone who is planning on getting new countertops as advanced planning is required.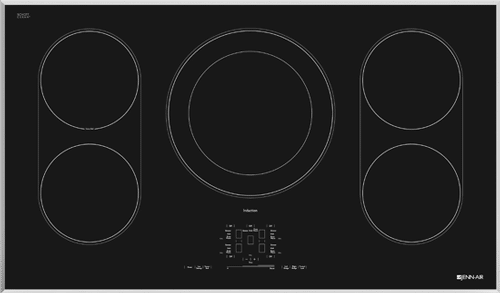 Features:
Sensor Boil Function
Simmer Function
One-Touch Off Feature
Keep Warm Function
Performance Boost Function
Touch-Activated Controls
The configuration of this cooktop is pretty compelling with the large, powerful high output burner in the middle.
You also can fit odd shape dishes on either side with attaching bridge elements. The Jenn-Air wall oven fits below. Each burner has its own timer.
Jenn-Air also has an aggressive rebate program as well with other qualifying Jenn-Air appliances.
So which unit would I Buy?
Although all four make compelling arguments for being the best cooktop.
Jenn-Air has the best price and a user-friendly configuration. Miele has the most powerful induction burner at a whopping 7700 watts.
Thermador has the sensor moving the power when you move the pan. It is certainly technologically the most forward.
The chefs at Yale love the Wolf for response. It is their favorite induction cooktop.
In terms of reliability, Wolf and Thermador are on our most reliable induction cooktop. You can access the list here.
Induction is reliable but difficult to repair. You may want to inquire who will be fixing your appliances before you buy them. It beats not having a functional cooktop.
Additional Resources
Read our Induction Cooking Buying Guide for features, buying tips and ratings of every available induction cooking product in the market. Well over 300,000 people have read a Yale Guide. Induction is our most popular.
Related Articles
Editor's Note: This article was originally published on March 22, 2013, and has been updated for accuracy and comprehensiveness.
Jesse Long
Jesse Long is an Appliance Sales Consultant at Yale Appliance + Lighting. He has worked in the Appliance Industry for over 15 years all over the United States. He has lived in 6 states and has moved 28 times. Jesse apparently has a lot spare time because he likes grinding his own coffee beans by hand and will only BBQ using a charcoal grill. He only drinks the craftiest, hardest to find beer. Some Fun Facts about Jesse, he has an unhealthy obsession with BMW and Auto Racing (he allegedly doesn't have any speeding tickets yet). He has seen every episode of This Old House, and ZERO episodes of Game of Thrones. Jesse also enjoys photography and traveling in his free time.
A Note About Pricing
Pricing on this blog is for reference only and may include time sensitive rebates. We make every attempt to provide accurate pricing at time of publishing. Please call the stores for most accurate price.