7 Best 36-Inch Induction Cooktops for 2020 (Ratings / Reviews / Prices)
Being a former Chef, I was skeptical about induction. It couldn't be real. Could induction cook that fast and be as efficient as natural gas? No way! So I tried it. I burned my first dish.
But by my second try, I made the adjustments. Now I'm hooked. Induction is the best cooking surface available. It's faster than the hottest professional rangetop and can simmer lower than the best electric cooktop.
In this article, you will learn about the best induction cooktops, their reliability based on 35,256 service calls, and how induction works.
Let's get started.
How Does Induction Cooking Work?
Unlike the glass on a traditional electric cooktop, the glass on an induction cooktop does not get scolding hot.
Instead, a magnet excites the molecules in the pan so that the pan itself becomes the cooking surface, bypassing the glass.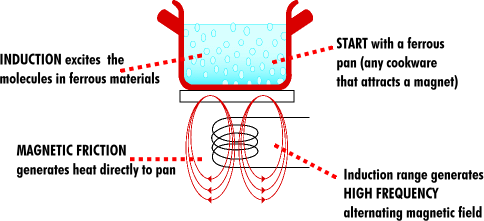 For this reason, induction is the most efficient cooking method as there is very little loss of heat.
(Read more: Why Is Induction Cooking Better? The Science of Induction)
Benefits Of Induction Cooking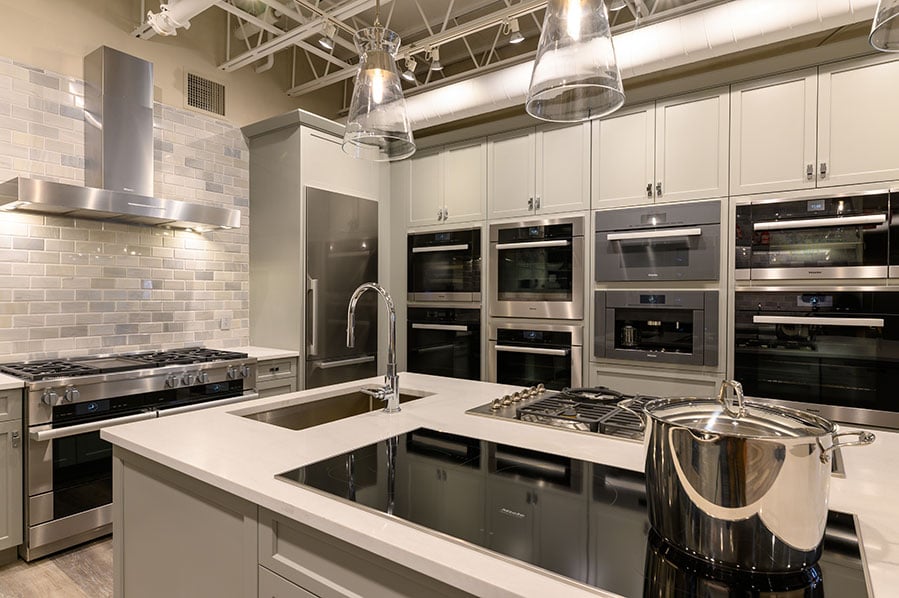 Induction is the most child-safe because the magnets need to sense metal to activate. Thus, your child can't accidentally turn it on.
As previously said, induction is faster than pro gas with a better simmer than an electric or gas cooktop. It also does not require a professional vent like a gas cooktop, because there is less heat emission.
Induction complies with Massachusetts Makeup Air Laws requiring Makeup air over 400 CFM, whereas pro-gas does not. That is huge, by the way.
Induction is also the easiest to clean. Food can't bake on since elements don't heat the glass.
7 Best 36-Inch Induction Cooktops For 2020
The following 36-inch cooktops were ranked higher than other brands for their configuration and wattage. If you're looking for the best 30-inch induction cooktops, click this link.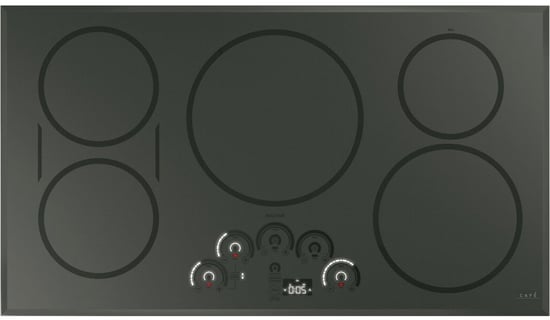 Features:
SyncBurners
KitchenTimer
Control Lock Capability
Pan presence & size sensor
Red LED display
Five Induction Elements
Melt setting
Digital Touch Controls
11" 3,700-Watt Induction Element
It's not especially powerful and has fewer bridge elements than the others, but there are two reasons to buy Café Appliances.
First, it is one of the least expensive induction brands. You also have some decent package opportunities with other products.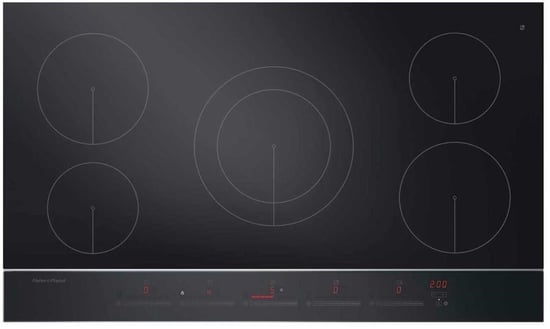 Features:
Instant response
Safer choice
Easy cleaning
Enhanced features
Superior efficiency
Precise control
Perfect steak with induction
In a sea of stainless, Fisher & Paykel stands out with some unique styling (of course, style is only a matter of opinion).
However, you have two powerful 5500 Watt burners on this cooktop. Miele has the most powerful, but Fisher & Paykel would have the fastest for two.
Having these two 5500 watt burners means that you can operate the two burners at maximum power without sacrificing any heat from the other burners.
Fisher & Paykel offers a free 5-year warranty on their appliances.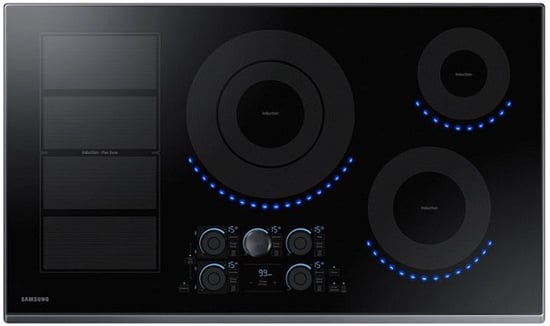 Features:
Flex Zone - Adapts to various pot sizes
Digital-Analog Controls - Removable magnetic knob or digital touch control
Blue lights on the bottom of burner showing that burner is being used and still cooling down
Samsung is the number 1 sold appliance brand in the U.S. This cooktop demonstrates advanced technology, like BlueTooth, automatically activating your Samsung hood.
They provide you with a removable magnetic knob to help adjust your cooking temperatures.
It's Wi-Fi enabled, and you can monitor your cooktop through an app on your phone.
The Blue LED "Flame" lets you know when it's turned on, unlike any other induction cooktop.
You also have the 4,800-watt Flex Zone burner for oddly-shaped dishes or griddles.
Samsung Wi-Fi Induction Cooktop [Video]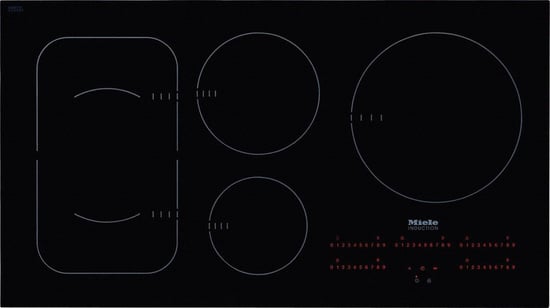 Features:
PowerFlex Zone
Auto Heat-Up
Pan Size Recognition
Timer
TwinBooster Function
Direct Selection Plus Controls
Connectivity 2.0
Stop & Go Function
Miele has made induction cooktops for many years. The most popular is Miele's flush mount cooktop, KM6375.
This unit has a great configuration with five cooking zones allowing a variety of pan sizes from a 4-inch round up to a 9" x 15" rectangular burner.
It also has a power boost setting like most other induction cooktops. However, with the Miele, two of these inductors are used at the same time on the 9" x 15" burner providing an incredible 7,700 watts of power.
This unit will connect to a Miele hood via Bluetooth to turn it on as you begin to cook.
It also is required to be mounted flush with the countertop providing an incredibly modern, sleek look.
This unit comes with a 1-year warranty, requires a 50 amp connection. Due to the flush mount requirements, it's ideal for newer countertops as advanced preparation is required.
Short on time? Get our free Induction Cooking Buying Guide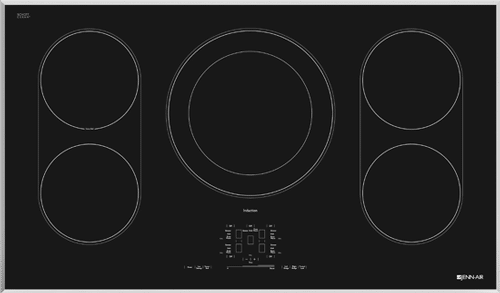 Features:
Sensor Boil Function
Simmer Function
One-Touch Off Feature
Keep Warm Function
Performance Boost Function
Touch-Activated Controls
The configuration of this cooktop is pretty compelling, with the large, powerful high output burner in the middle.
You also can fit odd-shaped dishes on either side with attaching bridge elements. The Jenn-Air wall oven fits below. Each burner has its timer.
It's similar to a Thermador without the Move function for $1,400 less.
Jenn-Air also has an aggressive rebate program as well with other qualifying Jenn-Air appliances. Their reliability was the best in 2018 and jumped over 20% last year.
If the reliability returns to 2018 levels, then Jenn-Air is the best value for the features.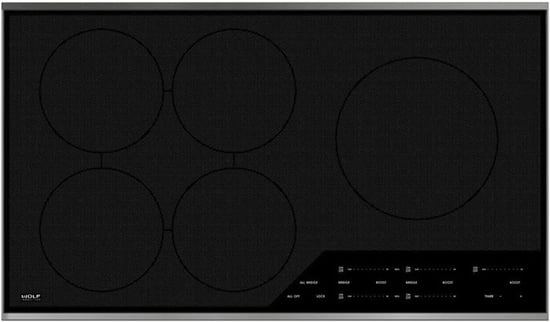 Features:
"Best in Class" Cooking Options
40% Faster Response
Cooktop Stays Cool
Cookware Sensing
Highly Efficient
Incredible Control
This Wolf cooktop features an 11-inch burner that can use up to 3,700 watts of cooking power on the boost setting.
The four left burners can be "bridged" or connected in four different ways to allow for larger or odd-shaped pots and pans.
You can utilize all four smaller burners at the same time, creating a 17" x 17" cooking surface. Great for using large pots for Lobster or large roasting pans for searing.
This unit also has a melt setting on one of the burners for simmering or melting chocolate. This setting is similar to the simmer feature on all of their gas ranges.
This unit comes with a full 2-year parts and labor warranty (3 years with Yale Installation), and you can get this unit with a full beveled stainless trim to provide extra protection to the glass surface, or it can have a complete flush installation. But, you will need a great countertop manufacturer and installer.
Attached is a short video utilizing all four burners
Also, an important note, this unit will require a 50 amp electrical connection.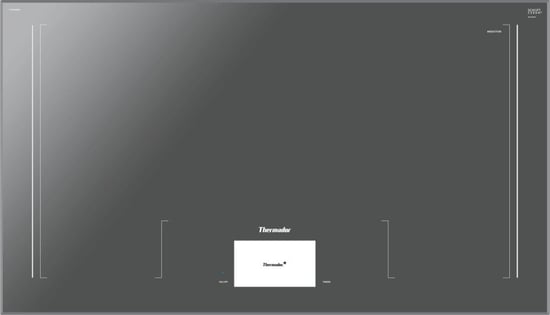 Features:
Cookware detection
The cooktop automatically detects the position, size, and shape of the cookware used.
Residual heat indicator for each side of the cooktop
Panel Lock allows you to lock the cooktop
Extra-large full-color interactive touch screen display
Frameless design
Dark gray glass color
Thermador has an entry-level model, but this high-end Freedom model enables you to put a pan anywhere for maximizing cooking space.
You can use multiple 10-inch pans or a large griddle/ Teppanyaki-style pan up to 16 inches long with this flexible setup.
This unit has 17 power modes to help dial in the exact temperature, and in boost mode, can utilize up to 3,600 watts of power.
This cooktop has numerous smart technologies, including a Move mode sensing your pan movement and maintaining the same power setting on the next burner.
It also has a heat shift setting similar to a French top.
This cooktop features a 2-year warranty and requires a 50 amp connection.
Which Induction Cooktop Brands Are The Most Reliable?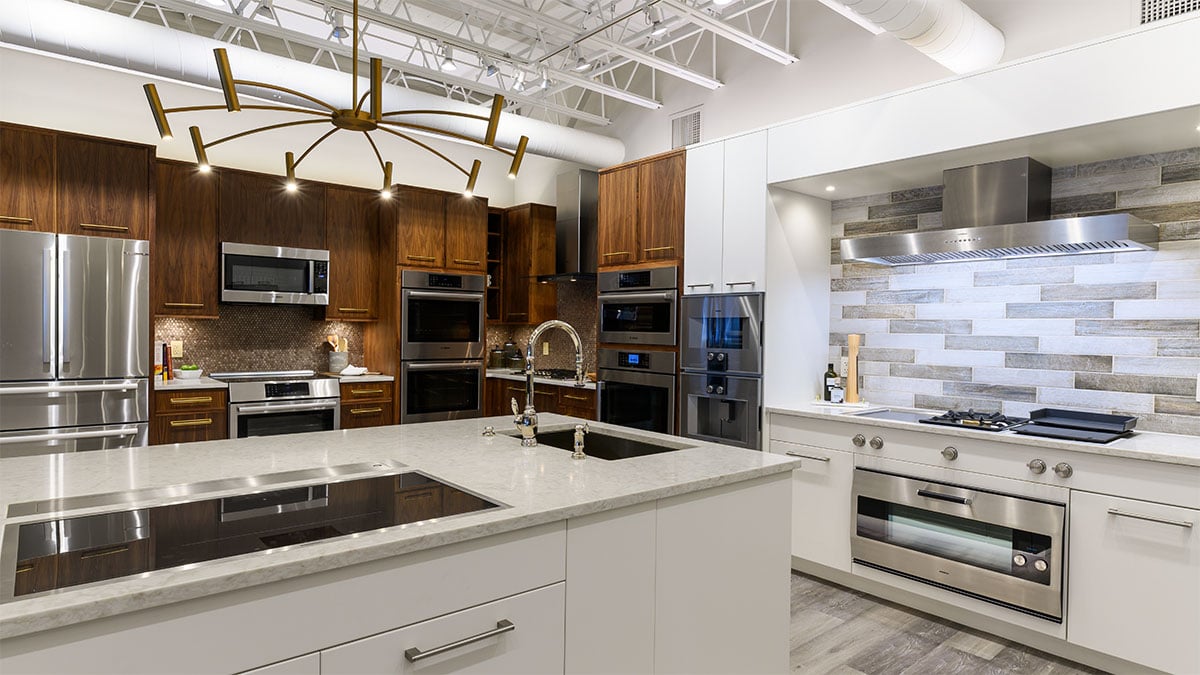 Bosch and Gaggenau Kitchen at Yale Appliance In Hanover
Bosch is well represented in terms of reliability. It's owned by BSH Home Appliances. BSH also owns Thermador, Gaggenau, and Bosch Benchmark.
BSH Home Appliances owns Bosch as well as Thermador, Gaggenau, Bosch Benchmark.
The Most Reliable Induction Cooktops for 2020
| | | | |
| --- | --- | --- | --- |
| | Service QTY | Shipped QTY | Service Ratio |
| Jenn-Air | 17 | 62 | 27.42% |
| Miele | 10 | 43 | 23.26% |
| Samsung | 1 | 9 | 11.11% |
| Bosch | 5 | 50 | 10.00% |
| Wolf | 15 | 167 | 8.98% |
| Bosch Benchmark | 3 | 38 | 7.89% |
| Gaggenau | 1 | 16 | 6.25% |
| Thermador | 2 | 77 | 2.60% |
| Fisher & Paykel | 0 | 5 | 0.00% |
| KitchenAid | 0 | 7 | 0.00% |
| GE Profile | 0 | 5 | 0.00% |
| Grand Total | 56 | 482 | 11.62% |
Wolf is reliable as well. That cooktop has some interesting features.
These recommendations are in the 36-inch configuration, but every brand also produces 30-inch induction cooktops.
For all of our most reliable induction cooktops, click here to download our free Induction Buying Guide where you can compare all of the most reliable cooktops.
What To Consider When Buying An Induction Cooktop
First off, your pans need to be magnetic (don't worry, most are), and if you plan to buy some new pots and pans, you don't have to spend a fortune buying' special pans'.
As long as a magnet sticks to the bottom, you are good to go. We recommend any grade 5 or better.
Induction cooking surfaces work well with any pans with a high ferrous metal content at the base.
Cast iron pans and any black metal or iron pans will work on an induction cooking surface as well.
If you plan on putting a wall oven below your induction cooktop, pay special attention to the manufacturer specifications. Only certain brands and models are approved to have an oven placed below in the same cabinet. We have a separate article about that, by the way.
Most can accommodate, but you always want to be sure.
For Smart technology, you can sync your Samsung or Miele cooktop to your ventilation hood, so it activates as soon as you turn on your cooktop.
How To Buy A Cooktop Or Rangetop [Video]
Which Induction Cooktop Should You Buy?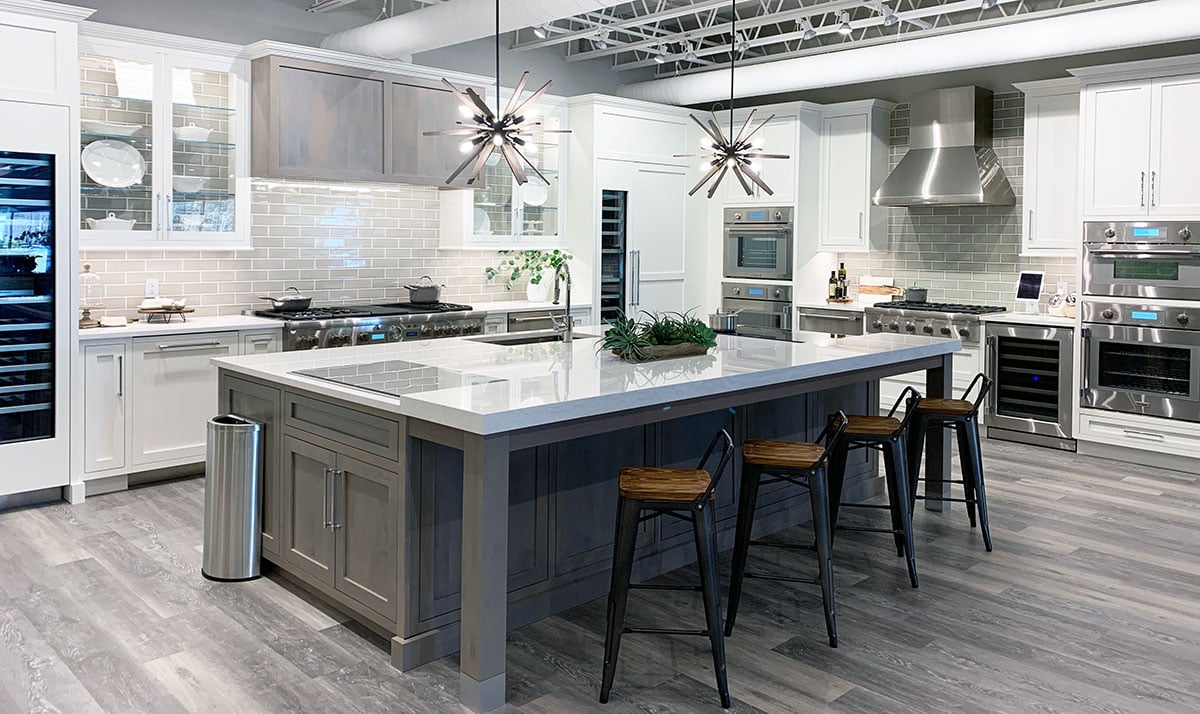 Thermador Kitchen Featuring An Thermador's Freedom Induction Cooktop at Yale Appliance in Hanover
All 7 make compelling arguments for being the best cooktop. Samsung, Thermador, and Jenn-Air have compelling rebate programs.
Fisher & Paykel has decent power and comes in black glass.
Samsung has the Blue Flame, great technology, and is the least expensive.
Jenn-Air has the best price and a user-friendly configuration. Miele has the most powerful induction burner at a whopping 7700 watts.
Thermador has the sensor moving the power when you move the pan. It is undoubtedly the most forward technologically.
The chefs at Yale love the Wolf for the response. It is their favorite induction cooktop. For odd-shaped pans, it is the best cooktop because of the four-burner bridge.
In terms of reliability, Wolf and Bosch brands (Thermador, Gaggenau) are on our most reliable induction cooktop list over the last 12 months.
Frequently Asked Questions:
Induction Cooking FAQ [Video]x
1. Are induction cooktops better than gas or electric?
Induction cooktops are better than gas or electric for a variety of reasons:
It is safer as the glass surface does not get hot (only residual heat from the pan).
They require less ventilation due to less heat emission.
Cooking times are faster, saving energy and cooking time.
Response times are faster for specific recipes, and they will simmer lower.
Cleaning is easy because spills don't bake on.
Without a metal pan, induction can't activate. One of the values of this is a child can't power your cooktop by accident.
2. Do induction cooktops use more electricity?
Induction cooktops will also use less electricity due to their speed but will require higher watts in many cases.
3. How long do induction cooktops last?
As with most built-in appliances, the average lifespan of an induction cooktop should be around 10-15 years or more. The glass surface protects the working elements underneath, increasing its lifespan.
Additional Resources
Read our Induction Cooking Buying Guide for features, buying tips, and ratings of every available induction cooking product in the market. Well over 620,000 people have read a Yale Guide. Induction is our most popular.
Related Articles:
Why Should You Trust Us?
It seems that every appliance review has nothing but glowing comments about almost every product, yet you read customer reviews and they are almost universally bad.
We are here to fill in the disconnect. We'll give you the best features, and the drawbacks as well, including reliability based on over 37,000 calls performed by our service team just last year. Our goal is to give you ALL the information so you know what's right for you.
Please consider subscribing or adding to the conversation in the comments below. We appreciate you stopping by.
A Note About Pricing
Pricing on this blog is for reference only and may include time sensitive rebates. We make every attempt to provide accurate pricing at time of publishing. Please call the stores for most accurate price.