Most Reliable Induction Ranges for 2021
When GE first introduced induction in the early 1980s, they taped a $100 bill to the cooktop and boiled water.
Induction is magnetic. Its generated heat bypasses the glass of your cooktop and heats your pan instead of the glass surface. The glass doesn't heat like a regular electric range.
The $100 bill was unharmed throughout the demo. (They probably tested their theory with a few dollar bills first).
Lack of residual heat is one of the many benefits of induction. It's also incredibly reliable.
In this article, you will learn about the most reliable induction range brands for 2021 featured below.
The Most Reliable Induction Brands for 2021 are:
Our reliability numbers are based on 37,061 real service calls logged by our service department last year.
It's not based on lab tests or surveys, but on people using the product as you will.
We will also cover the benefits of induction as well as the most common induction range issues.
Then you will see a reliability comparison between electric ranges as well as induction cooktops.
In the end, you will understand induction range reliability, problems, how they compare, and the best brands to consider.
Let's get started.
Short on time? Get our free Induction Cooking Buying Guide
How Induction Range Reliability is Calculated
Measuring induction range reliability is simple.
We look at service calls for one year and divide by sales for the same period.
This standard is used because we service appliances free in the first year.
After the first year, it is hard to determine what percentage of customers call us and harder to track.
Appliance Service
Appliance service is tough to find, but an incredibly important part of your purchase. Most people think of Yale and three showrooms as a sales company, but we put service first.
Of course, every company says how important service is, but they won't show you this: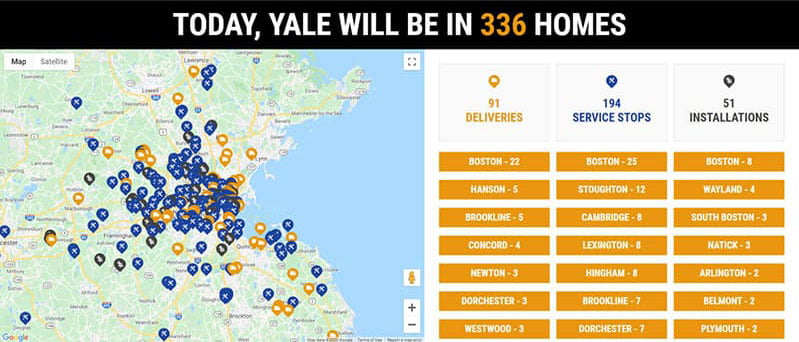 Or this: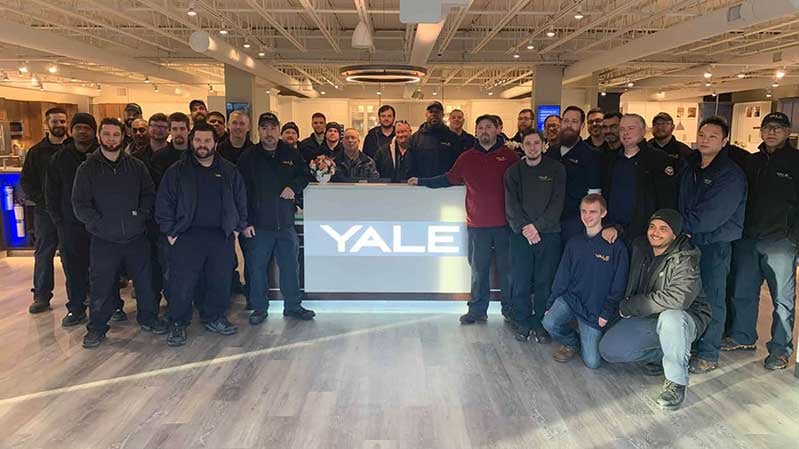 Yale Service Team Comprising of Over 30 Service Technicians
When you shop for appliances, make sure service is part of the equation especially with more difficult repairs like induction.
In Massachusetts, there are a few good service companies. Hunter, TOMA, and Poirier all have decent service companies.
Check Google and the Better Business Bureau (BBB) for service providers in your area.
Induction Range Reliability
In the chart below, you will see sales in the right column and service calls on the left from 2020. The percentage is calculated by service calls divided by sales over that period.
Induction Range Reliability for December 2019 to November 2020
| | |
| --- | --- |
| | Service Ratio |
| Wolf | 1.72% |
| Samsung | 5.88% |
| GE Profile | 7.53% |
| KitchenAid | 8.33% |
| Bosch | 8.33% |
| Café Appliances | 9.09% |
| JennAir | 9.84% |
| Miele | 10.00% |
| Bosch Benchmark | 23.08% |
| Fisher & Paykel | 27.78% |
| Grand Total | 9.02% |
The figures above are based on a minimum of 10 induction ranges sold per brand and over 400 total units.
The average repair of an induction range is 9.02% or close to the average appliance service rate at 9.97%.
Induction vs. Electric Range Reliability
When you compare electric to induction reliability, there is a measurable difference in repair.
Have a look:
Electric Range Reliability for December 2019 to November 2020
| | |
| --- | --- |
| | Service Ratio |
| Whirlpool | 0.59% |
| Samsung | 2.38% |
| Bosch | 4.76% |
| GE | 7.41% |
| Beko | 8.25% |
| KitchenAid | 8.54% |
| Grand Total | 3.06% |
These figures are based on a minimum of 10 ranges sold and a sample of over 1900 total pieces.
Electric ranges are the most reliable appliances sold because they haven't changed much. Electric elements have been around since our founding in 1923.
With smooth stovetops, those elements are placed safely under glass for even less repair.
Well, if it's not the range, the added repair must be induction itself, right?
Let's look at the induction range compared to induction cooktop reliability.
Induction Ranges vs. Induction Cooktops
Induction Cooktop Reliability for December 2019 to November 2020
| | |
| --- | --- |
| | Service Ratio |
| Miele | 0.0% |
| Thermador | 0.0% |
| Bosch Benchmark | 3.0% |
| Wolf | 4.3% |
| Bosch Appliances | 4.3% |
| JennAir | 8.3% |
| Grand Total | 4.1% |
These figures are based on a minimum of 10 cooktops sold and a sample of over 300 total pieces.
Nope. Induction cooktops are among the most reliable appliances at 4.1%. So, what are the problems when you put together a reliable electric range and a reliable induction range?
The Most Common Induction Range Problem and How it Affects You
You must look closely at any specifications for an induction range, but an induction range use 40-50 amps while the others use 30 or 40 amps.
Induction ranges become susceptible to any type of voltage spike or problem with your electricity.
Now that we understand the most common induction problem, let's take a look at the most reliable induction range brands.
Most Reliable Induction Range Brands for 2021
1. Wolf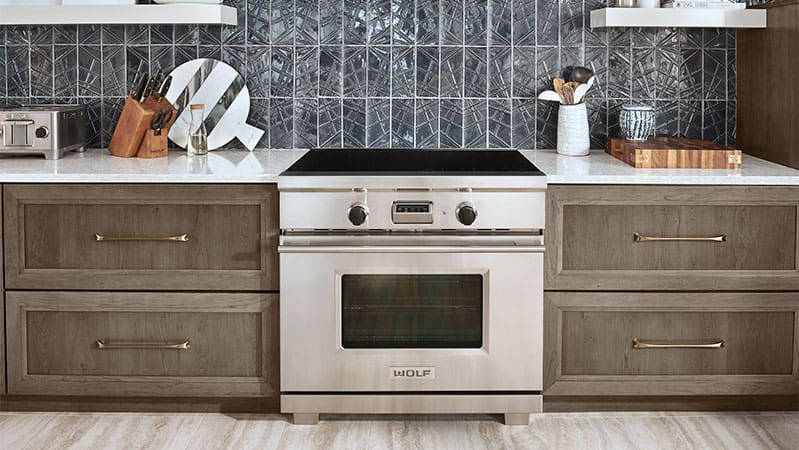 Wolf surprised me as being the most reliable induction range brand this year. Typically. premium ranges have more service because they have more features. In Wolf's case, a fair number of their induction ranges are sold in the larger 36-inch sizes.
We talk more about features in our "Best" posts. However, on the Wolf 36-inch range, you can combine four burners for one super burner to cook larger pots like lobster or corn.
2. Samsung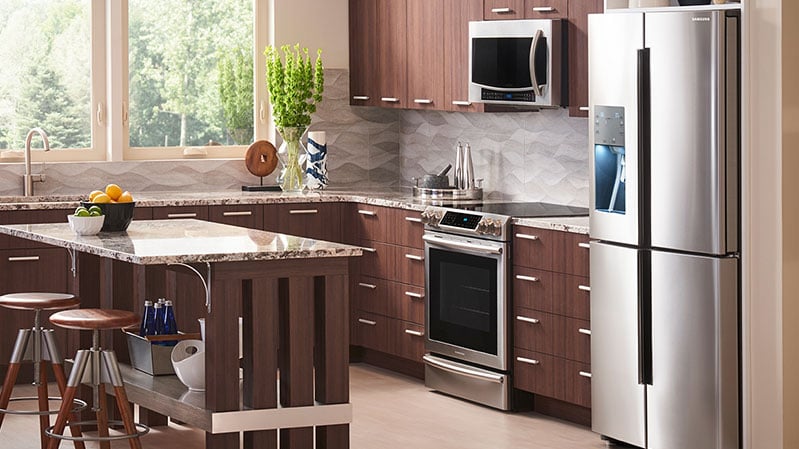 Their reliable products are almost negated by the nonexistent service after the sale. In 2021, availability will be yet another Samsung issue.
3. GE Profile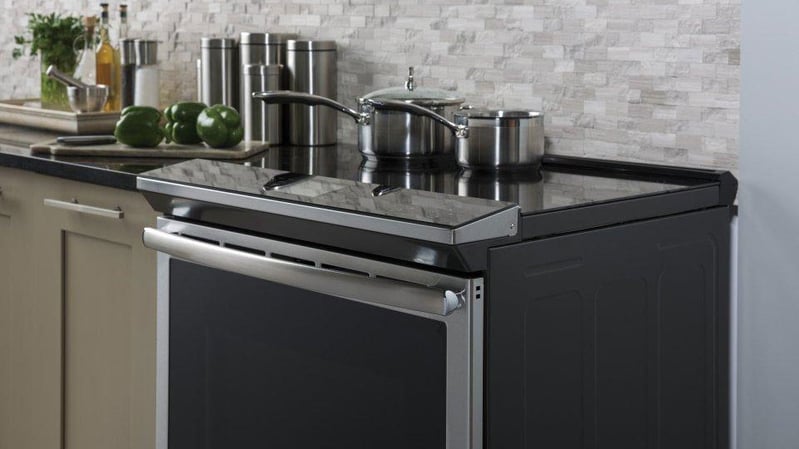 GE was the first to market induction in the US, so their reliability isn't surprising. They are also at the forefront of Wi-Fi functionality and the new air frying phenomenon.
4. KitchenAid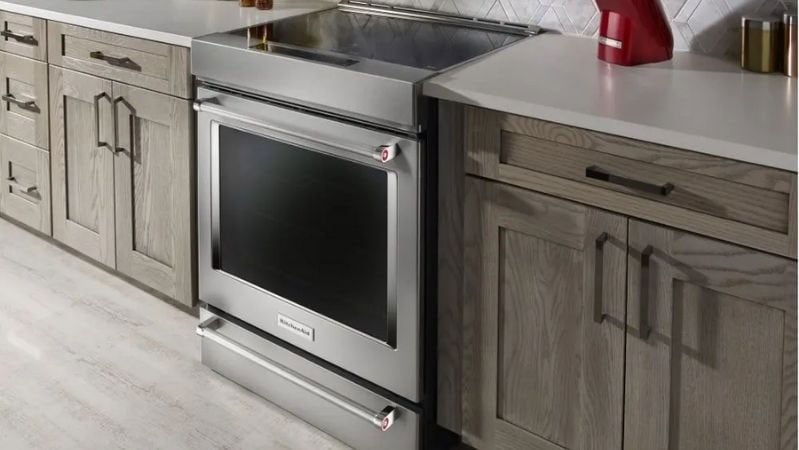 KitchenAid has the largest oven on this list. They have some affordable packages if you are renovating your kitchen.
5. Bosch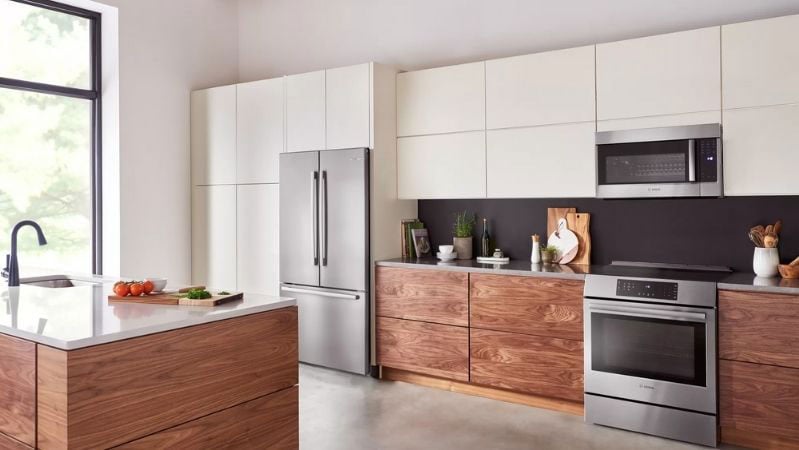 Bosch is good-looking, affordable, and reliable. However, their selection is limited with only one induction range.
Top 4 Induction Range Benefits
1. Make-up Air Compatible
Let me paint a picture to homeowners in Massachusetts.
You just finished with your renovation. You vented your pro gas range with 600 CFM.
The inspector asks about Make-up Air, meaning how are you making up those 600 cubes of air per minute (that's CFM).
Hopefully, you have a return of air built into your HVAC because the inspector will not sign off without it.
Even if you don't live in MA, you should have Make-up Air in an energy-efficient house to breathe clean air.
Induction is faster than that pro range with less heat emitted into the room.
You can vent induction at the 400 CFM and not worry about a make-up air return.
We simplify this in our Ventilation Buying Guide.
2. Speed and Consistent Simmering Capabilities
Any induction cooktop will boil water faster than a pro gas range. With have you lose 40% of the heat through the sides.
Induction has an infinite range and like gas it is instantaneous. As you may know from a lighter, gas will extinguish itself at low settings. With induction, you can maintain a low simmer consistently.
3. Safety
Induction is the most child-safe as well.
Your child cannot accidentally activate the induction burner without metal.
The glass doesn't heat as high so there is less chance of you child being burned as well.
4. Cleanability
Spills cannot bake on the glass-like an electric cooktop due to less heat.
Should You Buy an Extended Warranty for an Induction Range?
The percentages suggest you may need service within five years.
Induction transformers are an expensive repair, so the warranty would pay for itself with one repair.
In theory.
However, most extended service contracts are call centers with no service. I would save the money and aggravation.
You should only buy a warranty from a company providing service with service technicians. Then investigate with Google Reviews or with the Better Business Bureau.
After all, your car dealership has service, and so should your appliance company.
Most Reliable Induction Ranges: Key Takeaways
Induction ranges are below the average for appliance repair at 9.02%.
You should consider an induction range because it is by far the best way to cook.
The best and most reliable brands to consider are Wolf, Samsung, GE Profile, KitchenAid, or Bosch.
Just remember to always make reliability and service an important part of your purchase.
You will need service within the lifetime of an induction range.
Frequently Asked Questions
1. What are the best induction ranges?
Samsung, Bosch, and GE Profile have exceptional induction ranges. Frigidaire just launched less expensive induction ranges, but we don't sell the brand.
On the high-end, Miele has its range with its intuitive MasterChef controls. You input the food and doneness, and the range will calculate time and temperature.
Wolf has their twin convection in 30 and 36-inch.
2. Are induction cooktops and ranges better than gas?
In terms of speed to boil, lowest simmer, and range, induction is the best. It's even better than professional gas. Yet, induction does not have grilling capabilities or other options like having a French top or griddle . The options are all available in professional ranges.
3. Is induction safe?
Yes, induction is safe. It's the safest for several reasons.
4. How does induction work?
Induction is magnetic heat. The magnets in the burner bypass the glass and excite the metal molecules in your pan. The pan, not the glass surface, cooks your food.
Additional Resources
Want to know the best induction brands, products and have a better understanding of how induction works? Download the Yale Induction Cooking Buying Guide with features, specs, and inside buying tips. Over 820,000 people have read a Yale Guide.
Related Articles
Why Should You Trust Us?
It seems that every appliance review has nothing but glowing comments about almost every product, yet you read customer reviews and they are almost universally bad.
We are here to fill in the disconnect. We'll give you the best features, and the drawbacks as well, including reliability based on over 37,000 calls performed by our service team just last year. Our goal is to give you ALL the information so you know what's right for you.
Please consider subscribing or adding to the conversation in the comments below. We appreciate you stopping by.
Steve Sheinkopf
My goal has always been simple: I want Yale to be the best retail experience anywhere. I have tried to create a compelling environment for customers and employees alike.
A Note About Pricing
Pricing on this blog is for reference only and may include time sensitive rebates. We make every attempt to provide accurate pricing at time of publishing. Please call the stores for most accurate price.